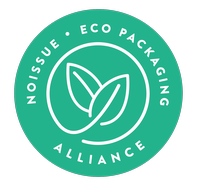 The number of people adopting a plant-based diet for animal welfare, environmental or health reasons over the past few years has skyrocketed.
As more and more food businesses and retailers expand their plant-only menus and reduce their plastic packaging waste, it's evident that Veganism and sustainable food choices are here to stay.

New and innovative brands are keeping ahead of the trend and proving that quality mouth-watering food products can still be eco-conscious. Ross and Chris are the founders of Cross Cookies, a brand that mixes these awesome eco-values with an irresistible sweet tooth – delivering über-fresh vegan cookies in their hometown of Bedford, UK.

A batch made in heaven, Ross and Chris have a Masters degree in Environmental Management for Business and another in Future Food Sustainability between them, proving food and sustainability is at the very core of their relationship. Talk about being clever cookies!
It was a combination of Ross and Chris' shared interests and expertise, along with an early morning craving during lockdown, that kick-started Cross Cookies. Baking began, a business was born and the rest is history!
With sustainability being the essence of their brand, Ross and Chris strive to ensure their crumbly cookies don't add to the world's waste or pollution problem: "With environmental sustainability in both of our backgrounds, we find it important, and our duty as a business, to be conscious of how our actions can affect the planet, and actively do something about it."

Cookies that care? We like that a choco-lot.

Being truly eco-friendly as a brand means incorporating all aspects of their business, not only their products, snugly into the sustainability sphere. Ross and Chris knew that noissue was their perfect fit the instant they discovered how easy it was to get their hands on quality customizable and sustainable packaging for their products.
"We resonate with everything noissue represents as a brand," they say. Their choice of a custom noissue stamp (made from recycled materials) is a super easy way to add the Cross Cookie logo to their packaging without causing any extra harm to the Earth.
Doing the utmost to ensure all their packaging is sustainably sourced is paramount for Ross and Chris, but they also know the importance of mixing this with good branding. "We know the power of good design, and we ourselves are suckers for good packaging," say Ross and Chris, admitting that they often spend hours at markets just admiring other gorgeous packaging.
Cross Cookies says working with noissue to make their brand easily recognizable in a vast world of competitors was a 'no-brainer.' With their stamps logo design already made, Ross and Chris simply uploaded it onto the noissue platform, nudged it here and there, and boom – too easy.

It's not only the eco-friendly packaging that sparked Ross and Chris' initial interest. The noissue Eco Alliance community is full of like-minded businesses who view sustainability as a priority, where members can share their dedication of being on the road to eco-awesomeness.
The Eco Alliance program provides members with the opportunity of getting involved with environmental issues in a more hands-on way – one of which is by having a tree planted in a deforested area with every order placed. This is a great way to extend a commitment to sustainability outside the business bubble, and into the wider world.
What other advice would Ross and Chris give to brands who are in the early days of their business journey? Well, they say that when it comes to business (and baking), don't be afraid to take whisks.
During tough times Ross and Chris say it's important to "know exactly what you want to do, who you're doing it for, and why, and make sure you remind yourself those three things when things get tough!"
The Cross Cookie vision is to produce the best and freshest products with 'bangin' flavour' for everyone in their local area, because, as Cross Cookies believe, absolutely everyone deserves a delicious treat.
And the best payoff for all their hard work mixing dough? For Ross and Chris it's simply hearing positive feedback, while spreading a little love to their customers and to their world.
Cross Cookies fun fact:
If your brand were a beverage or dish, what would it be and why?
"Haha, most probably cookies because that's what we do! The cookie monster from Sesame Street is our mascot." Om nom nom nom!
---
Find more of Cross Cookies here:
Website: www.crosscookies.uk
Instagram: @crosscookiesbedford
Like this story? Tell us yours! Share your brand story and love for your custom packaging and get a chance to be featured on the wrap! If you're a noissue customer and are interested, you can join the Eco-Packaging Alliance by clicking here and answering a few questions here.
Questions? Email us at ecoalliance@noissue.co.