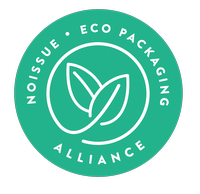 You know what they say, "The way to a person's heart is through their stomach." And for PJ's Kitchen, it's the way to a kid's heart or to every kid at heart. UK-based entrepreneur Zanny recognized that food brings people together, but not a lot of food trucks cater specifically to children and they're here to change that.
What started as a fun way to bond over quarantine became a cute food service that aims to bring families together and encourage kids to enjoy their meals. Zanny was inspired by how making videos of cooking, baking, and preparing food together with her daughter allowed them to bond as a family in quarantine. She wanted to share this happiness with other people, especially children.
"When you think of special occasions and moments, nearly all of it revolves around food. Well, children have lots of special moments too, but there's not (m)any food trucks or takeaways aimed at them with food they will want, eat and enjoy. That's what we're all about. Good food. Good times. Together."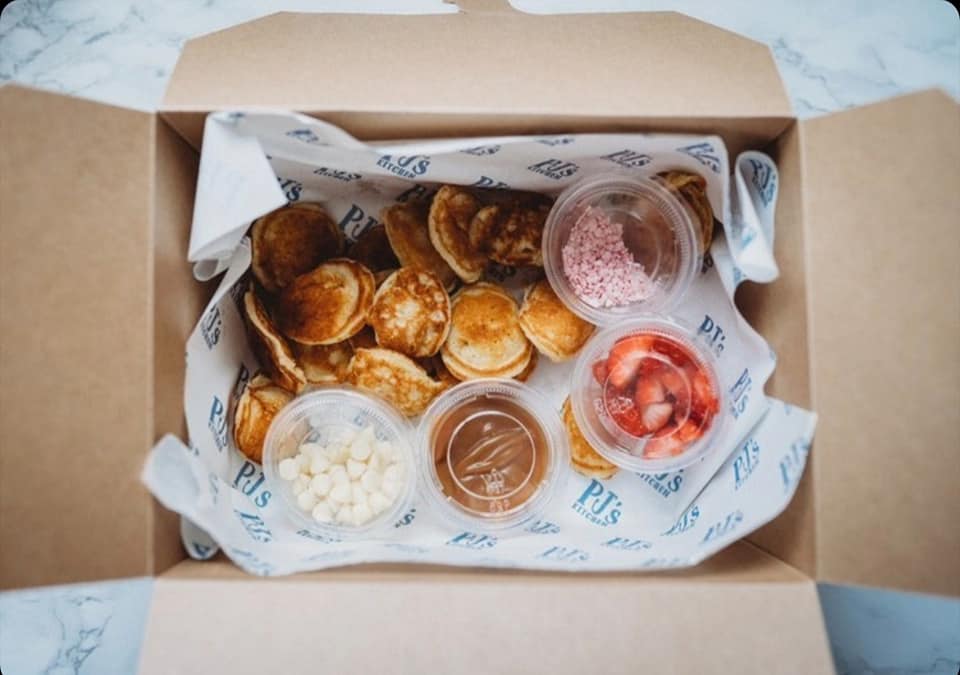 Since their business is all about making food for children, Zanny and her husband Kingsley decided to name it after their daughter PJ—don't worry, they're a one-and-done family so no need to ask if a second child is questioning the name. They've been making bake-along videos together since the first lockdown and got the inspiration to share that joy and cook for more children right from their home in Cheltenham, Gloucestershire.
From making yummy munchies that they know kids would love to packaging them in eye-catching designs, PJ's Kitchen is putting kids at the heads of every table. After consulting with friends, family, and a brand expert who also happened to be a good friend, the PJ's Kitchen team came up with blue and yellow as their core colours.
Just as how they work as a family in preparing the food, conceptualizing the logo became a family affair, too. Once the business' branding was settled, they decided to incorporate it to their custom packaging including their Foodsafe Paper. They needed to stand out and appeal to kids so they needed to make these kids see the food as something fun and special. Plus, if the kids are happy, so are the parents and Zanny wants them to know that they mean business.
"My cousin who is an illustrator worked up the illustrated PJ too so between her, my husband, and I, we came up with the branding the customers see now. It was this same cousin who had heard of noissue and recommended them to me. When it came to getting our Foodsafe Paper, I literally took a look at the noissue website, loved what I saw, and didn't look anywhere else."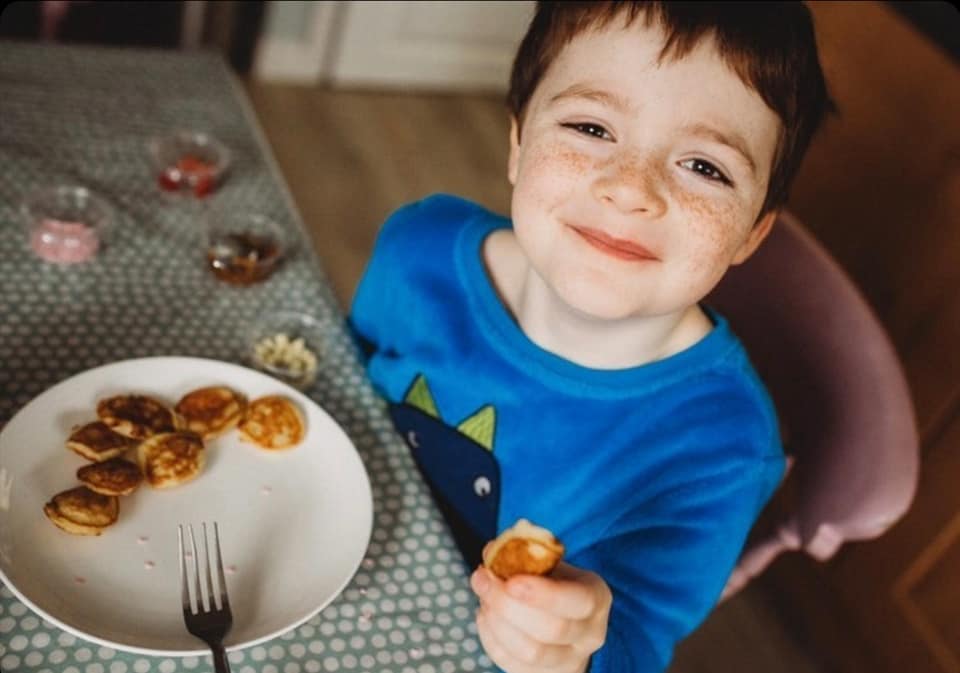 Their original plan was to provide catering for kids' birthday parties or family parties with lots of children. However, due to the pandemic, they decided to offer takeaway services from their home kitchen for their signature mac n cheese and mini pancakes with all the toppings. They're currently working on getting their food truck ready so that they could officially roll it out when more establishments hopefully open up safely during the summer.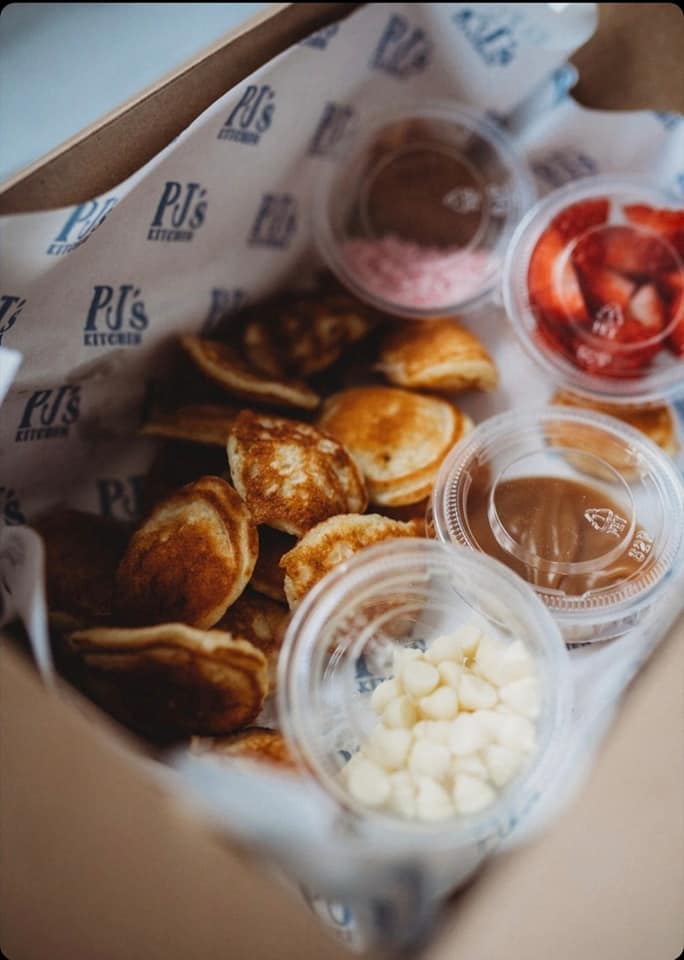 Aside from putting a halt to their catering service and moving to takeaway, another challenge is the fact that Zanny is a one-woman team in charge of the entire process. For businesses with the similar situation, she advises to hold a test run like serving a shortlist of local bloggers, influencers, friends, and family before officially rolling out to serve the public.  
"On that one weekend, I learned so much like timings, how long it takes to pack, maximum batches, and how it's impossible to cook with PJ running around the kitchen. So by the next weekend, when we had real, paying customers, I had all my processes and timings smoothed over—and I did all the cooking when PJ was tucked up in bed which made it far easier."
Staying true to keeping things fun, Zanny's household always has champagne and milk. Champagne just in case something amazing happens and milk for hot chocolate if their champagne runs out. Another fun fact is that this family of master chefs cooked up their very own brown butter pretzel cookie which Zanny says, "no other cookie will ever measure up." Here's to hoping that they'd add it to their menu soon.
---
‌Find more of PJ's Kitchen here:‌‌
Instagram: @pjskitchenhq
Like this story? Tell us yours! Share your brand story and love for your custom packaging and get a chance to be featured on the wrap! If you're a noissue customer and are interested, you can join the Eco-Packaging Alliance by clicking here and answering a few questions here.
Questions? Email us at ecoalliance@noissue.co.