Roxanne and Natasha are a sister collaborative duo and the co-founders of Port Stephens-based, Ethereal Artistry. At Ethereal Artistry, they create modern, abstract acrylic art. Their artworks explore the flow and blossoming of color and paint in a delicate and minimalistic manner. Each piece is individually designed making it a rare and one-of-a-kind item that is great as a gift for yourself or someone special. Customers are given an option to either select an existing item from their amazing roster or opt for a custom piece and be a part of their design journey.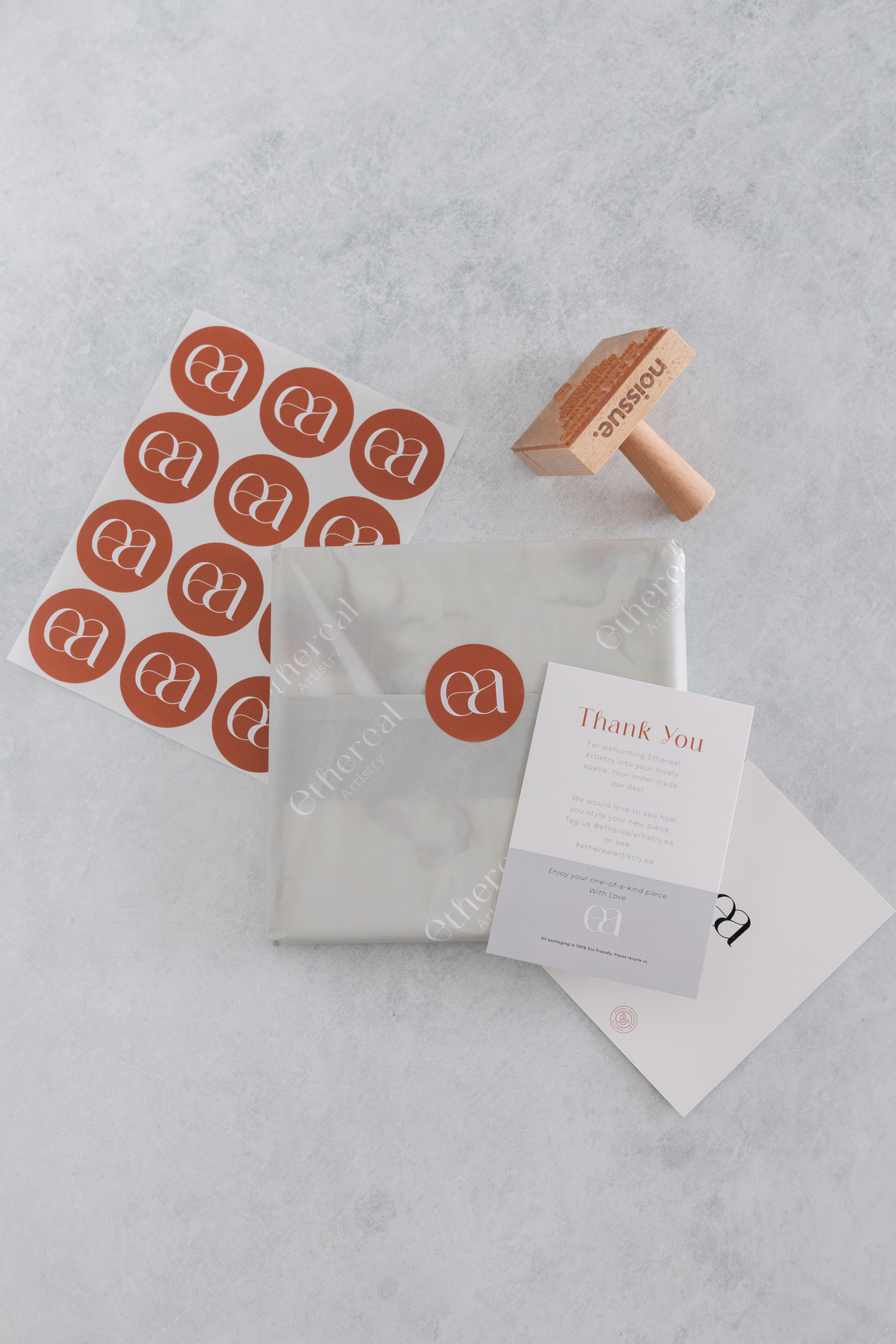 Ethereal Artistry is passionate about what they do and take pride in every piece they design. In establishing their business, both Roxanne and Natasha knew that it was essential for their branding to perfectly represent their craft. For this project, they collaborated with Cove Design Studio to turn their ideas into reality and build a beautiful, curated branding experience.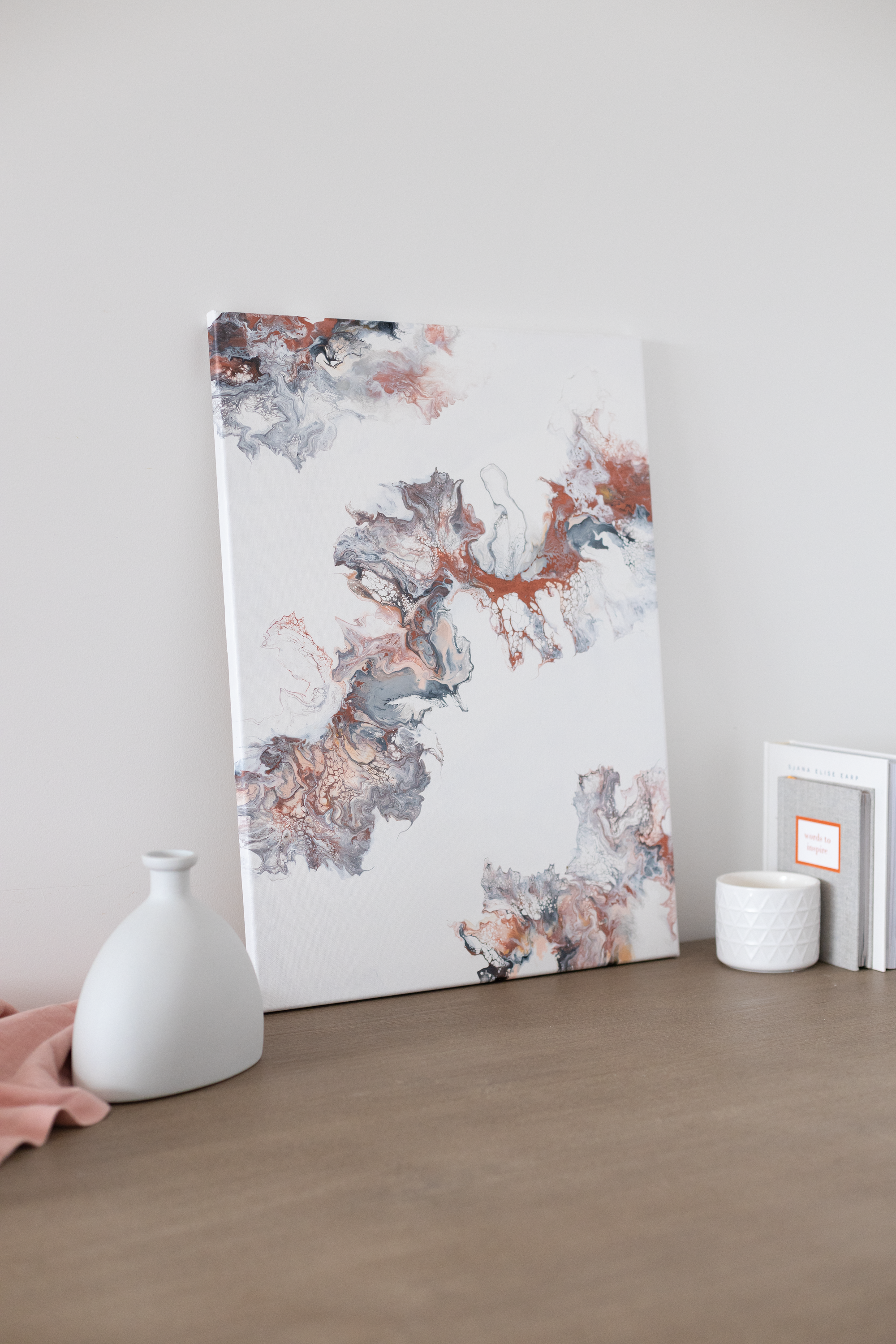 Ethereal Artistry's Vision and Ethos:
Roxanne and Natasha have a very close sisterly bond, naturally challenging and inspiring one another. With this in mind, it made sense for them to take on this new venture together. Even though they are four years apart, people often mistake them for twins. Many people admire their close sisterly bond, wishing they had a close relationship with their siblings. Over the years, they have stayed connected, and even through the same friend circles.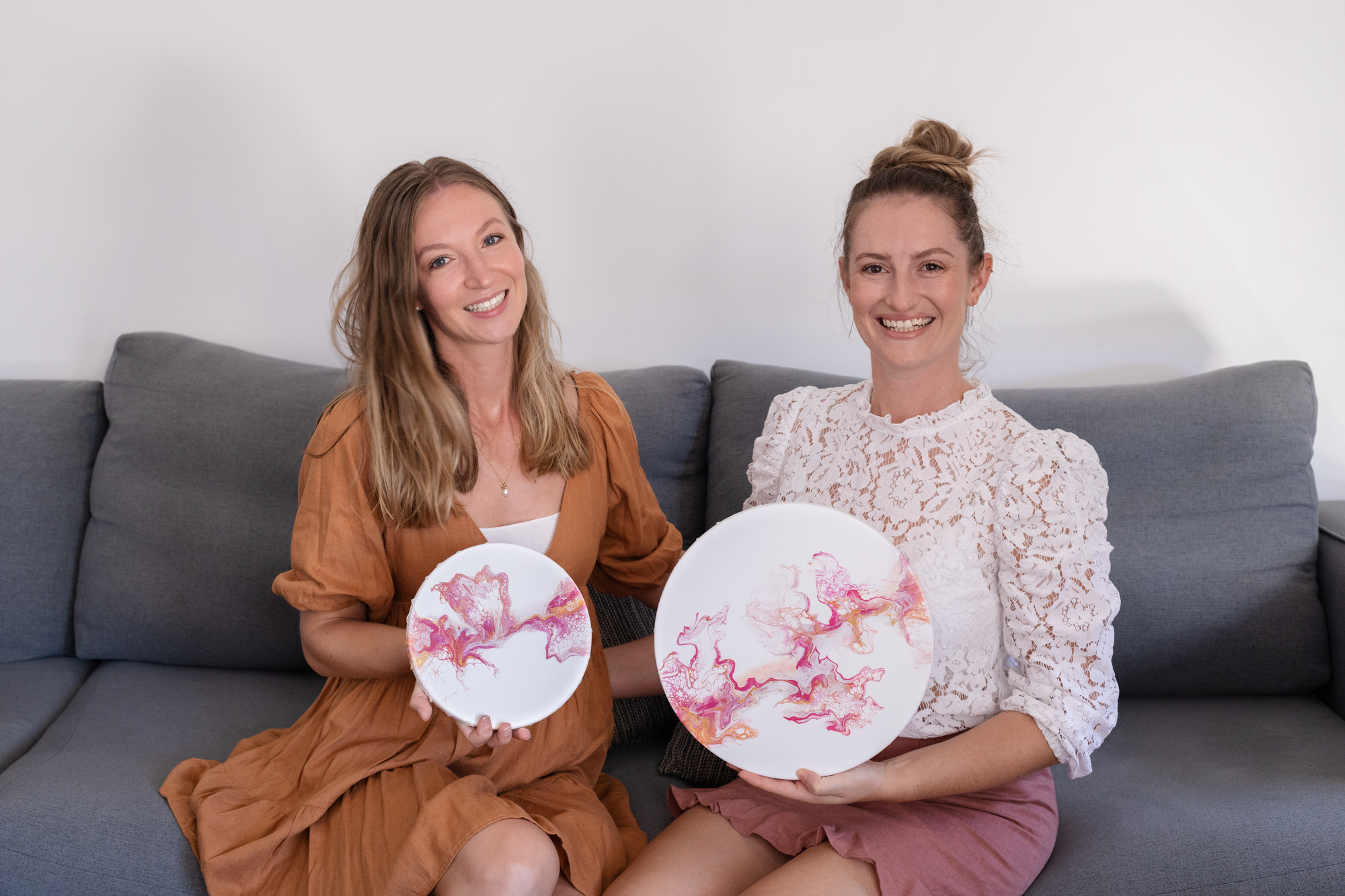 Ethereal Artistry's products are directly inspired by the ebb and flow of nature. They use a Dutch pour technique which makes each artwork unique and special, with no two ever being exactly the same. Customers opting for a custom piece grants them the access in choosing their own shape, size, color palette and style. Each unique artwork conveys a sense of serenity and has a mesmerizing effect, open to each individual's visual interpretation.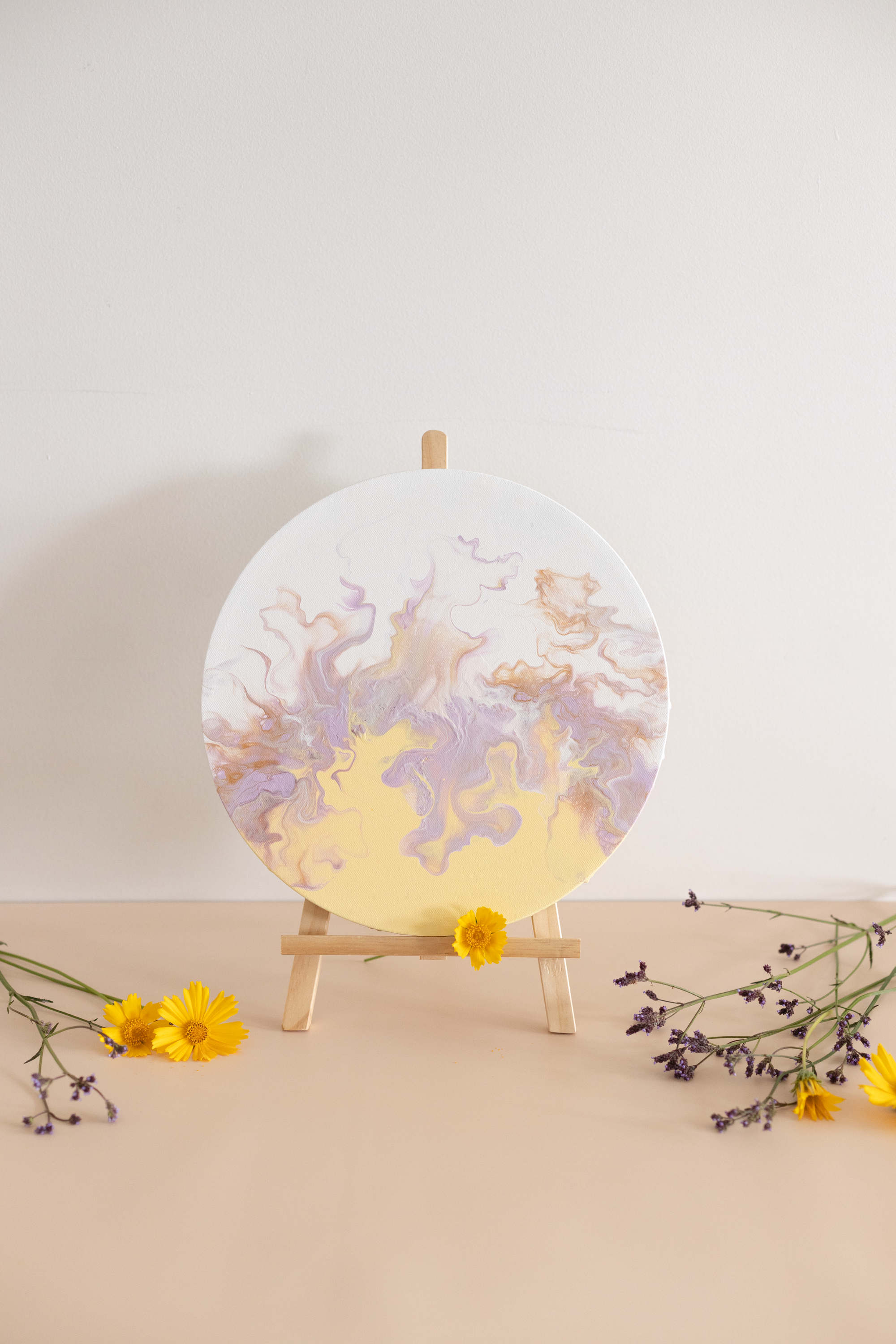 "Our inspiration is drawn from nature. For Roxanne, the paintings remind her of the unusual perspective of aerial landscapes, and its raw beauty. For me, it brings back childhood memories of lying on the grass cloud gazing. My imagination often runs wide and finds pictures in the artworks." – Natasha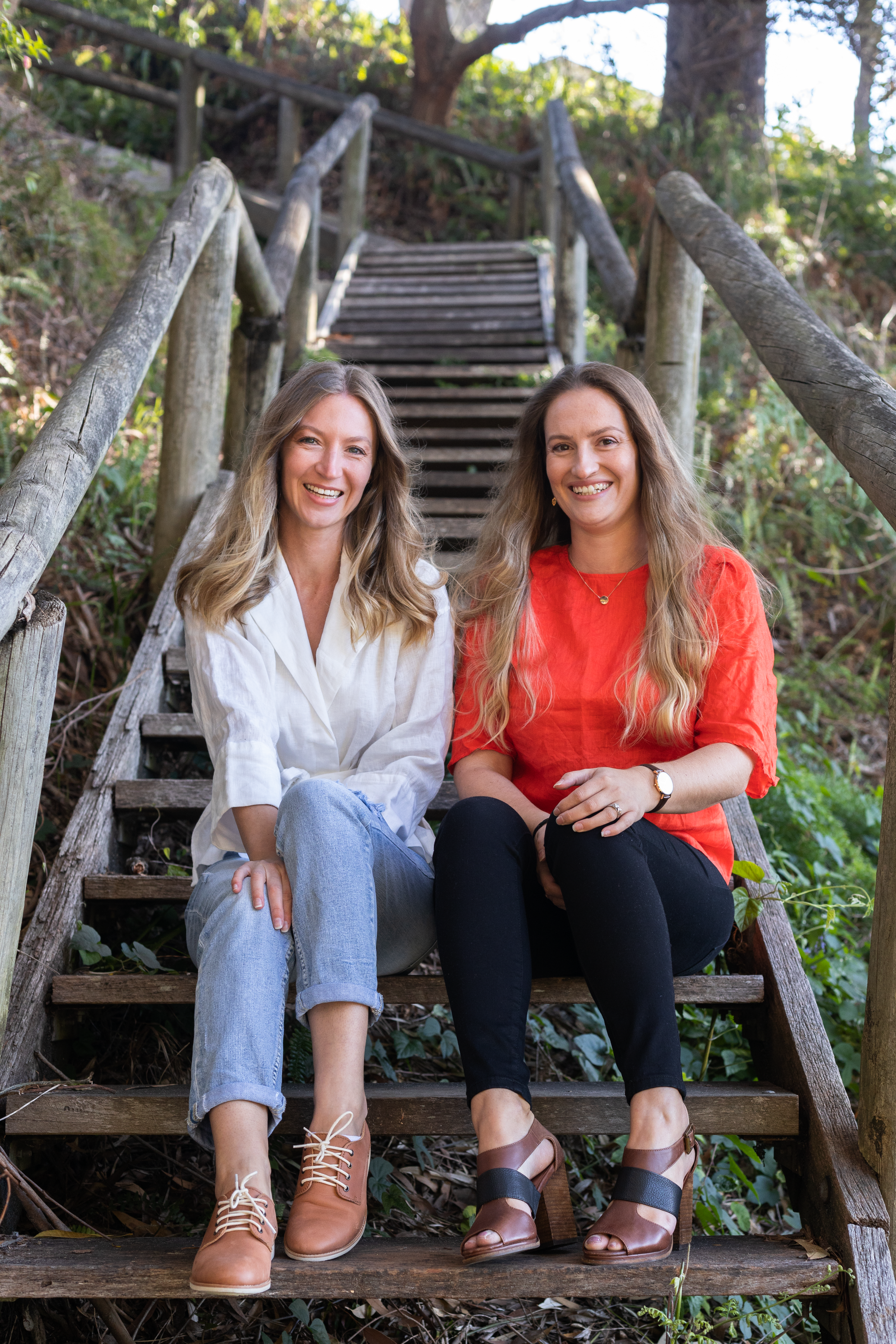 During the early stages of establishing Ethereal Artistry, Roxanne and Natasha didn't really quite have any set ideas or visions. They knew that they needed to find the ideal creative that could take their core values and incorporate these into their branding. They wanted to showcase modern designs that are simple and beautiful, to reflect their paintings of refined beauty. Luckily, both Roxanne and Natasha knew just the designer to turn to and had full trust for them to take the reins.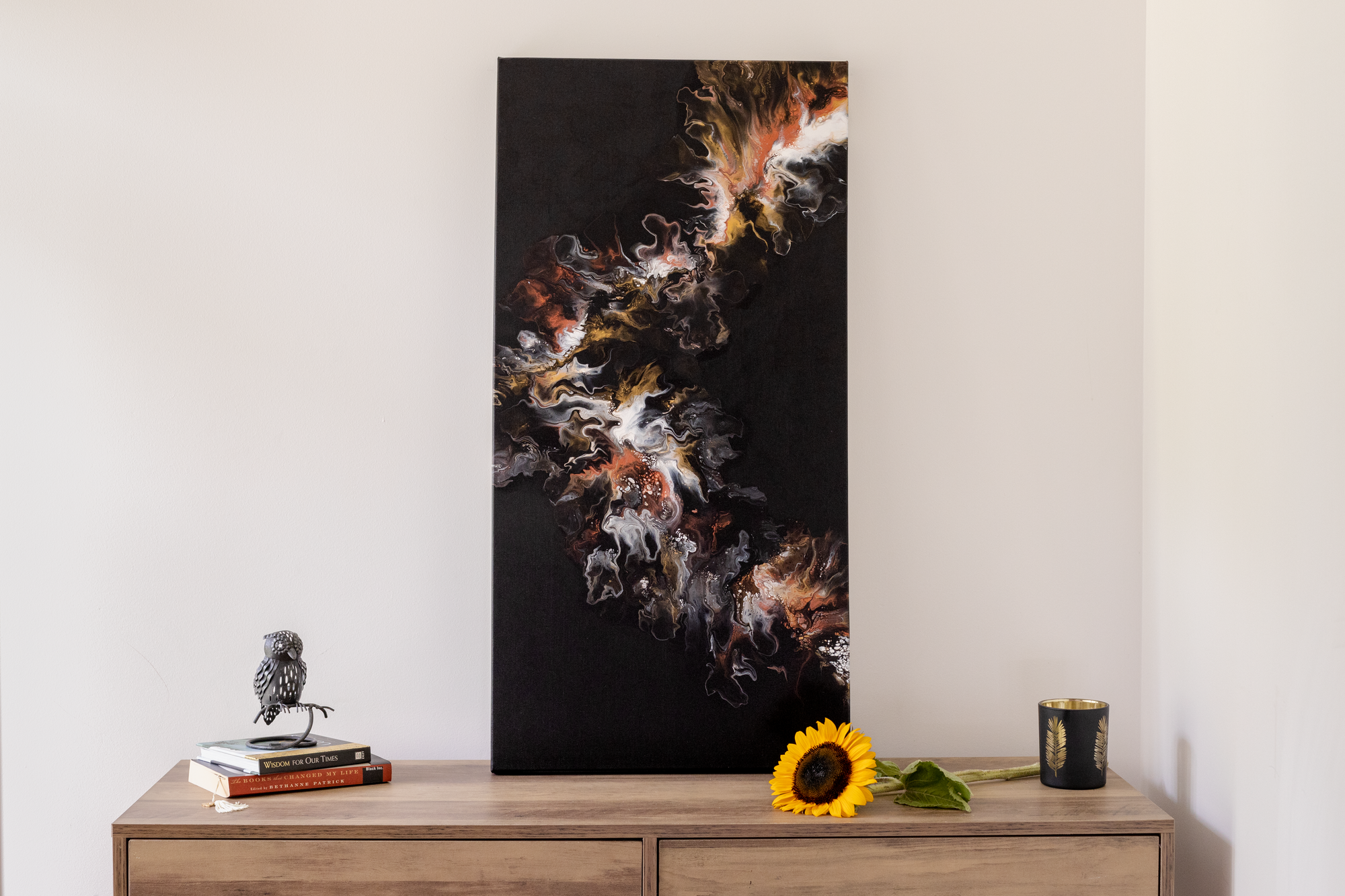 Meet the Creative Behind the Masterful Branding:
Alex Carter is the creative director of Wellington-based branding and communication studio, Cove Design Studio. They combine creativity, communication and strategy to produce soulful, refined and approachable designs. They are passionate about being part of people's journeys in turning their businesses into brands that make an impact.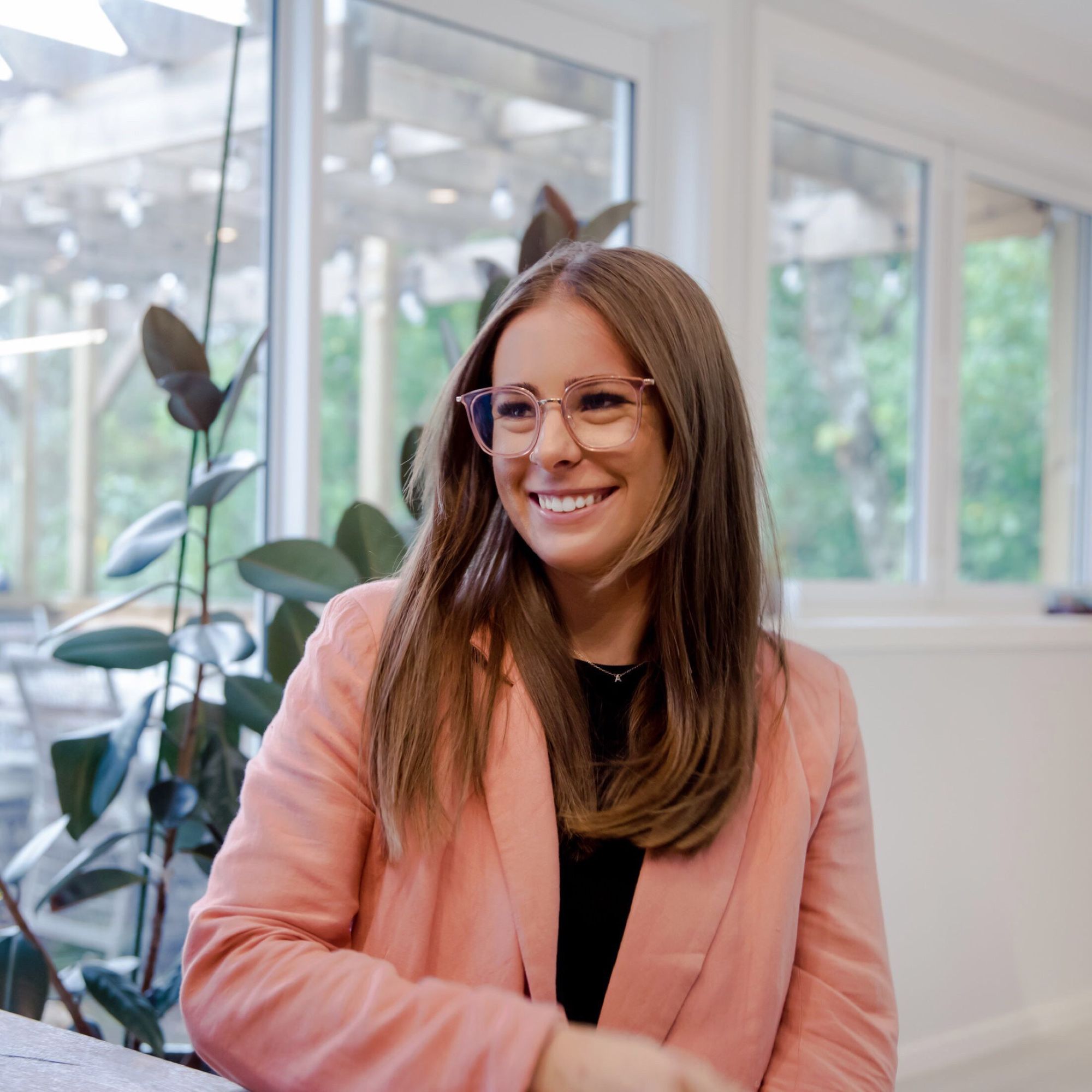 Alex's favorite kind of projects to work on are those involving brand identity and layout design, predominantly on eBooks! Brand identity is an essential foundation of business as it builds a good relationship with your dream customers and does a lot of the selling for you. Combining brand values with visual elements will promote your business and differentiate it from your competition and make your business stand out.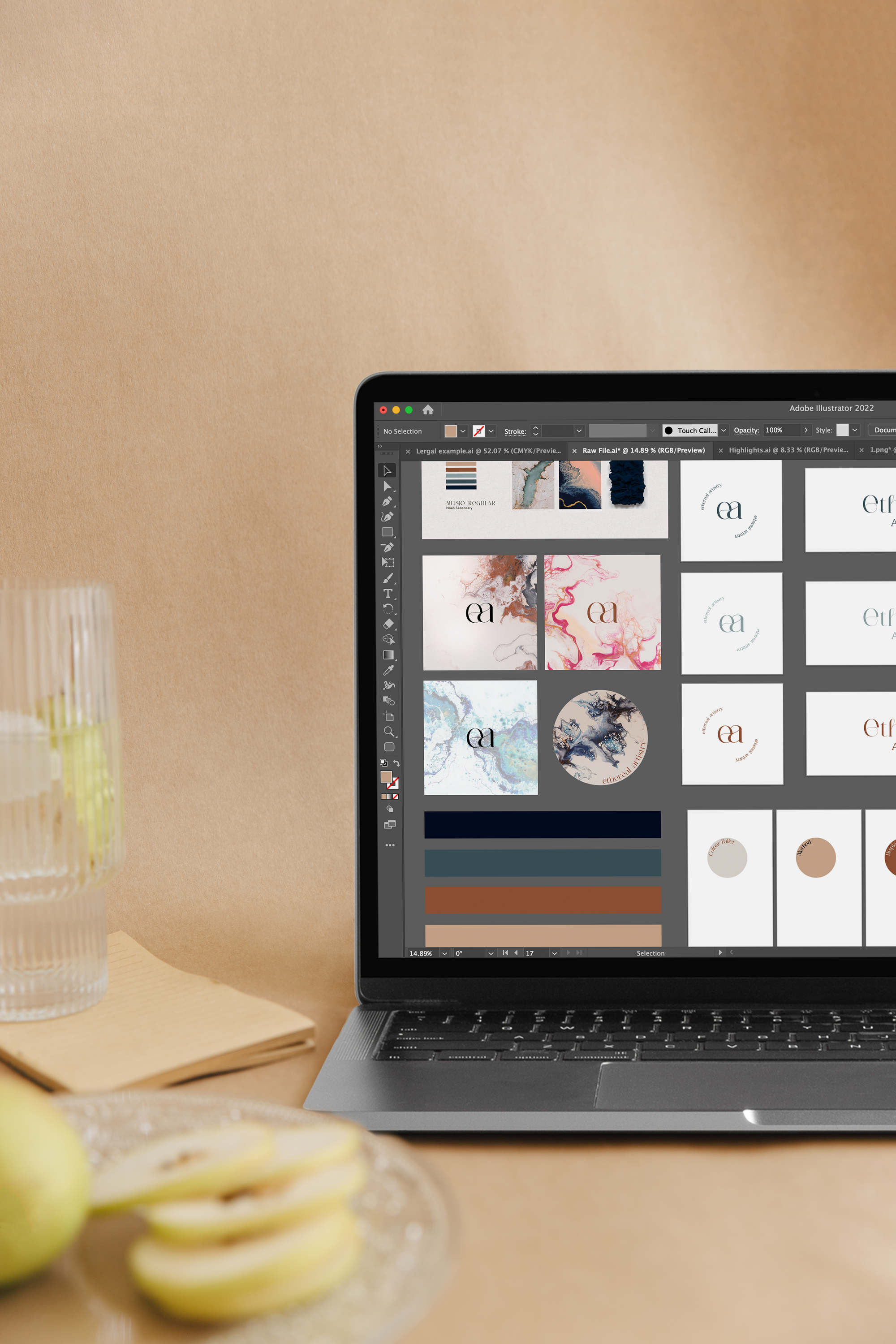 "Humans are incredibly visual, we process information based on what we see. And that is why design is so important! Whether it's branding, packaging, marketing or layout design - the list goes on!" - Alex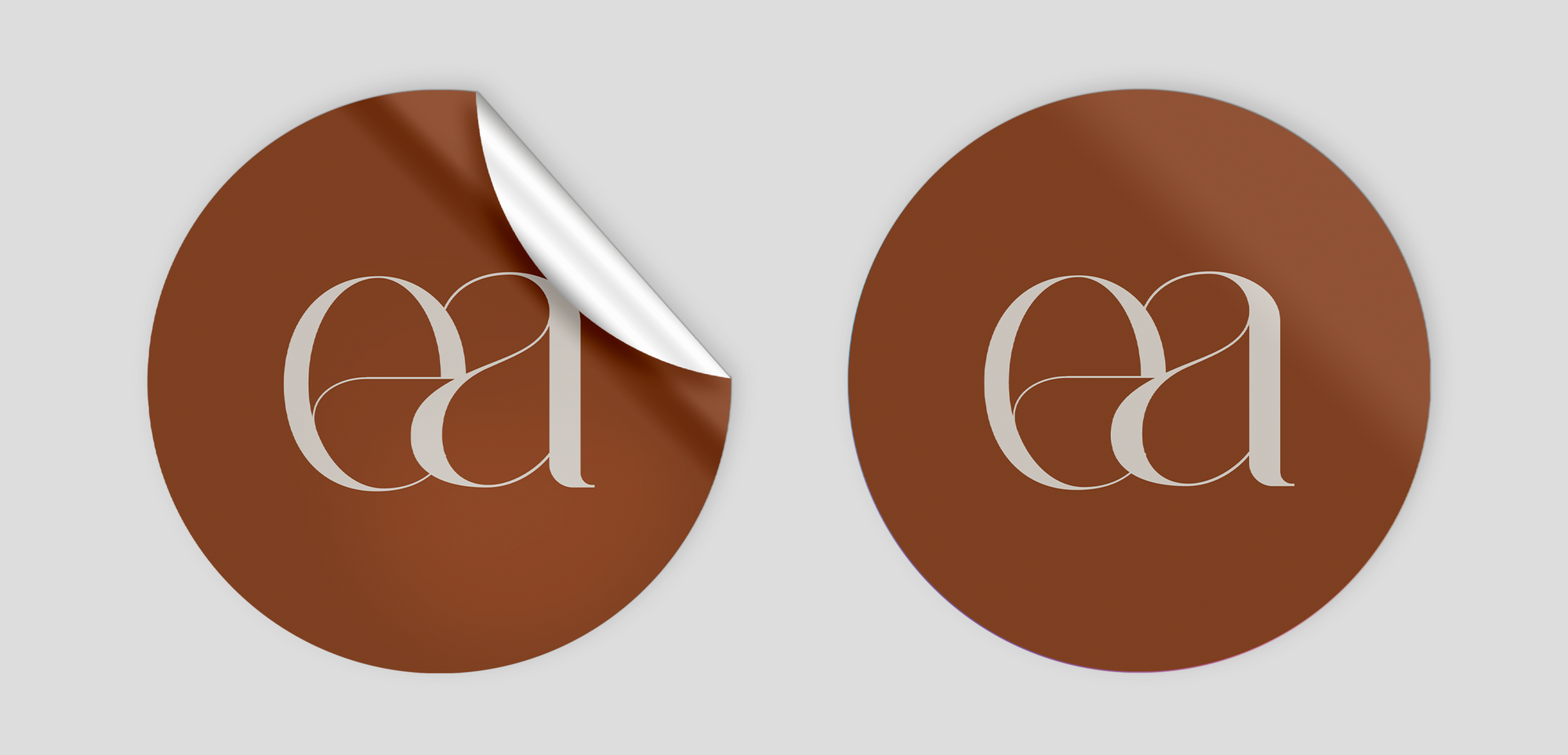 Roxanne and Alex both went to the same college in New Zealand where they shared a great love of the creative industry. Their shared interests led them to take up art, photography and textile classes. Roxanne She was so thrilled to find out that Alex had started Cove Design Studio and knew they had to join forces.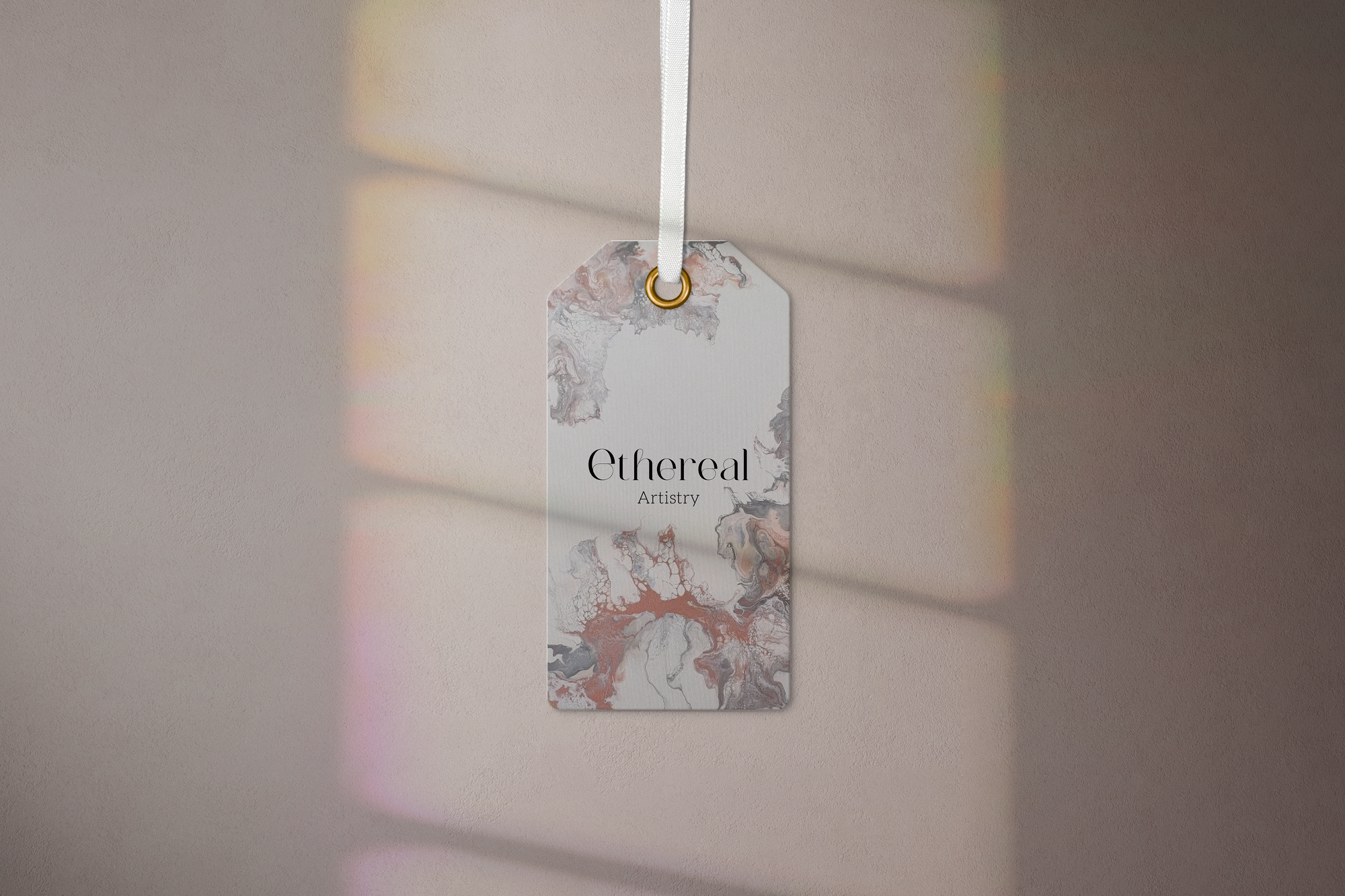 "Tash and I thought she would be the perfect individual to capture our brand's essence and voice. We felt a connection with Alex, and we knew she was the right person for the job. We contacted her through Instagram and the journey began." - Roxanne
Natasha and Roxanne were instantly drawn to the look and feel of Alex's designs. Her compositions were delicate and simple, accompanied by soft and neutral colors. All these aspects reflected Ethereal Artistry's brand mood of minimalism, flow, and abstraction—all of which results in the mesmerizing effects of their paintings. Above all, Alex's designs gave them a warm and fun sensation which was important as they felt this would capture their special sisterhood bond. Both Natasha and Roxanne were also delighted to support a friend with her up and coming business.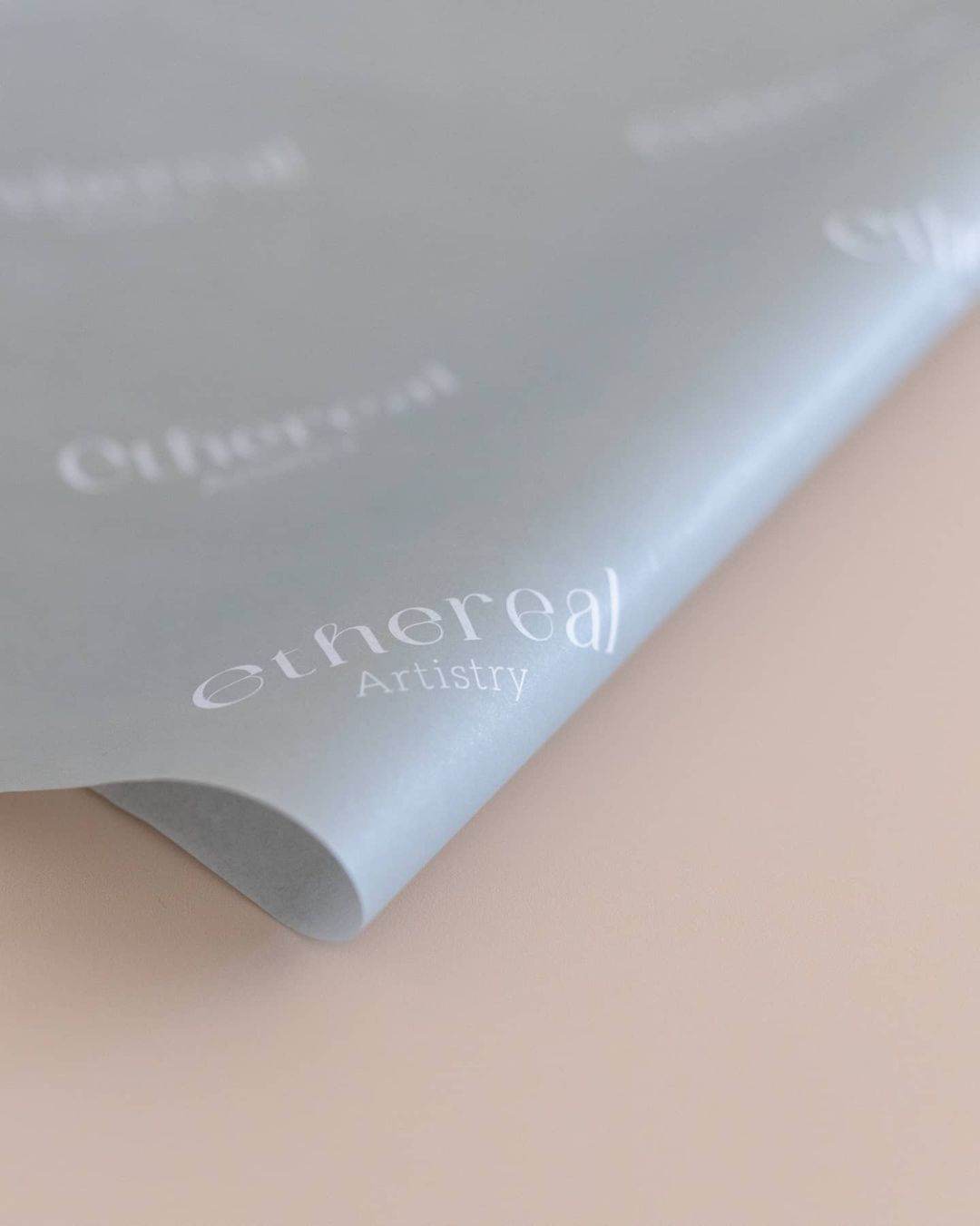 Diving Into the Design Process:
Kicking off the design process, Alex starts every project with a brainstorming session to get to know more about the client and their brand. She always finds this step so exciting as she encounters first-hand the passion of her clients at this early stage of business.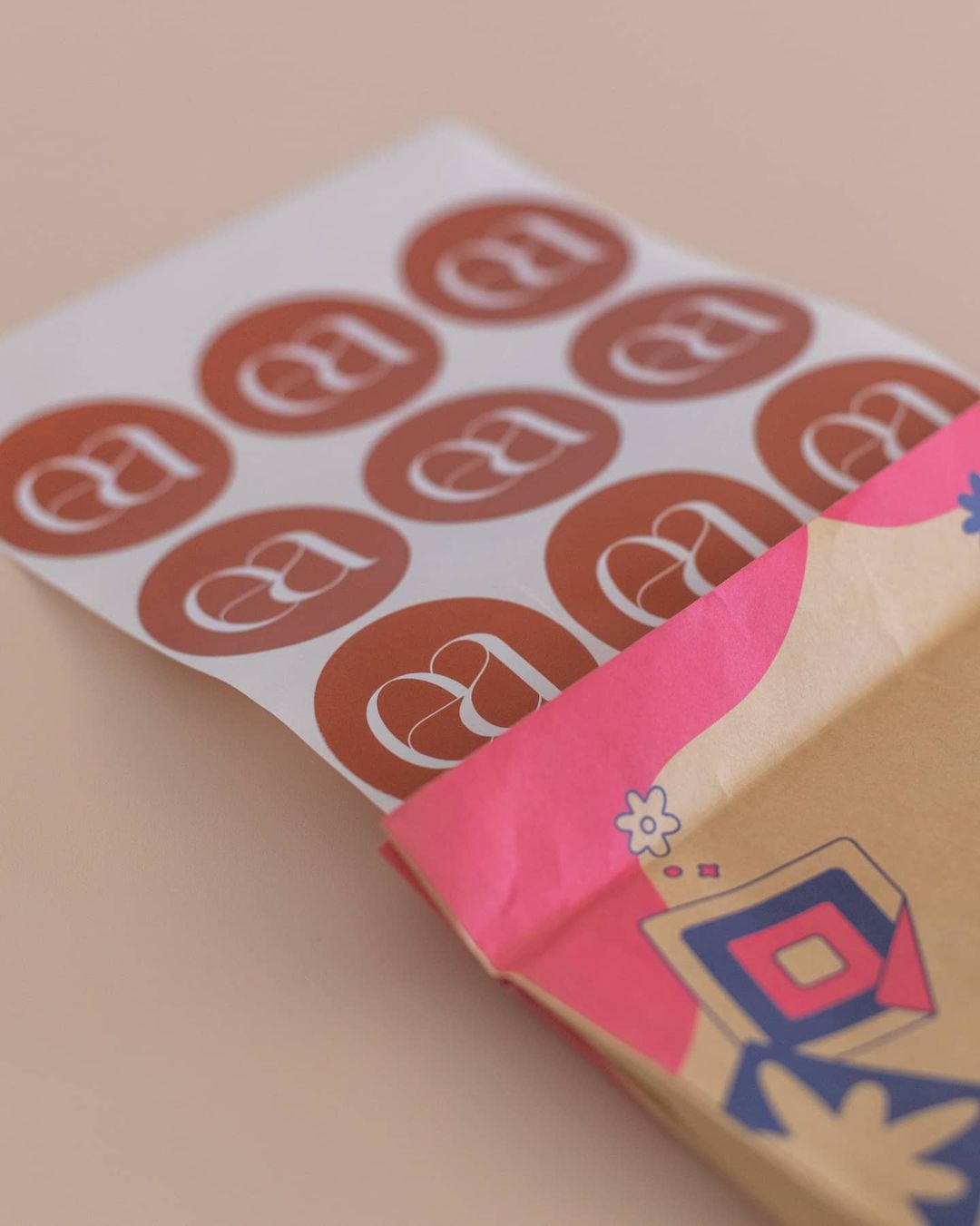 Roxanne and Natasha worked closely with Alex via email and social media throughout the whole project. Alex was very accommodating and created a shared Pinterest page which was extremely helpful in narrowing down their ideas. Alex also made sure to check in with them each step of the way and gave them the option of choosing their own font.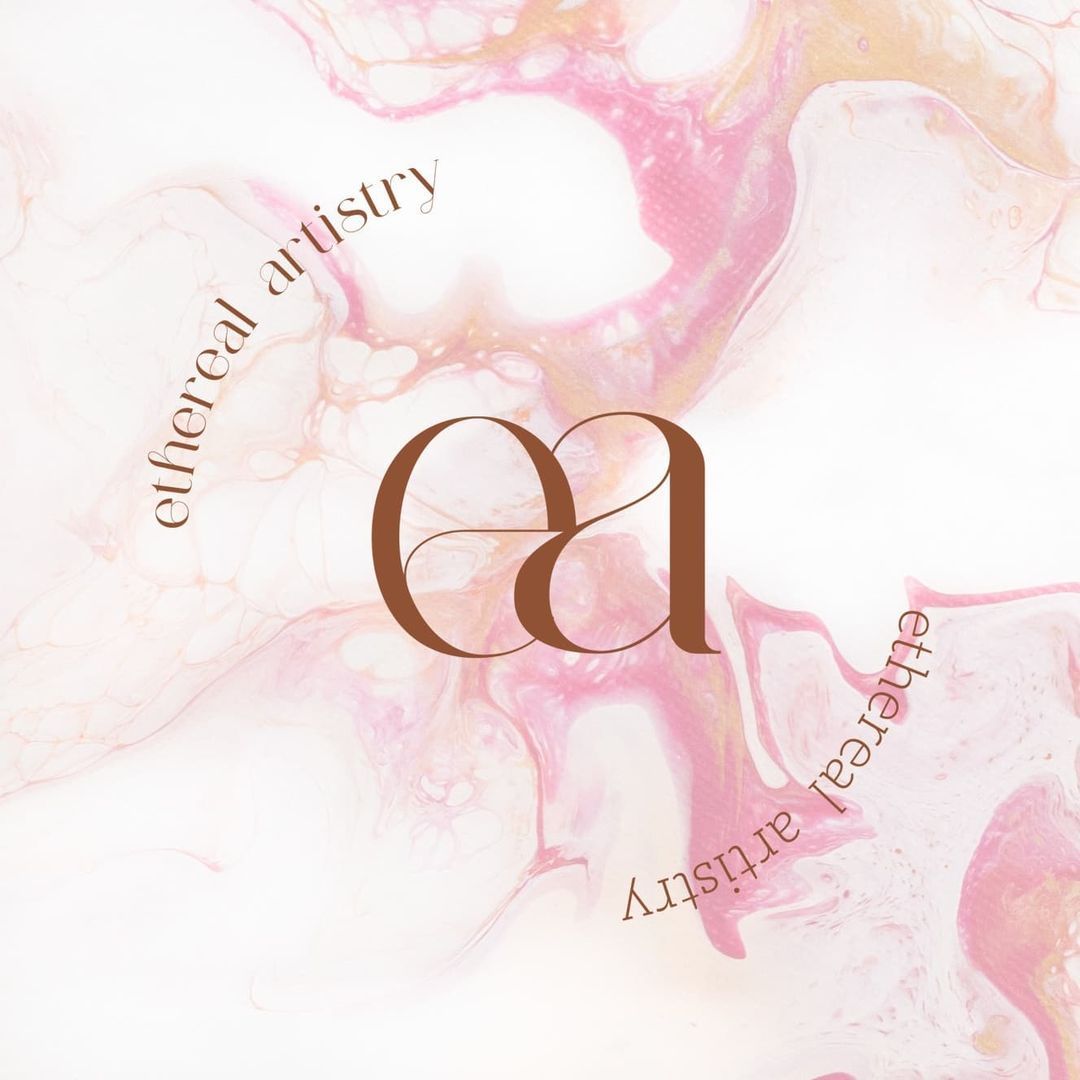 After getting to know more about Roxanne and Natasha and what they were envisioning for Ethereal Artistry, Alex moved on to curating a moodboard with a collection of beautiful imagery, color palettes and font types suited for the brand. Once the vision had been reviewed and properly signed off, Alex began the branding process.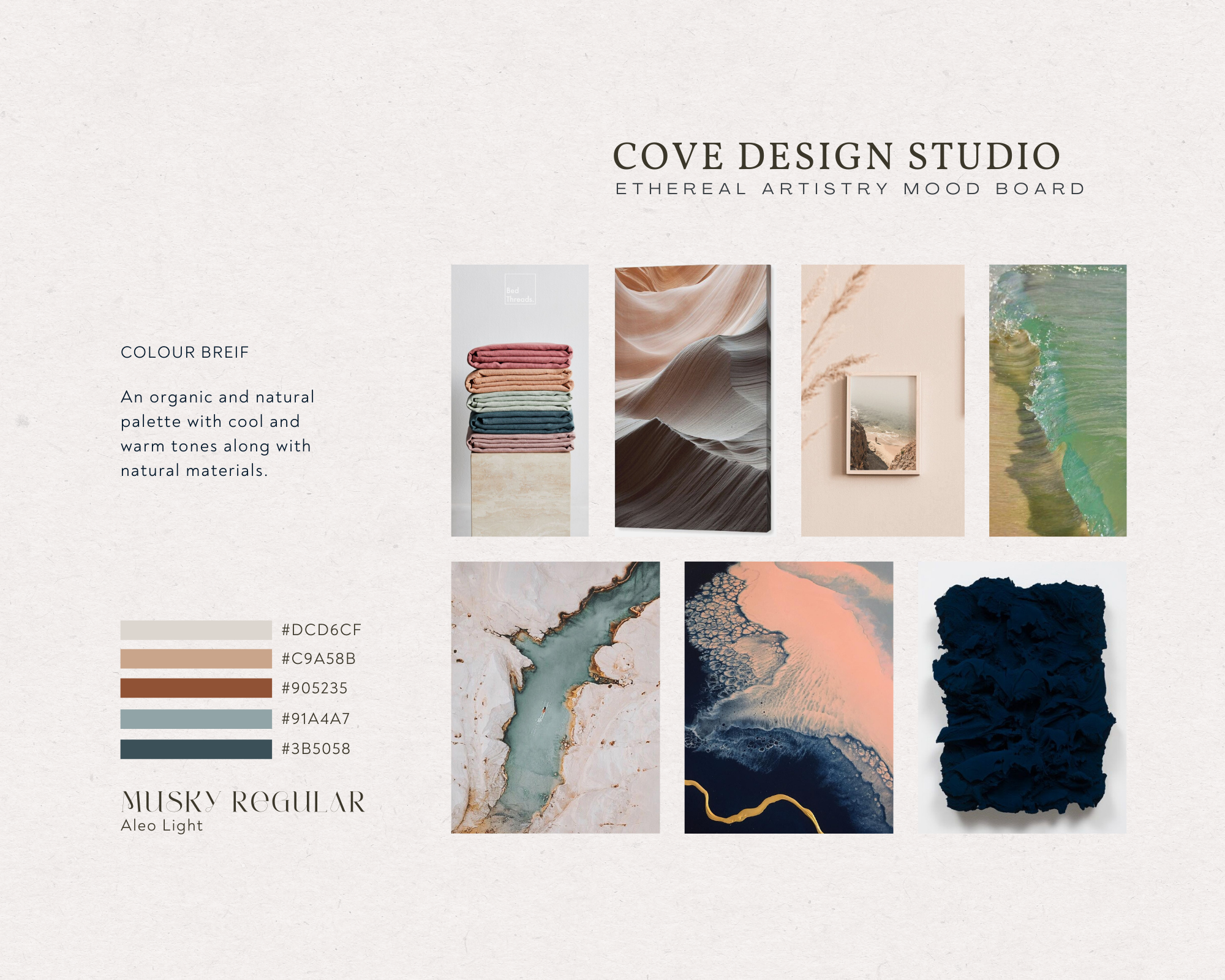 "Alex created a range of logo designs for us to choose from which led to our final branding package. This included our primary logo, secondary logo, logo icon, colour palette and styled imagery. We use these throughout our business including our website, business cards and our packaging with noissue. We also have a custom noissue stamp that we use as our signature mark on the back of our artworks." – Roxanne and Natasha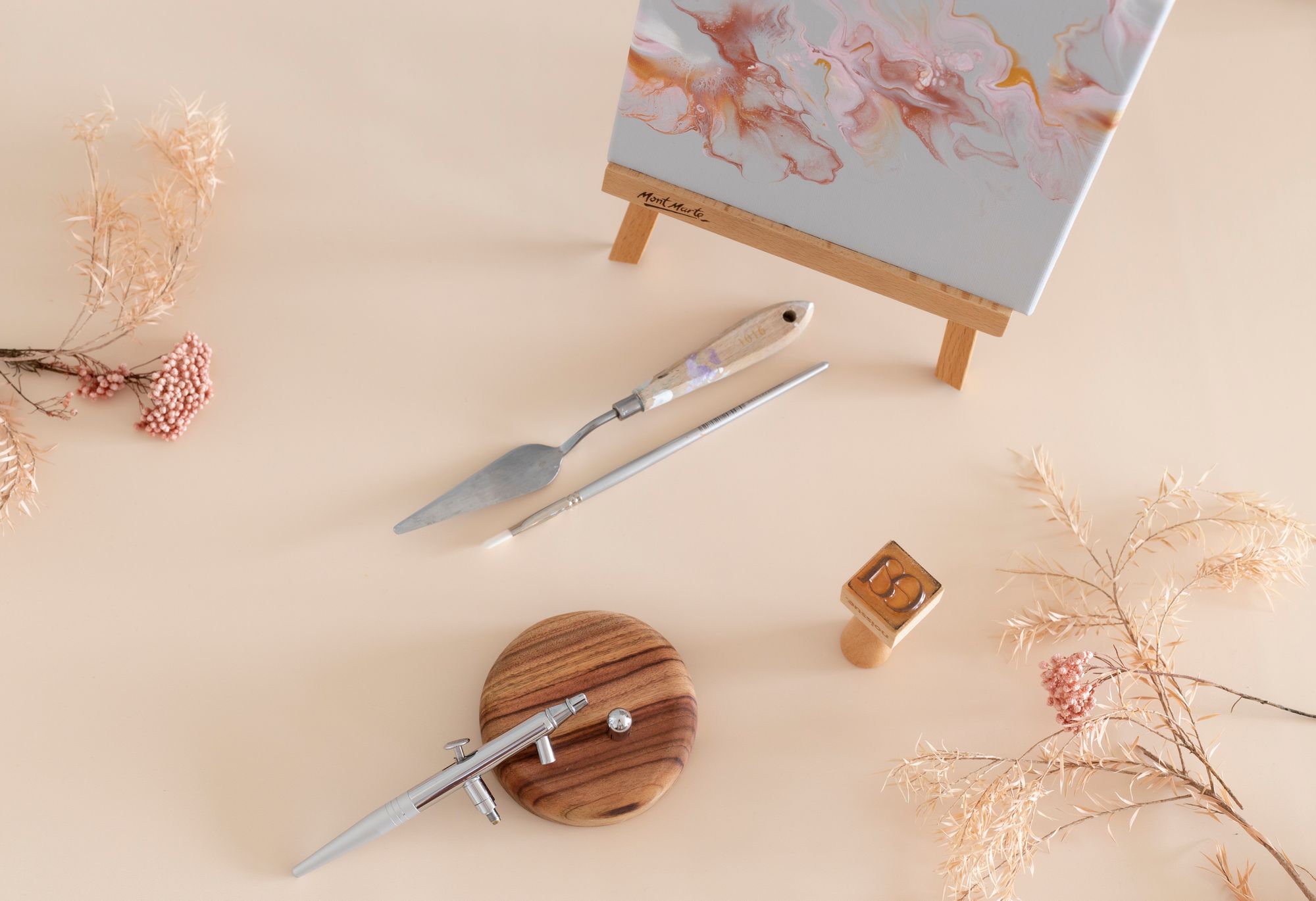 When looking for a company to produce their packaging collaterals, it was essential for both Roxanne and Natasha that the materials be sustainable and eco-friendly. They instantly fell in love with noissue, seeing the quality and customizability of their products. They adored that apart from being eco-friendly (which was a key selling point to them), all the products offered were creative and unique.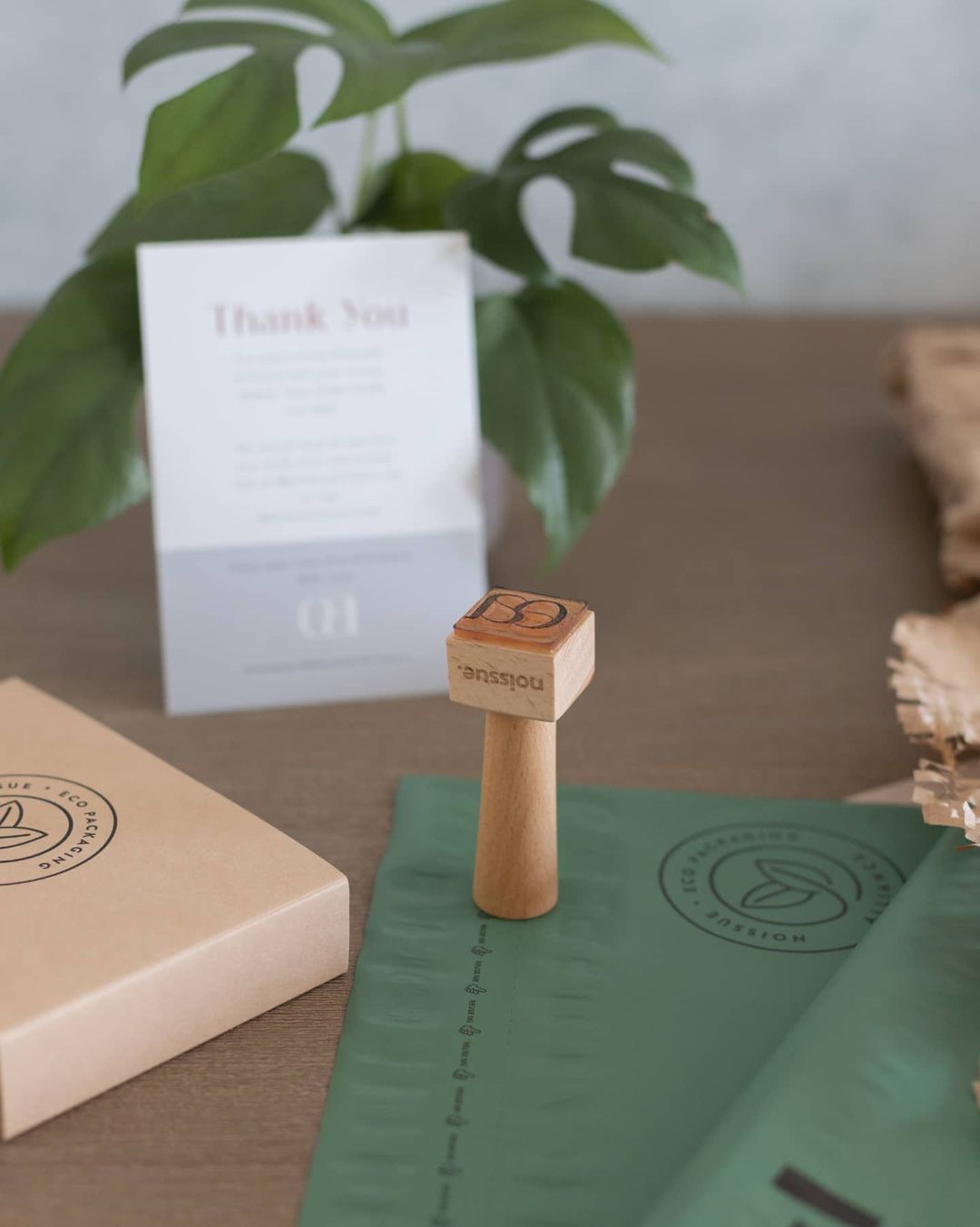 "We love that you could customize the products to make them your own. The website is very user friendly and made it easy for us to play around with our brand's look, feel and color palette, enhancing our brand identity.", shares Roxanne and Natasha.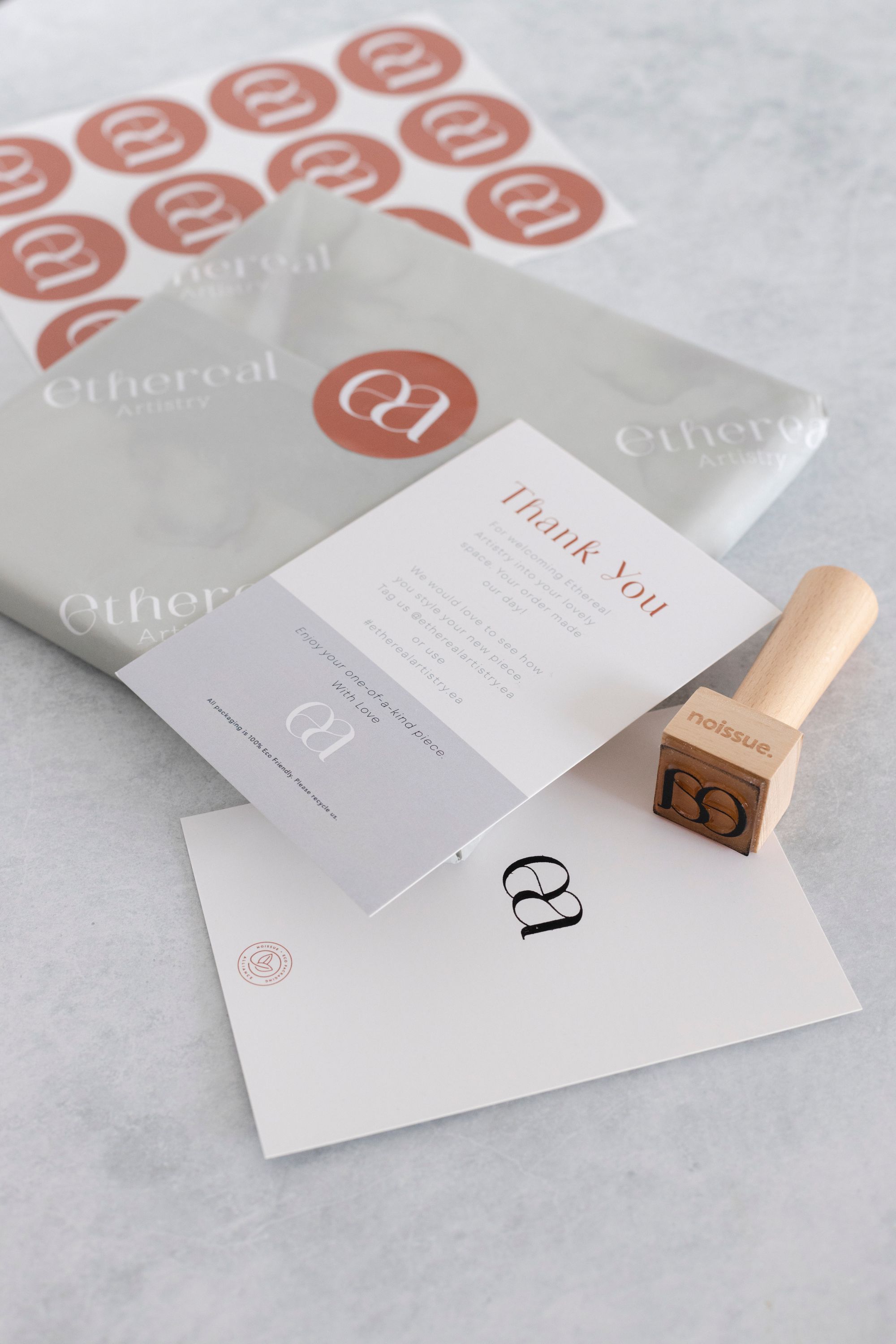 Ethereal Artistry's custom packaging features a full branding suite, courtesy of noissue products. They thoughtfully wrap their paintings in their personalized tissue paper and stickers, with a custom stamp as signature on the back of their pieces. Their packaging also includes thank you card and a referral stamp for their customers. Once all is beautifully packed and wrapped up, they send their orders out in either a padded or recycled mailer from noissue.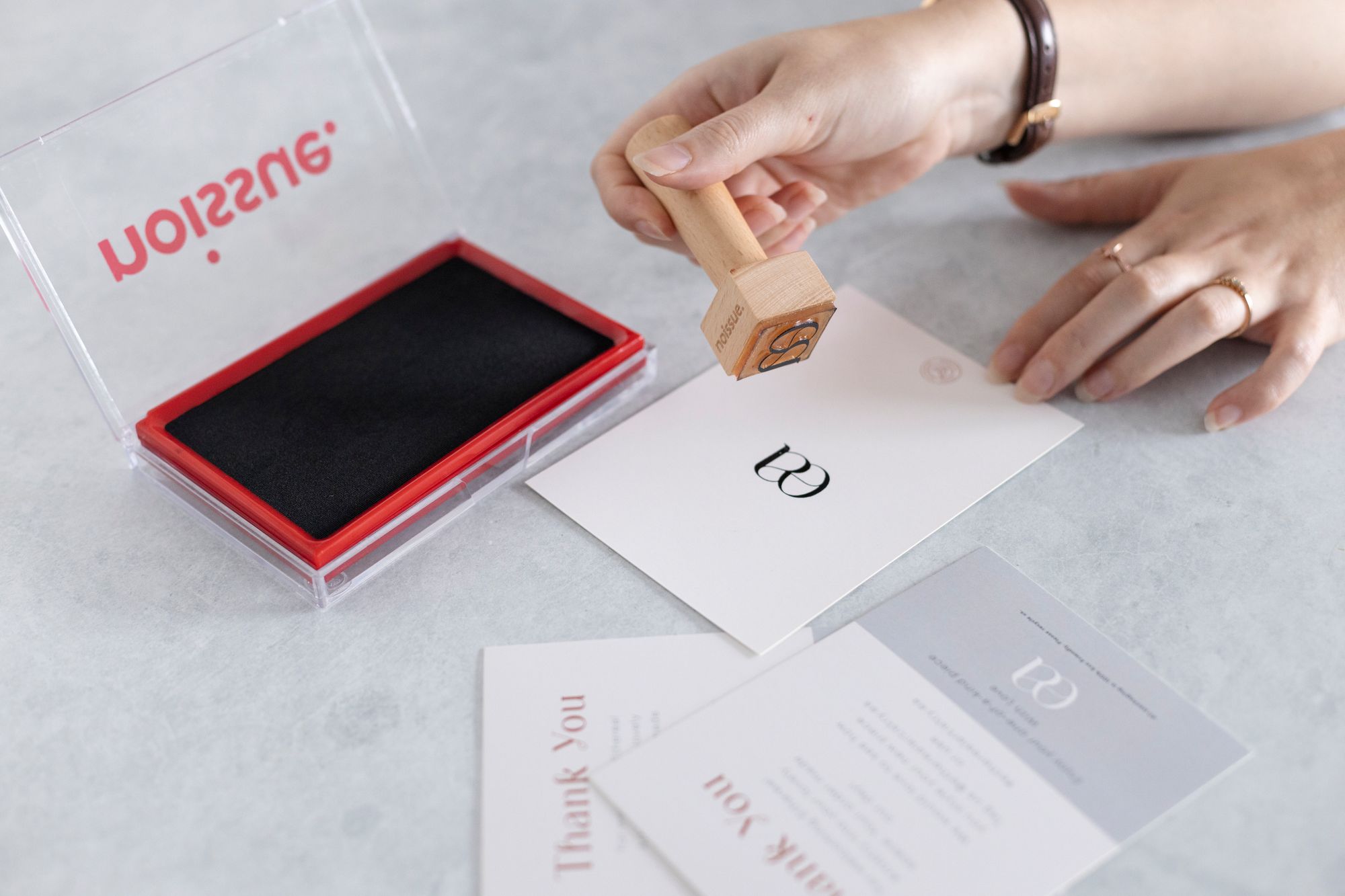 "We are thrilled with the outcome of our brand package from Cove Design Studio and are very proud that the noissue products represent our brand in a green and positive manner! Using an eco-friendly company for our packaging is essential. We have so much fun wrapping and sending our artworks to our customers, thanks to noissue! We wish for our customers to enjoy the unwrapping process just as much as the product itself." – Roxanne and Natasha
---
Don't forget to check out more of Cove Design Studio and Ethereal Artistry here:
Cove Design Studio
Website: https://www.covedesignstudio.co/
Instagram: @cove.designstudio
Creative Profile: https://noissue.co/community/creative/partner/cove-design-studio
Ethereal Artistry
Website: https://www.etherealartistry.com.au/
Instagram: @etherealartistry.ea