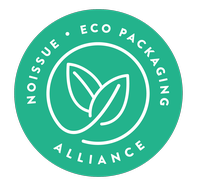 The pandemic shook the whole world with unprecedented events. It came with a lot of uncertainties, hardships, and terrible realities.  On top of that, it also came with a lot of trash.
Because of COVID-19, people had to wear masks to protect themselves, creating mask trash, and if not managed well, disposed of properly, or stopped, this trash can permanently destroy our planet.
Seeing this with her own eyes urged Laura to do something about it. She still had to protect herself from the virus and needed to find a mask that would not add up to the problem. When her search failed, she decided to make one:
"My name is Laura Robichaux. I'm originally from New Orleans in the United States. However, for the last five years, I've been based in Germany for work in the automotive industry. The most sustainable face mask on the planet, Ecomask, was born in the summer of 2020 in response to the proliferation of single-use personal protective equipment related to COVID-19. After seeing so much mask trash in not just the city, but also in parks and on beaches, I spent a lot of time looking for sustainable masks to buy. When I couldn't find one that didn't have tradeoffs for either people or the planet, I decided to make one."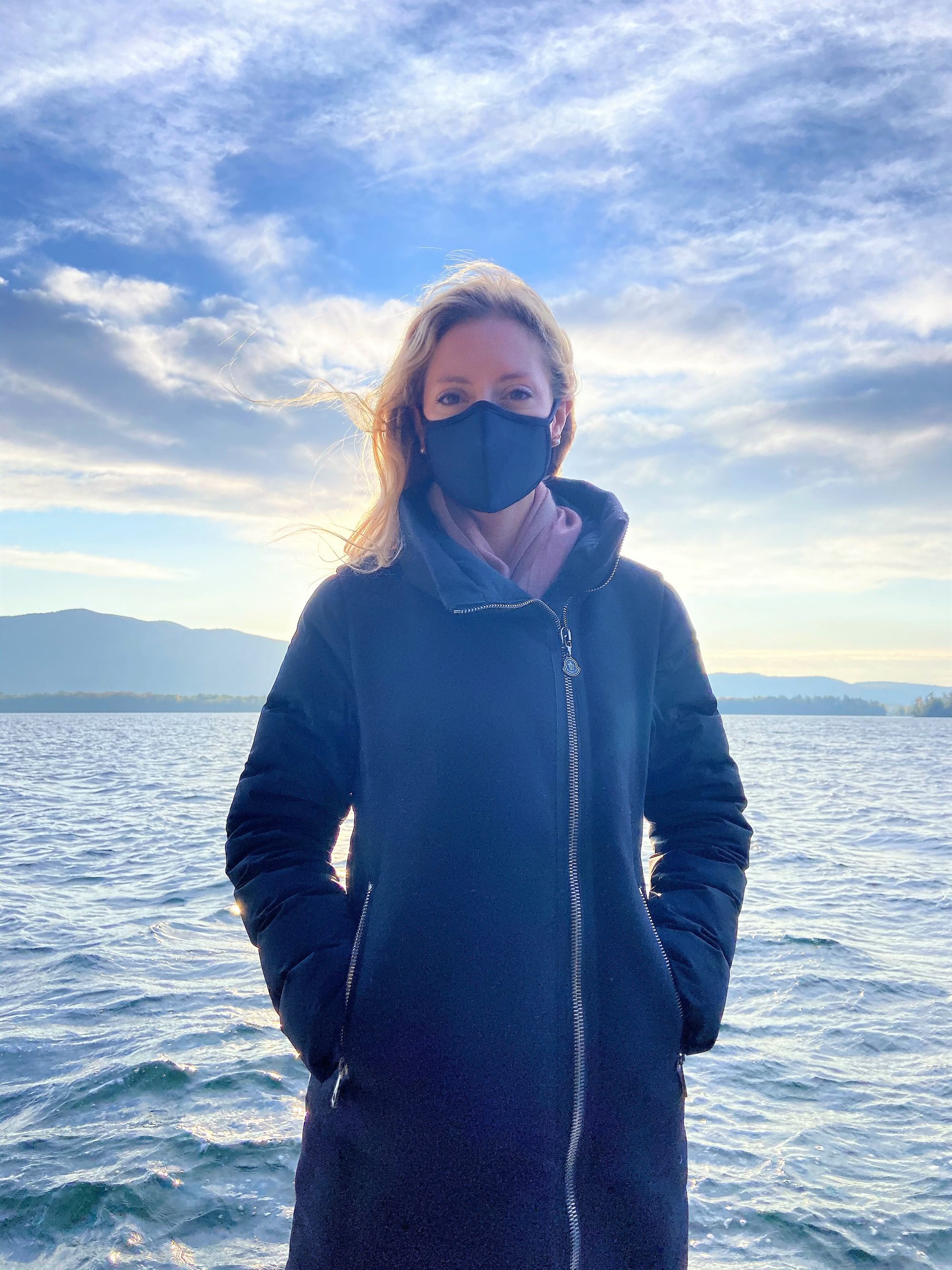 "Our vision is to make the most sustainable and effective reusable face masks on the market to end mask trash. We vow to do this while maintaining conscious and ethical business practices and by donating 1% of proceeds from all purchases to the Healthy Seas organization. Healthy Seas is an environmental charity working in various European countries (North, Mediterranean, and Adriatic Seas) and in New Zealand (Pacific Ocean) to collect waste fishing nets in collaboration with fishermen and volunteer divers. These nets pose a severe threat to marine life if abandoned or lost at sea. The nets collected are ultimately regenerated by Aquafil, together with other nylon waste, to produce ECONYL® yarn, used in a variety of sustainable products, like the Ecomask face masks."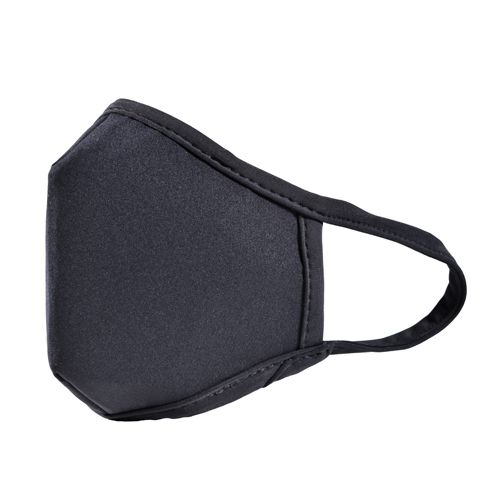 "Starting a business is never easy and in a lot of ways doing so in 2020 is not different than any other time. Some of the biggest challenges we have overcome include launching a business in multiple markets, logistics, and marketing a product that is becoming highly regulated. For example, Facebook seems to think we can influence the upcoming US election. ;) We are lucky to have a strong network of like minded partners to support us. I don't think there's much room for 'I' in business. I could not have done this on my own or without incredible manufacturing and materials partners. We feel fortunate to have been able to provide a solution to the market, to be able to keep people working in uncertain times and to be able to support Healthy Seas which inspires us daily. "
There are many challenges along the way but these are what keeps me inspired:
the many sustainable brands that have been true to their values as they've grown like Stella Mccartney, Patagonia, and Ecoalf
the small business who are serving local markets like Jungle Folk in Switzerland
the big traditional businesses that are beginning to change how they operate like Gucci's Off the Grid line made with ECONYL and Prada's Re-edition collection
but mostly I'm inspired by the incredible work of the volunteer divers who work with Healthy Seas to pull discarded fishing gear from the ocean to protect and save marine life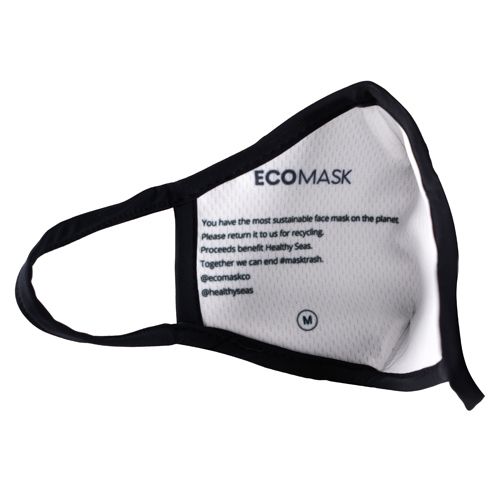 "We believe in business as a force for good. This is why we were set up to donate profits to Healthy Seas from the beginning. It's easy to look around and identify things that are broken whether in our global society or local communities. Through business we have an opportunity to pick one area to focus on and effect change. A sustainable business must be inclusive and create win-win-win opportunities for all of its stakeholders. This means the end customer should not have to pay any kind of green tax for a sustainably made product. We have worked hard to develop a fairly priced reusable face mask with a filter that offers no tradeoffs for people to be able to be safe and protected from air pollution, bacteria, allergens, and viruses. We have worked to ensure that this product is safe for our planet."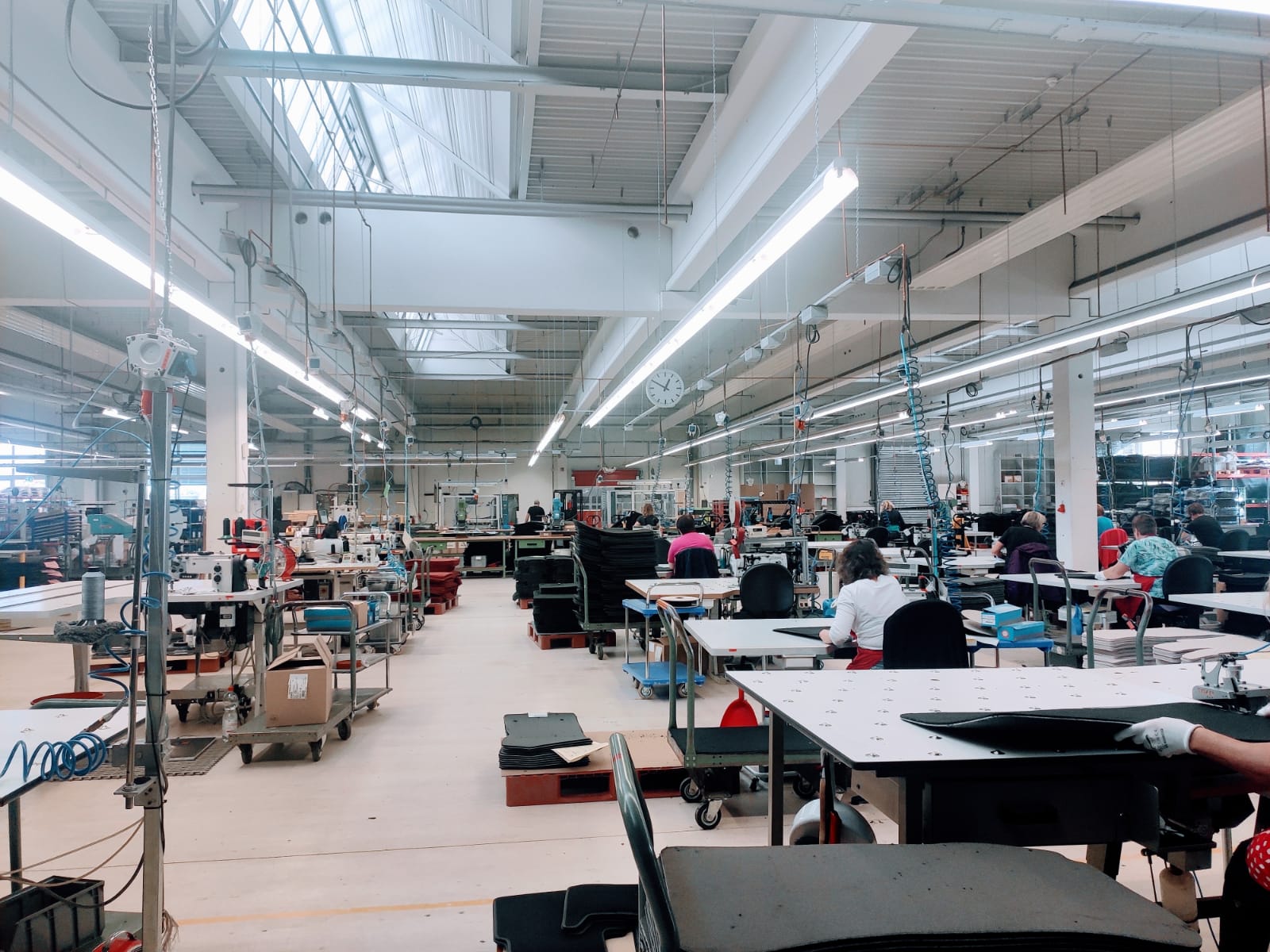 "Some steps that we've taken as a business to lower our environmental footprint is by using the methodology of B Corporation and Cradle to Cradle as we designed our business this year. We do everything with our stakeholders in mind, and the environment is included as a stakeholder. We fully embrace transparency, and in our FAQs, we disclose the complete material construction, our test results, and manufacturing practices. As we continue to grow, we plan to publish annual environmental impact progress reports."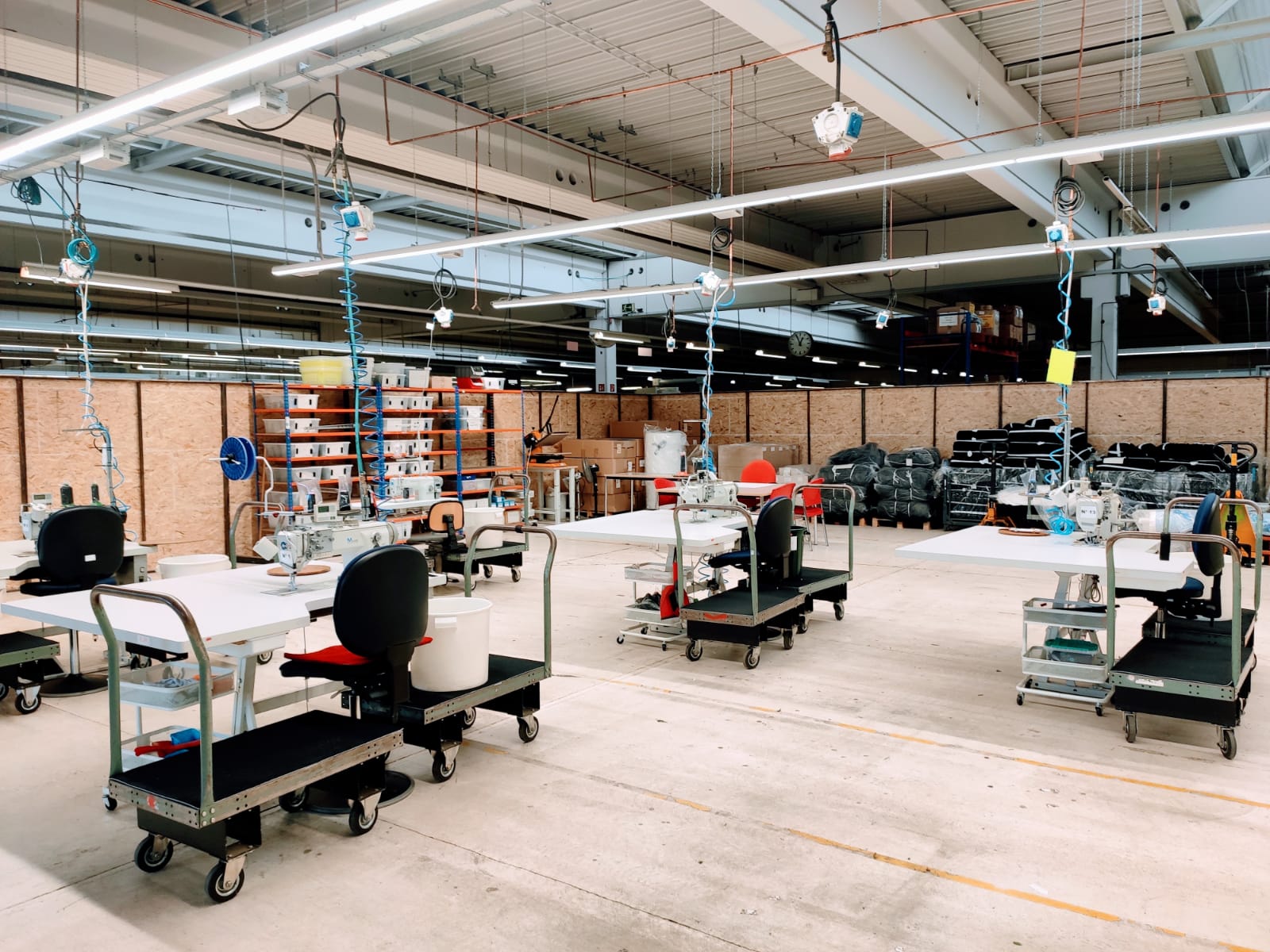 "We are so happy to include noissue as a partner! We were on a mission to have minimal packaging with low environmental impact. Because we have stripped away everything that isn't completely necessary, we wanted to use customized packaging as a way to convey our brand story."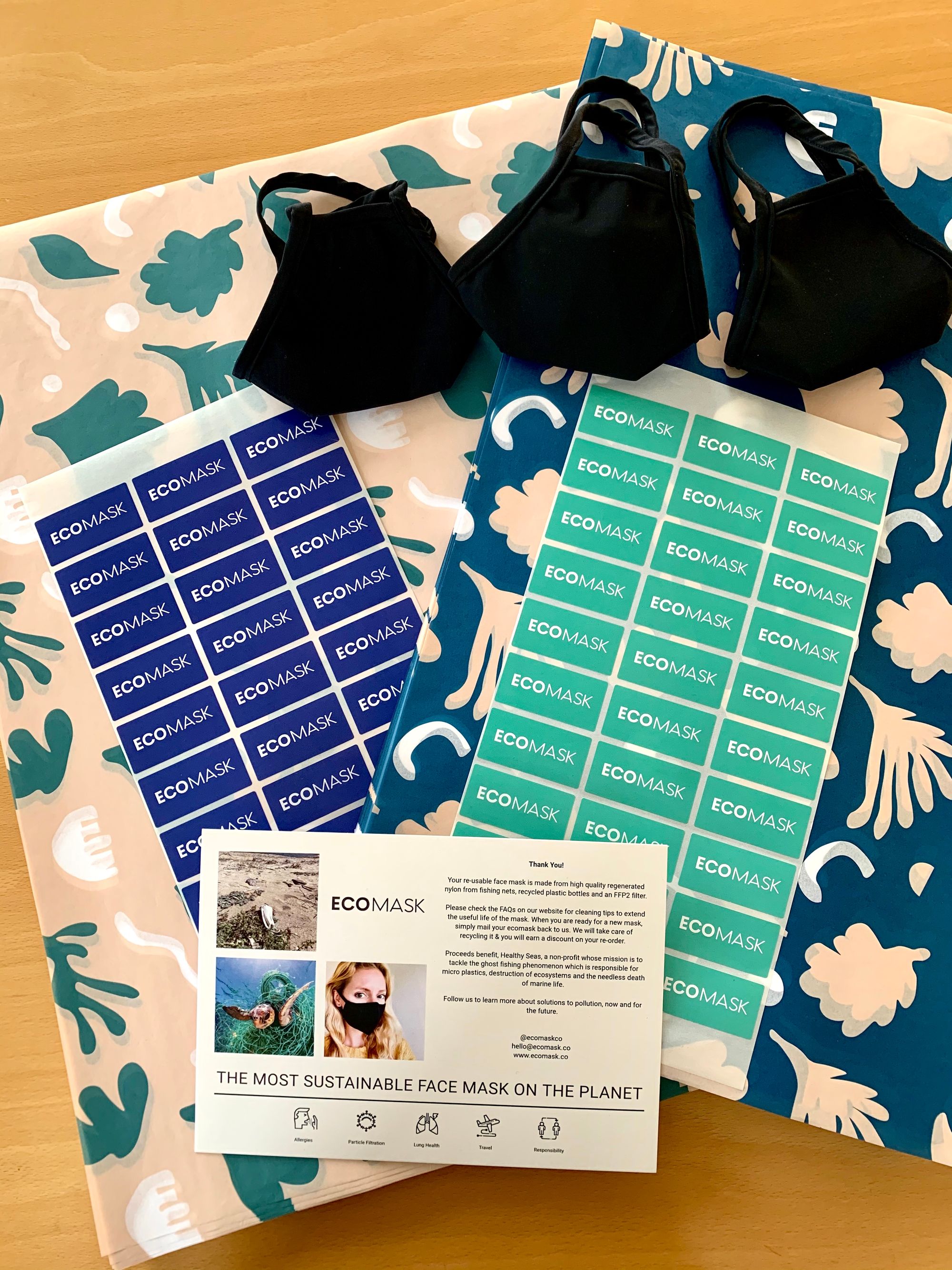 "noissue was so easy to work with! Through the expert network, we found Dinah Smutny, who is a textile designer living in the Netherlands. Her abstract and organic style was a perfect fit for our brand. As a woman-led organization, we are thrilled to highlight the amazing women working with us."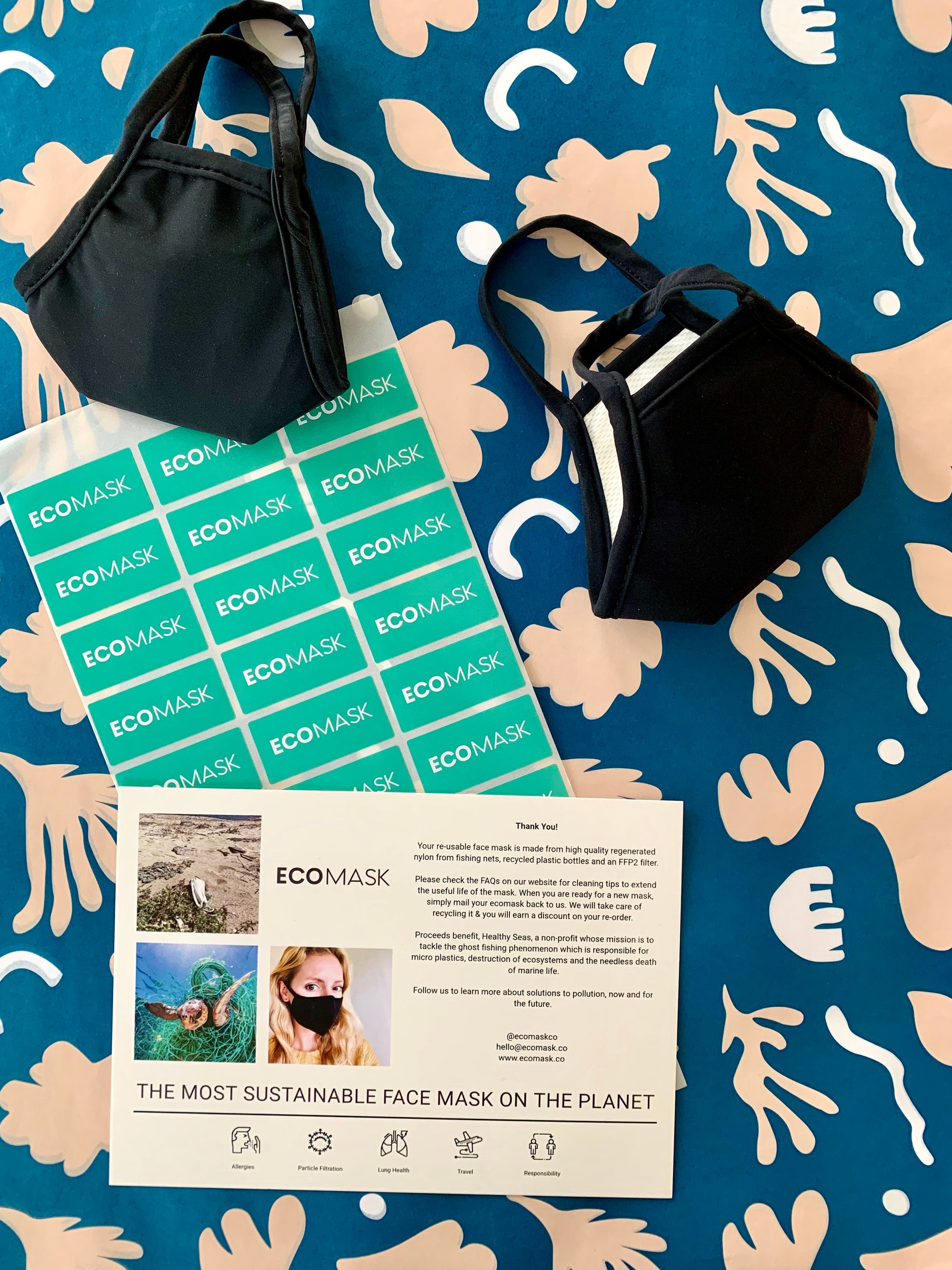 Ecomask fun fact:
"If my brand were an animal, it would be a sea turtle, because they move thoughtfully and play a vital role in the balance of marine habitats."
---
Find more of Ecomask here:
Website: ecomask.co
Instagram: @ecomaskco