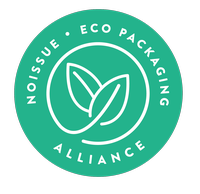 Do you love knowing other people and hearing their stories?

When you get to know someone different from you, you allow yourself to learn and see things from a different perspective. It enables you to know the different joys and struggles that people are facing. It can help inspire you to live a better and more meaningful life.
Ellie, a New Zealand-based artist, unconventionally tells people's stories. She doesn't write biographies, she doesn't create documentaries, but instead, draws eccentric illustrations that can depict even the smallest details of a person. It's like seeing a person's life in one art piece. Fascinating right?
She talks to us about her own story, favorite works, and why she chose noissue for her packaging:
"Kia ora, my name is Ellie. I live in Christchurch, New Zealand, and I create chaotic whimsical worlds based on peoples' life stories. Every piece is different - For each work, I ask the client for a list of interests, stories, inside jokes, travel adventures, and important dates and places. I then translate these into a chaotic cross-section of a world that is playful, dynamic, and unique. My work is mostly made up of black ink drawings on paper with the odd skateboard, tattoo, and mural thrown in."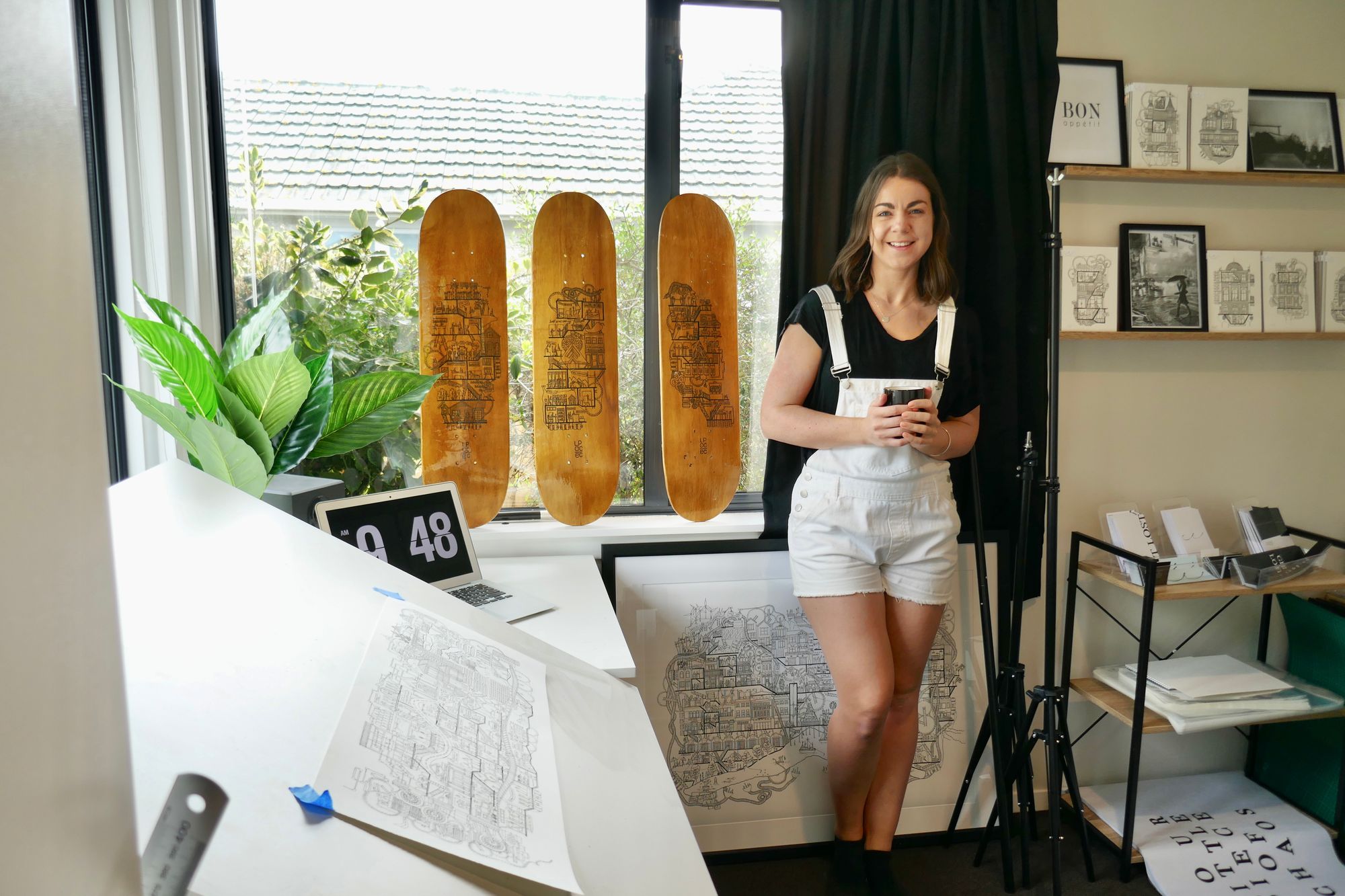 "I am a trained Architect, and through my studies we did a lot of developing ideas through model making, drawing. My masters allowed me to explore things I love which are how people can feel a sense of connectedness when art and architecture are combined with narrative and storytelling. This exploration lead to a series of drawings that look very similar to the style that you see today. I have been working as an Architect by day and an artist by night for about 6 years now. The last month has just taken the plunge and decided to take my art full time. It was a super tough decision (but the best one!!), and although I still have a love for architecture, I felt that if I didn't give 100% to my art, I would never see what it could fully become as a brand."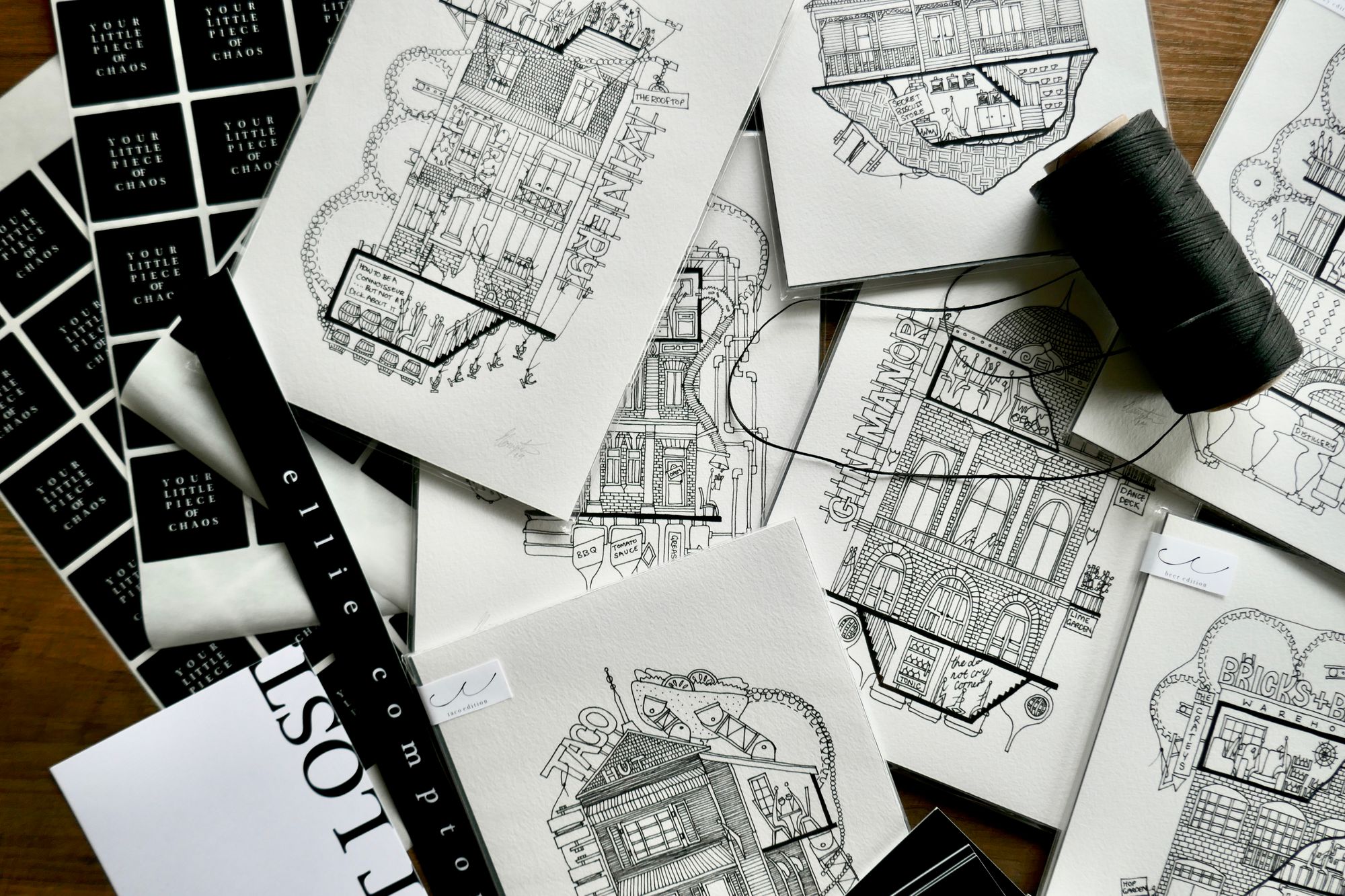 "I started my brand because I simply loved creating - but I continue to develop my brand because I love being able to create art that people can get lost in and feel so intrinsically connected to. Essentially, I create a snapshot of someones' life in one frame, where inside jokes are hidden in whimsical scenes, massive life milestones are drawn out, and sometimes even imaginary, hilarious scenarios that people wish were a part of their lives are included too.

My vision is for my art to bring joy. As cheesy as it sounds, I want people to feel listened to, understood, and connected to my art in a personal way. It is my dream to expand my business into exterior murals and to be able to tell stories of communities and businesses. It's a cliche, but we are all so busy in our lives at the moment, I would love for my art to be something that makes people stop to borrow a few minutes, and to get lost in a world where they either feel directly connected to themselves, or where they can comprehend and be aware of other peoples' stories."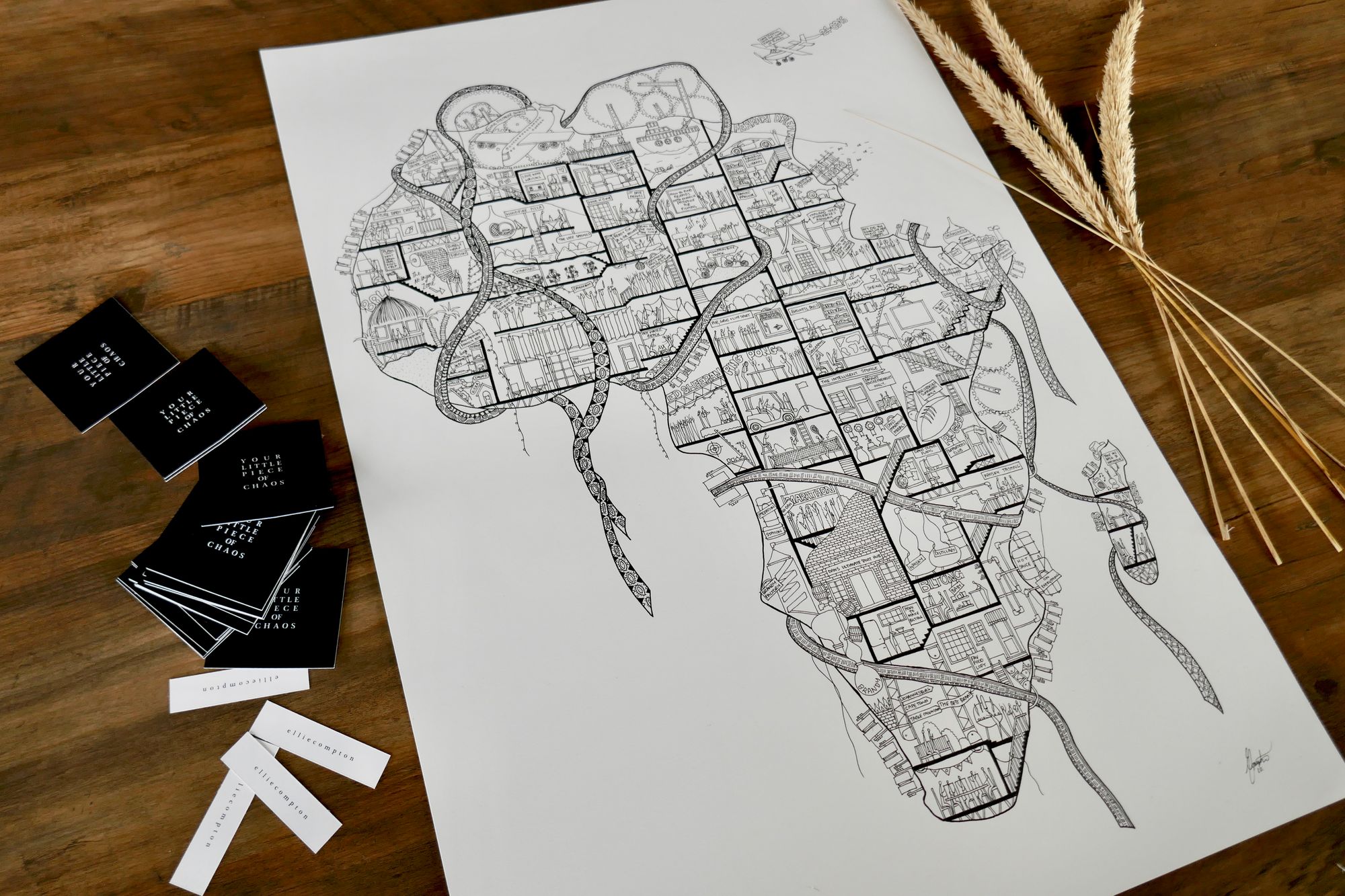 "The interior mural I did for the QT Museum Hotel in Wellington is one of the works that I really loved. I was a part of a group of artists that each got to take over a new hotel room. I got to interview staff and guests of the hotel to find out all the hot goss and crazy stories behind the scenes and intertwine them into a story about a traveler returning home to the mainland - NZ. It encompassed travel, tourism, local events, and culture - I even included 'Lukes Tradie Paradise' as per a request from Luke the builder that was on-site at the time of construction. He was stoked!"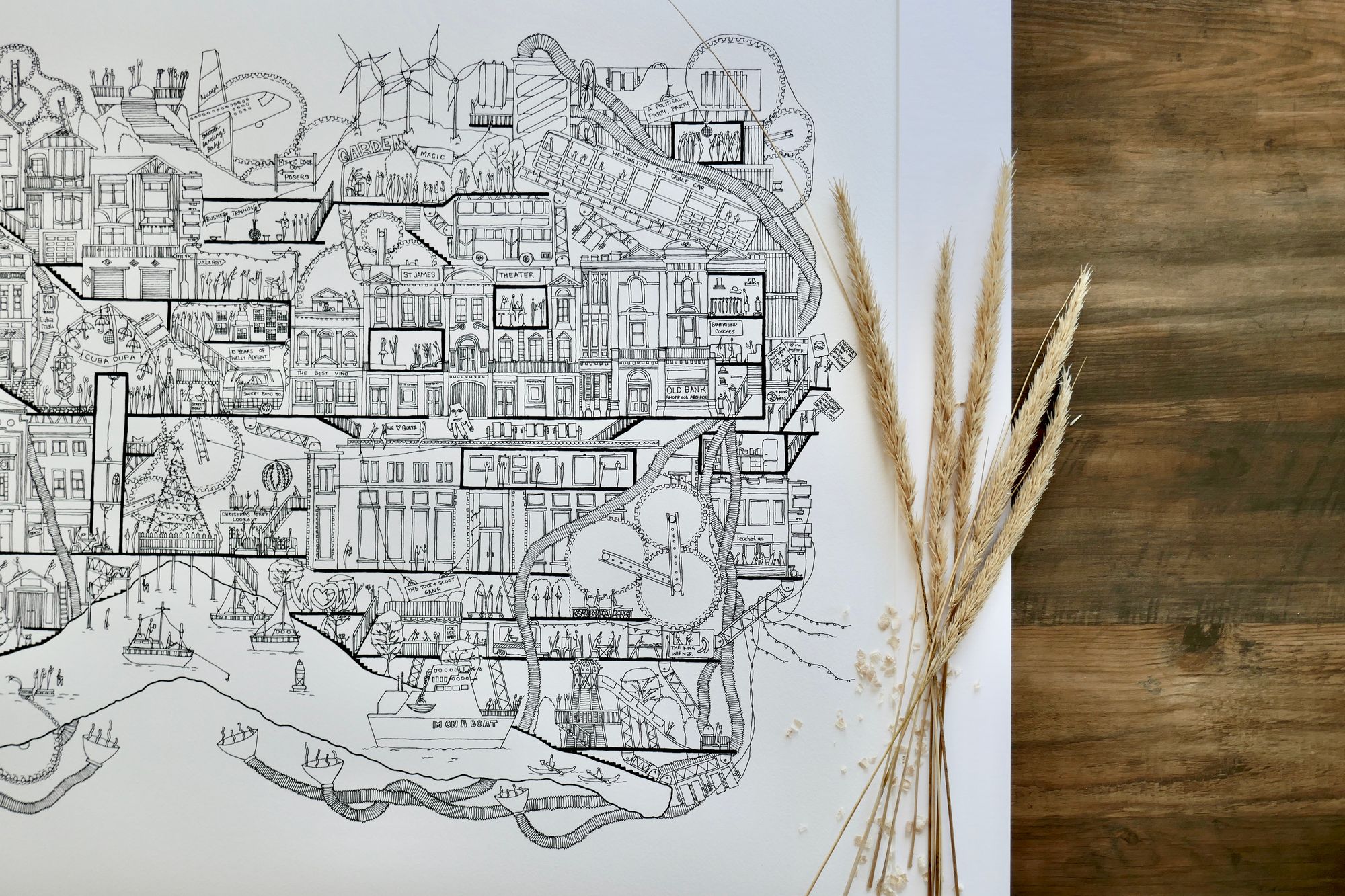 "A big challenge for me has been work/life balance, which I have struggled with for years. I am great with time management and finding time for my friends and hobbies but not usually time for myself. That is one of the main reasons why I decided to take my art full time so that I can have more time for myself, my family, and the things that fill me up. Another struggle is, I am not naturally a businesswoman; In the beginning, I undersold myself and didn't price myself appropriately. I also think this stems from the tall poppy syndrome that a lot of kiwis struggle with. I am learning through some amazing books and podcasts on how to succeed in business and am feeling so much more confident in my decisions and how I value myself and my work. Podcasts I recommend are Lady Startups-by Mama Mia, Gangsta Creative Podcast by Devona Stimpson, and a book I'm loving at the moment, You are a Mogul by Tiffany Pham."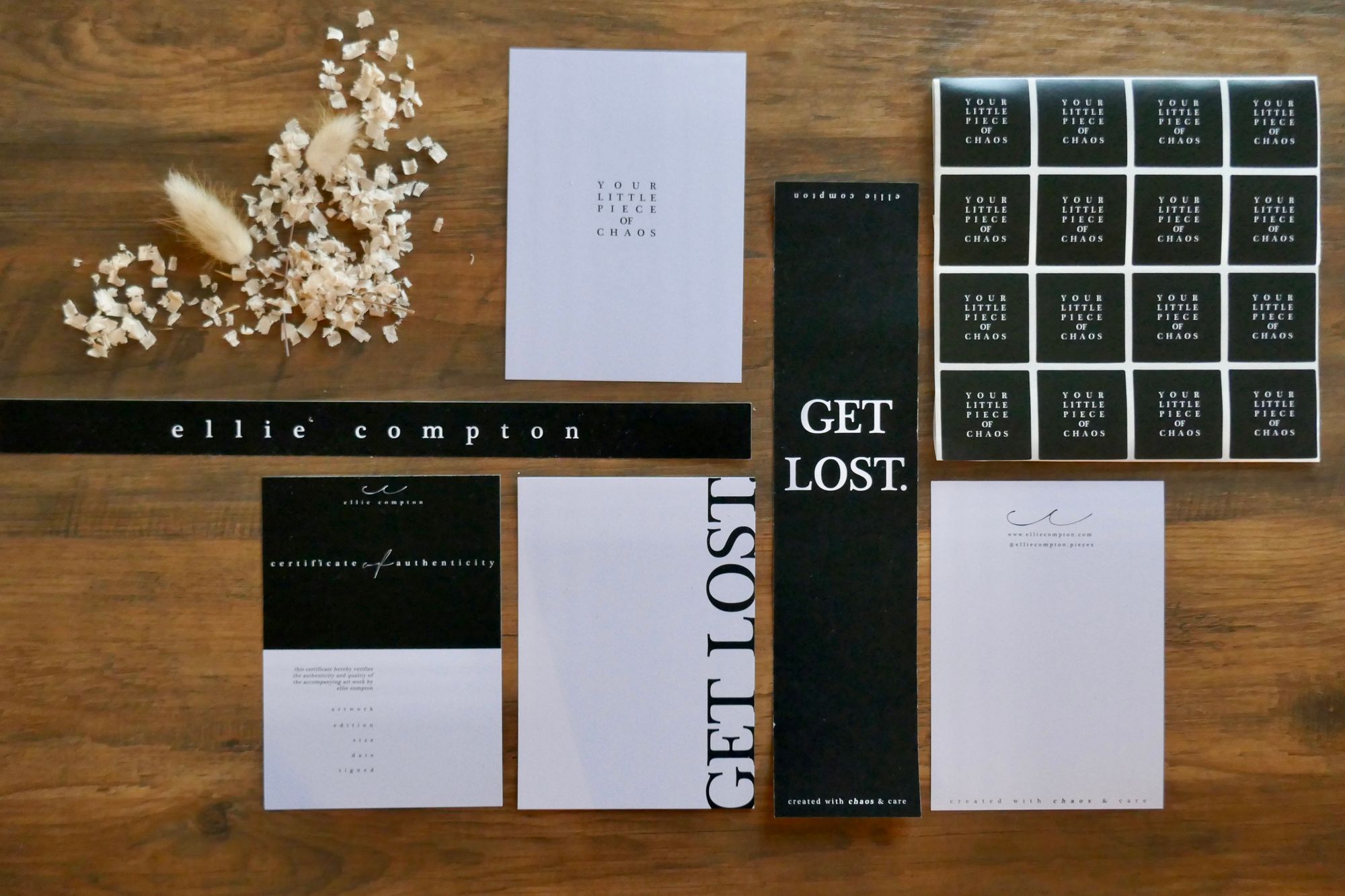 "I have loved working with noissue for my packaging. My eco-footprint has become a key part of elevating my brand to something that describes the amazing people's lives on this earth but also respects the earth itself. I feel hugely connected to nature and want to protect it as much as I can. I receive quite a lot of large packages for frames and other products - all of this packaging, I reuse for when I send the art out. This saves waste and also $$$."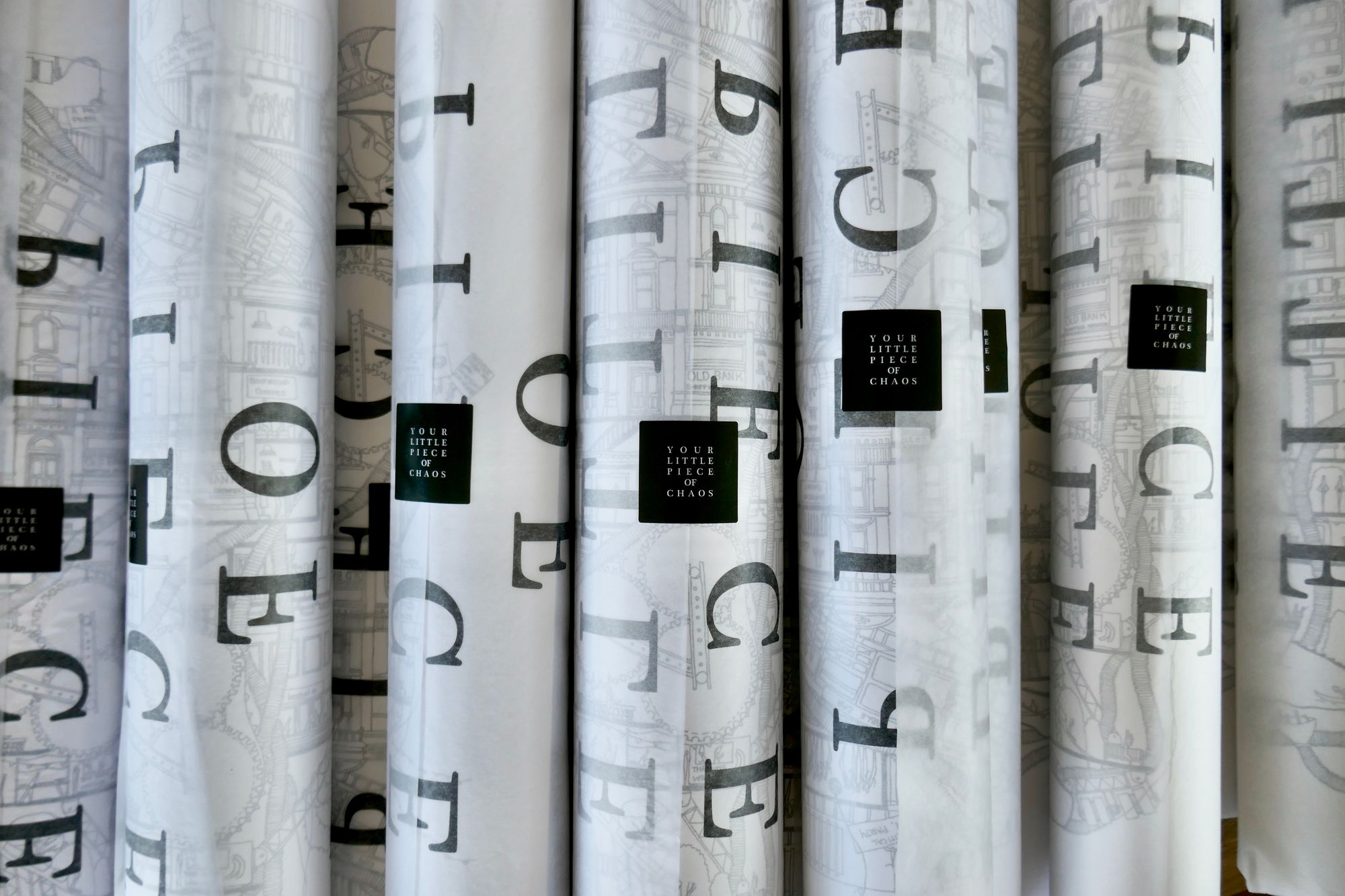 "I believe that art should be an experience - I think the unveiling of art should enhance the piece by creating a luxurious experience that demonstrates your brands' ethos. My custom packaging has cheeky catchphrases, which I carry through into the way I speak in my emails and on each personal thankyou card that gets sent out. It tells the receiver to 'Get Lost' and tells them that, 'Yes, your life is now a piece of chaos' - but in the best way!"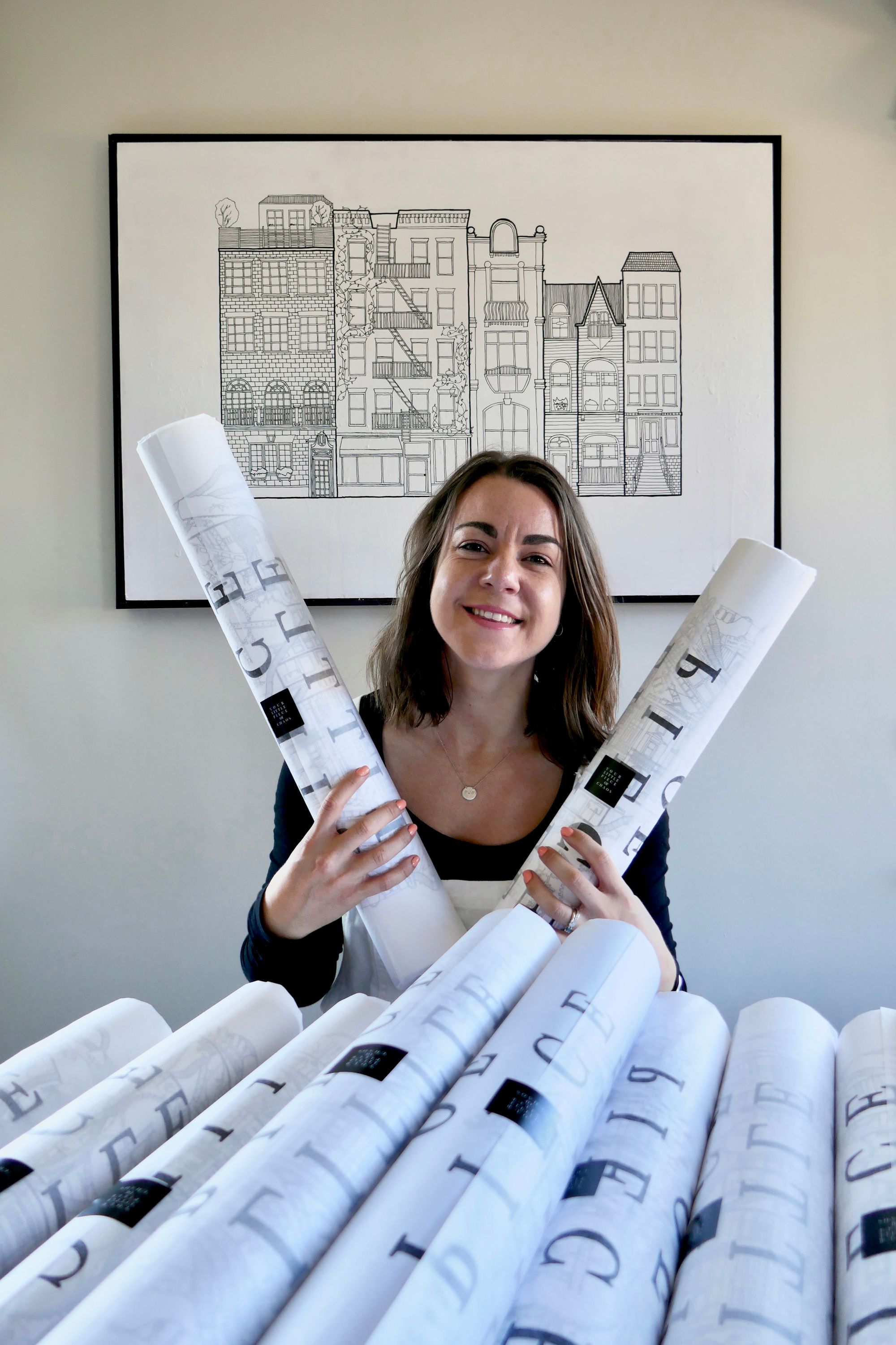 "I used the large size custom tissue paper and custom sticker range. These have been perfect for my large scale prints which have to be rolled and sent out in mailing tubes.

I chose noissue for the ease of the process and to elevate my brand - I had watched other artists demonstrate how easy it was and just had to try it. The process was simple and easy to follow, and the customer follows ups were great to ensure that I had received everything I had ordered. I love that they are eco-friendly and that I get to plant a tree somewhere in the world with each purchase. On top of all that, it completes my art by providing a professional and luxurious experience for my customers."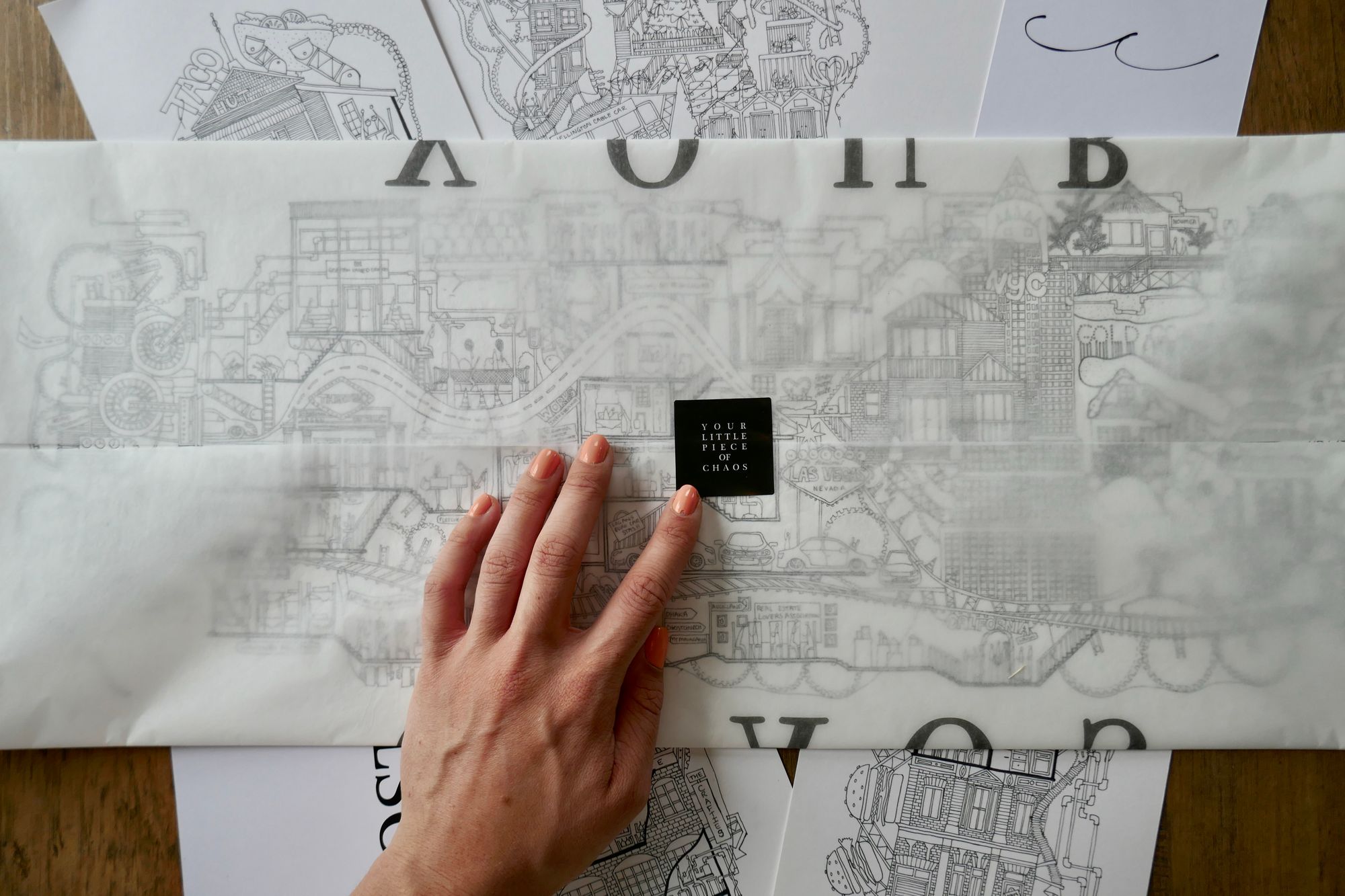 Ellie Compton fun fact:

"If my brand were an animal, it would be a Monkey because Its cheeky, fun, and always chaotic."
---
Find more of Ellie Compton here:
Website: www.elliecompton.com
Instagram: @elliecompton.pieces