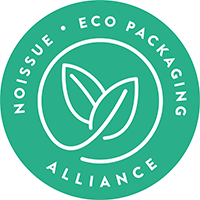 For make-up enthusiasts, one of the best parts of the day is getting up in the morning and spending time perfecting your makeup look. Makeup is just as valid as any other art form after all, and takes just as much skill and creativity!
That said, just like any other art studio, makeup desks and dressing rooms also have a tendency to get quite disorganized and messy. Any makeup enthusiast would be familiar with the sight of strewn makeup brushes lying everywhere, or eyeshadow palettes that leave stains on any surface.
Enter the brand Fifty Shades of Designs. Based in the UK, Fifty Shades of Designs offers just what you need to solve that very specific, but very real problem. Hollie is the woman behind the brand, who describes her products as the missing piece to complete every makeup lover's dressing room: cosmetics and makeup mats! Hollie believes that her makeup mats are an absolute essential and game-changer in the world of beauty, most particularly on how they'll help speed things up with your makeup routine, keep all your beauty tools and equipment organized, and most importantly protect your surfaces and floors from all those dreaded makeup stains, hot iron burns, and scratched surfaces.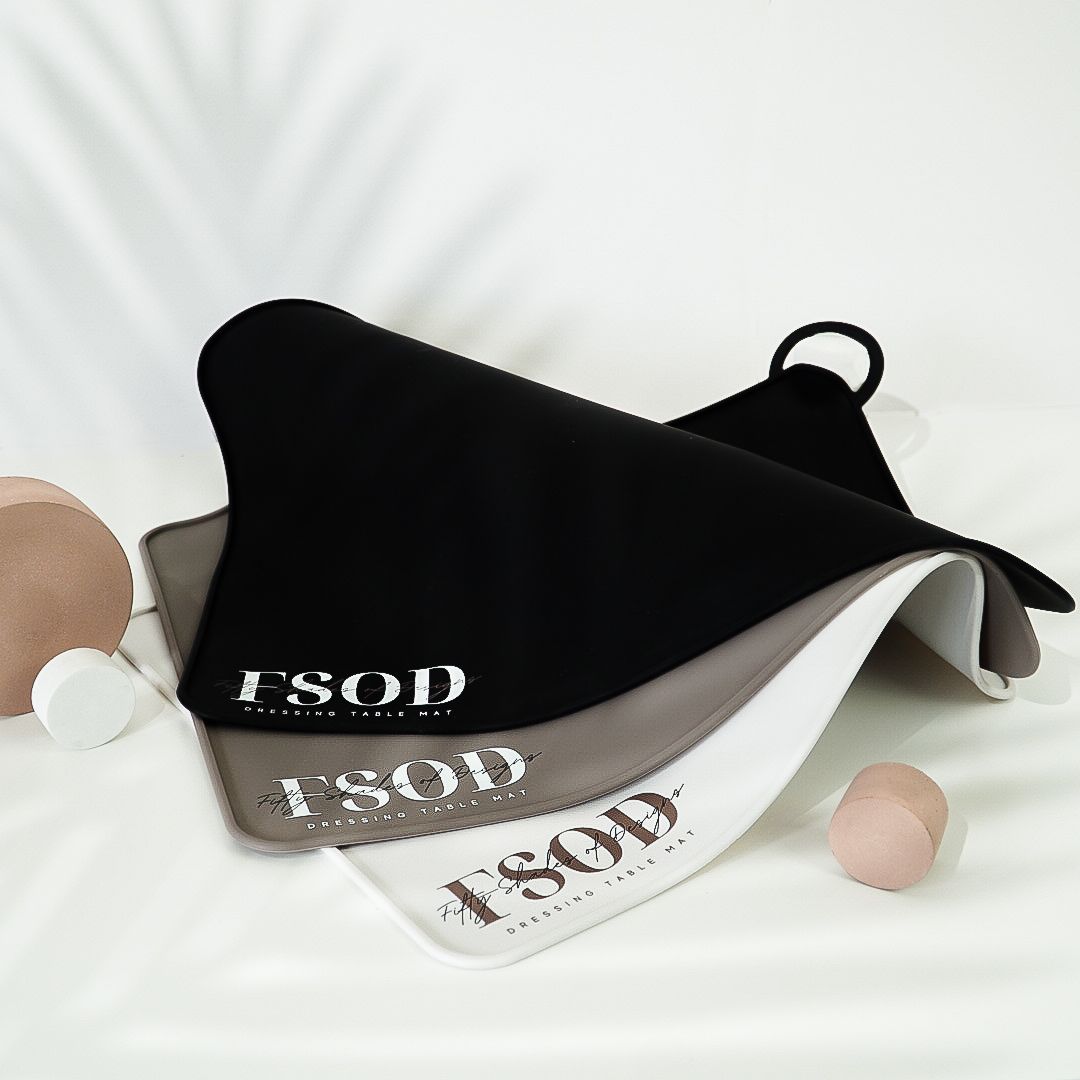 As a makeup enthusiast herself, Hollie's familiar with scenarios such as those, and the idea behind Fifty Shades of Designs came to her while she was desperately searching for a dressing table mat herself, but was unable to find something that could place all of her beauty products and tools. She initially sought the help of a shower towel, and simply crossed her fingers and hoped that it wouldn't burn from her hot irons! She eventually needed a one-of-a-kind product that could address all those specific hitches: one that could protect her surfaces and carpets, that was also heat-resistant and easy to clean from spillages, while allowing for easy access to all her makeup products that would make it much easier to get ready in the mornings. When the pandemic arrived, she found herself with a lot of free time on her hands, and soon began developing and designing on that idea for a unique kind of Beauty Mat that she needed. After ordering a bulk stock, she took the leap to launch her own business!
As a one-of-a-kind brand in the market, Fifty Shades of Design's mission is to bring something new to the beauty industry and provide those essential items that the makeup community may not know they need until they actually have them. As a brand owner, Hollie's dream in the long run is to launch her products in highly established beauty stores and online shops, so that more fellow beauty enthusiasts have access to them and give their beauty zones a major upgrade and makeover!
As a young business, it was also important to Hollie that she made her brand as earth-friendly as possible, which was the foremost reason that she decided to go with noissue to package all of her products. At the moment, 90% Fifty Shades of Designs' packaging is sustainable, and Hollie has the goal of increasing that percentage to 100 in the very near future. Besides using sustainable packaging, she's made sure that the Beauty Mats themselves are reusable and hard-wearing to help reduce the disposable alternatives that people are currently using. As the business grows, Hollie also hopes that they are given a bigger opportunity to make their impact on building a more sustainable world in the future by using more sustainable packaging and products.
Since the beginning, using sustainable packaging was always a big factor for Hollie and she found noissue as the perfect place to make that a reality. An added bonus was that noissue also matched her mission towards creating a more sustainable planet! She also chose to join the Eco-Alliance, which allows her to contribute to reforestation in her own way, as well as to share her sustainable values with her customer community.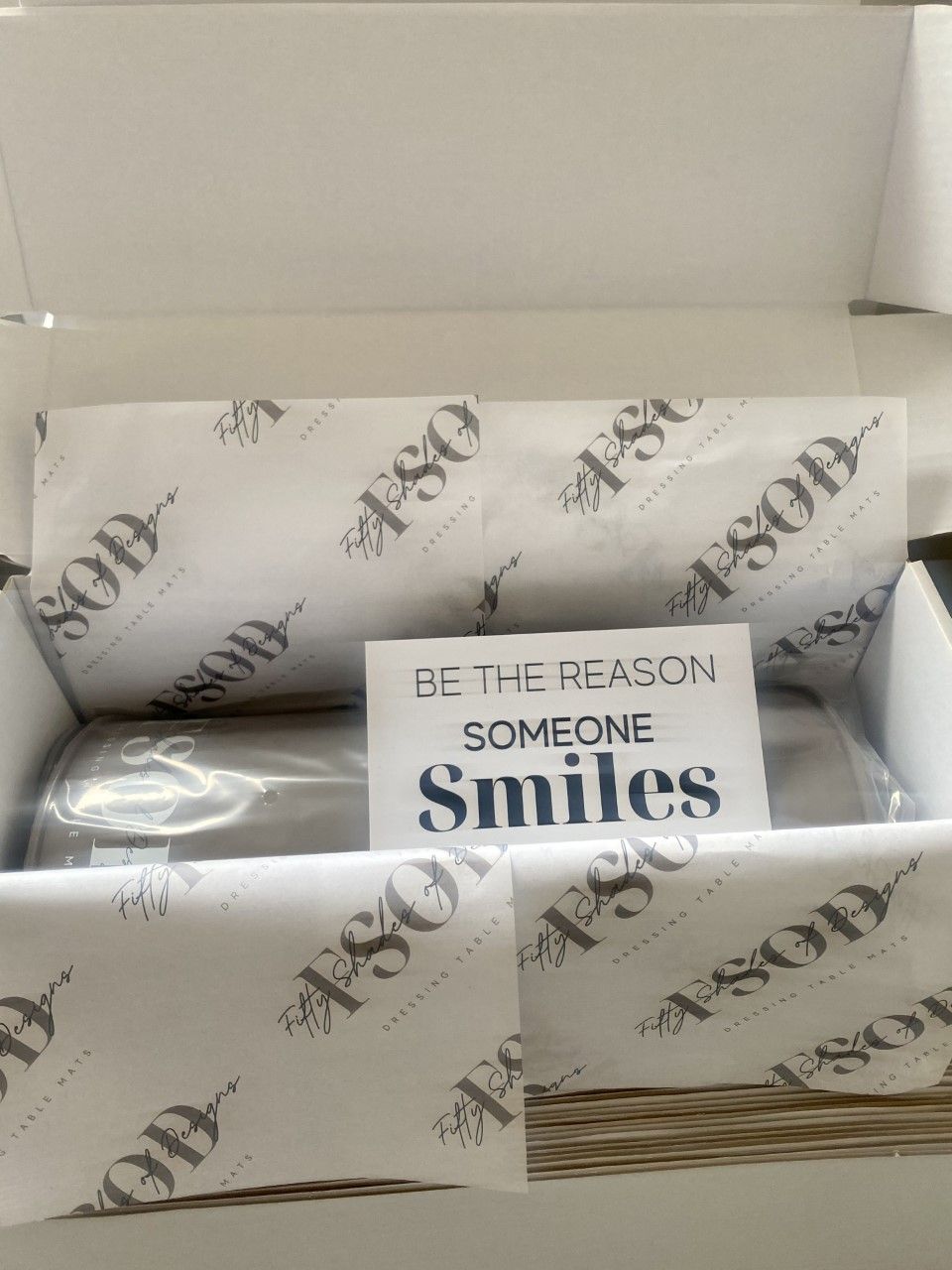 "We chose to join noissue's Eco-Alliance because we know how important being a sustainable business is not only to ourselves and noissue but also to our customers."
While the packaging she uses is entirely sustainable, Hollie's also made sure to make her products as sustainable as possible, too, primarily by offering an alternative for makeup users of all kinds — from professional makeup artists and salon owners to beauty novices — that last longer than the dispensable ones that are currently in wide use. That being said, Fifty Shades of Designs' Beauty Mats are what every makeup user needs for a more convenient, more hygienic, and more sustainable beauty experience!
There's no question that Fifty Shades of Designs products are a kind of their own in the market, and Hollie's made careful consideration to make her products suit her customers, down to the aesthetic and color scheme of a classic British morning coffee. It's a minimalist look that will go well with any dressing table or beauty room, and that also perfectly suits their motto of "Coffee, Contour & Confidence" — which is also an invitation for their customers to grab their morning coffee, enjoy getting ready with their beauty routine, and most importantly to feel confident with who they are! The term may be slightly worn, but Hollie believes it's what best captures her brand and everything it stands for.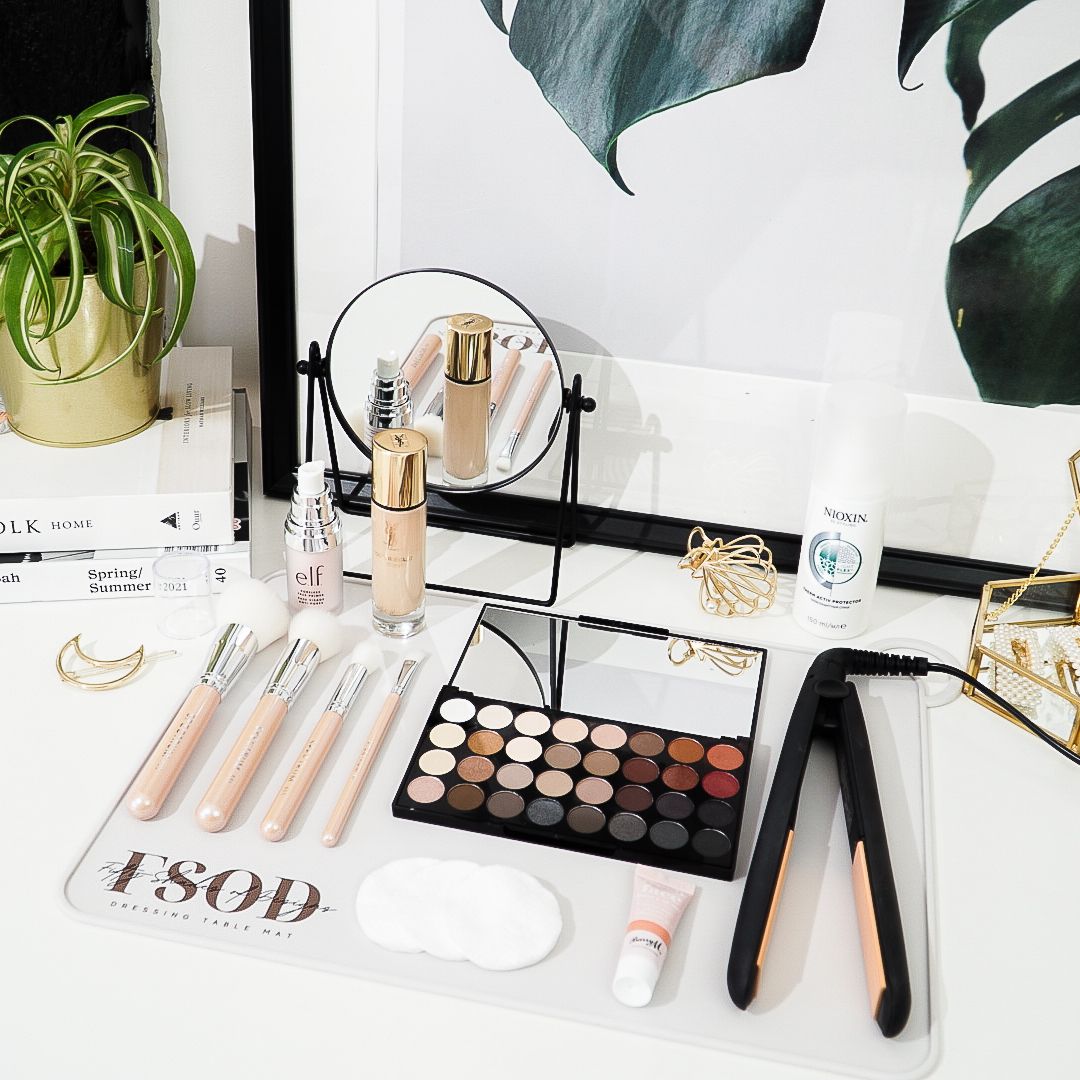 "Grab your morning coffee, enjoy getting ready with your beauty mat and most importantly feel confident! It's such an overused quote but it fits perfectly for the brand and what we stand for."
Launching a brand of your own is never a simple feat, and Hollie's biggest challenge so far has been getting the word out about what Fifty Shades of Designs has to offer, and why Beauty Mats are such an essential item. It's definitely a slow and steady process, and Hollie is learning every step of the way, while taking it as an opportunity to take things in her own stride and adapting with the process.
For other small businesses, her biggest advice is to stay true to yourself without cutting corners. The best things in life take time, so enjoy learning, growing, and adapting with your business as it grows! She also encourages deciding what you and your business stand for, as well as what you want to achieve and the budget you're willing to invest. And finally, to just go for it and enjoy the ride! Taking all the help you can get and answering every opportunity that knocks are also good things to note, especially during early stages.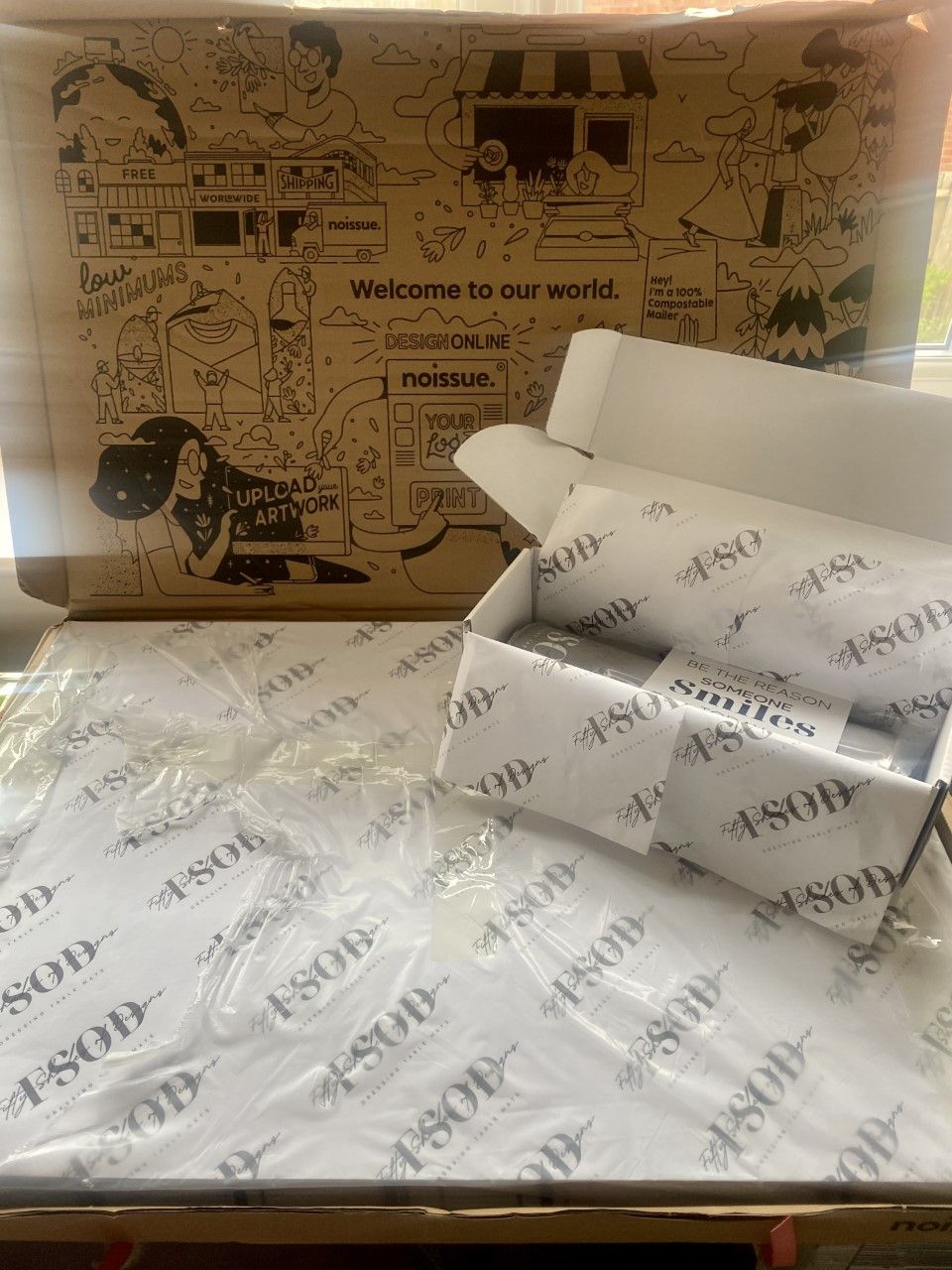 As she's only had one product by far, her coffee-themed Beauty Mats still hold a special place in her heart. After all, who doesn't love a clean, tidy, and well-organized surface where you can lay all your pretty makeup to get your look of the day ready? Hollie sees it as just the perfect combination, and she just can't wait for the day she gets to see everyone's Beauty Mat in their own beauty zones!
As any beauty enthusiast would know, there's nothing quite like a complete makeover. And there's no reason your beauty space shouldn't get a makeover of its own, too! Stylish, forward-thinking, and with a heart for the earth — we can tell Fifty Shades of Designs is totally fifty shades of amazing!
---
Find more of Fifty Shades of Designs here:‌‌‌‌
‌‌‌‌‌‌
Website: fifty-shades-of-designs.myshopify.com
Instagram: @fsodx
Like this story? Tell us yours! Share your brand story and love for your custom packaging and get a chance to be featured on the wrap! If you're a noissue customer and are interested, you can join the Eco-Alliance by clicking here and answering a few questions here.
Questions? Email us at ecoalliance@noissue.co.