A strong supply chain can be make or break for a brand. Over and over again, here at N.A.bld, we saw brands struggle with sourcing materials, finding suppliers, verifying manufacturers and setting up distribution. After working with over 1,000 brands from 39 countries (we're also the ones who made Project Runway looks shoppable!) we've gathered some best practices to simplify building a supply chain for your fashion brand.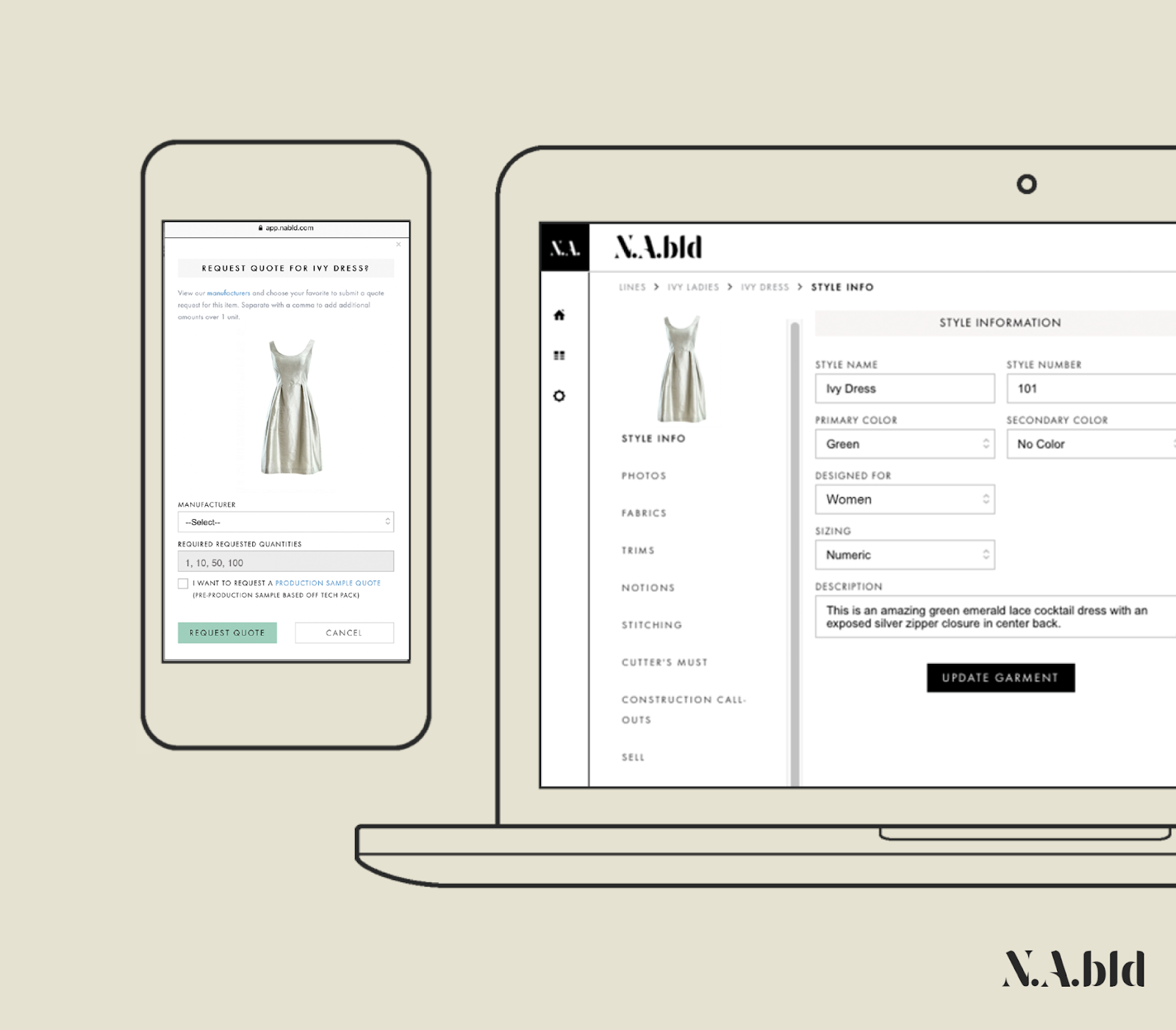 Sound interesting? You too can do it! Here are five ways you can build a foundation for a lean, streamlined fashion supply chain:
Decide on your model
As we see it, there are three main channels for selling: wholesale, direct-to-consumer inventoried retail (D2C), and pre-order (or pre-selling product). Each of these models has its own pros and cons and some of the best brands will use a combination of strategies to get the most out of their logistics and operations (for example, pre-sale and wholesale or pre-sale and inventory). Before you get started, decide which strategies you want to use to sell as these will affect your supply chain. This is also a huge decision as it determines the type of business you are building, as well as who you will be communicating to as your direct customer.
PRO TIP: The more inventory you stockpile, the more cash investment you'll need up front. Consider a just-in-time inventory model, where materials are only ordered and received as they are needed in the production process - or a combination of inventory and just-in-time to get started.  
2.  Keep it local
To increase sustainability and speed to market, we always recommend keeping as much of your supply chain as local as possible - whether it's product development, manufacturers, or other suppliers. Keeping these suppliers local reduces shipping time and shipping costs within the supply chain. If you are selling in a traditional wholesale model, sourcing and manufacturing abroad may be an option for you but keep in mind that lower labor costs are often offset by additional costs related to shipping logistics, minimums, and taxes and tariffs that are changing frequently and susceptible to global forces and uncertainty. A locally sourced supply chain can also be a differentiator and a valued part of your brand story.
PRO TIP: Don't believe that USA-made is an option because of high labor costs? You'd be surprised! We did the numbers. Check out our landed cost comparison for international production of apparel versus domestic and let us know what you think!
3.  Source smart
When considering on-demand or quick turn production, you should look to agile suppliers - this includes everything from materials suppliers to your photographers. Look for service providers familiar with your goals and model (#1) so you can align on values and efficiency. Be upfront with expectations and, when possible, work to establish trusting relationships with your suppliers. Suppliers make self-service and transparency easier, and when used in combination with the N.A.bld production platform, can be a great building block for your brand.
PRO TIP: It's smart to have backup sourcing options and even service provider options if you are producing on-demand and want to decrease risk!
4.  Use tech tools
As mentioned in #3, great things can happen when you involve technology in your supply chain! Keeping product teams organized and informed will ensure your processes run like a well oiled machine. Technology can definitely help streamline things here. Automating things like updates on production orders, and your Bill of Material is not only time-saving, but labor-saving, and allows you, to focus on growing your business
PRO TIP: Invest time in getting your technology dialed and in educating your network on the tools you implement. Make sure you properly communicate how and when you want the tech tools used to help set expectations with your suppliers.
5.  Test and repeat
It's always worth testing new designs, resources, and suppliers to see if your supply chain can be improved over time. For example, perhaps you consider printing your label instead of sewing it to reduce some time and cost in your process. It's important to review your costs and execution for your purchase orders to see what works best.
PRO TIP: Consider a quarterly review of processes and products to see where your costs lie and where there may be opportunities for improvement.
The most important tip?
Remember sh*t happens.
Making physical products is incredibly hard considering all the things that have to come together to make your idea or concept a reality. Keep in mind, mother nature, human error, and just plain old bad luck are risk factors you need to account for and don't take it personally when these things happen.
To remove some of this risk, we created the N.A.bld platform to give brands a plug-and-play process and supply chain to make the work of launching new products easier. Brands can diversify suppliers, get help with sourcing local manufacturers, and get the benefits of better deals negotiated with suppliers - all with an automated tool that removes a lot of human error and allows you to get back to running your fashion brand.
---
This is a guest post by Gemma, a part of the team at N.A.bld. N.A.bld is a production platform to help you launch a fashion brand sustainably - financially and environmentally. Their platform for on-demand quick turn production integrates with your ecommerce front end and connects you to a network of qualified manufacturers.