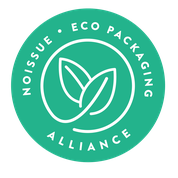 It's hard to be on track when there is a lot of noise or distractions around. Unexpected situations can derail you; that's why it takes perseverance and a lot of focus to get to your goal. You have to keep reminding yourself of your purpose, your mission, to make sure that you get wherever you plan to go.
Avanti is a dancer, lawyer, stop-motion animator & entrepreneur. We chat to her as she shares with us her experiences, struggles, and tips & tricks on how she created the Los Angeles-based fashion line called glōu.
In Avanti's own words:
"Hi! My name is Avanti, I'm a lawyer-turned-entrepreneur. I'm originally from Sydney, Australia but moved to Los Angeles in 2014. I am the founder of a creative content studio called Creative Pencil Studio. I also recently launched glōu, a sustainable fashion line made for creatives on the move."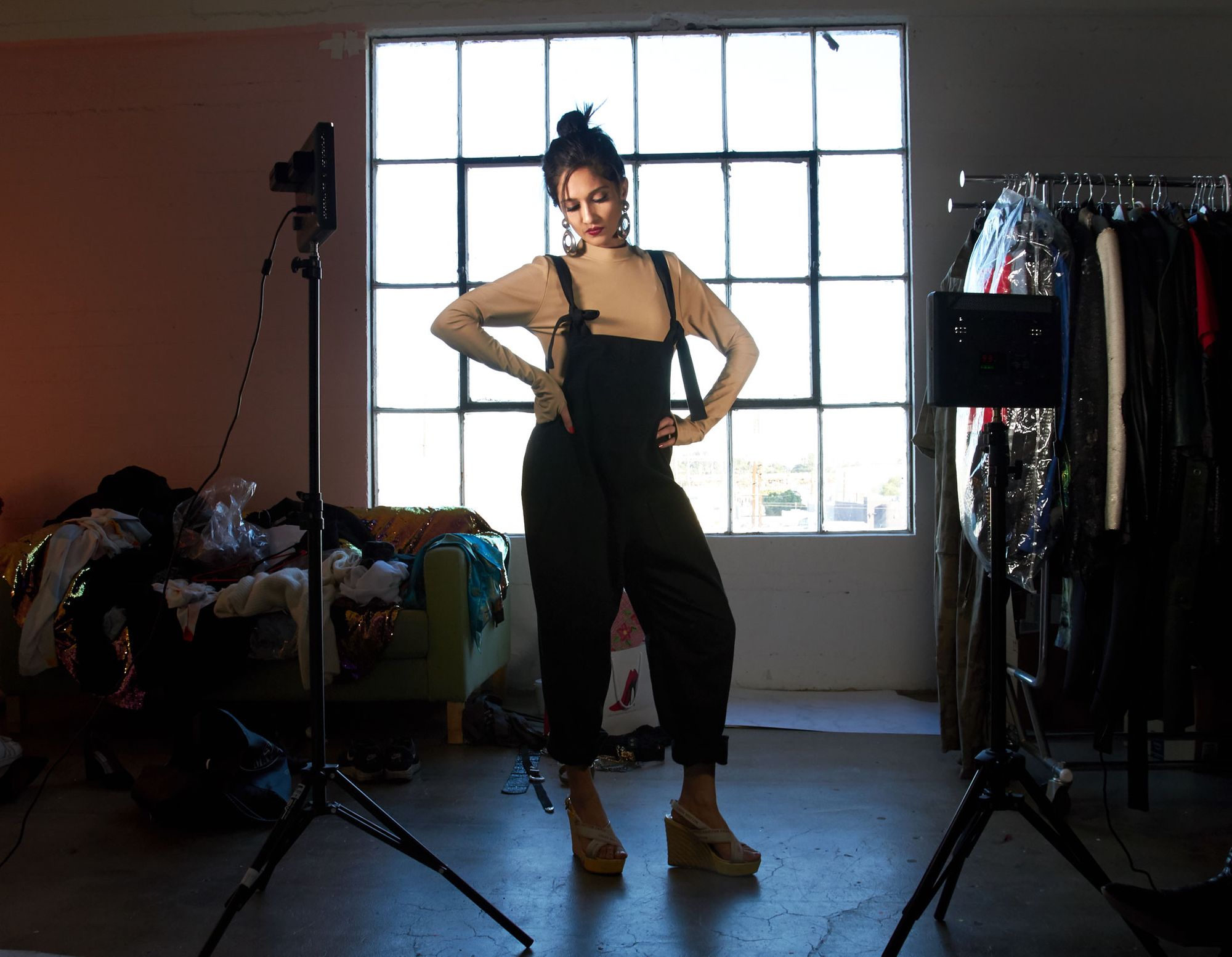 "I moved to LA intending to practice entertainment law, but finding my way in that industry, I soon realized it was a safety net rather than a career choice I truly loved. I started to consider the things I'm passionate about and where I could contribute as much as I was gaining from various opportunities. Through a series of fateful connections that seem to happen a lot in LA, I ended up running a creative marketing agency specializing in stop-motion animation! While working there for almost 3 years, I had the chance to work with and learn from so many incredible entrepreneurs across industries - from fashion, beauty, health, lifestyle, technology, kids, household goods, and more. Many of these businesses had a sustainable mission and I loved communicating their message through creative storytelling. I was inspired to create my own sustainable brand & started brainstorming product ideas.
glōu was inspired by artists living in LA & their lifestyle. I would hop from dance class to my full-time job to the studio to drinks – with a bag packed to the brim with several outfit changes & everything I needed for the day. I would find the clothes were too restrictive to wear at my studio or on set when I had to bend, run, climb ladders. I was always in search of high quality, versatile & durable clothing that could live in my closet for years and years. After working behind the scenes for almost a year. I launched glōu in April 2020."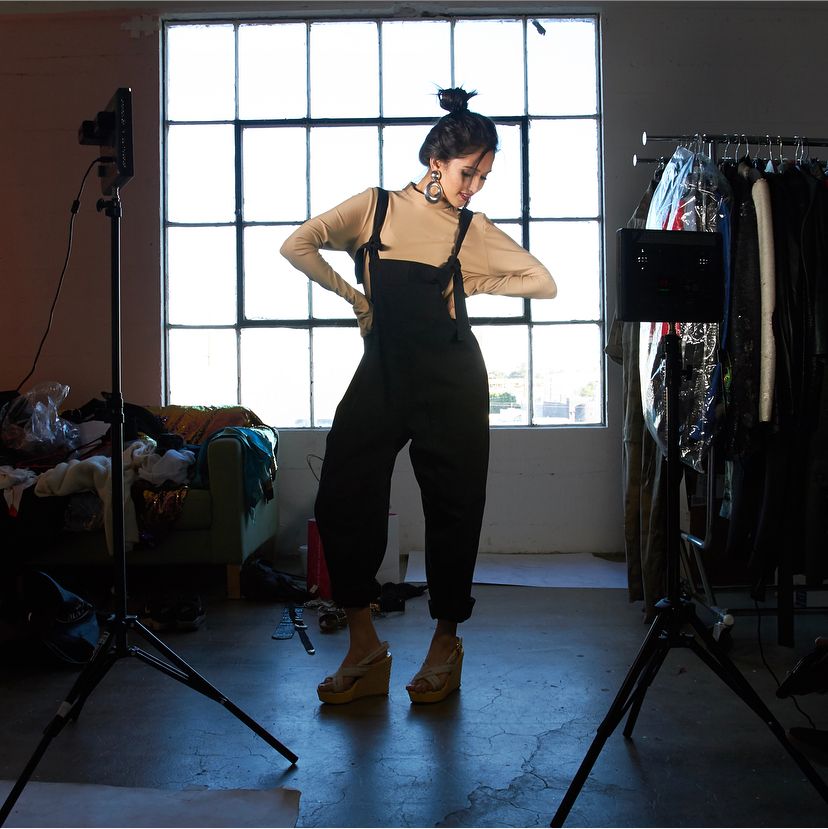 "glōu's vision is to create a passionate & compassionate global community. 'glōu' (pronounced 'glow') is the feeling you get when you do something that brings you happiness, fulfillment & purpose. I wanted to create a brand that reminds people of their true purpose. Something they can wear while doing the thing they love.
Glōu: /g l o w/
noun
'Everything you need to do what you love'
I also wanted to create a truly sustainable brand that moves toward breaking the cycle of fast fashion. Incorporating sustainable practices into the business is an important piece to the brand. Our signature collection (boilersuits, overalls & 'shackets') is created using upcycled deadstock fabric locally sourced in Los Angeles."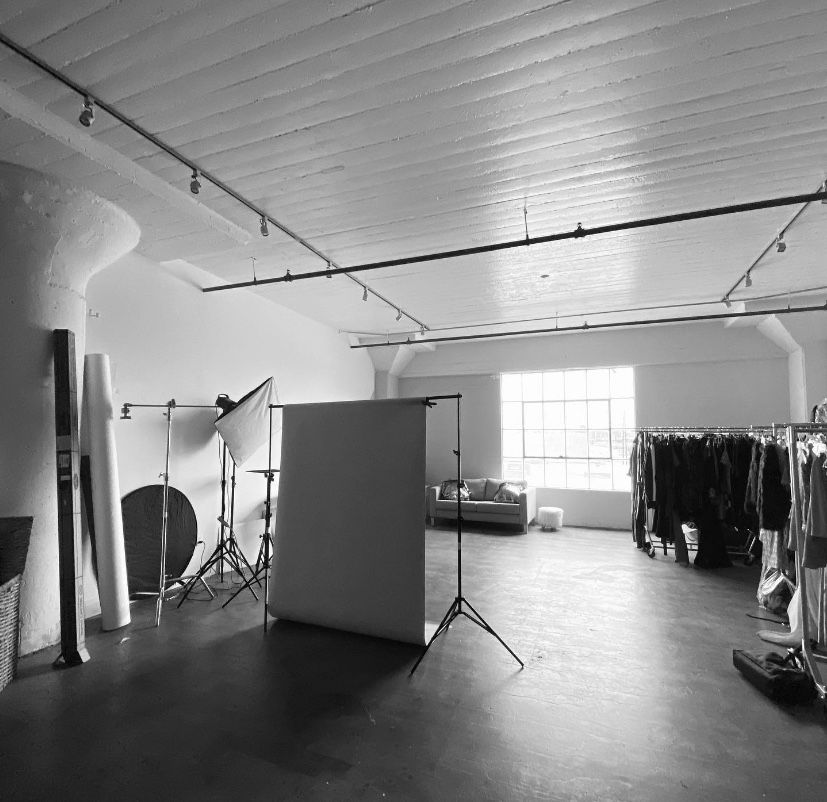 "Starting & running a business is one of the hardest things I've done. There are so many moving parts in creating a product-based business, especially if you are a solopreneur: ideation, design, manufacturing, production, packaging & shipping, fulfillment, customer service, marketing & content strategy, PR, and the list goes on. There are unforeseen expenses, exchanges, returns, managing expectations of your stockists, vendors & customers, ensuring the quality & production standards meet your brand values — all while balancing your personal life and in my case, another full-time job to support the costs of starting up.
The things that help me stay balanced are:
Having a set-morning routine - Doing yoga, breathing exercises, coffee, breakfast, reading the news, and reviewing my task list.
Staying organized - Keeping a daily task list so I stay on track but don't get overwhelmed.
Outsourcing things I can afford to that I need help with i.e. accounting, an assistant on set for shoots & styling & sometimes housekeeping (pre-COVID)
My advice to others starting a business:
Be Flexible & Adaptable: COVID has taught us that we cannot predict anything, so be ready to pivot & make changes as you need.
Start small, test the market before investing more time & energy into production.
Collaboration over competition: we often look at competition as a nemesis – see how you help each other out? Collaboration has been my most effective marketing tool – you'll be surprised how far genuine brand partnership can go.
Don't do it for the money: At least in the beginning! Just assume you won't make any money at the start – do something that you are passionate and excited to do every day (and every night!), because the only thing that can sustain your energy during the initial stages where there may not be any income, is truly loving the work and the craft itself, trust the process!
Stay positive, learn to enjoy the process & celebrate all wins (big & small)."
"Seeing an idea turn into a reality is one of the most rewarding things of being a product-entrepreneur. One of my favorite parts of the process is picking up the item from the factory and shipping it to the customer. The thought of glōu brightening someone's day is what keeps me going.
glōu is a brand designed to make you feel good about who you are; I get energized thinking about how I want to use glōu's platform to create content that motivates, inspires, and educates creatives on how to live a happy and sustainable lifestyle."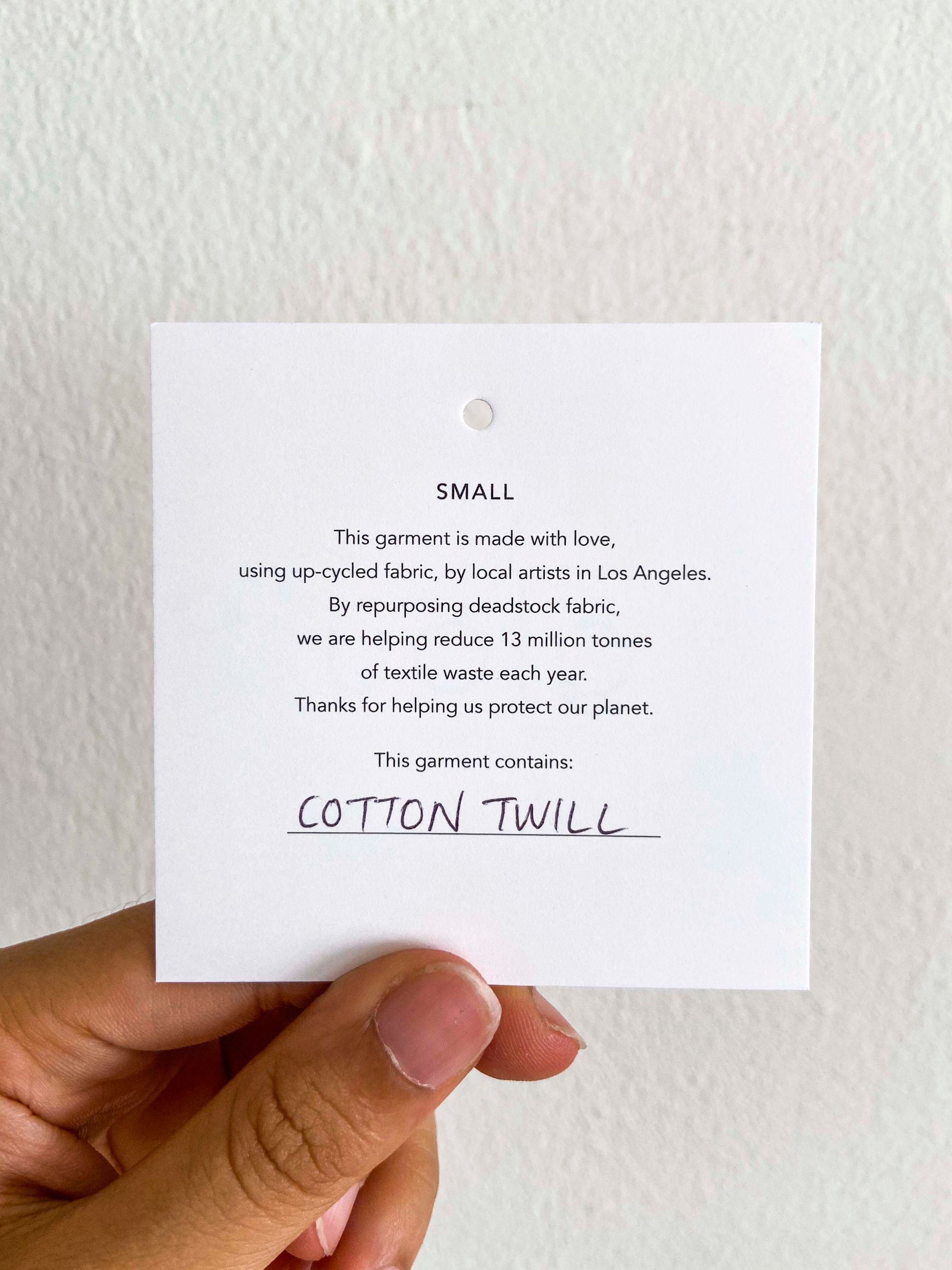 "I interpret sustainability as being able to maintain a certain level of activity over a long period of time — without depleting money, energy, and resources.
I believe having a sustainable business means balancing 3 things:
Ensuring that the business has the least environmental impact throughout the production process.
Nurturing and respecting employees and contractors involved in making the product.
Being intentional about production – ensuring the business continues to fill a gap in the market instead of adding to what's already out there.
Sustainability is not only one of the pillars of the brand, but something that was instilled in me as a child; eat everything off my plate, compost food scraps, only shop for clothes as you need them, limit the water use when washing dishes – this was part of the dialogue within my family growing up.
I knew that if I ever started a fashion line, it would have to be using sustainable fashion practices. In a way, glōu started out as an experiment to see if I could find high-quality deadstock fabric to repurpose. After much digging, I found exactly what I was looking for! Where there's a will, there's a way! The environmental and economic impacts of fast fashion should be of concern to everyone – I truly believe the future of fashion is in the 'slow fashion' model, that we and many other boutique clothing labels globally are moving toward."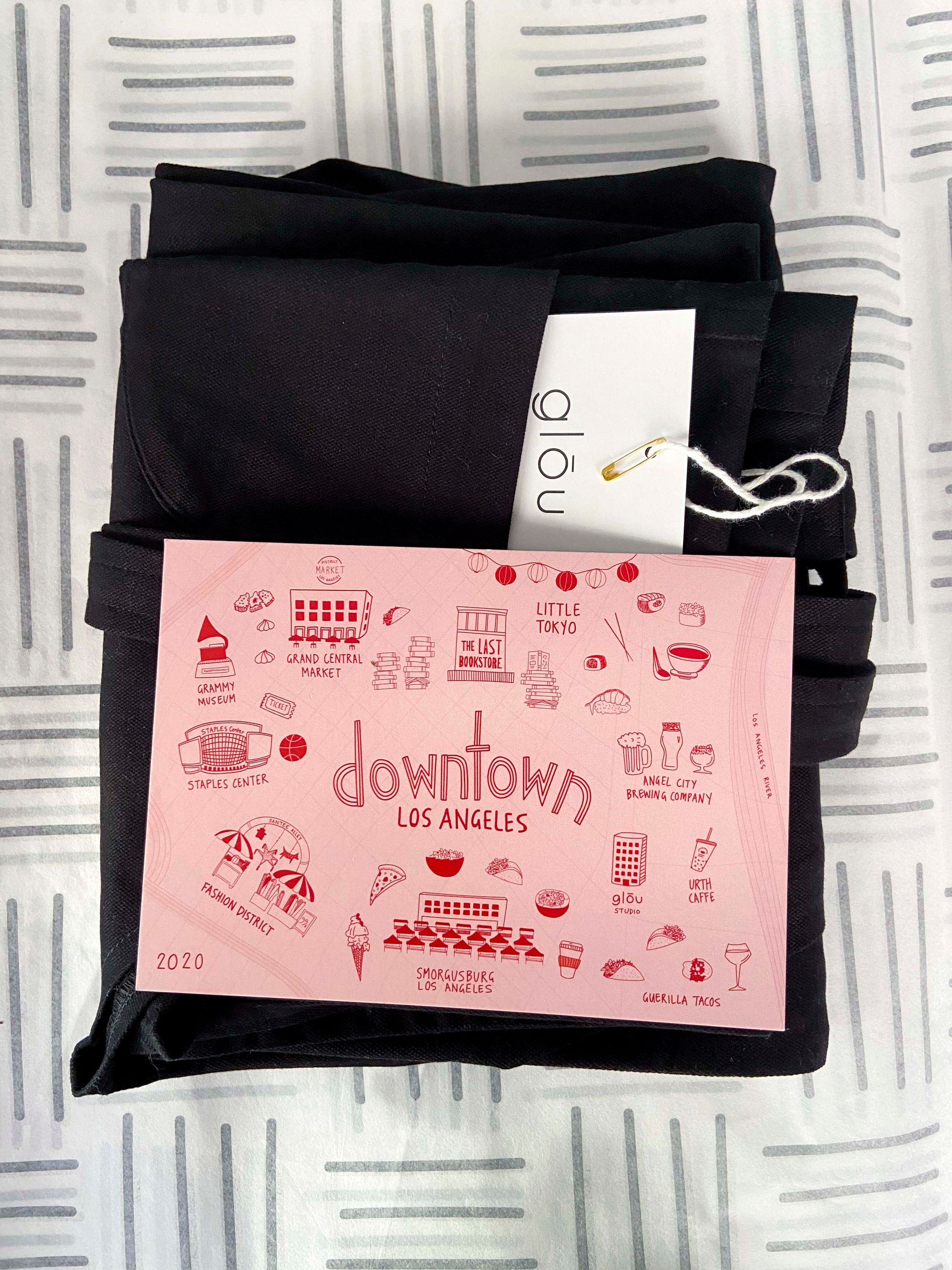 When asked about the steps that she took to lower their environmental footprint, these are what she shared:
"No overstock or inventory
All our clothing is made-to-order or produced in small batches on demand. Once an order is placed, it goes straight to our factory where our tailors start working on your garment. This not only reduces overstocking but eliminates inventory. Everything is made in Downtown Los Angeles.
Non-Toxic Dying & Digital Printing
For our custom orders, we use a local dye house that is known for its non-toxic dying process. They help us create custom colors, such as 'Stellar Blue' & 'Dusty Pink' from our signature collection.
We also work with textile manufacturers that digitally print designs onto the fabric of our choice.
Packaging & Labels
Being a sustainable brand, I wanted to stay away from the unnecessary use of excess packaging.
All our garment care information is on our website – you can also scan a QR code frpm our postcard which takes you straight to the page (no more garment care labels scratching inside your clothes!)
I was so excited when I discovered noissue tissue! We use the custom tissue paper to wrap each parcel and send it out in the noissue compostable mailer!
For orders over $200, we give out cotton reusable grocery bags (which you can also buy separately on the website!)"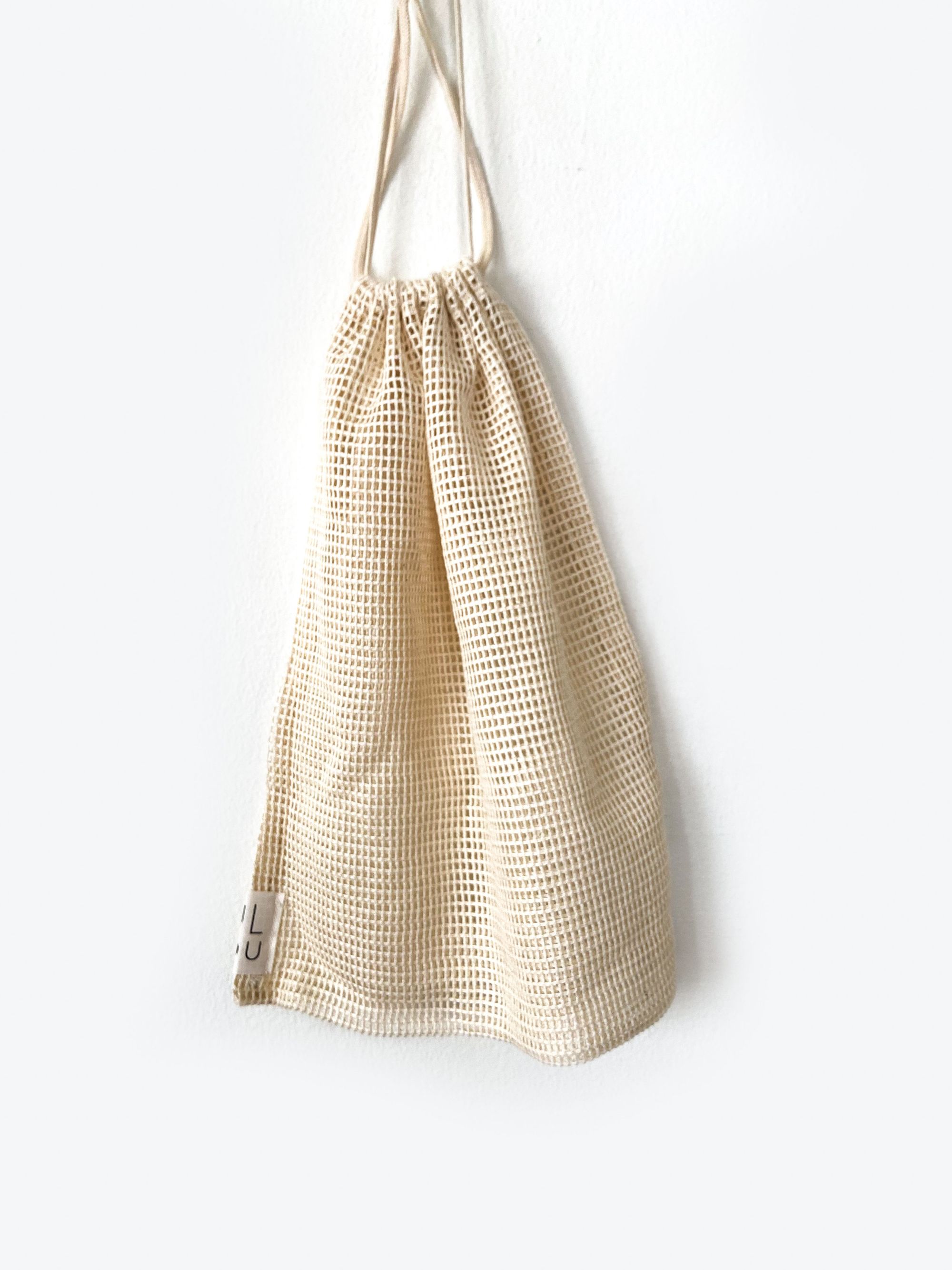 "As an illustrator, I always had a vision of what my packaging would look like. I currently have two designs; the first is an illustrated map of downtown LA where glōu headquarters is. The second is a minimalist black and white stripy print – I love it because it's simple yet effective."
"We chose noissue because its brand story, mission, and values align with glōu's, so using this as our packaging made absolute sense. The design process was very simple and the design team is so amazing to work with!

noissue has elevated the customer experience. The compostable mailers are a game-changer & (not to mention affordable); everyone comments on how amazing the custom tissue is because it's the first thing they see when they open up the package.
We ordered the small mailers and custom tissue. I can't wait to order the larger mailers & stickers!
We're thankful for noissue's thoughtful products, it has been the perfect partner to glōu."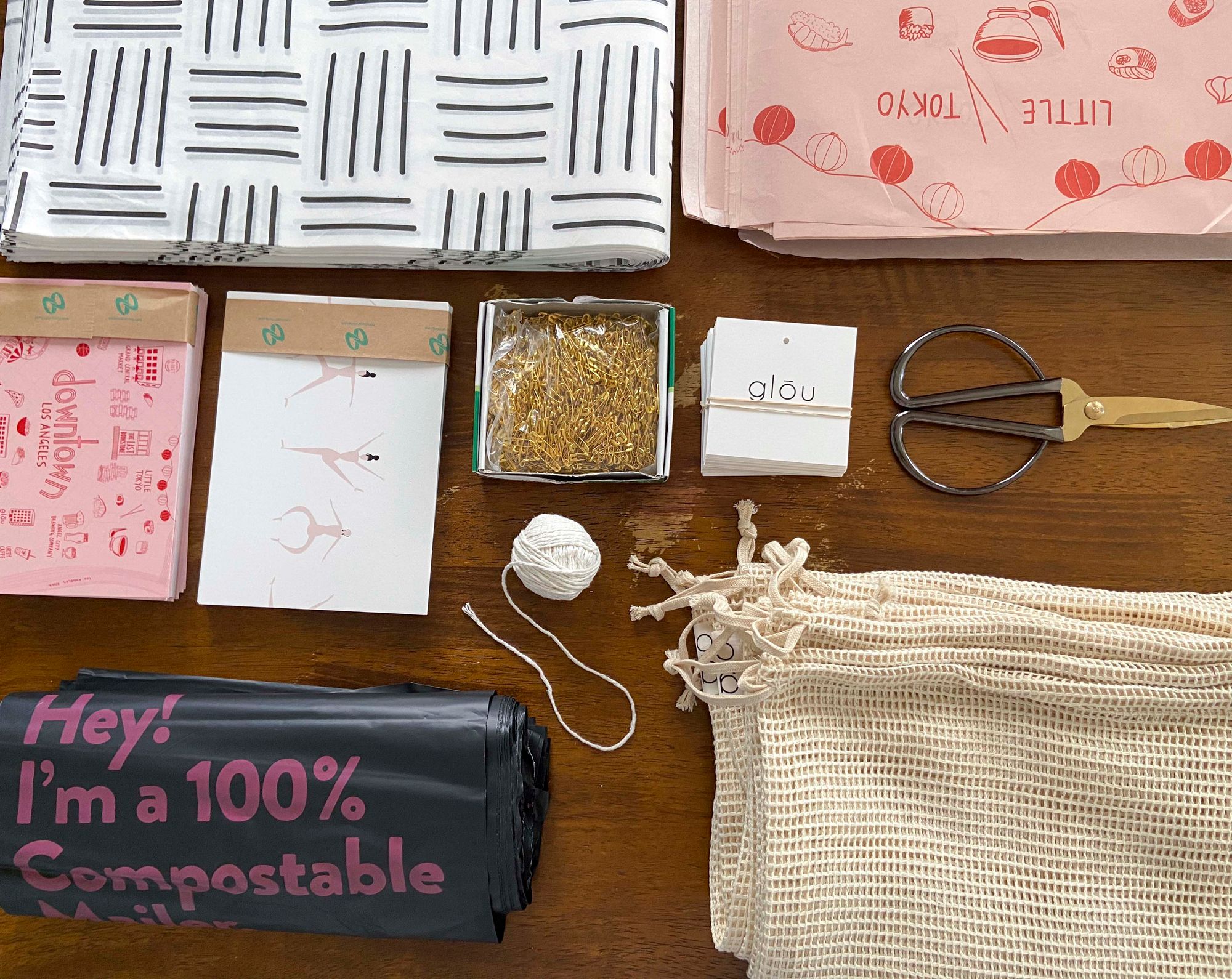 glōu fun facts:
If my brand were an animal, it would be a chimpanzee because it's relatable, thoughtful, clever, silly, playful, resourceful, and it looks like it is always enjoying life & going with the flow!"
---
Find more of glōu here:
Website: www.getglou.com
Instagram: @getglou
Facebook: facebook.com/getglou