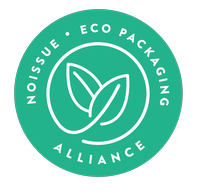 It's no secret that nature is an endless source of inspiration for artists and creatives all around the planet. From lush green landscapes to vibrant flora and fauna, there's truly no source of artistic inspiration as ubiquitous and wondrous as the natural world – so isn't it only appropriate that we collectively do our best to take care of the only home we have?
That's definitely something that Green Gaea understands down to its core. Based in Singapore, Green Gaea is a tiny haven for lovers of all things inspired by the earth, whether that be jewelries and accessories, or small gifts that bring a sense of nature-inspired peace and calm into your home, from the artfully arranged Palo Santo bundles meant to bring intention and purpose into any space, to the delicately-designed necklaces and homewares that add just the right touch of magic and charm.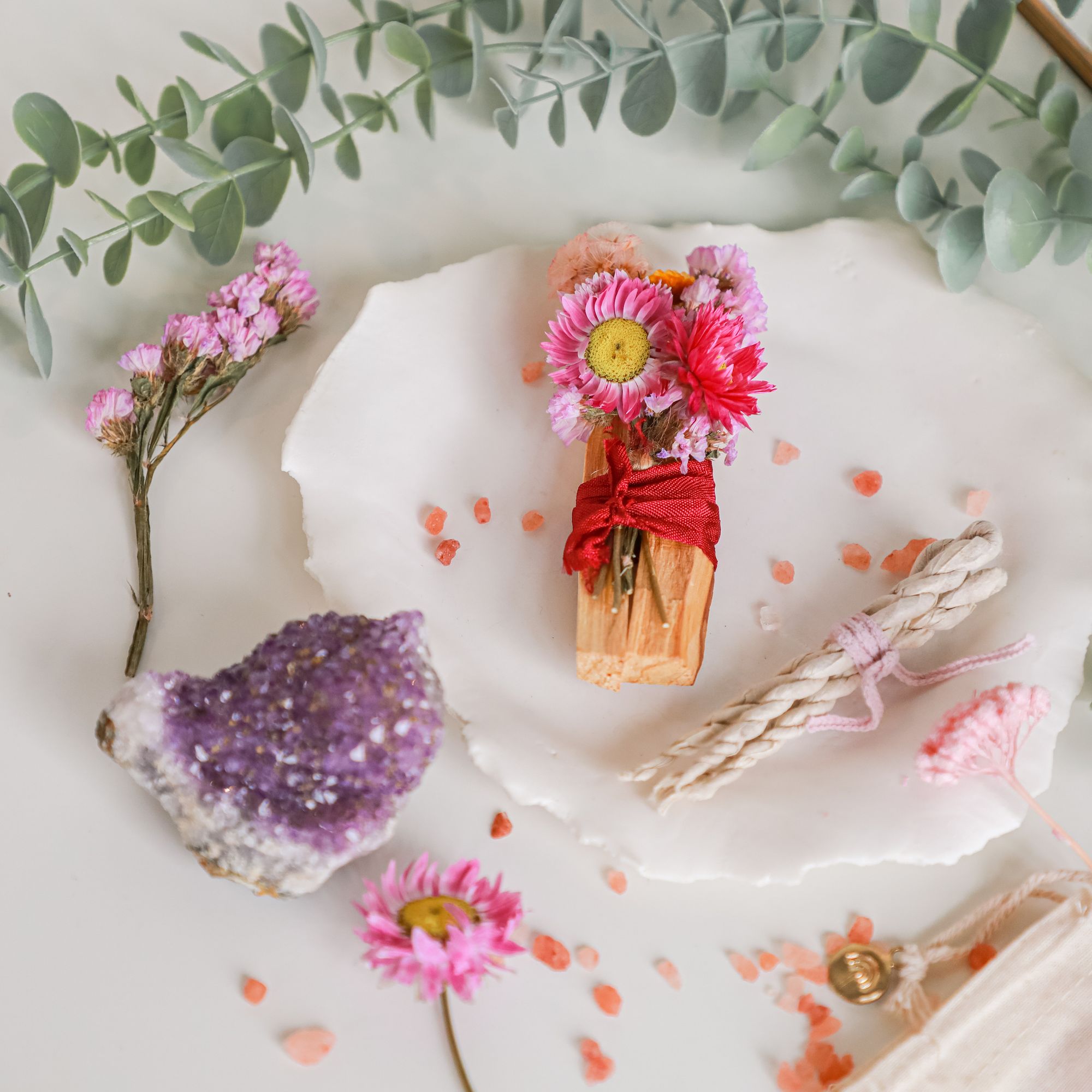 And while the brand takes much of its inspiration from the earth, it's definitely a process that goes both ways, too – all of the accessories, jewelry, and homeware at Green Gaea are consciously created and sustainably made by hand by a variety of artisans and partners.
Sustainability and kindness towards the earth is definitely something that grounds Green Gaea, and is within their very DNA as a brand. As much as its carefully-crafted items take influence and inspiration from the earth's natural beauty, they make sure to give that care right back to the planet, which they do by staying steadfast in their commitment to finding organic, eco-friendly goods within local communities, and uplifting such businesses and the workers behind them.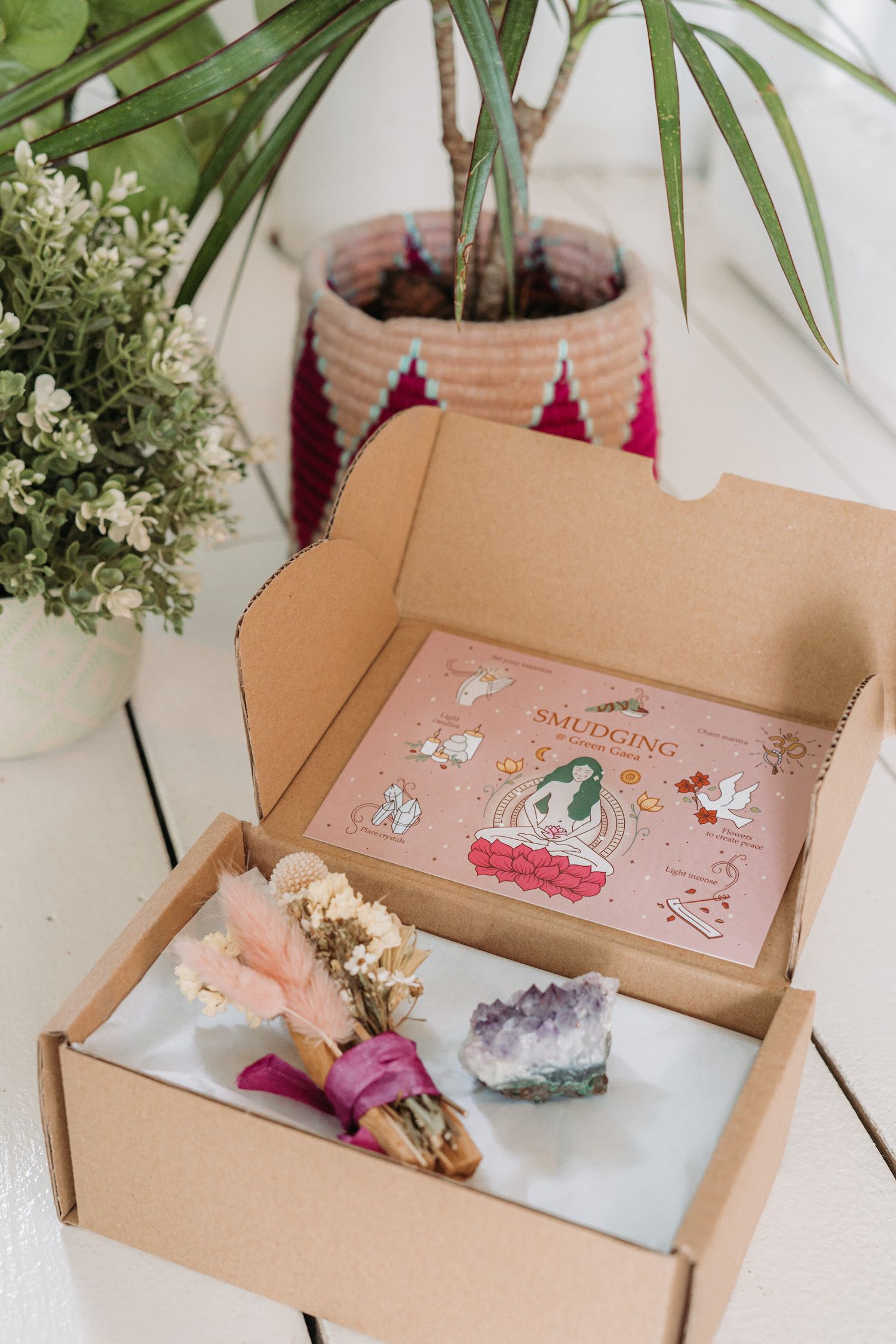 "Our world is changing and the way we make our choices needs to change with it."
But of course, the brand wouldn't be where it is now without the other key component that keeps it going day by day: its people! As its founder shares, Green Gaea was inspired by their travels to Nepal and India, where they found the motivation to create their own business to curate gifts and products inspired by planet earth. All of the brand's products are made by people working in safe, equitable, and worker-centric conditions that allow them to further flourish and develop in their own personal lives. In particular, this means that all workers under the brand are able and encouraged to use the money they earn from the business to further their own education – or to even create their own businesses!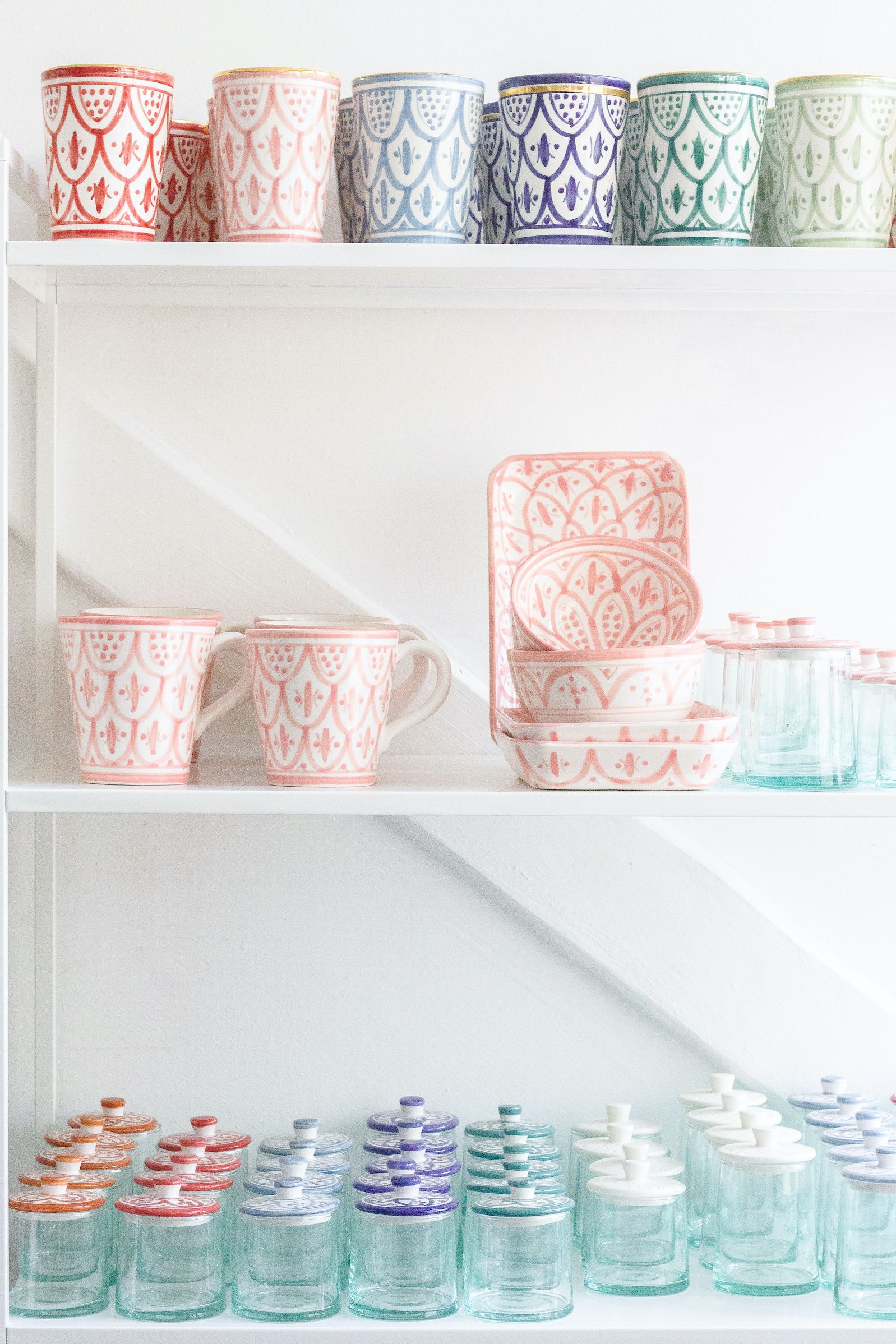 "Green Gaea is committed to ensuring that workers are paid fair wages for the products made for us, and our artisans are working in a safe and clean condition where people are respected and treated fairly. This often means that our artisan partners are using the money for education and upskilling to start their own businesses and are empowered to do so with us."
It's clear that Green Gaea's community and environment-centric practices is something that sets them apart from other brands in the industry, and its owners are also constantly in the process of finding more ways to be as kind as possible to their planet and community, down to every minute detail. This was why when it came to packing their one-of-a-kind creations, opting for noissue packaging was a seamless choice.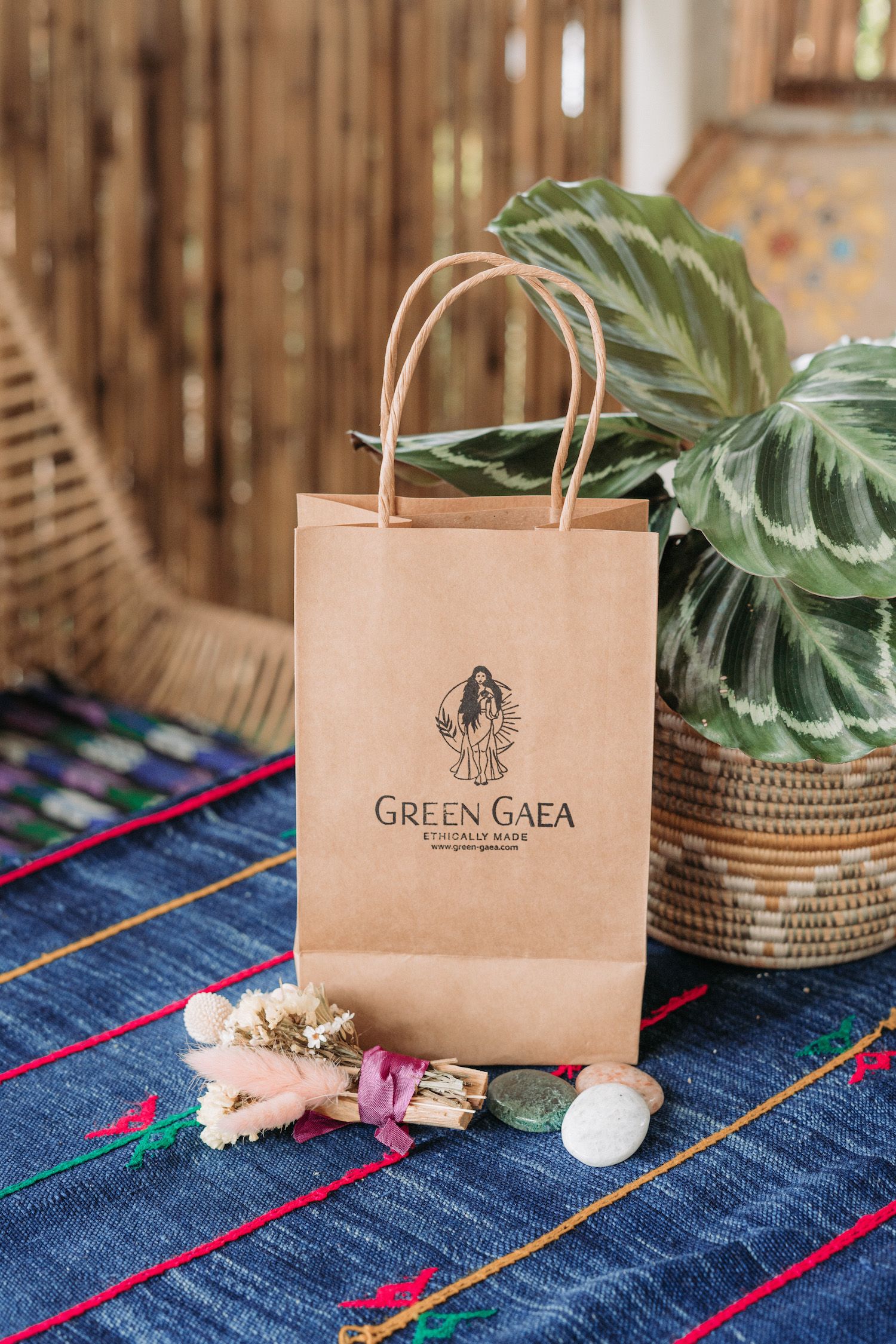 As its founder shares, making sustainable choices has long since been an integral part of their lifestyle, and so partnering with companies that shared the same grounding values and philosophies was just as essential as well. Being able to customize her own packaging to fit her brand and order on low MOQs were also an added bonus, and joining the Eco-Alliance allowed her to take yet another step towards sustainability!
And aside from the little ways they implement sustainability into their lifestyle, Green Gaea also makes it a point to use online communication to offer full transparency and information to their community, so their customers are kept in-the-know on all the processes that go behind each product and design – as well as to hopefully share their fair and sustainable practices with other brand owners, too! Sustainability isn't something to be achieved with a singular effort, but is something that requires time and many pairs of hands to continually work towards, and that's something that Green Gaea inherently understands.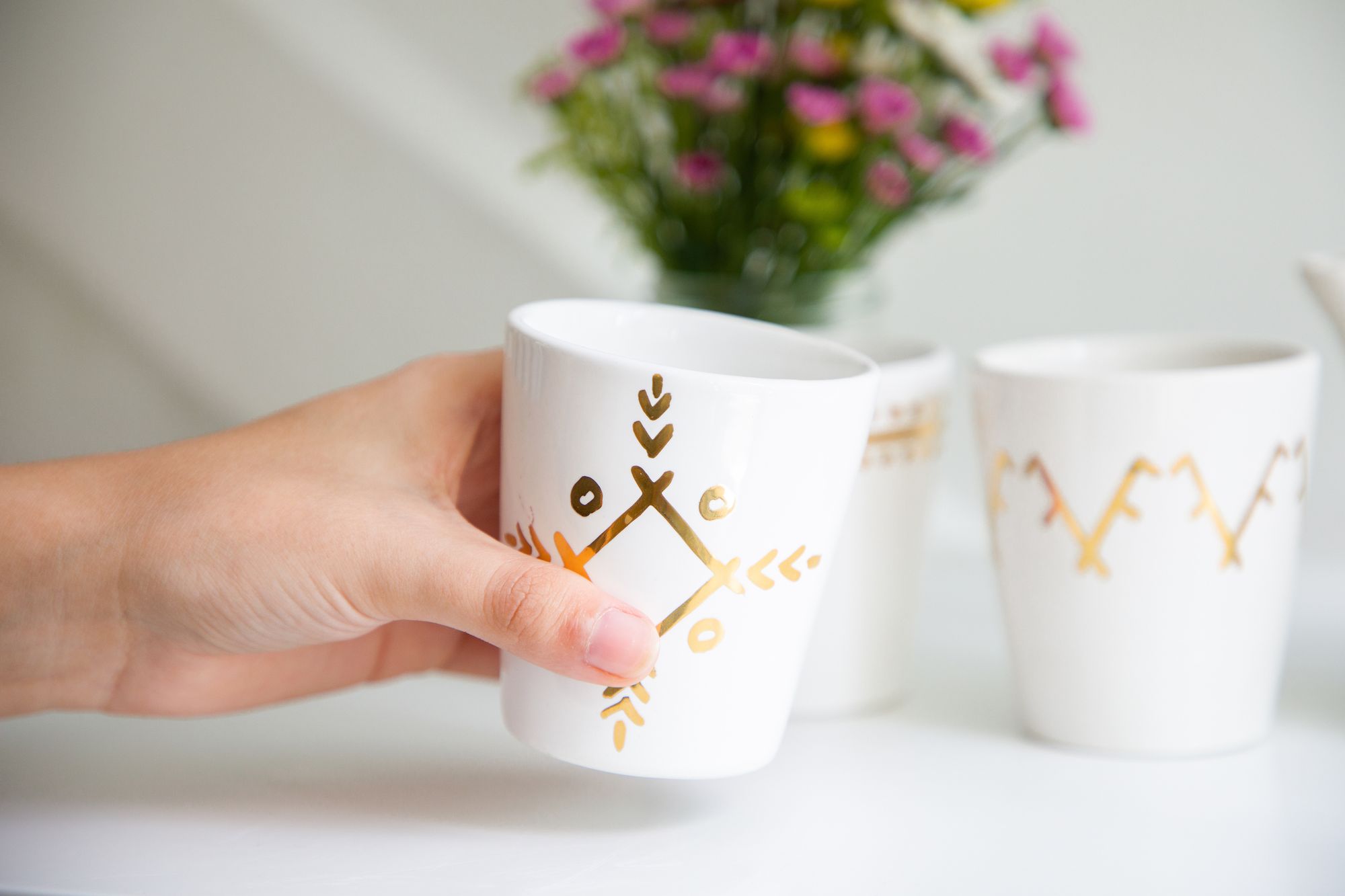 It definitely hasn't been the easiest road to take as a business, and they've encountered their own fair share of challenges, too, particularly with the ongoing pandemic. Since COVID-19 began, the brand hasn't had the chance to physically connect with their community through marketplaces, which as a small business was usually something to be relied on to keep the business running. Moreover, their artisan partners have also gone through their own share of setbacks, which has also been cause for delays down the line. But like the community-minded brand that it is, Green Gaea took it upon themselves to cover the cost, so all the brand's partner communities are sustained with enough essentials throughout this difficult time. Another additional challenge has also been in learning to navigate and harness the more complex tools of digital marketing – SEO, social media strategies, to name a few – to further adapt the brand to the steadily growing digital landscape.
But beyond all that, at its heart, Green Gaea's roots remains in its steadfast commitment to its community, and in forming connections with people – which also remains its biggest strength. As its owner shares, one of the best parts about running the business is in the simple act of sitting down with customers and talking through the stories behind each product, and above all that just simply conversing and connecting with people.
As any good business or brand owner knows, that's really all it comes down to: making genuine connections with people – while still taking care of the only home we have. With its nature-inspired gifts that lend a hand to the community and the environment, Green Gaea is definitely a brand that keeps on giving.
---
Find more of Green Gaea here:‌‌‌

Website: green-gaea.com‌‌‌‌‌
‌‌‌‌Instagram: @greengaea
Like this story? Tell us yours! Share your brand story and love for your custom packaging and get a chance to be featured on the wrap! If you're a noissue customer and are interested, you can join the Eco-Alliance by clicking here and answering a few questions here.
Questions? Email us at ecoalliance@noissue.co.