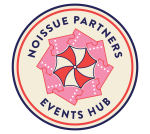 When we're planning events and have clients to please, budgets to meet and bosses to impress, it can be really easy to think that being more sustainable is just another thing to add to your ever-expanding to-do list! I completely understand, because I've been in your shoes and felt the same way.
I'm very privileged to have worked on some amazing events over the past decade, but it opened my eyes to how much 'stuff' events create (and how much is only used once before it gathers dust). I believe that by making sustainable swaps and clever tweaks we can still create epic events that have all the right kinds of impact!
One of those ways is to bring more intention into our event design by following the Buyerarchy of Needs. This concept was created by illustrator, Sarah Lazarovic, and can help us be more purposeful when we shop for styling and décor items. So instead of jumping straight in and buying something new, we can explore other options first. Here are some tips if you'd like to give it a try.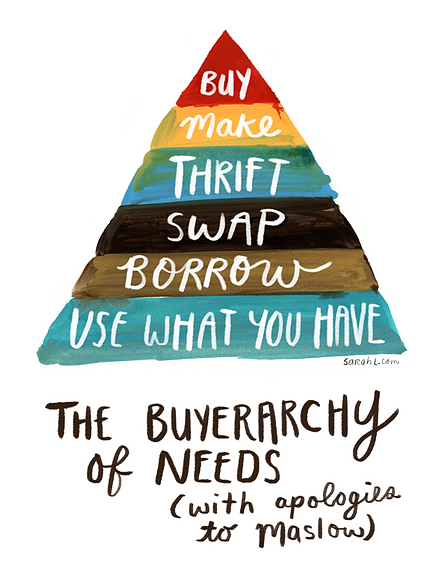 #1 – Use what you have

Have you heard it said that the most sustainable item is the one you already own? This applies for events too. Before diving-in with your design, think about what you already have in stock from past events that can be reused. This could be the frames from exhibition stands which could be given a new skin, name badge holders that can have a 2nd (or 3rd!) outing or branded items which can be updated with a new eco-friendly noissue sticker!
Encourage your attendees to use what they have too, like providing water coolers and asking everyone to bring a reusable bottle to reduce single-use plastic bottles.
If you do need to create something new, then be intentional with your design and think about what will happen to that item after the event. If it's created in a clever way, could it be repurposed for a future client?
#2 – Borrow what you don't have

Hiring items is a great alternative to buying new, especially if you have large quantities to consider. The bonus is that the hire company will take care of the delivery and collection logistics for you, and you won't need to worry about storage or disposal after your event. Think furniture, cutlery, large installations, lighting and sound. You can even hire outfits if you're after a certain uniform for your staff.
You could also think about borrowing in terms of sharing resources. If your venue has an event the day before or after, could you speak to the organisers about using the same tables and chairs, or re-using the centrepieces? Great for your budget as well as the environment!
#3 – Swap with fellow suppliers

If you have some kit leftover from past events, consider swapping with fellow suppliers in your industry. Maybe you have a set of lights that would be perfect for their event that you can swap for a pop-up bar.
Think about swapping in the more abstract sense too, like swapping out some less considered items for something more planet-friendly. Instead of fresh flowers, you could have dried arrangements or potted plants (some companies hire out plants, or you could give them to attendees as takeaway gifts so they have another life)! Instead of arranging shuttle buses, could guests walk or cycle to your venue? You could even offer an incentive like a discount on a session or workshop for anyone taking public transport. Research has shown that people are more likely to choose the vegetarian option if there are more on offer, so could you have less meat options on your menu.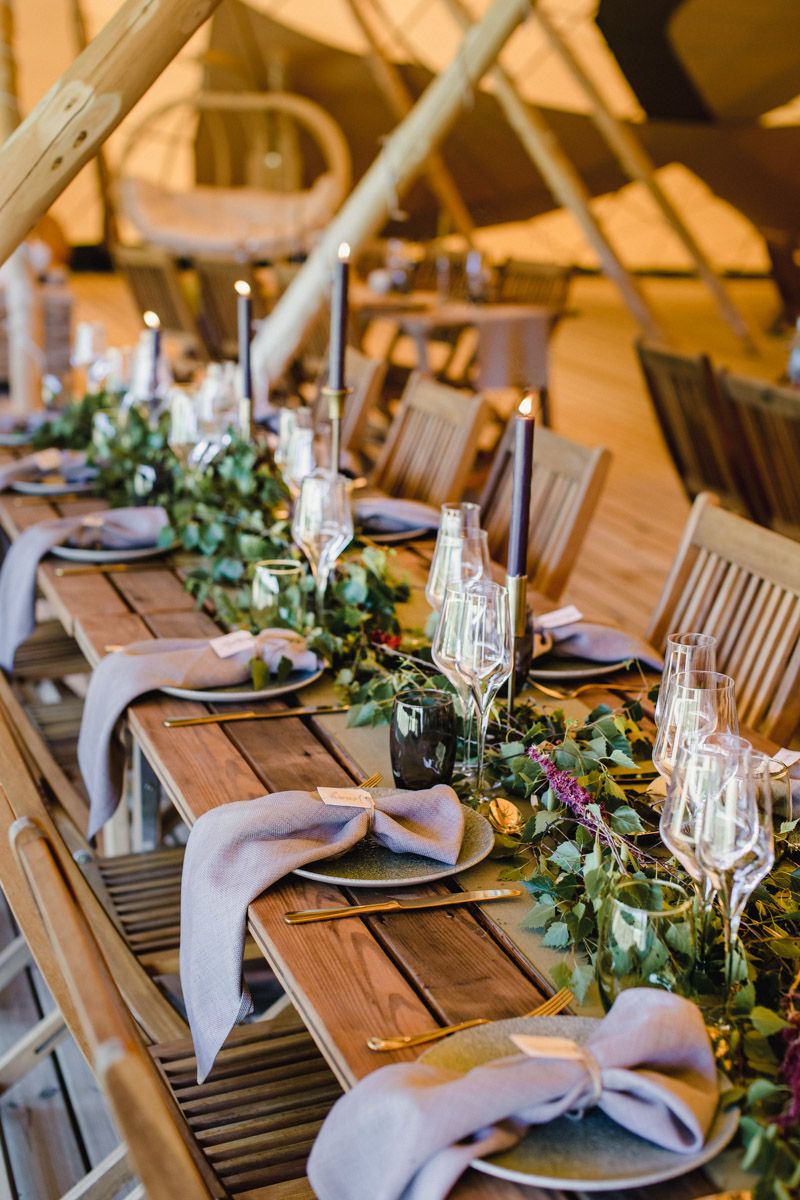 #4 – Thrift for eco-friendly finds

The next step in the buyerarchy is to hit the thrift and charity stores for some eco-conscious finds! If your team is handy with a paintbrush then you could source some key pieces for upcycling which could be repurposed throughout your event. So, a funky set of old shelves could act as a champagne bar for your welcome reception, and then become a presentation stand for your awards ceremony or a mouth-watering dessert station!
If you are thrifting items it can take a little longer so give yourself plenty of lead time to source your items and keep checking back as stock turns over quickly. If you can keep your design less formal, you'll have more scope to use mis-matched pieces for a quirky finish which is great if you need to find large quantities of items.
#5 – Make some of the items yourself

As with thrifting, if you have some creative staff, you could consider making some of the items yourself. Or maybe get your clients or attendees involved too as part of the pre-event build-up. This could be in the form of a group making session or a competition, and is a great way to build community and make your event feel more personal.
Maybe a green-fingered colleague could grow the flowers for your event or hand-paint your signage from pre-loved materials?
#6 – Buy when you've exhausted all other options

Once you have made your way through the buyerarchy and exhausted all other options, you may find your only option is to buy something new. You can still be intentional in your purchasing though to make your event as eco-friendly as possible. Firstly, look for suppliers and companies that share your ethical ethos and don't be afraid to ask questions if this isn't immediately obvious.
Secondly, shop local! Look for homegrown businesses in your area to lower the footprint of your items. This is also a great opportunity to talk about the provenance of your event décor with your clients and support the local economy.
Finally, consider where your new items will end-up after your event. Can they be reused, repurposed or recycled?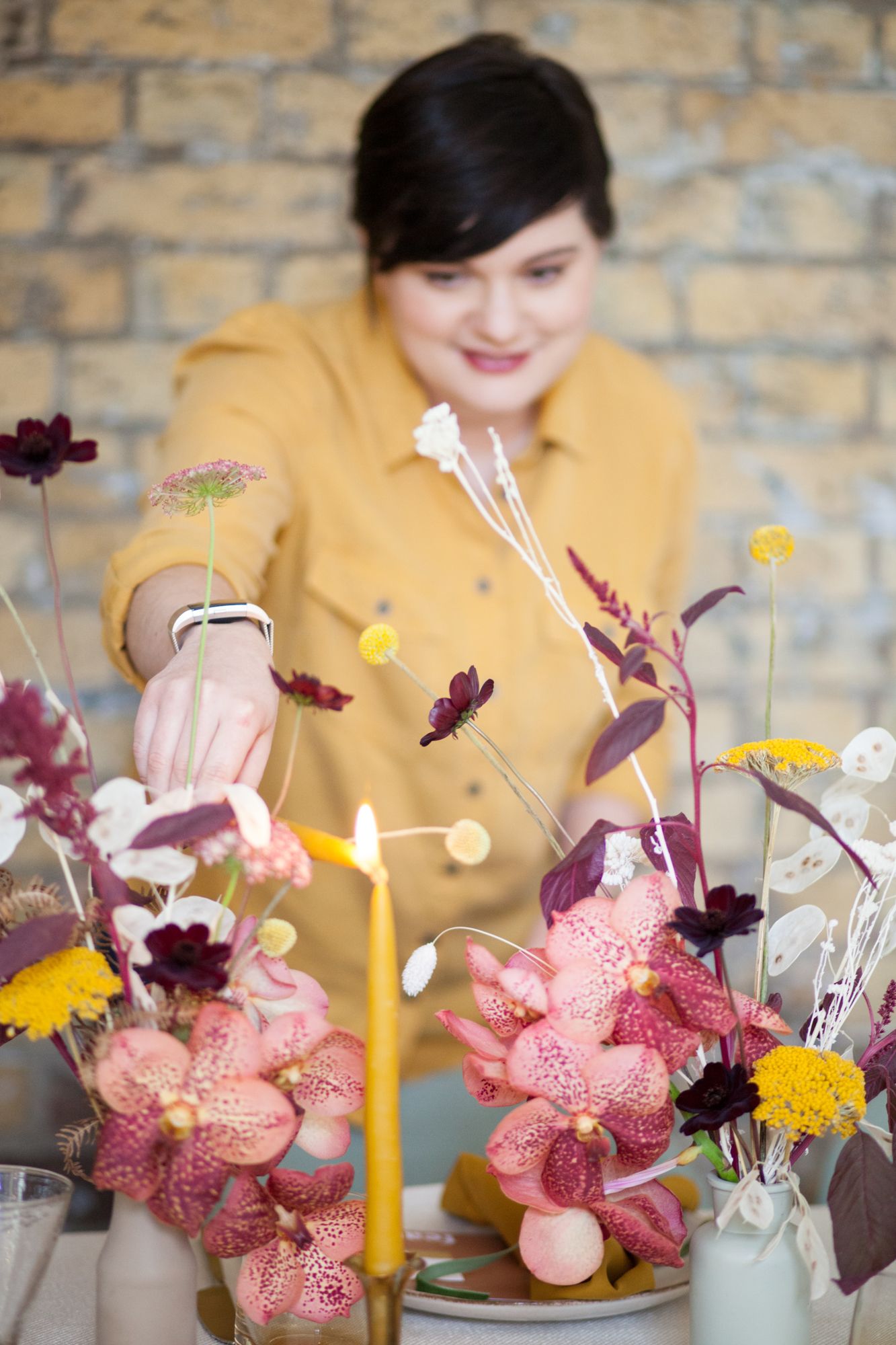 I hope that has helped give you some ideas for alternative ways of designing your event, before you jump straight into buying new. If you're considering transitioning into sustainable practices for your business but are finding it a bit overwhelming and unsure where to start, my tip would be to ask questions!
How has this been made? Who made it? What's it made from? Where will it go when I am finished with it? I find it helps me pause and consider if I could do things differently. Most importantly, have fun and enjoy the creative process!
---
All Things Considered provides styling and design for weddings and events which are full of meaning. From hand-painted backdrops and upcycled pieces to advice on creating a sustainable and stylish celebration!
Keep up with @allthingsconsideredevents on Instagram and learn more sustainable event planning tips on her website!