This season, it's time to use the power of packaging design to wow your customers.
Thanks to a flurry of spending around Thanksgiving, Black Friday, Cyber Monday and Christmas, gifting peaks at this time of year. This is not only between your customers and their loved ones, but other businesses they're purchasing from, too.
This means it's harder to leave a lasting impression through your products. Luckily, there's a solution to making your gift the one they'll remember: holiday packaging.
Now is a perfect time to experiment with a new concept in your branded packaging to surprise and delight your customers this season.
This could be either a limited edition run (hello, low minimum order quantities!) or a test of a new packaging design that you can keep in play if it resonates.
There's no need to feel intimated by the world of packaging design trends. Here, we've highlighted 8 of the best holiday packaging ideas for your brand to try below.
Trend #1: Detailed patterns

We're all familiar with using wrapping paper on special occasions, like for birthday gifts and holiday gifts. The way to replicate this experience as a business is custom tissue paper.
Consider your tissue a blank canvas for your holiday designs. Creating an intricate, eye-catching design for your custom tissue paper is one of the most effective ways of making your packaging feel festive and gift-like.
Imagine the surprise and delight for returning customers when you showcase a change from your usual packaging through a seasonal packaging design. New customers will also appreciate the extra effort you've put into your unwrapping experience—especially if it's a product they're gifting onto someone else. We love what x has done below with a delicate floral design on custom tissue.
💡 Pro tip: If you don't have the design skills in-house to create an intricate design, or are looking for branding help - check out the talented designers in noissue's Creative Community!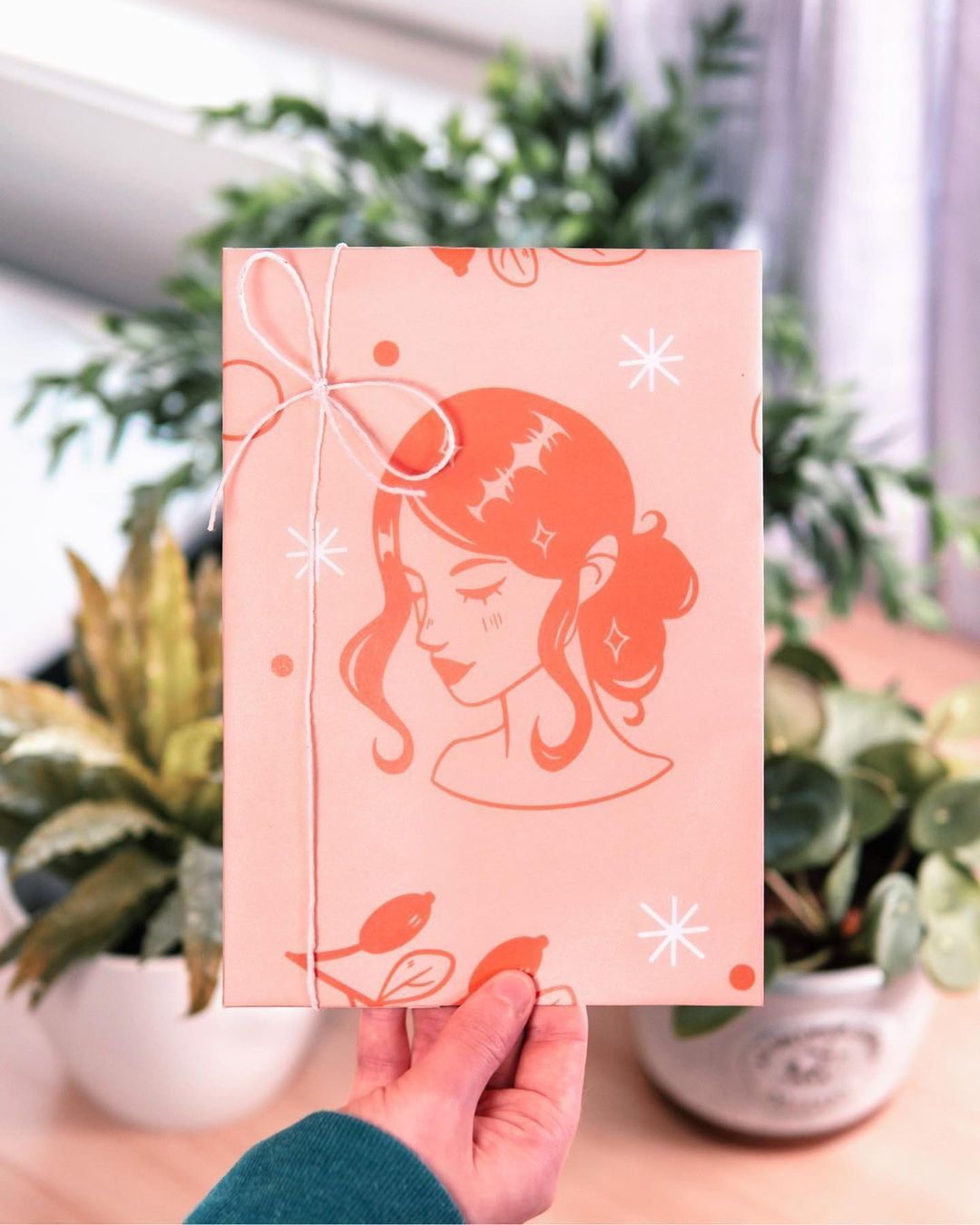 Trend #2: Monochrome simplicity

Sometimes in packaging design, less says more. Detailed designs are eye-catching, but combining color blocking with your business name or logo taking centerstage is incredibly impactful, too!
In a sea of red and green wrapping paper, using black and white shades is a sophisticated choice to help your holiday packaging stand out from the crowd.
This is also a user-friendly option for those who don't have a tissue design ready to go, as there's no way to overthink a monochrome design. Simply stick to a bold color palette (black, white or a combination of the two alongside your brand colors) and let your brand's logo and product inside do the talking!
If you want to add some detail to an otherwise plain tissue design, custom stickers or custom masking tape can add a pop of branding by showcasing your logo or business name. Just stick 'em on and you're ready to go!
💡 Pro tip: If you want full bleed options for your tissue, try noissue's Kraft Tissue Paper - made from FSC-certified, acid-free paper, and available in six sizes.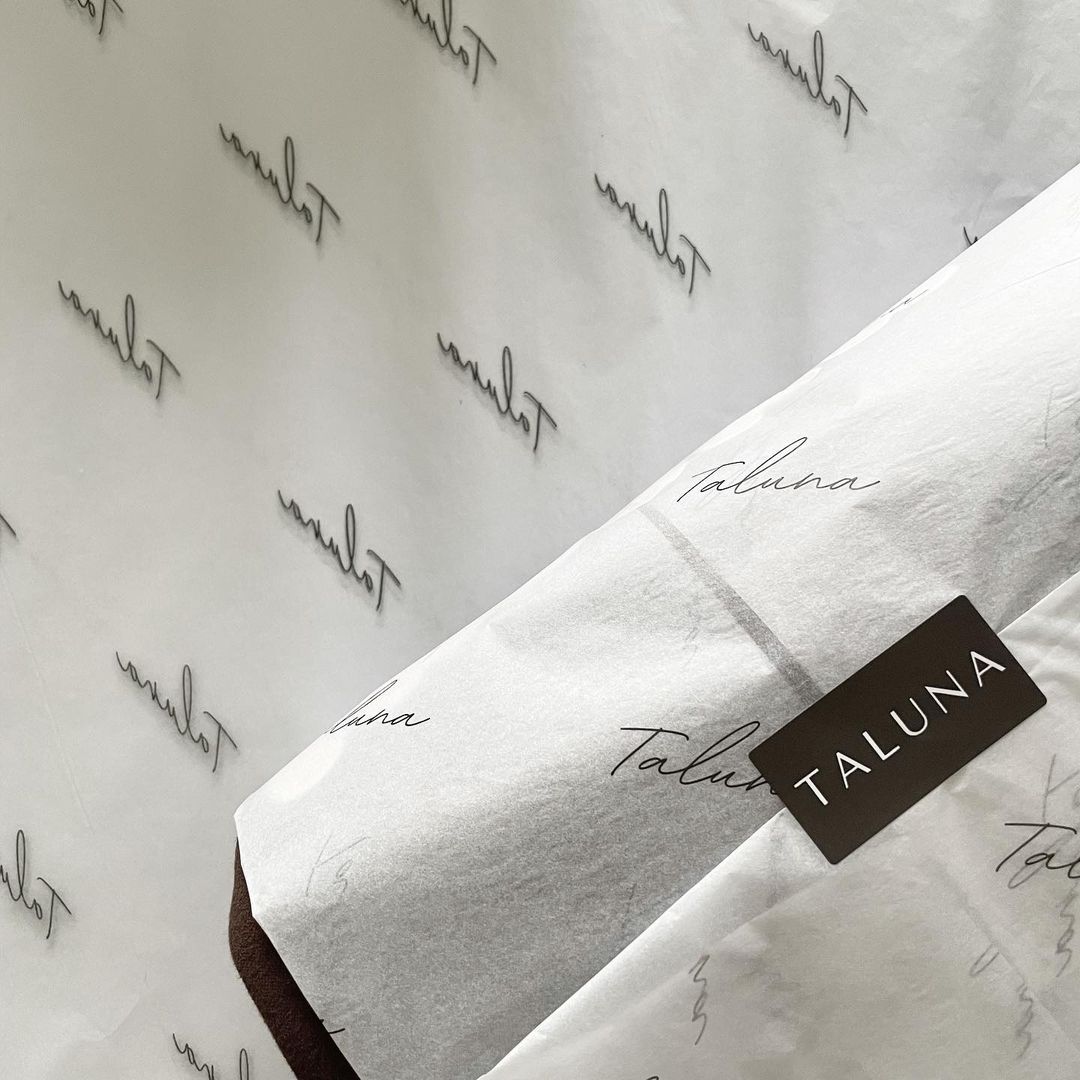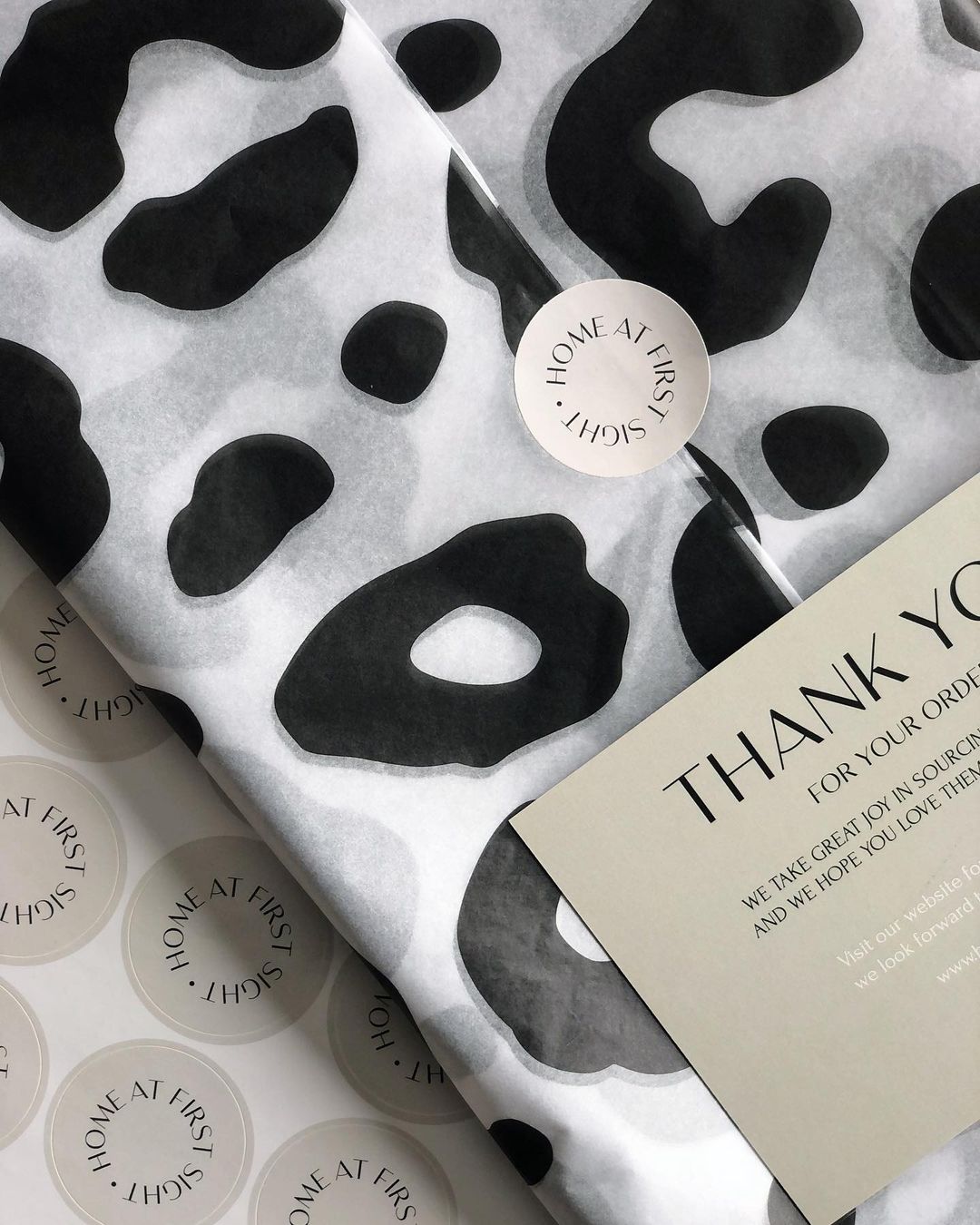 Trend #3: Custom gift tags

When it comes to crafting an unforgettable customer experience, it's the small details that count. Give your holiday packaging some extra personalization by adding a custom gift tag.
These small but powerful items can convey key information to your customer by showing season's greetings from your brand, your social media handles, or even a dynamic custom QR code that links customers to special seasonal campaigns that you can switch out once done—and more. Saves you from printing excessive holiday flyers too!
If you wanted to show that you've put in extra effort, you could even leave a blank space to handwrite your customer's name on the tag. This will make their unboxing experience feel similar to opening a gift from a loved one, which increases your chances of building trust and loyalty.
Trend #4: Bold, bright colors

The holidays are always the perfect time to use color theory to bring cheer.
Bright, warm colors such as yellow, orange, pink and red are proven to evoke happiness, while pastel colors like light pink or lilac can also have an uplifting effect on your mood.
Using these colors in your custom multi colored tissue paper, custom mailer box, or custom poly mailer design will make your parcel a guaranteed mood boost when it arrives on your customer's doorstep.
We love how designer Melanie Johnnson has combined all the colors we've mentioned above in her custom tissue and tape design for a delightful burst of happiness, delivered to her customers.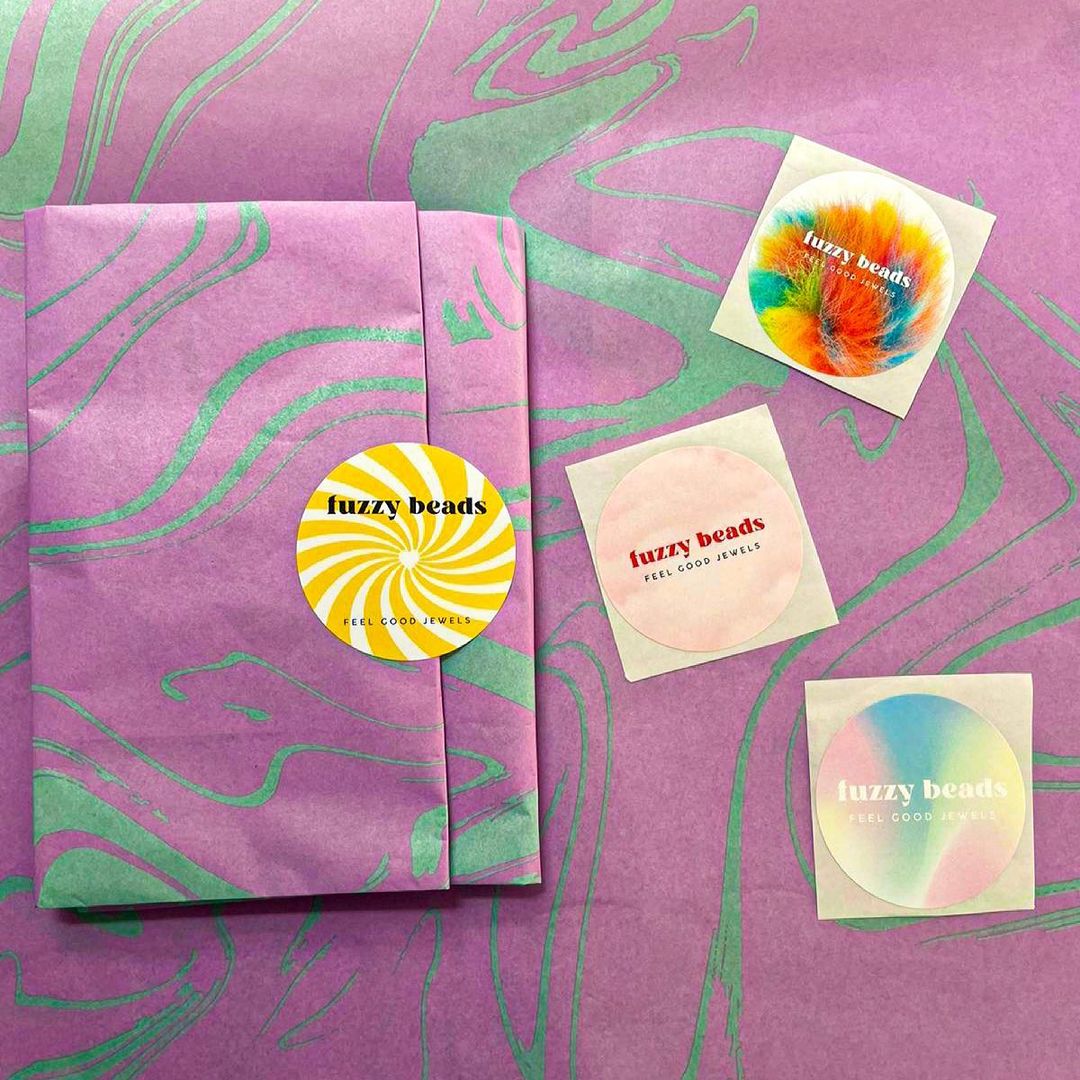 Trend #5: Playful and unexpected color pairings

While red and green get a lot of love when it comes to Christmas packaging, other color compilations can be just as joyful. There is a whole spectrum of shades out there to choose from that invoke different emotions (we have a guide on how to choose colors and fonts here which includes color theory) so don't shy away from being bold and unexpected in the colors you select.
A great way to make your custom tissue or custom box stand out is combining playful holiday motifs in your design with bright, bold colors not typically used for this season.
We love this color pairing below by Bijou Karman featuring a green custom sticker and a pink custom tissue paper pattern design.
Trend #6: Embossed paper packaging

Embossing is a subtle yet beautiful way to decorate your packaging for the holidays.
Leave an impression on any type of paper packaging and give it a 3D effect with a custom embosser that features your brand's name, logo or a special design for the holidays. We love what jewelry brand Tiffany & Co. has done below by embossing snowflakes onto their packaging.
Embossers are a clever way to spread the festive cheer in your brand's packaging, without looking as though you've put in too much effort. They are also 100% reusable, which means you can create stunning impressions over and over again without creating any waste.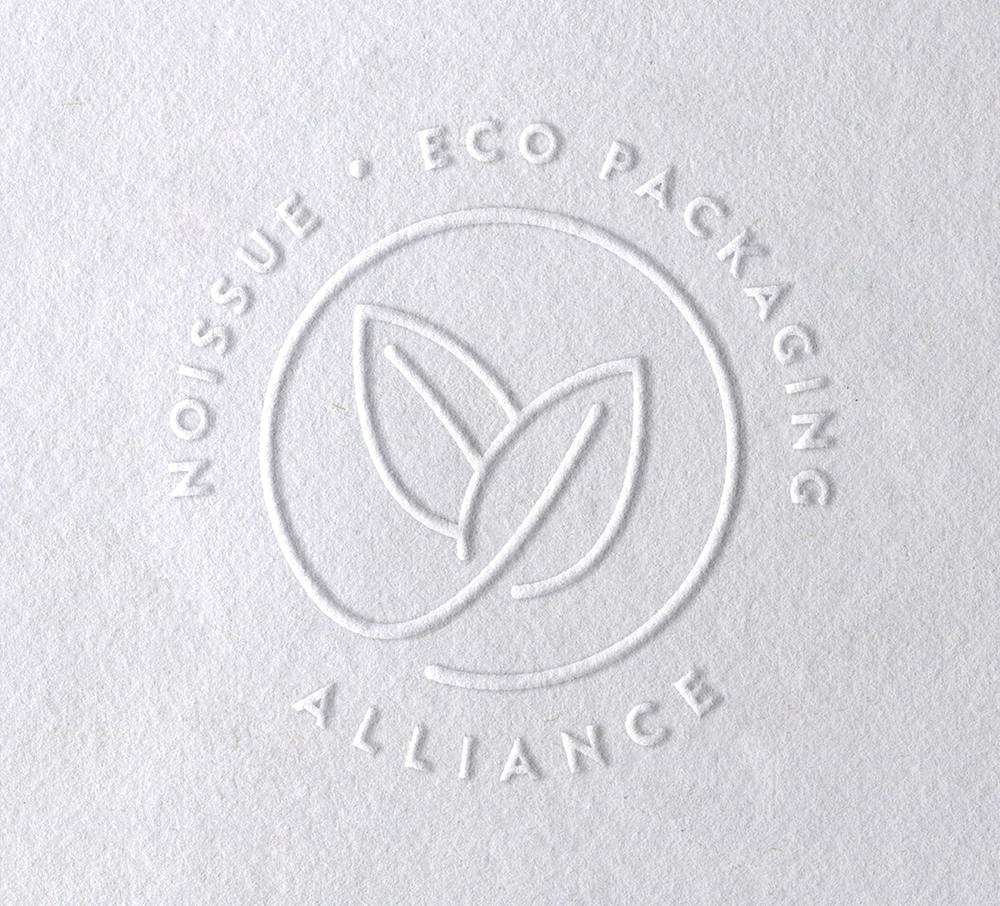 Trend #7: A message inside (or outside!) of the box

A box is a key ingredient in creating a memorable unboxing experience, but did you know you can create custom boxes where you personalize the design on the interior, as well as the exterior?
This means you can switch up your messaging on the inside and outside, which creates a multi-dimensional experience with your packaging. Tactically placing a customized message on the inside of your box for when your customer opens it elevates your unboxing experience to the next level.
The message doesn't have to be complicated, either. Something as simple as 'Something special for you' will do the trick and be applicable to a wider customer base. Personalizing your box encourages sharing images and videos of it on social media, too!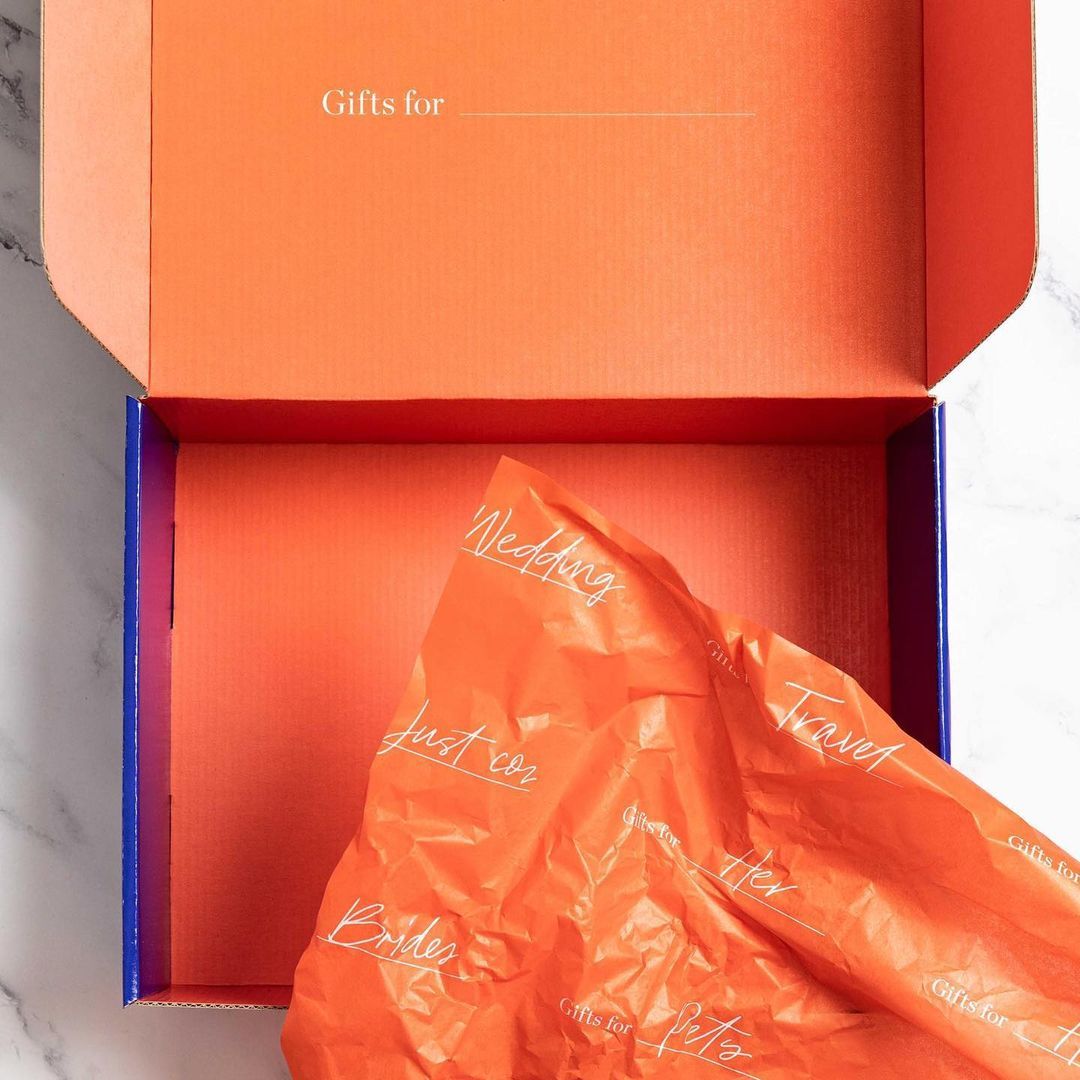 Trend #8: Packaging that disappears forever

A packaging design trend that isn't going out of style anytime soon is sustainable packaging. Due to the sheer amount of waste created at this time of year, it isn't a great reflection on your brand if your products come packaged with excess layers or materials like cellophane and plastic bubble wrap.
Delivering your products in eco-friendly packaging shows you that your brand cares about the impacts it's having on the natural world. When shopping for holiday packaging, make sure it ticks one of three boxes by being either reusable, compostable or recyclable.
To efficiently ship out products during this busy time, compostable mailers are a great option. They're made from a combination of PLA (plant materials such as field corn and wheat straw) and PBAT, a bio-based polymer.
They're a low-impact option because they can be composted in a backyard or commercially and breakdown and return to earth in six months (180 days) at home and 90 days in a commercial compost setting.
🎁 Give the gift of fantastic packaging this holidays

We hope these ideas have helped you feel ready to try a new packaging design or product in your seasonal packaging.
Now is a great time to experiment with a new approach to your packaging to surprise and delight customers. If it works well, you can keep it around in the months to come!
If you're ready to get started, check out noissue recommends and take a short quiz that makes designing your packaging a breeze.
If you enjoyed this article, we have plenty more helpful guides to packaging design on The Wrap!