Photo by @melanie.johnsson
So, you've put in the time, effort, and creativity to make your packaging part of your brand experience. You've created attention-grabbing, personalized branded tissue, stickers and stamps. You've received great consumer feedback and posted countless cute pictures online. How else can you add to the excitement and anticipation of your packaging experience? It's time to make a video!
Wrapping it up, showing it off

Short, snappy videos that showcase the beauty, hard work and creativity surrounding the business of wrapping products are popular online. Proud of your packaging? Then generate some buzz! If you're doing something awesome, make it obvious. Show off your process in video format so consumers just can't wait to get their hands on your deliveries.

Check out how Fyoocher brilliantly showcase how they wrap their clothing range in their snazzy video clip:
Creating packing or wrapping videos like this is a great social media and digital marketing strategy for creative businesses. It's a behind-the-scenes glimpse that mirrors the "unboxing" online trend and in today's competitive environment, the more relatable your business can be, the more connected your customers will feel to your offering.
It's easy to feel overwhelmed when trying to turn that blossoming idea into a fully formed video, but if you follow our steps below, you'll be creating gorgeous, creative content in no time. Let's go!
Step 1: Plan.

The goal is to create a short but seamless video that highlights the beauty of your wrapping process. You want to make sure that it captures your main product and highlights the experience your brand delivers with every purchase.
First up, gather your goods. We know your packaging will already scream brand identity and engagement. So get everything ready in terms of all the glorious elements you want to come together for the video – plus any lovely little extras. Think of how you will seal it, if you need to tie or attach anything onto the package, and anything else you'd like to put on display in the video frame.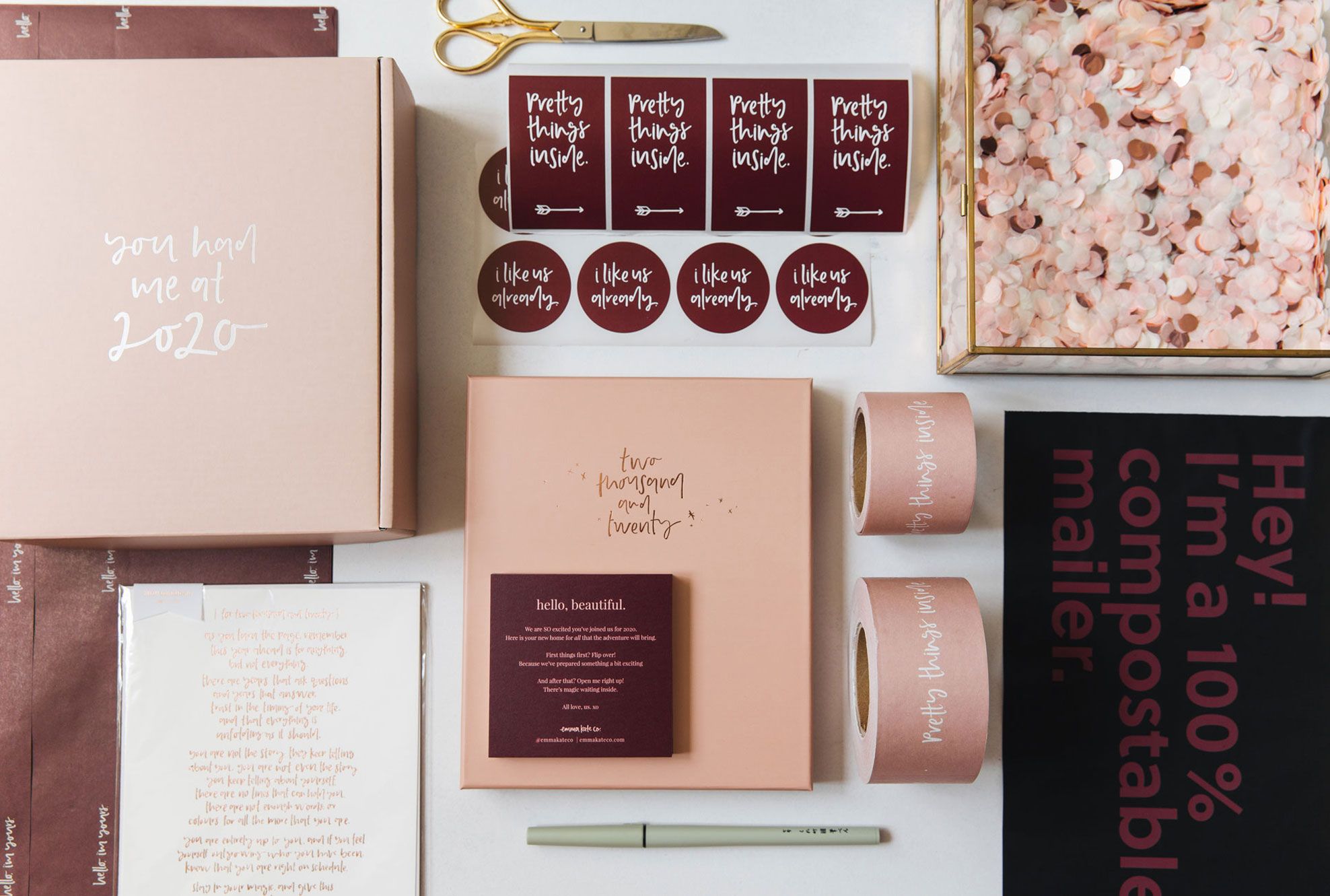 What should the shot look like?
Clean, clear and confident. Whatever you use in your wrapping – from noissue tissue and stickers to tape or stamps – pay careful attention to how you present all your packaging items to the camera.
Once you've arranged everything and you're ready to wrap, you'll need to decide how best to showcase this process on camera. Overhead shooting is an awesome way to hone in on the details. You've probably seen this style before, especially in mouthwatering cooking demonstration videos online. Overhead – or top-down shooting – is where you film from above, focusing on a table or surface as you wrap. With this style, only your package, wrapping and hands should be in the shot! Take a look at The Plant Lady's gorgeous overhead video for some inspiration:

Want a more personal touch? Get in front of the camera! You can also add audio commentary to your video, maybe by introducing yourself and describing your process as you go. Check out what Lucia at Sinispea Swim has achieved with her packaging intro below.
Most importantly, just relax and be yourself! How you show yourself on camera will reflect how your brand is perceived. Being authentic is infectious.
Step 2: Record.

Now you've chosen your quality packaging materials, planned what and how you want to present to your audience, it's time to get recording.
Equipment
You'll need some kind of device to film a quality video, but it doesn't need to break the bank! It's amazing what can be produced using items you probably already own.
High-end cameras can produce high-quality videos but unless you already have a DSLR camera lying around your house, this can be a significant financial investment.
It also isn't necessary to use complex equipment to show off your style. Grab a laptop or mobile phone, add a little magical creativity and BAM – you've got yourself a movie maker.
Still want a little extra quality that your iPhone isn't giving you? Consider an external webcam. They can be an affordable and worthwhile investment for video-making, and they usually produce much higher quality content than the webcams within your laptop.
For the overhead style, it's a good idea to invest in a cheap but effective tripod to hold your camera or phone high above your workspace. Even better is to invest in a tripod such as a Gorillapod. These have flexible legs that can wrap around any object to get the perfect angle, every time! Use a viewfinder to see what you're filming and when you're ready, press record.
Lights? Camera? Action!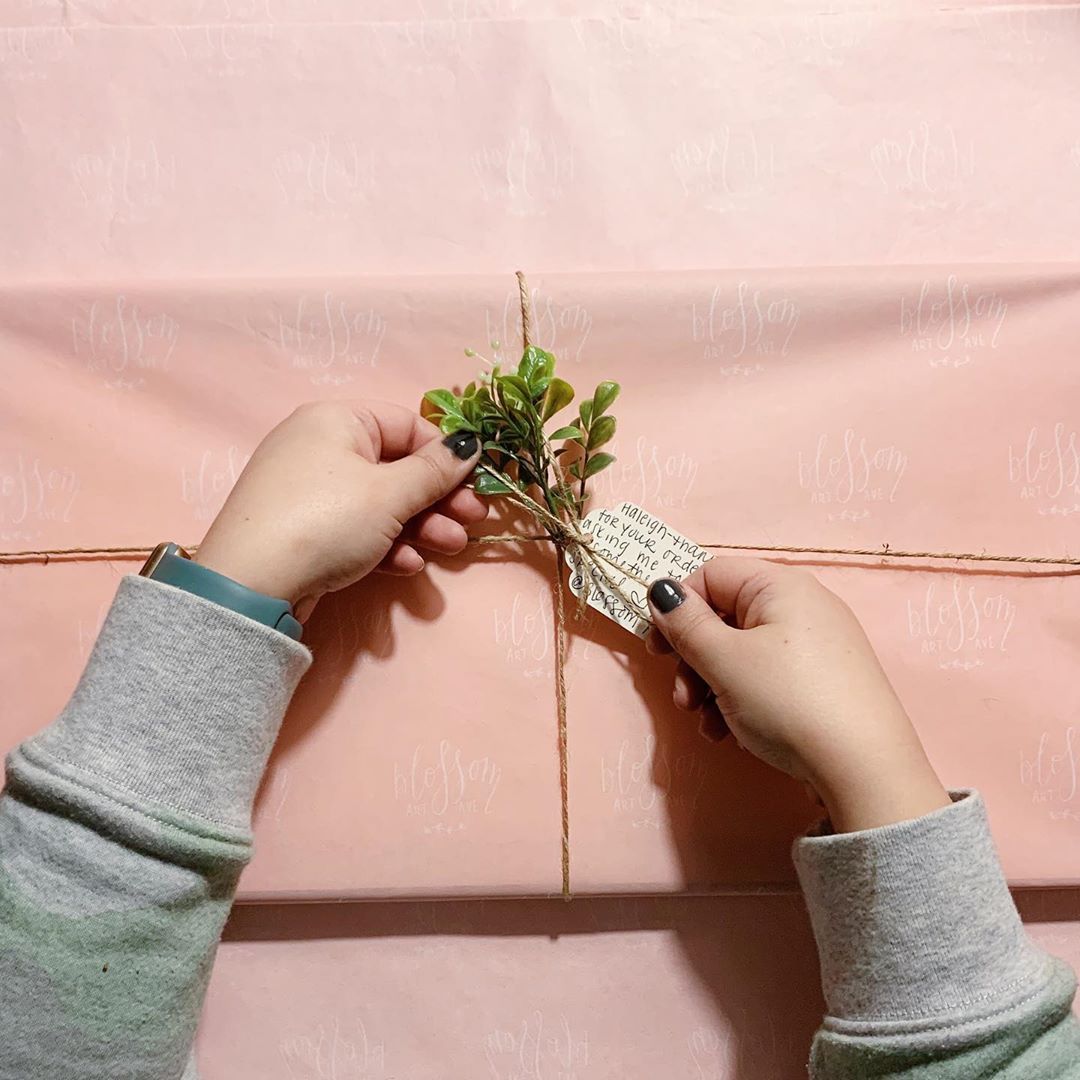 Style
There are many ways you could shoot your video to stand out from the rest. You could record in a single take or make a montage of cute and focused clips to tell your packaging story, just like Join The Creative Side!
Not comfortable being center stage? If you enjoy taking still pictures of your products, try stop-motion to produce that video content you're craving. Stop-motion is a fun trick made famous by old-school animated movies that involves taking individual pictures and putting them together to give the idea that motion is involved. Just check out how Forma by Olya does it below:
Remember to have fun! Don't stress the small stuff. If you're not happy, give it another go or try a different style.
Step 3: Edit.

Once filming is done, it's time for the finishing touches. Editing video can look complicated, especially if you're new to the craft. But by using good media-editing software, making alterations can be pretty simple! Most laptops or smart-phones have a version ready for you to use.
Speed

First up, how long is your video? Will it hold the attention of your audience for long? If it is already skilfully fast-paced (well done fast fingers!) then you might want to leave it as it is. If not, consider speeding it up! Adding a little fast-forward motion, be it super-speed or medium-paced, can help show everything you've got to offer and still keep viewers' eyes on the prize.
Skincare brand Nalen Ayurveda have used jump-cuts to remove the slower parts of their packing video and create a fast-paced clip that wastes no time on those in-between moments. It's a great way to up the tempo and keep things focused!
Trim those mistakes
Often when recording video, you'll find there's a little extra footage at the beginning and end. Trimming these off can tighten up your content and ooze professionalism. A mistake in the middle? This can be quickly chopped out too with a simple click. Another tip would be to record the same packaging sequence a few times over so that you can pick and choose your favorite segments or the most polished video.
Music

Adding a simple music track to your footage can enhance both the video and your brand. Maybe you're all about peace and zen, or perhaps your brand has a quirky and energetic edge. Either way hunt, down a royalty-free track that reflects these feelings. Illustrator Alxndra Cook has a chilled-out yet funky beat as the backing to her wrapping video, promoting good vibes all around.
If you can't find the right notes or feel as though music distracts from what you are trying to showcase, using no sound or simple commentary can be just as effective as a good tune. Choose what's right for you.
Step 4:  Post.

Now that you've packaged, filmed and edited, your video is ready to be broadcast into the world! Want to promote the beauty of your packaging to as many people as possible? Make sure you take advantage of all the different digital channels that can be used to boost your brand.
The possibilities are endless.

Enrich your business by showing off your video on your digital channel of choice. This could be email marketing, websites, YouTube, Instagram, Facebook, LinkedIn – you name it. Just be sure to use your new video to get the message out there that you are a creative business and your packaging looks oh-so-good!
Small business websites are usually a mix of text and image content, so adding an eye-catching video to your page is a great opportunity to mix it up a little.
Breaking away from your typical social media plan and giving your audience new, fun content that grabs their attention and builds anticipation for their next delivery highlights how awesome your packaging truly is.
Send it to us!

Here at noissue, we love to see what you've all been up to. Send your packing and wrapping videos directly to us so we can share your creativity with our community and with the world. Our social media channels are bursting with activity from talented brands and collaborators!
Don't forget to tag us or use the hashtag #noissueco on Instagram. We love to support our creative community and share successes with other businesses that are looking for some inspiration, which is why your video will thrive with us.
And that's a wrap!