Community Design templates for noissue's Custom, Recycled Hangtags
Designing for your brand doesn't need to be a mammoth task. Instead of spending hours choosing colours, finding inspiration, and creating layouts, you can create on-brand assets in minutes with one handy tool: templates.
Templates are reusable documents that you can edit to suit your needs without having to start from scratch each time you create a new design.
How templates help

Whether it's you or your team making assets for your brand, the process is infinitely quicker, easier, and more consistent when you use templates.
Templates speed up the process by cutting out a lot of the setup time and decision-making that can go into designing something. Instead of starting a new document, setting up the layout, creating a design, and then putting in your content, all you have to do is drop in your text, maybe select an image, and you're good to go!
This pre-set design makes things easier as well as faster. By using a template, you don't have to worry about deciding how things will be arranged, messing around with hierarchies, or choosing what fonts to use. Those decisions have already been made for you.
When you intentionally create these templates to work with your visual identity using your brand guidelines, you also ensure consistency across your brand.
Because you've already made the decisions about where the logo goes and what fonts and colours should be used, you know that no matter who is designing for your brand, everything will consistently be in the right place in the right font with the right colours.
What makes a successful template

Not all templates are created equal. It's no use creating a template if it's not actually going to be practical for you, so there are a few things you should keep in mind when putting yours together.
Ease

First and foremost, your templates need to be easy to use. Whatever software you use, designs you create, or elements you employ, it's important that someone can pick up your template and easily create something new with it. If it's not easy to use, it'll become too much effort to use at all, and then stop being useful. That defeats the purpose of creating templates in the first place. So make sure your software is simple, and it's clear how to use the template.
Flexibility

An effective template should also be flexible. Say you're creating a template for your cookie packaging – think about what happens if one flavour's name is longer than the other, or one has more ingredients than the next. Your template needs to be flexible enough to accommodate for these changes without breaking and looking terrible!
Variation

And lastly, a good template needs to have some variation. This makes sure things are consistent but still interesting, and keeps people engaged in your brand. If you're creating quote templates for Instagram, maybe create a few different coloured templates (all using your brand colours of course!) Try a selection of layouts for your Pinterest graphic templates, or switch up your thank you cards with different patterns on the back.
What templates to create

You can put together templates for pretty much anything in your business that you're creating regularly. Whether it's for social media, your products, or printed promotional material, you can make your life easier, your production faster, and your brand recognition stronger with a selection of templates on your side.
Social media graphics

The graphics you'll likely be designing the most will be for social media. So the more templates you have, the quicker and easier that process will be and the more amazing content you can share with your audience.
Some social media templates you could create include:
Quote graphics
Carousels
Sales/promotions graphics
Product launch graphics
Reels covers.
Packaging

Packaging can take a lot of time to perfect, so once you've got it right, you want to keep it right! Creating a template for each piece of packaging means that you can easily create variations for different products, alternate patterns, update copy, and anything else you need to do without having to create the whole thing from scratch again.
Think about creating templates for your:
Pro tip: noissue's online design platform has templates built into it so you can try out different repeating designs featuring your logo or business name. Simply upload your logo or icon, and we'll present you with templates to try for your packaging!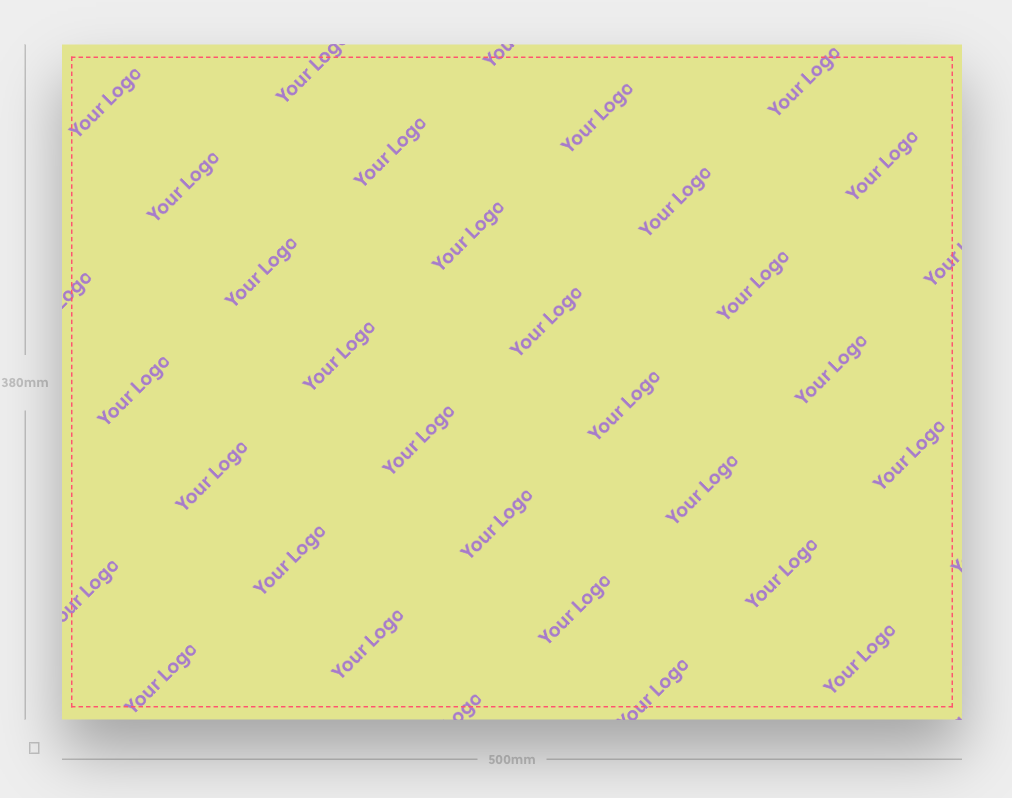 Printed Promo

Once your products are sorted, you've got to get the word out to the world about them. Aside from your online marketing, you might be doing some printed promotion too, and this can all be templated to make your life easier!
To promote your products with ease, consider creating templates for your:
Business cards
Posters
Signage.
Documents

As a business owner, we often spend a lot of our time on admin work. Thankfully, you and your team can cut down some of that time by using templates that will mean less invoicing and more innovating fab new products!
Get yourself set up with a template for your:
Invoices
Proposals
Contracts
Presentations.
Email

Speaking of things that take up a lot of time… email. But no more! With templates you can make emailing your customers, colleagues, and collaborators easier and faster than ever. You can even automate some of your templated emails to make them that much more efficient too!
When it comes to email, you can create templates for:

Signatures
Newsletters
Customer service
Onboarding/Welcoming.
Swipe files

Templates aren't just for visual things, either. There are pieces of copy that you likely write over and over again, but could just write once in your unique brand voice and reuse each time you need it!
You could create swipe files for:
Emails
Social media captions
Letters.
What tools to use

Now you know what templates to use, you might be thinking, "How do I make them?" There are a variety of tools you can use, depending on what kind of template you're creating and how advanced your design skills are.
noissue Community Design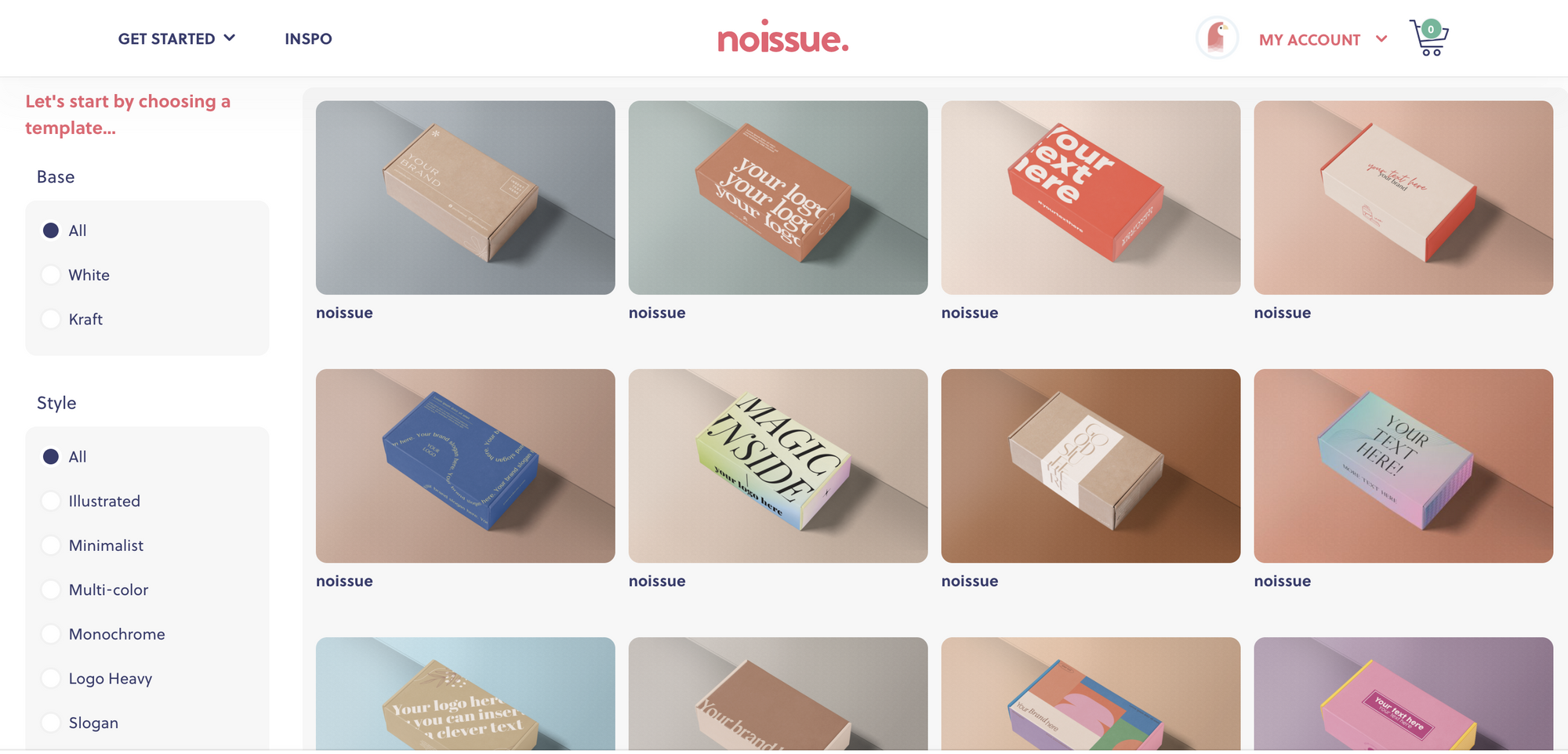 Do you need a little extra help designing your branded packaging? We've got you! Here at noissue, we offer Community Design templates in a range of products so you can create a dazzling packaging design with ease. The process is simple: select a design you love, and we'll walk you through the rest of process so you can customize it for your brand! Currently, there are Community Design templates available for our Recycled Custom Boxes, Recycled Hang Tags, Custom, Compostable Cards, Recycled Kraft Mailers and Custom Stamps.
Canva – Free or Paid Pro account
If you're looking for something that you and your whole team can easily jump into without needing professional design skills, Canva is the tool for you. This collaborative, creative tool has thousands of pre-made templates, imagery, and other features you can use to create graphics for your brand. From social media to documents to printed material, Canva has templates for it all.

Figma – Free or Paid Pro account
If you're looking for a bit more creative control and your team has some design chops, Figma should be your go-to. Figma is a collaborative online design tool that allows you to design all of your digital designs from scratch or grab templates and resources from the community to kick-start your designs.
Adobe Illustrator, InDesign, or Photoshop – Paid
Adobe is the industry standard for a lot of designers but there's a bigger learning curve required if you haven't used it before. Outfitted with pretty much every tool you could need to design anything you want, Adobe Illustrator, InDesign, and Photoshop are the full package. Illustrator is great for digital designs, InDesign is ideal for print material, and photoshop is perfect for editing photos.
Word Processor (Google Docs, Notion, etc)
For any written templates you might want, you'll just need a word processor of your choice. Google Docs or Notion are great options for online, collaborative tools that you can work on with anyone at any time.
EMS (ConvertKit, Mailchimp, Flodesk, etc)
When it comes to your emails, you want to look for an Email Marketing Software (EMS) that works for you. Tools like ConvertKit, Mailchimp, or Flodesk will all have plans ranging from free to paid, with various features available under each. Look out for ones with pre-made templates or the ability to easily create some of your own.
Not everything in your business needs to be templated, but the more templates you can create for the assets you create regularly, the more time, effort, and energy you'll get back.
That means more time, effort, and energy put back into your products, their promotion, and the people who buy them!