Here's something to think about: most people who drink wine would enjoy it even more if their drinks are organically and sustainably sourced.
Industry data shows that 74% of US consumers would consider buying sustainably-produced wine, and 70% would support organic wine. These sentiments are even more pronounced among Millennials — 90% indicated they're willing to pay more for wine that's sourced in a sustainable manner..
The good news is that players in the industry are increasingly rising to customer expectations. A great example of this comes from Matthiasson Wines, a company that makes and sells sustainable and organic wines.
Established in 2003, Matthiasson Wines incorporates sustainability into all aspects of its operations — from planting grapes all the way to how the customers experience their products.
Read on to learn more about Matthiasson Wines' story and discover how the company brings its eco-friendly values to life.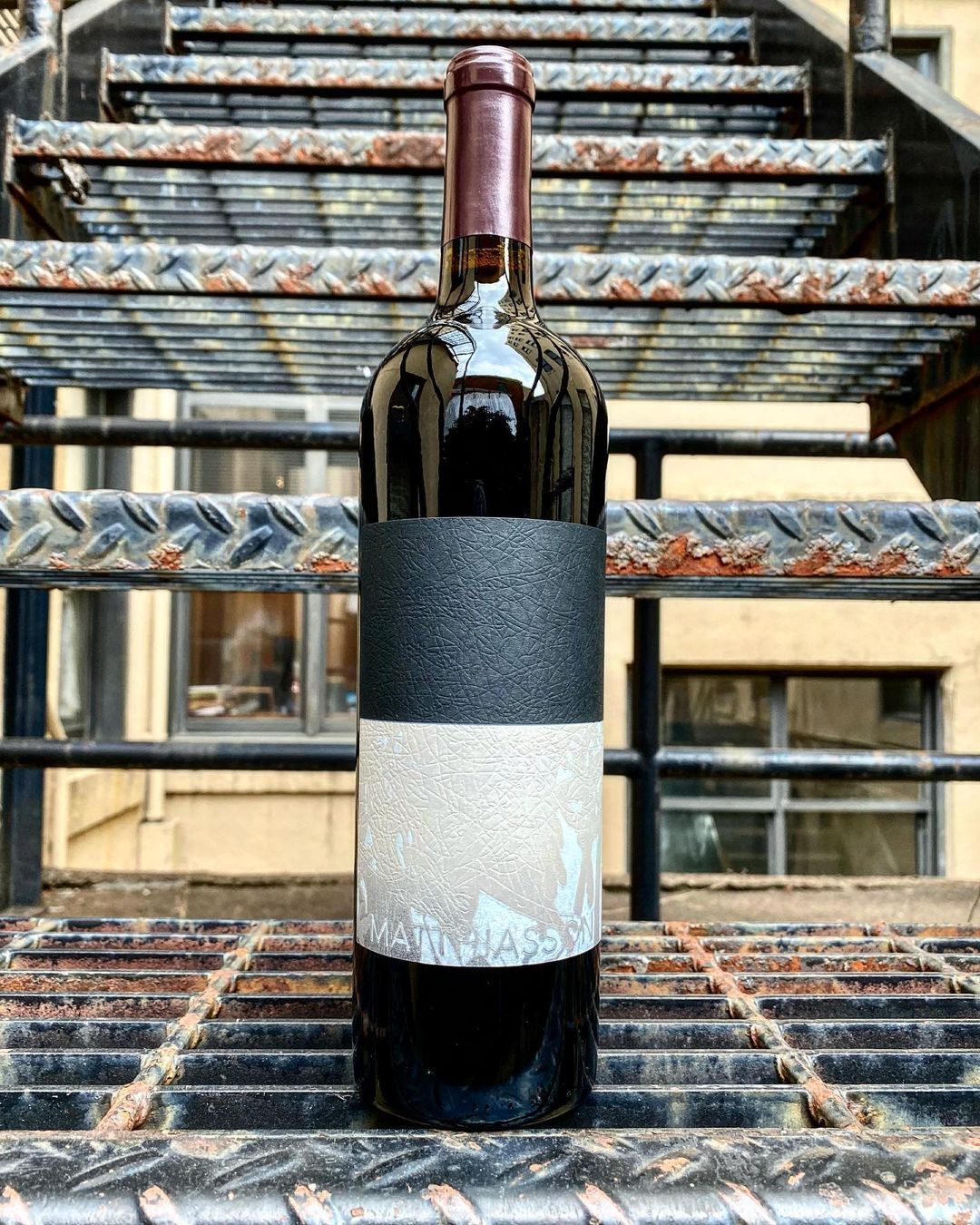 Walking the talk when it comes to sustainability
We can see Matthiasson Wines' commitment to sustainability at the very first stage of the wine production process. According to co-owner Jill Matthiasson, not only are the company's vineyards certified organic, they also enable living organisms in the area to thrive.
"We plant native California hedgerows to increase carbon sequestration in the soil as well as to provide habitat for bees, birds, and beneficial insects," she explains. "We use sheep to help with the weeds, and we've always been avid organic gardeners… [who] grow our own food."
In addition, the folks at Matthiasson Wines strive to reduce waste and keep resource consumption to a minimum.
"We've purchased electric tractors," adds Jill. "We use minimal water in the vineyard and we plant native California perennial grasses as cover crops."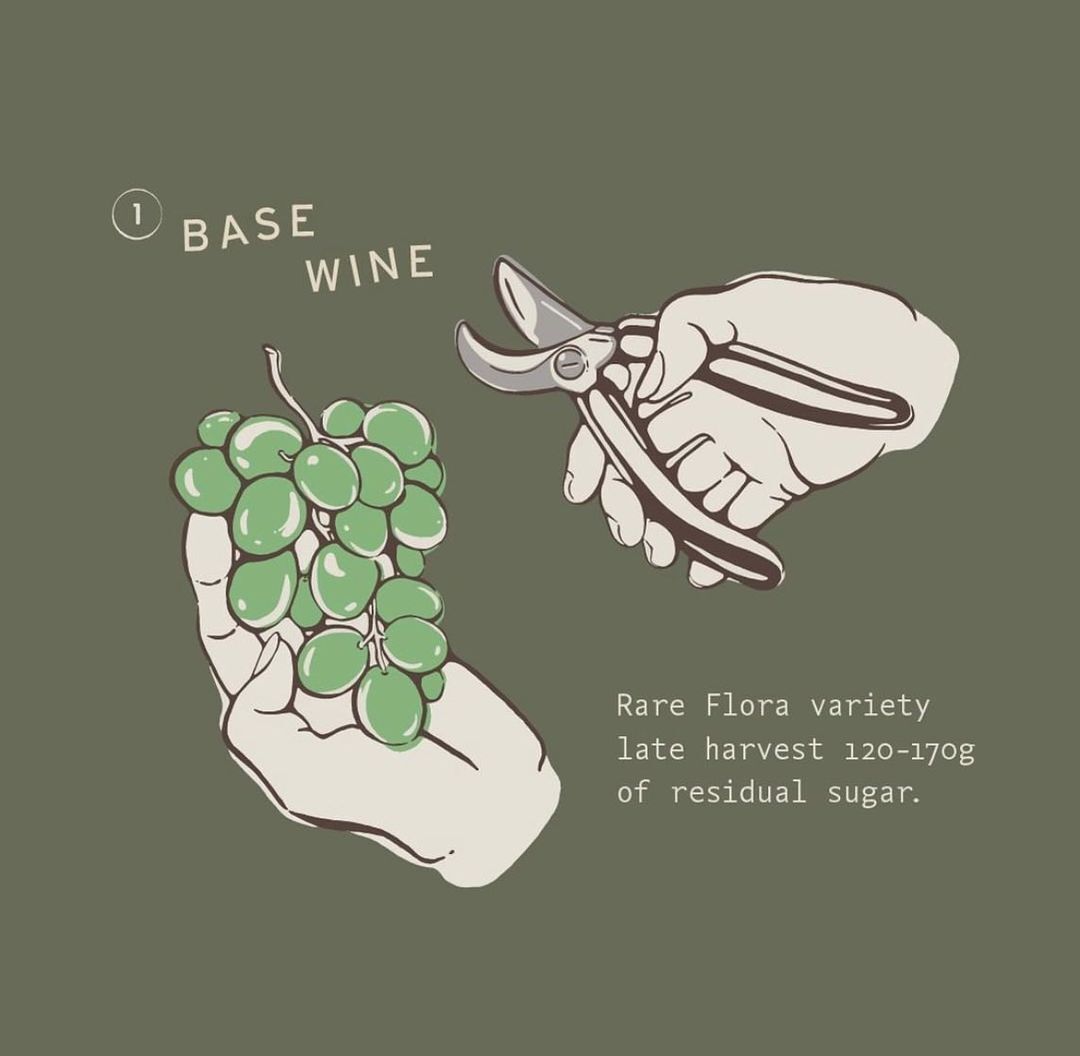 Beyond sustainable wine production
The great thing about Matthiasson Wines is the company's sustainable efforts don't stop at the production level.
Matthiasson Wines' eco-friendly ethos extends to its product packaging. For instance, the business uses the lightest possible weight glass when bottling wine to promote sustainability.
And when it comes to wrapping those products for customers, the company uses noissue's sustainable tissue paper to wrap select products.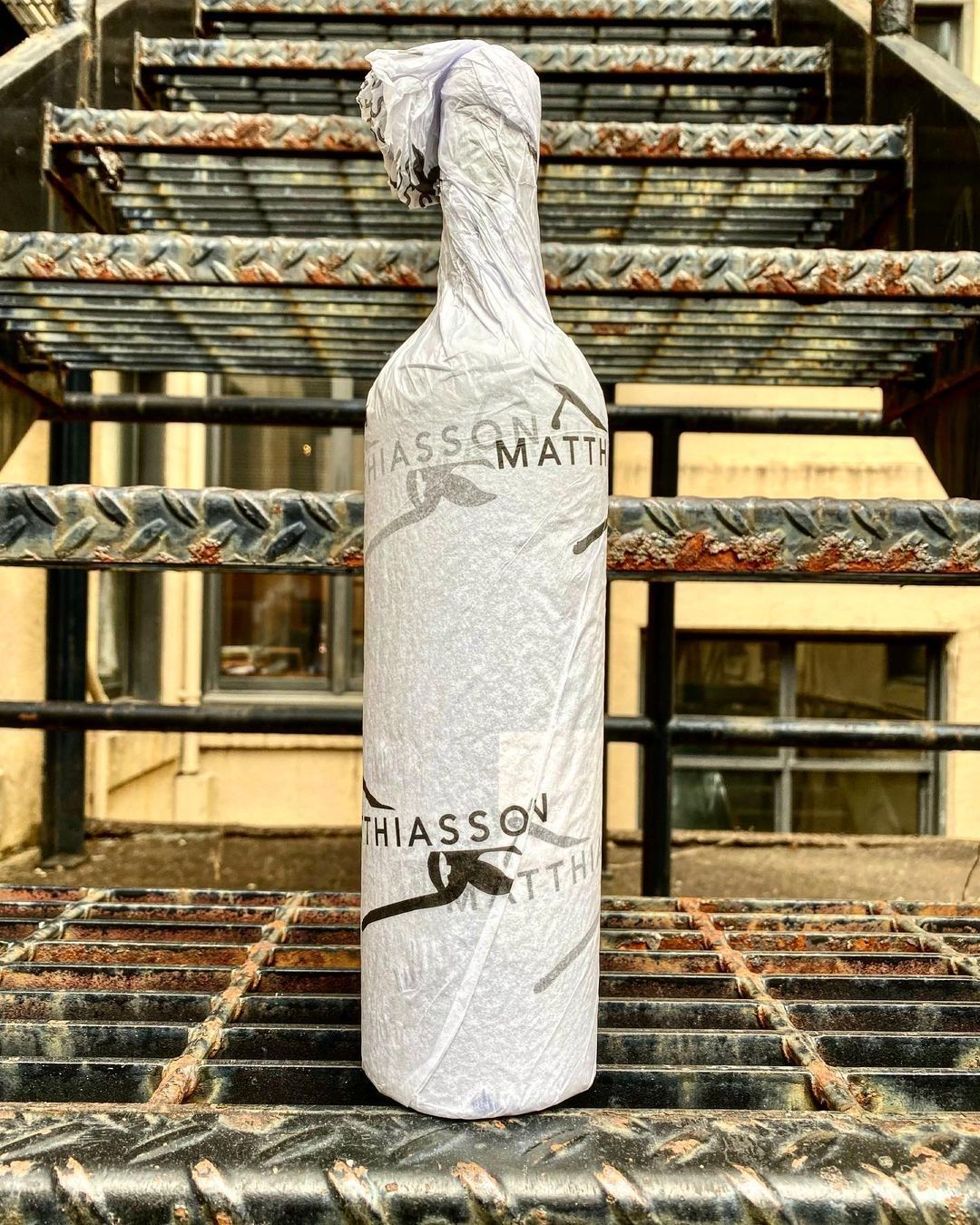 According to Jill, the team started using noissue to package the Phoenix Vineyard Cabernet Sauvignon. Later on, Matthiasson Wines also chose noissue to produce its custom-designed coasters.
"We selected noissue because of your sustainability practices, and we thought it would be a great fit for making our coasters," recalls Jill.
The coasters are an excellent touch, because not only are they functional, they also educate customers on some of Matthiasson Wines' processes.
Jill explains, "We have been making vermouth for over 10 years, but it's very difficult to explain the process of how it's made. We had the idea to develop a graphic to describe the process, and our designer suggested the coasters, which I thought was a great concept."
To top it all off, the coasters are made with sustainable materials and recyclable, making them a perfect fit for Matthiasson Wines.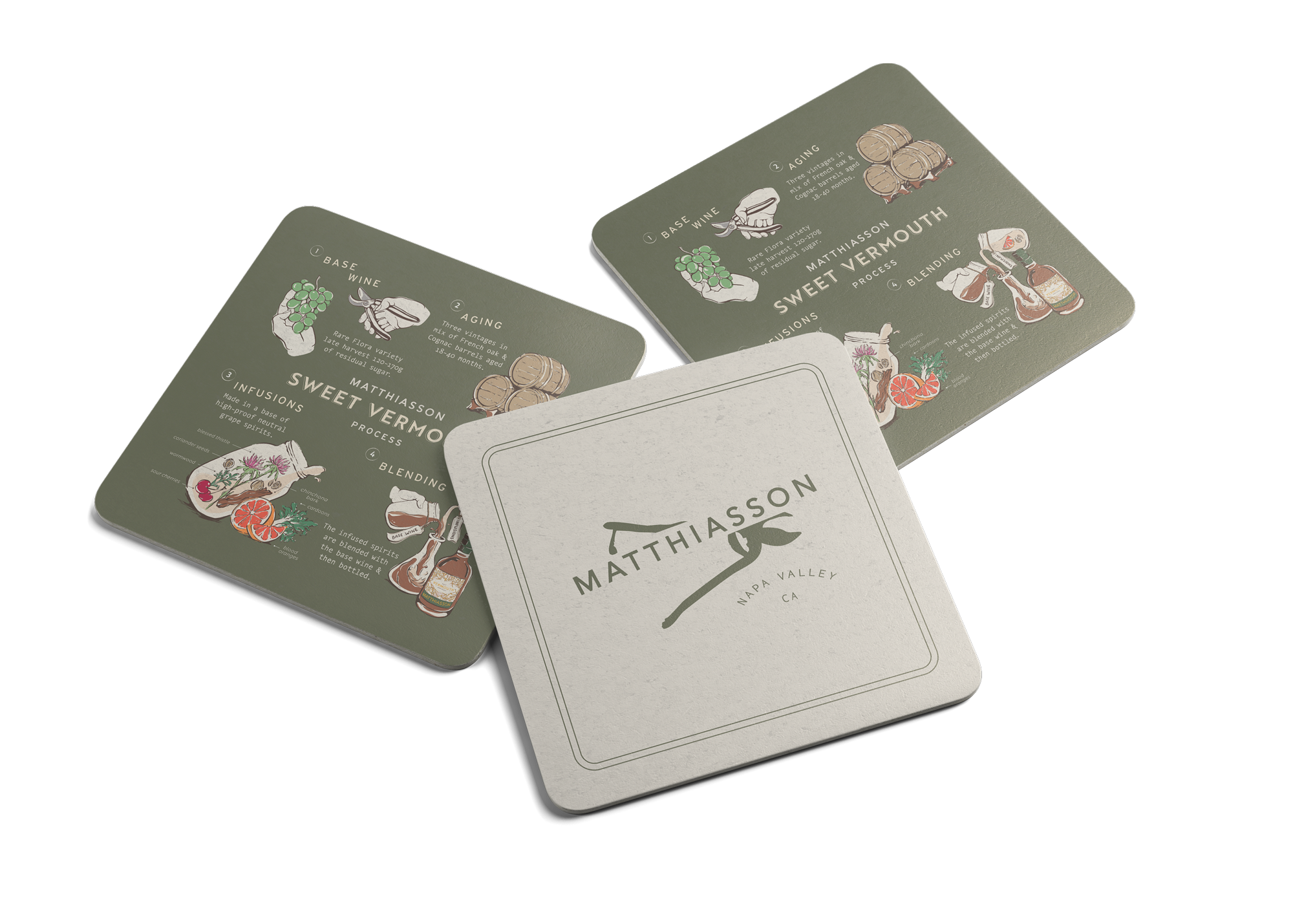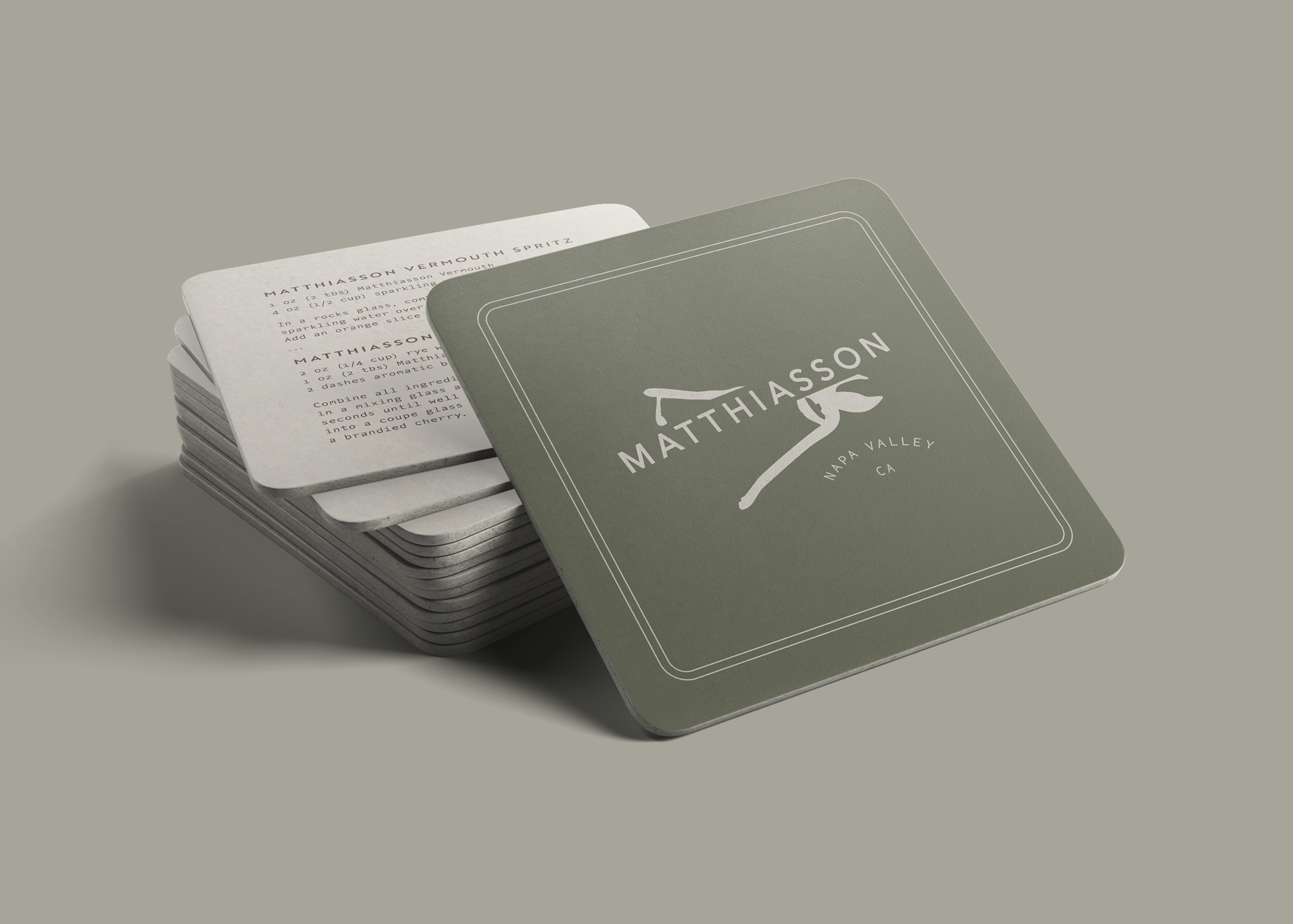 The future of Matthiasson Wines
As for what's next, Jill says the company plans to reach higher levels of certifications, not just on the sustainability front, but also when it comes to corporate social responsibility.
"We're planning to become certified regenerative, which is a new certification that also includes labor practices and high standards to make sure vineyard workers have fair wages, health insurance, and a voice."
Diversity and inclusion will also be a larger focus for the business.
"The other big initiative is that we're trying to get more diversity in the wine industry, which I think will help sustainability overall," Jill shares.
"We even had an ad hoc internship for training women in vineyard management, and we're involved in The Two-Eighty Project, which is a weekly training for BIPOC folks to learn about vineyard practices."
Matthiasson Wines' environment and social efforts are truly admirable, and we at noissue are proud to be a part of the company's initiatives.
Let noissue help you achieve your sustainability goals
Check out noissue's wide catalog of sustainable packaging solutions for your wrapping and shipping needs. From custom food wrapping paper to compostable mailers, noissue can take your eco-friendly packaging to the next level.