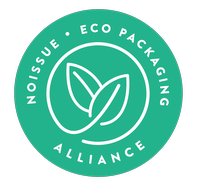 They say first love never dies. As for Jean Choe, that's her love for arts and crafts.
An illustrator and surface pattern designer based in California, U.S., Jean Choe started painting and creating works of art at a very young age. But when she had her second child several years ago, parenting became her utmost priority and her relationship with art slowly drifted away.
However, such devotion backfired and only resulted in stress and feelings of isolation. One day, after seeing one of her friends with two young kids start taking classes and talk about her plans to open a bakery business, she had a moment of epiphany: "My happiness affects my whole family. I will start whatever I wish to RIGHT NOW, not after my kids are grown up."
With her newfound motivation and revival of passion, she grabbed every minute she could find in her busy schedule until her walls started slowly filling up with beautiful colors and shapes. This instantly made her life happier.
Her happiness soon turned into dreams of sharing the happy vibes with other people in the world. And fast forward a couple years later, she finally launched her own art and design business, and continued to work towards her vision of brightening up peoples' spaces (and lives)!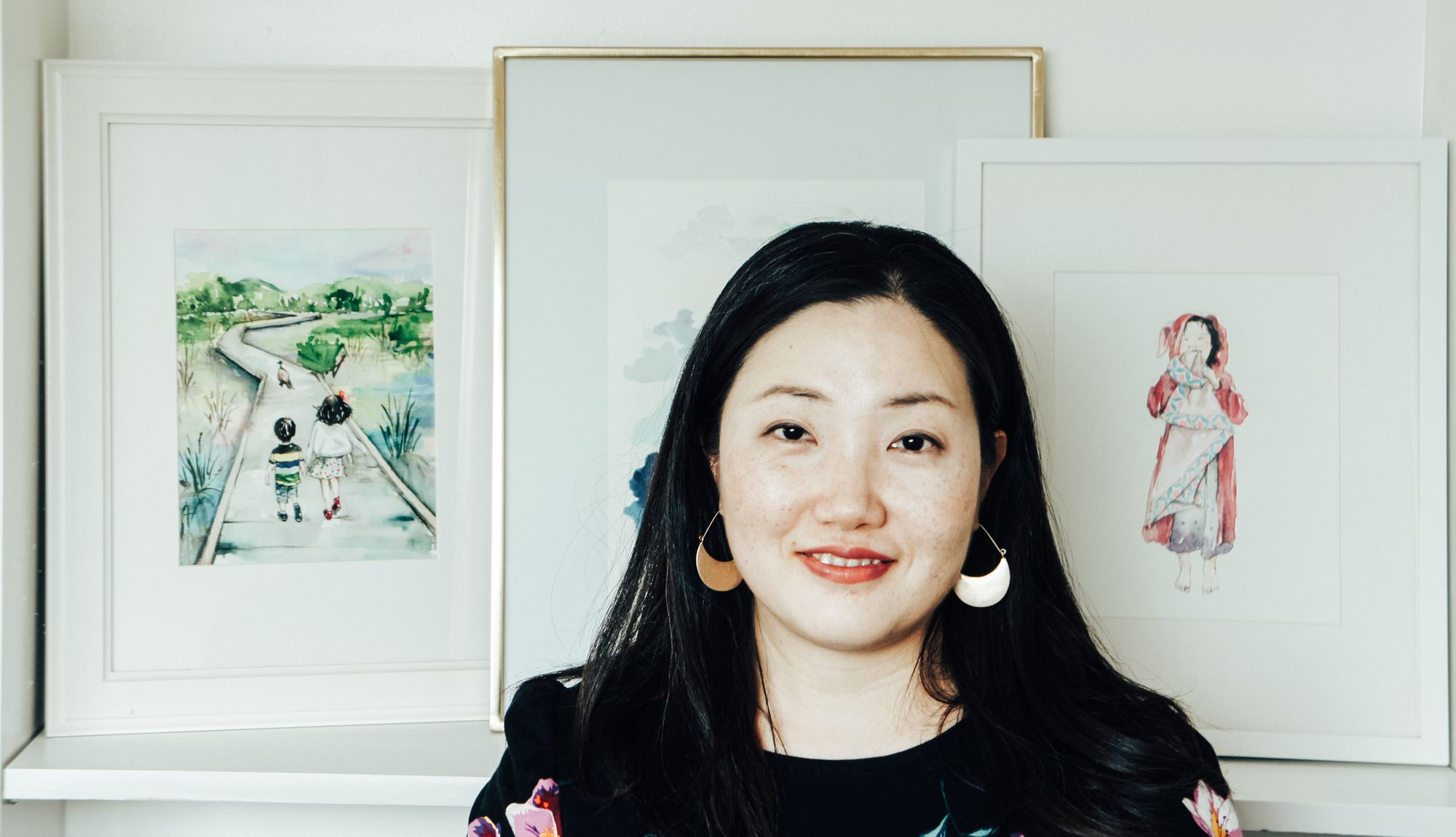 Jean's biggest source of inspiration is color. Using watercolor and gouache, she creates art that has a whimsical style with unique character and texture. She is also inspired by nature and people around her, telling visual stories of her surroundings and emotions through the combination of line work and colors.
Now this supermom not just creates art pieces anymore but sells art prints, cards, and accessories through her shop. And even collaborates with brands such as minted, Target, and Pottery Barn Kids.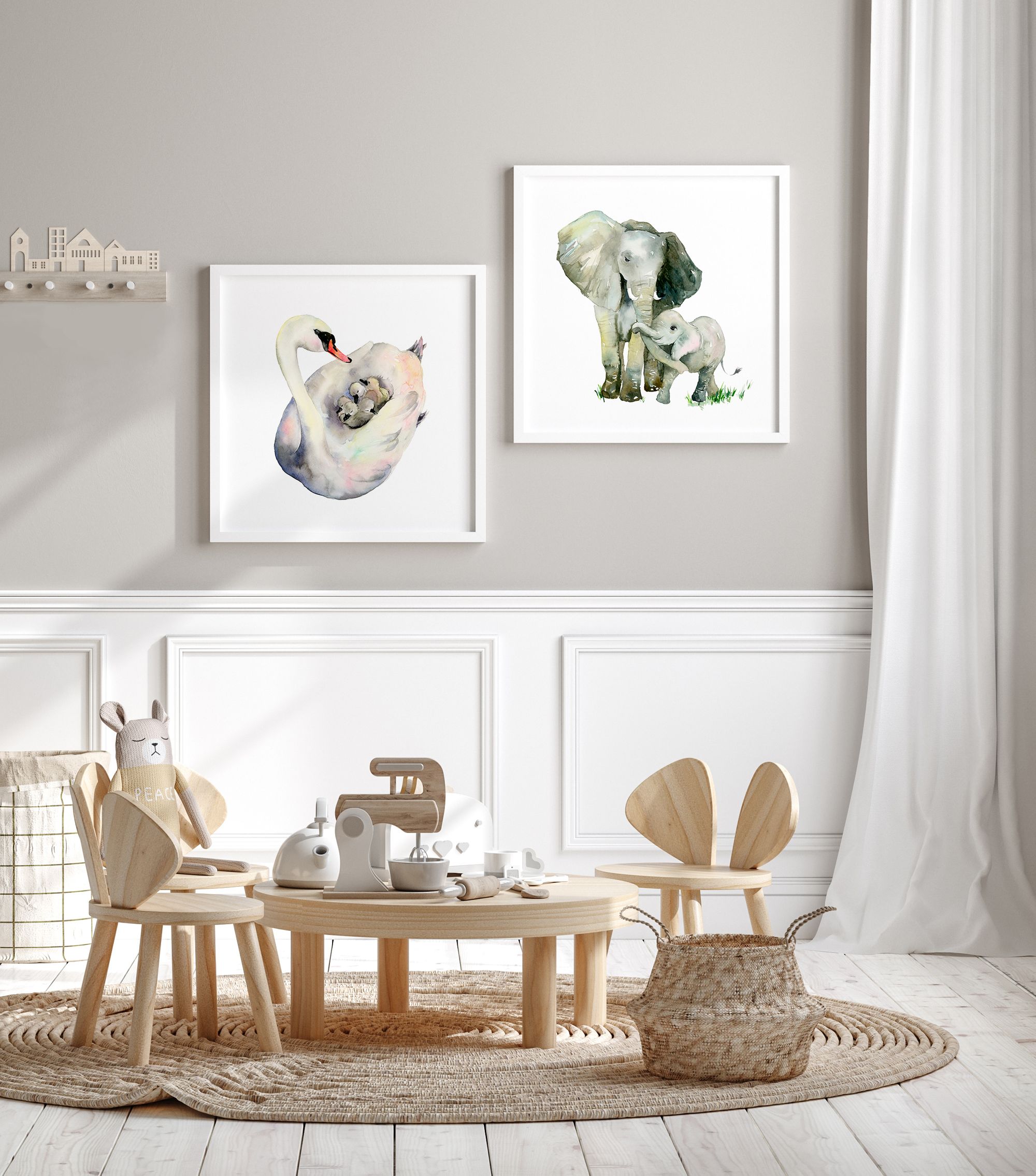 The success of Jean's career wasn't an easy feat for the artist. Though a naturally born talent, she also faced obstacles in her business. Marketing, for one, isn't her strongest suit. But she constantly took classes, learned, tried out new things, and always hoped to get better and better at expanding her reach.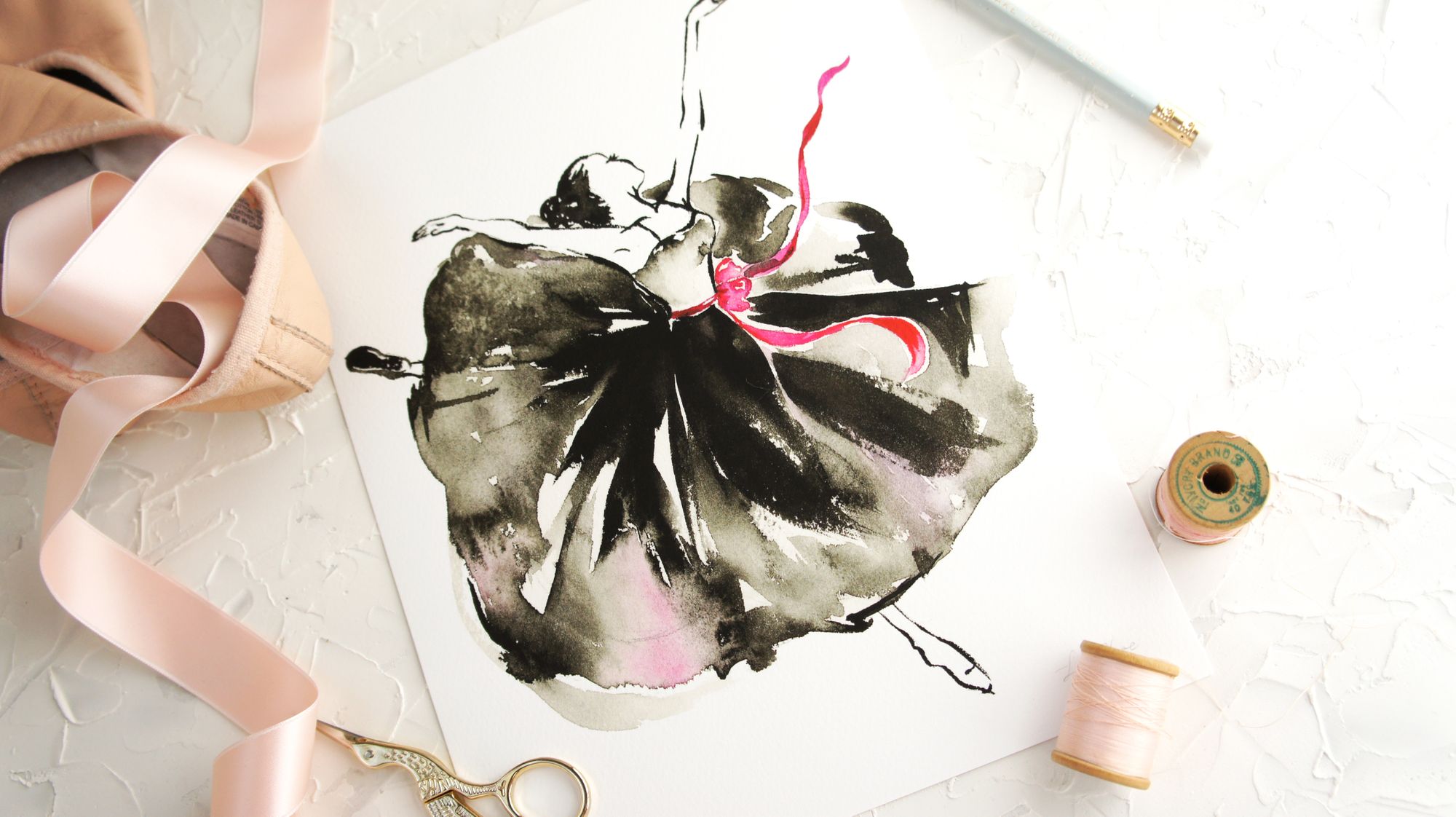 Her determination and passion for achieving her dreams definitely paid off though. And one happy instance was when she had a watercolor painting of a baby emperor penguin called A Shy Hello that was proudly picked up by Pottery Barn Kids and are being sold on their store. Now that's artchievement!
If you're one who wants to follow suit, take note: this visionary says to follow your heart if you want to go far with your dreams. "If you really love what you do, you'll find a way to figure [how] things are."
The artist also shares that shop Gingiber's owner and artist Stacie Bloomfield is someone she looks up to and respects, not only for her beautiful art and products, but also her generosity in sharing her business insights acquired over years of experience.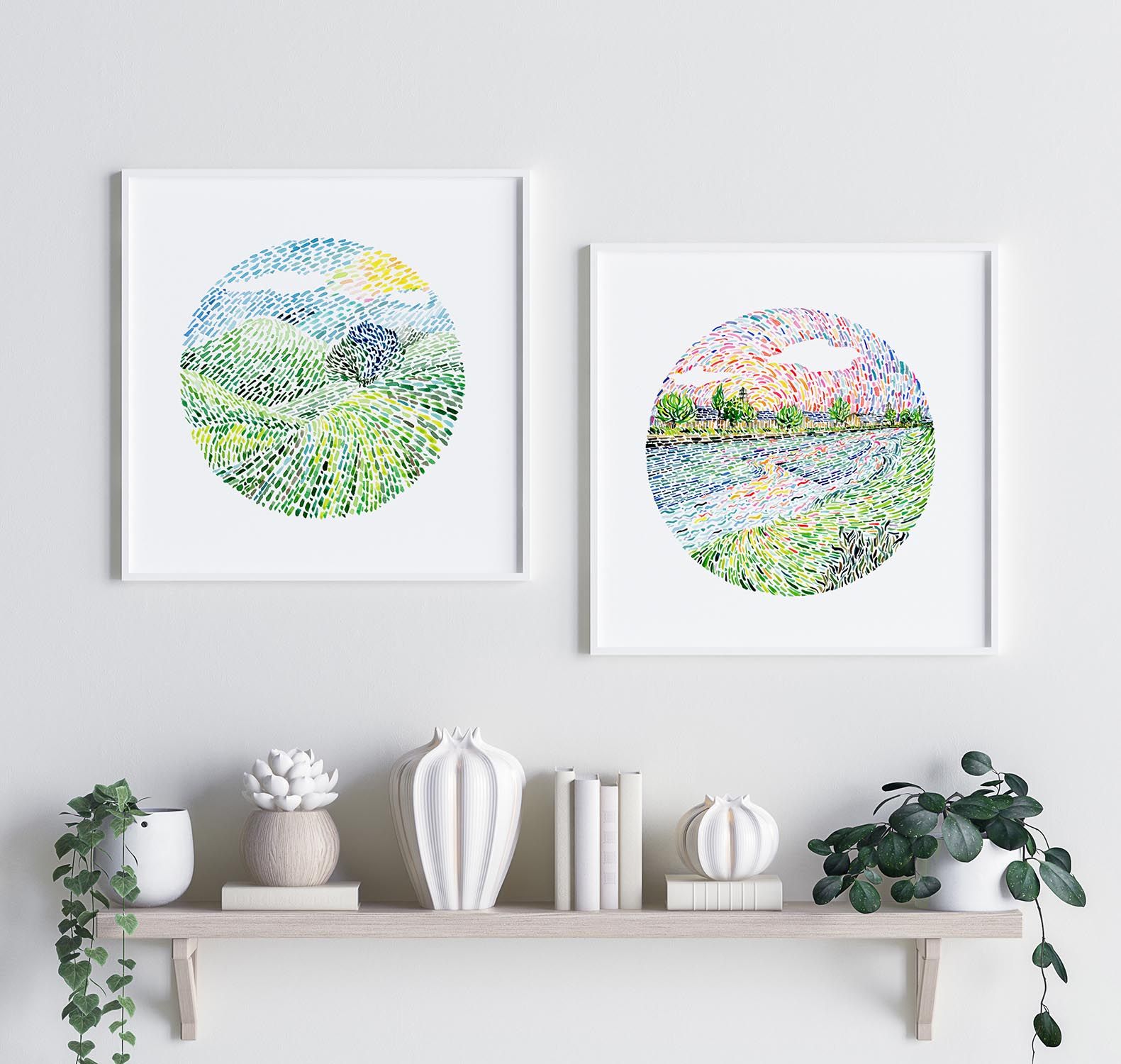 And aside from having a unique sense of color, unique brush textures, and art that evokes emotions of joy, Jean also cares about the environment and mentions that sustainability is slowly becoming more important to her business. Using eco-friendly packaging was one of her first steps to achieving her new goal.
"I'm thinking of ways to produce less waste in my packaging. I plan to replace my current packaging with more eco-friendly options."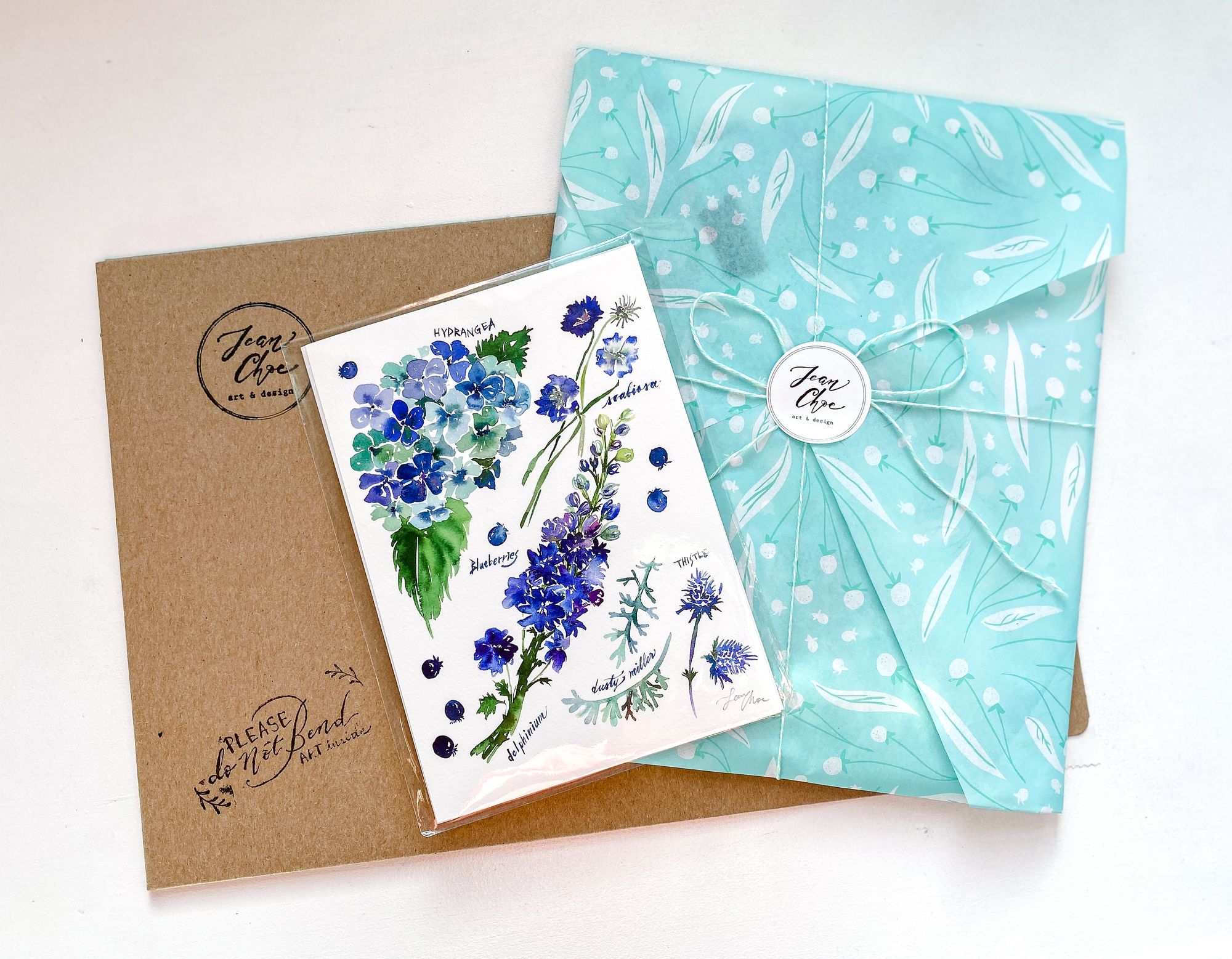 As this supermom sells directly to customers, she understood that packaging is important. So now, when customers open up her package, they're not only getting her product but also the whole experience of holding the pretty packaging and opening up with expectations. To help her create this unforgettable packaging experience, she uses noissue tissue.
Being a surface pattern designer, she used my own design inspired by her forever love for florals and calls her tissue Dancing Leaves. She used her favorite mint color for the paper too!
---
Find more of Jean Choe here:‌‌‌

Website:‌‌‌ jeanchoeartdesign.com
Instagram: @JeanChoe
Like this story? Tell us yours! Share your brand story and love for your custom packaging and get a chance to be featured on the wrap! If you're a noissue customer and are interested, you can join the Eco-Alliance by clicking here and answering a few questions here.
Questions? Email us at ecoalliance@noissue.co.