Fashion has long been one of the most environmentally harmful industries in the world. The reason? A 'fast fashion' model encourages garments to be viewed as disposable.

To maximize profits, fast fashion retailers push out collections of ever-changing 'trendy' clothing to hook in the fashion-conscious consumer. Across every apparel category, consumers in the United States keep their clothing for only half as long as they did 15 years ago.

But greater consumer awareness about the impact of fast fashion is starting to influence our habits. BBMG's Conscious Consumer report shows that the metrics which traditionally made a brand desirable i.e. price and convenience, are being superseded.

Our purchasing decisions are now being influenced by more socially conscious concerns. Where a product is made, fair working conditions and sustainable production have become important considerations.

As a result, we are seeing many upcoming brands that are putting these values at the heart of their operations. Handmade leather bag company Kaloskopic avoids mass-produced collections to lower its environmental impact. Its founder, Ana Maria Perez Saldias, tells us about her efforts to challenge the 'latest trends' focus of fast fashion brands.

(In Ana's own words):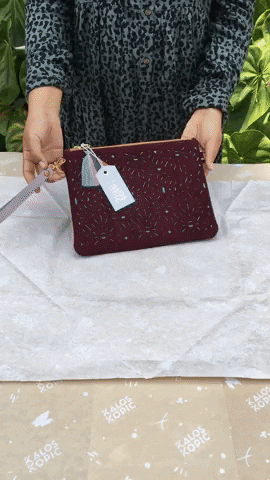 "My name is Ana Maria Perez Saldias, and I'm a Colombian Graphic Designer with a Masters in Magazine Publishing. I'm the founder of Kaloskopic, a brand of highly visual and inspiring leather bags and accessories, from Latin America." "

"Kaloskopic was born five years ago, during a time when I most needed some light, colour and happiness in my life. After living in London for six years, I came back to Colombia because my father was ill. I stayed to look after him and he passed away five months later." I had the desire to stay in Colombia and the need to keep developing my career, but I wasn't in the right place to continue doing what I was working on in London. There weren't any publishing houses or agencies in my hometown, Manizales. I have always loved pattern design and fashion. I actually once wanted to focus on creating leather goods in my BA, but I wasn't allowed to do it as I wasn't a fashion or industrial designer."

"Starting the business joined many of my passions. Apart from designing and creating leather goods, I also put together the photoshoots and design the catalogs to sell them abroad."

"Now, here I am in my hometown; designing leather bags full of patterns, contrasts and colours, resulting in unique and functional pieces made by hand that are sold nationally and internationally."

"My vision is to make sure that each Kaloskopic product becomes one of those hunted pieces - not only being a well-made design, but also a functional piece in someone's outfit, wardrobe or as travel essentials. I want to leave a smile on the face of our clients, assuring them that they own a distinct product, that they made a conscious buy, and have contributed to an artisanal craft that will last over time."


True sustainability means freeing consumers from a model that puts fashion trends before longevity. Initiatives such as Rent the Runway have helped put a spotlight on alternatives to fast fashion. But 'greening' the industry as a whole means putting a bigger focus on sustainable supply chains and production.

For Ana, producing her bags in low numbers locally helps to reduce her impact on the environment, as well as give her brand a point of difference:

"We are very keen to keep implementing more and more sustainable practices in our business. For now, we design for those who admire handmade crafts, value detail and understand the relevance of sustainable fashion. We aren't interested in creating for the masses; we promise authenticity by producing in low volumes. Through our timeless, functional designs and high-quality materials, we enhance the durability of our products, resulting in more conscious shopping and less waste in landfills. From all the practices that can make a business sustainable, the one that moves our hearts most, though, is that we produce our bags locally, employing very talented artisans."


Sustainability can be challenging for small businesses, as suppliers often don't cater to small order sizes. This doesn't just reduce waste - it also ensures that businesses are protected from big upfront costs:

"Sustainability is extremely important for Kaloskopic, but it's not as achievable as we would like it to be. Unfortunately, ordering small quantities sometimes makes it particularly difficult as a small business. That's why we didn't hesitate to order noissue custom tissue paper! Firstly, it's printed ecologically with soy-based inks and is acid-free. Secondly, the low minimums made it a realistic investment for a start-up. We loved that they also planted a tree on our behalf in Brazil, which was the closest option to our home in Colombia."

noissue's MOQs start from just 250 units for our custom tissue paper, meaning we are able to cater to every size of business! For more about our MOQS, check out our guide.



As well as informing her sustainable branding, noissue tissue was a fantastic tool to help Ana improve her customer's experience with her brand. The power of custom packaging allows her to capitalize on being an artisan brand, whilst giving her handmade bags a designer edge:

"We are very pattern and colour-focused, so our leather bags are a combination of pattern design and leather craftsmanship. The designs on the bags are in line with fashion and deco trends, so we wanted to keep our tissue paper neutral. This allows the products wrapped inside to stand out, but still fit within the Kaloskopic branding palette."

"Kaloskopic's custom tissue has a subtle pattern and repetition of our logo. It's the first sight of our branding asset for customers when they unwrap their orders. Most of our bags are flat, so there was a lot of origami trial and error to create our 'clutch wrap' look. The custom tissue is folded in triangles to create the 'clutch' and it's closed by a gold or silver sticker, resembling a metal clutch clasp."

"The tissue paper is great because it can be kept smooth, but is versatile enough to wrap the chains or wrist handles that make the bags usable as cross body bags, or the wallets to be used as little clutches. We use washi tape to finish the irregularly shaped wrappings."


"noissue is definitely very appealing to creative minds. and I felt attracted to the brand's service immediately. The website is easy to use and makes it easy to quote, and the minimum quantities are realistic for small businesses."

"However, the most important and positive reason in choosing noissue were the ecologically sound printing practices and, taking into account the location of where our business is based, the possibility for orders to be delivered to Colombia."

"The aim of our business is to create unique, high quality and detail-orientated products that stand out from the flooded fast fashion market. Having noissue custom packaging helps us to deliver that and convey to our customers the care and love put into what we produce. It's also been a key part of helping to construct a complete brand image for Kaloskopic, reflecting professionalism and our vision to take the brand worldwide."