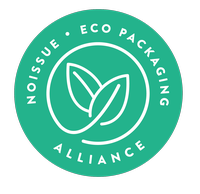 Have you heard about the Kootenays?
The Kootenays or Kootenay is a magical region of southeastern British Columbia. Because they are comprised of several roughly north-south mountain ranges, dense pine forests, and the valleys between, the area is known for its laid-back lifestyle, friendly and eclectic vibe, and endless outdoor adventure opportunities.
Our featured brand today, Kootz Collective, expresses their love for the region and its culture through apparel and goods. Read on to know about the good folk and good fun that they bring as they share with us how they started their brand that has a love for sustainability:
"We are Kootz Collective based in Calgary, Alberta. We are a sister-sister team of graphic designers who create casual apparel and goods as a celebration of our Kootenay upbringing. We started Kootz Collective as an ode to our roots and the small towns we grew up in, in the Kootenays of British Columbia (Canada). We now live in the city, and while working corporate jobs, we felt a disconnect from more creative design opportunities, and we were, quite simply, homesick! So, we combined our love for home and graphic design to create our brand."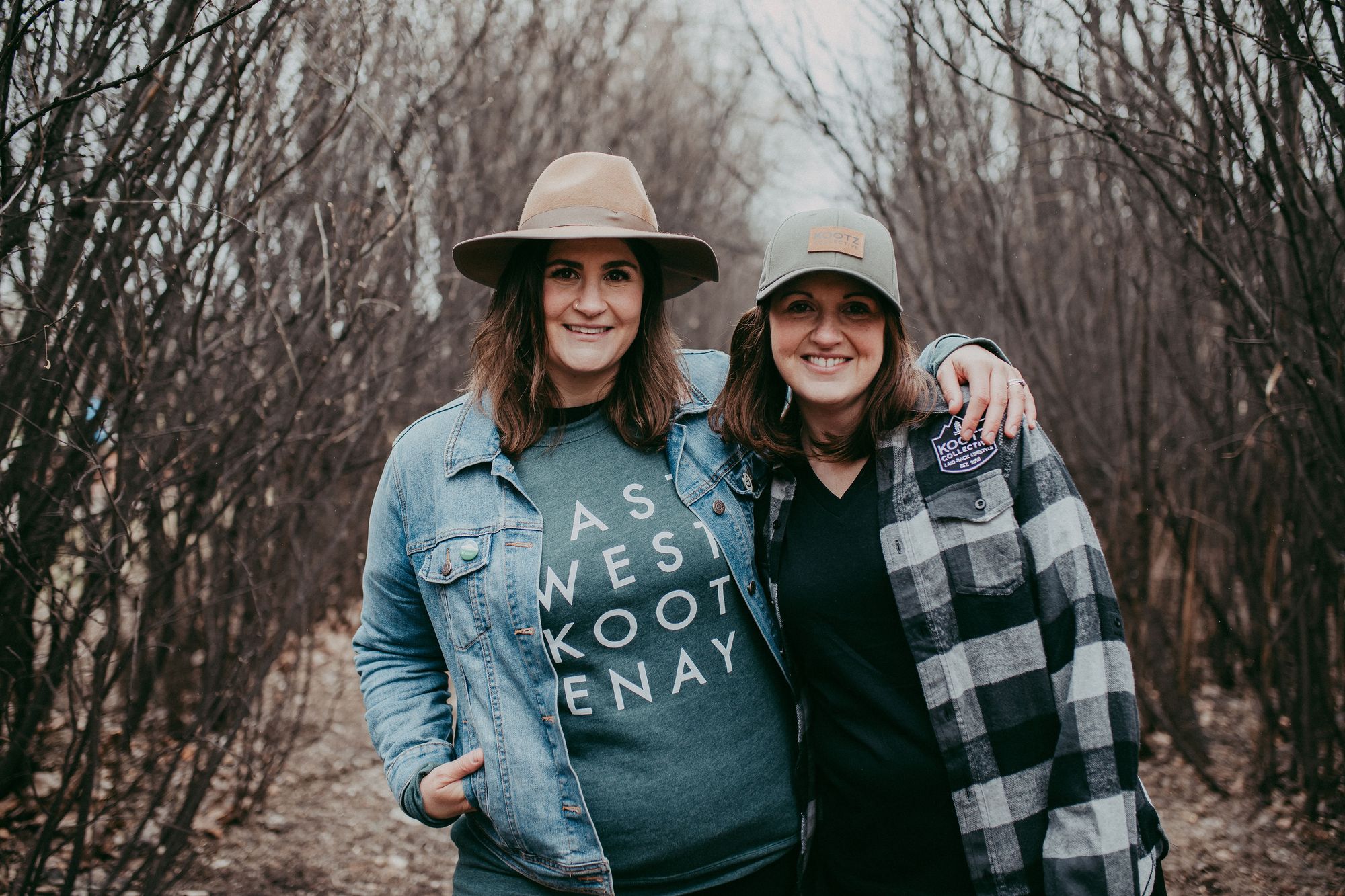 "Our vision is built on pride of place. We want to celebrate where we came from; The small-town vibe, a love of nature, and valuing time outdoors were instilled in us while growing up in the Kootenays. We design Kootenay and outdoor-inspired clothing that is always laid back and super comfortable.
We started our brand idea a few years before but didn't officially launch the business online until we were both on maternity leave! So though we did have some time to spend together to dedicate to launching the project, we executed our first line of shirts and accessories with a budget of $2,000 from our savings. Though challenging, we continue to operate in the same, lean way. We print new products when we have made enough money to cover it, and we've built our entire social media following budget free. We spend $80 or less a year on a few social media ads and we keep our packaging understated and simple. Good design and relatable content can overcome any budget!"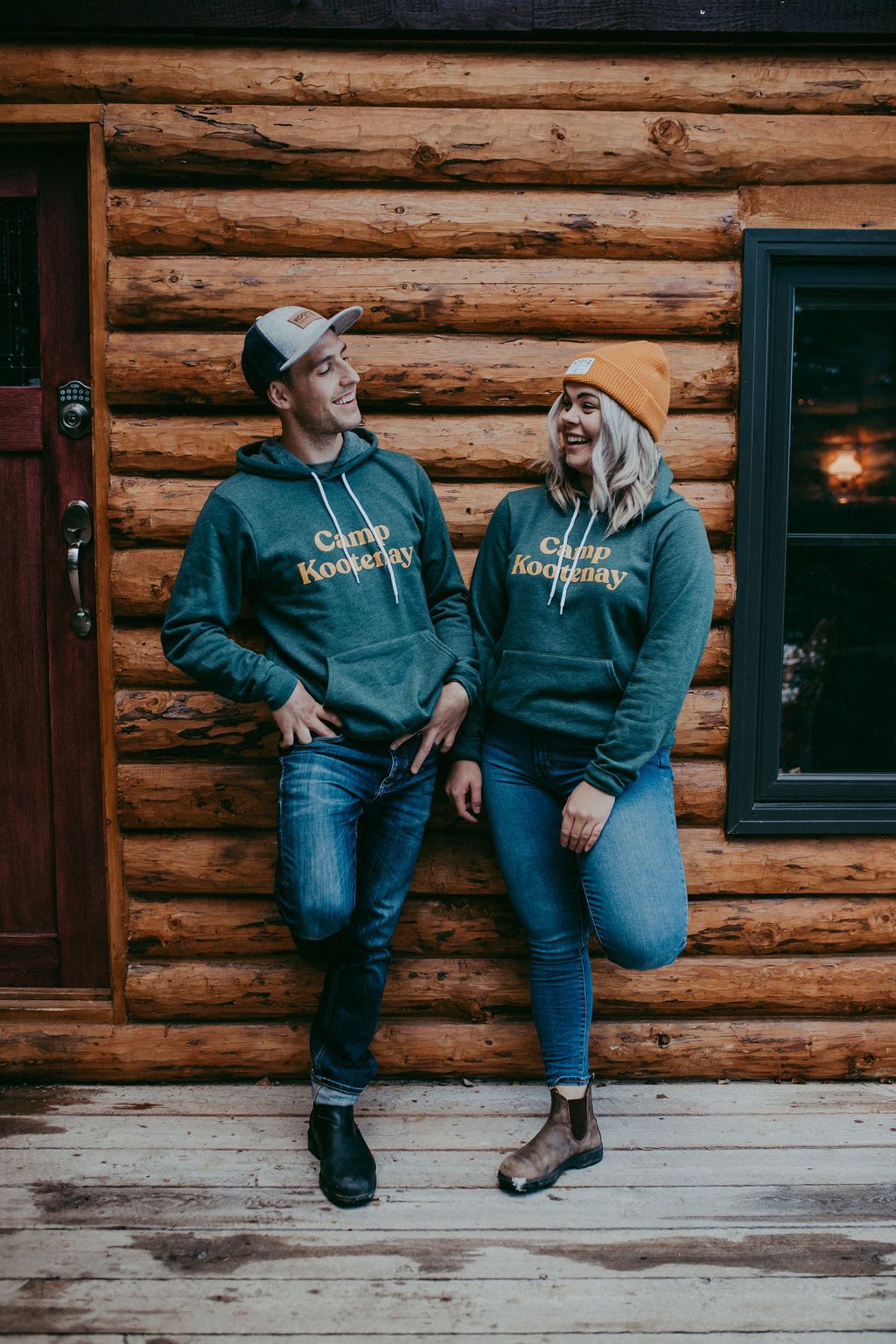 "Our advice to others is don't wait to start, go for progress over perfection. If we had waited for a bigger budget or the perfect time, (like perhaps making a full income and not being on maternity leave) we would never have launched. We have grown alongside our customers and learned lessons along the way. But that has been far more rewarding than looking back and saying we wished we'd done it at all. Running a business has many ups and downs and there is a lot to juggle. We have developed new skills and also have learned to ask for help when we need it. Luckily, we are a team and always have each other to tackle an issue together.
Our customers and social media community are what inspires us the most. Without people buying our goods, sharing on socials, and cheering us on, we simply wouldn't have a brand. We also get inspired by each other. We are both working Moms with distinct talents, so we have learned a lot from each other and lean on our unique strengths to grow our business and keep things creative."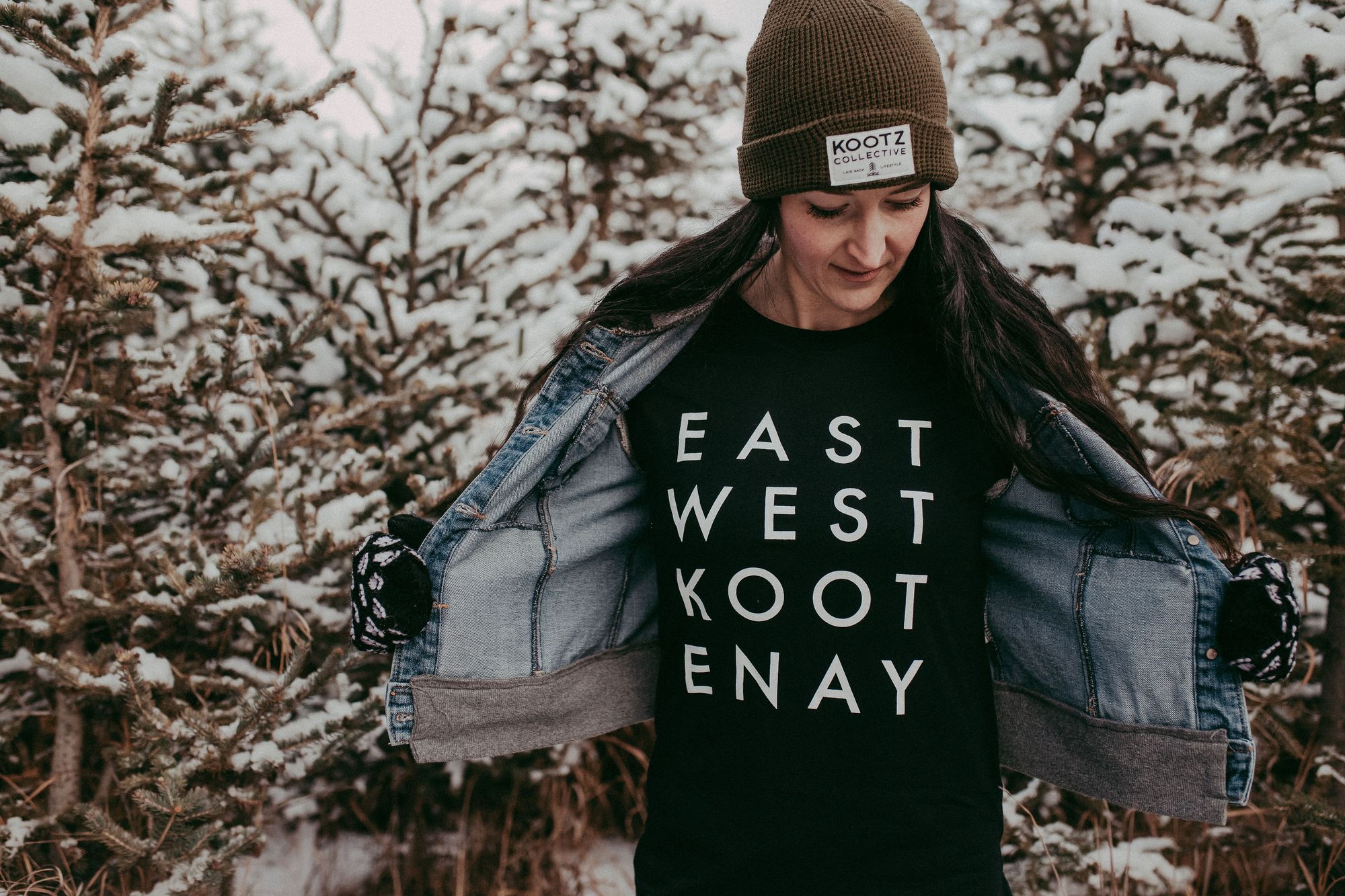 "Being an apparel business that runs mainly online, we understand the impacts of frivolous packaging and fast fashion. We print small quantities of products and never reorder until that item is completely sold out. That keeps our overhead costs and excess waste low. For packaging, we've always used paper goods and have kept them minimal. The addition of noissue compostable tissue was a welcome change to plain tissue. The sustainability factor was an exciting move for us plus, having our custom illustrations featured on it gives it a special touch that our customers love.
Because sustainability is important to us, we have done fundraisers in the past in support of wildfire recovery, as the Kootenay region is often affected by severe wildfires. We often post a high volume of nature content. Our goal is not only to showcase beautiful places but to also send a message of conservation. These can be about packing out waste from the places you visit, not disturbing natural flora and fauna, and in general just being conscious of how our actions affect Mother Nature. We are also huge proponents of shopping local and supporting small businesses to reduce environmental impact. Our new packaging is probably our biggest move in sustainability that relates to the actual product we send to customers and we hope to do more in the future."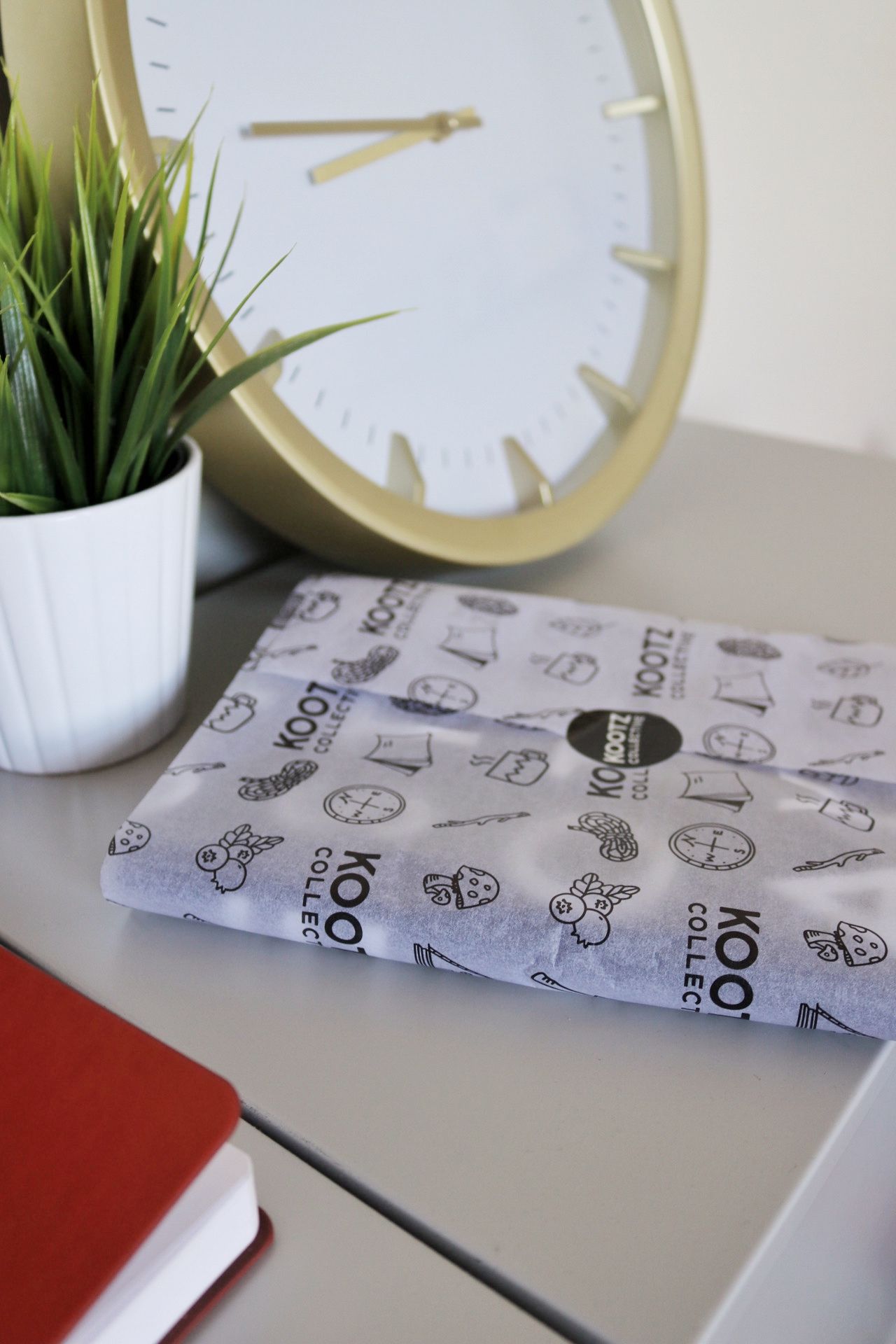 "Having a budget for higher quality and sustainable packaging is something that had been on our mind early into our business venture. As we've grown, and thanks to COVID, we have been sending out an increased amount of packages via mail and it was time to make a switch to something greener and more in line with our brand. We chose noissue's compostable tissue as we use that item the most in our packaging. Because we ship apparel, we find tissue the nicest way to wrap and protect our products. Having the freedom to design our own look and have it printed on a high quality sustainable tissue is super cool. It emphasizes a better commitment to sustainable packaging and further amplifies what our brand is about."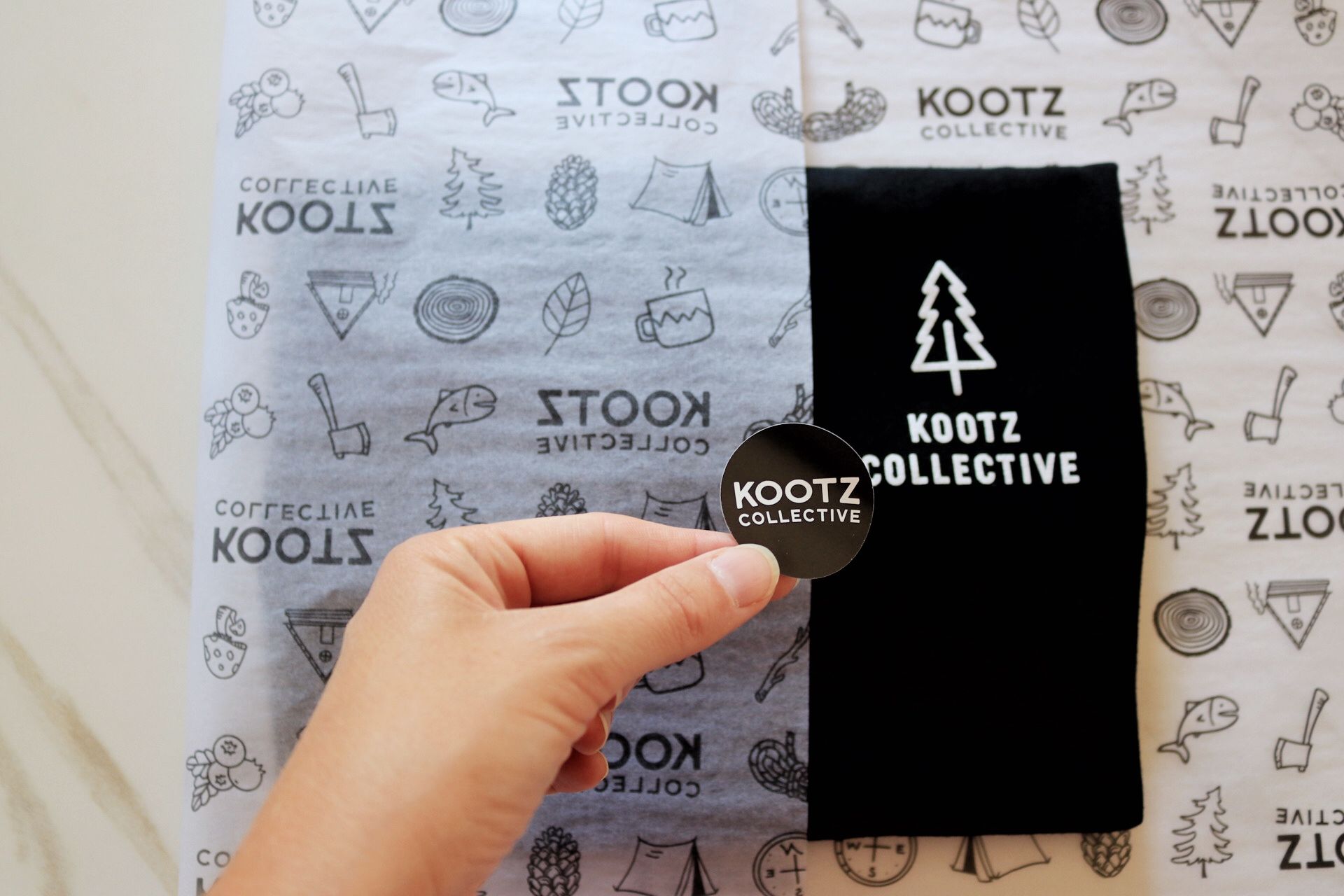 "noissue has a great online presence and as designers, we were instantly drawn to some of the fun designs other businesses were producing. We had seen a few fellow businesses in Calgary using the tissue and compostable mailers and we also love how noissue features these businesses and artists. We love supporting other makers and small shops too, so noissue aligned with our business model. Once we checked out the website the design process could not have been simpler. Instructions were easy to follow, upload was fast, and we received a proof of what our final product would look like. It was all quite painless.
Our brand will always be influenced by the Kootenays and nature but we have expanded in the last year to include designs that are more generic and would appeal to anyone who loves Canada and the Great Outdoors. We've had a great response to these looks and hope to continue producing items people love for as long as we can."
Kootz Collective fun fact:
"If we were given one superpower that can help better the situation of the planet, we would want it to be the ability to provide clean water for everyone!"
---
Find more of Kootz Collective here:

Website: www.kootzcollective.com
Instagram: @kootzcollective