John Michael Fabrizi, Coalatree's Director of Brand Development, shares how the Coalatree team leads with authenticity and lives out their brand philosophy to #greettheoutdoors. Read on to hear how they prioritize using sustainable materials, giving back to their community, and getting outside.
Tell us a bit about the origin story behind Coalatree, and how the "reap what you sow mentality" still rings true.
Since the inception of Coalatree in 2010 our mission has been to create durable, fashionable and versatile apparel and accessories that function optimally from the mountains to the city. Since the beginning, our mission has been to create these products using the most sustainable inputs and production methods possible.  Throughout the last 10 years, Coalatree has stayed true to these values and continues to innovate as new production methods and increasingly eco friendly inputs become available.
Prior to 2010, our founder, Charlie Bessey was one of the original team members at a brand many of you may be familiar with named Skullcandy. During that time, Charlie worked closely in multiple roles throughout the business wherein he became blatantly aware of the excess amounts of plastic that was being wasted in the production, and packaging processes. He eventually found his niche within the marketing department, and worked closely with Skullcandy ambassadors and athletes to create what Skullcandy TV. He also realized how big of an influence fast food companies on sponsorships within the action sports industry.
At this time, a clear movement was starting to reemerge surrounding organic farming and sustainability. Charlie wanted to translate that movement into a clothing brand centered on the idea that what you put ON your body, not just IN it, is important.
Shortly thereafter, Coalatree was born on an organic farm in Colorado and launched its first line with products made out of materials like organic cotton, recycled x ray film, recycled lunch trays and recycled glass bottles.
Coalatree was an early adopter on the sustainability front and sought to only work with factories on the cutting edge of sustainability that paid their employees fair wages. At that time, there were two main manufacturers that prioritized sustainability in their supply chains.
10 years later, the brand has continually sought to incorporate more sustainable inputs into our production methods, and most most recently introduced recycled coffee grounds!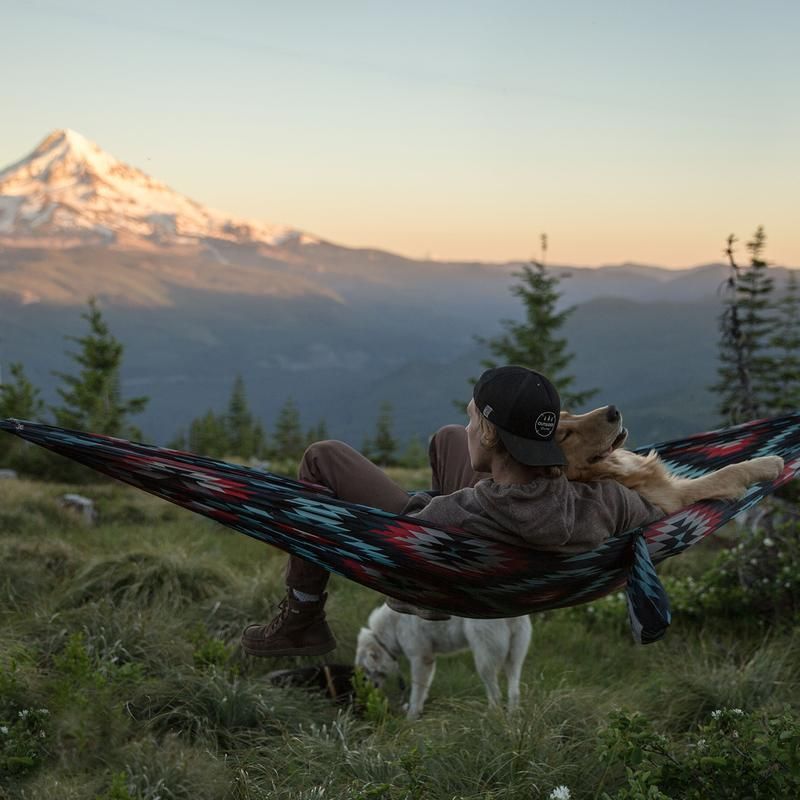 What does your day-to-day look like as Director of Brand Development? What's a project you have undertaken that most excites you?
I am really lucky in the sense that being a somewhat small brand, I get to work on a variety of different projects and wear several different hats while learning everyday.
One day, I might be in meetings with our international distributors, the next day, I might be helping build out promotions, working with current and upcoming subscription box partners, the next helping the team with whatever is needed to wrap up an upcoming crowdfunding campaign (both behind the scenes and sometimes even in front of the camera), working with brand advocates, ambassadors, etc etc.
It is difficult to pin down one specific project; ultimately the opportunity to move around as needed and focus on that day's most important task is really exciting to me.
Beyond the various projects that I am involved with on a daily or weekly basis, I find so much joy in working with our team of high output people and regularly meeting others in the industry that are in similar roles.
The outdoor community is a small world and there are so many people that are dedicated to doing their jobs to the best of their ability and then some. Being in an environment where you are surrounded by high performers that want to lift others up, provide support where they can and see other succeed motivates you to bring your A game every day.  
Branding question for you: What's unique about Coalatree products compared to other brands in your industry? How do you communicate those differentiators to customers?
People WANT to buy sustainable products, but people BUY great products.
We strive to make our products perform and function as well as an outdoor-specific brand's would, while still placing enough emphasis on style and fashion so that they can also be loved and enjoyed in the urban setting.
Exceeding expectations with product quality is what we are all about. We do this by incorporating unique elements into our products that tell a story and resonate with our consumers. A great example is our Evolution Hoodie that is pick-pocket proof and packs up into itself - all on top of looking great! We also launch products in an inclusive way by getting feedback from and having our crowdfunding community involved in the product ideation process.
Communicating our philosophies to our customers is something that we are always striving to get better at and is something that quite frankly is always changing. With that being said, sticking to your core values from day one really lets the authenticity of any brand shine through to consumers.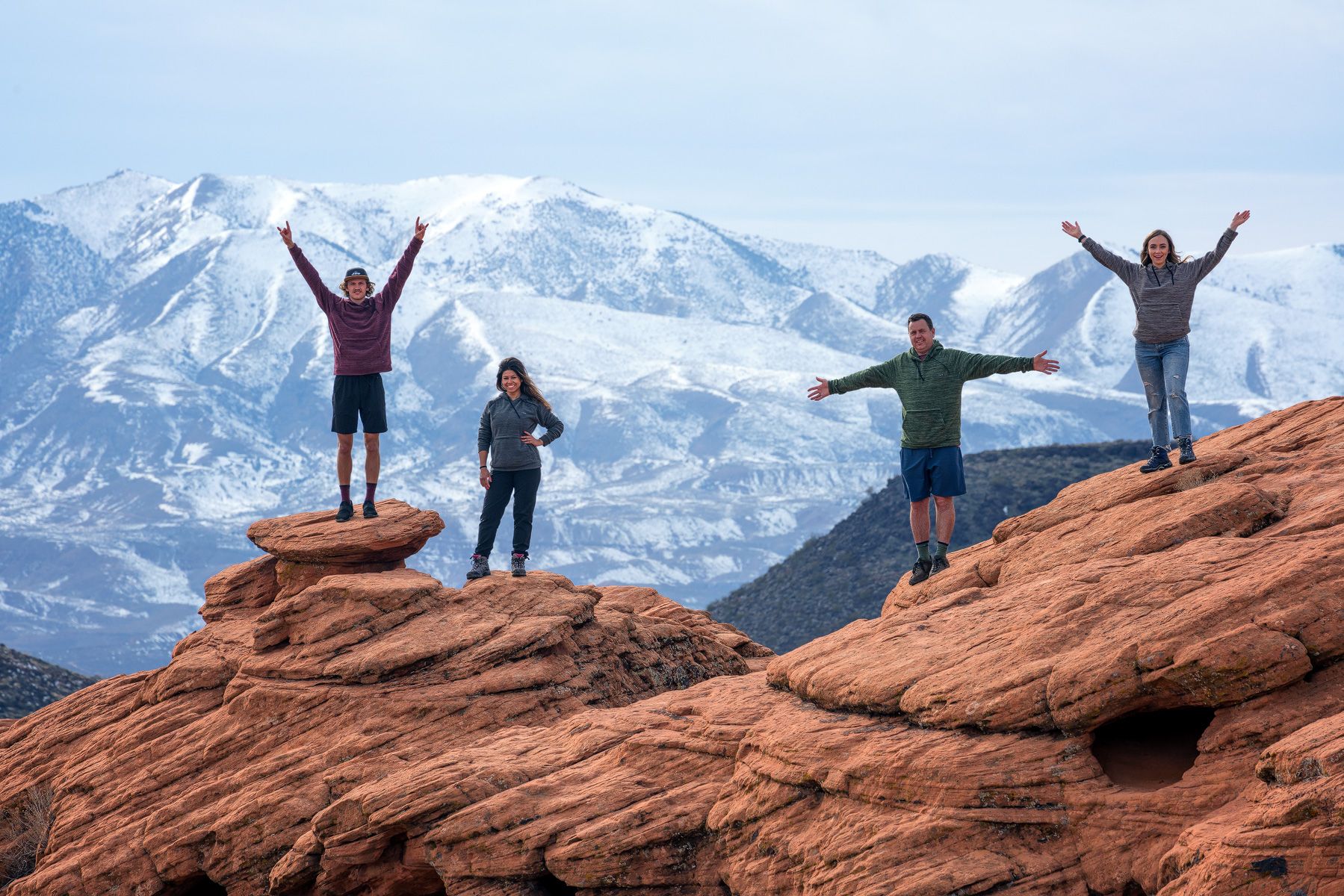 We love that you included #greettheoutdoors on your noissue compostable mailers design! What does that tagline mean to you, and the whole Coalatree team?
#greettheoutdoors is a philosophy that all of us at Coalatree live by. To us, it is important that we get out and enjoy our environment and make it a priority to practice what we preach. There is no exaggeration in saying that everyone on our team loved getting outside. Because we find value in reconnecting with nature, and many of our products are geared towards an outdoorsy lifestyle, we want to share the ethos of adventure, freedom, and ease and the importance of those with our community. We wake up early to catch sunrise on a ridge before seamlessly transitioning into the office. We're out on the town on a Friday night with friends then up for dawn patrol on powder days. To Greet the Outdoors is to be ready to pack our bags, hit the road, run the trails, and explore when adventure calls and we hope our customers do the same. Whether its getting out for a 15 minute break and enjoying their backyards, or embarking on a multi-day adventure with no cell service.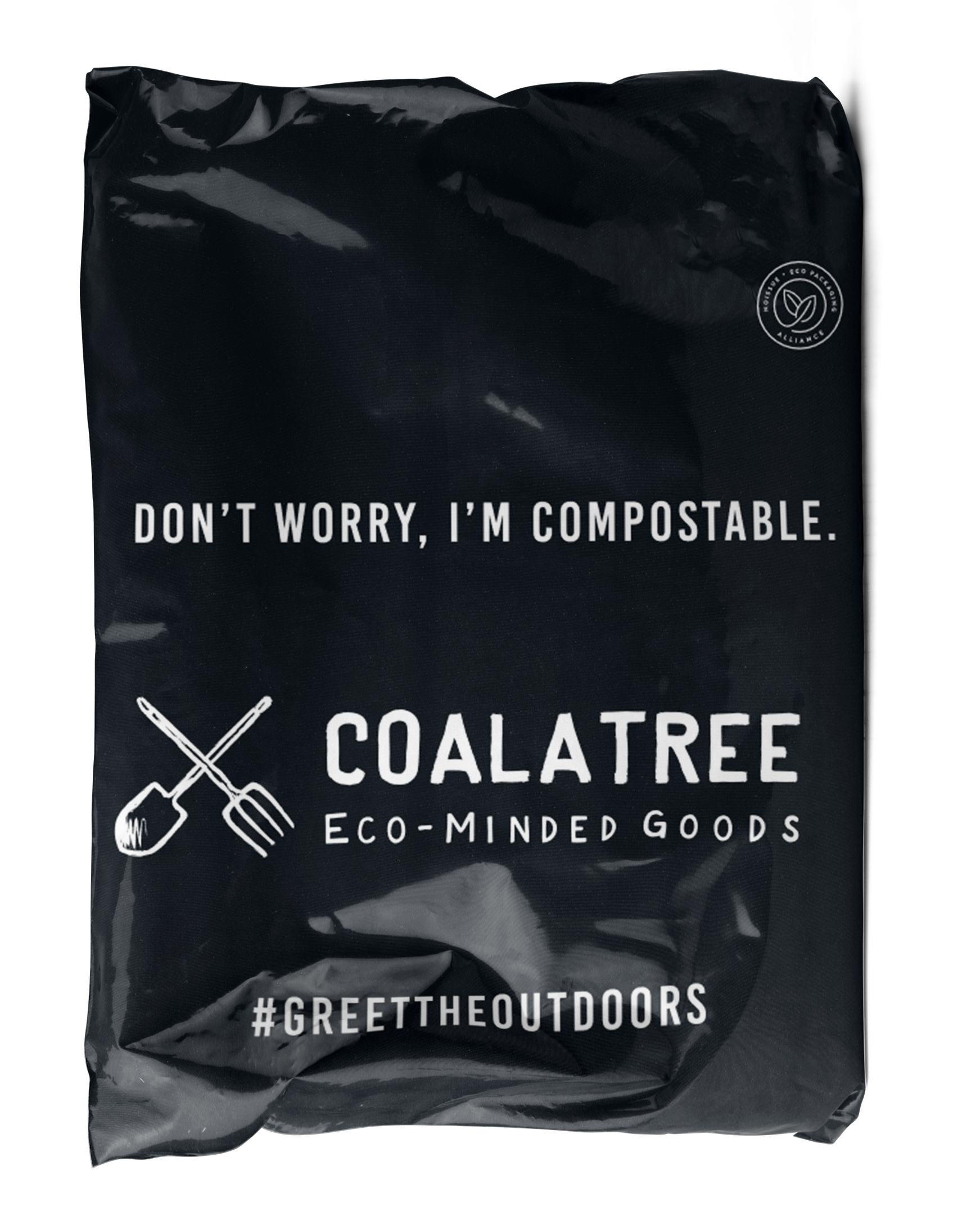 Coalatree walks the walk when it comes to giving back! Tell us a bit about the amazing programs you support, and how you select them.
Many of the organizations that we currently work with have reached out to us directly or we have come to understand their need and seen an area where we could help.
In terms of selecting the organizations that we partner with and support, there really is no standard criteria. From our 10k mask giveback program to our adopt a native elder partnership to our giveback initiatives with the cottonwood canyons foundation, we like to find a need that speaks to our team and figure out how we can support using the resources that we have.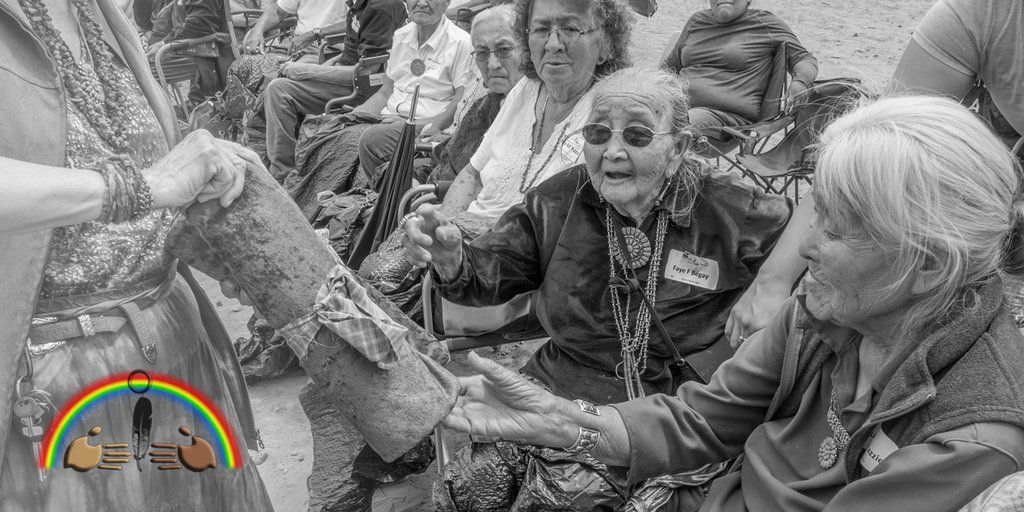 We're fascinated by your signature coffee grounds material! Walk us through that process, and the impact that it has on Coalatree's footprint.
The coffee grounds material is something that we are incredibly proud of that took some time for us to be able to implement into out supply chain. In a nutshell - coffee grounds are collected from local coffee shops, when it is then dried and separated from oils and ground into nano-sized particles. Similarly, plastic bottles are collected from local recycling centers, then dried and shredded into small flakes. The coffee grounds and melted plastic is then combined and extruded into fibers!
At the end of 2020, we published our Eco-Report and it was very rewarding to see the impact of the addition of recycled coffee grounds, waterless dye methods, and recycled plastics has had.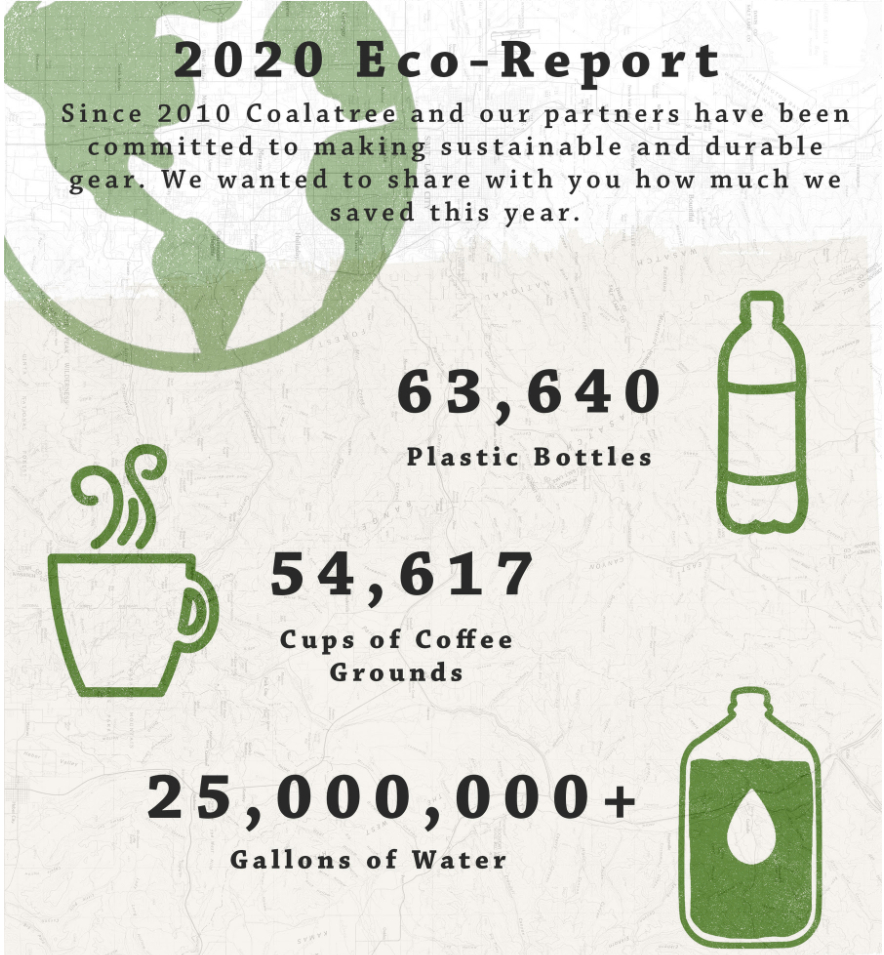 For consumers looking to shop responsibly, do you have any tips for validating a brand's eco claims? Any "green-washing" flags to look out for?
At the end of the day… use common sense and trust your gut.
The textile industry is one of the most polluting industries on the planet and the best way for brands and consumers to reduce their impact.  Without naming names, if there are brands, stores, etc that are promoting fast fashion, with terribly cheap prices, etc… there is a good chance that their goods are being made in an unsustainable way, without paying people a living wage.
With that being said, it is important to recognize the efforts of brands to make legitimate progress on the sustainability front and acknowledge that if environmental awareness is not engrained into a business from the beginning, it is difficult to implement later on down the road.
Finally, the biggest way that people in general can have a positive impact in an organization or industry is really to drive change with their dollar. If something doesn't align with your values, resist the temptation to turn a blind eye and buy it anyway. There is power within the collective and the more people that refuse to support things that have unnecessary negative consequences on our planet, the more positive change will occur, and the more quickly positive change will occur.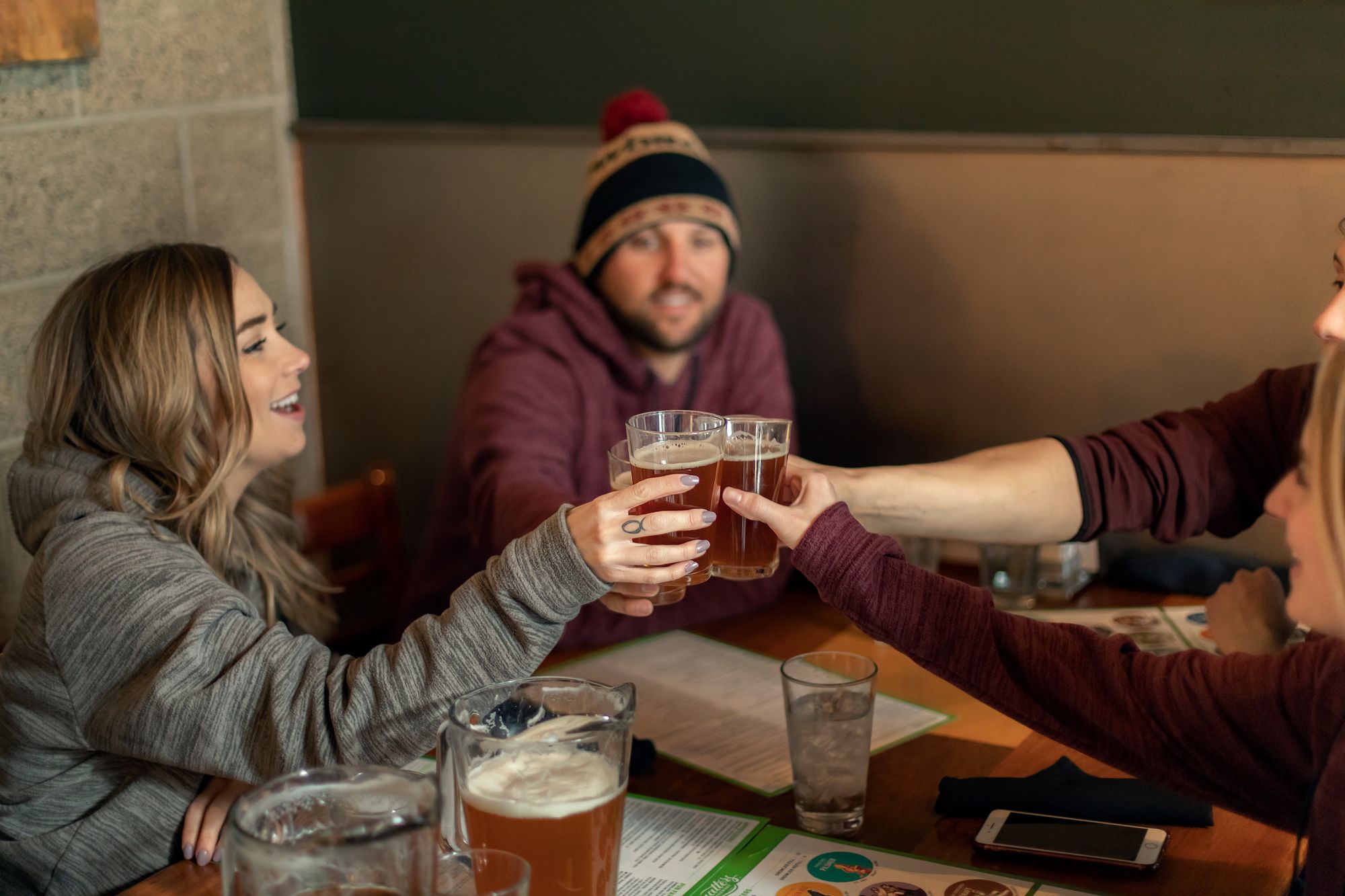 Let's get personal. How are you staying inspired and productive, despite the disruption and uncertainty caused by the pandemic?
Fortunately, for us, we are a company that makes a lot of products to help people get outside, and during the pandemic the great outdoors is one of the only places that brings a sense of normalcy.
For me personally, I have doubled down on many things this year in terms of physical activity. In the summer, I got super into trail running and spent a lot of time mountain biking also. We are lucky to have 7 world class ski resorts within an hour of Salt Lake. Regardless of where you live, I think that getting outside and exercise is always a helpful practice that allows people to stay focused and productive whether it is in Covid times or not. Our bodies are meant to move!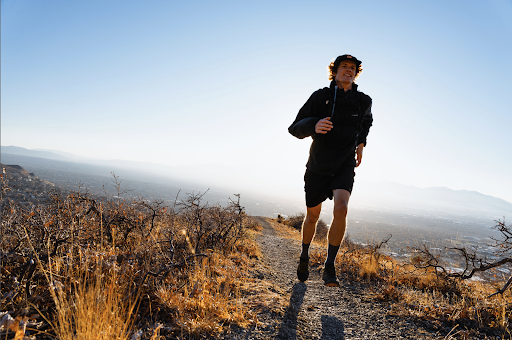 What is one piece of advice you would pass along to small designers or apparel brands who are just getting started?
Stay true to what you believe in and keep going. There were difficult times in the past where we could have easily thrown up our hands and moved on. Truly believing in what we did really increased our desire to persevere and move forward.
Be a sponge - learn everything you possible can and then some. This will come to benefit you greatly in the long run, especially at the beginning of your journey. Don't be afraid to put your self in uncomfortable situations where you are going to learn No matter what the outcome is.
Be uniquely you! Everyone else is taken (:
---
More about John Michael Fabrizi: Originally from Southern California, he's lived in Salt Lake City for 6 years. Passionate about sales and marketing within the sustainable products sector, John Michael loves using his talents as a force for good. He also enjoy getting after it in the mountains physically and when not focused on growing Coalatree pursues big mountain skiing and endurance sports.