There's no denying that these trying times have been a tad too difficult for most of us. And for how much longer until it eases up, no one can really tell. What's beautiful about life though, is that even though we're facing some of the toughest times in our lives, the world just keeps spinning, and seasons keep changing.
This year spring blossomed into our lives and opened another chapter of the year, bringing new positivity and a different kind of happy with it.
For Lucy, a color and floral-loving artist based by the sea in Cornwall, UK, her beautiful, bright paintings awaken feelings of spring the whole year round.
As evident in her work, Lucy is inspired by all things patterned, folk and gestural. As soon as you see her creations, you'll realize that she adores seeing the presence of the human-hand in all she creates, with plants, shells, petals, and a graphic border being her signature style.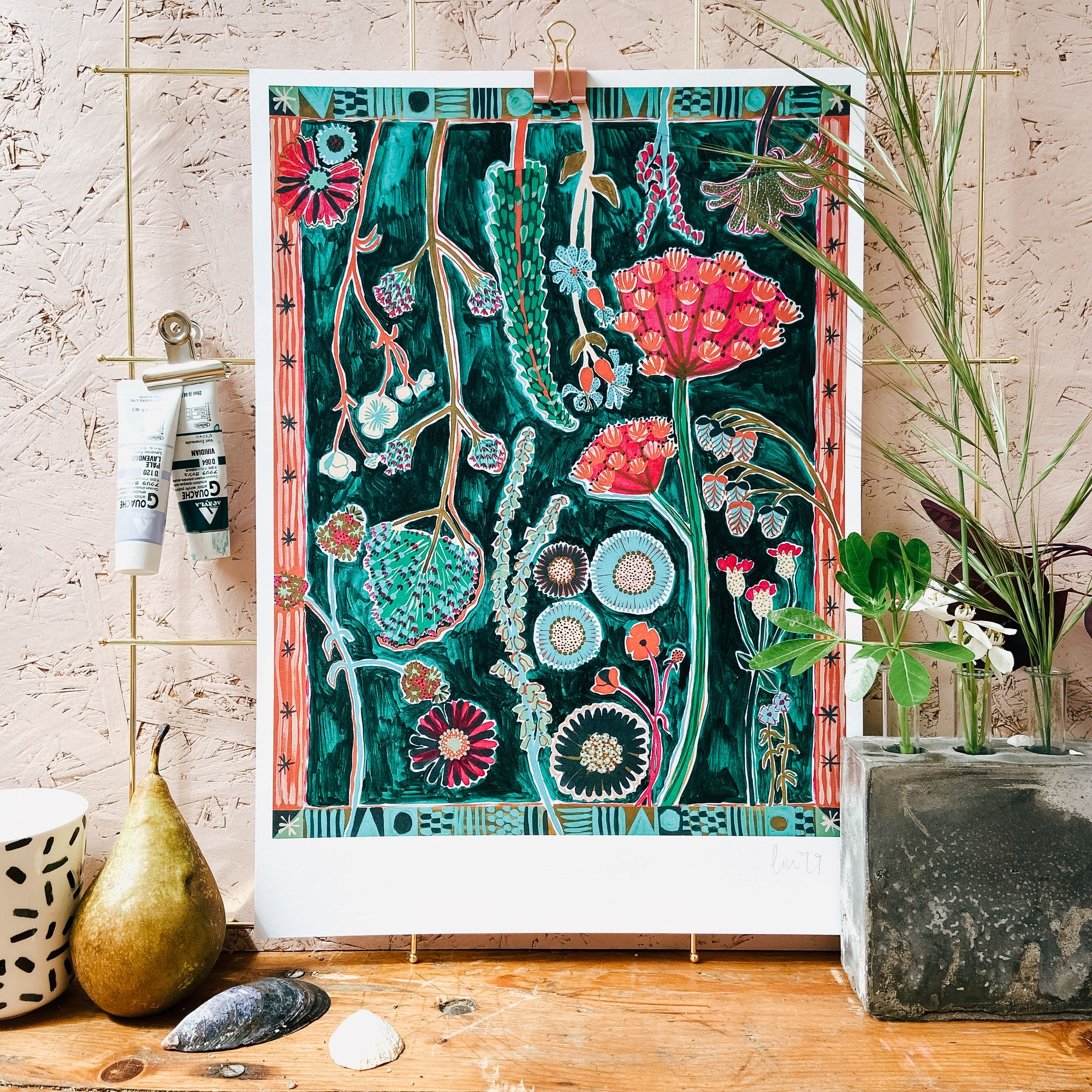 Everything Lucy sells starts out as an original painting, which she then scans and digitally prepares for her range of greetings cards, notebooks, prints, postcard packs and wrapping papers – and before the pandemic, she also ran her own painting workshops!
Her paintings are regularly sold to collectors, and she is currently in the process of working to a larger scale as she looks to exhibit more widely. Her paintings also have a secondary life in that they are available for image licensing across the editorial, publishing and product sectors. However, after a decade of working as a professional in the art industry, particularly in museums, galleries, and picture libraries, Lucy decided to focus and hone in on her creative roots again, officially setting up her brand in 2018.
With her brand, she aims to bring "a celebration of color, pattern and floral painting into people's lives". She invites her patrons to hang a piece of nature on their walls and embrace a contemporary botanical style. Her color palette is bold and uplifting and she definitely employs a maximalist take on most aspects of life.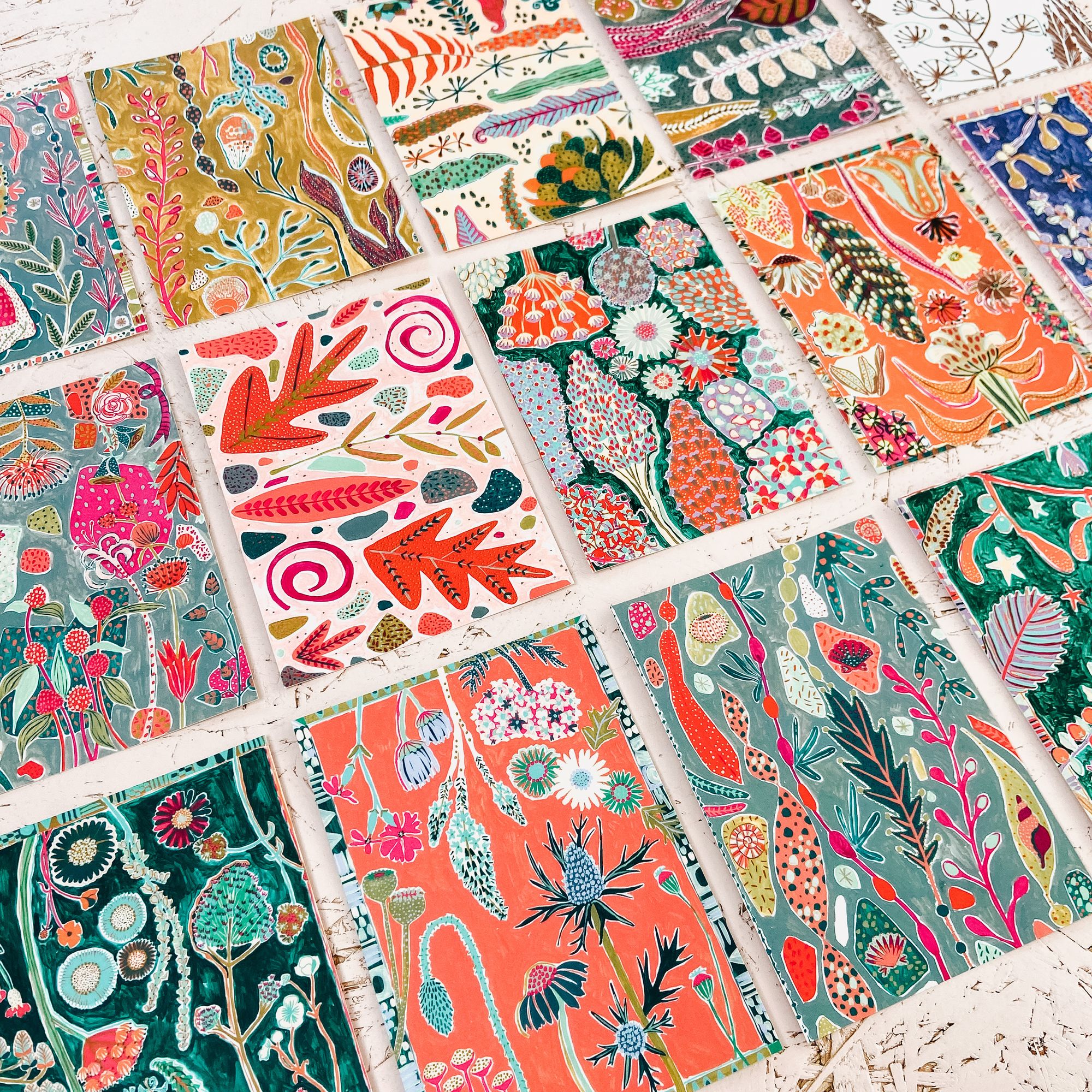 As a brand, Lucy Innes Williams works hard to present new combinations of printed florals and patterns on high-quality printed goods. She's also often told how much her works look like textile designs – and that definitely suits Lucy very well!
But being a traditional artist in the industry comes with its own challenges, too, which is something Lucy also understands only too well. So far, her biggest challenge has been balancing her work with motherhood — she currently also has three daughters, all of whom are in school age.
With this, she cites time has her single most precious commodity, and has embraced working and nurturing her creative vision short hours instead of longer periods.
To her fellow artists who are still looking to make their own mark in the world, her advice is simple: to "do it, and do it now." And although it may be a cliche, her own experience has taught her that success is no easy road to walk, and there will never be such a thing as "the right time" to follow your own passion.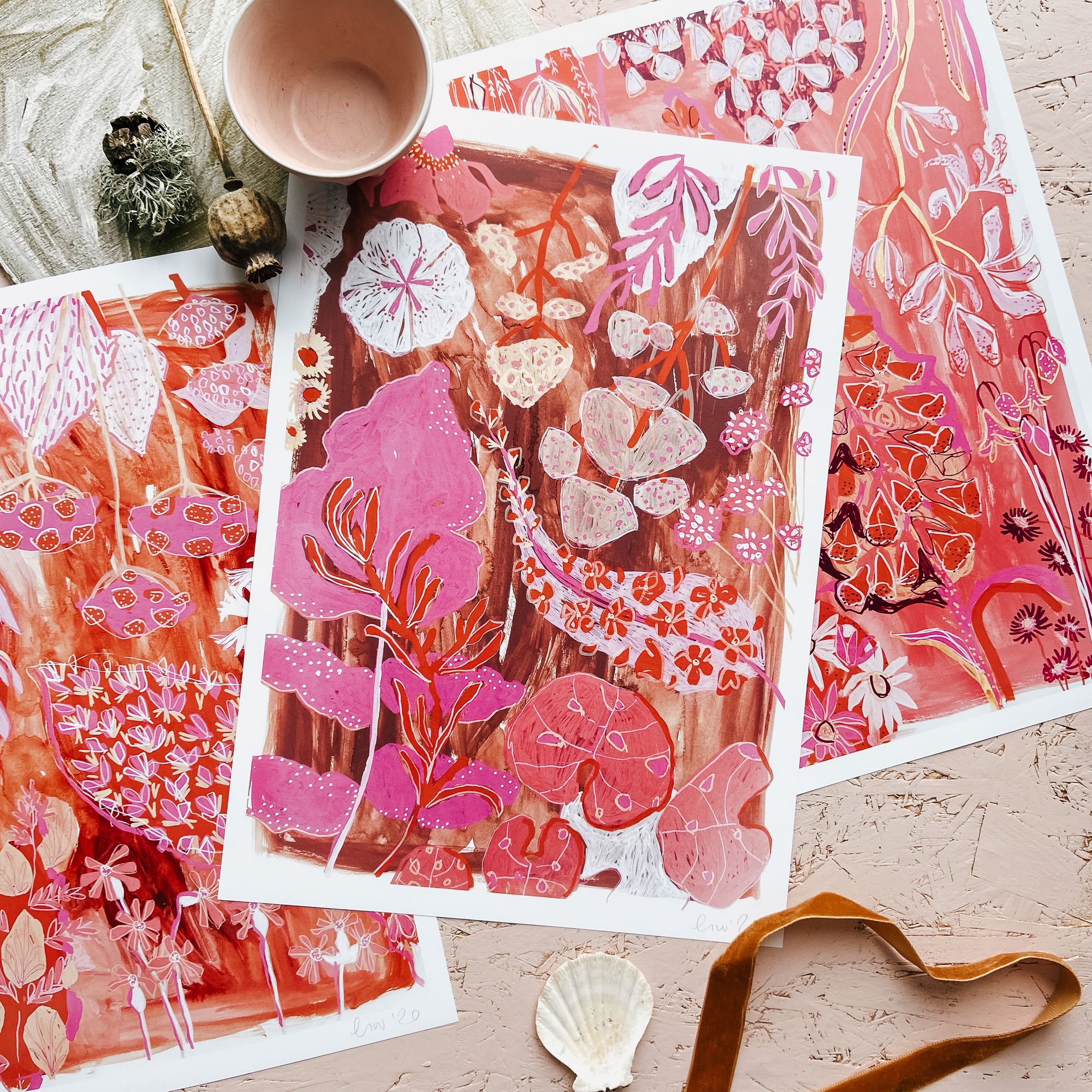 "My advice to anyone starting out is 'DO IT, and do it NOW!'. It's a cliche, but there really is no good time to start your own business. I wish I'd done it years before I actually did. It will always be a struggle and there is no such thing as an overnight success - but if you want it badly enough, you'll make it happen. It's important to be your own biggest internal cheerleader and know that if you enjoy what you're doing, you'll always have the energy to keep going."
But beyond all that, she also advises to find your own circle of like-minded creatives as support and motivation, and to find inspiration beyond the ordinary and easily accessible.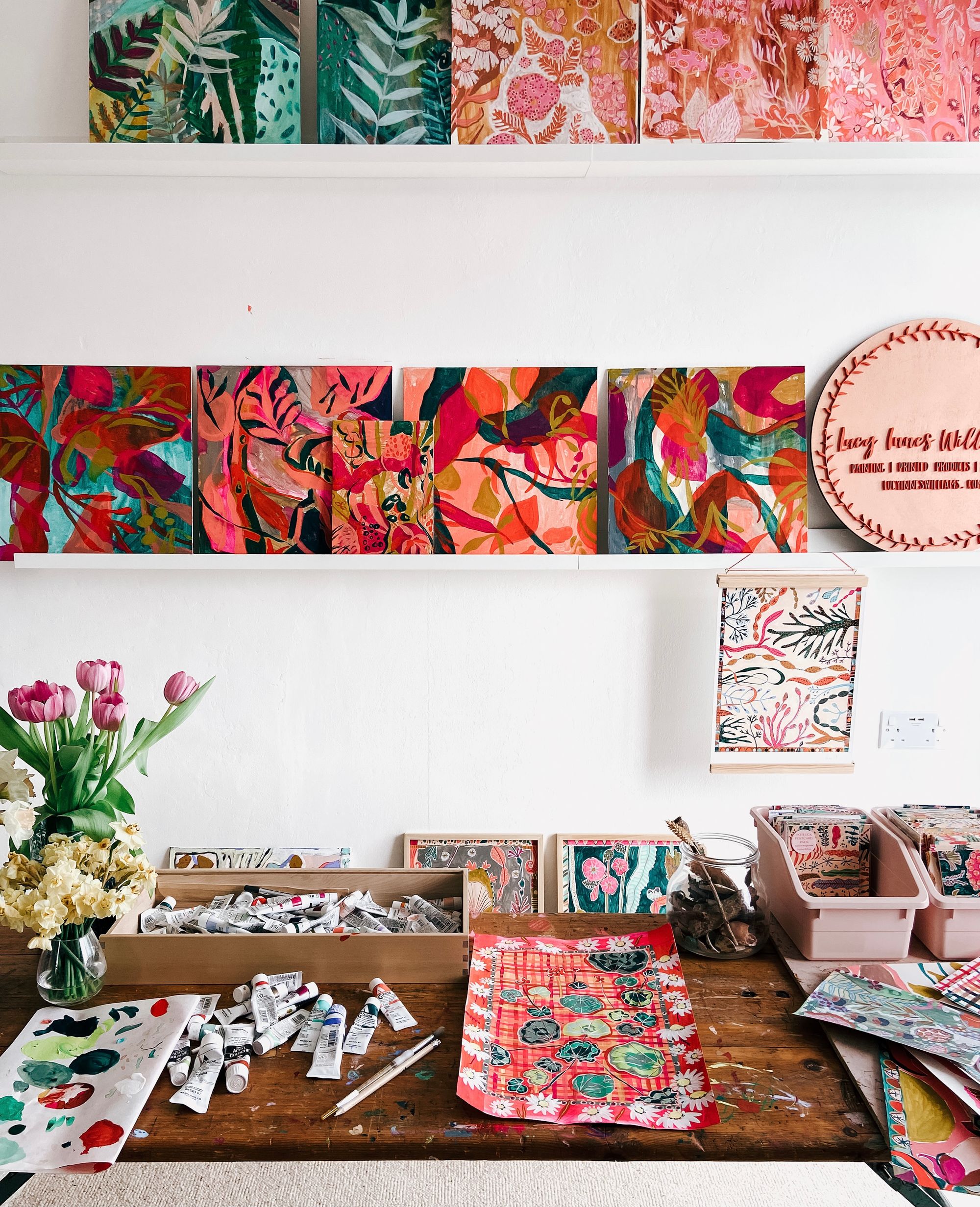 Since she's established her mark on the creative world, Lucy's started taking steps towards lowering her environmental impact, too, which she's done by using local suppliers as much as she can, and gradually reducing the use of plastic in her packaging.
Moreover, she's also since opted for noissue Tissue in wrapping her creations — which she's of course affixed with her own unique floral designs, too! as an artist, she places special care in every little one of her packages, so that receiving and unwrapping her packages is a memorable experience in itself.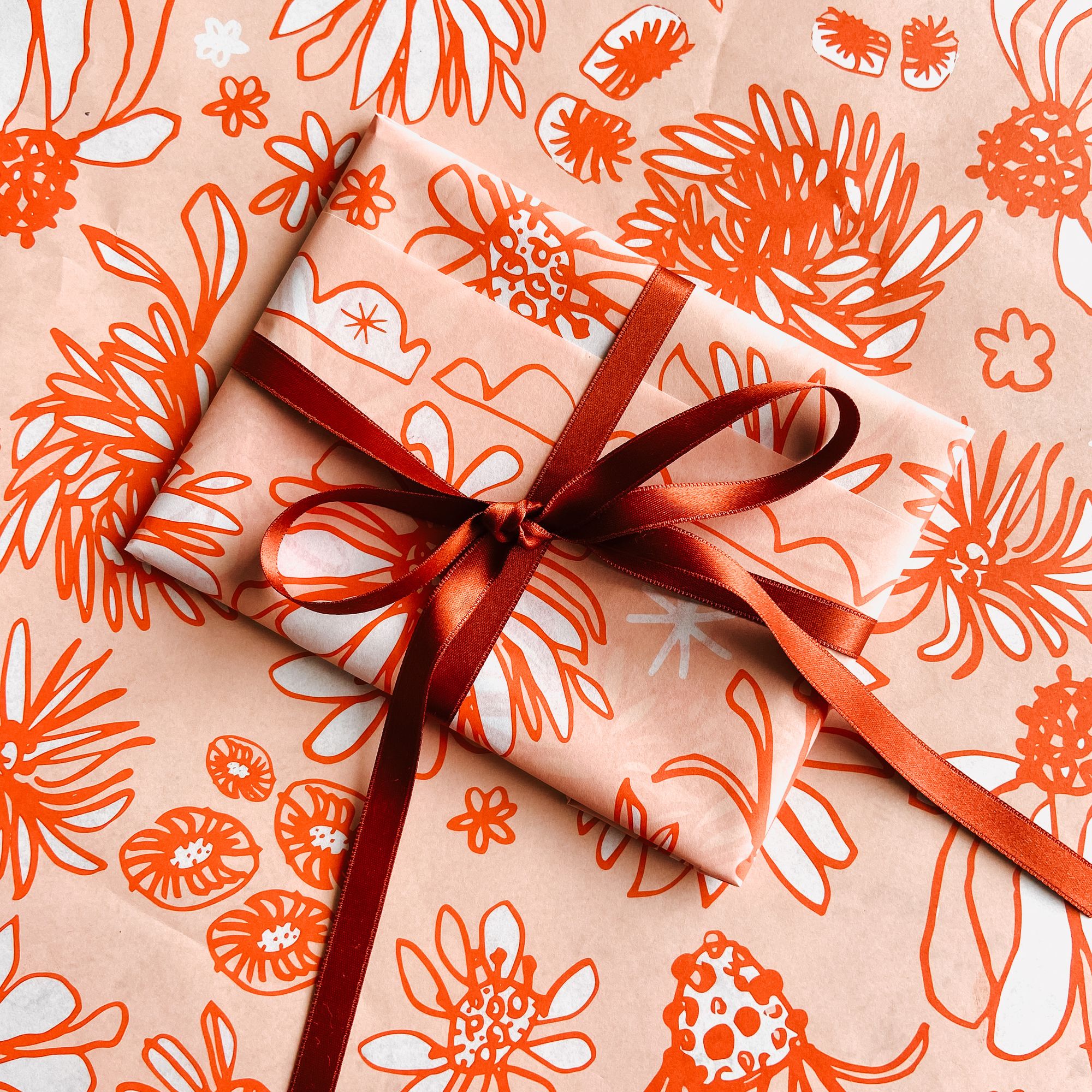 With her love of all things colorful and floral, Lucy and noissue definitely fit together like one of her own unique patterns!
---
Find more of Lucy Innes Williams here:‌‌‌

Website:‌‌‌ lucyinneswilliams.com
‌Instagram: @lucyinneswilliams
Like this story? Tell us yours! Share your brand story and love for your custom packaging and get a chance to be featured on the wrap! If you're a noissue customer and are interested, you can join the Eco-Packaging Alliance by clicking here and answering a few questions here.
Questions? Email us at ecoalliance@noissue.co.