📣 PSA: noissue has launched a podcast! It's called Conscious Commerce, and its aim is to show you that sustainability doesn't have to be a scary word in business.
We've called upon our global community of founders, executives and experts from around the world to share how they are building successful modern brands that consider their impact on the planet, and on people.
Expect to hear from guests who run leading brands in the United Kingdom, New Zealand, the United States, Canada, Australia and further afield about how they grew their businesses, how they approach sustainability and social impact, and the change they're working to make in the world.  
The Inspiration Behind The Podcast 🎙️

The simple idea behind Conscious Commerce is that we want to help businesses on their sustainability journey beyond just packaging.
We know that to future-proof your brand and make it last for the long haul, you must consider its social and environmental impacts. This is the future conscious consumers want, and it's happening here and now.
Everyone knows the scale of the challenge we're up against with climate change, and we know that everyone, including businesses, has to work together as a collective.
So, we want to do our bit with Conscious Commerce by demystifying sustainability and knowledge sharing by answering questions like:
What does sustainability actually mean?
How do you define what sustainability looks like for your brand?
Is there such a thing as too much transparency with your customers?
How do you build a community of conscious consumers who are invested in what you're doing?
We also want to show you that sustainability doesn't have to be intimidating, or even boring! It's absolutely what you make it, and the best brands are communicating their impact in a way that's fun and refreshing and sharing that while they're making progress, they're by no means perfect.  
Who's Hosting and Producing It?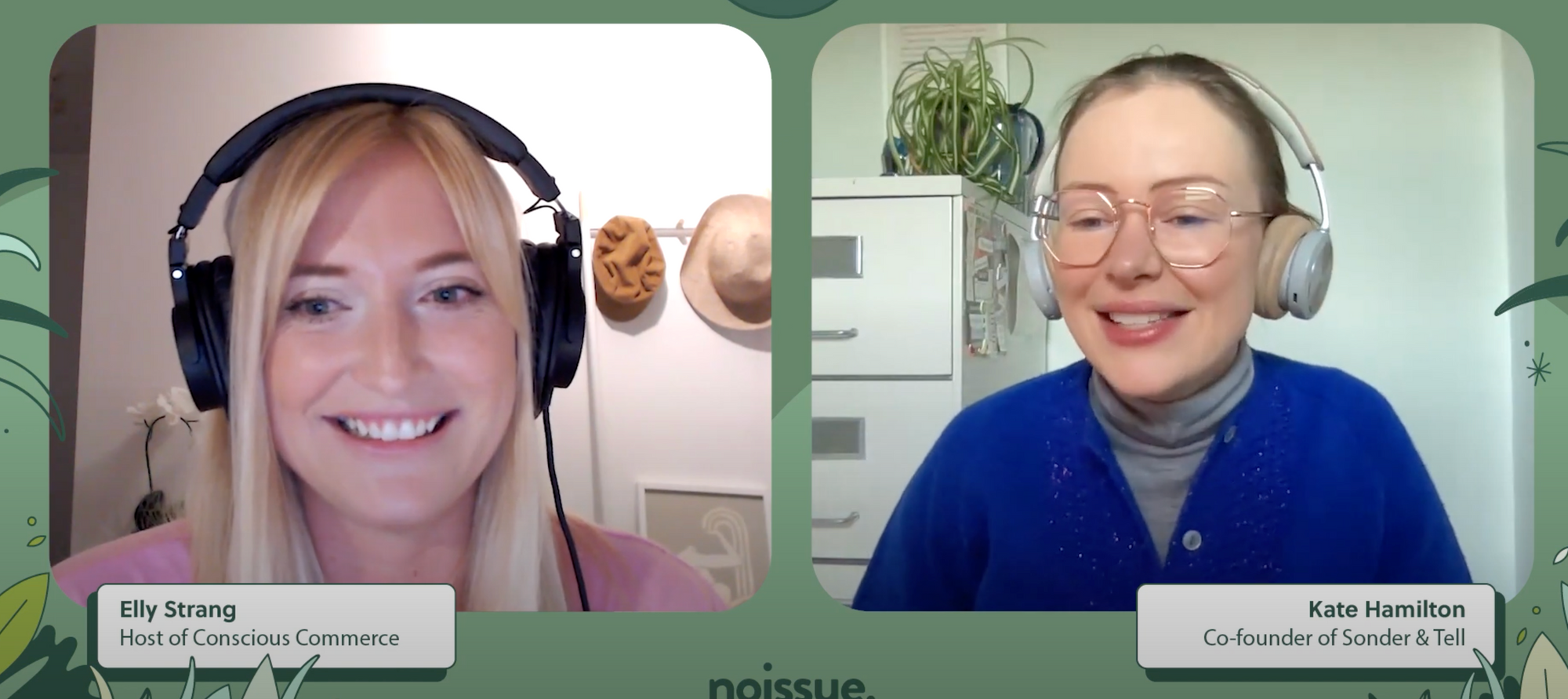 That would be Elly Strang, the Content Manager – Publication here at noissue!
Elly is based at noissue's headquarters in Auckland, New Zealand (hence the Kiwi accent) and has been enthusiastically dialling into interviews at all sorts of hours day and night to chat with our guests from around the world.
You can catch all the behind-the-scenes fun on our YouTube channel, where we publish the full unedited interviews.
Our video editor Josh Morrice is the audio and video engineering whizz behind Conscious Commerce – you may have seen already some of his previous work in our Beyond The Box series!
Wrapping It Up

Conscious Commerce is full of unfiltered and often entertaining conversations with people who are building incredible brands. We're sure you're going to love the series as much as we've loved putting this together, so subscribe now to make sure you get fresh episodes delivered to you as soon as they're released.
You can find Conscious Commerce on all the major platforms, including YouTube, where we'll post the full videos of our conversations for your viewing pleasure. We've linked them below to make it extra easy for you!
Don't miss an episode! Subscribe to Conscious Commerce now on your favorite platform:

Conscious Commerce on Apple Podcasts
Conscious Commerce on Spotify
Conscious Commerce on YouTube
Conscious Commerce on all other platforms, via Buzzsprout.
Tell us what you think, or let us know what you'd like to learn about next on the podcast – we'd love to hear from you! ✉️ hi@noissue.co.