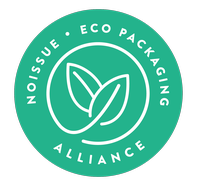 Vintage refers to anything that has an old-style, as it is in a technical sense, denoting something a few years short of being antique. Think browns and brick reds, hipster fashion, and old movie posters. People love it because it is a way to escape the present and experience things in the past, unforgotten era. In clothing, vintage is timeless classics that are always trendy no matter what the year is.
Because she shared a love for vintage with her kids, Angela created a brand that fosters adventure, sparks delight, and encourages boundless play through nostalgic childrenswear.
"I'm Angela Wator, a multidisciplinary designer and shopkeeper in Chicago, and I've recently launched a new vintage-inspired childrenswear brand called Ovette. Each Ovette garment has a timeless design, a generous, comfortable fit, and soft, high-quality fabrics that often feature my own colorful illustrations, and they're all made right here in Chicago."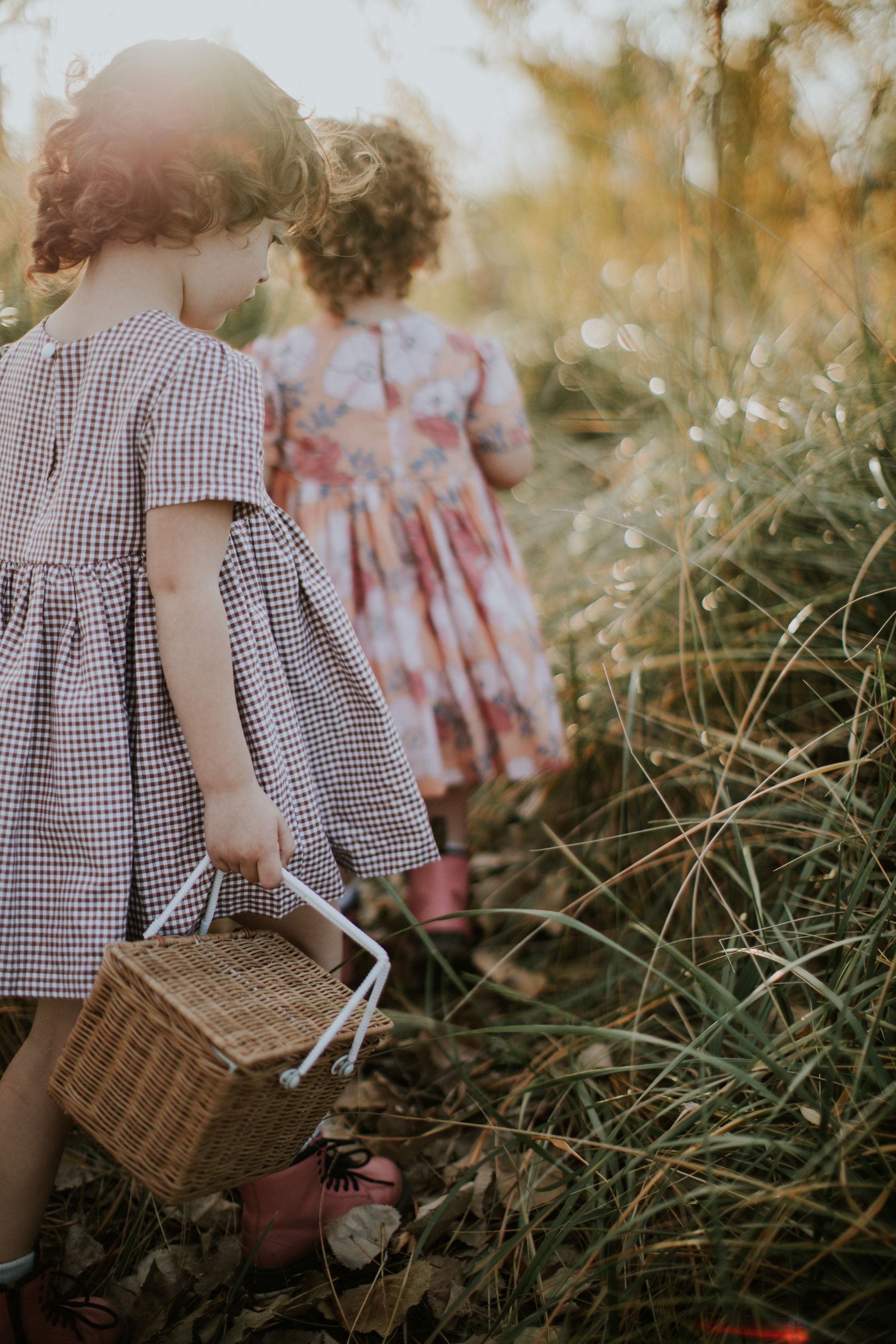 Angela has two kids who love wearing vintage clothes, but the choices available were very limited. She wanted high-quality clothing but found out that most brands were unethically made. That's when she decided to create her own.
"My two children are very particular about what they wear, and almost all of their beloved clothing items are vintage. Like many other small businesses, I decided to start Ovette because I was frustrated with what was available in the current market. Many of the childrenswear options available are created with a goal of quick turnover- they're poor quality, tight-fitting and restrictive so they'll be outgrown quickly, and needlessly gendered to prevent hand-me-downs. Furthermore, when researching even higher end brands, I discovered most children's clothing was still manufactured overseas in terrible conditions and profit was generated at the expense of textile workers and the earth. The vintage pieces my children love have been mended and worn for decades, and I wanted to create modern clothing that could hold up this way for future generations."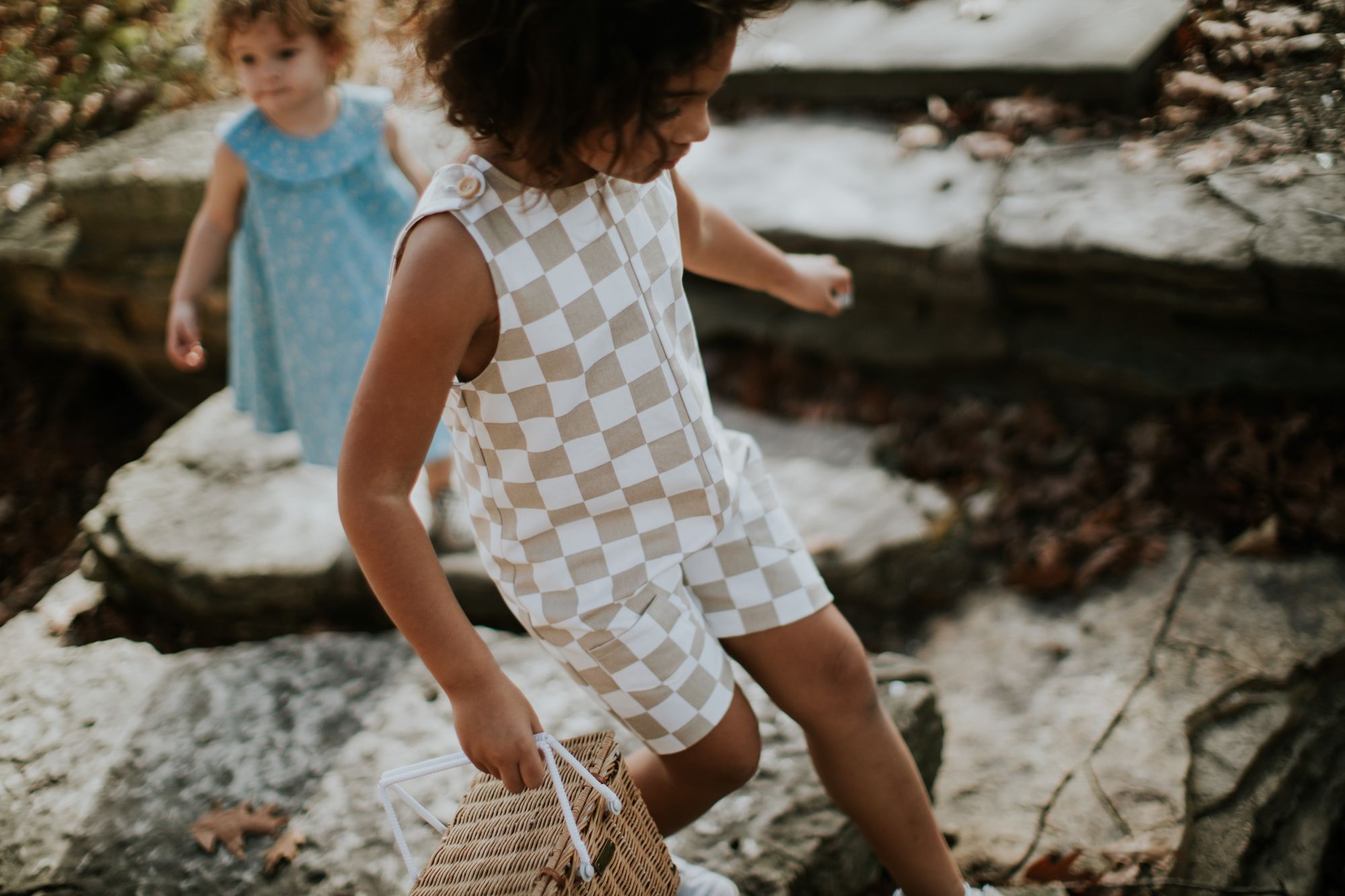 "I set out to create nostalgic, timeless, thoughtfully-made clothing that is designed to last through a few growth spurts and meant to be handed down through generations. I want children to feel pure delight when wearing our clothing, and I want parents to feel pride that their children's clothes were created with love by a skilled artisan paid a living wage in a great work environment."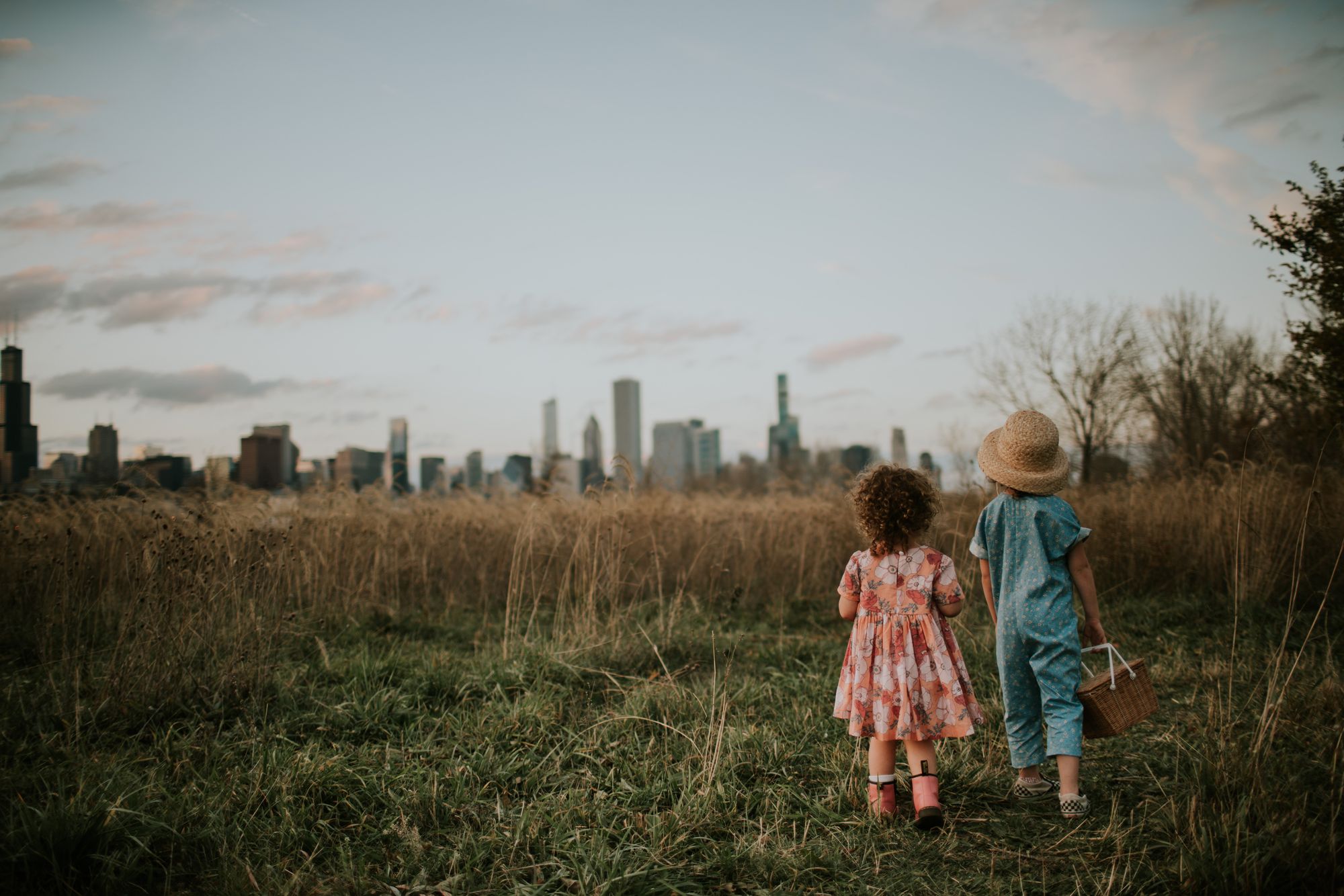 She was very new to the fashion industry. She had to research before getting the hang of it. It took a while before she was able to find connections, and this discouraged her during the early stages of her business.
"I've started a few businesses by now so I was familiar with the start-up path, but I've never worked in fashion. It took months of research to even find a starting point for local production and make connections within the textile industry. I was frustrated by how slow that initial process was, but I tried to embrace the research and enjoy learning so much about an industry I was pretty unfamiliar with."
Learning something new can be difficult and sometimes, it can discourage you. She shares her advice to her peers that are experiencing the same:
"Don't get discouraged if you're not an expert tailor! I backed out of my fashion major in college because I wasn't very skilled at sewing, but I've learned that strong visual communication skills and an understanding of garment construction can make up for a lack of sewing skills, particularly if you have a good relationship with your contractors."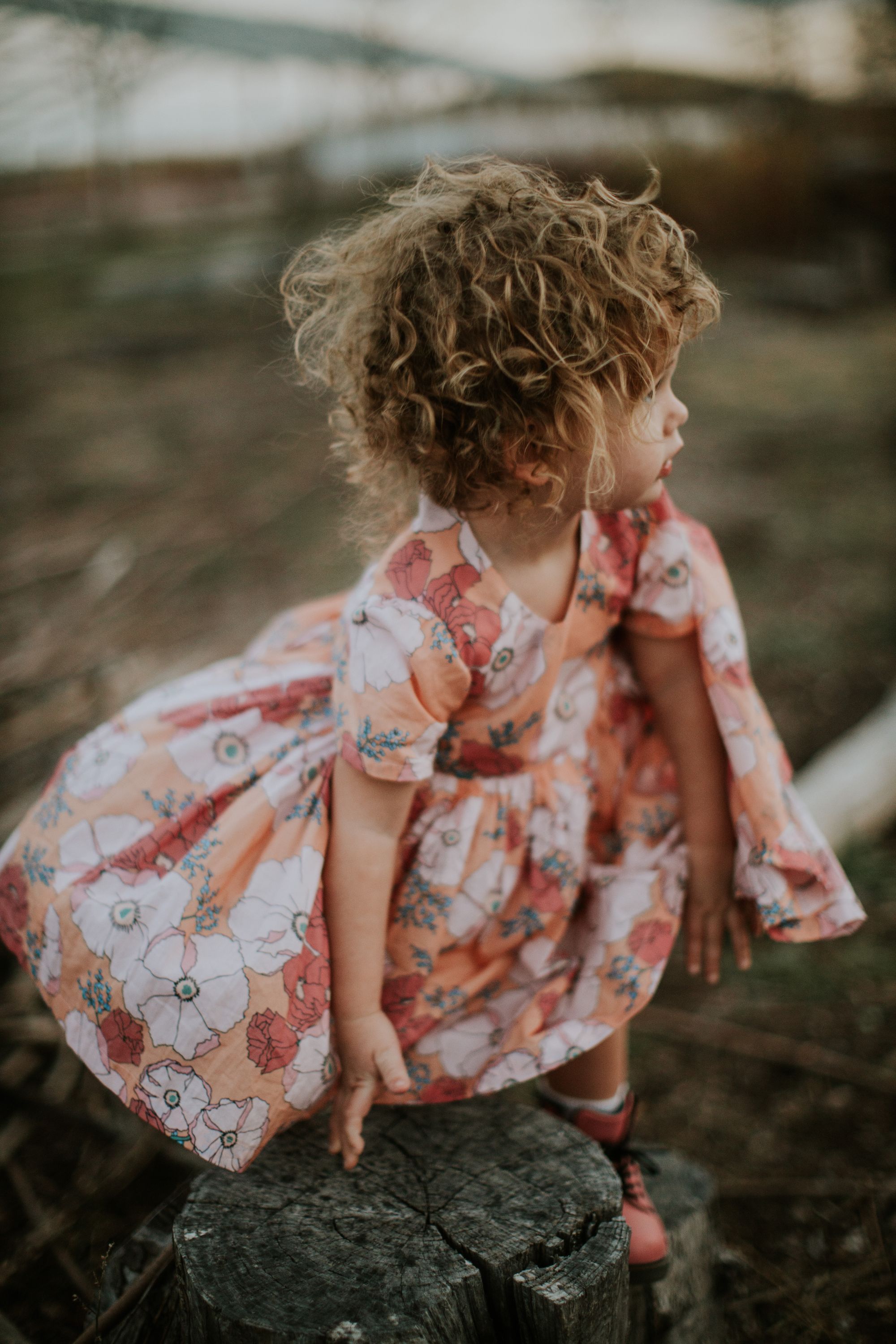 Because of the lockdowns, Angela and her family spent a lot of time in their home. Their unique, vintage exterior became her inspiration for the visual parts of her brand.
"I'm always most inspired by my environment and the world around me, but throughout this year, I haven't really left my home. As a result, this brand and our first collection really feel like an extension of my home and my quiet life there with my two daughters. We live in an 1896 Victorian filled with antique wallpaper and weathered floors, surrounded by sprawling old gardens. The rich colors of our house, the French records we listen to, and our long lockdown days spent in the gardens have all impacted my recent work, from the hand drawn fabrics I've designed to Ovette's branding!"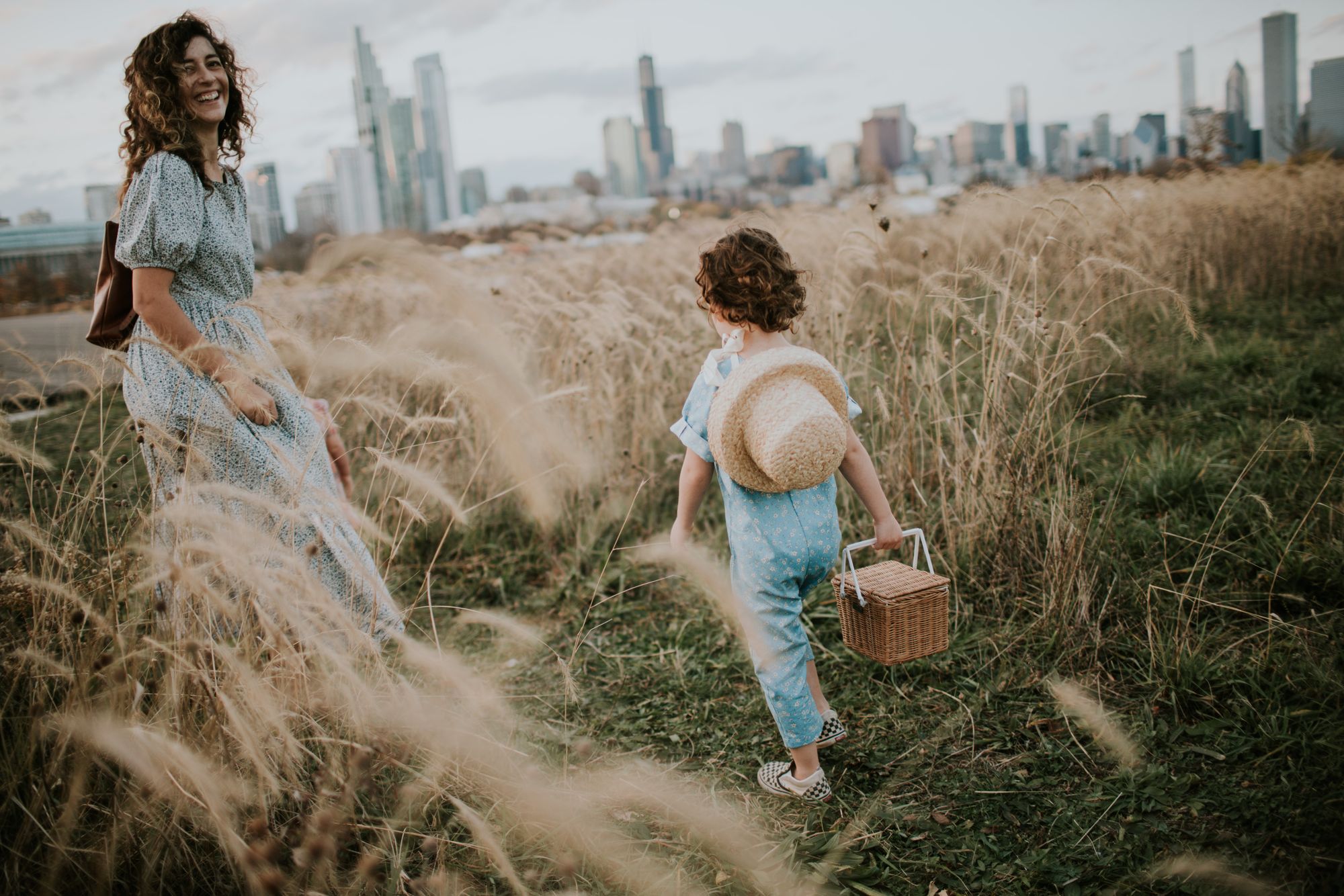 Quick Q&A!
What makes your product stand out from the rest?
"Playful but sophisticated patterns, comfortable and oversized silhouettes, and a commitment to high-quality local production sets our line apart from the mass-produced children's brands currently on the market."
What's one piece of clothing (from your collection) that you wished everyone could have in their closet and why?
"The Penny Dress in our vibrant Poppy print! This dress spins beautifully, brings pure joy to anyone who wears it, and has a boxy bodice so it's extremely comfortable as well! It's made from a cool, almost silky 100% cotton lawn and it's fully lined for extra comfort. I wish I made it in my size, but my daughters are thrilled to wear it!"
What's your best customer story?
"At the time of this interview, we were still a few days from launching, so I don't really have any yet!"
Who do you think is doing great creative work in the fashion industry at the moment?
"My lovely friends at Big Bud Press are shaking up the industry with their commitment to inclusive sizing, ethical and responsible local production, and brilliant unisex designs that have proven to be a bit addictive. Their business has grown at an incredible rate over the last few years, but they've proven time and again to be genuinely thoughtful, generous designers and business owners, and their innovative efforts to improve all aspects of the fashion industry have created a tidal wave of change. "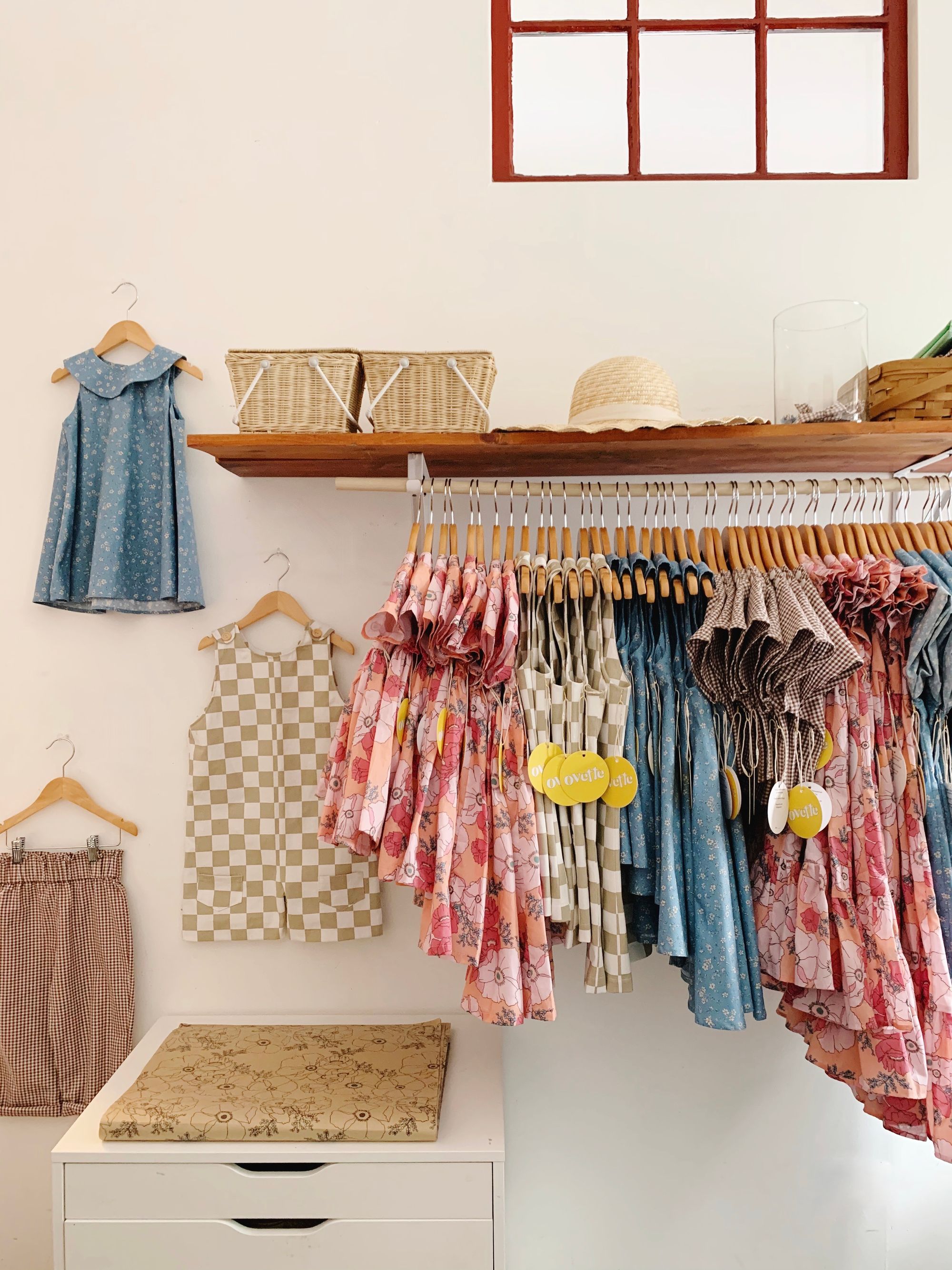 Angela values sustainability and believes that we all have a responsibility to take care of our planet. She researched for ways to make sure that they are ethically producing high quality clothes.
"As a brand working within the fashion industry, we have a responsibility to consider both the social and environmental aspects of sustainability at every step of our process. We researched and seized opportunities to make an impact from the very start, from domestic fiber selection and ensuring our fabric was printed and finished with an eco-friendly process to ensuring our designs are generously sized to allow for longer wear as a child grows. Our focus on creating timeless designs will allow these pieces to be handed down, worn, and loved for many years to come rather than disposed of as trends fade. Our garments are made by a wonderful team of local contractors paid a living wage, and I often visit their sunny studio with my children so they too can develop a strong appreciation for how their own clothing is made. We're too small to change the behemoth fashion industry alone, but little brands like mine are collectively moving the needle forward towards sustainable practices and accountability."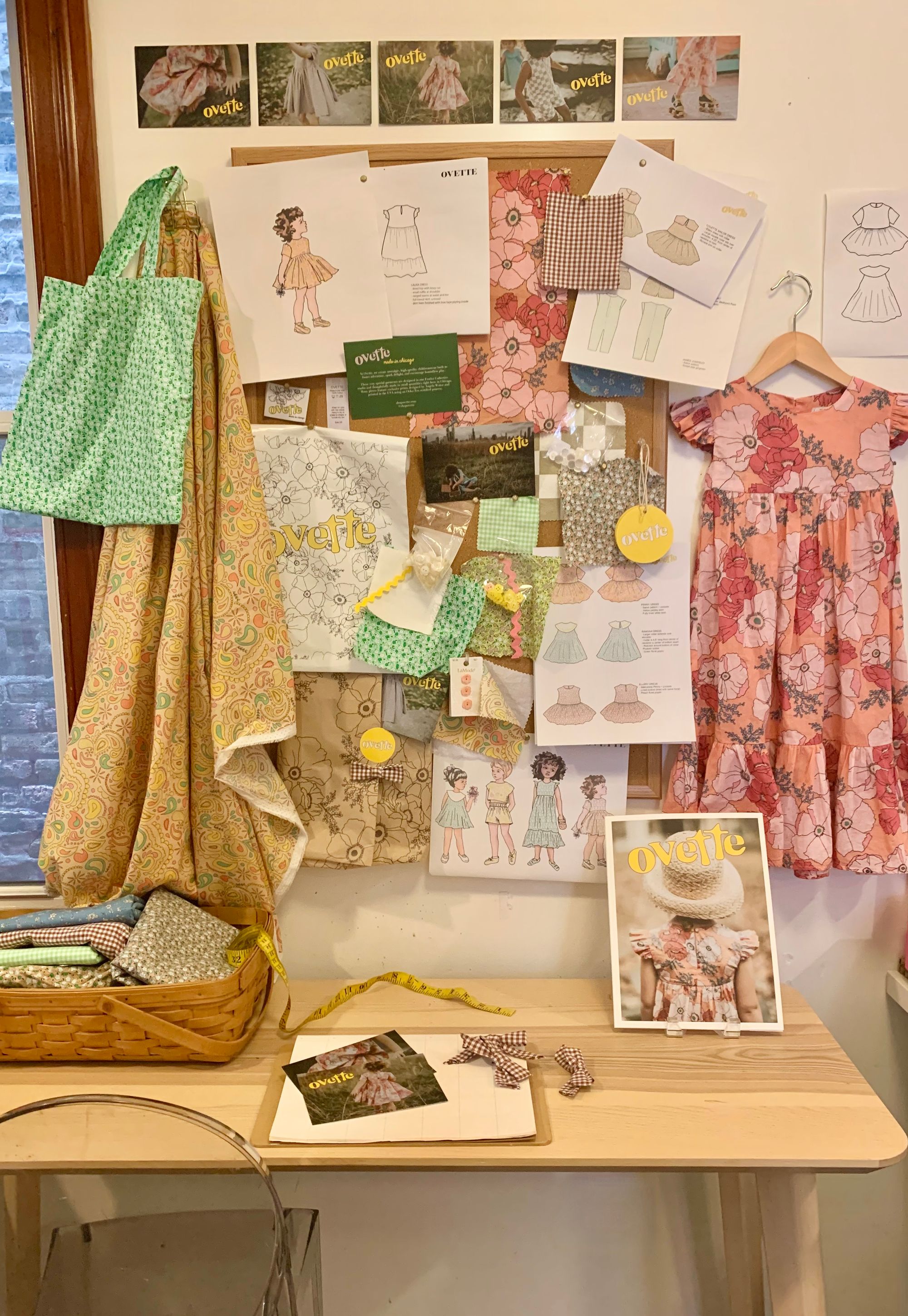 It didn't stop with the fabric and the clothes; because she didn't want to damage the planet with her business, sustainable practices are all applied from her design studio to packaging.
"Producing our items within Chicago is probably the most impactful thing we've done from the beginning, and choosing to have our fabric printed in small runs was more expensive but we knew it was essential to eliminating the waste that occurs with larger production. On a smaller level, our design studio and shipping department is located in a beautiful solar-run building with geothermal heating and cooling, and we're located near our sewing contractor's studio, so we pick our items up without wasting packaging and shipping materials for each sample and production run. Selecting eco-friendly packaging from noissue was another an important step towards ensuring our environmental footprint is minimal from concept to delivery of the end product."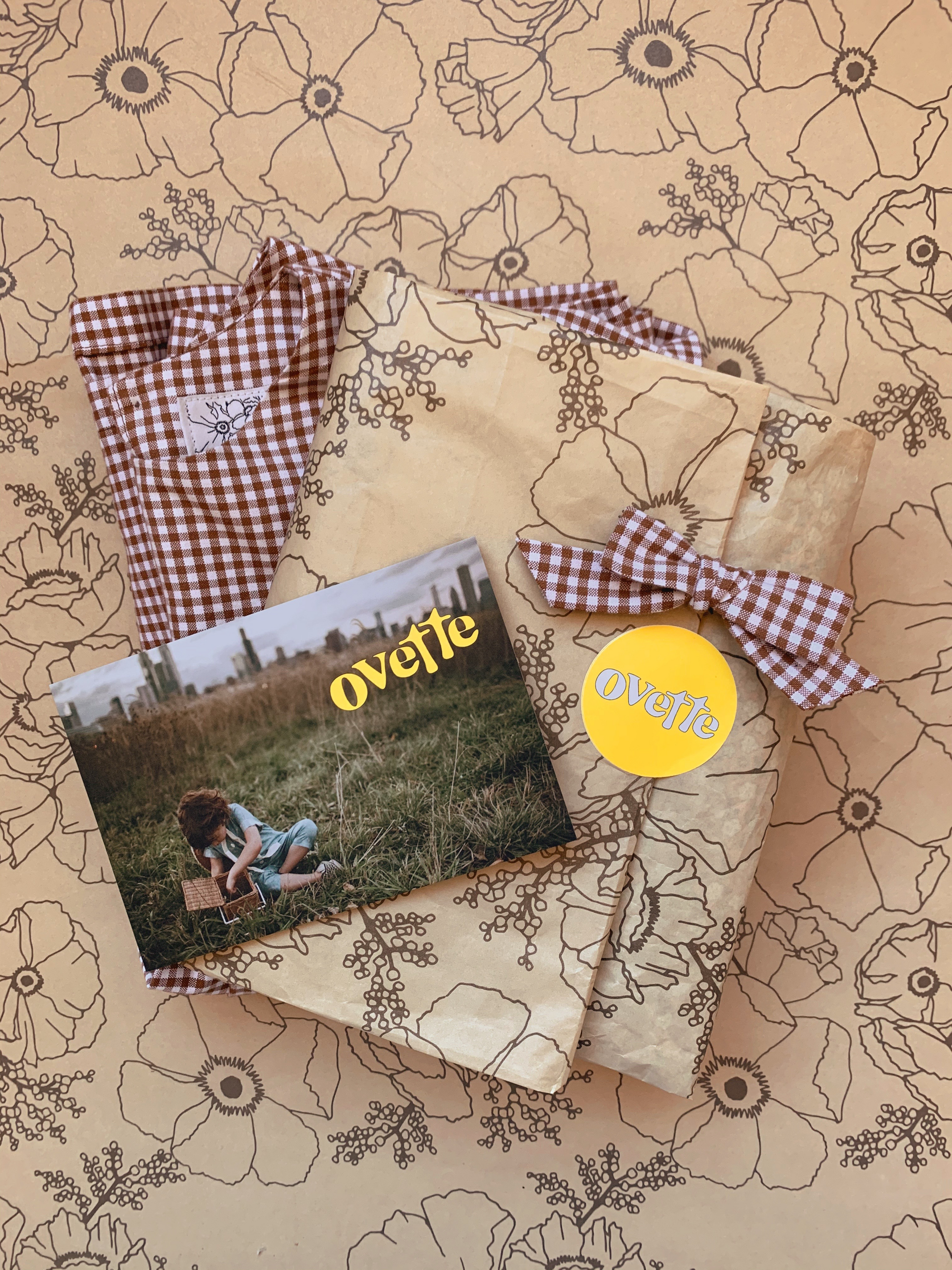 Packaging has a great impact on a customer's experience. Angela wanted to connect and engage with her customers the moment they receive their orders. She wanted them to feel nostalgic once they see the packaging.
"I had a very strong, nostalgic brand vision for Ovette, and I wanted to take the customer back to another time from the moment they held a package in their hands. Unwrapping thick, beautiful tissue printed with our designs felt like a wonderful way to heighten the anticipation and immerse them in the experience as they revealed the special garment they selected."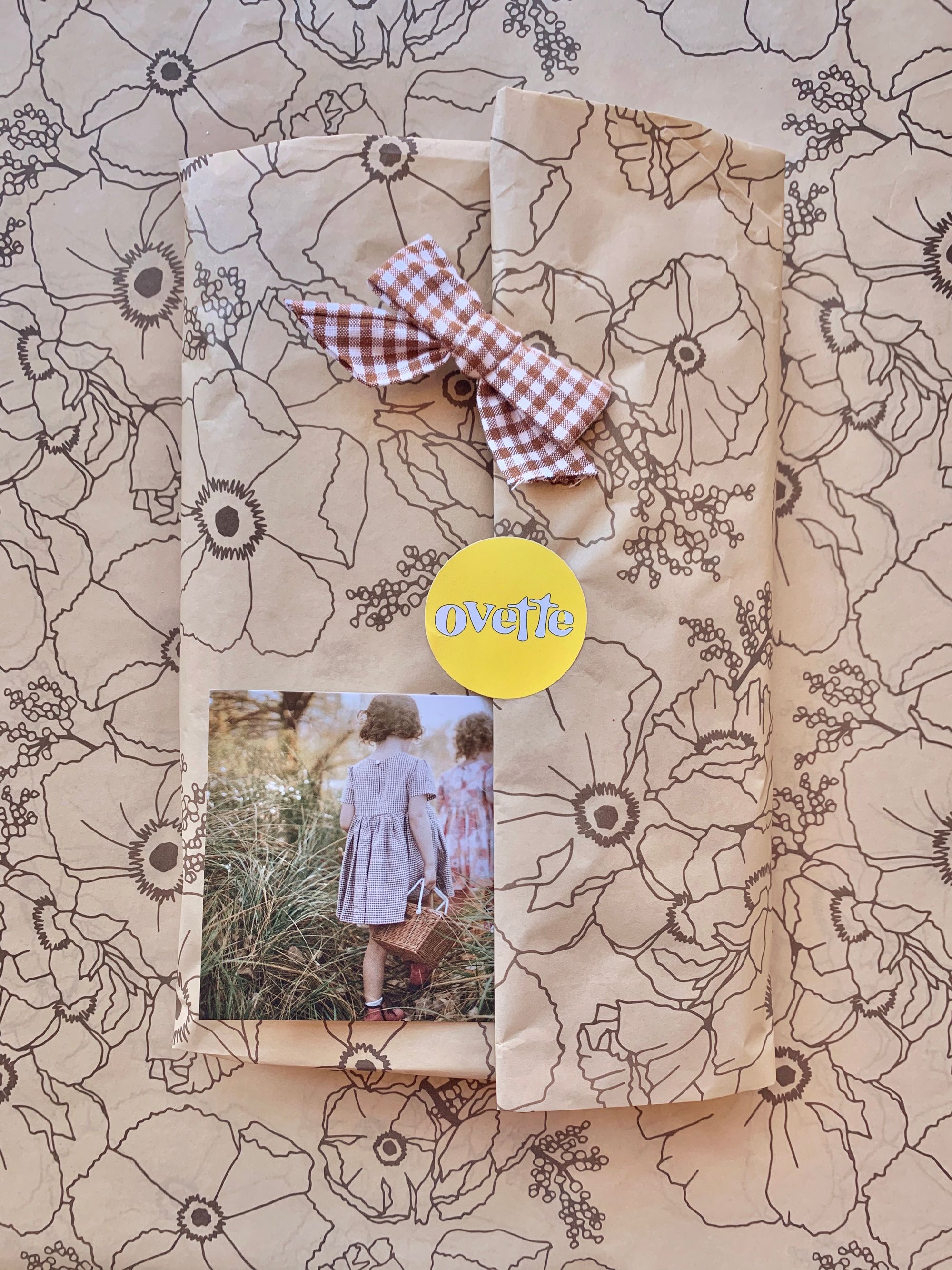 "I've been familiar with noissue paper for a while and I've always loved it, so I had it in my packaging design from the beginning! The design process was very easy. I wasn't working with a traditional repeat so I was initially a little confused on how to execute my design, but one quick chat with customer service had it straightened out immediately! I couldn't be happier with the texture and feel of the paper too- it feels really decadent and luxurious."
Ovette fun fact:
Ovette would be a short, crisp, swingy floral dress paired with slouching knee socks and battered, worn-in leather Mary Jane's, shoes bearing evidence of trees climbed, rocks kicked, and the occasional romp through the mud. Add a simple handmade bow tucked in some curls, a basket full of nature's treasures, and some dappled golden sunlight.
---
Find more of Ovette here:
Website: www.shopovette.com
Instagram: @shopovette
Like this story? Tell us yours! Share your brand story and love for your custom packaging and get a chance to be featured on the wrap! If you're a noissue customer and are interested, you can join the Eco Packaging Alliance by clicking here and emailing us your story at ecoalliance@noissue.co!