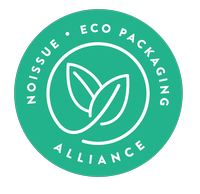 Have you found your greatest passion in life? Are you already taking steps to follow it? If the answer to these questions is yes, you are on your way to a meaningful life.
Meet Caroline. She has always been passionate about horses and believes that they bring the best in people by teaching us the importance of trust and respect. Her passion fueled her to create a brand that would provide sustainable, functional horse wear. She knew she started fulfilling her purpose when she set out to create BASICS Equestrian.
"Hi! My name is Caroline Hill. I am the Founder of BASICS Equestrian! The name BASICS Equestrian came from the mission behind the company: to provide equestrians with stylish and functional basics for their horse. In equestrian sport, it is so important to focus on the basics with your horse in order to build a solid foundation and partnership. BASICS Equestrian is located in Burlington Ontario, and we are currently living the dream by simplifying the needs of equestrians!"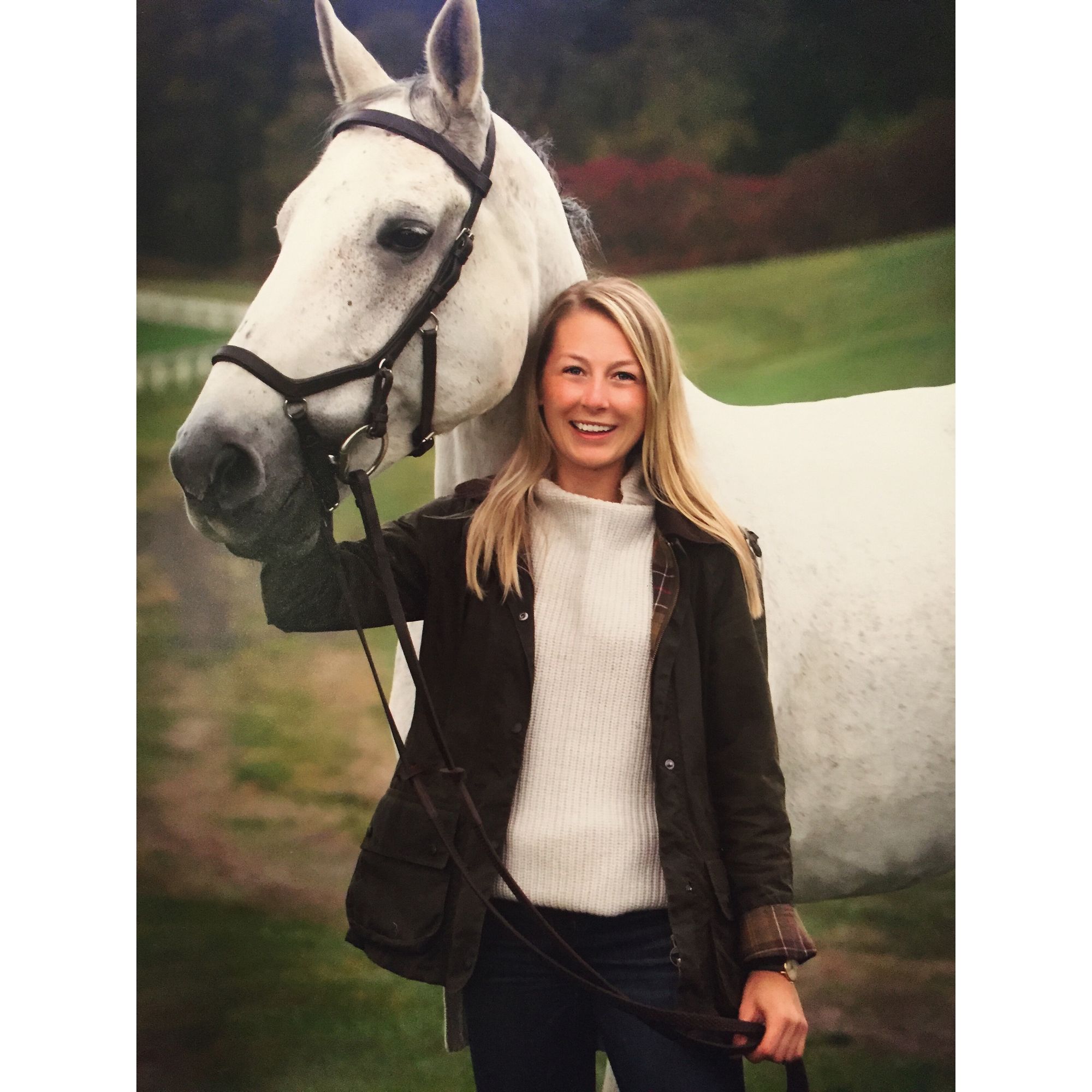 Caroline grew up with horses and has always been passionate about them ever since. She found a gap that she knew she could fill and decided to create her own brand.
"Ever since I can remember, I have been passionate about horses and equestrian sport! I learned how to ride when I was five years old, and my love for the sport only continues to grow. I started BASICS Equestrian to fulfill my own need for affordable horse wear that is still stylish and functional!"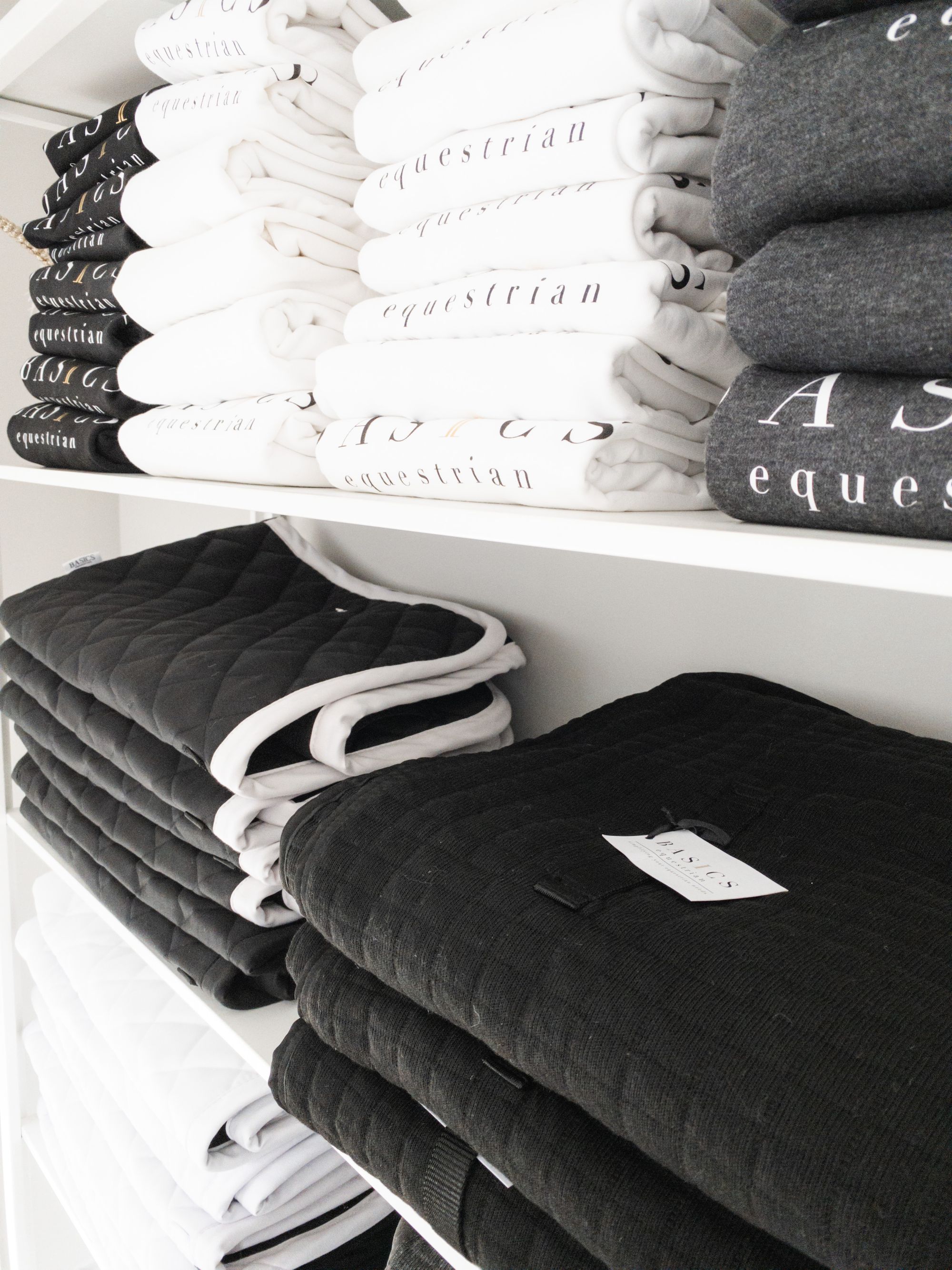 She wants to share her passion to many and aims to make everything needed for the sport available to everyone.
"My vision is to take BASICS from our current startup phase to an equestrian brand that carries a full line of affordable horse wear and size-inclusive equestrian wear. It is so important for me to contribute to making the sport more accessible for everyone to enjoy!
I also find the tool of visualization very powerful! You need to get specific on your goals and visualize them coming true - it has helped me take BASICS from an idea to a reality!"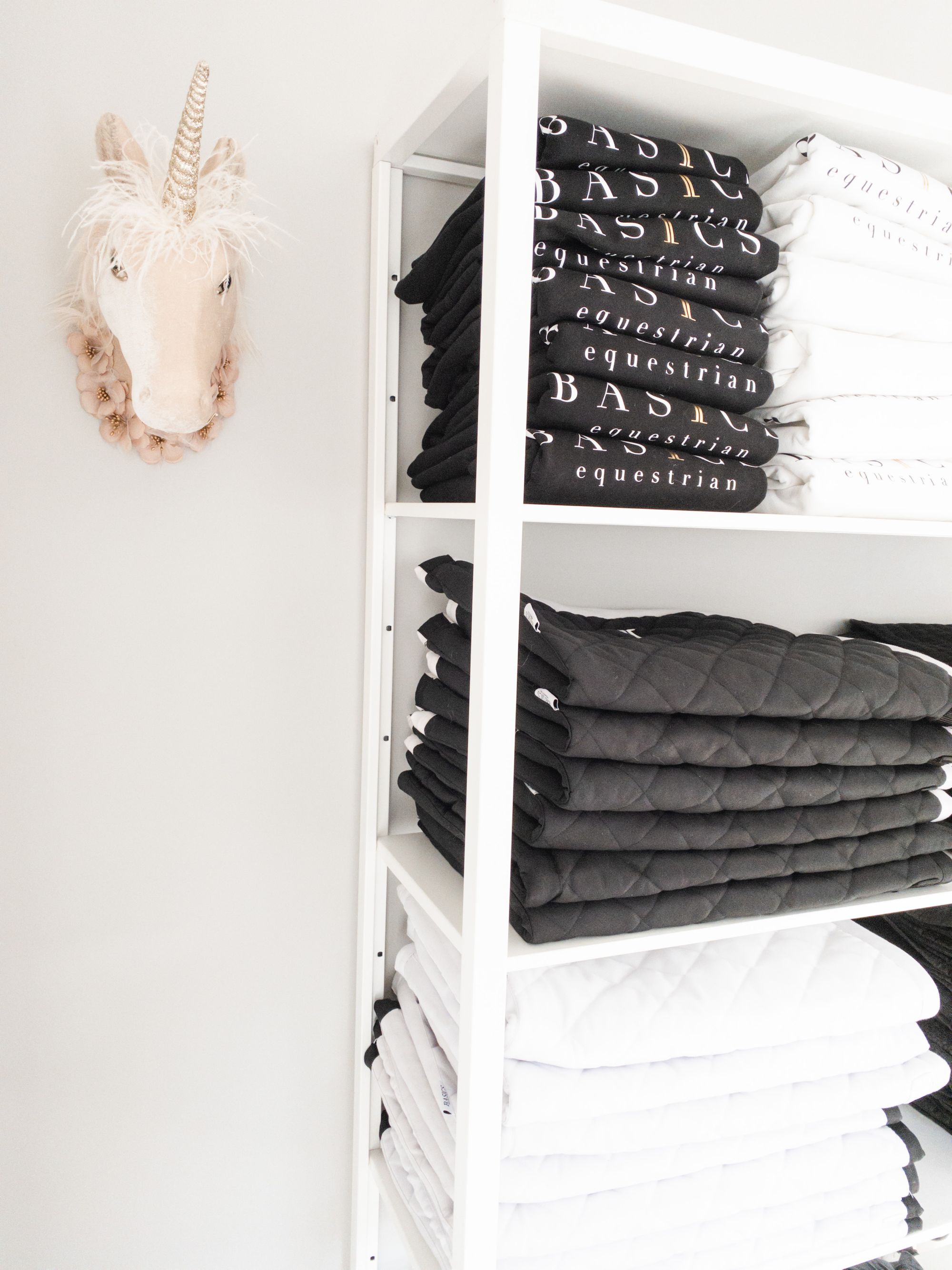 When she was starting her business, her excitement was suddenly matched with frustration. The pandemic was happening and manufacturing became tricky.
"BASICS launched in September 2020 even though our original launch date was June 2020! When COVID impacted the entire world in March of 2020, everything literally shut down overnight. Dealing with manufacturing delays and a logistical nightmare getting my first order of products (thanks to vessel delays, port strikes, and a train derailment!) has been my biggest challenge. When things go wrong that are out of your hands. it is extremely frustrating, but you need to learn to enjoy the ebbs and flows!"
Caroline believes that it is important to find your purpose as she shares her advice to those who want to start their own business:
"I believe you need to really understand your WHY. I started BASICS because I have an absolute passion for horses and I saw a gap in the market that needed to be filled. Once you have decided that you do want to start your own brand focus on the small steps you can make each day to inch yourself closer to your bigger goal. Enjoy all of the small wins along the way and trust in the process!"
Earning from something that you love doing will never feel like a job and it's a blessing that Caroline enjoys. This has been her inspiration to continue her business despite the struggles.
"My original inspiration came from a drive I felt to create a life for myself that would allow me to wake up and feel genuine joy and enthusiasm for my work! I don't even like to use the word 'work' because BASICS is so much more than a 'job' for me - I couldn't imagine myself doing anything else. Growing up, I often heard that you can't make a living doing something you love, but I wholeheartedly disagree! Now that BASICS is in its first year, I am constantly inspired by our amazing and supportive customers. I want to continue designing products that they will love!"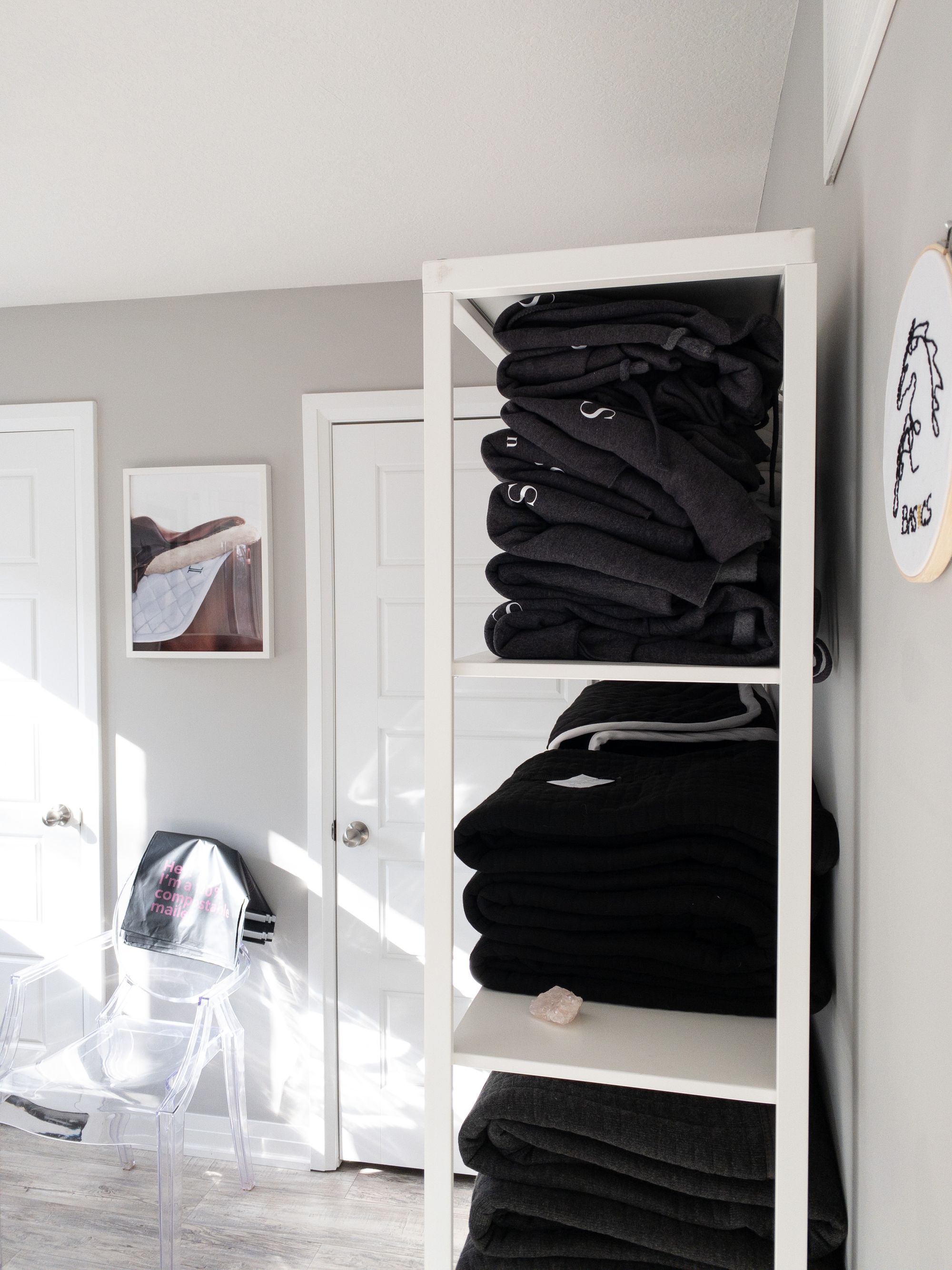 Quick Q&A!
What do you like best about what you do?
"I absolutely LOVE getting to connect with customers on social media. Seeing photos of BASICS products on our customer's horses and watching their riding journey brings me so much joy. I also LOVE the entire creative process of designing horsewear. It is such an exhilarating feeling to see an idea turn into reality and to watch other equestrians riding in my horsewear or brandwear."
How are your services different from your competitors?
"At BASICS Equestrian, we continue to work on building a community around our brand so that customers feel connected to what they are purchasing. We are committed to providing affordable horsewear and size-inclusive equestrian wear that is traditionally difficult to find in our sport. BASICS horsewear sets itself apart from competitors because of our uncomplicated designs, neutral colour palette, and attention to detail!"
What's your best customer story?
"The customer story that always sticks out in my mind is my first ever customer! During the summer BASICS attends local horse shows and at our very first show, a customer came to our tent in the morning and expressed how excited she was to finally see the brand in person! The issue was that my actual horsewear products had still not arrived, due to significant delays caused by the pandemic, so all I had was a limited quantity of brandwear (crewnecks, t-shirts, cropped hoodies, hats). The customer purchased one of absolutely everything even though we did not have her correct size in some of the items! I will always remember this moment because I was so grateful to have my first real customer and her enthusiasm for BASICS gave me a huge confidence boost!"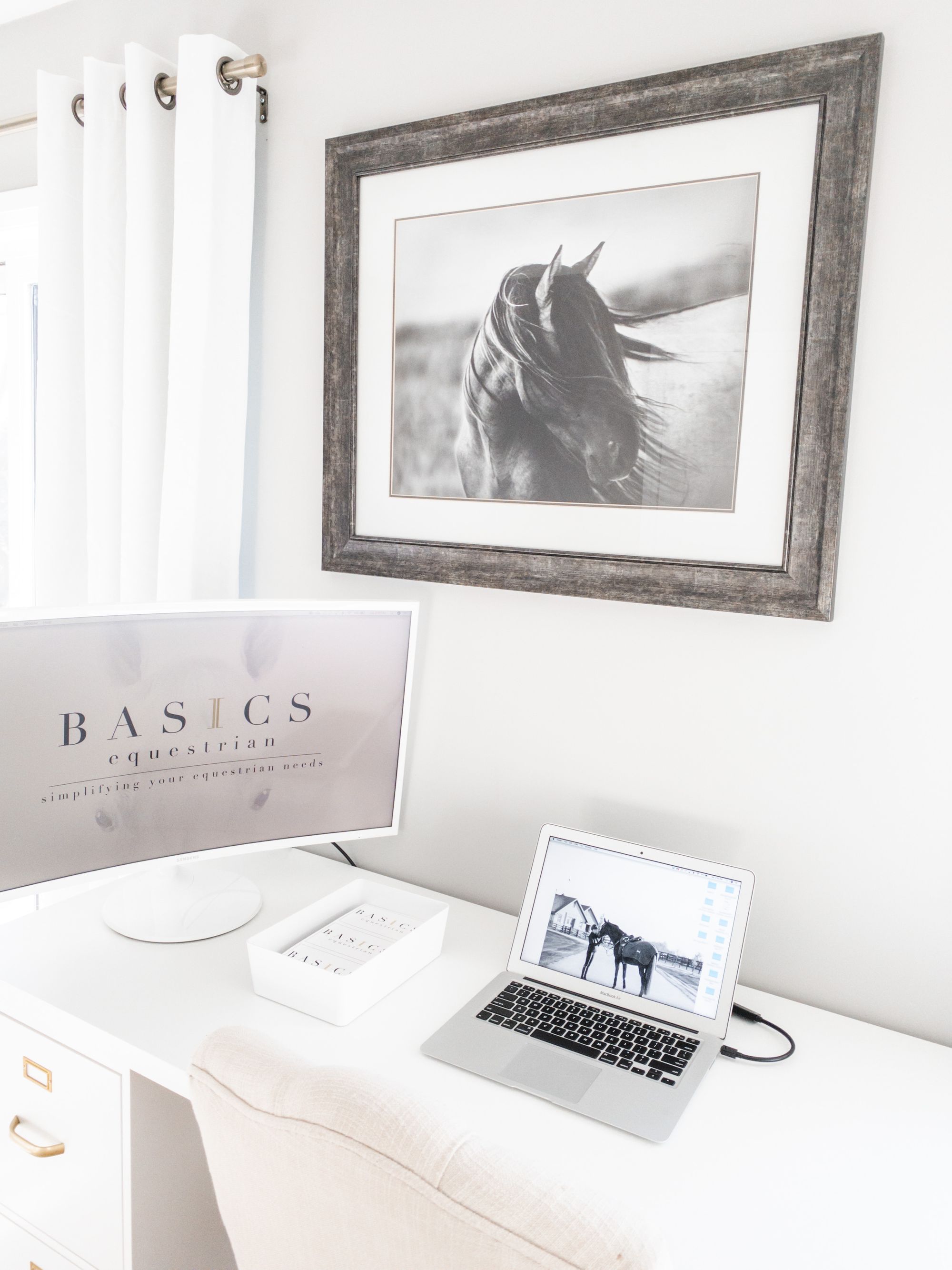 Caroline is very mindful with what she purchases and creates with her business. She cares for the environment and opts for things that will help her brand become sustainable.
"Sustainability means designing and manufacturing products that are going to last. A lot of times, the word affordable is associated with fast fashion, and we want to change that. As a company, we are also very cognizant of purchasing quality items that will last us a long time. We were so excited to stumble upon noissue when we were sourcing packaging because it is such a simple way to help our customers feel good about helping the environment."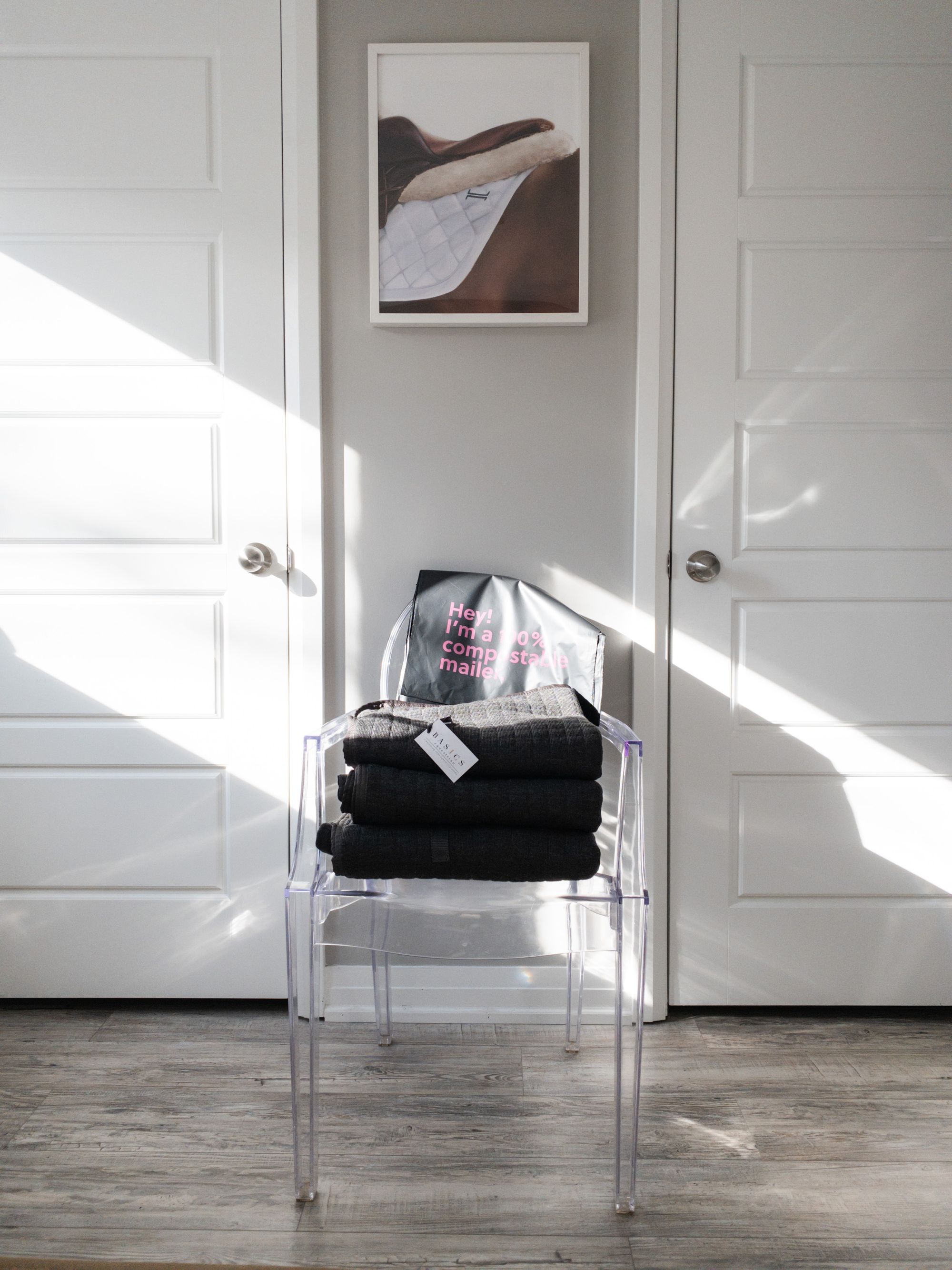 She believes in the significance in taking care of the environment and wanted to give a positive impact. They wanted to protect what they love (the planet) by using recyclable and compostable packaging materials.
"Being aware of our environmental footprint is incredibly important, and it is reassuring to see so many businesses, big and small, doing their part to make a positive impact. Currently, all of our orders are packed using noissue compostable mailers along with noissue custom stickers! When we attend horse shows we also use noissue stickers on our recyclable paper bags to make sure that all of our packaging can be sustainably recycled or composted. We are committed to working towards sourcing manufacturers who also value our commitment to lowering their environmental footprint!"
She knows that branding and packaging are important aspects that go into marketing and consequently chose custom packaging.
"The first thing a customer sees when their order arrives is the packaging! It is important for packaging to reflect your brand because it demonstrates to your customer that no part of the shopping experience has been overlooked. Since we are a startup company we use the noissue branded mailers and we are so fortunate that they go beautifully with the BASICS brand! The clean and simple font along with the classic black packaging is a perfect fit. We also love that we can customize the mailer with a sticker so that customers immediately recognize that their BASICS order has arrived!"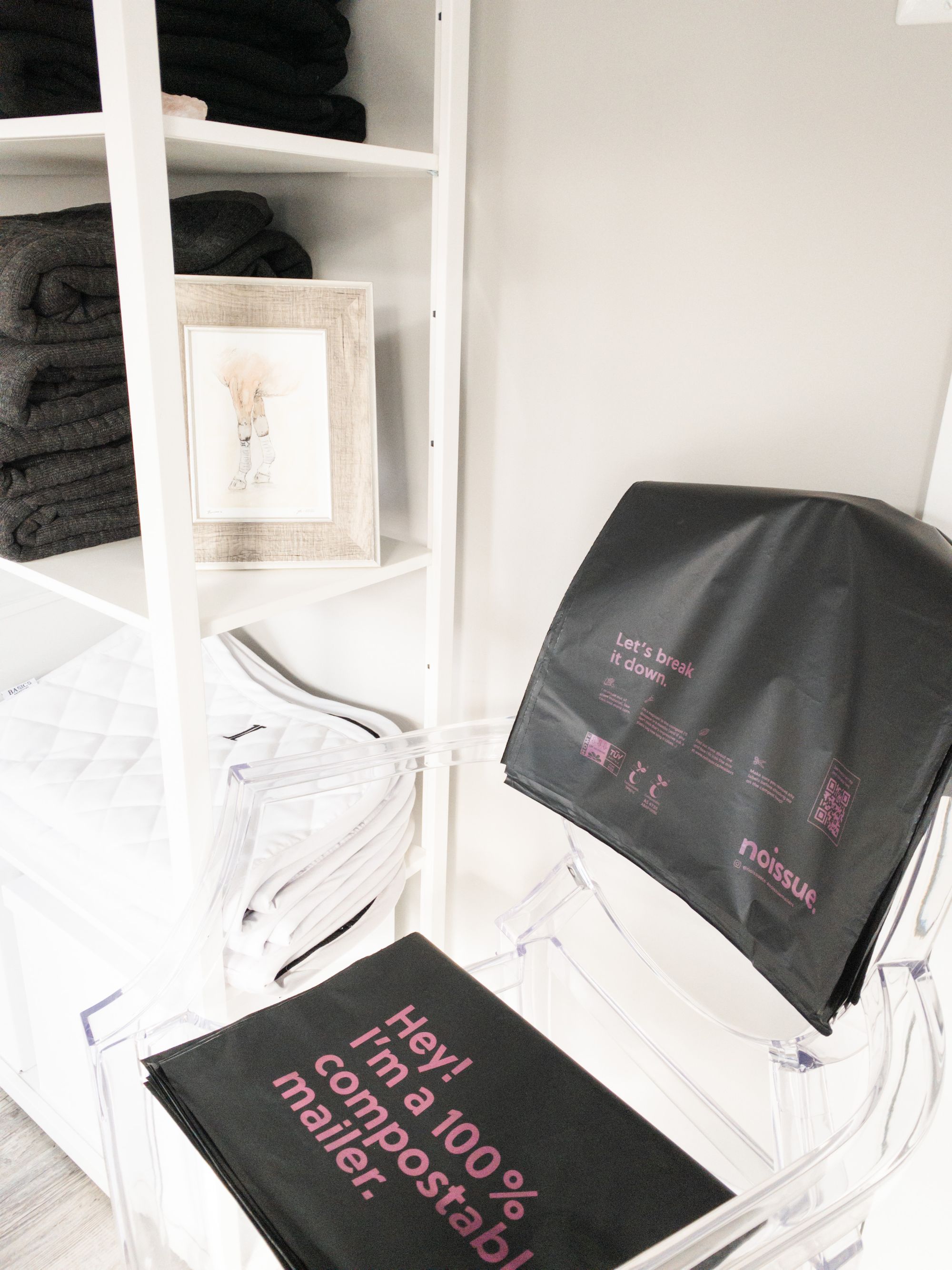 "We LOVE noissue! It was such an easy and natural choice for me because I was immediately drawn to noissue's mission, branding, customizable options, and killer customer service! From start to finish the design process has been easy. When I originally had questions about the mailers and stickers someone was always ready to quickly respond and I loved getting my noissue samples before my first purchase. The fact that you can also select where your tree gets planted once you place an order is a huge bonus, making the entire experience feel very personal!"
Basic Equestrian fun fact:
If your brand were an animal, what would it be and why?
"A horse, OBVIOUSLY! To me, horses are a symbol of freedom, beauty, grace, and elegance - who wouldn't want to be associated with such magical qualities!"
---
Find more of Basic Equestrian here:
Website: www.basicsequestrian.com
Instagram: @basicequestrian
Like this story? Tell us yours! Share your brand story and love for your custom packaging and get a chance to be featured on the wrap! If you're a noissue customer and are interested, you can join the Eco-Packaging Alliance by clicking here and answering a few questions here.

Questions? Email us at ecoalliance@noissue.co.