Each month, we invite our Creative Community to stretch their design muscles and take part in a #noissuechallenge branding challenge. These challenges are held to promote creativity, exposure and collaboration within our community. Our monthly challenges offer exciting prizes as well as a plethora of resources for the designers to fully unleash their artistry!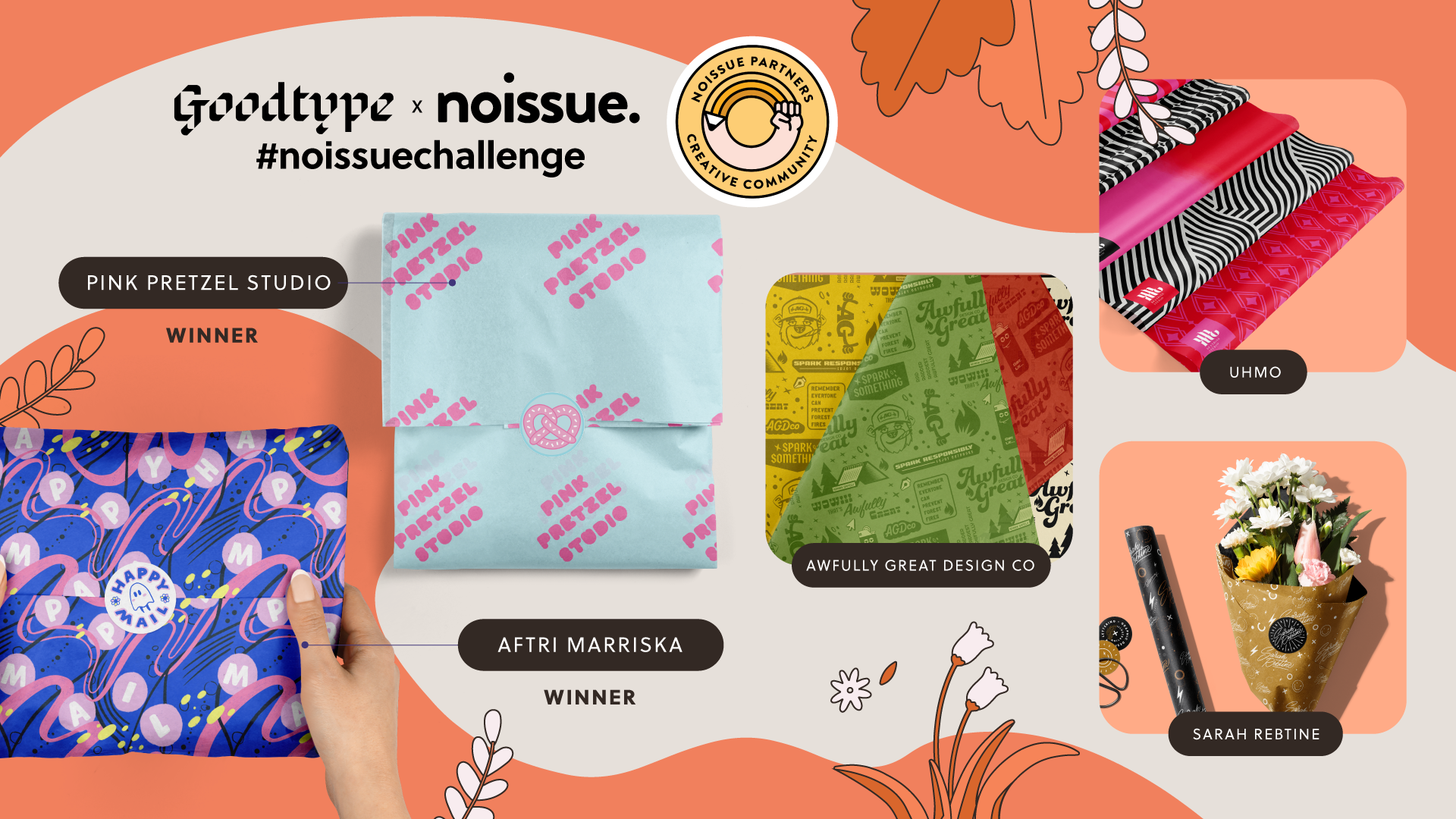 In April, we partnered with our awesome friends at Goodtype to bring a super special #noissuechallenge! GoodType is a community of connections for fellow creatives to access useful resources and support in their journey. Their mission is to help artists pursue their passions and take the fear out of business. Two lucky winners were crowned and received a $250 noissue voucher AND free access to GoodType's Tip Top Type e-course!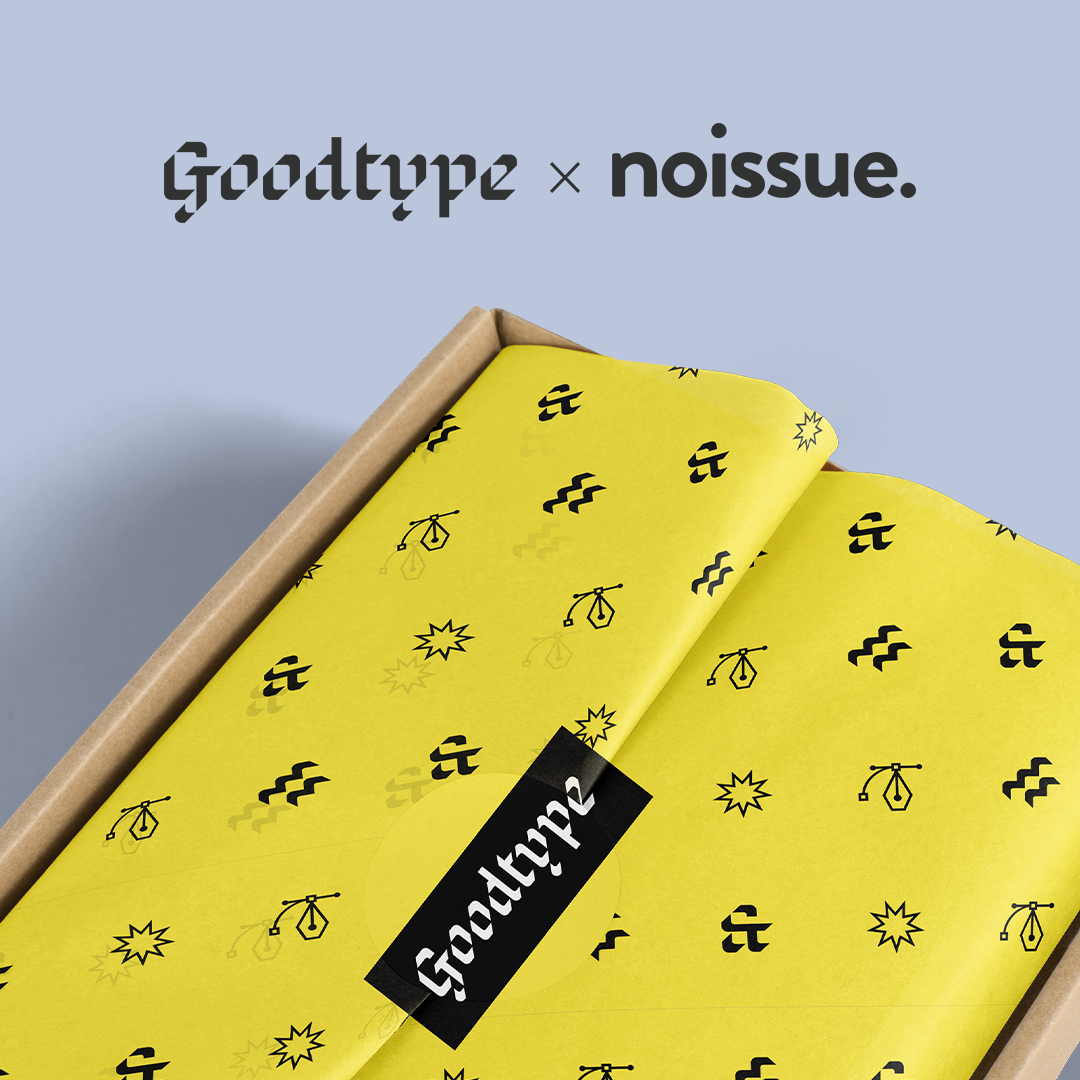 What is Tip Top Type?
Tip Top Type is a GoodType's e-course designed to transform your lettering from good to great. Headed by Katie Johnson, it features top tips, tricks, and perspectives on lettering that can give your skills a HUGE boost.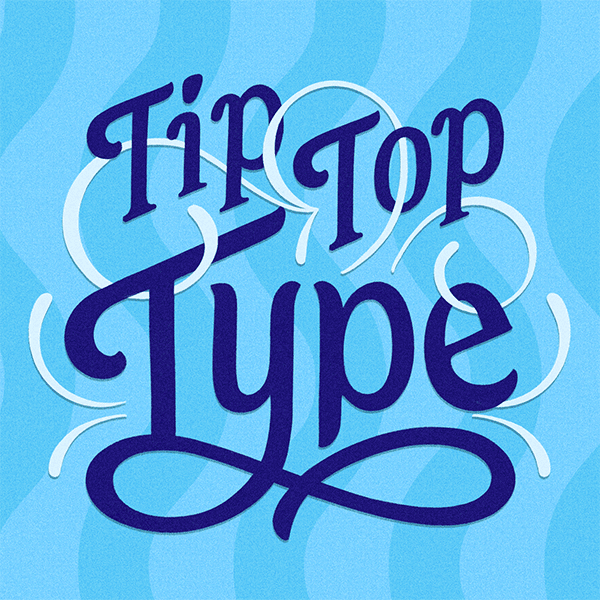 Last month's challenge was all about YOU! We asked our remarkable noissue Creatives to showcase their own personal branding with the use of our noissue tissue mock-ups combined with inspiration from the amazing Goodtype community to let the world know what their business is all about.
Feast your eyes on some of the incredible entries submitted below 🪄
🏆 Presenting our 1st April #noissuechallenge Winner:
Pink Pretzel Studios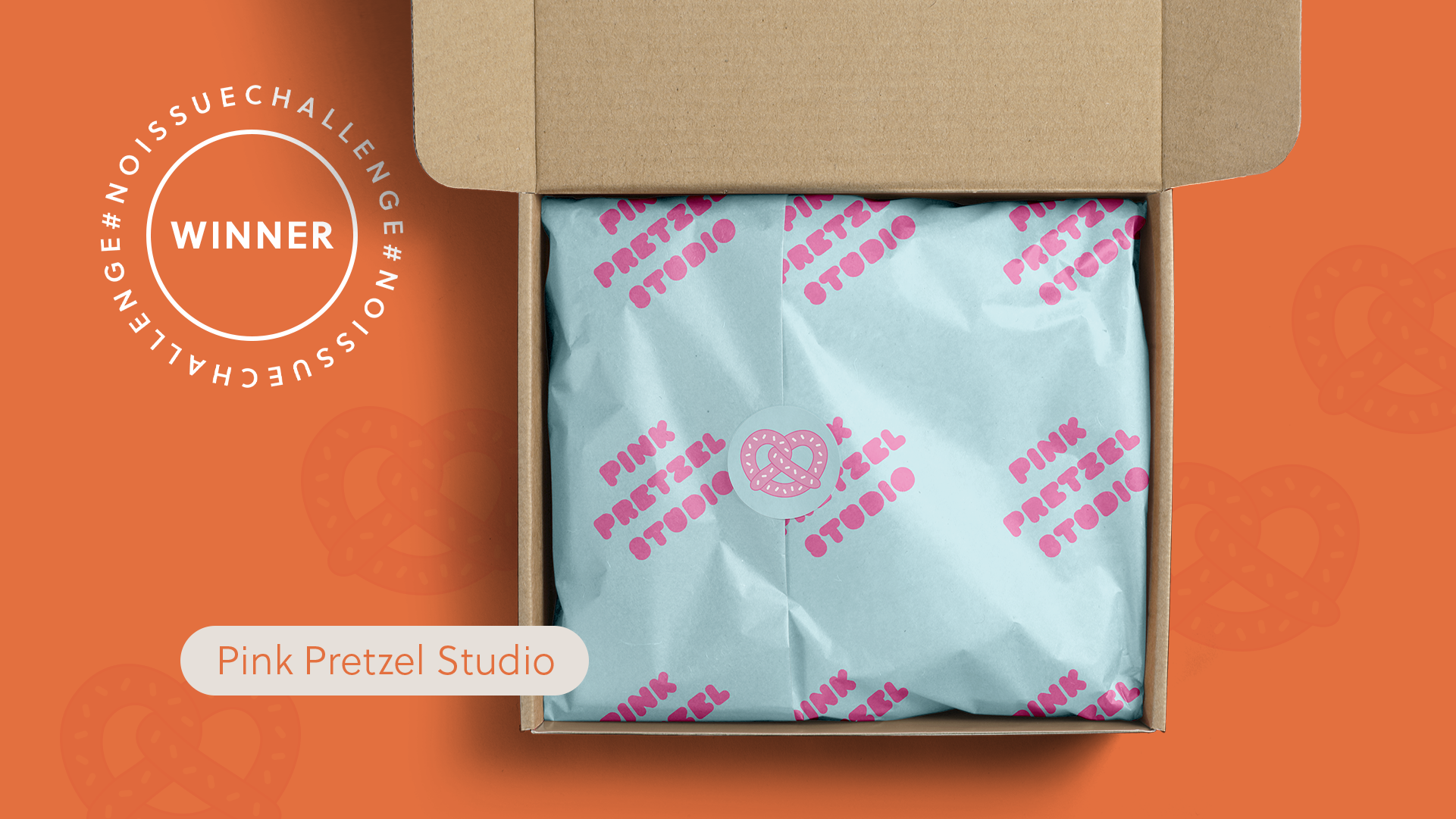 Lynelle is an Australian creative based in the sunny area of Brisbane. She is currently studying a Bachelor of Communication Design at Billy Blue College of Design and plans to open a shop in the future selling stickers and prints of her work.
Her winning entry features a beautiful combination of powdery baby blue and punchy pink! The tissue also showcases a repeat print of her logo with an accompanying pretzel sticker to tie everything together. She's hugely inspired by '90s pop culture, video games, anime, and Hello Kitty! Lynelle loves having fun with her work and bringing a playful edge to everything she does. Congratulations on winning our April #noissuechallenge!
🏆 Presenting our 2nd April #noissuechallenge Winner:
Aftri Marriska
Aftri Marriska is an Indonesian lettering artist and illustrator. Her artwork mostly explores shapes, movement, and bold colors. She works on various forms of projects from poster design, stationery, patterns, and murals.
Her winning design was inspired by her 2021 36 Days of Type project, which was her way of organizing chaos in her mind after losing people in the pandemic. Her art expresses that life goes on anyway despite the chaos and it can still be beautiful regardless. Congratulations on winning our April #noissuechallenge!
Awfully Great Design Co.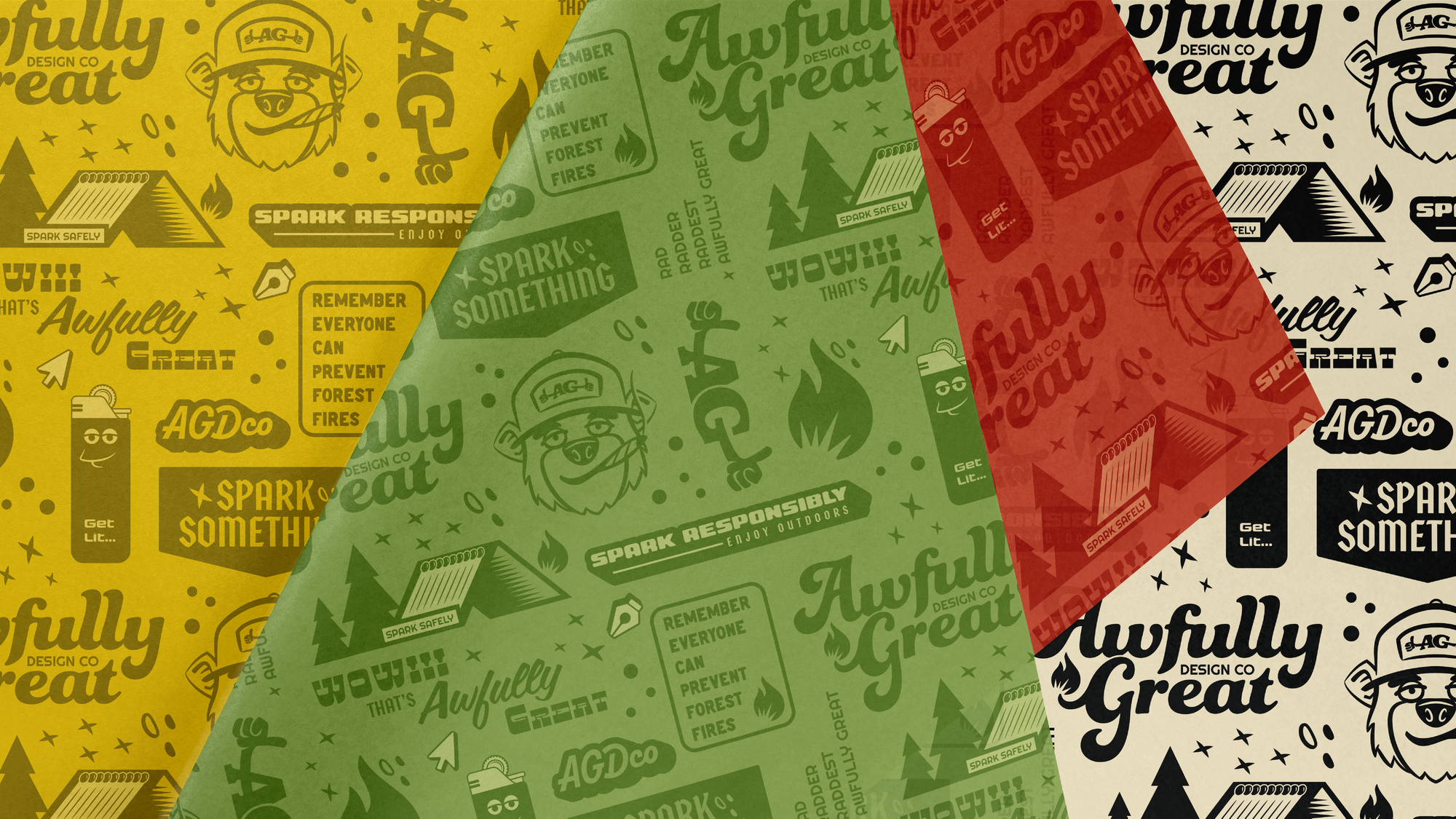 Awfully Great Design Co. is an independent creative studio rooted in Northern California & lead by Tristan Rumery. They craft unique brands that spark something! The camping season in California is just getting started, and sadly so is the fire season. With this in mind, Tristan built a pattern that showcased the brand's "cheeseball" personality, while still reminding all fellow outdoor enthusiasts to please be fire safe this season!
E.magine Designs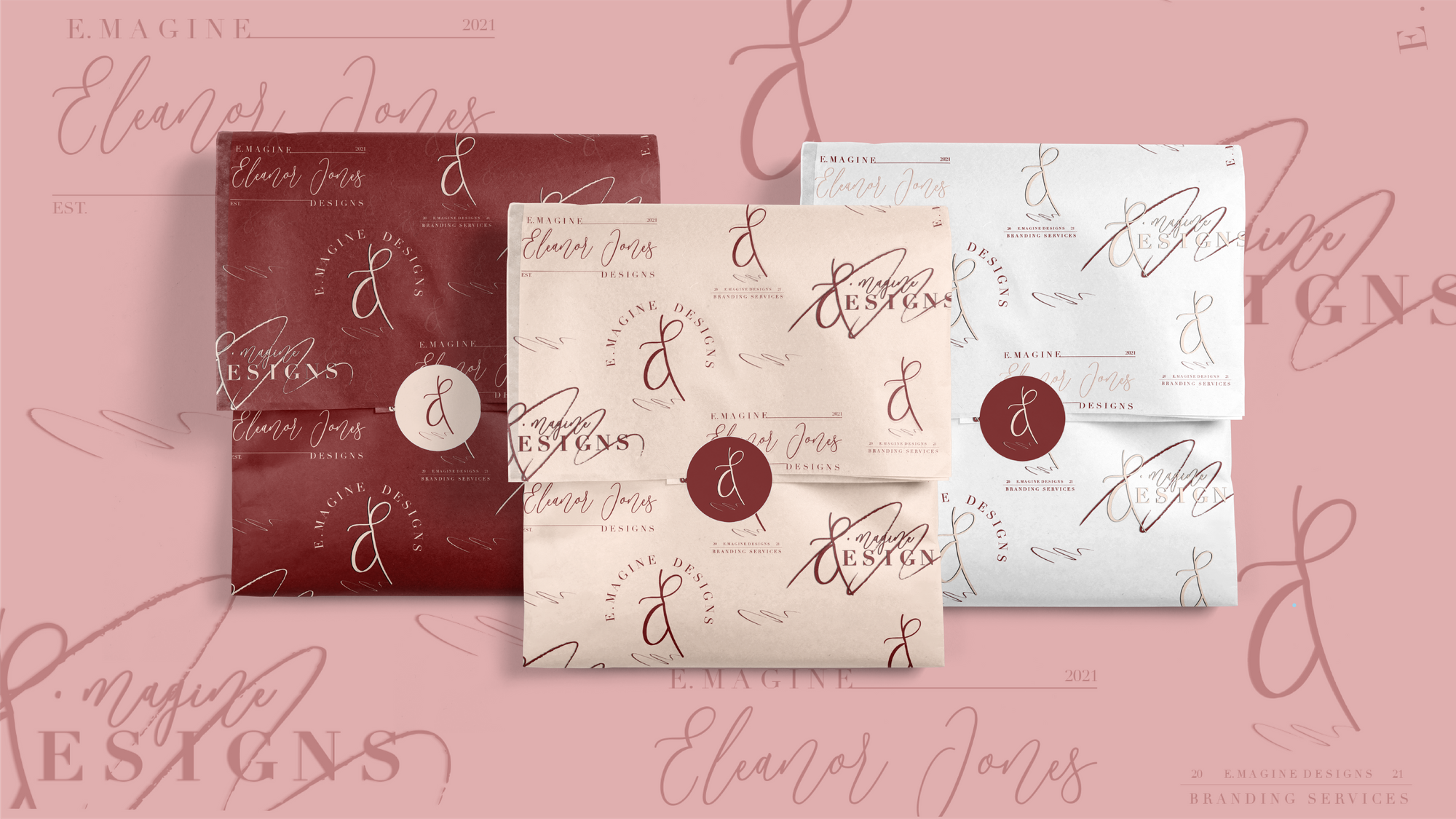 Eleanor Jones specializes in graphic design to create branding for clients, however big or small. She started E.magine Designs when she was at the end of her second year at university. Since then she has come runner-up in design competitions, secured client works, and has worked on various passion projects.
As this particular brief was aimed at designing the business owner's own branding, Eleanor decided to input a variation of her logo (primary, secondary, and sub-mark) to help represent one service she can offer. Her style can be described as quite versatile, as it depends on what the client wants for their brand identity. However, her personality and style have always been timeless, so she wanted to represent this as part of her brand's identity when she started her brand design business.
Heather Mueller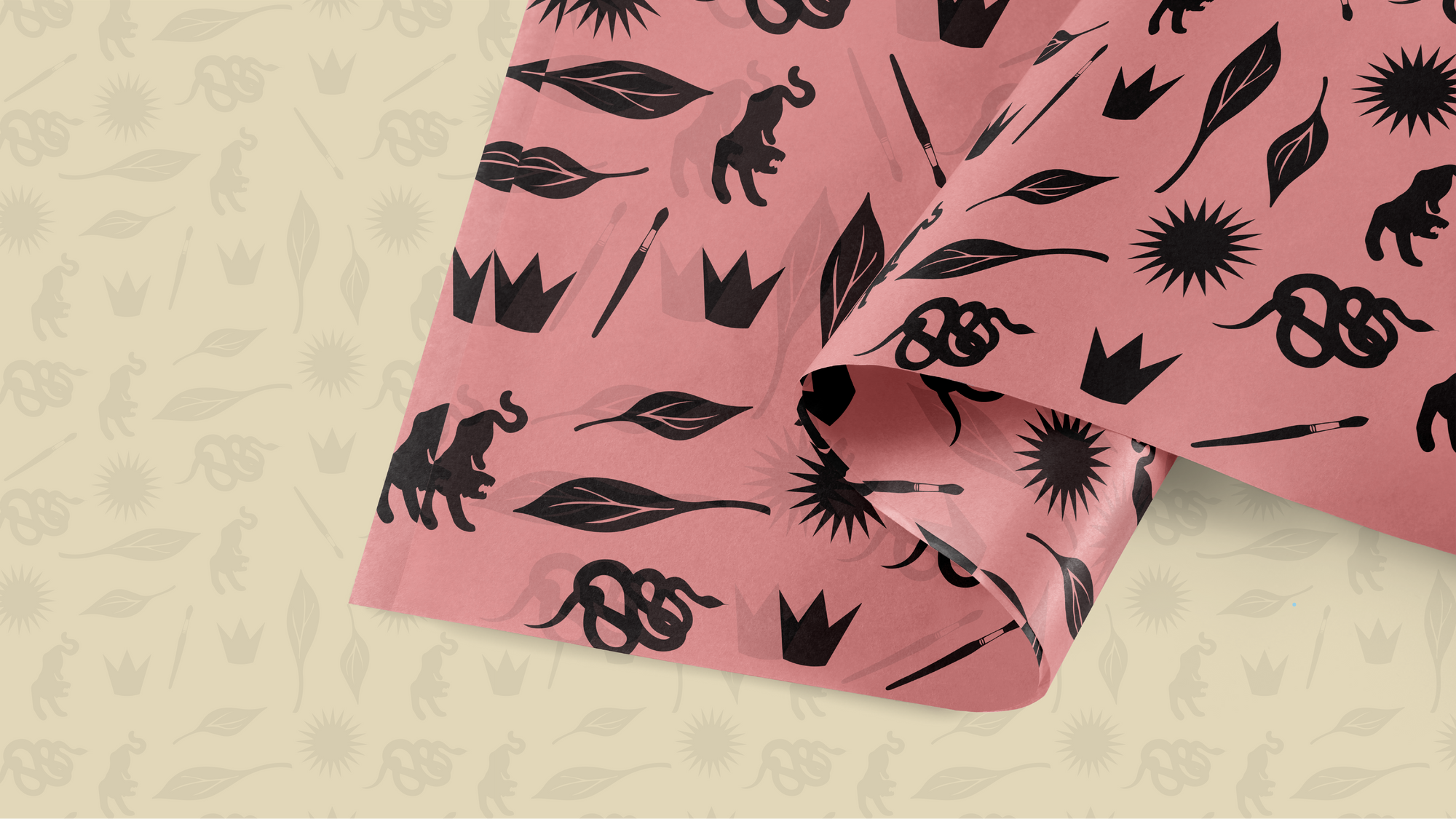 Heather is a Bay Area-based graphic designer with a niche in illustration and hand-lettering. With nature as her biggest inspiration, Heather has a proclivity for doodling botanicals & flowing letterforms, sharing positivity, and empowering women.
The icons featured in her noissue tissue paper are actually common elements that show up in her art often; tigers, snakes, birds, leaves, things from nature, and of course tools for creating art. These elements can be seen scattered throughout her work as well as her website, being an evident part of her branding.
Sarah Rebtine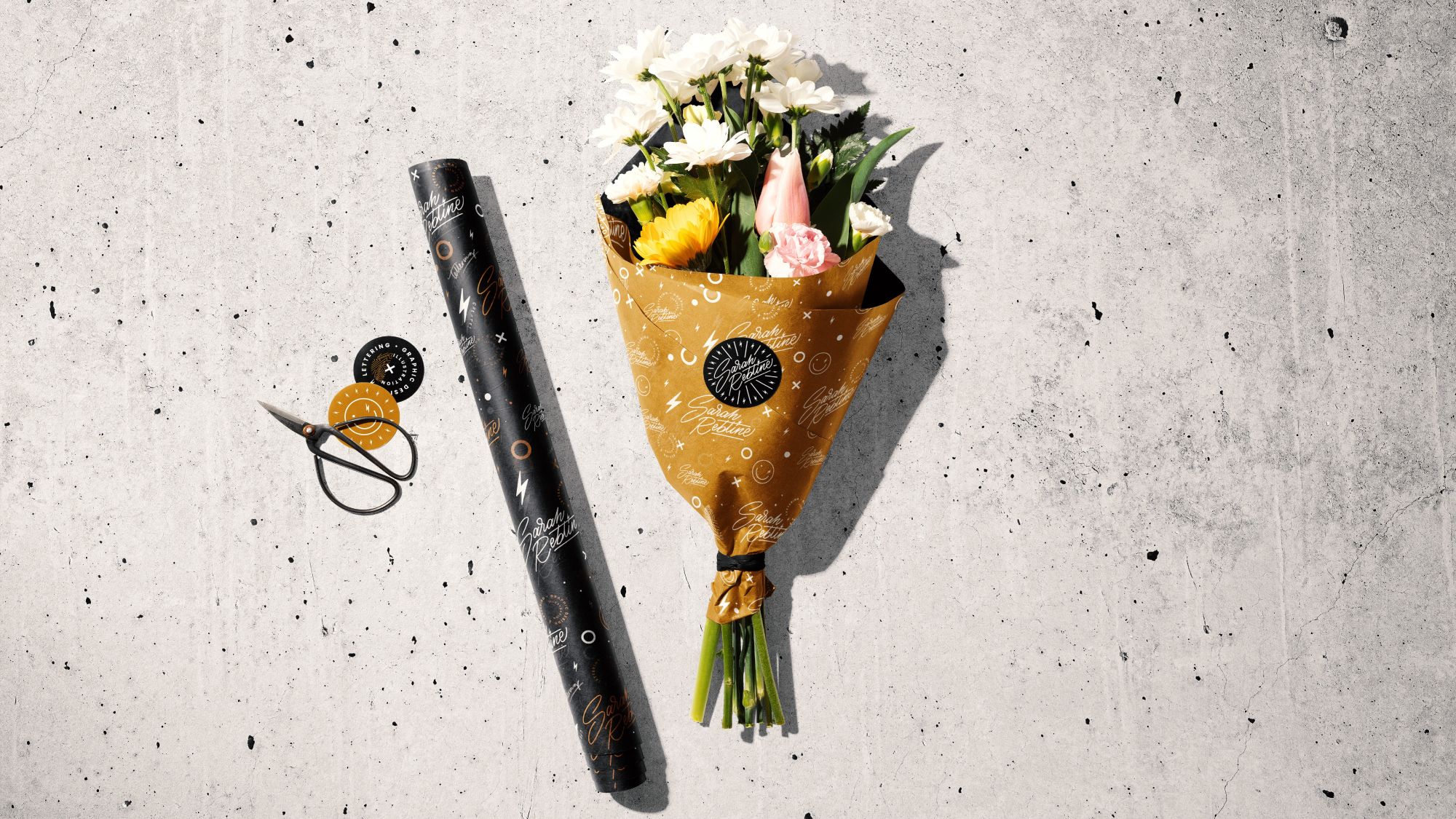 Sarah Rebtine is a 24-year old lettering artist born in the mountains of Switzerland but currently working in Vienna, Austria, where she grew up and now lives with her two beautiful British shorthair cats. Focusing mainly on lettering artworks, illustration, and graphic design she has worked with a variety of clients. She loves creating detailed lettering artworks that draw you in to enjoy every single embellishment and working with texture to make words come alive.
Her entry features a mix of bold and elegant letterings and illustrative elements in her typical personal black and gold-like color palette. Spread throughout the whole design is the lightning bolt symbol, as well as the dot to the i in Rebtine as part of her logo, the winking eye of the smiley face, and the stickers layout. The lightning bolt is not only a representation of a symbol for power, strength, truthfulness, and energy but also for creativity as lightning itself is literally a form of creation.
Nina Vasiljević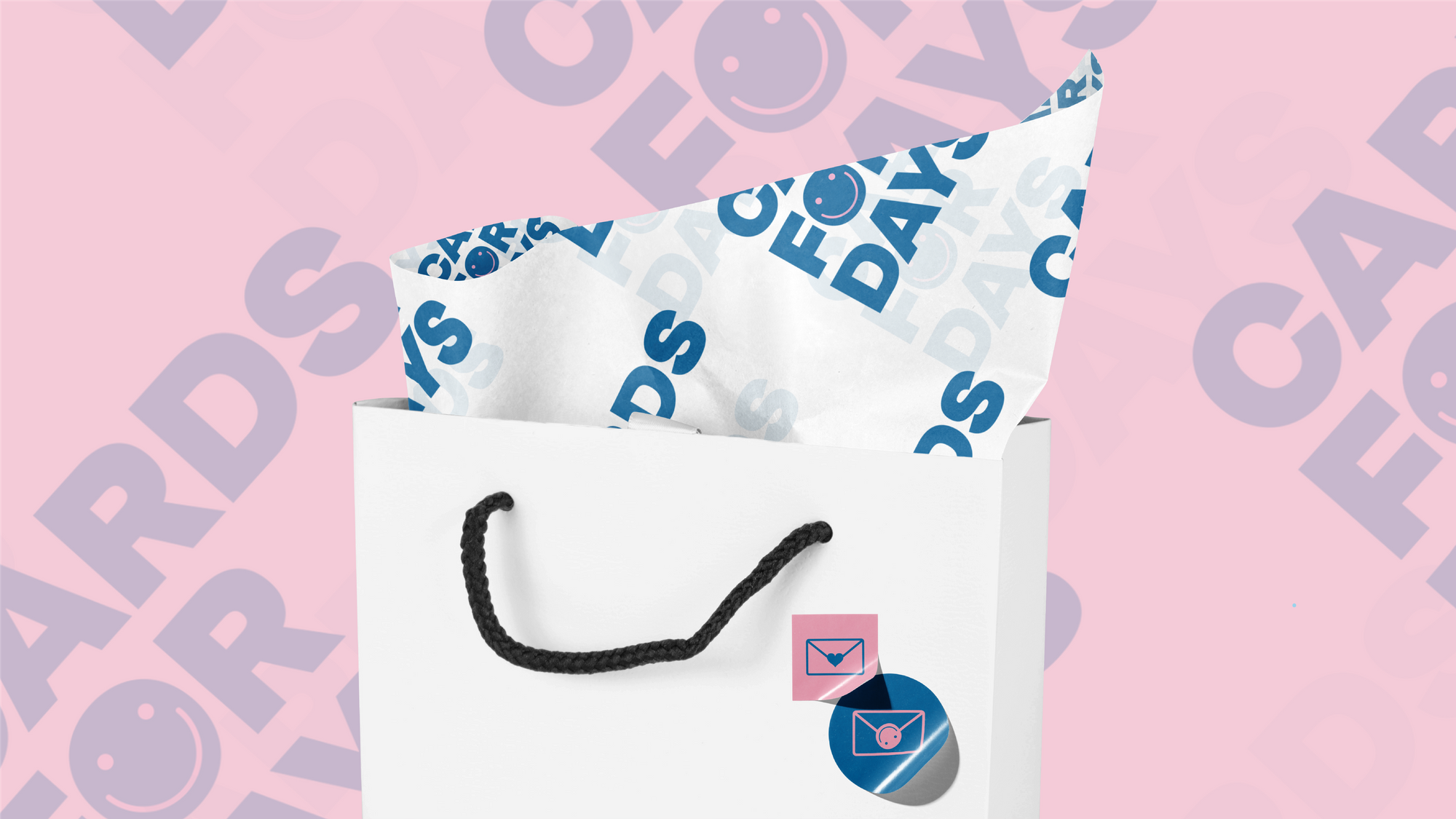 Nina Vasiljević is a graphic designer and lover of typography, branding, stationery, and stickers. Based in Tāmaki Makaurau, New Zealand, Nina is a full-timer at a creative agency, and in her personal practice, she focuses on branding for small businesses and designing greeting cards.
The inspiration behind Nina's challenge entry, Cards for Days, came from her upcoming range of cards. Her tissue design features expressive typography, buzzy colors and the occasional pun, which are at the core of Nina's work. She also created some custom stickers to accompany the branding and to fully tie everything together.
Good Bus Creative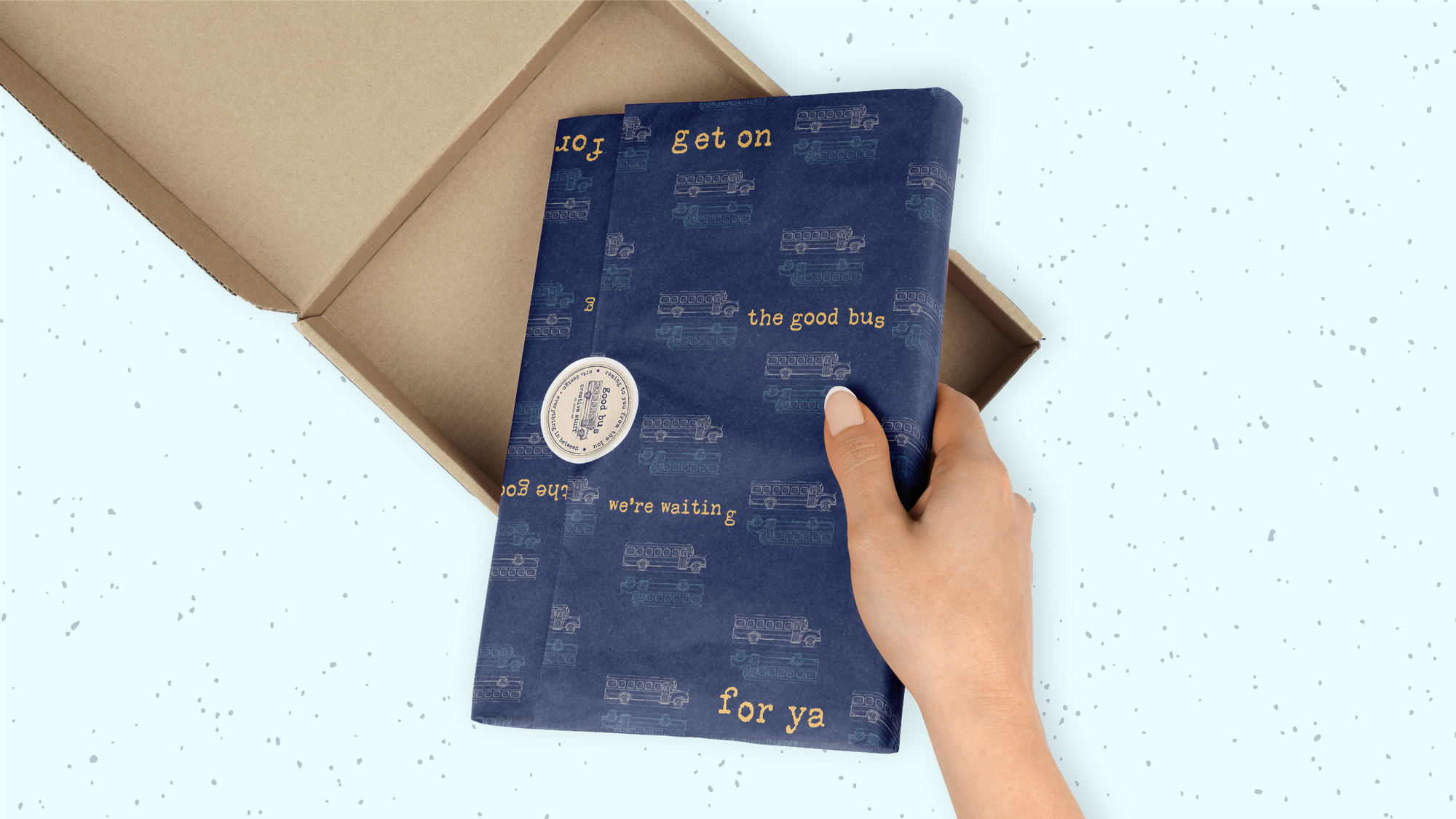 Good Bus Creative is a small but growing creative shop that is newly established in their hometown of St. Louis, MO. Ava started doing design work 5 years ago by accident as she was working the front desk at a small art co-op in St. Paul, MN and the artists there needed help with putting their stuff online and making logos and business cards. As things evolved and her creativity grew, Ava realized how art and design can have a positive impact on the community, on helping small businesses find clarity and direction, and helping the right people find each other.
The special April #noissuechallenge was the perfect opportunity for Ava to sit down and create something for their newly established brand and name. Their intention is to elevate the unconventional, connect all of the wonderful small businesses in our community, and to honor authenticity. Life is short and should be fun and meaningful, that's the good bus. Everyone deserves a seat.
UHMO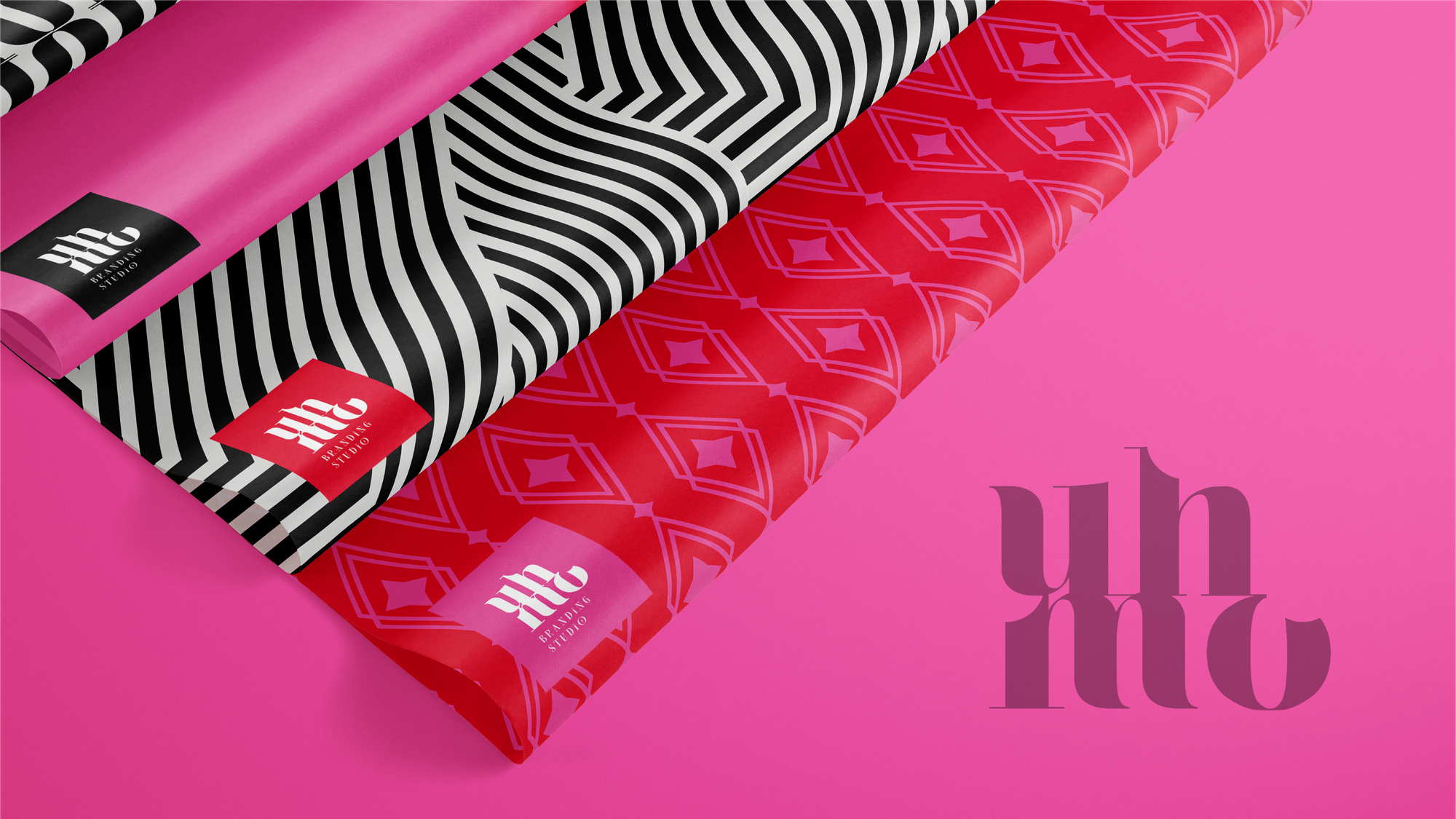 Ever since she was a little girl, all Saskia wanted to do was draw and make some kind of packaging. From that moment on, it became evident to her that she would be working in the line of some kind of branding. Saskia likes to challenge the status quo and always dares to be different from the usual norms in her work. She believes that if you want to stand out from the herd, you have to be unique.
Saskia's inspiration behind her entry was mainly taken from fashion and restaurant branding as they played a huge part throughout her whole design process. Her style is very bold and different—when everybody goes left, she goes right. When everybody chooses neutrals, she goes for the bold colors. Everything is within the borders of the strategy that she has in mind for the branding.
---
Interested in participating in our design challenges? Follow the @noissuecreatives Instagram page for monthly #noissuechallenge announcements, updates and special projects!