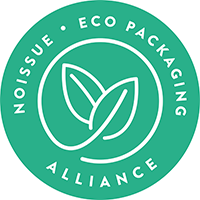 Every artist knows that setting up your own shop to sell products that you designed yourself just hits different. For graphic designer Caitlin, she launched Rotten Flamingos to empower people through her designs, cheering them up and making them laugh during these unprecedented times. Starting as a side hustle with her work pal Kerstin, Caitlin's background in Fashion Business and career as a professional graphic designer helped Rotten Flamingos grow into what it is today. When Caitlin was unfortunately furloughed due to the pandemic, she was able to really get a taste of how it felt running her own small business.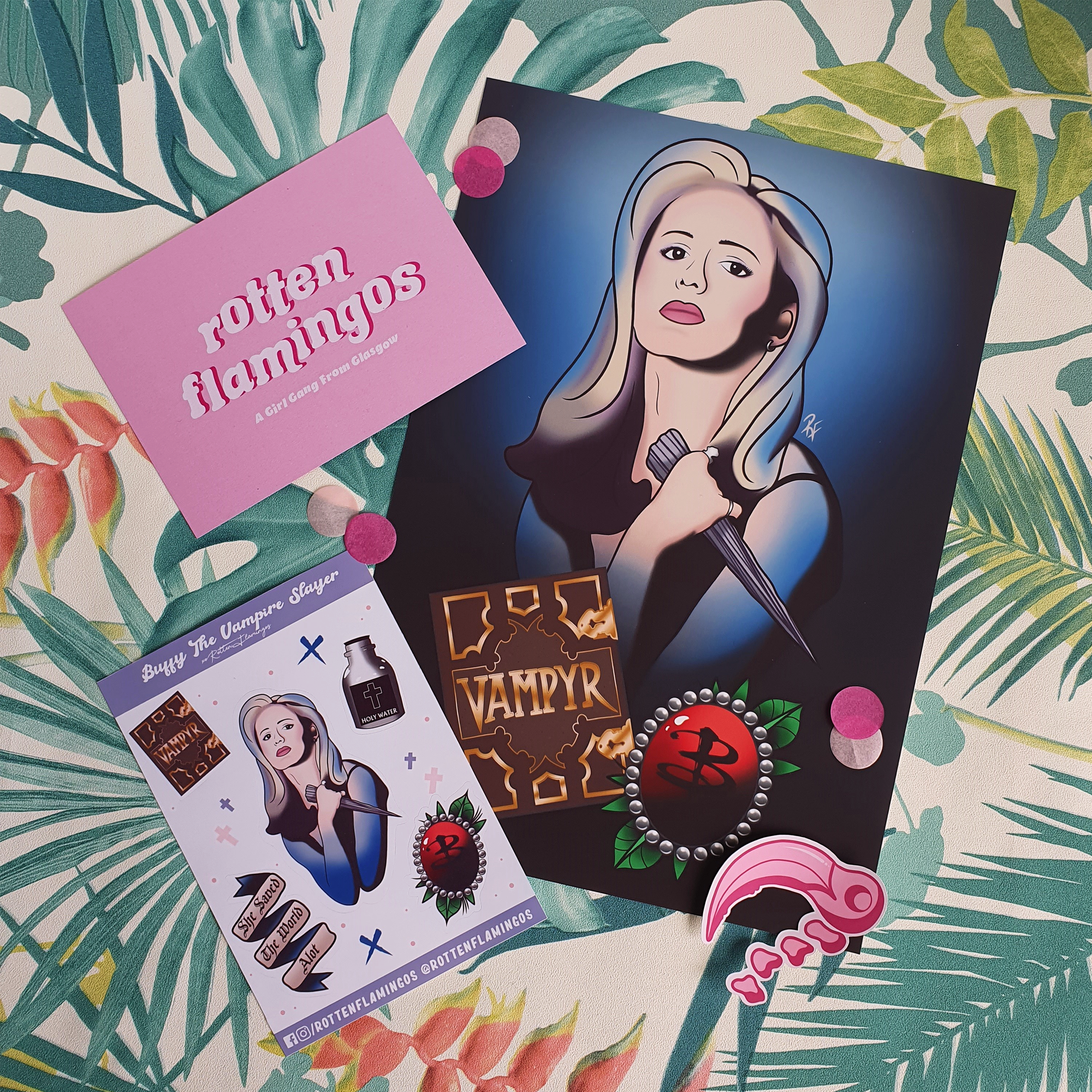 With Kerstin manning social media and marketing and helping Caitlin run the business, Rotten Flamingos became all about cute, creepy designs with a big old slice of pop culture and a dash of sass to round it all up.

"If you're into Halloween, drag queens, tattoo culture, pop culture with a twist of a bright aesthetic, we're absolutely the brand for you."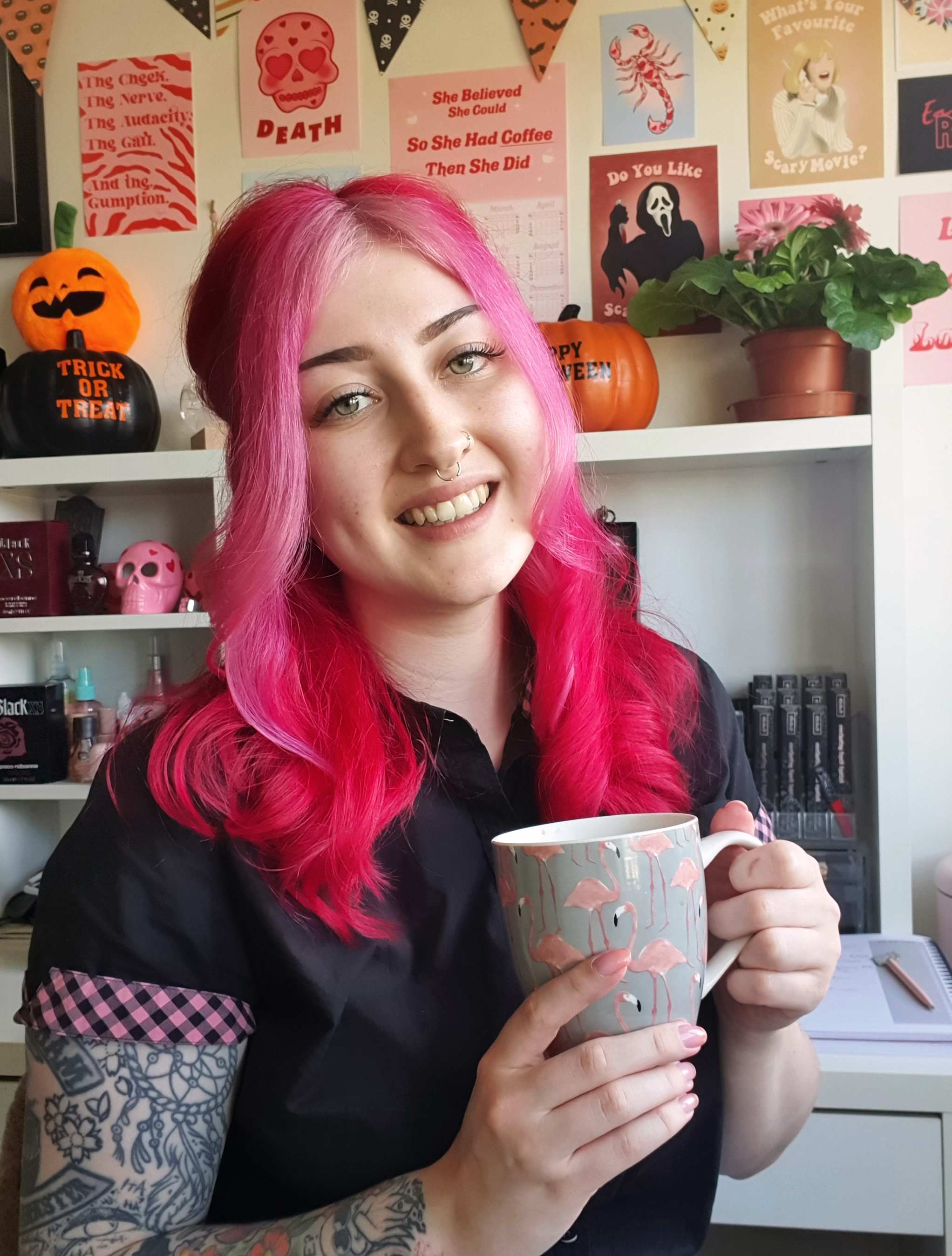 Based in a small town in Scotland, Caitlin has big dreams of sharing her pink, spooky, and sassy universe with the world. The creative has always been into drawing and learning about the fashion industry and business in university, and it really kicked off her interest to start her own brand. It's Rotten Flamingos' mission to create a fun and creative space that keeps things "rotten and original." With Caitlin's passion to empower others through art, she wants to remind people that the future is fierce and "to just be a Queen, no matter who they are."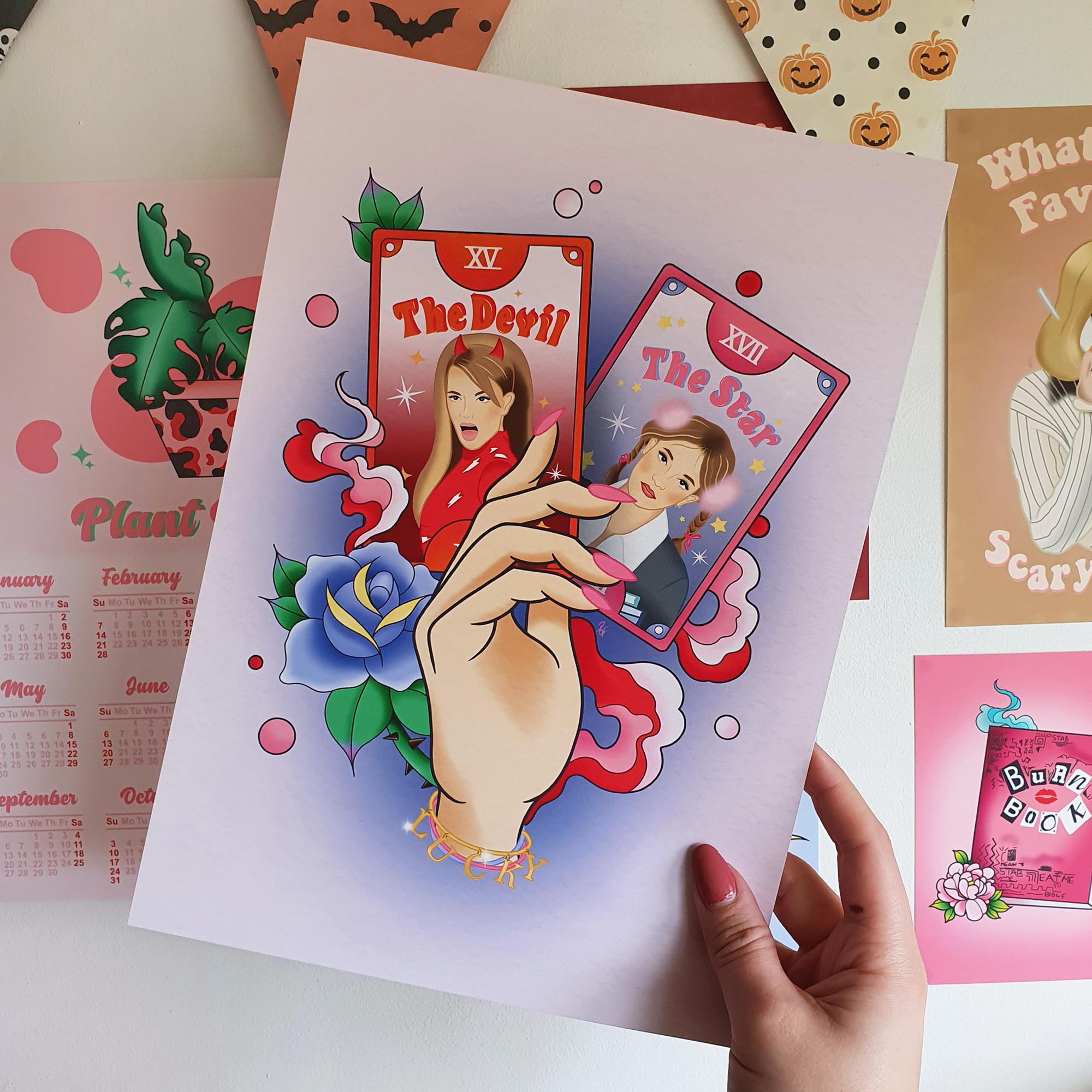 Sustainability means a lot to the brand and Caitlin knows how extremely important it is now more than ever. She always makes the effort to ensure that each product in Rotten Flamingos is earth-friendly or has earth-friendly elements to them. For example, all their packaging is recyclable or biodegradable. It feels good to know that they're making an active effort as a brand to be part of the solution instead of generating more unnecessary waste. Caitlin believed that we've only got one world that has looked after us so it's about time that we return the favor.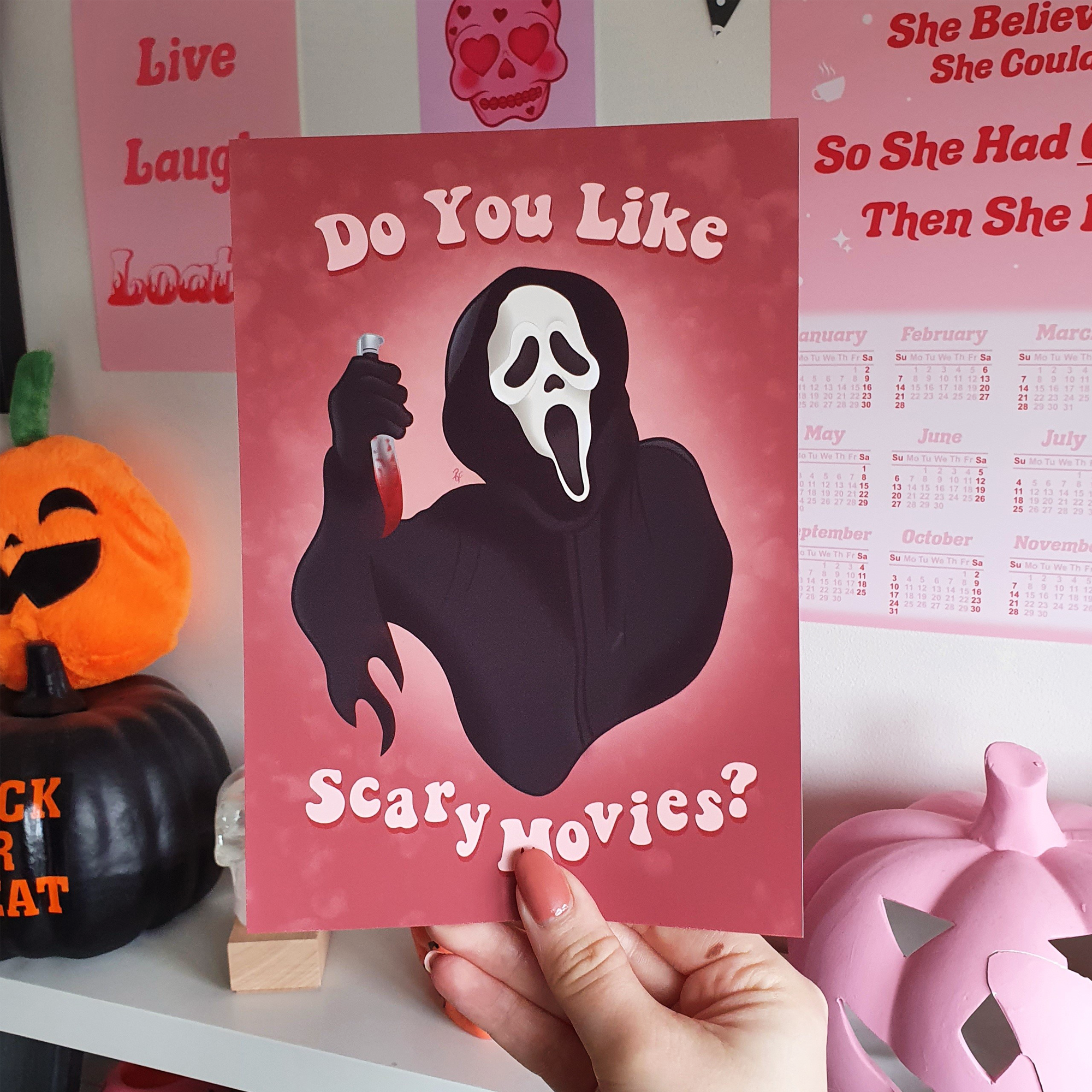 Rotten Flamingos runs their products in small batches or in a print-to-order system so that no ink or stock goes to waste. They highlight all the earth-friendly elements found in their products in their descriptions and Caitlin prepared an Instagram highlight dedicated to their sustainable packaging. She's made it a point to be very upfront about how environmentally friendly Rotten Flamingos is and would like to build on it and see where it could take the brand.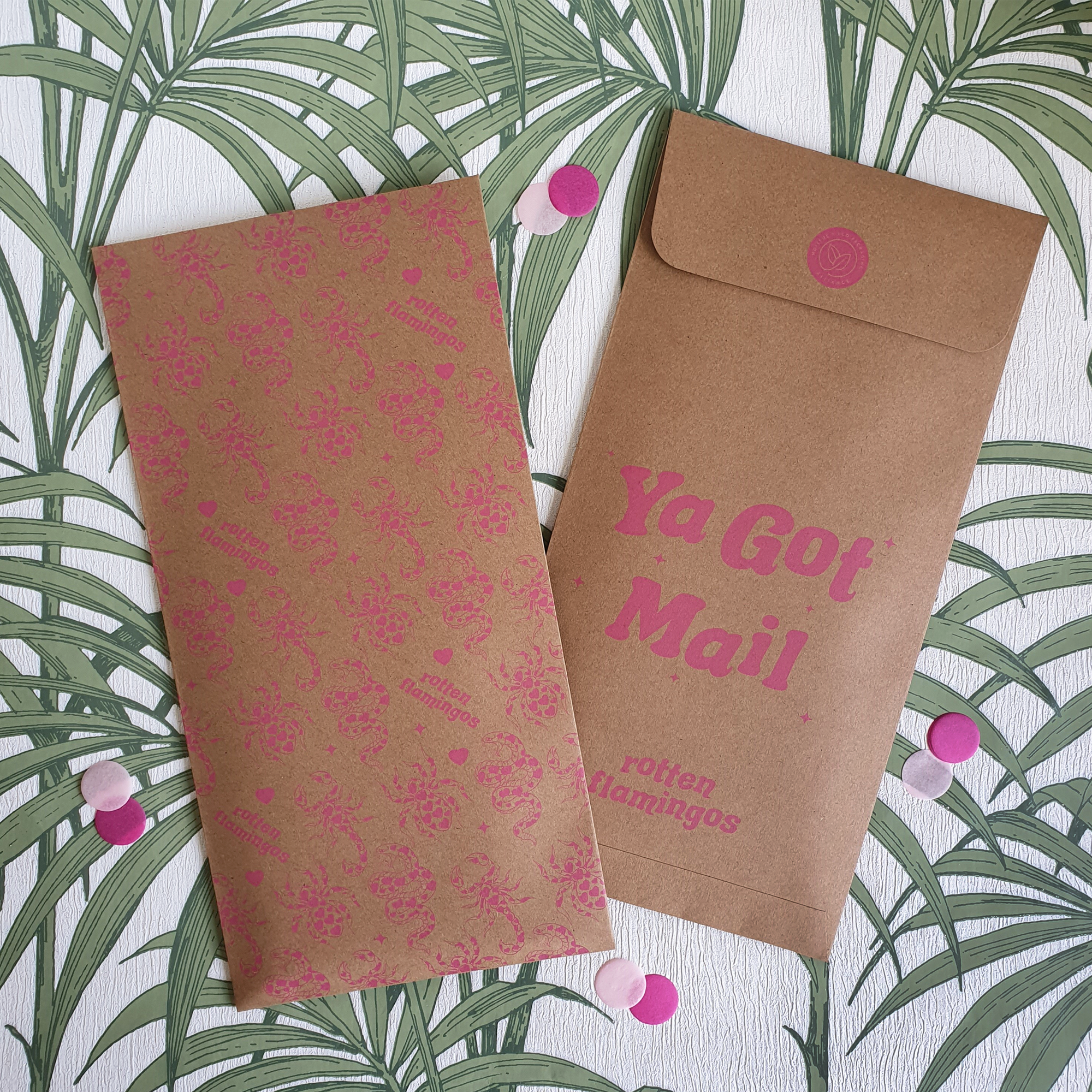 Caitlin admitted that she initially found it difficult and expensive to be a sustainable business. She struggled with finding a good supplier until she heard of noissue after watching other creators! From seeing the fab products to finding out how easy it was to create packaging on the website and copping her own custom Totes, Stamp and Kraft Mailers, Caitlin was hooked.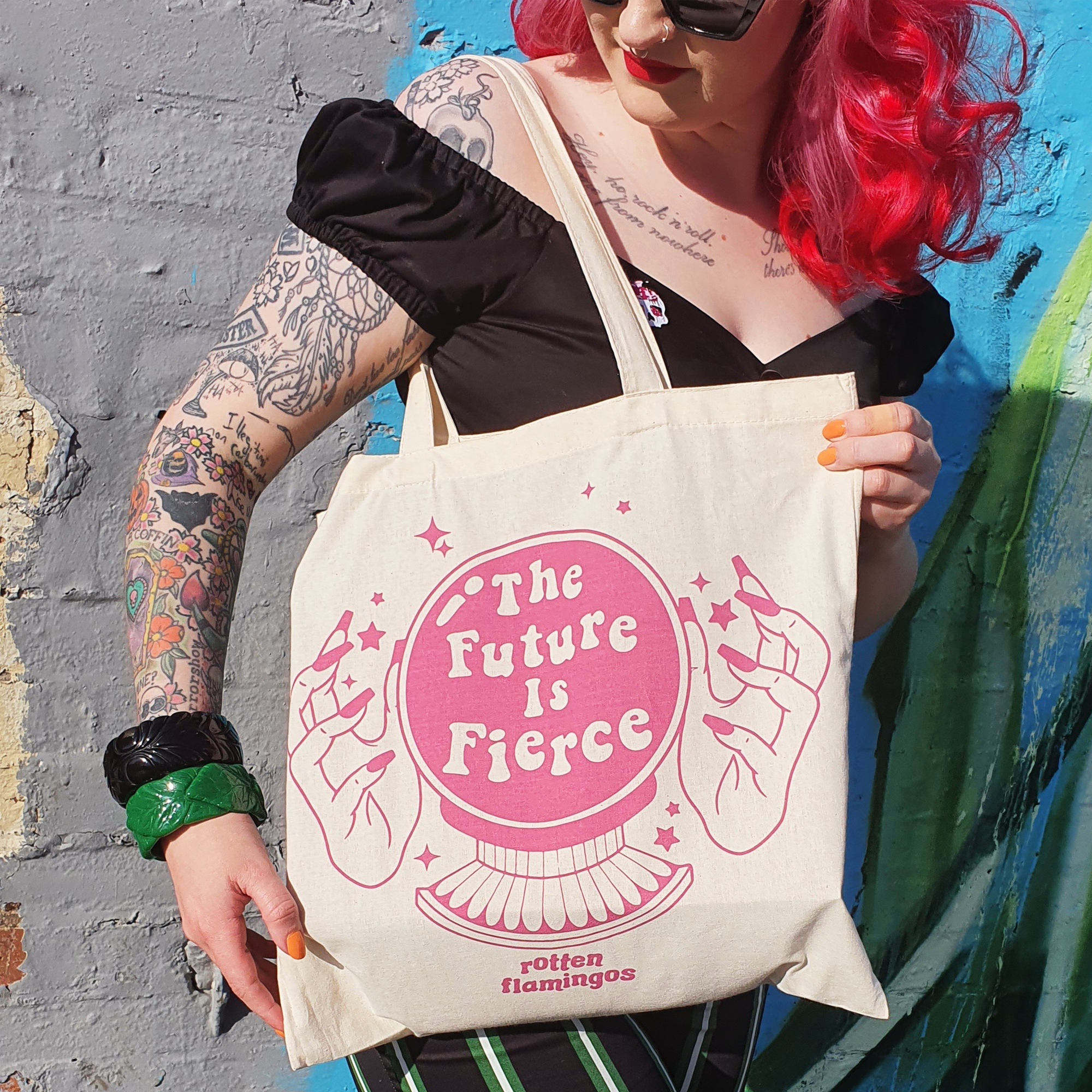 "I really love how down-to-earth noissue is — they understand the design process and they also understand how to not break the bank but still create these amazing sustainable products."
After creating sustainable products with noissue, it was a no-brainer for Caitlin to join the Eco-Alliance! Being a part of a global community of like-minded small businesses, who get to plant trees with each noissue purchase, definitely helped Rotten Flamingos become a more sustainable brand. The passionate entrepreneur saw it as a cool concept that only encouraged her to be more active in her sustainable decisions since she knows that she'll be making a difference.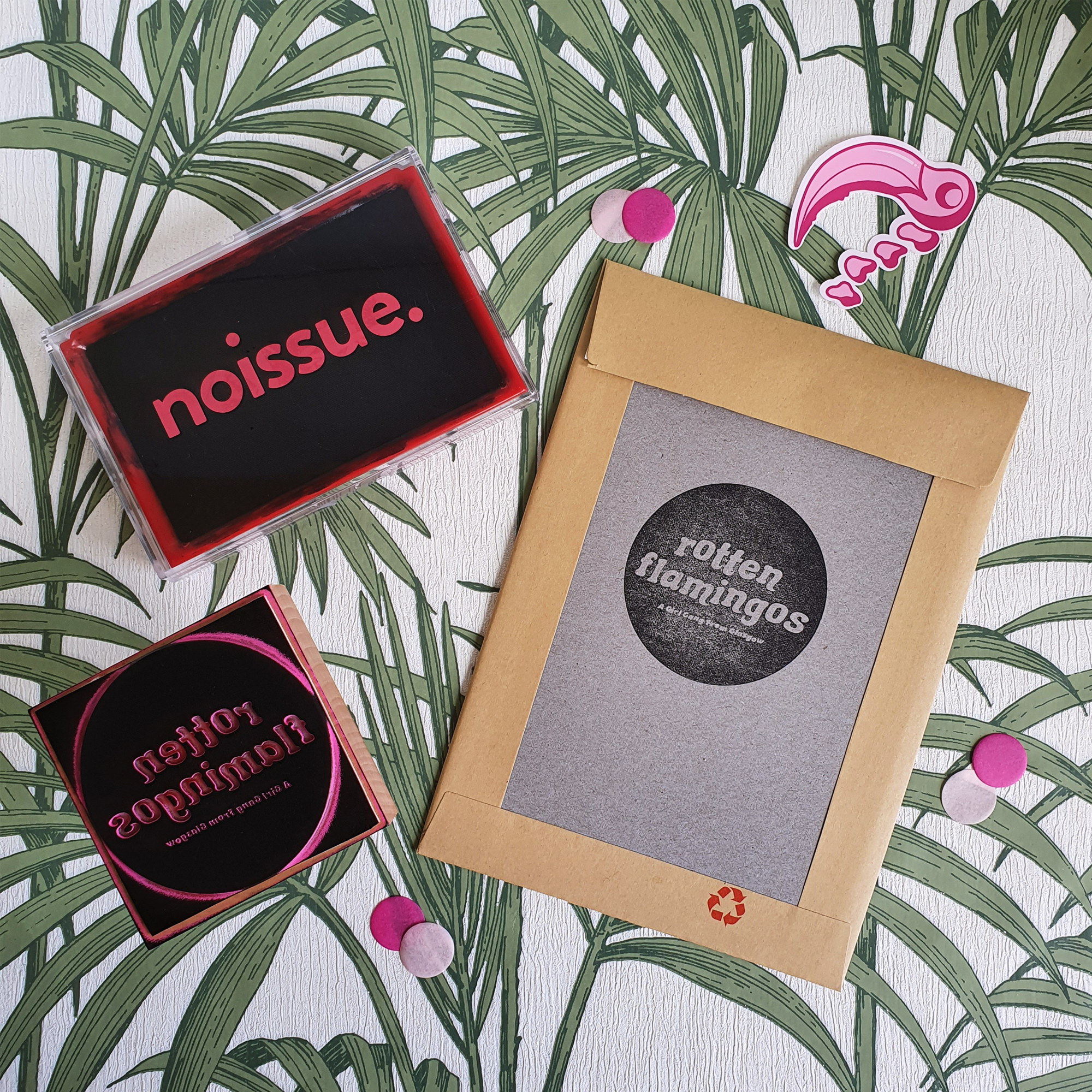 Caitlin likes to think of Rotten Flamingos as a relatable brand with a unique sense of humor, like your favorite drunk aunt who'll always have your back. With her love of building people up through art, Caitlin hopes to brighten someone's room or home office during the pandemic with her recent release of limited-run, feel-good prints. Their brand hashtag #joinourflock nails their overall concept: "we want to invite people under the wings of Rotten Flamingos and to have this little empowered community."

The brand's biggest drop which is also Caitlin's favorite among her products is the Poisoned Heart stationery collection. Inspired by neo-traditional tattoos, Caitlin designed three characters; a scorpion, snake, and spider, all wrapped up in bright colors and hearts. It includes mini prints, a flash sheet print, stickers, a doodle pad, and a weekly planner. It was a lot of work and became stressful at times, but as a designer, there was nothing better than to see all the pieces come to life, from screen to reality.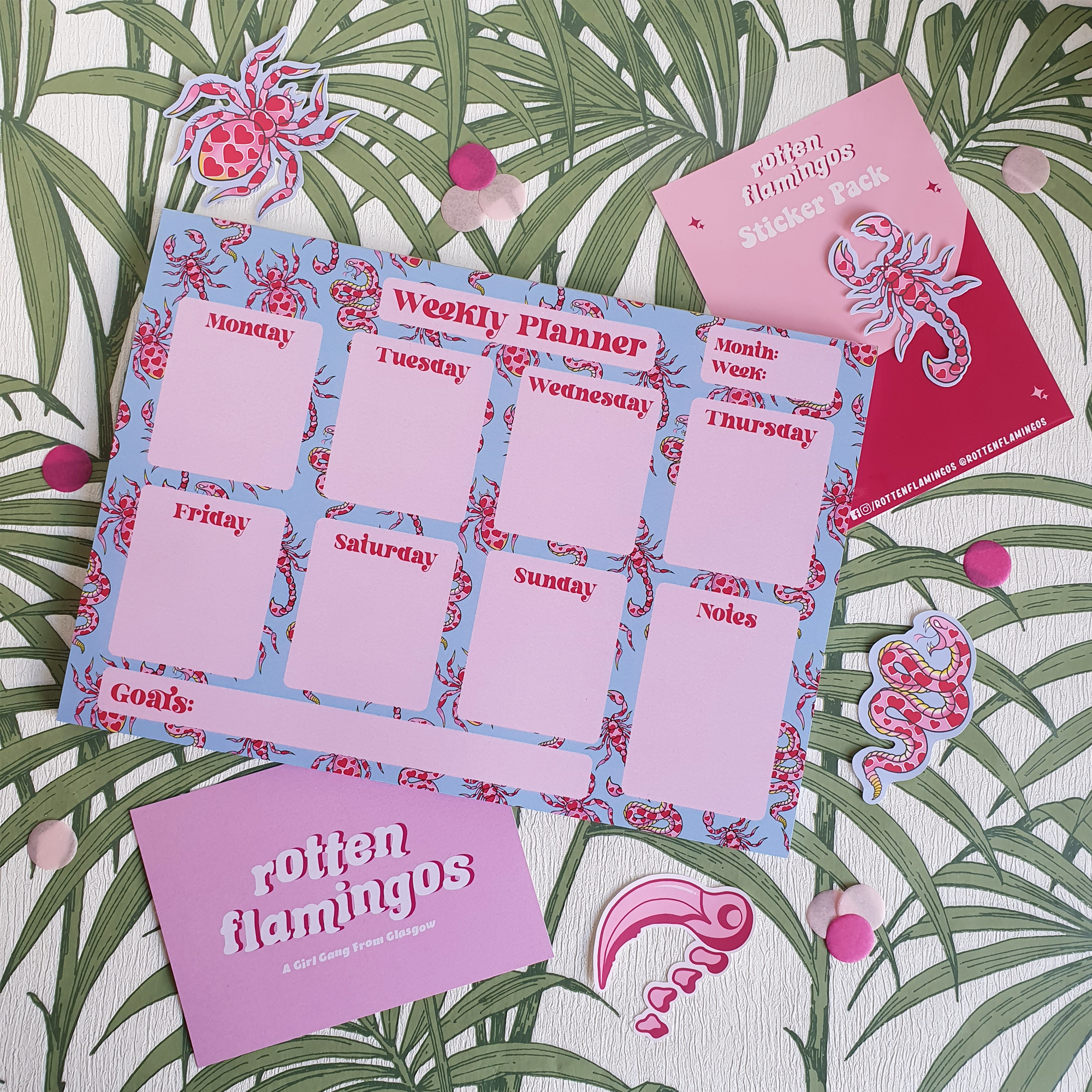 Despite the passion and goals that Caitlin has set up for her brand, she admitted to having faced a couple of challenges when she started out. Time management was one of them as Caitlin was working a full-time job and did her best to get Rotten Flamingos off the ground. She was able to cope through trusting in time where she eventually got used to being busy and planning her days through a checklist. Other challenges included working around the COVID-19 pandemic where everyone's safety was her top priority. She made sure that everything she shipped out was clean and sanitized. Other restrictions sadly suspended international orders temporarily due to confusing new rules, but thankfully the chaos has eased off a bit and brought back international shipments. Things like these were stressful for Caitlin because as a business, the last thing you want is for people to feel cut off from you because of something you have absolutely no control over.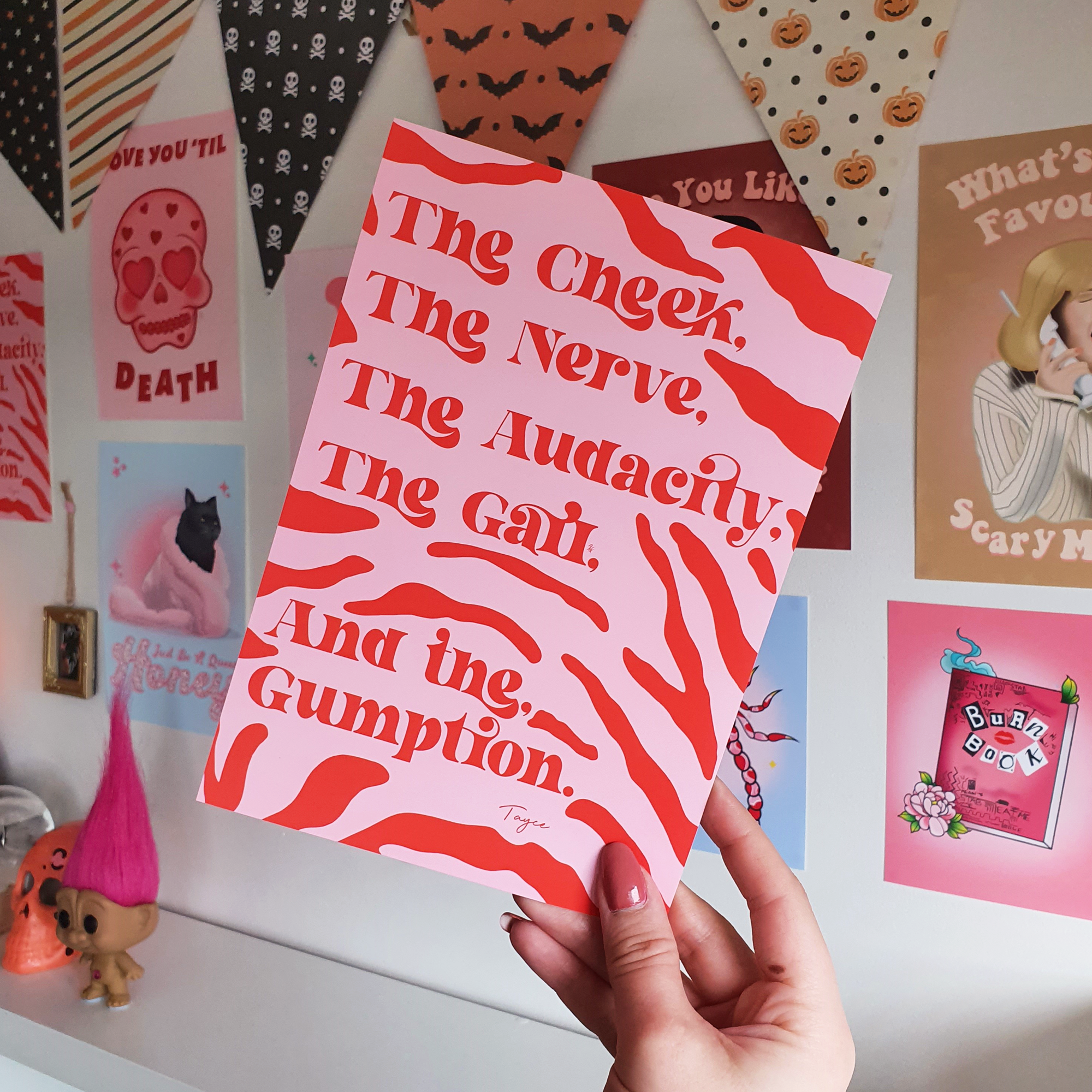 Her advice to other aspiring business owners is to find your niche and embrace putting your personality into the brand. Owning your own business truly is a labor of love that will drive you to work long days that might even have to extend to the weekend, but it'll all be worth it! One can't deny the amazing feeling of seeing people buy the products you personally designed and leaving positive feedback.

If you're in the mood for uplifting art that mixes the cute and creepy, then Rotten Flamingos is the place to be!
---
Find more of Rotten Flamingos here:‌‌‌‌‌
‌‌‌‌‌‌‌‌
Etsy: /RottenFlamingosShop
‌Instagram: @rottenflamingos
Like this story? Tell us yours! Share your brand story and love for your custom packaging and get a chance to be featured on the wrap! If you're a noissue customer and are interested, you can join the Eco-Alliance by clicking here and answering a few questions here.
Questions? Email us at ecoalliance@noissue.co