There's nothing like adorable puppies to brighten up your day! Whether it's spending time with your pups or just watching endless videos online, our canine companions can warm even the coldest of hearts. And when it comes to bringing smiles to people's faces, corgis are pretty much the perfect pup for the task! Bright, playful, and outgoing, corgis are known worldwide for their adorable looks and cheerful personalities to match. And who wouldn't want those same traits associated with their brand?
That's something that Single Sploot, an online stationery brand, totally understands. Based in Washington, Single Sploot is the go-to for all things corgi-related! From stationery sets to corgi-themed scrunchies, Single Sploot is a must-visit for anyone with a fondness for corgis. Or anyone looking for extra adorable stationery, really! To top off the whole experience, the brand packs their products customized packaging, including their noissue Stamp and Tissue—designed with adorable corgi illustrations, of course!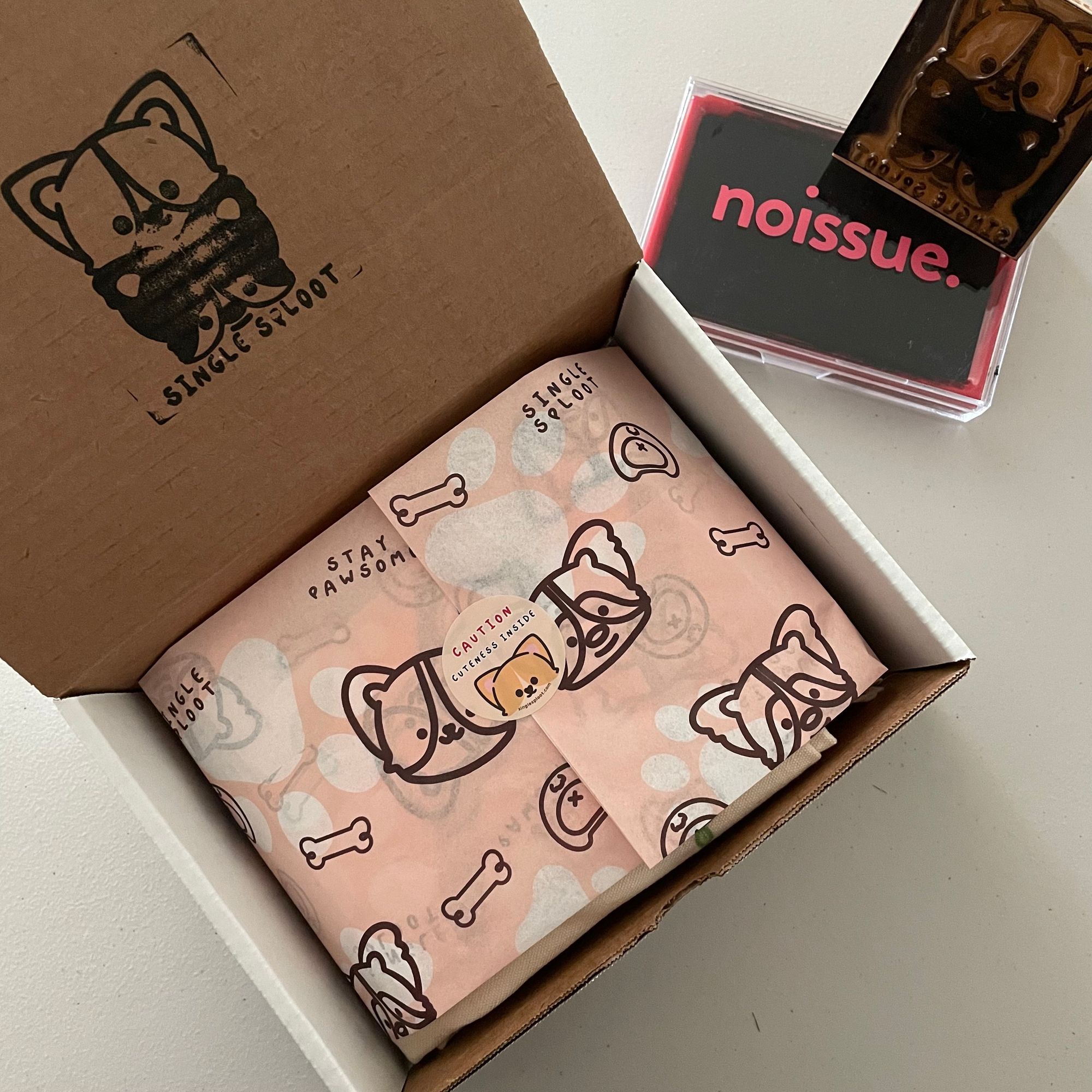 When Linsey, the founder (and corgi owner!) behind the business, started building Single Sploot, she hadn't always intended on creating a corgi-themed accessory brand. But she'd always had a creative spirit: long before Single Sploot was born, she'd always been creating comics and webtoons with her beautiful corgi, Emi, as her muse! Eventually, the drawings turned into simple stickers—and then it just didn't stop growing. The stickers expanded into cards, notepads, and even scrunchies! And thus, Single Sploot was born. Created by a dog-lover for fellow dog-lovers, Single Sploot's mission is to bring joy to others through fun and functional stationery pieces, and to convey Linsey's love for corgis.
It was in 2018 when Linsey created that very first set of corgi stickers. It was all just for fun and a means of interacting with other members of the corgi community via Instagram through sticker trades! The stickers soon drew attention from others outside the community, so she started selling them at a low price—and it was then that the pandemic hit. Linsey suddenly found herself with a lot of time on her hands, and nothing left to lose. So, she took the leap! She'd always been inspired by other artists and stationery brands, and decided to follow in that same direction. To this day, Linsey's mission with her brand is to spread happiness to corgi and dog-lovers everywhere through adorable stationery pieces!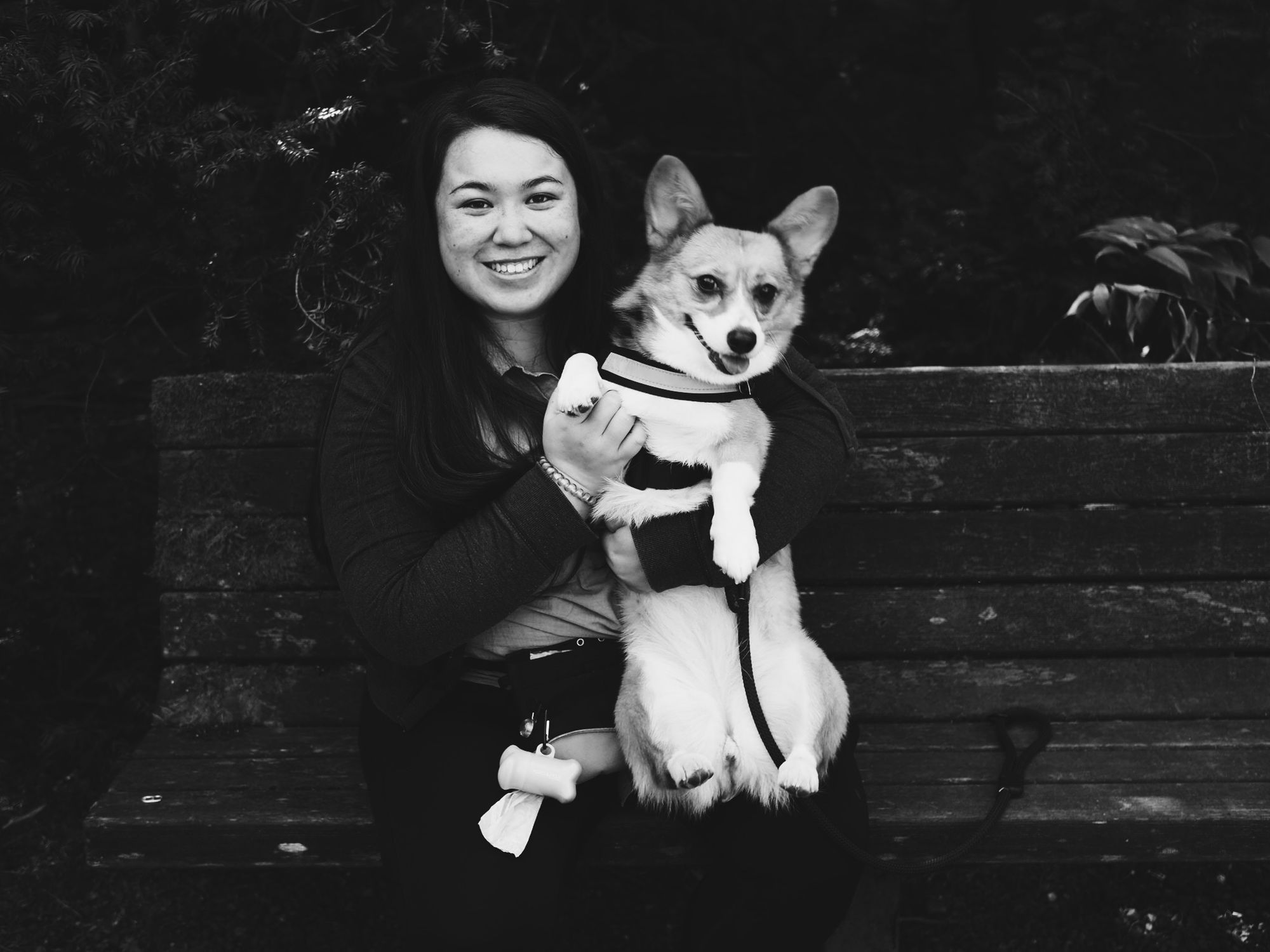 Another thing Linsey's passionate about is environmental responsibility. Stationery itself can sometimes be a wasteful commodity, which is something that she also recognizes. So when she set out to start her brand, she was adamant about being conscious of her environmental impact and being as circular as possible in every step of her process.
One of the ways Linsey did that was by reusing packaging materials to reduce her waste, such as reusing scraps from her products as packaging. However, as her business steadily grew, so did the need for solid branding, and eventually, Linsey knew it was time to solidify her brand's identity. Equally as important was being able to do so without creating any additional waste. And when it came to sourcing the right packaging that allowed for both, Linsey was ecstatic to come across noissue!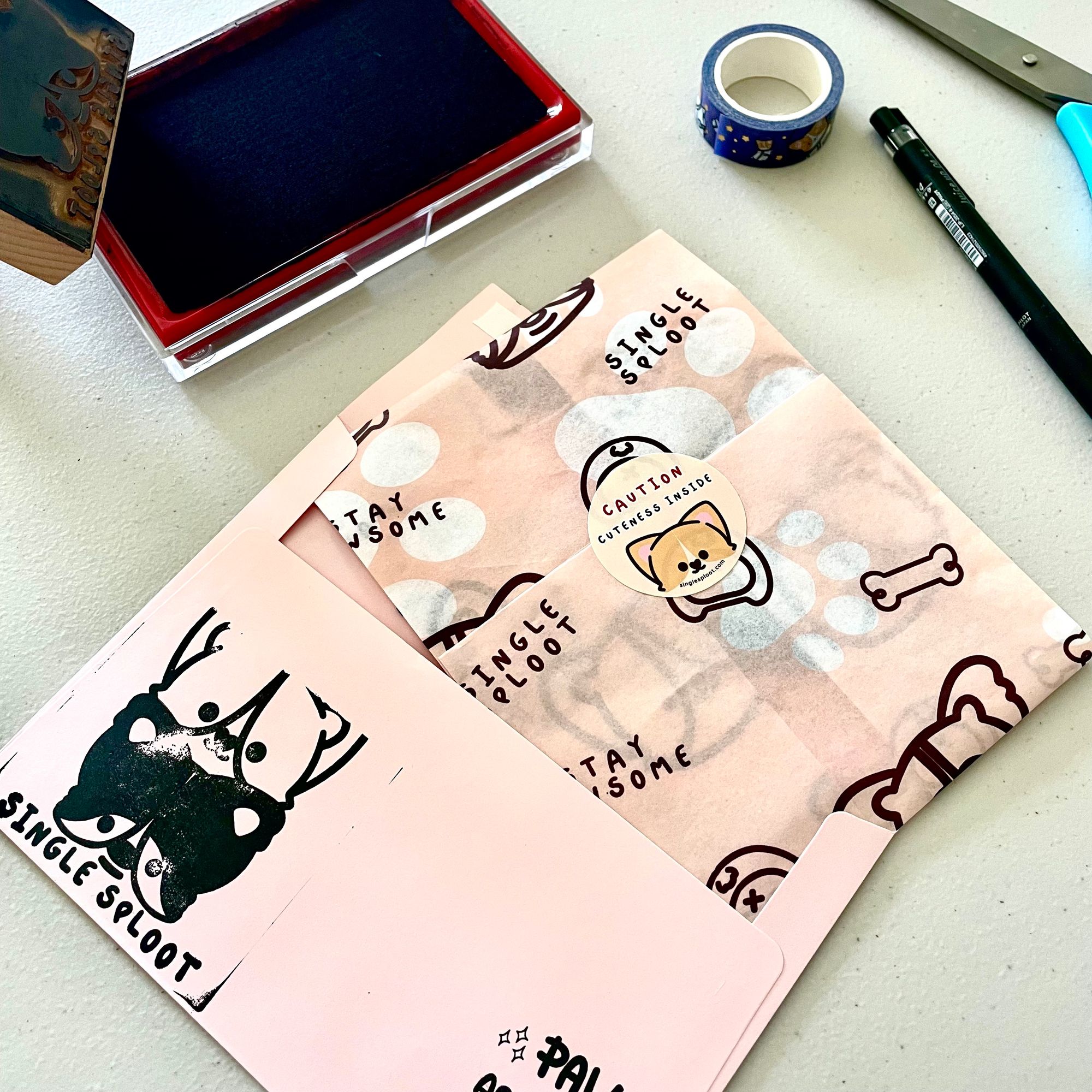 "Finding a way to brand my packaging but do it in a way where I wasn't creating more waste was important to me which led me to noissue."
With her soy-ink noissue Stamp and compostable Tissue, Linsey was happy to give her packages a major upgrade, while still being easy on the earth.
And to take her mission a step further, Linsey's also joined the Eco-Alliance community at noissue, where her every order contributes to climate action initiatives It's also put her alongside other small businesses that share the same values, and solidifies her commitment to building a better future for the planet.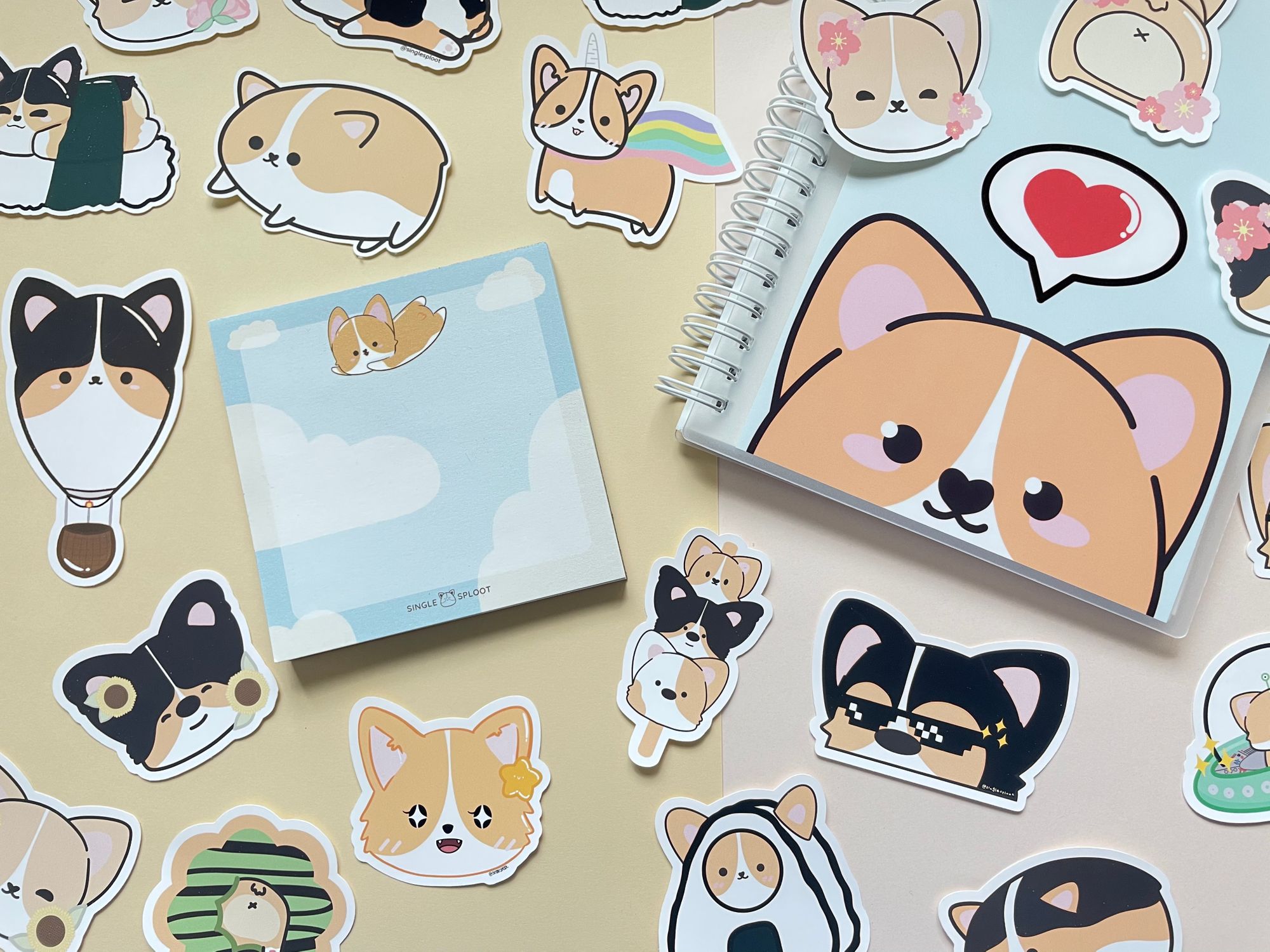 "Joining noissue's Eco-Alliance just solidifies that I as a small business am making an effort on my end to produce as little to no waste and that I'm finding new avenues of doing things for the customer that are also in line with being eco-friendly and sustainable."
Making the switch to noissue's circular packaging was the first step in Linsey's sustainability journey, and she continuously makes adjustments in her process to produce even less waste. She also regularly updates her community on all her efforts via social media.
Linsey's corgi-themed stationery sets are truly unique on their own, but another thing that sets her brand apart is that every creation is an extension of herself. Along with her love for corgis, Linsey's childhood and culture are incorporated into her designs, while taking inspiration from everyday life!
Building her own brand certainly wasn't the easiest journey, but Linsey's also no stranger to challenges, being a first-generation college graduate. Being completely uninformed about the workings of small businesses was the hardest part, and Linsey spent many weeks just researching everything it takes to build a brand, from taxes and licensing to marketing and product design, and everything in between. She's still on a continuous learning process, but being informed about all these different areas has been her biggest asset so far as an entrepreneur!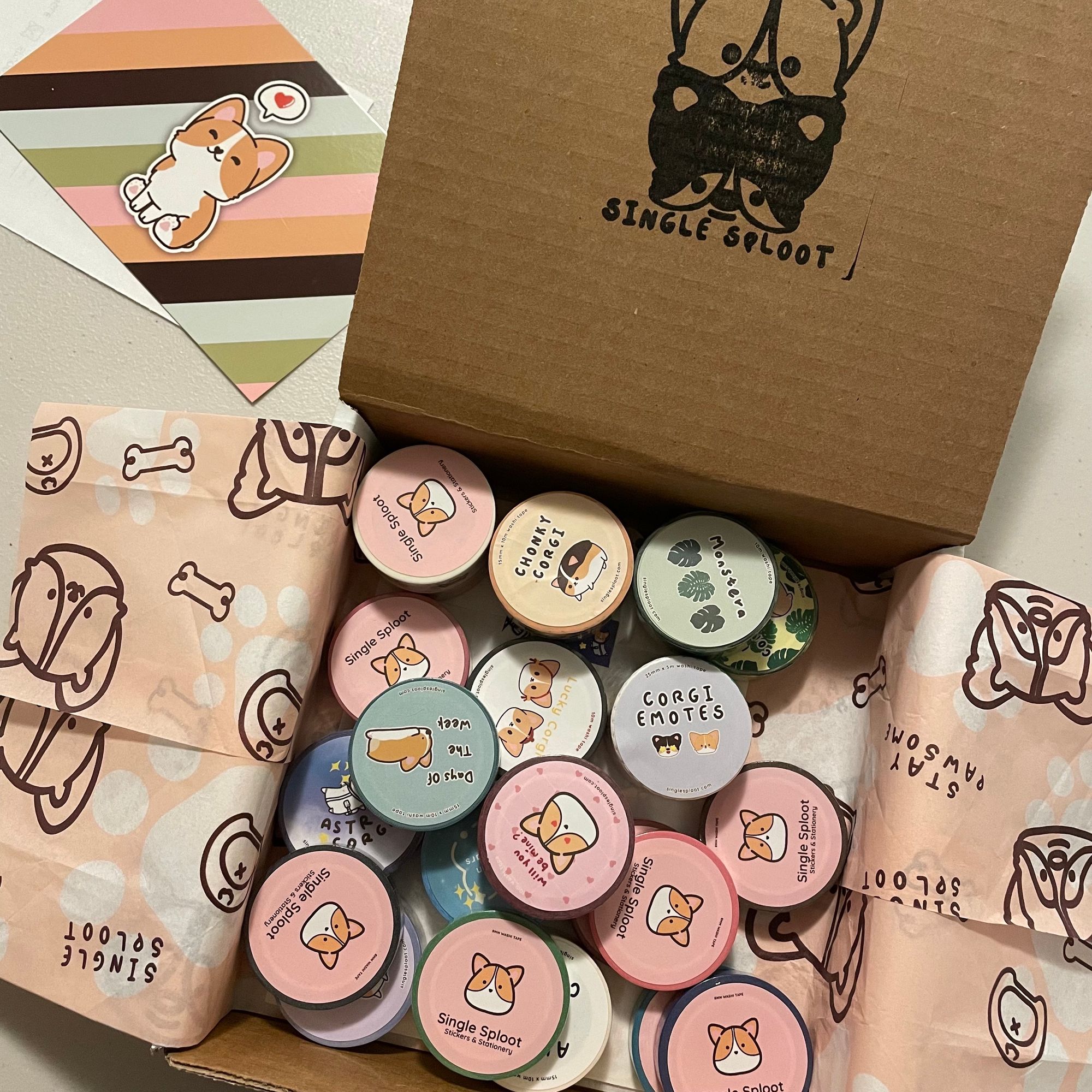 As for other creatives who also dream of creating their own brands, Linsey's biggest advice is to do it for yourself first and foremost. Your passion for your work will eventually come across to the right people who will willingly support you!
And if you ever feel like purchasing an item from Single Sploot, Linsey's personal favorites are her 'Stay Pawsitive' suncatcher decals—they make the perfect addition to any room!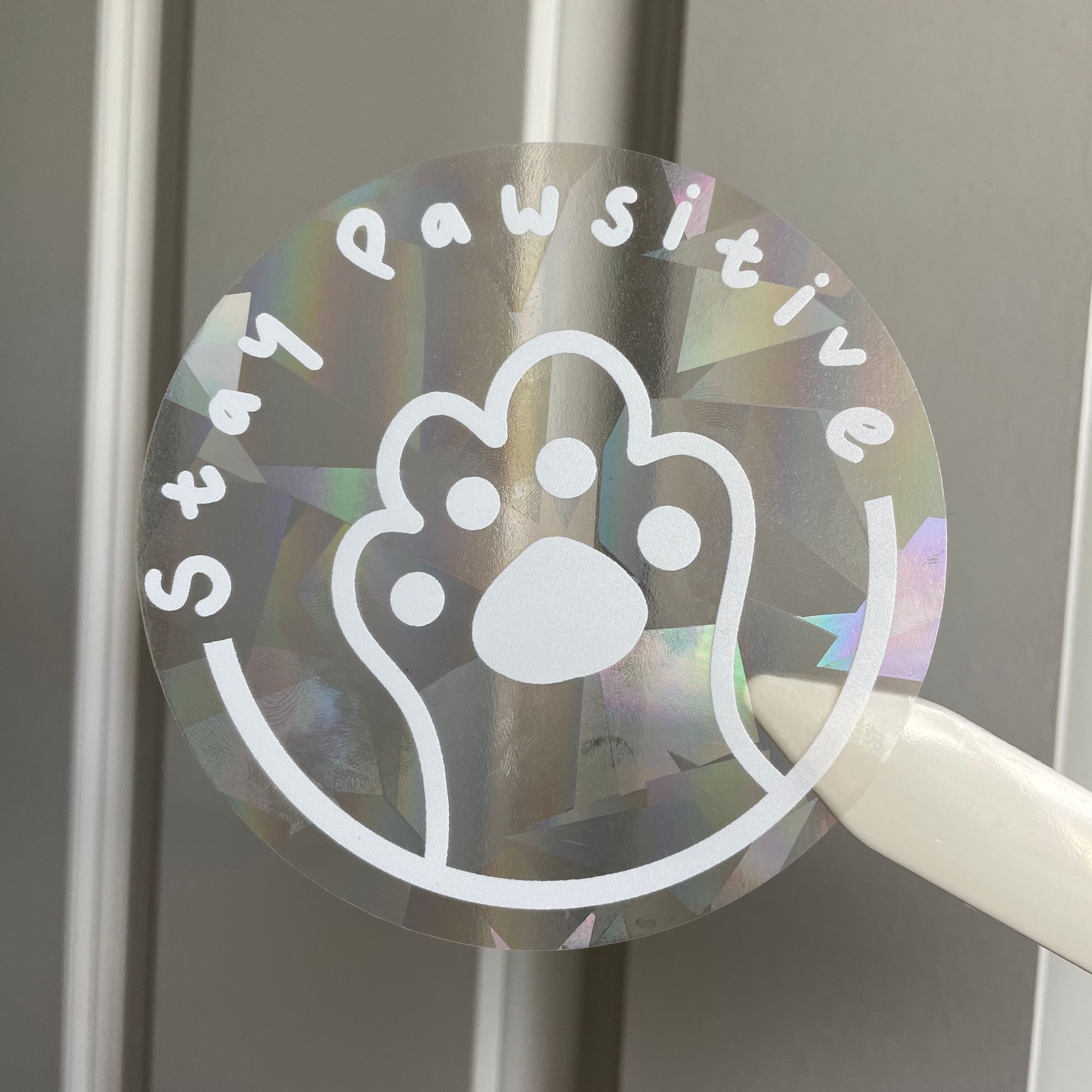 Corgi-inspired stationery that sparks joy and cares for the earth? Linsey and her brand definitely deserve a huge round of app-paws!
---
Find more of Single Sploot here:‌‌‌‌‌
‌‌‌‌‌‌‌‌
Website:‌ singlesploot.com
Instagram: @singlesploot
If you enjoyed this read, we bet you'll like last week's feature too: Nicole and Louise: Unique and Dainty Jewelry that Won't Break Your Bank
Want to share your story? We'd love to hear it! Join the Eco-Alliance here and share your deets with us here to get a chance to be featured on The Wrap!