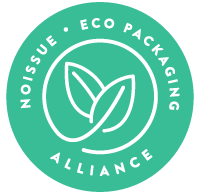 We're just about to enter the 2021 holiday season, and as excited as we are about food and gift-giving, we can't deny that businesses may be a bit more tricky to navigate this time of year with the surge in orders.
With the help of 9 Eco-Alliance members, we're sharing a bit of knowledge and some tips on how you can steer through the season with a lower environmental impact and having fun along the way!

From unique accessories to self-care must-haves, noissue curated a series of gift guides putting eco-conscious brands in the spotlight. Here's a roundup of solid advice from one small business to another!
Christmas Laurel Co.
For season-specific brands such as Christmas Laurel & Co., they know their niche market! Based in Melbourne, Australia, Chelsea has a true love for Christmas and decided to launch Christmas Laurel & Co. in 2020 because she wanted to create and offer products for fellow Christmas lovers that she couldn't find in stores.
Tell us how you're planning to jumpstart your ecommerce sales during the holidays.

"As we appeal in an online store and don't have a physical store, I plan to do giveaways, special launches, and give my customers an amazing start-to-end experience, starting from a beautiful product to amazing content and finishing off with personal packaging that represents me and my business."
As an online business that sells Christmas goodies all year round, Chelsea plans to jumpstart her ecommerce sales this year by engaging with her customers with unique content that she not only enjoys creating but is confident will appeal to her audience. Aside from amazing products, Chelsea has also prepared beautiful packaging designs featuring her noissue Stamp and "Fragile" Stickers. She includes a personal note in every order which she knows her customers will love and appreciate.
Pransuk Dessert
For a lot of small businesses, making it through the pandemic was far from easy. With entrepreneurs having to navigate the fluctuating quarantine restrictions and safety protocols, some took a leap of faith and tried new things to keep their businesses afloat. Ploynita of Pransuk Dessert decided to try selling their traditional Thai desserts in London. It's been their goal to revive largely forgotten Thai desserts in Chiangmai and after gaining a loyal customer base, Ploynita thought that it was the perfect time to expand in London.

For the past few months, their team has been working on expanding their product links and preparing for the launch of their beautiful Christmas collection. If you ask us, it looks like Pransuk Dessert is ready to be a part of your holiday celebrations with their desserts designed to perfection! Keeping up with the potential momentum that their Christmas collection aims to bring, Ploynita plans to grow next year by taking their desserts offline and into pop-up events.
2020 and 2021 were life-changing for all of us. Do you have any resolutions as we head into the second year post-pandemic?

"For the next year, I would like to create a bigger audience [in our] online marketing campaigns, as well as in offline experiences. I would like to offer customers a pop-up market where we can meet them and they can see the dessert in person. We also want to collaborate with other key businesses such as the wedding planner, where we can grow our brand awareness."
Bikinis Over Everything
When it comes to running a business, it's important to have a couple of non-negotiables that will help your overall process flow. Courtney from Bikinis Over Everything shared with us a couple of key tips on how they manage their small business, offering high-quality swimwear and their signature all-natural eco-friendly fabric soap, throughout the holidays.
What are your small biz non-negotiables in preparation for the festive season and how do these help your business?

Their first non-negotiable for the holiday season (and beyond) is their Ship Station membership. Ship Station is a shipping software that helps businesses organize their orders all in one place. Including print labels with competitive price ranges from top suppliers like USPS, FedEx, UPS, and more. You can also pay your postage through it and have it automatically deducted from your business account, which is very helpful when you get an overwhelming increase in the number of orders.

Their second tip is using another software that helps small businesses manage all their accounts in one place. Bikinis Over Everything can not live without QuickBooks, an accounting software that provides an array of options for businesses of all sizes. The software makes it easier for them to do their taxes at the end of the year and provides in-time invoicing with their branding, which leaves a good impression on their customers.

Lastly, it's vital to work with the right people who are as committed as you are to your business. Courtney shared that she wouldn't be able to do anything without everyone who helps Bikinis Over Everything get from concept to product. Invest in a team that's not only dedicated to your product but also your passion and your business will definitely make the most of the holiday season!
"[...]work with a team that not only makes you better in business but makes you better as a person. I wouldn't be able to do anything without my co-founder, my fulfillment person, my screen printer, and everyone who helps us get from concept to product is integral in the process."
The Crafty Kit Co.
For many entrepreneurs in the small business scene, the holiday season is seen as the busiest time of the year. Many businesses are getting creative and competitive with each product they release and it's only natural that many would want their items to be gift ideas. With the influx of orders and gift-wrapping requests, it can be quite a challenge for business owners to stay on top of things. We asked Jo Lochhead, the founder and creative director of The Crafty Kit Co., how she makes it work as a business owner since 2004.
What time management advice would you give to new business owners who are about to experience the holidays for the first time?

It actually took her quite some time to be strict about setting her priorities, but her biggest tip for proper time management is to use a calendar and fiercely protect the time you've allotted for each task. Personally, Jo uses a Google Calendar which includes a taskbar, where she lists her priorities for the week and blocks out time on her calendar according to how much of a priority that task or activity is going to be.
"If an activity is not moving the business forward, or by not doing that activity, you're impacting somebody else, then you need to ask yourself whether that's the thing you really need to be doing right now."
From designing each craft kit to assembling them in recycled boxes with noissue Tissue, Jo actively adjusts and moves the blocks of time on her calendar according to how long each task has been completed. Then, at the end of the week, Jo reflects on how long things have taken, whether they overlap with other activities or not, and applies this to next week's schedule allowing her to plan more realistically.
MLM Brand
Magda Lasota Morales, the founder of MLM brand, emphasizes the importance of always starting early.
What are your top three tips for navigating the festive season?

"I know that the holiday season can be stressful, and can be overwhelming, but I also think it's very important to connect and celebrate the holidays with my community."
Her first tip is to plan everything. From setting up the social media calendar and blog content to managing inventory, holiday partnerships, and photoshoots, it pays to be prepared for this as early as you can. Second, Magda advises hiring extra help. Whether it's for packing orders or manning social media, having a helping hand can ease the load when more orders than usual come in. Lastly, the fashion designer reminds us to have fun! The festive season may be hectic, but it's also an exciting time for growth. In the past few months, MLM Brand gathered nearly a 300% growth in sales wherein their best-selling breastfeeding dress sold out twice. They're currently restocking in batches that are bigger than ever. How exciting is that!
Holas Mijas Bonitas
For the past two years, Claudia Ramos has been grinding and working hard to bring awareness to her products. As the founder and creator of stationary brand Hola Mijas Bonitas, she's been taking online business courses to help her brand and advocacy stand out. Hola Mijas Bonitas proudly shows the beauty of diversity and friendship through the female characters that Claudia has created. It's been an incredible roller coaster ride full of positive feedback which fills her heart so much. Customers have also noticed Claudia's sustainable packaging which she had custom made with her designs at noissue.
How are you maintaining sustainable practices with the potential  increase in consumer consumption during the festive season?

From Tissue to Cards, Claudia has been using noissue packaging for two years and plans to continue sourcing them for the festive season. As customers tend to buy more products during this time, Claudia considers maintaining sustainable practices a high priority. She uses sustainable materials for her Tissue, Stickers, and thank you Cards for every order that she fulfills so that her packaging would minimize the overall impact holiday waste has on the landfills.
"They're good quality and the colors are always on point. And the people that buy my products always are so happy, they always tell me the quality's good and that makes me happy. So that's why I continue using noissue!"
The Pine Company
Aside from sourcing earth-friendly product materials and packaging, keeping production local and opting for sustainable shipping options are two ways to help the environment as a small business. The Pine Company's founder Oriana Bak shares that 2021 has been a transformative year for the company. They seized the opportunity as a privilege to slow down, take a step back, and focus on finding their niche in the market. They've introduced their Maple Collection featuring custom dyed solids that were sewn in their community and dyed in the exact colors that they see as their vision for the season.
Are you offering any alternative shipping options over the Holidays?  

"In addition to our regular shipping options, we offer a local pickup at a boutique that we've partnered with nearby, so that allows our local customers to come pick up their orders from mine and other small businesses in our communities all [on] the same trip. And we also offer the option of picking up at some local markets that we go to."

The Pine Company provides pickup options in addition to their regular shipping methods. The Canada-based clothing company sets up pickup options for local customers in their area and those that they could potentially bump into at markets and pop-up events.
Hilana Upcycled Cotton
On the other hand, not every business can be promised an overwhelming increase in sales during the holidays. There will be a risk of a potential decline in sales and we asked Francisca Sanchez, co-founder of Hilana Upcycled Cotton, how her brand prepares for this.
The Holiday season doesn't always translate into skyrocketing sales for everyone, do you have a strategy in place to manage a potential decline in sales? Any special holiday deals or promotions?

The textile brand, known for ethically crafted recycled cotton according to Turkish ancient tradition, recently released a new capsule collection that Francisca is incredibly proud of. Releasing a new collection close to the holiday season is a solid way to raise awareness for your brand as consumers tend to shop new products for gifts. The business owner can't wait for her customers to experience the product and hopefully gift them to their loved ones.
Hilana also considers their partnership with noissue as something that would help them connect with their customers, especially for marketing their new designs this season. In their experience, customers really appreciate not only having an eco-conscious product but also receiving it packed in sustainable materials!
"Behind the picture of our product, there is a story of sustainability, responsibility, love for craftsmanship, and passion for the planet."
Vital You
As the holiday season is a great opportunity to release an exclusive product and give your customers limited edition treats - this could also grow into an annual offering that loyal customers can look forward to! Jenna Switzer, founder of CBD-infused bath and body brand Vital You, confidently recommends launching new products during the festive season. This way, they get to excite their customers and keep them looking out for new releases and exclusive deals every year.
Do you advise launching new products during the festive season? If so, what is one small biz hack you live by?

"Here at Vital You, we utilize the festive season as an opportunity to launch seasonally inspired limited edition products for our customers. For example, this year we curated this beautifully branded box that we fill with our three bath bombs that we only offer this time of year."
A lot has changed in the past couple of years and we wouldn't be surprised if the holidays would start to look different, too. Keep the festive spirit alive and bring joy to the world by shopping consciously and sustainably! Take it from our Eco-Alliance members who are making this the most wonderful time of the year by using the holiday rush to end year strong and positively looking ahead to new year!
Need more gift ideas? Be sure to check out our gift guides featuring holiday bites, one-of-a-kind items, and more upcoming on The Wrap!
Catch these 9 small businesses share their tips and tricks for the festivities in our holiday special edition of "How I Got Started:"
---
Like this story? Tell us yours! Share your brand story and love for your custom packaging and get a chance to be featured on The Wrap! If you're a noissue customer and are interested, you can join the Eco-Alliance by clicking here and answering a few questions here.
Questions? Email us at ecoalliance@noissue.co