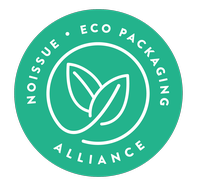 Fabric scraps are leftover pieces of fabric that are too small to use alone in another project. These are wastes that ends up in landfills causing damage to the environment.
Lauren, being fully aware of this, ventured into a business that recycles fabric scraps to create beautiful wearable pieces. From vintage and secondhand clothing to accessories, she empowers sustainable fashion through her brand called Socorro Society.
"My name is Lauren Gonzalez. I own Socorro Society, a sustainable fashion brand in San Antonio, Tx. Socorro is my maternal Grandmother's name, who greatly influenced my style, and it also means to help in Spanish and Society comes from the idea that it takes all of us to make this planet a better, safer place to live. Socorro Society has had quite an evolution over the last six-year, but I have always strived to be a sustainable, upcycling, refashioning brand. Our main products are wire headbands and scrunchies made from vintage and secondhand clothing, recycled denim zipper pouches and bucket hats made from jeans, and hand-embroidered bandanas and embroidery kits. I teach embroidery workshops and hand-embroidered vintage clothing and sell in partnership with a San Antonio-based sustainable clothing boutique. My passion and mission for my business are to use materials and clothing that already exist on this planet and repurpose them to keep textiles out of the landfills."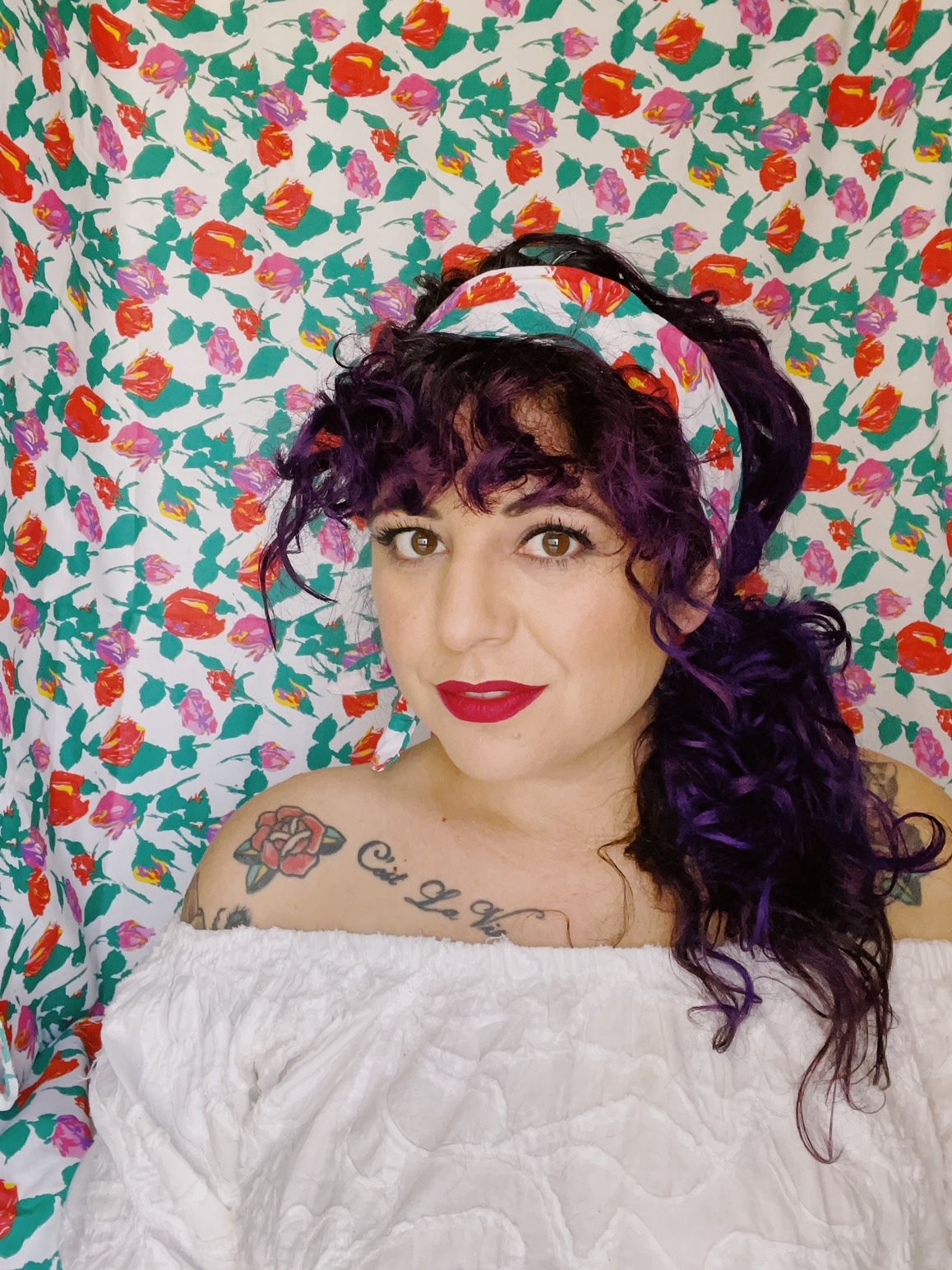 "I started Socorro Society in Austin, Texas, selling vintage and repurposed vintage clothing. I decided to stand out of the crowd by moving to sell only up-cycled and embroidered vintage clothing. The 'scrap fabric' headbands and scrunchies were born from the scraps of fabric that I removed from shirts, dresses, and skirts. I wanted to make new products and had a ton of usable fabric lying around, so it just made sense. Before headbands, I made small purses, bows, and camera straps from the scraps."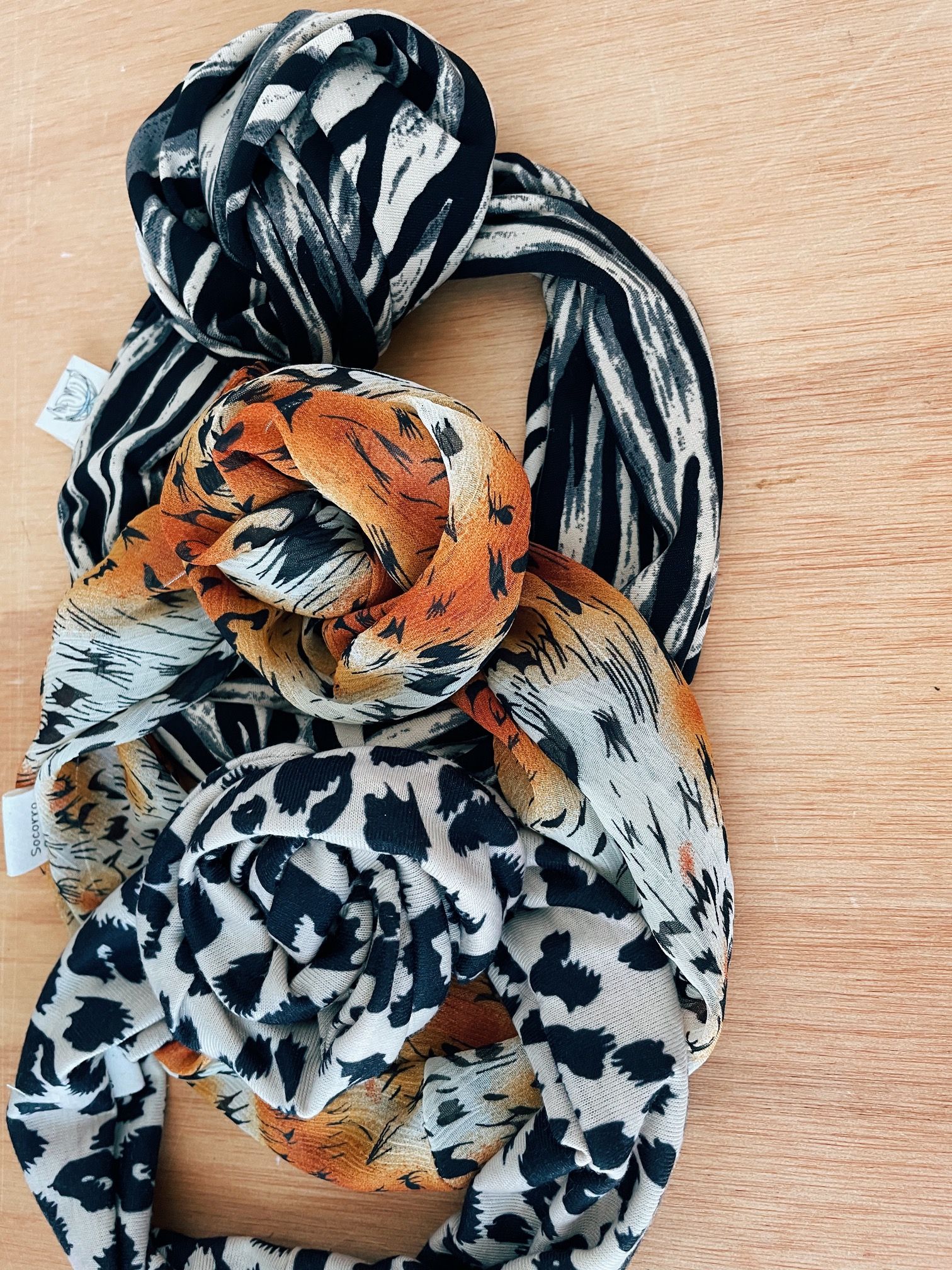 The United States produces 11 million tons of textile waste alone. These produce toxic greenhouse gasses while piling up in landfills. These urged Lauren to create a brand fully made of secondhand clothing.
"My vision for Socorro is to grow the business and have our wire wrap headbands and scrunchies in stores across the country. I want to have a warehouse full of secondhand clothing that maybe is no longer 'fashionable' but is still quality fabric that can be used. There are so many textiles in thrift stores that just wind up sent to landfills or other countries, and the planet is drowning in them. Textiles do not just disappear; they release harmful gasses into the air and pollute our soil. We use as much of the fabric that we can and recycle the rest at our local recycling plant."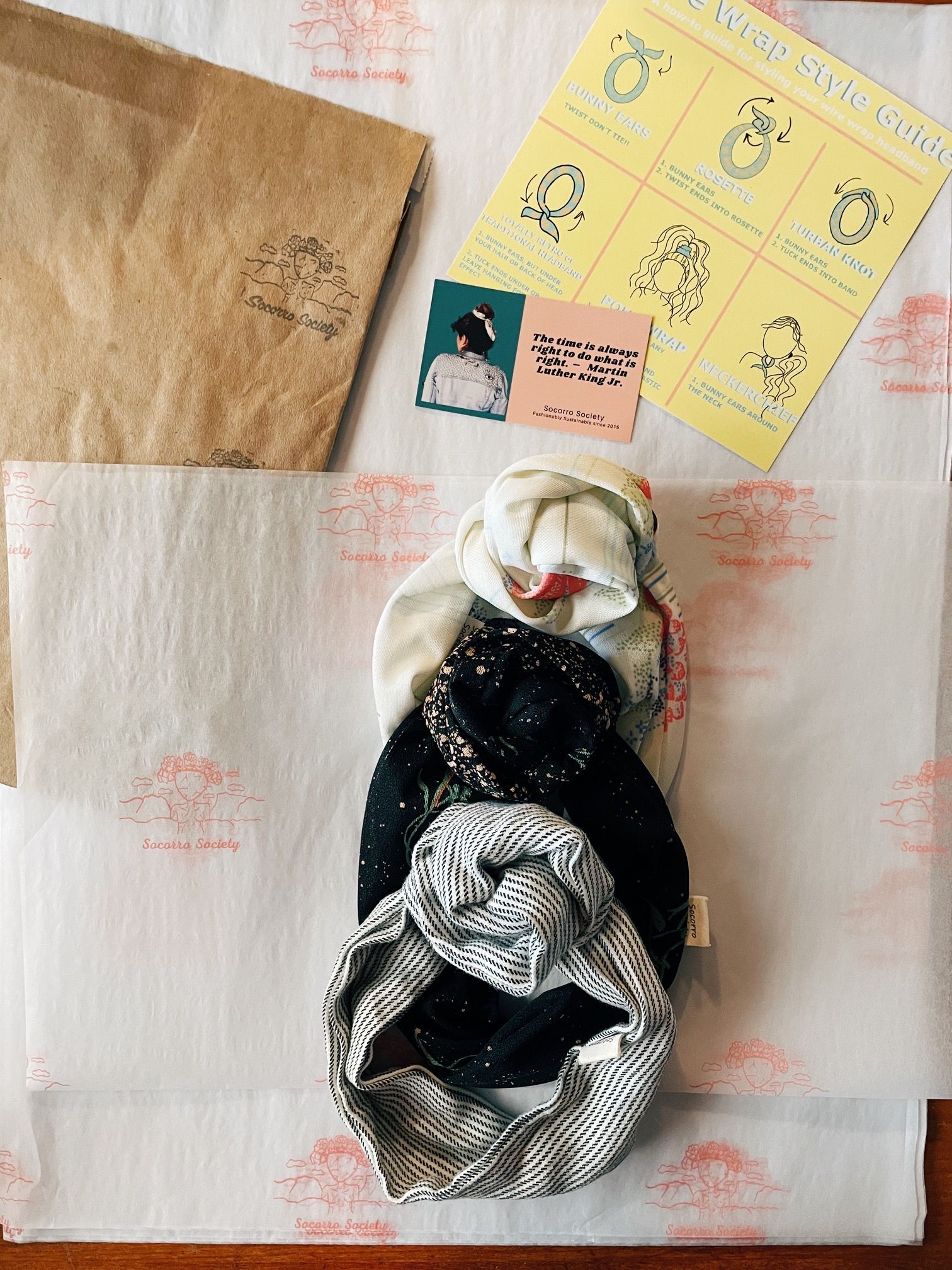 Her business was also greatly affected by the pandemic. She earns most of their sales during monthly pop-ups. She had to make decisions to adapt when things changed.
"Running a small business has so many challenges, where to start. My biggest challenge at this point is growing and scaling. I am too busy to be my only employee at the moment. I just recently brought someone on to make our headbands and another person to make scrunchies. My passion is embroidery, and teaching embroidery, making instructional videos and creating patterns and kits. So being able to pass off the actual making of our best-selling headbands has been a HUGE help. I'm actively growing our wholesale business, so my goal is to have the wholesale headbands be able to support the rest of the business, so I can focus on the creative endeavors. We're getting there little by little. The pandemic was a big challenge as well. A big portion of our sales come from monthly pop-ups. Almost all of our shows were canceled in 2020 and it derailed my 2020 goals a bit. I decided to start making masks in March which helped make up income."
When asked about an advice she could share to those interested to have their own brand, she shares "My only advice to anyone out there starting their own fashion brand is to do you. I think if you're trying to look like other brands or want to carry the same styles, it's too easy to fade into the background. If you have a personal style and voice that people gravitate to, stick with it, stand out, and do you."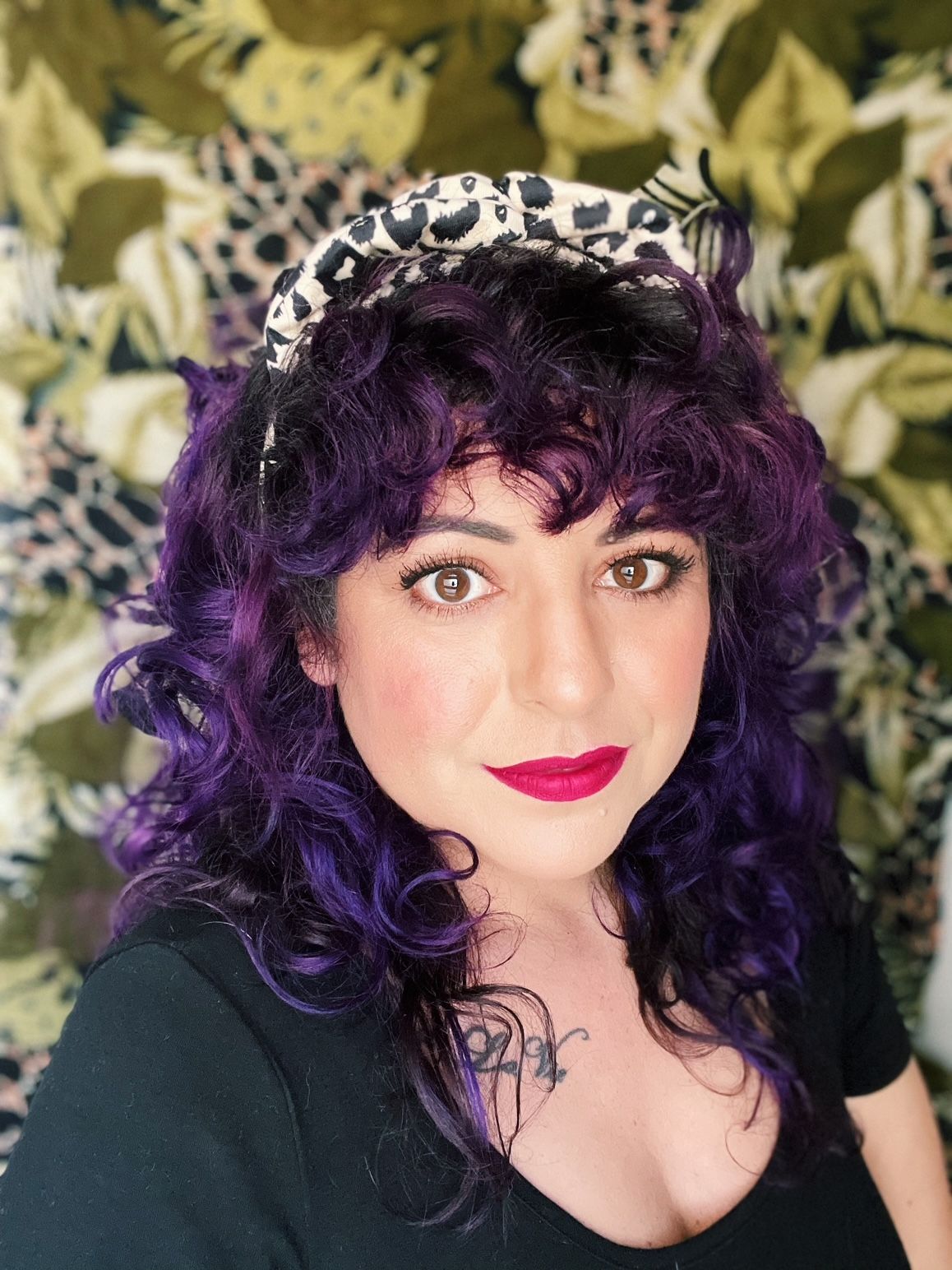 Because sustainability is the core of her business, most of her work is greatly inspired by nature. She is very passionate about our planet, and you can see that reflected in her products.
"I'm inspired by nature. The most creative thing I do is embroidery, and a good deal of my embroidery is inspired by the outdoors. I love flowers and nature's color palette. I think there is so much beauty and inspiration out there; you just have to look around and take it in. I think that's why I'm so passionate about sustainability. I hate seeing humans impact this planet. Especially in fashion, making and dyeing textiles for fast fashion, while may be cheap, the cost is high for the environment. There is so much already available to us, I just think it's important to do as little harm as possible so that we can continue to enjoy the outdoors and so can the generations after us."
Quick Q&A!
What makes your product stand out from the rest?
"I think what helps us stand out is the usage of second-hand clothing to make our products. What I hope makes us stand out, even more, are the patterns, colors, and textiles that I spend hours looking for. I'm in thrift stores, warehouses, estate sales, and garage sales looking for inexpensive, interesting fabrics to reuse and give a new life. I try to stay true to myself, what I like and what is seasonally appropriate and on-trend."
What's one piece of clothing (from your collection) that you wished everyone could have in their closet and why?
"I think everyone can benefit from having one of our wire wrap headbands in their arsenal. We offer statement headbands with wild patterns, but also have neutral, wearable pieces that will be a day in day out favorite. The wire headband is so great because they are comfortable. Because they are not elastic or plastic, they do not have to be tight to stay on. They won't slip, and will not give you a headache. They just perfectly mold to your head, so whether you have a large, small, flat, or round head, we got you. The wire just fits, and there are so many ways to style them; they truly are a versatile accessory."
What's your best customer story?
"My favorite customer stories are the ones that have drawers full of our headbands. I had a subscription box subscriber tag me in a custom-made wall rack that she dedicated to all of her headbands. I'm always thrilled to see when people have stacks of wraps. It makes me feel good that they obviously love our product, but that they can wear them over and over again. Hopefully, our headbands aren't being bought for that one instant-moment, but rather, bought to last and be worn daily."
Who do you think is doing great creative work in the fashion industry at the moment?
"I'm really into following all of the up-cycling accounts on Instagram these days. I love that refashioning clothing is catching on in a mainstream way and everyone's point of view is so unique and creative. Tiffany Michey (@tmichey) is so creative, and I love her style so much. Dani Hawks (@isitdanihawks) is also a huge inspiration. She made a swimsuit from a thrift dri-fit top, and shorts and my mind was blown. I find so much style inspiration from these ladies and get a lot of really good ideas from their work. People are so creative, I love it!"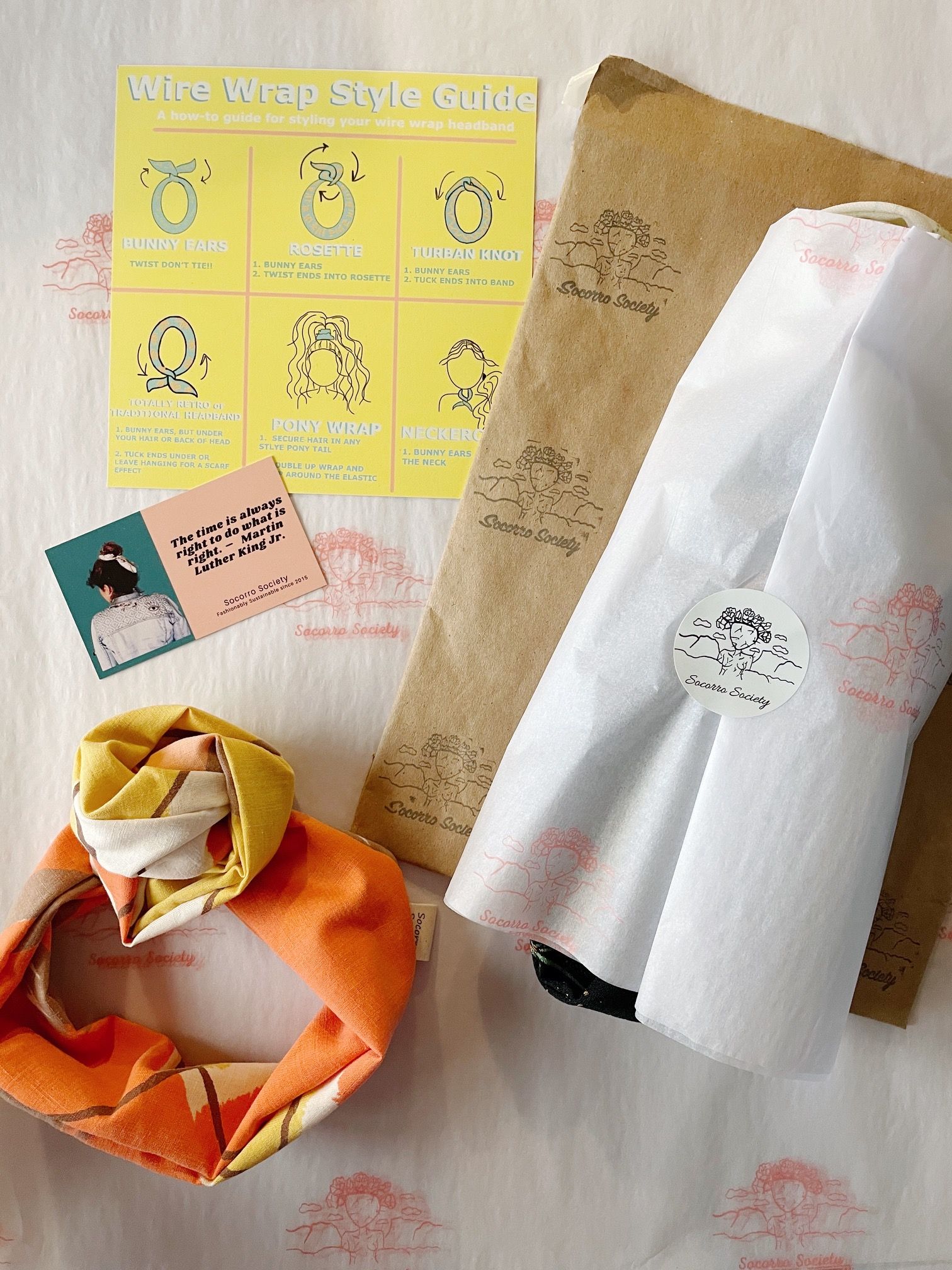 Sustainable practices aren't only applied to her brand; you can see them in her life. Lauren is a proud thrifter. She fills her Instagram with thrift tips and tricks, hoping that she can encourage others to do the same thing.
"Sustainability is my brand and business. In addition to making hair accessories out of secondhand clothing, I am also a champion of thrifting and secondhand style. On my Instagram, I share thrifting tips, things to look for secondhand, how to style thrifted pieces, easy upcycles, and visible mending. I rarely buy things new even my nicest shoes and bags are bought on apps like Poshmark or Mercari. I really try to champion sustainability on our social media and in our monthly newsletter.
One big thing I really strive for and have spent a little more on is sustainable packing. I primarily have an online business and felt that I couldn't be sending out sustainable products in non-recyclable plastic bags. I wanted all of our packaging to be recyclable and not have a big impact on the environment, because what's the point of having a sustainable business if you're not truly sustainable."
Eco-friendly doesn't have to be ugly. Custom packaging is available to make every order beautiful just the way you want it. Lauren aims to excite her customers when they receive orders, and that's what made her choose custom packaging.
"My biggest drive to have custom packaging was when I started our Wire Wrap of the Month Club subscription box in 2019. I really wanted that custom, special look for our boxes. I wanted our customers to have that 'wow' unpackaging moment and I searched for custom tissue paper, stickers and boxes for a while, I wanted to make sure I got it right.
noissue was a no brainer for me. Not only were the prices and minimums competitive, I feel noissue really stood out to me for being sustainably made and produced. Having packaging that not only looks professional but can also be recycled and is low-impact on the environment was the seller for me. The design process was really easy. I had drawn up our logo, made a few changes and uploaded my file to the noissue website and that was it. I actually have two different tissue papers, one for the subscription boxes and one for our regular products. I also have stickers made, which are also awesome and were super easy to design and make too. I get a lot of compliments on our packaging and send as many people as I can to noissue. I really do believe and stand by the product."
Socorro Society fun fact:
"If my brand were an outfit, Socorro Society would be a completely thrifted assemble, with worn jeans with embroidery all over them, an upcycled crop top with a wild pattern, a denim jacket that has patches and visible mending all over it. It would have some expensive boots that were purchased second hand and my favorite leather bag made by hand by a local designer here in San Antonio, Tx. The outfit would also have a wire wrap either worn in the hair or wrapped around the neck like a scarf."
---
Find more of Socorro Society here:
Website: www.socorrosociety.com
Instagram: @socorro.society
Like this story? Tell us yours! Share your brand story and love for your custom packaging and get a chance to be featured on the wrap! If you're a noissue customer and are interested, you can join the Eco Packaging Alliance by clicking here and emailing us your story at ecoalliance@noissue.co!