Feast your eyes on our mystical Celestial-themed homepage feature!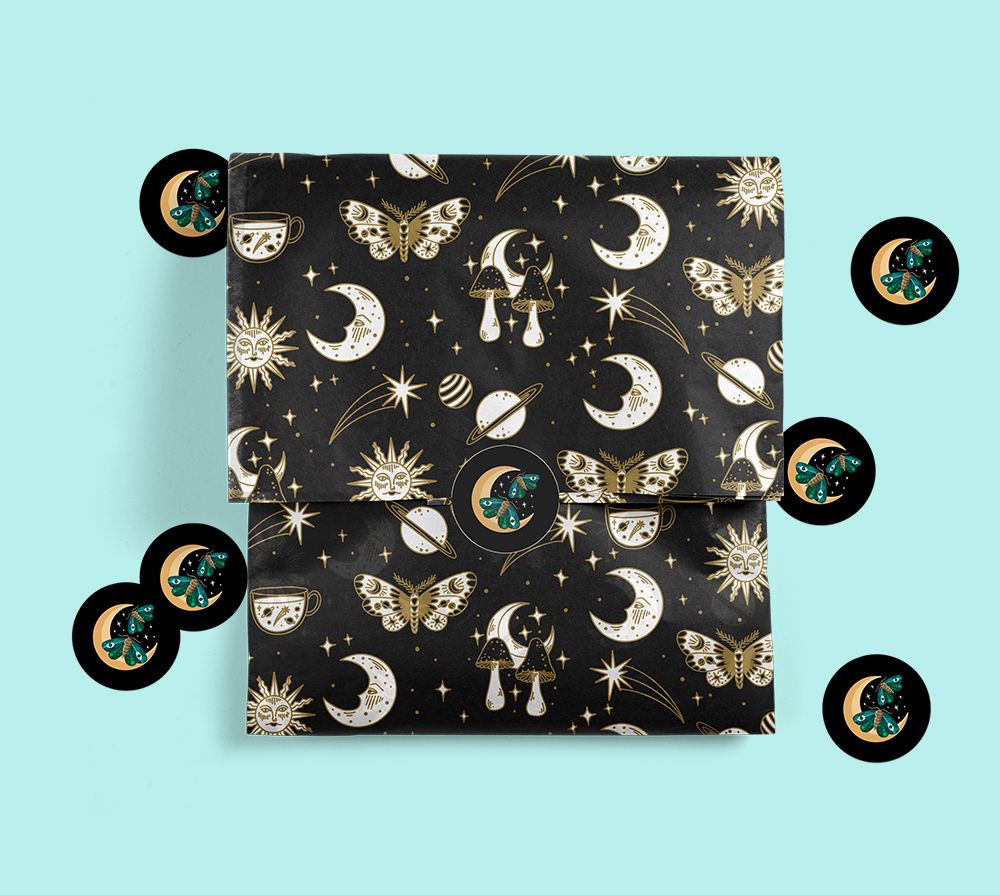 Each month, we partner up with some of our amazing noissue Creatives to build a dazzling array of designs to be featured on our homepage in the spirit of celebrating special events and dates. These stunning designs are then shared across our various social channels spreading awareness throughout the community. Featured Creatives are able to showcase their designs and share their unique stories with our global audience of small businesses and fellow creators. For this feature, we wanted to showcase a beautiful Celestial-themed design - just in time for the Halloween season!
This tissue and sticker combo was designed by Jay Kay of Creative Wannabe, a full-time freelance illustrator based in lovely Melbourne, Australia. She works closely with brands to create illustrations that inspire, engage, and bring people together.
Jay's work mostly revolves around themes of nature and magic, and has a whimsical vibe that is inspired by old storybooks and fairytales. Often, her work is underpinned by affirmations and positive psychology because she finds that we could all use a boost every now and then in the age of social media.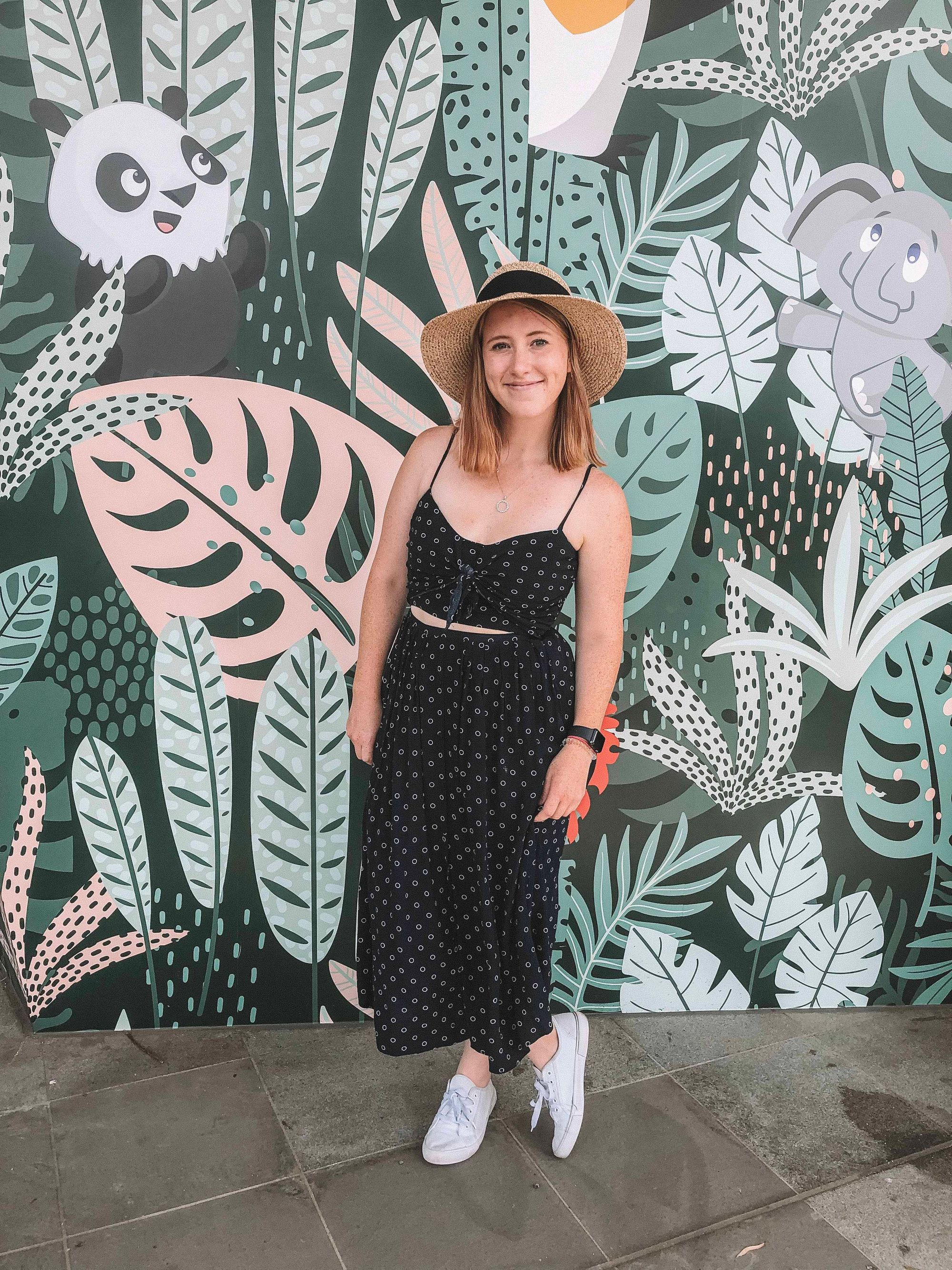 Keep on scrolling to find out more about her design process and the inspiration behind this amazing feature!
Halloween is widely known for trick-or-treating, spooky costumes and, of course, a lot of scary stories! However, what many do not know is that it also has an astronomical origin. Halloween is a cross-quarter day as it falls between a solstice and an equinox. We wanted to feature a Celestial-themed design in honor of this and to also bring attention to how magical these heavenly bodies truly are.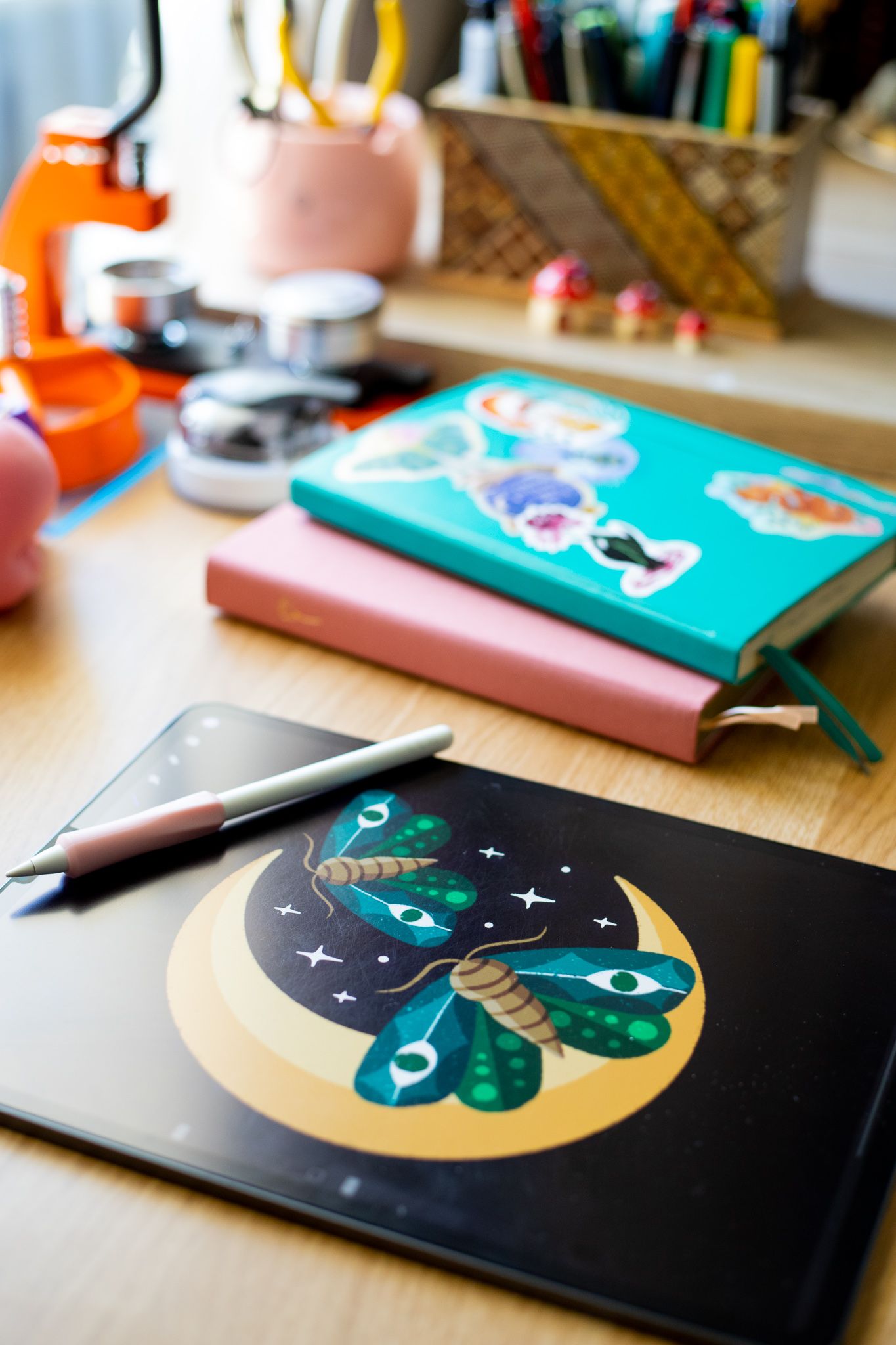 "Ever since I was young, I had an intense fascination with the moon - there was something about it's stable and consistent presence that calmed me and even as a young child helped me to understand that the world was vast and wonderful and I was so small." - Jay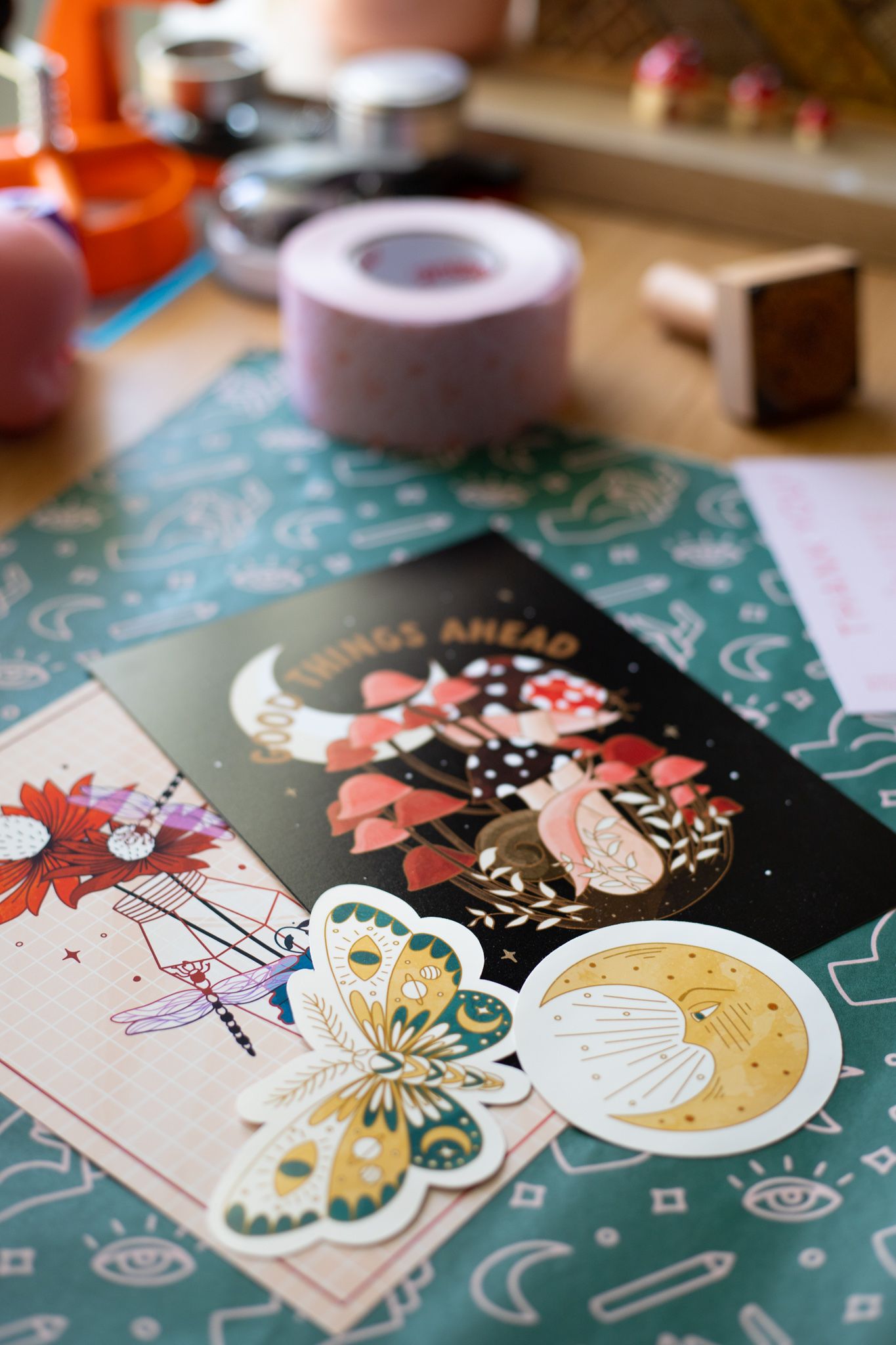 The moon has always been a guiding theme in Jay's life and art ever since her childhood years. She would often find herself sitting outside with a hot cup of tea, staring up at the stars whenever she felt lost or unsure about something.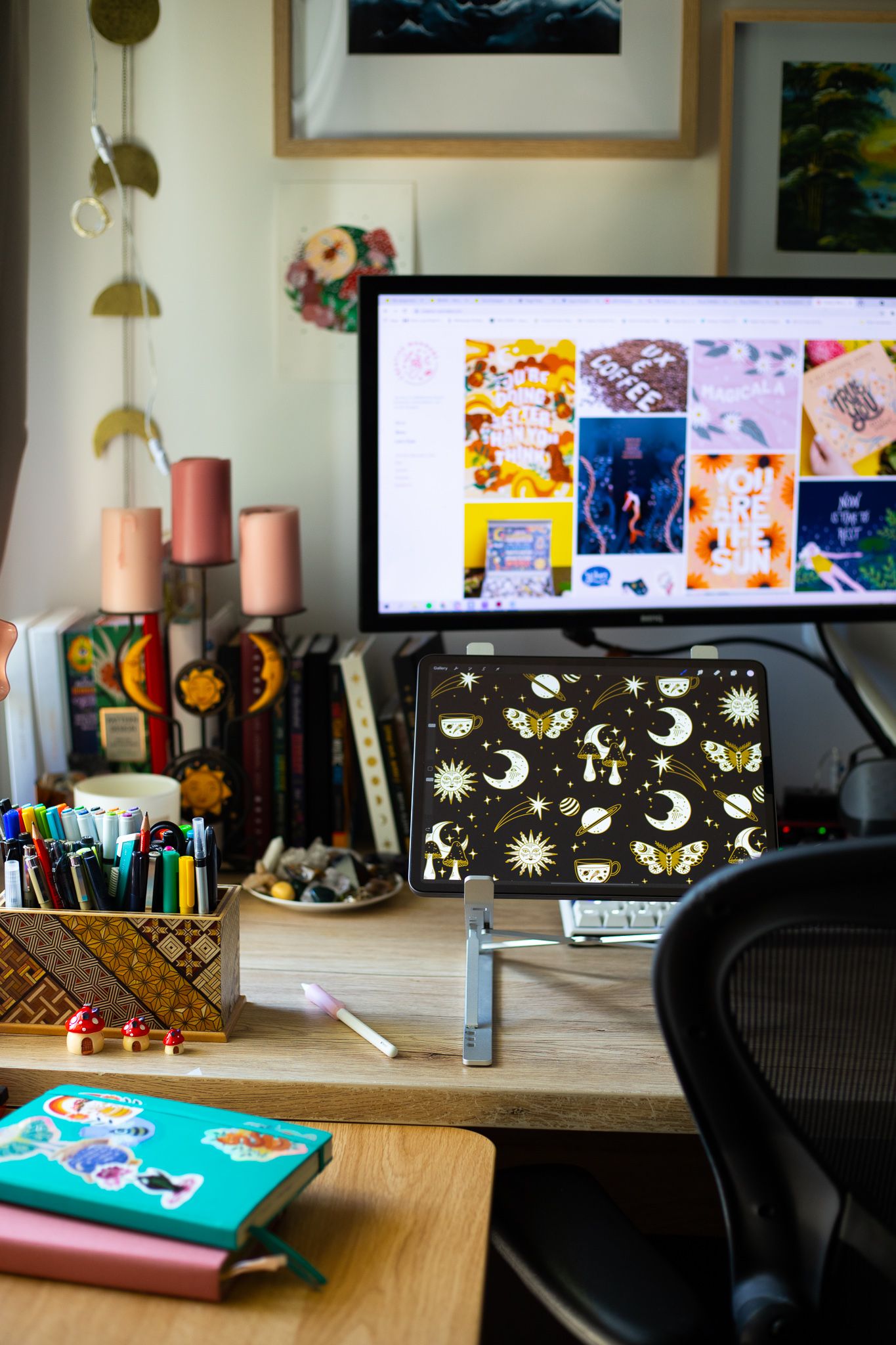 For her design, Jay really wanted to capture a sense of mysticism, but also ground it solidly in reality. She created a little pattern of elements that continuously repeat in her work; mushrooms, crescent moons, and lunar moths.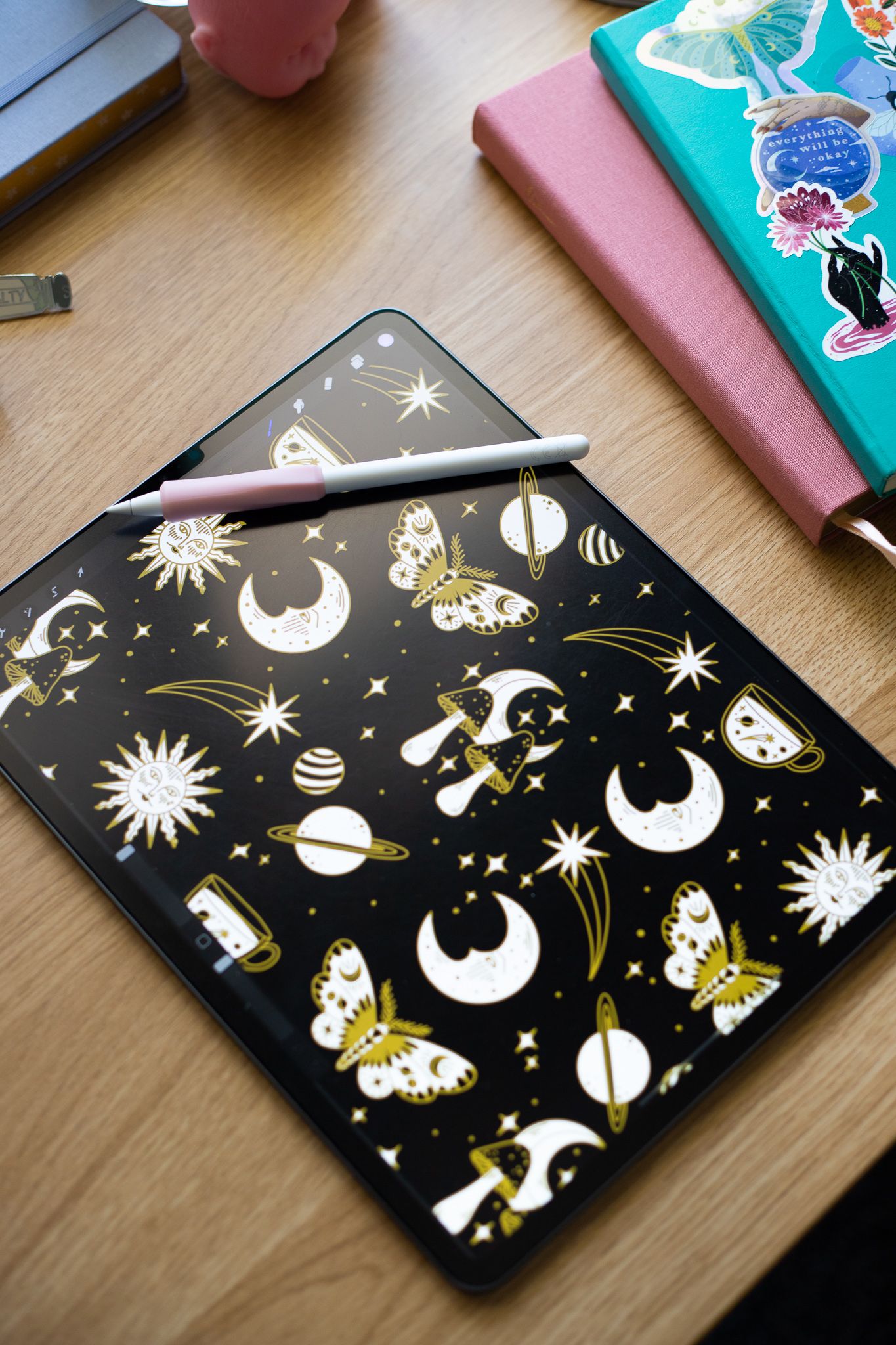 "The limited colour pattern really helps to make the gold pop and I love the contrast of the black background and white elements. Limiting my own colour schemes is one of my favourite ways to give my pieces a really considered, impactful aesthetic." - Jay
Jay's favorite part of the design process lives within the printing and production stage. Seeing her work come to life brings her top-tier satisfaction that nothing else can quite compare to. She finds it absolutely magical to be able to physically hold prints and stickers in her hand. She's always in awe of the ability artists have to create something tangible from nothing.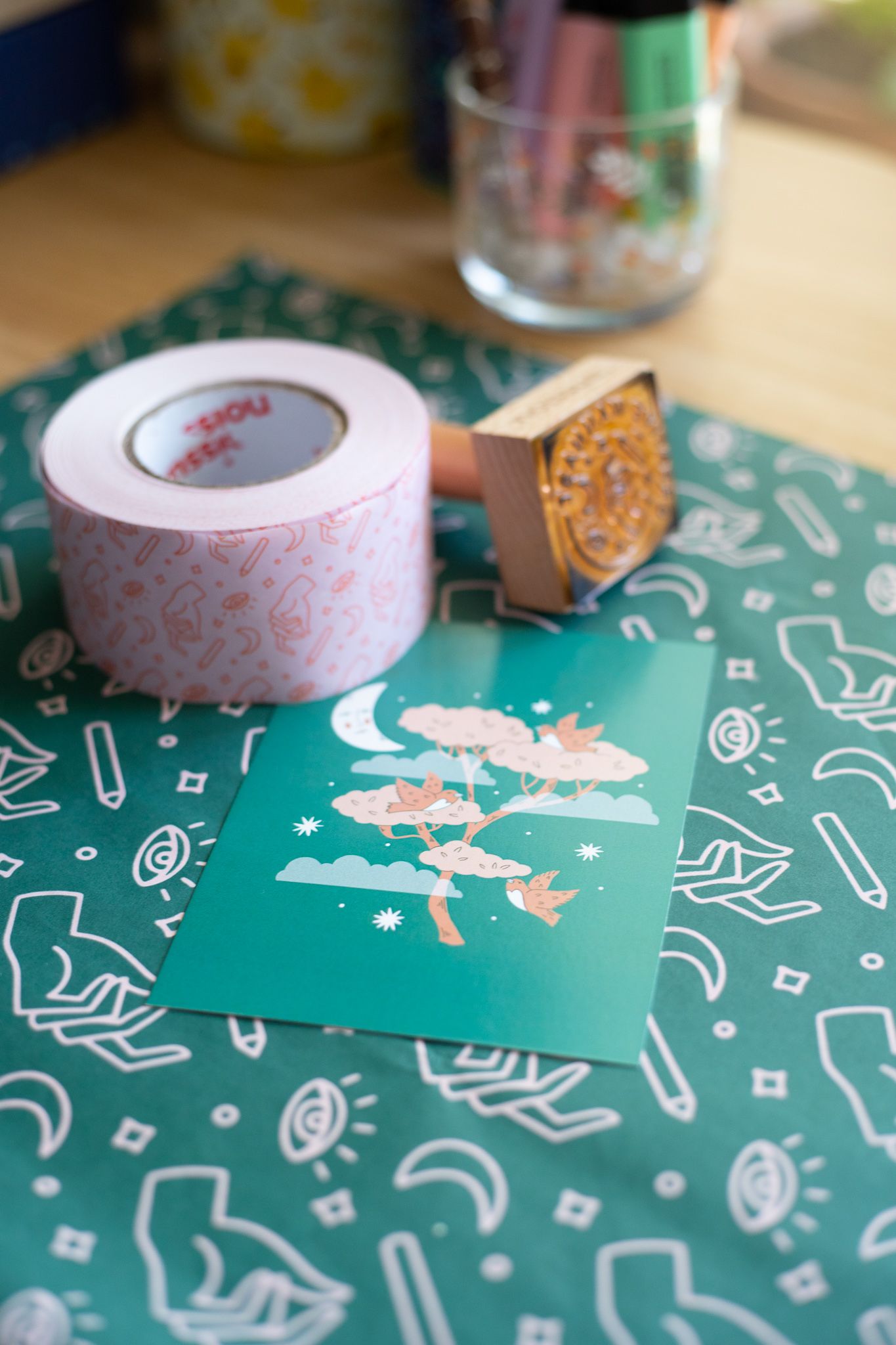 "I've seen noissue across all of my favourite creators' accounts for years now, and I always promised myself that when I launched my store I'd get beautiful custom packaging. In the world of superstores and overnight shipping, there is something really special about receiving packages that have clearly been created with thought and care. I think my favourite thing is my manual stamp with my logo on it, it feels so wonderful to stamp my envelopes with!" - Jay
Check out Jay Kay's design process and see her designs magically come to life:
Don't miss her mystical design as it features on the noissue.co homepage!
---
Love Jay's work? See more here:
Creative Profile: https://noissue.co/community/creative/partner/creative-wannabe
Website: https://www.creative-wannabe.com/
Instagram: @creativewannabe_