Whether you are a restaurant owner, a food manufacturing company owner, or a chef looking to start an online food delivery service, you must have realized that food packaging is not something you can afford to take lightly.
Your buyers will judge the quality of your food from the package, and you must keep abreast of the constantly evolving trends in the food packaging industry to grab their attention.
If you are looking for trusted and innovative ways to package your food products, you've come to the right place. This article will explore why food packaging is so important, various types of packaging for food, and how you can choose the right ones for your business.
Why is food packaging important?

The main goal of food packaging is to provide a practical means to contain a portion of food. However, there are other essential functions of food packages including:
1. Preservation and protection from contamination

Food items that are not consumed immediately can rot quickly if they come in contact with air, heat, and moisture. So they need to be preserved in containers that keep them free of contamination and damage at all points in the retail process. Packaging ensures food safety and prevents physical damage.
On the other hand, faulty packaging can affect the quality and taste of food, thus reducing the shelf life of the product. This is why food businesses conduct extensive research to find the best packaging solutions that can protect the food from dust, chemical reactions, and light.
2. Display product information

Packaging labels on food products help brands communicate important information to customers. This includes the brand name, food type, ingredients, and the expiry date of the product.
The food label is also used to display crucial health and safety information. This is particularly important for consumers with allergies and skin conditions who must avoid specific ingredients to remain healthy. The Centers for Disease Control and Prevention (CDC) requires all such products to display the list of ingredients used in the food item on the package.
3. Convenience for customers

Food containers can be designed to have features that make the handling, consumption, and preservation of food items easier for customers.
For example, aseptic cartons are used for liquid food like soup, dairy products, and beverages. These are sterilized packages that are designed to prevent microorganisms from entering the container. This keeps the product fresh and ensures a longer shelf life.
4. Brand awareness and customer attraction

Food packaging plays a huge role in helping to differentiate your brand from similar products on the same shelf. Customers often make their purchase decisions based on the appearance of the product, and the logo, colors, and style of food packaging are a bigger marketing tool than most business owners realize.
Packaging builds brand recognition and ensures customers can distinguish your product the next time they visit the supermarket.
12 different types of food packaging to consider

There are a plethora of food packaging options and as such, we won't be able to cover each of them in this article. Instead, we will focus on the primary packaging materials that are eco-friendly and avoid materials like plastic bottles, cans, plastic containers, aluminum cans, trays, skin film, and wrappers that are in most cases, not so eco-friendly.
1. Recyclable stand-up pouches

There is a lot of hype about flexible pouches from both food manufacturers and consumers, and there are a few reasons why we love this packaging material so much.
Food manufacturers love it because it is lightweight and cheap which leads to lower shipping costs, and environmentally friendly which helps them score points with eco-conscious customers.
Customers love the flexible packaging material because it often comes with clear windows, allowing them to see the product within the package before making a purchase decision. They can also feel the texture of the food with their hands – to an extent – by touching the flexible container.
noissue's Custom Stand Up Pouches are FDA-approved and food safe. They are made from recyclable materials that ensure the package can go back into circulation once used. The pouches come with features like degassing valves to keep oxygen from getting inside and spoiling the food, press-to-close zippers, and tear notches for retail display.
You can use these resealable pouches to package food items like bagged salad, potato chips, sweets, and candies. You can customize your pouches with your brand's logo, graphics, and product information.
2. Glass jars and containers

Although glass requires careful handling, companies continue to use it for food packaging because it boasts an air of luxury when compared to other types of packaging materials. It is also transparent, which allows buyers to see what's contained within.
Glass containers are easy to recycle and reuse making them an eco-friendly packaging material. But one major drawback is that it breaks easily. Broken glass can be harmful to store staff and consumers.
The impermeable nature of glass bottles means they are primarily used for liquid foods such as juices, wines, beers, pudding, pickles, or jams.
3. Recyclable sandwich bags

Recyclable sandwich bags are the perfect eco-friendly replacement for the countless plastic sandwich bags that usually end up in landfills and oceans. They are paper bags that do a good job of keeping your food fresh until you are ready to eat. Many are freezer-safe and can be kept in short-term freezer storage.
noissue's Custom Sandwich Bags are made from recycled fibers and recycled Kraft paper. Their stand-up design allows for eating straight from the bag — making them the perfect takeout essential. You can use also them to package food items like snack crackers, chips, or packed fruits.
4. Paperboard boxes

Paperboard boxes are made from a paper-based material that boasts superior attributes to ordinary paper. Depending on its method of production, paperboard can be made from Kraft paper, Glassine, sulfite paper, or parchment paper. These materials are thinner than cardboard but thicker than paper.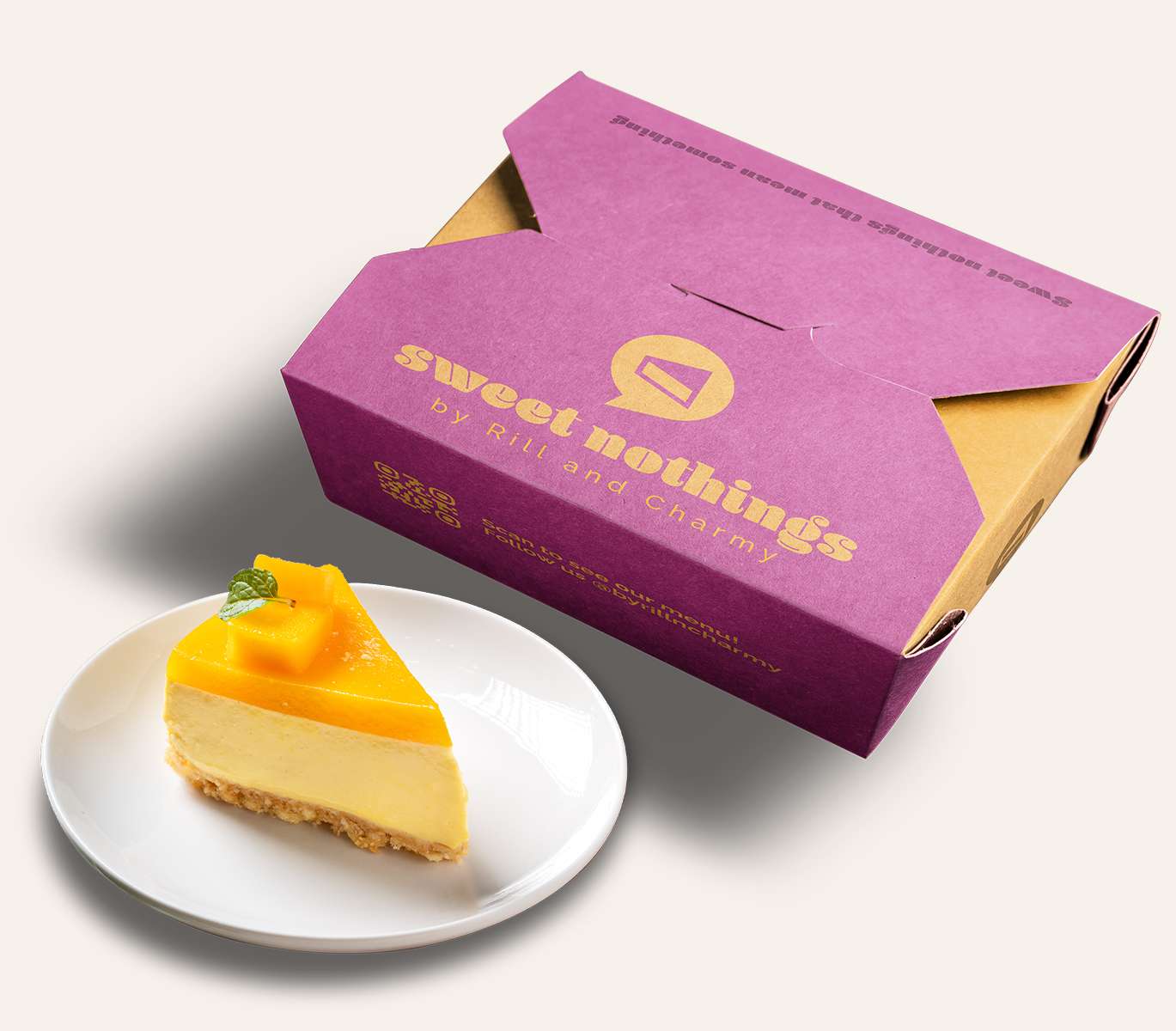 This enhanced rigidity helps explain why it is one of the most commonly used materials in processed food packaging. It currently has a 34% market share when it comes to usage as a packaging material.
Paperboard is fully recyclable and you can use it to package all sorts of food products, including snacks, pasta, cereal, canned beverages, and much more.
5. Compostable Food Wrapping Paper

Most of the wrapping papers you will find in supermarkets and food joints are made from non-recyclable materials like polyethylene plastics. Compostable wrapping papers are different. They are made of materials that decompose naturally.
noissue's Custom Food Wrapping Paper is 100% compostable. It is made of FSC-certified paper and printed with water-based food-safe inks that ensure you can promote your brand on your product packaging without worries.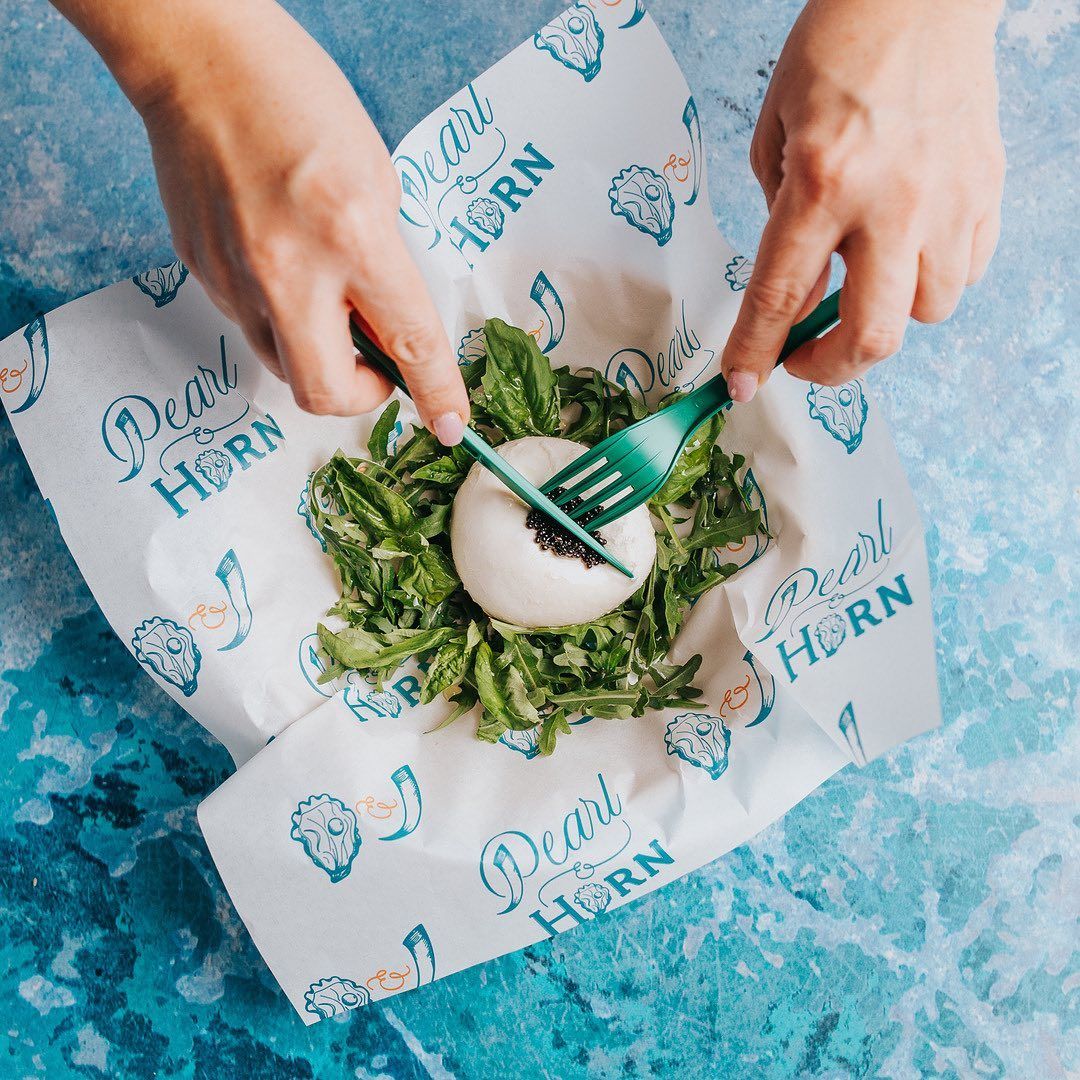 The wrapping paper is the perfect addition to any takeout box or plate and can be used to wrap bread and most baked goods.
6. Recyclable wax paper

This is the type of wrapping paper you should use to pack greasy or wet foods. It can provide a non-sticky surface because it has been coated with wax which acts as a moisture and grease barrier.
Although traditional wax paper cannot be recycled because of the wax or silicone coating that grants its barrier properties, the noissue Custom Wax Paper is 100% recyclable after use. It is made from FSC-certified acid-free paper and coated with food-safe wax.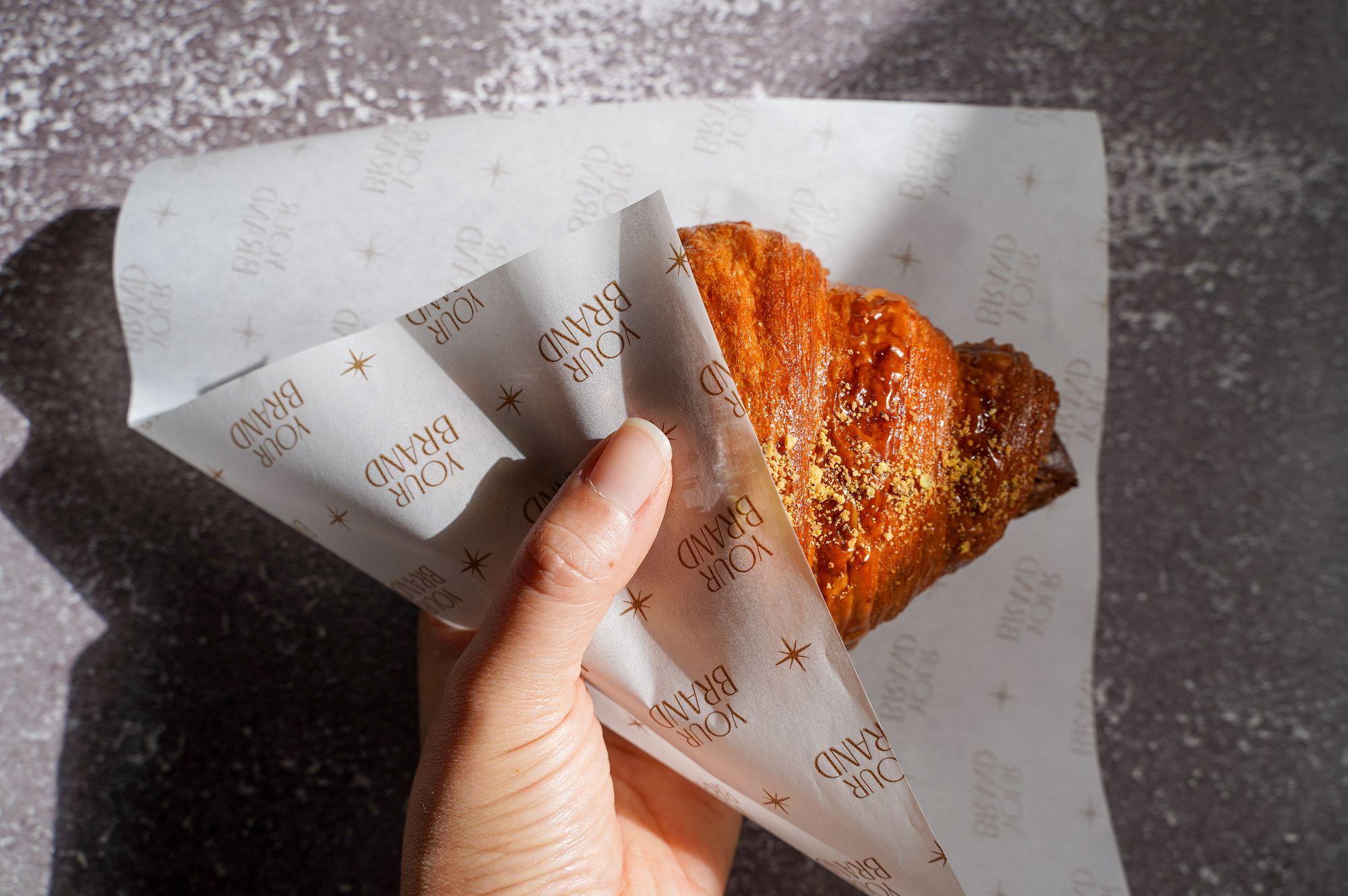 It is available in a range of sizes, and you can use them to wrap greasy food items like sandwiches, cheese, and more.
7. Corrugated cardboard boxes

Corrugated cardboard boxes are mostly used for secondary packaging in the food packaging supply chain.
Each box will hold multiple units of the same type of food product to make the transportation and distribution process much easier. The boxes will then be placed on pallets and wrapped together to secure them for shipping.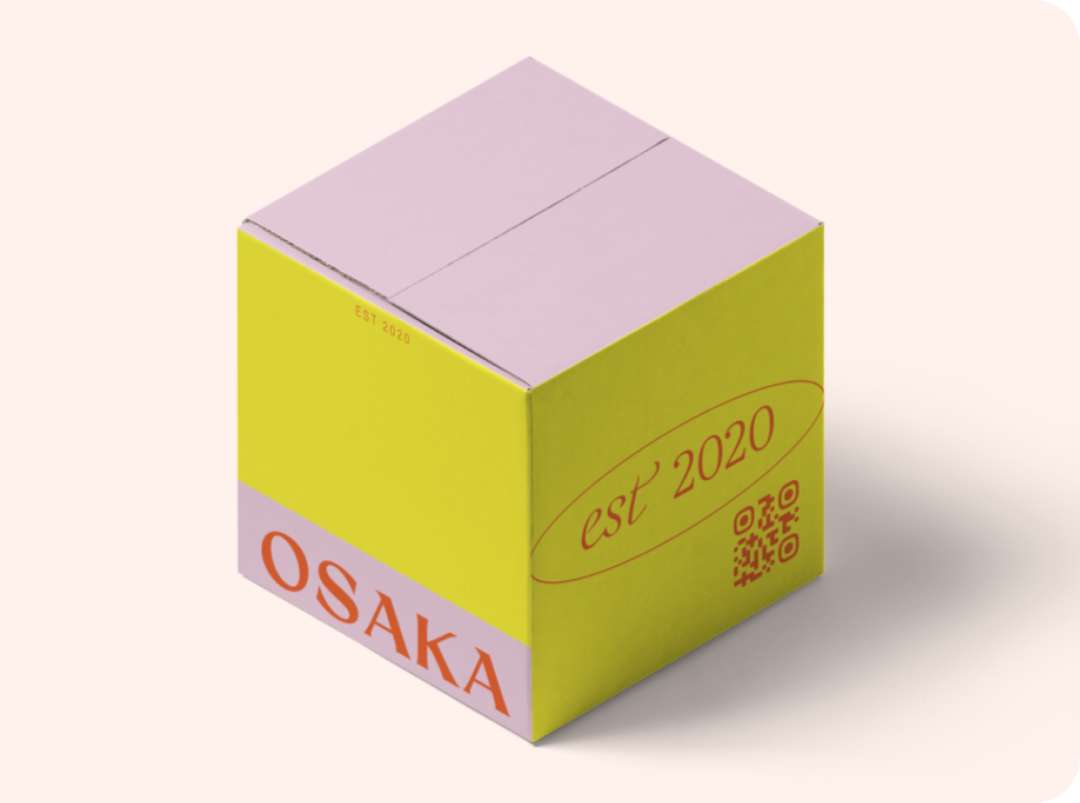 Nonetheless, they can still be used to deliver food items like frozen seafood, snacks, and beverages directly to the end-user. They are also one the most frequently and successfully recycled packaging materials in the world.
8. Food delivery paper bags

A paper bag is not just a better option for the environment, it is also stronger and more durable than the standard plastic bag. They are sturdy enough to stand upright on counters for consumers to easily load the bag and durable enough to be reused.
noissue's Custom Food Delivery Paper Bags are made from 100% recycled fibers and are recyclable and reusable. They come with handles for easy carry, making them perfect for both your takeout and delivery needs. You can use these eco-friendly bags to package confectionery, gourmet foods, and small groceries.
9. Clamshell takeout containers

The eco-friendliness of this type of packaging depends on the type of material used in its production. Clamshells made from styrofoam are not recyclable, while those made from plant-based materials are biodegradable and eco-friendly. Clamshells made from plastics are recyclable, although this is not always done.
noissue's Custom Clamshell Takeout Containers are made with sugarcane fiber. They are petroleum-free, tree-free, and commercially compostable.
10. Recyclable coffee bags

Just like wrapping paper, most coffee bags are not recyclable. This is because they are made by combining aluminum foil and polythene plastic to create a multi-layered structure that is compact enough to preserve the quality of the coffee beans.
Fortunately, more companies are starting to offer sustainable custom coffee bags which are usually made from kraft paper. There are recyclable, biodegradable, and compostable options.
noissue's Custom Coffee Bags are recyclable and compostable once you remove the tin ties. Made from recycled kraft paper, these bags are customizable and use FDA-certified food-safe lining. You can use them to package tea bags and leaves, coffee grounds and beans, tea leaves, and even small baked goods.
11. Resealable coffee bags

You can opt for a resealable coffee bag if you need a superior way to keep coffee beans fresh and safe from accidental spillage. noissue's Custom Resealable Coffee Bags come with customizable features that can get you the exact packaging you need. These features include:
Resealable press-to-close zipper
Degassing valves
Barrier films to keep moisture out
Bottom gusset
12. Compostable pizza boxes

Billions of pizza are sold each year, and when most people are done with their delicious pizza, they simply dump the boxes in the trash. This makes pizza boxes a major contributor to environmental pollution. Especially, boxes that are made of corrugated plastic or wax-coated cardboard.
Compostable pizza boxes give brands the opportunity to reduce the negative impact of the containers they use to sell their products. The noissue Stock Pizza Box is made with B flute corrugate, and it is both compostable and recyclable. You can also use them to package cookies and brownies.
How to choose the right food packaging materials for your business
Packaging materials come in different shapes and with traits relative to their properties. The right packaging material for your product will be the one that best helps to maintain the flavor, shape, and texture of your product over an acceptable timeframe. Consider the following:
The product: Your packaging material must be able to cater to the unique attributes of your product. For example, the packaging you choose for an ice cream product must be one that can withstand cold temperatures. The packaging for gourmet meals should be microwaveable.
The display aspect: You need to think about how your food product will perform on shelves. You want to make sure the packaging will be easy to display and stack in an appealing fashion.
The legal aspect: Some countries and states legally mandate that businesses use sustainable packaging. Make sure the packaging supplier you are considering is adhering to all the applicable laws.
The cost: Of course, you shouldn't exceed your packaging budget, but you shouldn't settle for low-quality packaging either (because of the low cost). The goal should be to find a packaging material that meets your needs, while also striking the right balance between quality and affordability.
🎁 Wrapping It Up

The food packaging industry is constantly evolving to meet the demands of customers. Recent trends in the industry are leaning towards packaging solutions that can engage with customers emotionally, while also eliminating harmful plastic packaging.
noissue can help you stay ahead of the curve. Check out our complete range of food packaging products that will meet and exceed your containment, sustainability, and branding needs.