Award-winning hygiene brand Touchland and noissue have come together to create custom packaging for the 12 Days of Touchland campaign.
Touchland has been providing an alternative to the alcohol-smelling sanitizers that leave your hands feeling more sticky than smooth since the company was founded in 2010. Founder Andrea Lisbona noticed there was a lack of hand sanitizers on the market that nourished the skin instead of drying it out, so she decided to make a formula of her own that also had skincare properties.
Head of Community Kayla Ferguson-Tarver says Touchland has a product that people genuinely enjoy using, but the Covid-19 pandemic that begun in 2020 has accelerated the need for – and the popularity – of its stylish-yet-practical products.
"Our CEO, Andrea Lisbona, saw a need for a change and started a revolution. Little did she know she'd create a product that would be so sought after years later but her determination and willingness to make Touchland a household name has transformed her idea from a simple product to a brand that so many people go crazy for," Kayla says.
Touchland's other point of difference is unlike other hand sanitizers, their products resemble a cult beauty product with their Instagrammable design and bright, bold colors. The brand has also recently teamed up with Disney to offer a limited edition collection in a pop-art style, which is a testament to how iconic their hand sanitizers have now become.
Aside from their hero product Power Mist Touchland also offers the KUB which is a chic and tech-foraward sanitizing station. The KUB is perfect for public spaces, like workplaces and restaurants; and uses Internet Of Things (IOT) technology to monitor consumption and auto-request refills. Businesses including Equinox, Sweetgreen and Four Seasons are among those who are now using KUBs to welcome their customers.
Touchland products are currently not refillable to avoid any possibility of cross-contamination. However, sustainability is very important to the brand and in order to offset their plastic footprint they have become a plastic neutral certified brand by the hand of The Plastic Credit Exchange (PCX). This partnership with PCX helps fund local companies and woman-led organizations in low income communities to redirect plastic waste from landfills and oceans in an environmentally safe way. This means it can be recycled into new products, or is ethically eliminated without impacting the environment.
Partnering with PCX means that Touchland offsets its plastic footprint by 100 percent, while PCX on the whole has diverted more than 22 million kg of plastic from landfill worldwide.
The details on the Touchland x noissue holiday collaboration

For the holidays, noissue and Touchland have come together to collaborate on custom packaging for the 12 Days of Touchland giveaway. Kayla says Touchland wanted to make this initiative memorable for their community through collaborating with like minded businesses.
"We ensured that through each collab, there was intentionality and a message behind it. making the 12 days a very beautiful journey for our audience to enjoy, Kayla says.
"Touchland provides products for everyone, so we thought of things to giveaway that would cater to a wider audience."
Touchland has created Custom, Reusable Organic Cotton Tote Bags and Custom, Recycled Boxes in partnership with noissue. The customized branding featured on both – such as their distinctive brand typeface – helps Touchland set themselves apart from other holiday giveaways taking place at this time.
"Touchland loves to partner with category leaders of different segments, so it was a no-brainer to work with brands like noissue, Budsies, Glassie, Little Words Project, Lights Lacquer, and Custom Neon for this initiative. Like Touchland, they understand their industry and their audience to provide an unmatched experience through their products," Kayla says.
Touchland's Custom Tote Bags are truly the gift that keeps on giving over the holidays, seeing as giveaway winners can use them again and again to shop for groceries, package presents in and more.
When it comes to sustainability, noissue's Tote Bags are made from 100% Global Textile Standard Certified Organic Cotton and printed with water-based ink. Organic cotton is less impactful than growing regular cotton as it is grown without the use of pesticide and created from seeds that haven't been genetically modified.
This not only benefits the environment, but also the health of workers who pick the cotton and the communities who live in the surrounding fields.
As well as this, our Custom Boxes (currently USA only) can be composted or recycled at their end of life due to being made from Forest Stewardship Council (FSC) certified materials and 30 to 60 percent recycled fibers. They're also printed with water-based inks, just like our tote bags!
Where to find the collaboration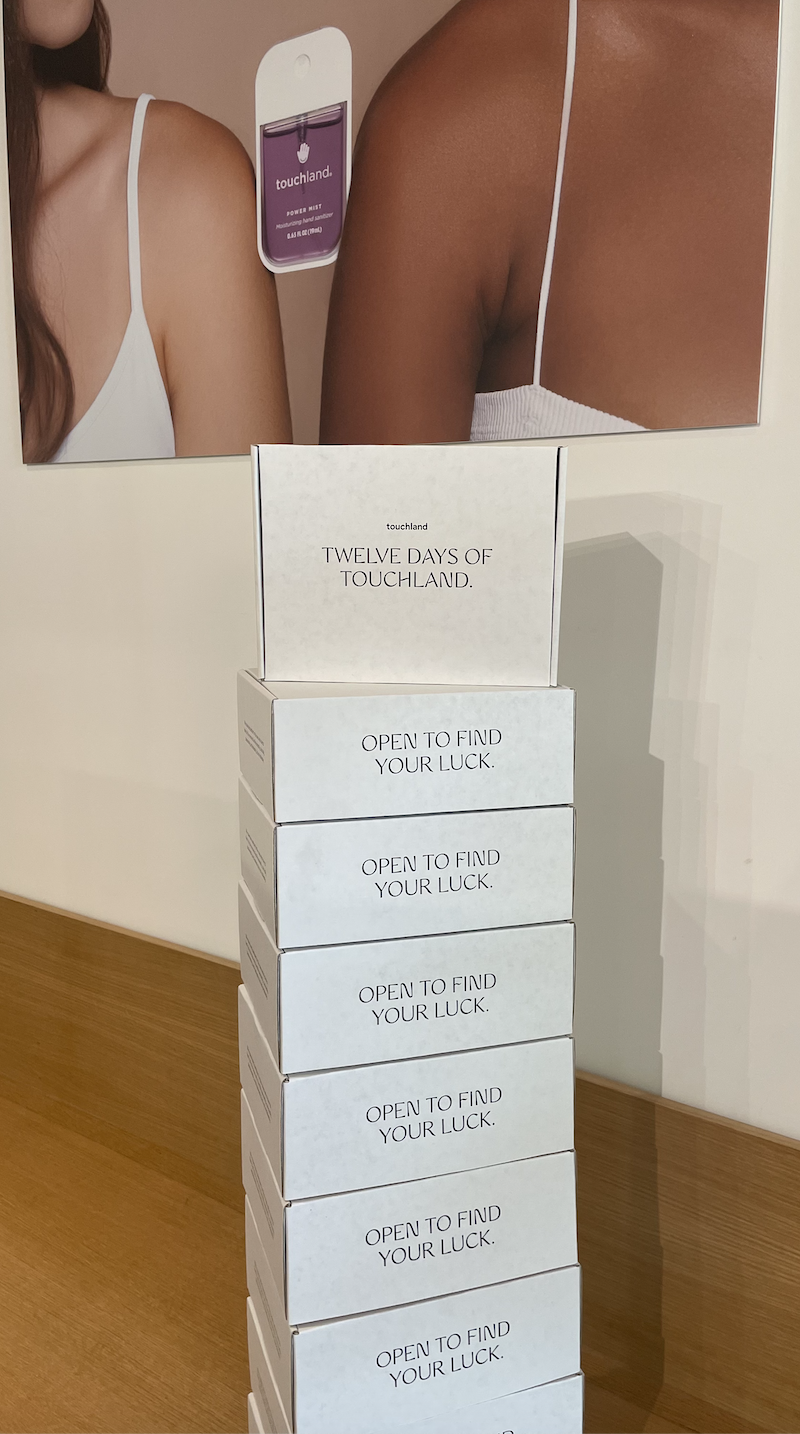 If you're interested in finding out more about Touchland's 12 Days of Christmas campaign and getting your hands on a noissue x Touchland Custom Tote or Box, head to their Instagram to take part in the giveaway! Or check out Touchland's website to find out more about their stylish hand sanitizers.
Shop the packaging products

Ready to get started with custom packaging? Shop the products used in this collaboration below: