Rareform is a California based sustainable accessories brand dedicated to crafting salvaged billboard vinyl into one-of-a-kind products. We touched base with Megan Frentzel, Rareform's Brand Manager, to talk all things upcycling, their brand evolution, and what sustainability means to their business.
Tell us a bit about yourself, and how you became the Brand Manager of Rareform?
I have worked at Rareform for close to 4 years now, but I originally started as a graphic design intern. Slowly over the years, I took on many hats - anything from e-commerce operations to heading up our video and photography shoots. To be honest, I've learned most of what I know from the great people around me (shoutout to our founders, Alec + Aric) and, of course, seeking inspiration from other brands.
My design background is still a big part of my life and job, so I tend to carry that creative eye with me through all of our marketing programs. Moving forward my focus is on larger marketing campaigns and building out a team that can bring those ideas to life! We're growing quickly here, and I'm stoked for the future of Rareform.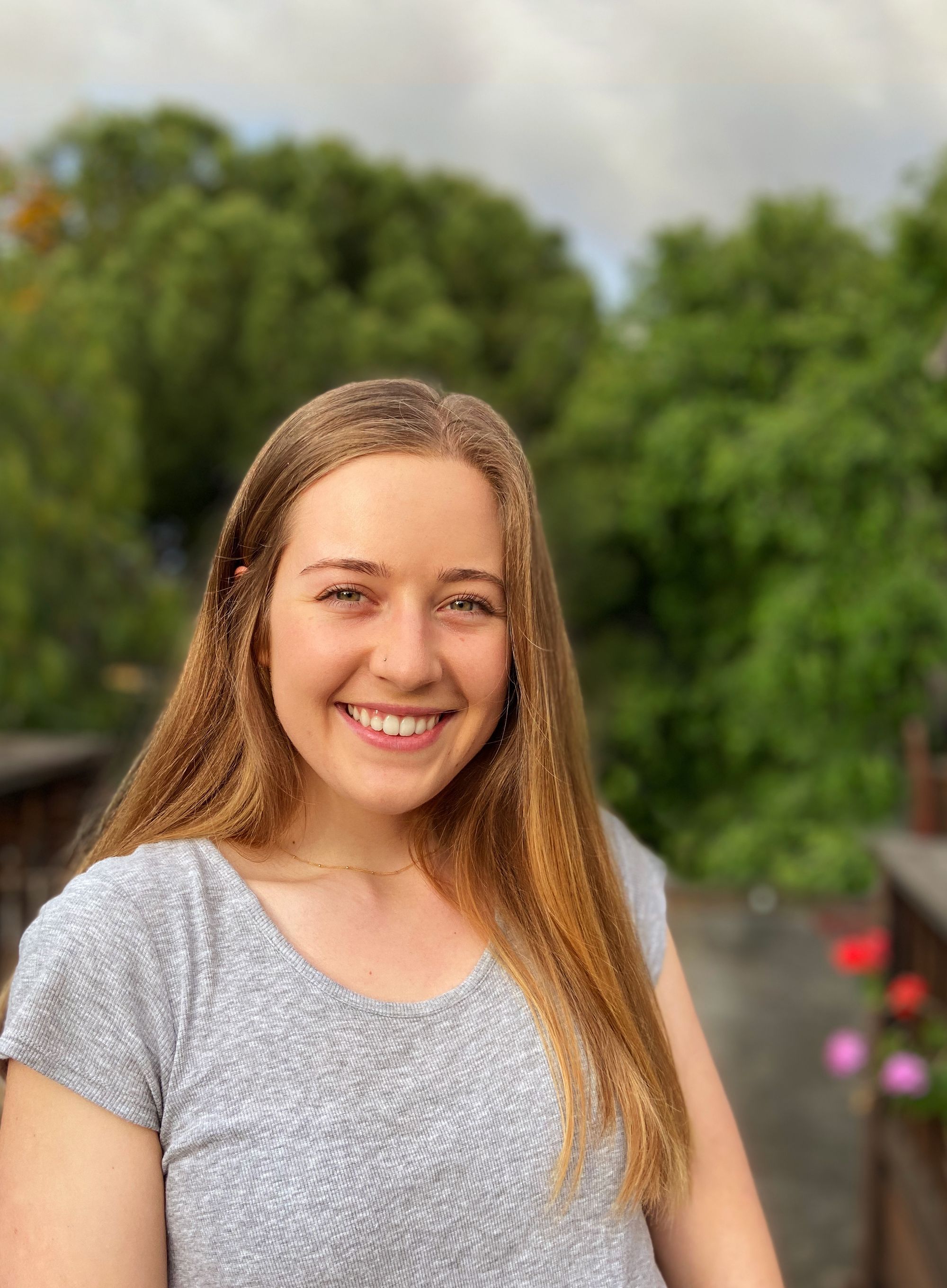 What sets Rareform apart from other accessory brands?
Here at Rareform we're in the business of change, transforming something used into something new-ish. There's no blueprint on how to do what we do. We're proud to create goods that are empowering, fun, and useful to those in our community.
Not too many people even know what billboards are made out of, so it's a fun challenge to combine that educational experience with the uniqueness of our products and sustainability goals. The fact that each good we create is one-of-a-kind is also a fun bonus that sets us apart.
Your products seem extremely durable, how did you come across the idea to use billboard materials for your products? What does your sourcing process look like?
One of our founders, Alec Avedissian, was on a surf trip in El Salvador where he saw the material being used as roofing. He was immediately inspired by the duality of the material and went to work creating surf bags.
Billboards are meant to live outdoors in all weather conditions, so it is a very strong material! However, the PVC vinyl they're made from cannot be recycled which means they normally would end up in the local landfills. Thankfully we've been able to partner with some of the largest Outdoor Advertising agencies in the U.S. to collect the material they post.
Typically the billboards are accumulated at local plants until there are enough pallets to efficiently ship them to our warehouse in Agoura Hills, California. After that, our team goes to work sifting through all of the material, checking for damage, sorting colors, and organizing the vinyl to be cut for products.
When our co-founders first started Rareform in 2013, a big month would be collecting 20,000lbs of vinyl per month. Now, in an average month, we take in nearly 500,000lbs of billboard vinyl (that's about 6.7million sq/ft of material, enough to cover 115 football fields).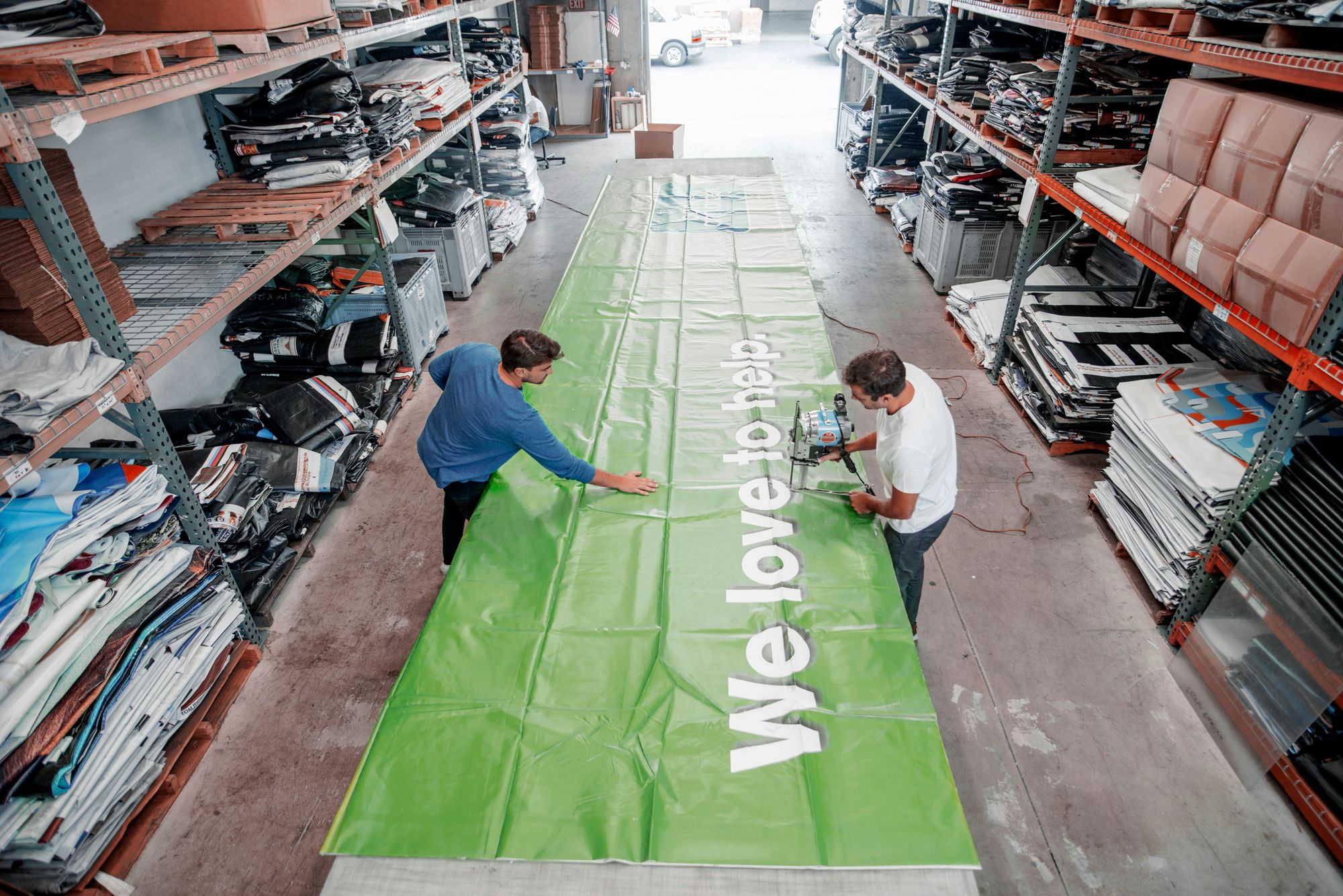 We're big fans of the colorful styles on your site! We'd love to hear about your creative journey.
The colors themselves are a big selling point for us - a lot of our customers love bold patterns and bright bags so it's always fun when we get more colorful billboards in. I personally am a fan of the more neutral and solid bags, but every customer is different. That's why we love that each bag is 100% unique because our customers are too!
You have a wide range of styles and accessories, is there an audience you appeal to more than others?
We started as a surf brand, but have slowly moved towards the fashion space. We want to be known as the brand for anyone and everyone. A place where our customers feel comfortable and empowered to wear loud colors and make statements (both with their style and sustainability).
For the rest of 2021 and 2022 we are putting a lot of energy toward consumer research and product development, so definitely be on the watch for new style drops!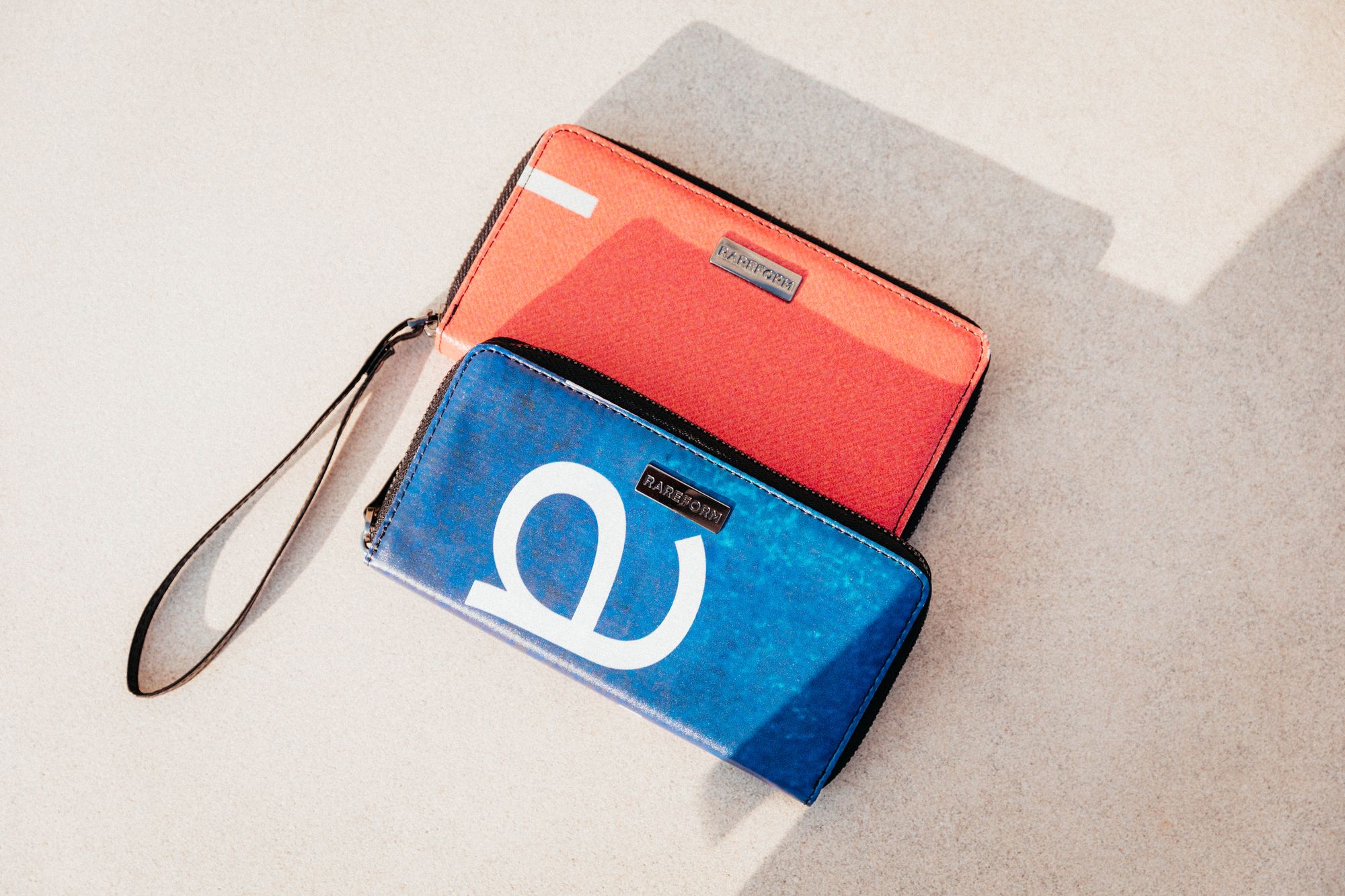 By joining the noissue Eco-Alliance, Rareform is committing to taking steps towards sustainable business practices. Do you have any initiatives in the works outside of noissue packaging/totes or any sustainability goals for your business in the future?
Right now, we are in the process of changing all our product lines to use 80%, if not 100%, recycled materials. That's been our biggest priority with product development and re-boots for 2021/2022. As we grow, a goal of ours is to bring on a full-time Sustainability Strategist to ensure that we stay on track with our mission and sustainability goals but for now we're continually looking for the small eco-opportunities around us.
Rareform is in the business of transformation and we're always looking to improve. We aren't in the business of shaming anyone for their sustainability habits, but instead, want to be a space of encouragement and inspiration.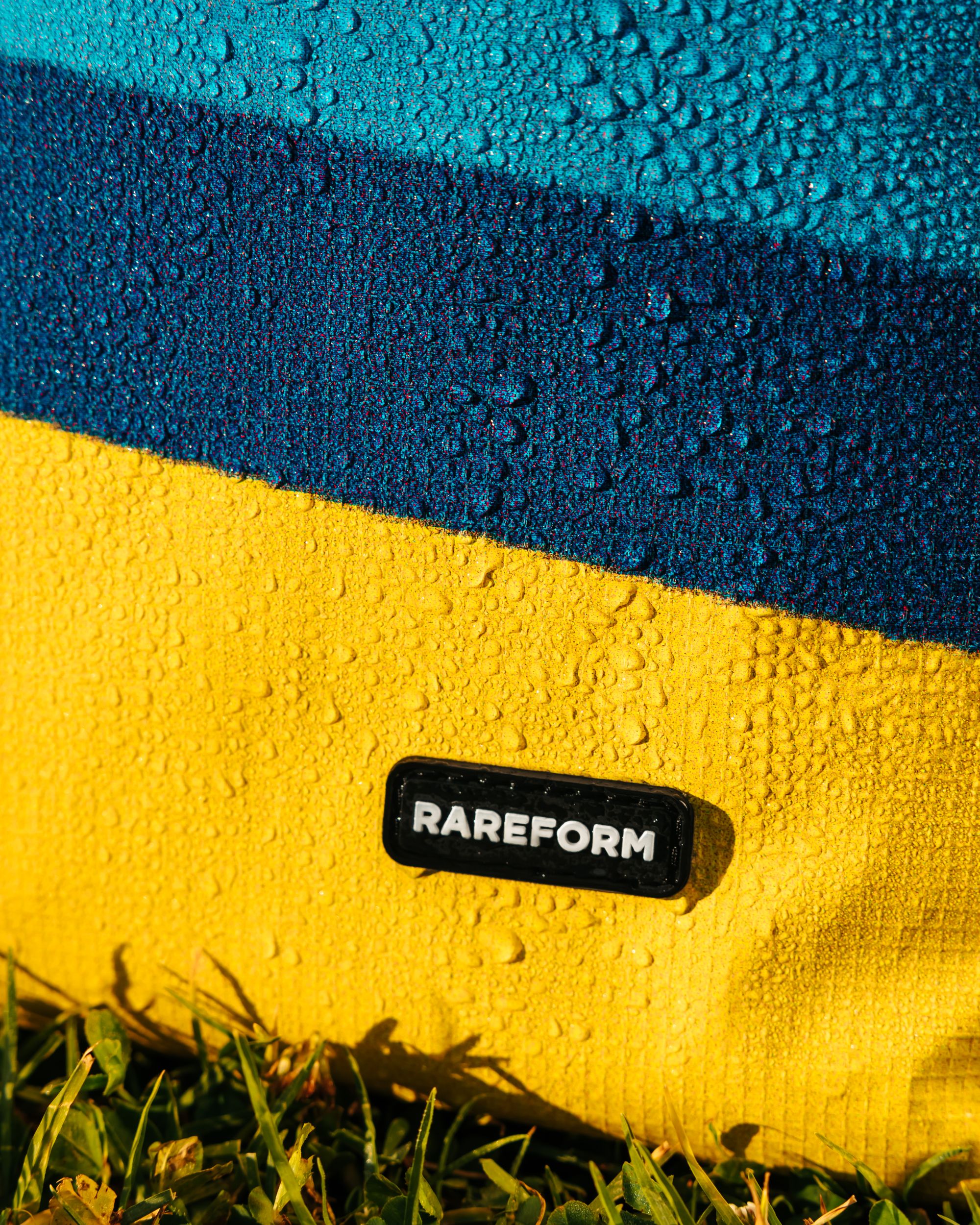 As a Brand Manager, what are your key sources of inspiration? What resources, mentors, or communities do you look to?
I love following brands on social media, it gives me quick inspiration to reference daily. We have so much content at our fingertips, it's a great resource to stay up to date with trends and get inspired.
Mentorship has been another priority for our co-founders. Alec and Aric have both been amazing entrepreneurial inspirations, but they also are adamant about connecting us to experts directly in our field. There is always someone better than you, so why not seek them out and learn from them?
What is one piece of advice you would pass along to a fellow peer who is just getting started, or working on bringing a brand to life?
Be confident in yourself and your actions. No matter if you're the youngest in the room or just new to your field – if you have passion and work hard you can go anywhere. But don't forget, it also takes a confident person to seek out those who are better than them (and there is always someone better than you). Not every idea you have will be a home run, but the more you can ideate and collaborate, the better off you'll be.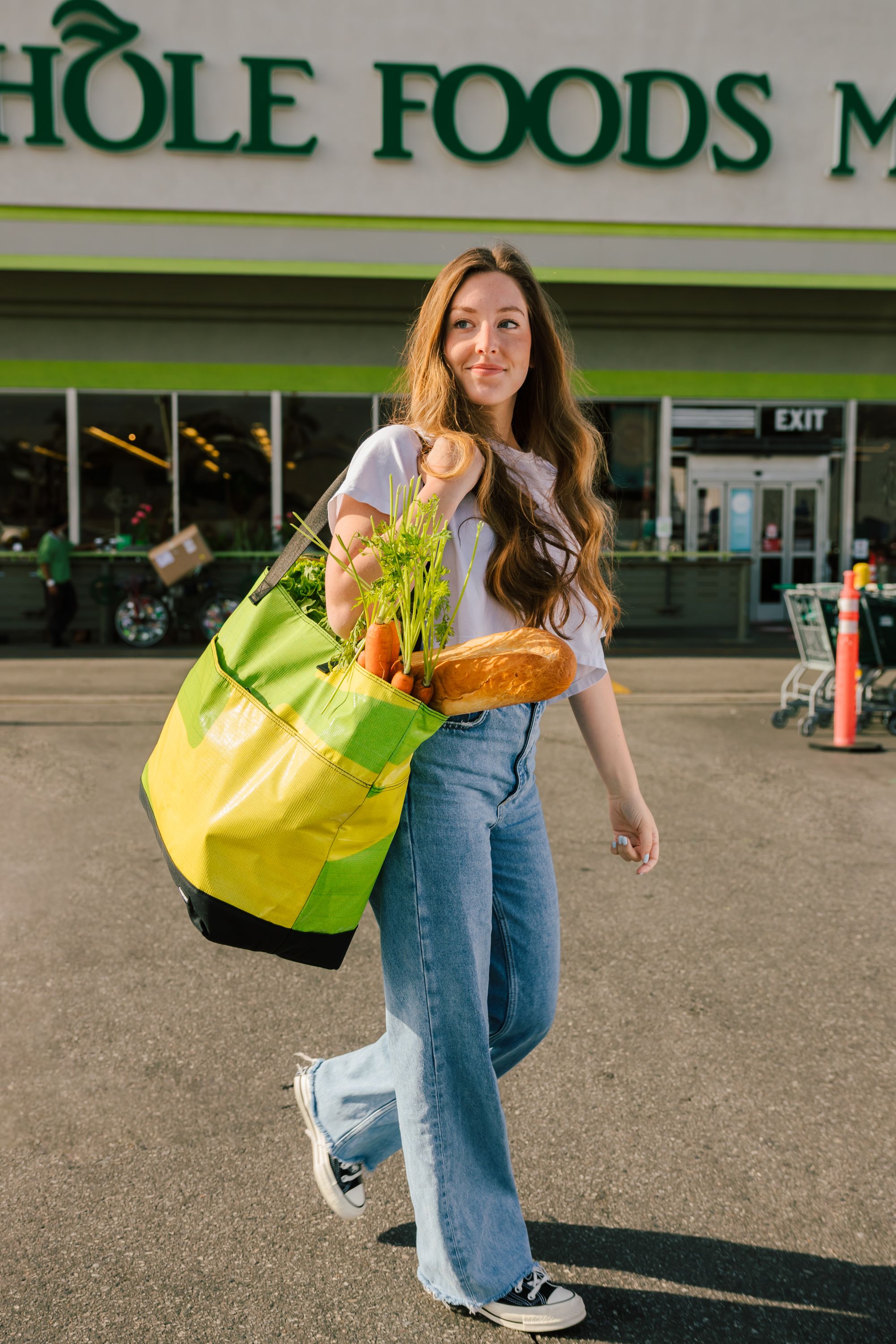 If you had to choose, what would be your favorite Rareform accessory?
Hands down the Blake Tote is my most used product. I take it to the grocery store with me on a Saturday morning, and a few hours later it will be next to me on the beach. It really is that good. But we have a new product coming out later this year that I have a feeling will become a new favorite!
---
More about Megan: As Rareform's Brand Manager, she's in charge of all marketing campaigns, content production, and creative assets. Sustainability is a big part of why she loves the company, so finding creative ways to preserve nature and enjoy it are important not only in her professional world, but her personal life as well. Outside of the office, you can probably find Megan at the beach or a local farmer's market scouting out the food scene - probably taking notes from all the bold colors of produce!
---
Find more Rareform here:‌‌
Website: rareform.com‌‌
‌‌Instagram: @rareform
Like this story? Tell us yours! Share your brand story and love for your custom packaging and get a chance to be featured on the wrap! If you're a noissue customer and are interested, you can join the Eco-Alliance by clicking here and answering a few questions here.
Questions? Email us at ecoalliance@noissue.co.