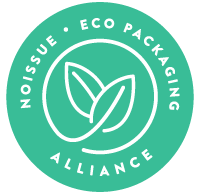 There's something about flora and fauna art that screams classy all over! And we noticed how artists enjoy making prints with these beautiful muses. Nature art is reminiscent of simpler times and innocence, making anything with it look and feel at peace.
Viktoria, also known as Vaulchen online, is an artist from Berlin, Germany. And she loves creating colourful animal illustrations and turning them into cute trinkets for her sustainable stationery shop of the same name.
Viktoria always loved drawing and painting animals, and took the last few years focusing on creating her own personal style. Using her acrylic paint markers, her favorite medium to use, and with the help of amazing other artists on Instagram, she was inspired to push herself further. She now also enjoys using digital art for creating stuff that make people happy, and last year, finally took the plunge to make her own stickers. She hopes that people use them for putting on notebooks or bottles and get a little smile every time they see them.
"I create fun and whimsical animal illustrations that aim to make people smile and maybe educate a bit on the side about all the amazing animals that live all around us."
Viktoria is an artist that also makes it a point to be as sustainable as possible.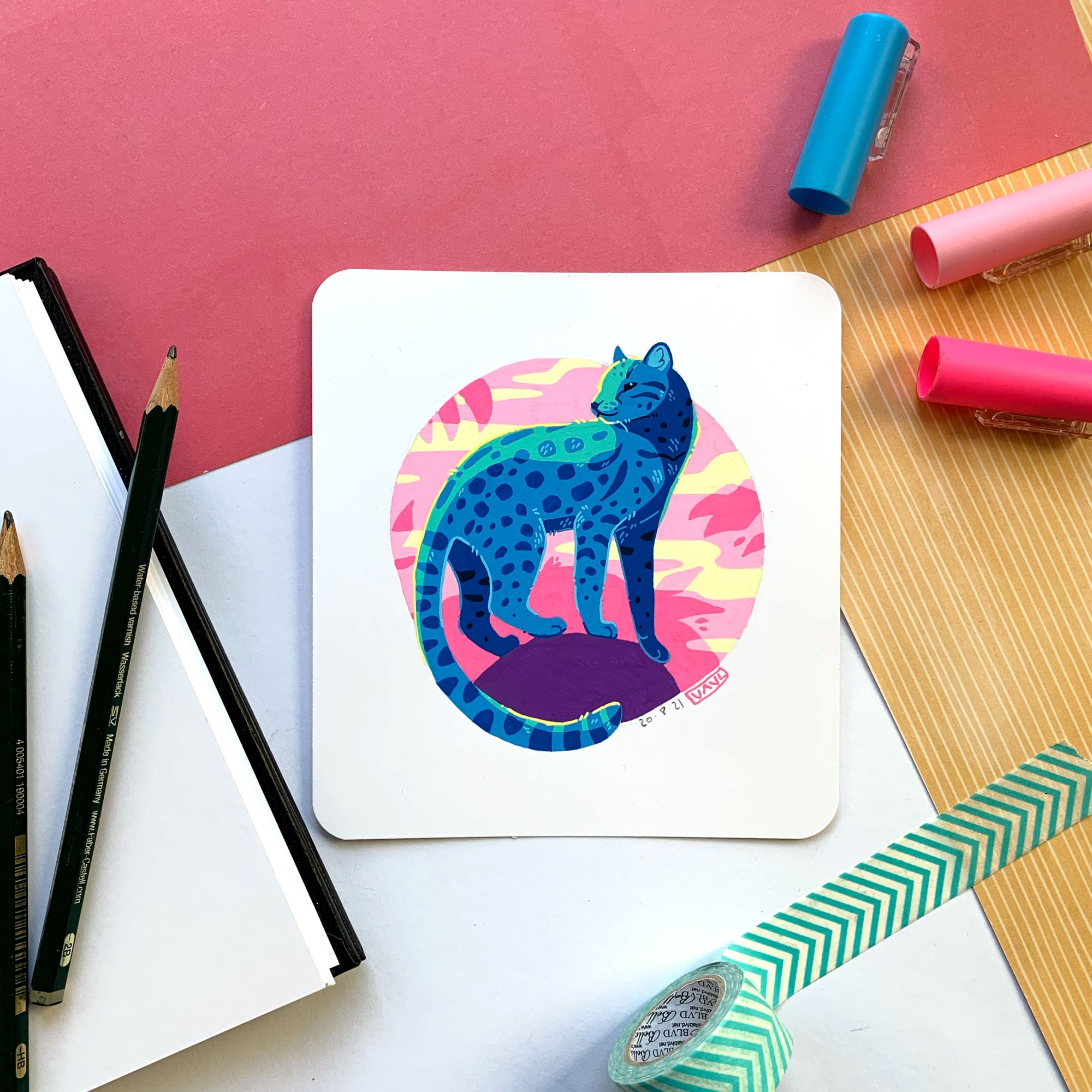 With that laid out, nearly all Viktoria's packaging are fully recyclable! From boxes and envelopes to tissue paper and small glassine sticker baggies. She tries to use as little of them as possible while still giving her customers a nice experience when they get their products.
When she prints postcards, she uses a small local company that prints on 100% recycled paper with vegan inks, to cut down on both consumption and shipping. In general, she tries to source from small and local businesses to support others like herself. She has committed herself to only produce as much as she knows she can sell, and any b-quality products become freebies! If possible too, she looks for earth-friendly alternatives; like wooden pins instead of enamel pins. And of course, uses noissue products for her other circular packaging needs.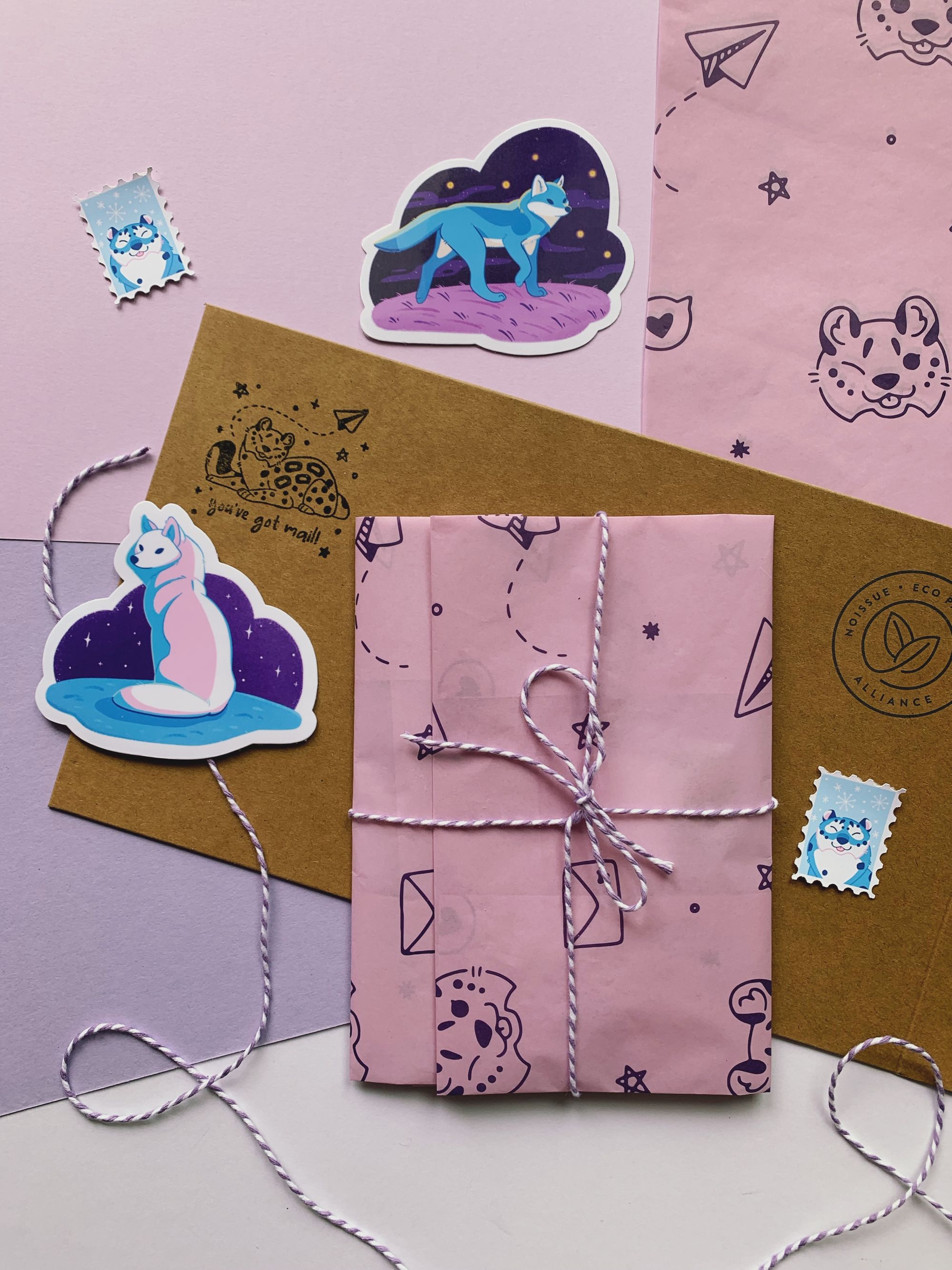 "The most sustainable packaging is the one we don't use. After all, most packaging will get thrown away after a single use, so less really is more."
Viktoria uses noissue soy-based ink Stamp which she found especially intriguing. With her stamp, she's able to brand paper products without wasting resources on additional stickers or printing. She also uses noissue's Tissue Paper, though admittedly, it was a bit of an indulgence for the artist, but she hopes people will reuse that as well. She did not explicitly brand it with her name but instead tried to make it extra cute, so it can get reused as giftwrapping!
Truly a good plan for taking care of the environment and giving back to nature.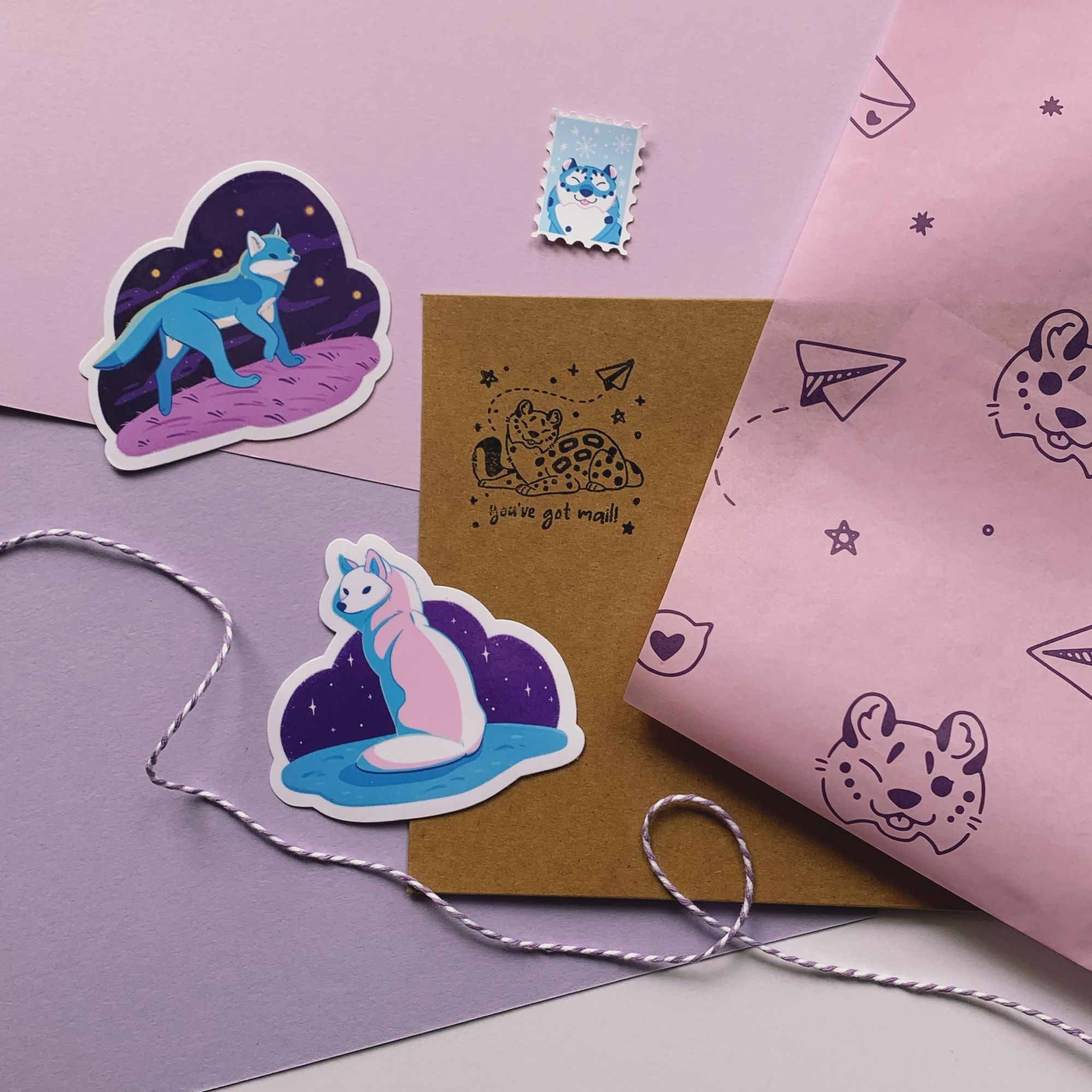 Looking at the illustrator's online pages, you can definitely see the uniqueness of her personal style, which makes her stand out from other artpreneurs online. Many creators make stickers and postcards, but Viktoria hopes hers show the world that her art is quintessentially her! She put a lot of time, effort and hard work into the pieces and hope those shine through in the end.
"I am a very young business and am definitely excited to see where this journey is taking me in the future!"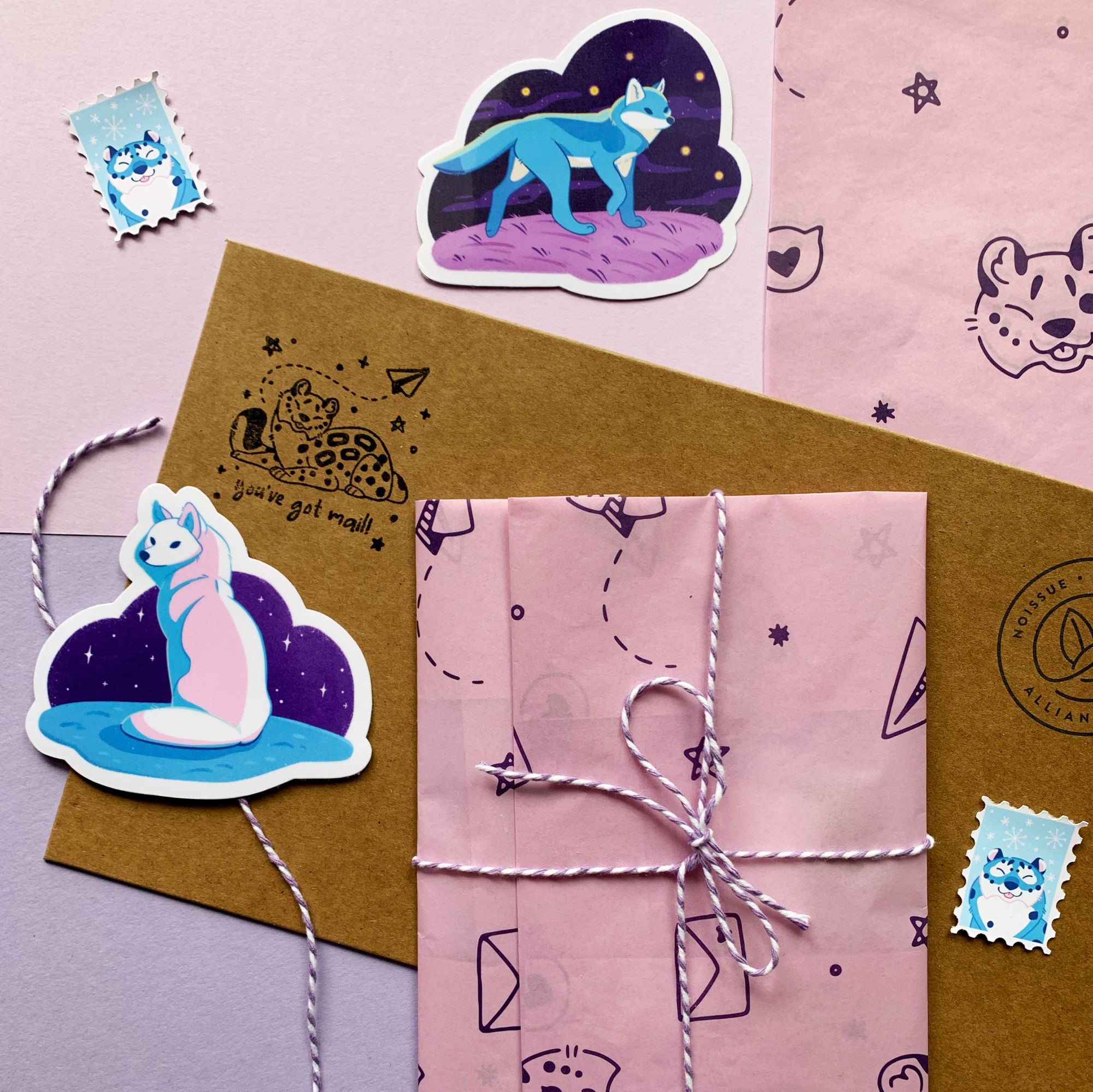 Being a part-time artist is never easy. You always need time for yourself, your mental health, and your day job! And that's a challenge Viktoria's always faced: time—balancing all her different projects and ideas with her personal life. She has always wanted to be financially dependent on what is, essentially, her hobby and stress relief. It was a bit of a learning curve for her to know when to stop or say no, to make sure art will continue to be fun for her, "Running a business is very fulfilling, but like with every job it is not all sunshine and roses and it can be a chore."
With that said, she tries to pace herself and ensure that creating art will not end up feeling that way. She puts happiness into her work and hopes that it comes through in the final product.
For those hoping to build their own online art shop, Viktoria's tip is to take it slow and take your time to experiment! Figure out your personal style and make sure you can produce consistent work. Ideally, people should be able to recognise your art when it comes across their feed without seeing your name.
She also recommends to not jump in too early—build a stable community before you start your business!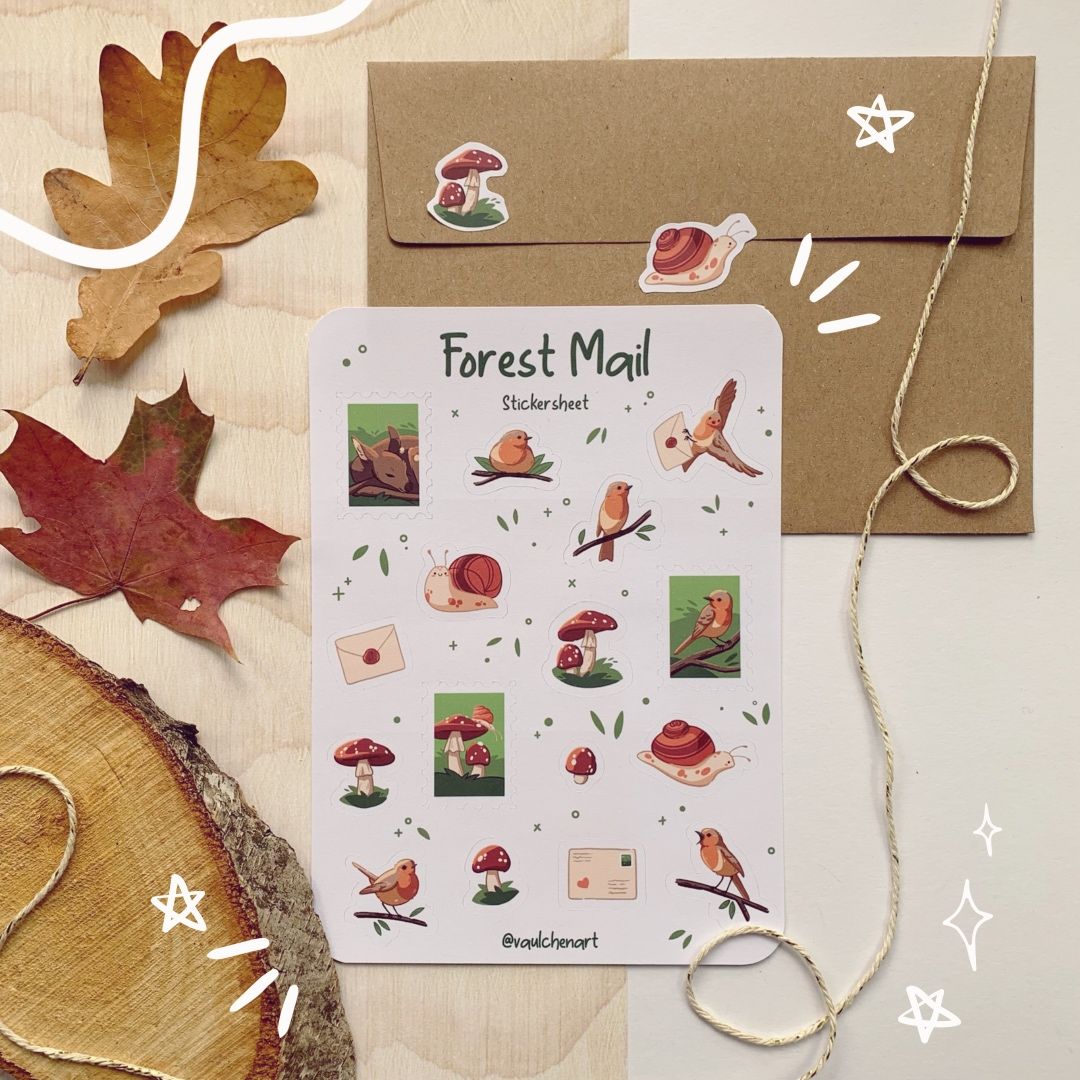 Viktoria continues to grow her community to make a name in the art industry. But even at this early stage, she already has customer stories she could never forget! Her favourites are when people order for their loved ones which she finds such a huge honor. One mother ordered a sticker for her daughter and Viktoria ended up writing a little note of encouragement to continue her art journey, and the kid messaged her on Instagram, thanking her and letting her know how much she loved the stickers her mom purchased. This made Viktoria really happy!
Her favourite product from her collection wasn't a sticker though, but a high-quality print of her favorite painting which she sold out all copies of!
Art about nature for nature? Count us in!
---
Find more of Vaulchen here:‌‌‌‌‌‌
‌‌‌‌‌‌‌‌‌‌
‌Etsy: VaulchenArt‌
‌Instagram: @vaulchenart
If you enjoyed this read, we bet you'll like this feature too: ‌
Avail Knit: Knot Your Ordinary Knit Business
‌‌
‌Want to share your story? We'd love to hear it! Join the Eco-Alliance here and share your deets with us here to get a chance to be featured on The Wrap!
Questions? Email us at ecoalliance@noissue.co