Custom noissue Washi Tape by @pasmonstyle
If you're a budding business, you might be wondering how you can establish your brand as one that goes above and beyond for an unbeatable customer experience. In 2022, one of the best ways to stand out as a brand is to incorporate sustainability as a core part of your business's DNA. Instead of keeping sustainability on the backburner, conscious brands bring sustainability front and center by choosing more responsible and reliable solutions. Solidifying your commitment to sustainability through packaging made from better materials will help you win customers and increase brand credibility.
2022 is the year for small businesses, after all. In the United States alone, 5.4 million new business applications were filed in 2021, raising the 4.4 million record set the previous year. While we'll see the number of ambitious brands rise, we can also expect businesses to improve on unique and memorable branding to keep customers interested and engaged. We're also seeing more industries adopt alternatives to traditional packaging as consumers prefer eco-friendly offerings. 74% of shoppers are more likely to purchase from brands that use sustainable packaging, so your business must meet your customer's values.
Packaging also plays a significant role in influencing your customer's purchasing decisions. This year, harness the power of retail packaging that's aesthetically pleasing and is kind to people and the planet! Packaging made from eco-friendly materials will impress customers while proudly presenting your branding.
Going green with your packaging methods doesn't have to be bare-bones or result in boring unboxings. See how these eight small businesses wow their customers with creative and conscious eCommerce packaging!
Here are eight branded packaging ideas that will inspire your small business

The following retail packaging ideas will be sure to solve any creative blocks you might be encountering! Below are examples from small businesses in various industries rewriting the script on what it means to be a sustainable brand in 2022 with circularly-designed, premium packaging. From conscious clothing companies to local-favorite hospitality brands, these businesses are staying ahead of the pack and remaining true to their branding with thoughtful packaging solutions!
L'Exception
Contemporary clothing that celebrates community and respects the environment? Check. Cutting-edge, conscious packaging for a forward-thinking brand? Also check! L'Exception is a French luxury fashion brand that revisits iconic products, transforming the concept of clothing as much more than what we dress ourselves in.
The L'Exception collection is ethically created and curated with the earth in mind, and their product packaging exemplifies the brand's ethos with a specially-designed noissue Compostable Mailer. Their compostable custom mailers feature an illustrative face representing the circular connection between their clothing, community, and the planet. A stunning blue base catches customers' eyes from the get-go, providing a beautifully branded packaging experience in 100% biodegradable eCommerce mailers.
👉 Pro tip: Adding a logo or visually-interesting design onto compostable mailers will keep your branding consistent before the unboxing experience begins!
Banish
A bold, illustrative design capturing the spirit of self-love is what you'll find on Banish's noissue Packaging Tape. Banish believes in doing away with blemish scars and stigmas associated with acne-affected skin. True to their product's promise, the beauty brand wanted their custom packaging tape to exemplify confidence and acceptance. Thus, a cute and comforting illustration was born onto paper tape that seals every Banish box!
Their custom printed tape design features a welcoming mascot accompanying the brand's mantra, giving customers extra encouragement as they unbox their packages. You'll also find a noissue Eco Alliance badge proudly included throughout their tape design, so customers know that they minimize their environmental impact with every Banish order! And the fact that their paper tape packaging is compostable and recyclable adds conscious points to an undoubtedly cool customer experience.
👉 Pro tip: Try turning your logo or mascot into a repeating pattern on tape to personalize PR box packaging or custom subscription boxes!
Toodaloo
Refreshing a reliable packaging product with a fun, retro-inspired face is exactly what keeps customers adding to their Toodaloo e-carts! Toodaloo fixes the train wreck of the not-good-for-you trail mix by providing super snacks from natural, quality ingredients to heal the body and planet. The online snack brand needed a more sustainable solution to ship their tasty trail mixes, so they transformed noissue Padded Recycled Mailers into a work of art!
The Toodaloo logo seems to jump out from their custom printed padded mailers, making a bold statement among a sea of standard-looking packages. Sparkle and shine never hurt anybody, so their design also sports these details while displaying their brand statement. Toodaloo uses pretty padded mailers that are fully recyclable at the end of their customer's day – and it's super effective!
👉 Pro tip: Custom padded mailers made from recycled materials are an excellent choice for shipping delicate or packaged goods like dry snacks, coffee bags, jewelry, and accessories.
Lumene
Lumene is a household name among skincare fanatics, and its packaging is another testament to its brand promise. The brand is all about sustainably bringing the power of wild Nordic nature to help everyone achieve their own idea of beautiful. When they sought a more conscious packaging method, noissue's Custom Retail Boxes and Packaging Tape were the perfect solutions!
Sleek, recycled box packaging symbolizes being in harmony with nature, while the repetition of their logo on paper tape ties in with the brand's sustainability standards. The pure white kraft of the retail box paired with contrasting paper tape purely elevates Lumene's unboxing experience to a luxurious level. Nothing builds brand loyalty more than a premium packaging set that doesn't hurt the environment but makes customers feel like high-end clients.
👉 Pro tip: You can also use custom retail boxes as shipping boxes by sticking an eco-friendly shipping label on the exterior!
Tove Wear
What's on the inside counts, too! Tove Wear, a fashion brand with pieces designed for function, makes sure its sustainability commitment is as clear as day in its products and packaging. Their collection of women's workwear is made to last again and again, so the brand aimed for their unboxing experience to mimic that sentiment.
Custom noissue Clothing Hang Tags were a no-brainer to include in their packaging! Tove Wear extends the physical unboxing even more through QR code hang tags that send folks to a digital destination to learn about their production process and the partners they support. Their hang tags are also recyclable and compostable, so customers can enjoy Tove Wear products without worrying about waste. Talk about smart packaging that sustainably takes the customer experience up a notch!
👉 Pro tip: Keep engaging with customers after they receive their package! Provide sustainability education, packaging disposal instructions, and other information with scannable QR code packaging directing to your brand's website or a microsite.
Bijblauw Boutique Hotel
Provide your hospitality brand's customers with something to reflect on fond memories! Bijblauw offers guests a one-of-a-kind stay, oceanfront restaurant dining, and shopping right in the heart of Pietermaai. The boutique hotel wanted to add an extra dimension to the dining experience and give customers a repurposable business card to remember their trips.
Bijblauw then transformed their tabletops with Custom noissue Reusable Coasters! Bijblauw's reusable drink coasters feature the hotel's website information and a QR code that displays a digital guest directory when scanned. The best part of it all? Restaurant goers and guests can take their coasters home to reuse or compost. Super convenient and sustainably-minded – consider these custom coasters a winning combination!
👉 Pro tip: Place a logo, social media handles, or a QR code onto custom coasters to dress up cafe and bar tables, accompany takeout orders, and complete the branded experience at events.
Pasmonstyle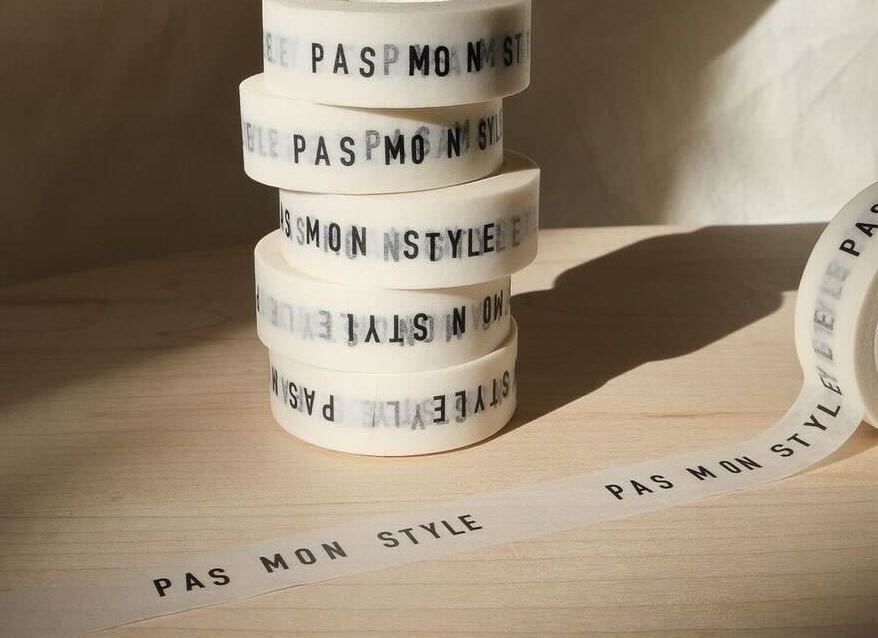 Washi know about washi tape? No detail should be left behind when using washi tape, which is an awesome addition if you enjoy including personal touches like notes and thank you cards. Custom stationery washi tape can have your brand name or an artistic design displayed all along its length.
Pas Mon Style, a ceramics and textile goods-based brand, uses Custom noissue Washi Tape to tape kraft-wrapped mugs, travel cups, and homewares for extra measure (and branding!) before placing them into shipping boxes. This decorative tape is known and loved for being easy to remove, so customers don't break a sweat unboxing their orders taped with sophisticated style!
👉 Pro tip: Branded washi tape can decorate tissue paper-wrapped goods and seal letter envelopes! Match your washi tape and heavier-duty packaging tape designs for a seamless, decorative set.
Daily Iced
The verdict is in: it's the era of the eco-tote bag. Reusable tote bags are a fan favorite among customers who appreciate the added value of this kind of packaging. And brands can achieve a consistent brand presentation that avoids generating waste through custom, eco-friendly tote bags!

Print your brand's name or an immersive and illustrative design as seen on this Custom noissue Tote Bag by Daily Iced. The sustainable coffee cup company shares its lovable mascot logo on the front in a pop of color that can be spotted across any street. Be sure to let customers know that your tote bag packaging is repurposable – and they'll be repping your brand daily for days to come!
👉 Pro tip: Reusable totes also come in circular materials, like recycled organic cotton! Include a QR code hang tag or card inside your custom totes for customers to read up on your brand's sustainability efforts.
That's a Wrap!

Feeling more inspired to elevate your small business packaging? We're glad to be of help with custom packaging for your small business! And we're here to get your brand started on making the sustainable switch to eco-friendly packaging materials. Premium, branded packaging doesn't have to harm the environment – that's why our packaging and shipping products are designed with circularity in mind. Build your brand with better shipping mailers, tissue paper packaging, custom gift boxes, and more from noissue starting at low MOQs!

Shop by product category or your industry and create your best packaging yet. Looking for eco-friendly packaging in wholesale quantities and a dedicated Account Manager to help you along the way? Order custom tissue paper and more in higher order quantities through noissue Plus!