noissue Recycled Shipping Boxes and Custom Paper Tape by @curated_bykat
As a busy business owner, the last thing on your mind is probably complicating the process of packaging and shipping your products. You want every part of your business to run as smoothly as can be, and sometimes, you don't have to think too hard about it at all. So while they might not seem too glamorous in name, shipping boxes are a stress-free packaging option that takes little to no effort to use.

And shipping boxes don't necessarily need to result in using massive amounts of packaging, either. recycled shipping boxes are a better alternative to safely store and ship products without generative excessive waste! They are cheap, reduce your carbon footprint, and are fairly easy to get.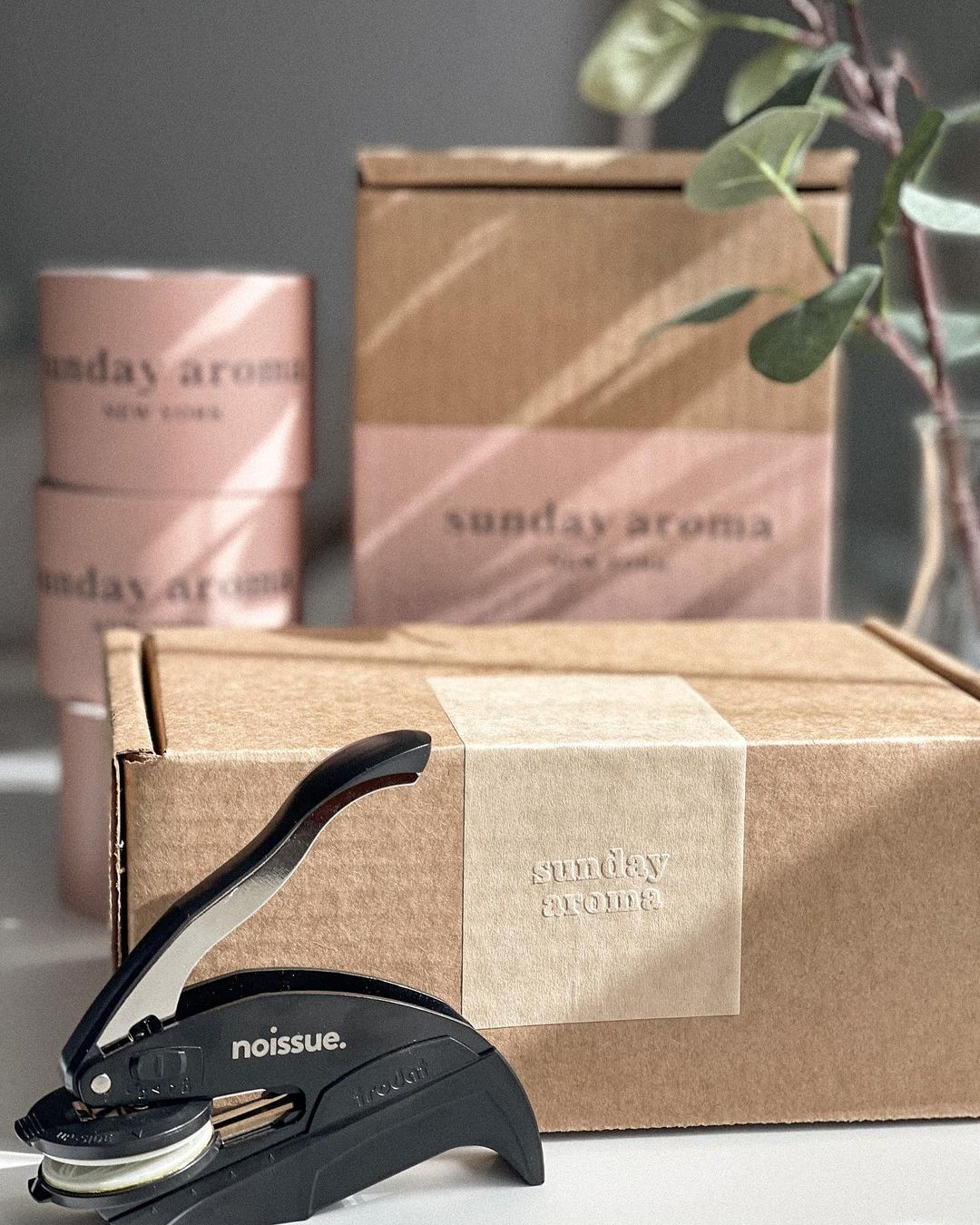 In 2018, more than 96% of all corrugated paperboard boxes were recycled in the US, resulting in almost 1,000,000 tons of recycled cardboard that remained out of landfills. But can a recycled box be as good as a brand new stock box? Let's dive into the advantages and considerations of recycled boxes.
Why businesses need to use proper shipping boxes

If you are shipping items overseas, it is a common practice to use small shipping boxes in which you can enclose even smaller kraft boxes to preserve them from travel. It is also important for the larger box to wrap the smaller one tightly to restrain its movement in the packaging. For that reason, it is common to purchase stock shipping boxes for some businesses.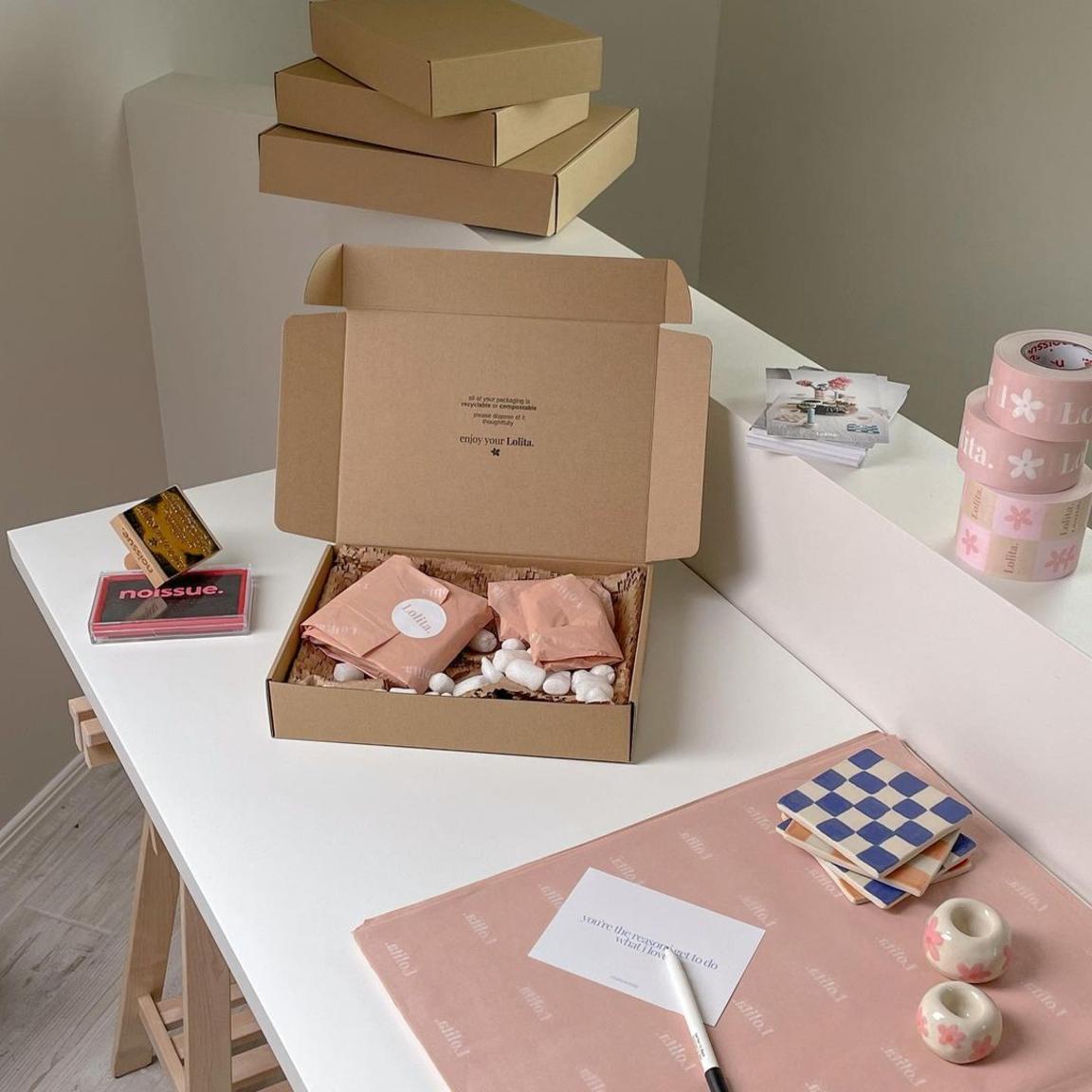 Depending on your business's niche, you should decide whether making a compromise for shipping packaging would cost you a decrease in customer base. For example, if your products are often used as presents, people might not be willing to open the shipping package unless it is designated to contain another box inside, or comes beautifully branded for reuse or to gift as is.
What to consider when using recycled shipping boxes

Since around 80% of the products shipped and packed in the US are packed with cardboard, recycled boxes are all around us. As a business owner, it is obvious to avoid torn boxes or stock cardboard boxes in bad condition. When going through possible recycled box suppliers, however, there are other things you need to know both as advantages and disadvantages of using recycled cardboard.
Pros
Accessible: Recycled boxes are super easy to get. As mentioned above, finding a non-recycled shipping box is more challenging than finding a recycled one. Many suppliers specialize specifically in recycled boxes.
Much Cheaper: On a larger scale, recycled boxes for shipping are often much cheaper than brand new ones. As a seller, you can save that percentage of variable costs and invest them elsewhere to improve your product or custom packaging by choosing from good corrugated box styles for your non-shipped products.
Smaller Carbon Footprint: Everything recycled is eco-friendly. You can show your customers that you care about our planet. Even if your box doesn't look 100% new, when people see a label stating 'recycled', they will be willing to forgive you, although, in the majority of cases, nobody can tell the difference between a new box and an old one.
Cons
Different Materials: Depending on your supplier, they could supply you with boxes made from different materials in one batch, resulting in some boxes being water and drop resistant while others not. Be advised to discuss this with your potential supplier.
If your business heavily relies on branding for marketing purposes, consider personalizing them with your branding or include other smaller kraft boxes inside the recycled box for shipping purposes.
By showcasing your branding via stickers or other logo displays, you would protect your kraft box, maintain the user experience, and save money from a brand new shipping box. Make sure the end customer experiences an exciting unboxing experience that starts with opening the shipping box. This can be achieved with the help of a label, note, or some kind of branding you can place or print on the shipping box.
Did you know that packaging that already looks like a present influences people a lot when choosing presents for their loved ones? This happens mainly because they have already pictured the moment of giving the present in their mind. And it is in similar packaging. Moreover, that also saves them the time to search for someone to wrap the box and make it presentable.
🎁 That's a wrap!

When choosing recycled boxes, the best thing to do is thoroughly research your supplier. Make sure they send boxes of the same material and quality to you. Don't think twice about making the switch to more sustainable shipping boxes – your customers, wallet, and the planet will appreciate it!

noissue's kraft boxes are made from 100% recycled materials, so the sustainability part of your packaging process is already covered by us! Show off your branding with no limitations through custom sticker labels, packing tape, and more to create a fully recyclable unboxing experience.

Not sure what box might be right for your business? Check out our helpful guide!