noissue Custom Cards by @bina.made
We're taking a cue from Stella Jang and choosing all the colors this month (like we always do and more!) with packaging that will make you dance and be proud to be human. 🌈
While Pride month is a great time to be one with everyone, this doesn't mean we have to stop loving each other after June. For many brands, this becomes an opportunity to amplify support for LGBTQ+ customers and colleagues.
noissue is here to help figure out how to do it without the need to hide away colorful packaging when Pride celebrations subside. After all, loving each other should be constant, and a customer's unboxing experience should be unforgettable all year round.
💡 Inspiration Station

Cue the music! 🎵 I could be red, or I could be yellow. I could be blue, or I could be purple. I could be green or pink or black or white — I could be every color you like! 🎵 We're hopping from one CMYK and Pantone color to another so you can take time to resonate with each one. Looking for more colorful ideas? Don't fret! There are more at the end of the packaging rainbow. 🌈
1. Red ❤️ Icka Print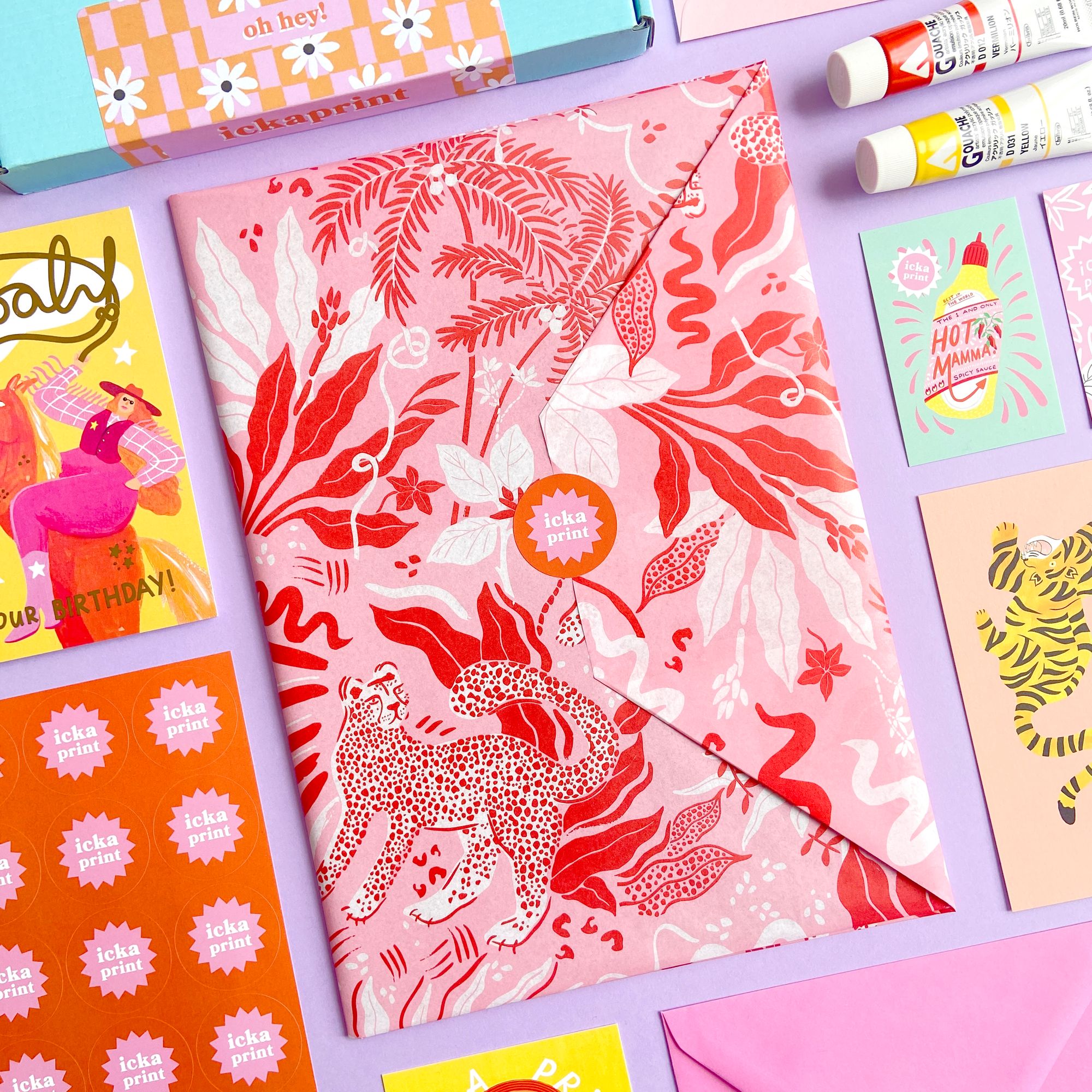 ickaprint is all about fun, bright colors and bold prints, and we just cannot get enough of artist Jess' red on pink Tissue Paper design. Matched with her colorful prints and products, it pops and complements everything else at the same time. Topped it off with a round sticker to seal all the goodness, I think we fell in love even more!
2. Orange 🧡 Lucy Innes Williams
A painter that isn't afraid to express her love through colorful florals and patterns. This color combo on Custom Tissue by artist Lucy Innes Williams will surely brighten anyone's day. Because, seriously, nothing can beat an orange-on-peach moment! Tie a red ribbon around your package, and you're set to have anyone's heart fluttering.
3. Yellow 💛 Jolly Up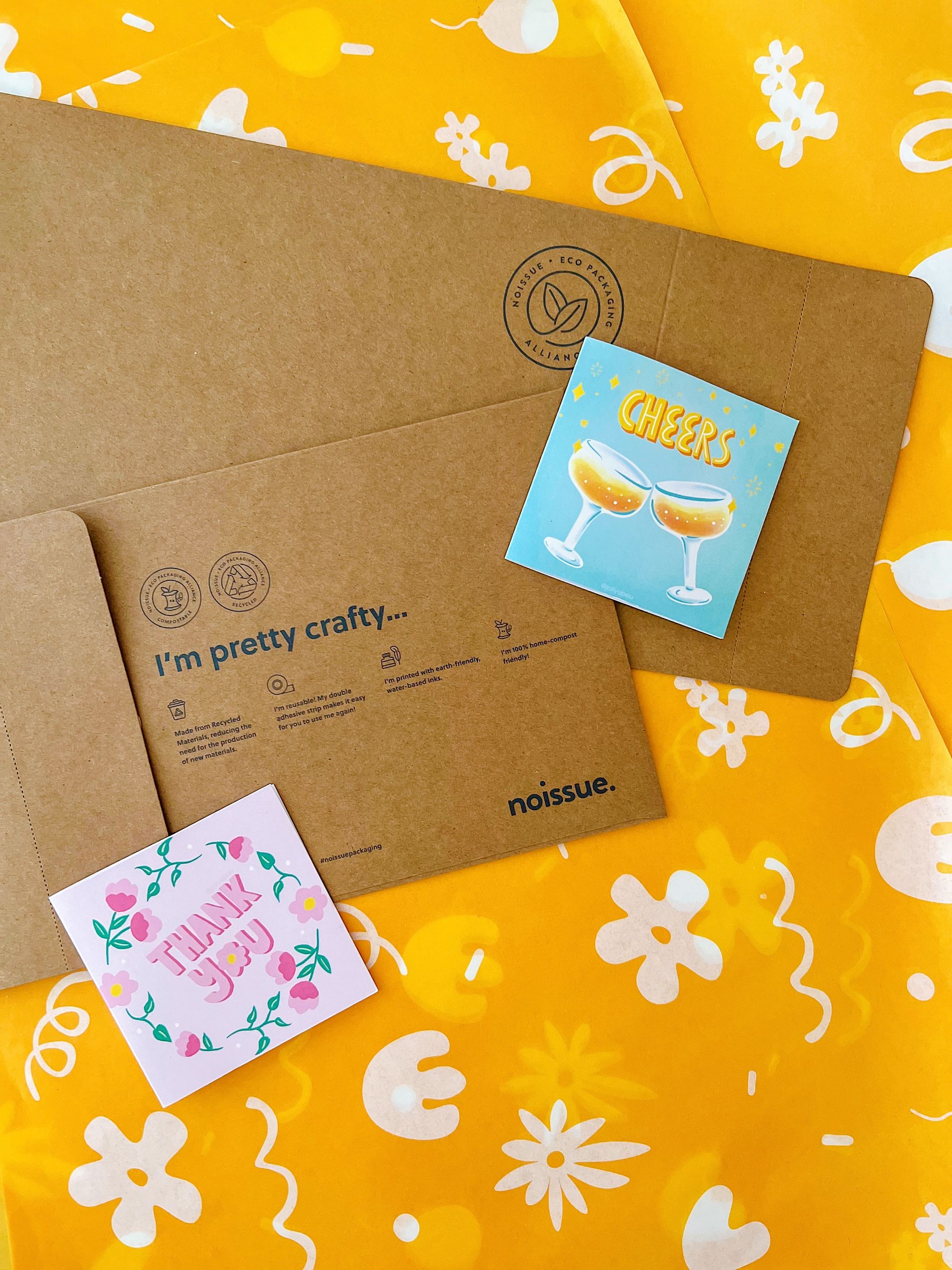 We just can't express how much we love JOLLY UP, a Balloon Bouquet and Gift Box Shop based in sunny Australia. Their Custom Tissue Paper is equally as bright as them and will surely boost anyone's serotonin levels. Imagine opening a JOLLY UP box, getting greeted by this lovely tissue paper, and feeling all warm and fuzzy inside. Yep, we feel it too!
They also use noissue Kraft Mailers for smaller products, and it makes us equally happy to see that too. 💛🤎
4. Green 💚 Leaf Supply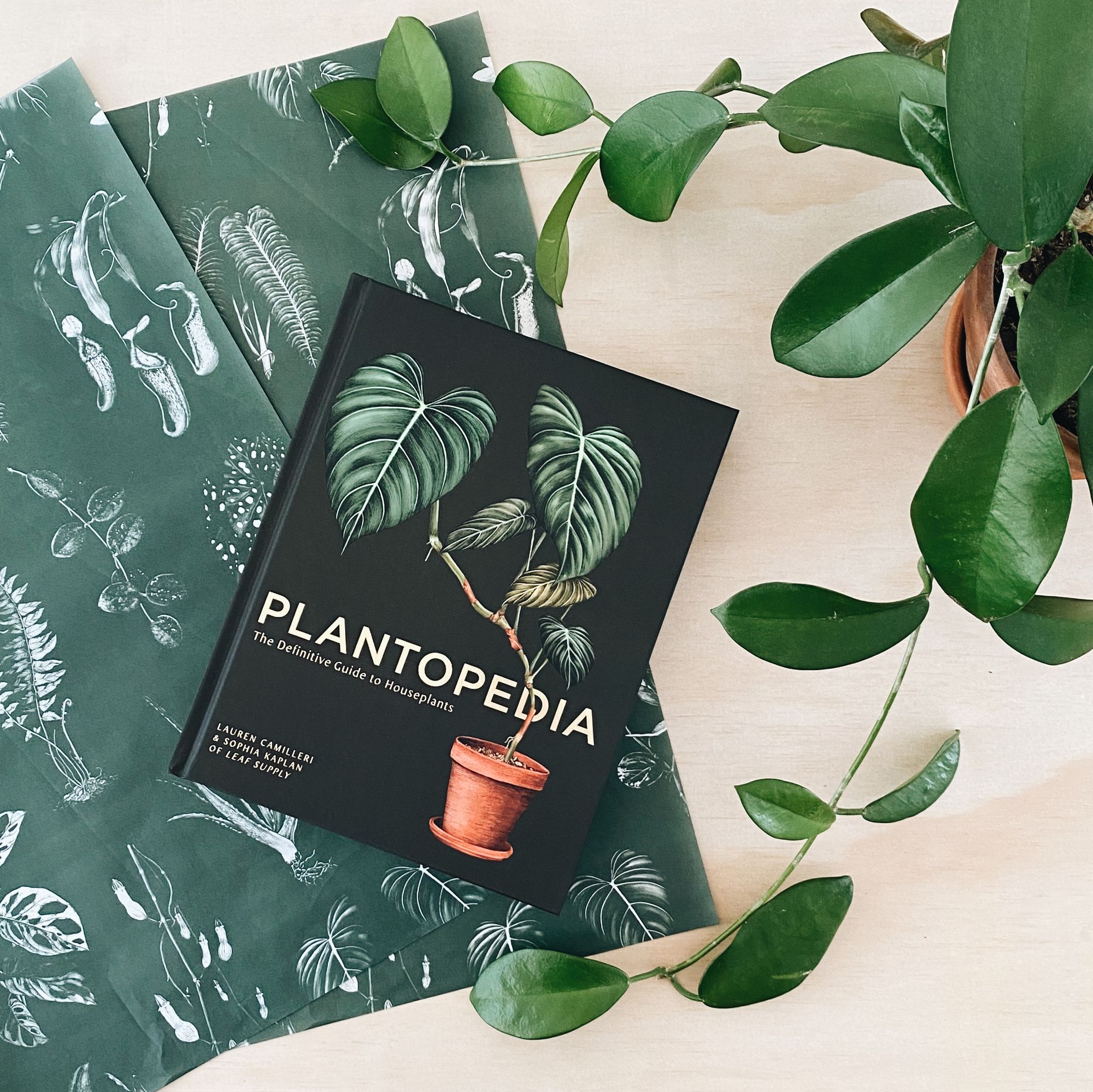 To all our plaunts and plant uncles, we're sure we caught your attention here. Leaf Supply's rich green Tissue Paper is just the right amount of sophisticated and fun.
You don't see a dark forest green wrapping paper everyday. Leaf Supply definitely just upped the game, especially since they matched the deep beautiful color with white stamp-like illustrations of equally stunning greenery.
5. Blue 💙 Positive Plumbing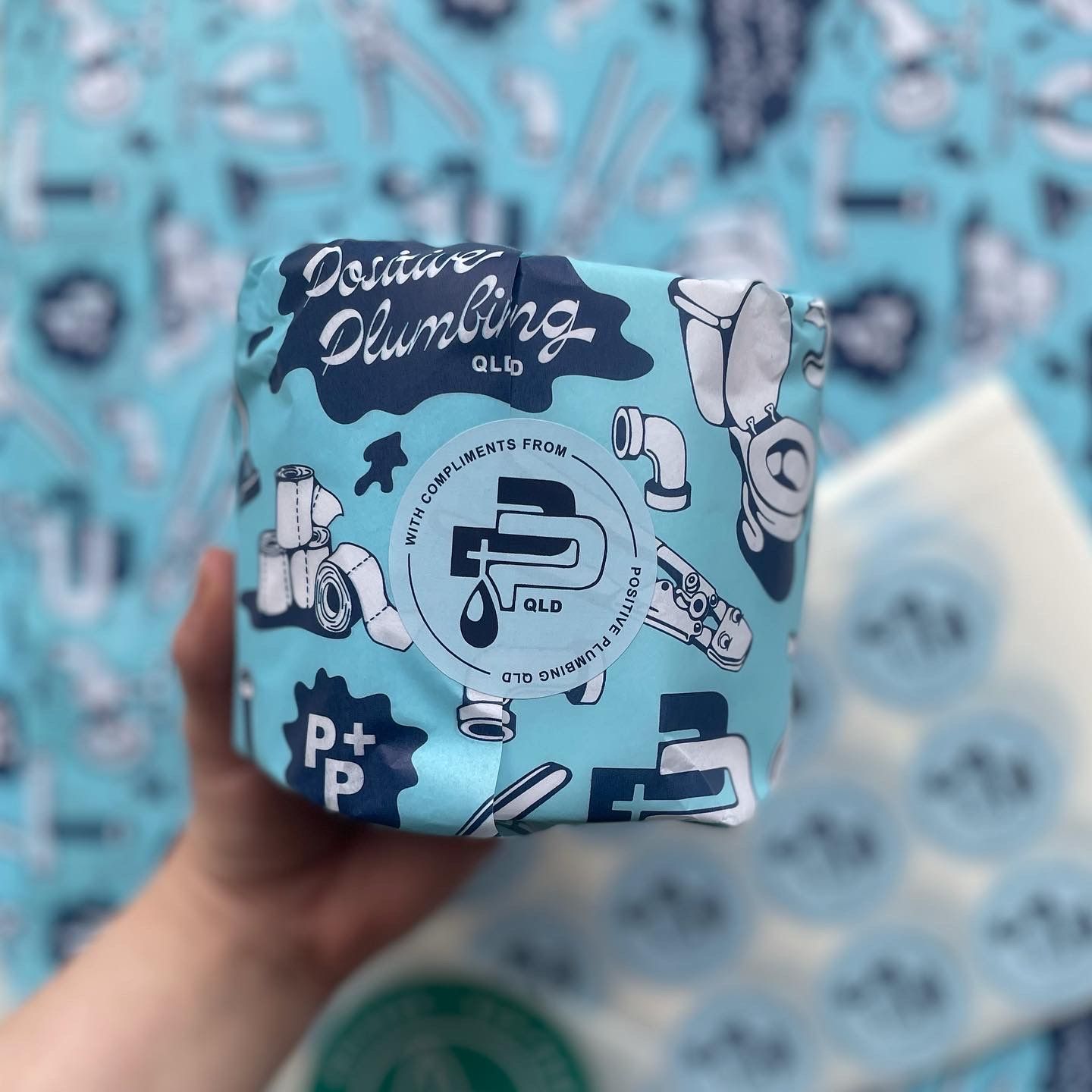 Who knew Toilet Paper needed Tissue Paper and a cute Round Sticker? Positive Plumbing did a great job choosing the best color for their brand. Blue is always clean and refreshing, so no matter what you offer in the market, blue is a color that will never be a wrong choice!
6. Pink 💗 Cherry and Mint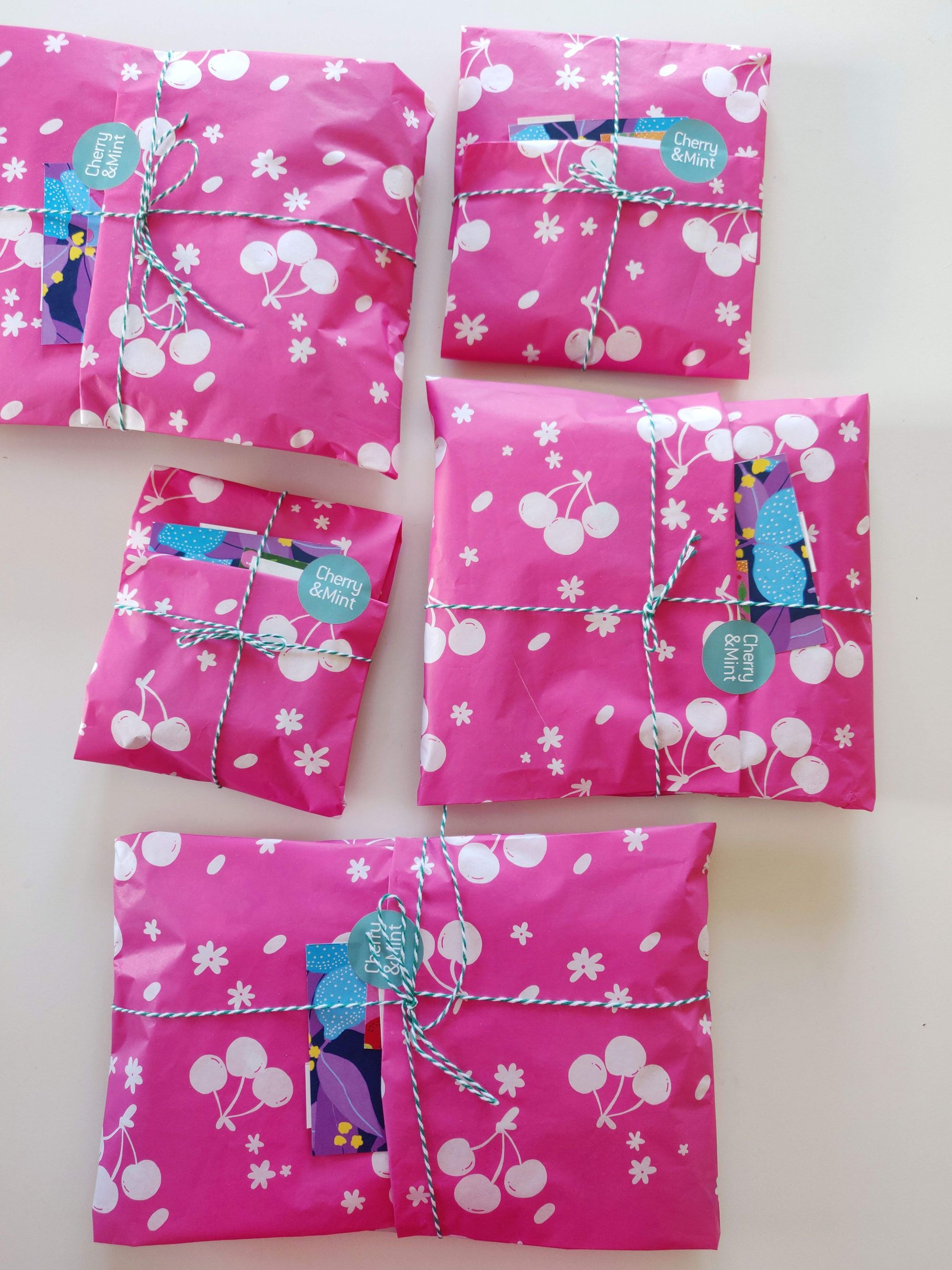 We're swapping Indigo with Pink for now because it's always a good day to be pretty in pink!
Cherry and Mint is a clothing shop for colorful people. They know exactly how to make us fall in love with all the quirky prints and loud colors they use on a daily. Their hot pink Tissue Paper is perfect for bundling up their pretty dresses and funky accessories too. They make packages even better with a complementing teal-colored Sticker.
7. Violet 💜 renko floral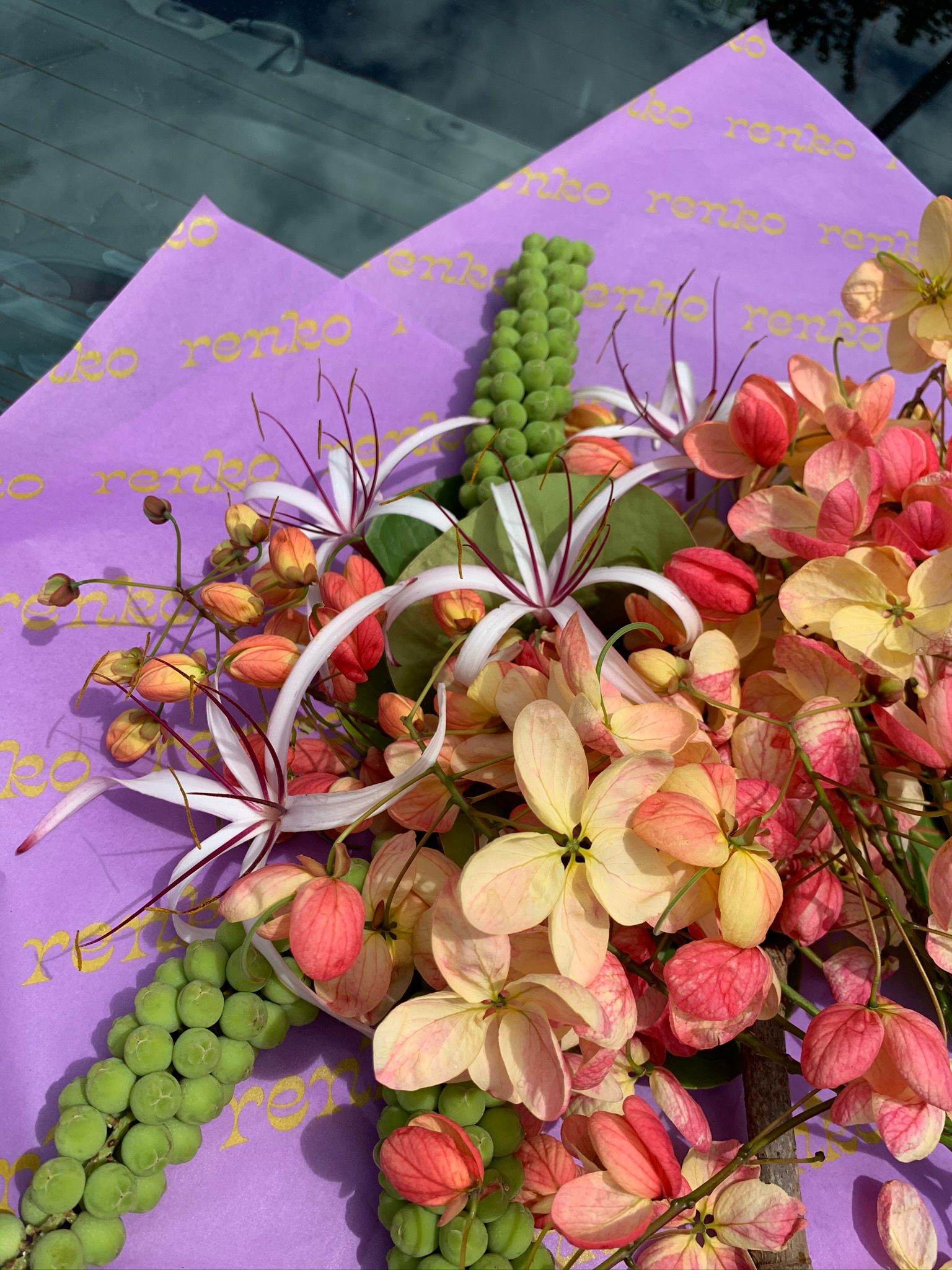 YAS! This special violet Tissue Paper by renko floral just screams royalty. You can literally see their name in gold — and who doesn't want that? Wrap this beautiful colored Tissue around colorful bouquets and your customers will remember you forever.
8. And Even More Colors! 🌈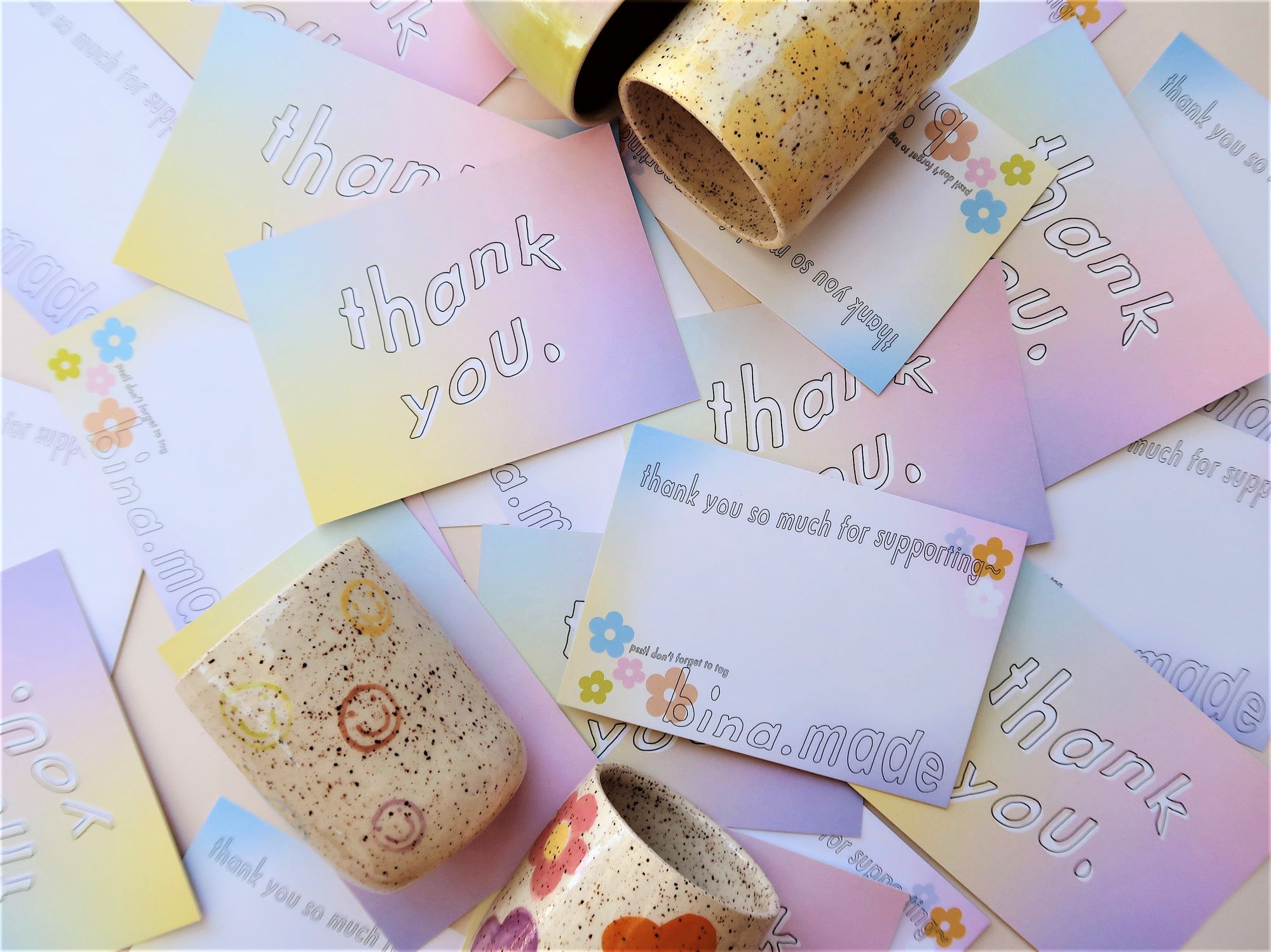 binamade's simple greeting cards make us feel loved and cared for. They used a pretty floral design for their cute and sweet stationery, and we think it's simple and subtle but definitely still sparks joy like no other.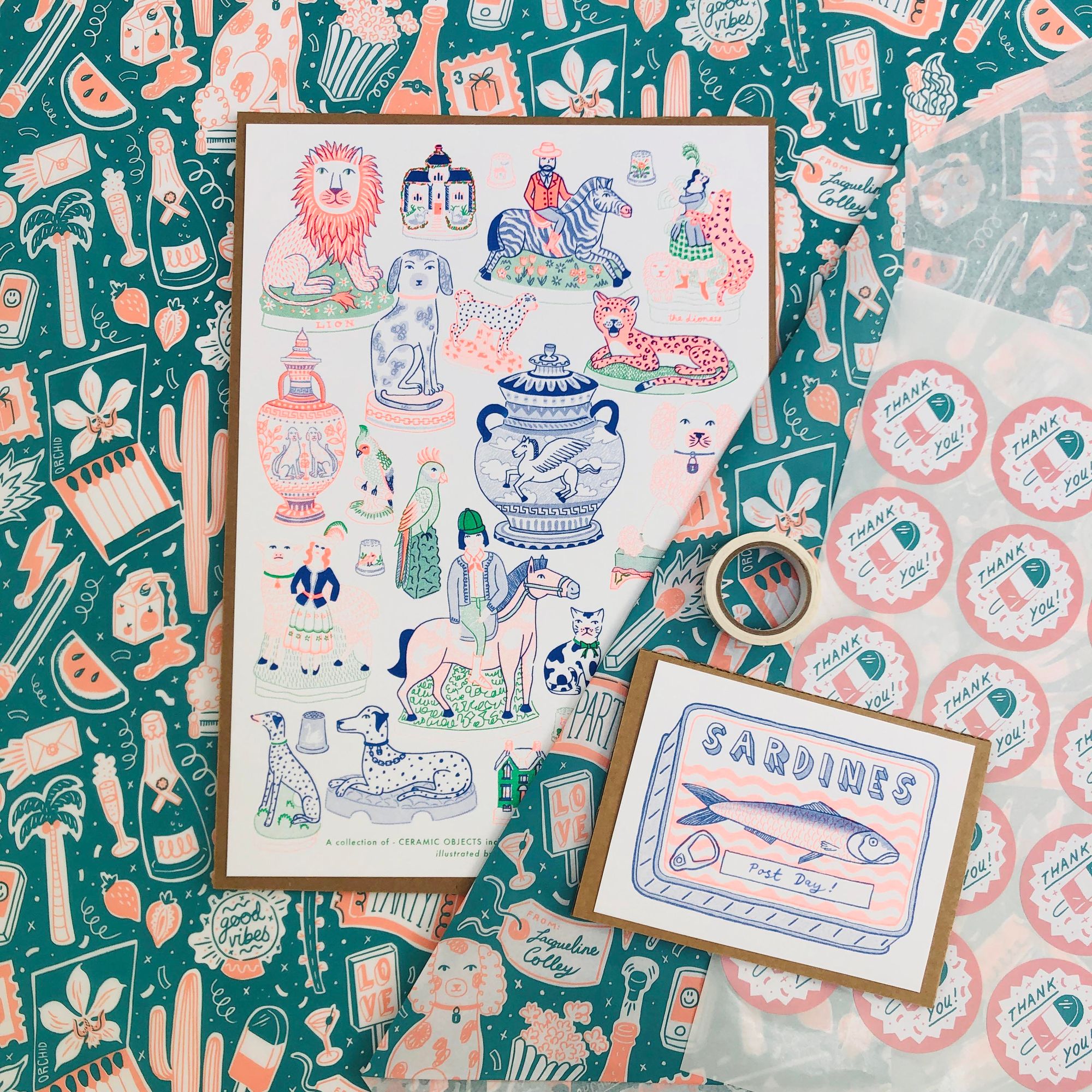 Neons will always catch our attention! Jaqueline Colley did a wonderful job in matching striking blue-green with neon orange and royal blue on her noissue Tissue Paper, and that same blue-green with salmon pink on her Stickers. We just want to stare at this palette forever.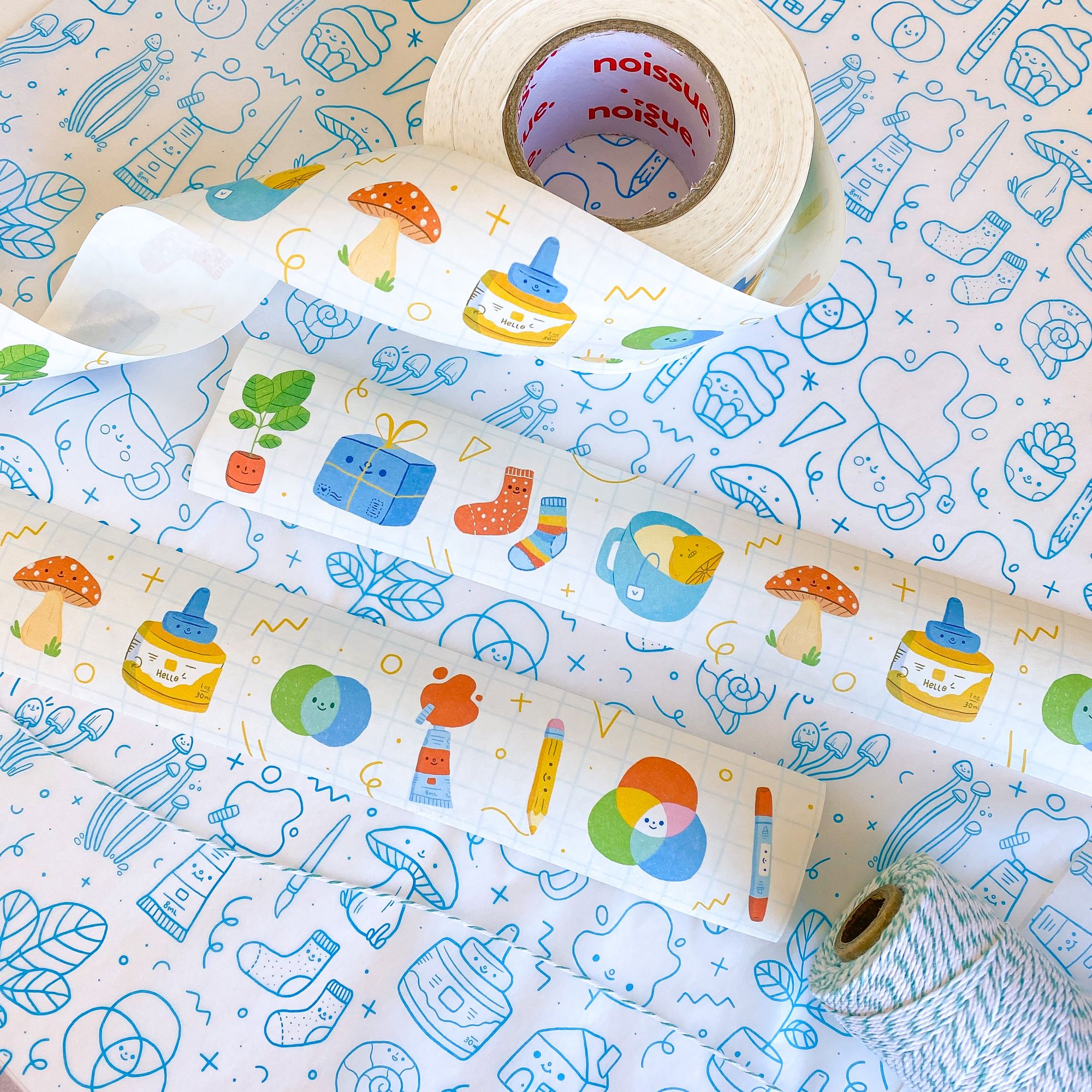 And finally, the cutest Packing Tape you've ever seen from artist Ivna Lins! An easy formula for creating your own: a simple white background, throw in a few confetti, add colorful illustrations of your favorite things, and voila! A masterpiece.
🎁 Wrapping It Up

We hope these packaging designs inspired you not to be afraid to show your true colors — even if it's just through your custom packaging. Happy Pride Month this month and in the months ahead!
---
Shop by product type or category to get started on customizing your brand's dream packaging. Don't forget to hit our follow button on the 'gram to keep the inspiration going all year round.