Custom Tissue Paper and Recycled Card by @__beedesign for @bellabeautyprofessional
First impressions count. For most ecommerce businesses, packaging provides the first real-life taste of your brand for customers.
As the bridge between online and offline interactions with customers, it's no secret that quality, well-thought-out packaging can lead to stronger customer engagement, better relationships, and increased sales.
That's why it's so important to create more than just a 'box'. Packaging doesn't just deliver your product, it plays a key marketing role. Innovative unboxing experiences reward customers for their purchases by making them feel like true VIPs. Ultimately, it's all about the whole package, not just the product inside.

But where do you start? Here are some pointers on how to create effective packaging strategies that will have the wow factor.
1. Have a Clear Vision

Although it's tempting to jump straight into designing, it's vital to take a moment to clarify your needs and goals in terms of your packaging. The main aspect you want to show off is your brand's unique identity, and ultimately how you want your customers to feel when they're unwrapping your products.

Understanding your brand's personality and what you stand for as a business will set the pace in terms of design. Whatever your brand character – from fun and funky to more subtle and sophisticated – ensure your packaging clearly reflects your style.
Just looking at this awesome packaging arsenal from Doodle Moo  is enough to have an instant understanding of her style and identity: bright, playful, and oh-so-creative. Whatever message you are sending out to the world, make sure you highlight everything that makes your brand unique.
2. Plan your Packaging

When it comes to packaging options, you're truly spoilt for choice. But each item or material is suited to a different use, so planning is needed to make sure your choice is perfect. First, you'll need to decide on your outer packaging: mailers or boxes, and possibly compostable shipping labels. Then it's time to plan the inner packaging such as your tissue, stickers, stamps, cards or tape.
The good news is no matter what you decide on, there's a way to make them all unique and customizable to your brand. Most of noissue's packaging products ask you to select your chosen color, shape, or size, and how many of the beauties you want to order via our easy-to-use platform.
If you can't afford to go all-out, budget-friendly options like powerful personalized stamps or stickers can spice up any plain package in one swift yet effective punch. Look at how a simple sticker from Café con Gatos immediately improves their plain wrapping. Muy bueno!
3. Get Creative With the Visuals

Time to let your creative juices flow! Consistent and robust packaging plays a huge role when building relationships with your customers and an instantly recognizable logo, brand name, or color scheme gives innovative designs the edge over any plain package.

The beauty of customized packaging is that every brand can be unique! From color schemes to illustrations, these distinctive choices can make your packaging a true expression of YOU.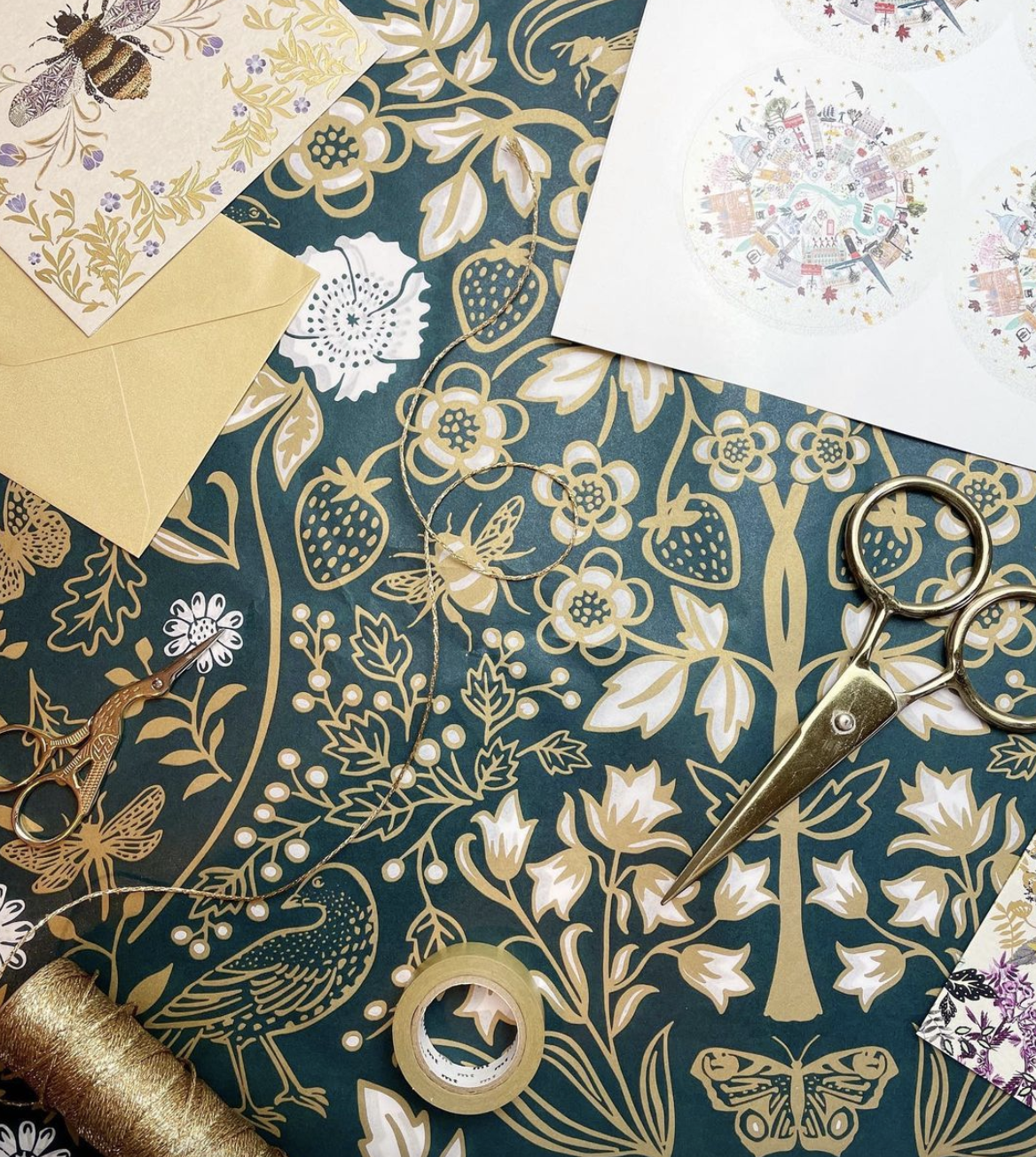 Go wild with your choice of patterns, illustrations or even typography in your designs, choose colors from monochrome to multi-color, and add anything that injects a bit of personality into your packaging. You can produce your designs using a commercial software such as Adobe Illustrator or the beginner-friendly Canva and as soon as you're happy, simply send to your packaging partner or upload it onto a super-sleek, self-service platform like noissue, and we will do the rest.

Not too confident in your own design skills? You can create an awesome design using only your brand logo and a little help from noissue's design tool. Simply upload your logo onto our platform and tweak the details by resizing or changing pattern styles until it's perfect. Showcasing the best, most creative parts of your branding that you've worked so hard to perfect will result in some professional looking packaging – don't compromise and settle for anything less.
And you can always call on our Creative Community to help you come up with an eye-catching design if you're completely stuck for ideas.
4. Don't Forget the Details

It's not the size, it's what you do with it. Don't get confused – we're talking about our appreciation for the smaller things in the packaging sphere. Of course, the big-ticket items like boxes, bags, or tissue paper are important, but the little pieces of packaging like stickers, stamps, and tape can have a massive effect on your customer's overall experience.
Even the simplest of add-ons can make an impact. Just check out this gorgeously illustrated thank you card from Irem Yazici. This thoughtful finishing touch ties in perfectly with the bright, intricate illustrations in their tissue and sticker. Two-sided cards give space for brand and product info, or even a bit of personalization such as an irresistible handwritten note or the customer's name. The little details really do make the biggest difference.
5. Champion Sustainability

Consumers are increasingly conscious of the impact their purchases have on the planet and are actively looking to buy from brands that share their environmental views. One key way to demonstrate your awareness of your brand's impact is by using packaging materials that are sustainable. From eco-friendly tissue paper to stamps made from recyclable plastics and soy-based inks, sustainable choices and creativity can easily go hand in hand.

Remember that it's a long-term process, and you don't need to peel back every single packaging layer to make your mark – simply reducing the amount of material used or ensuring one layer of packaging is recyclable or compostable can kickstart your sustainability journey. Excess packaging or non-eco-friendly materials are may result in adverse reactions from customers, so choosing quality, sustainable packaging is becoming the only way forward.
EcoRight Bags don't stop at their products when it comes to saving the world from plastic. Their range of eco-tastic bags are sent out in noissue's compostable mailers to encourage their customers to dispose of their packaging in an earth-friendly manner. These mailers are plant-based and super durable, which means you can trust them to not only deliver your goods safely but also to deliver that feel-good satisfaction to your customers.
6. Pick a Worthy Packaging Partner

Ready to go? Turning your dream into a reality is now down to choosing a packaging vendor who can transform your ideas on-screen into real-life packaging. We aren't talking about a company that is simply capable of printing your designs on your chosen range of shipping supplies, it's also important to consider those crucial points such as cost (will you get quality goods within your budget?) turnaround time (will it all arrive when you need it?) and how sustainable their materials are.
Now we may be biased, but here at noissue, we know all the secrets of creating and printing custom designs on packaging. We're talking awesome tissue paper, water-activated tape, kraft mailers, stickers, and more! Plus, they are all made from quality materials that are fully customizable. And even better than that, all our products are sustainable. All you need to do is upload your design, confirm your order details and logistics and we will ship the final result anywhere in the world within three weeks. Simple.

So what are you waiting for? Make your packaging choices, upload your designs and it's time for lift off! Here at noissue, we pride ourselves on providing quality, affordable packaging solutions and always being there to answer any questions our customers may have about their process. Get in touch and let us help you pave the way to perfect packaging.