Custom noissue Drawstring Bags by @ourforeverutopia

Drawstring bags are one of the most popular bag styles because they are so versatile. You can use them as a beach, gym, or even a diaper bag. And, best of all, you can easily design a reusable and eco-friendly gift packaging solution with a platform like noissue.
In this article, we'll be covering what you need to know and how to make a drawstring bag for your brand's packaging!
What products and industries best suit drawstring bags?

First, let's see if your product is a good candidate for a drawstring bag. Generally speaking, drawstring bags are best suited for smaller items because the drawstring closure can make the bag seem smaller than it actually is. If you have a too large or oddly shaped product, a drawstring bag may not be the right choice.
The fashion industry is one of the most popular industries for drawstring bags.
Clothing items, jewelry, and other small accessories are often sold in drawstring bags. They provide a level of protection for the items while still being able to show them off. And, since most people already have at least one drawstring bag, they can be easily reused, making them fit into a circular framework.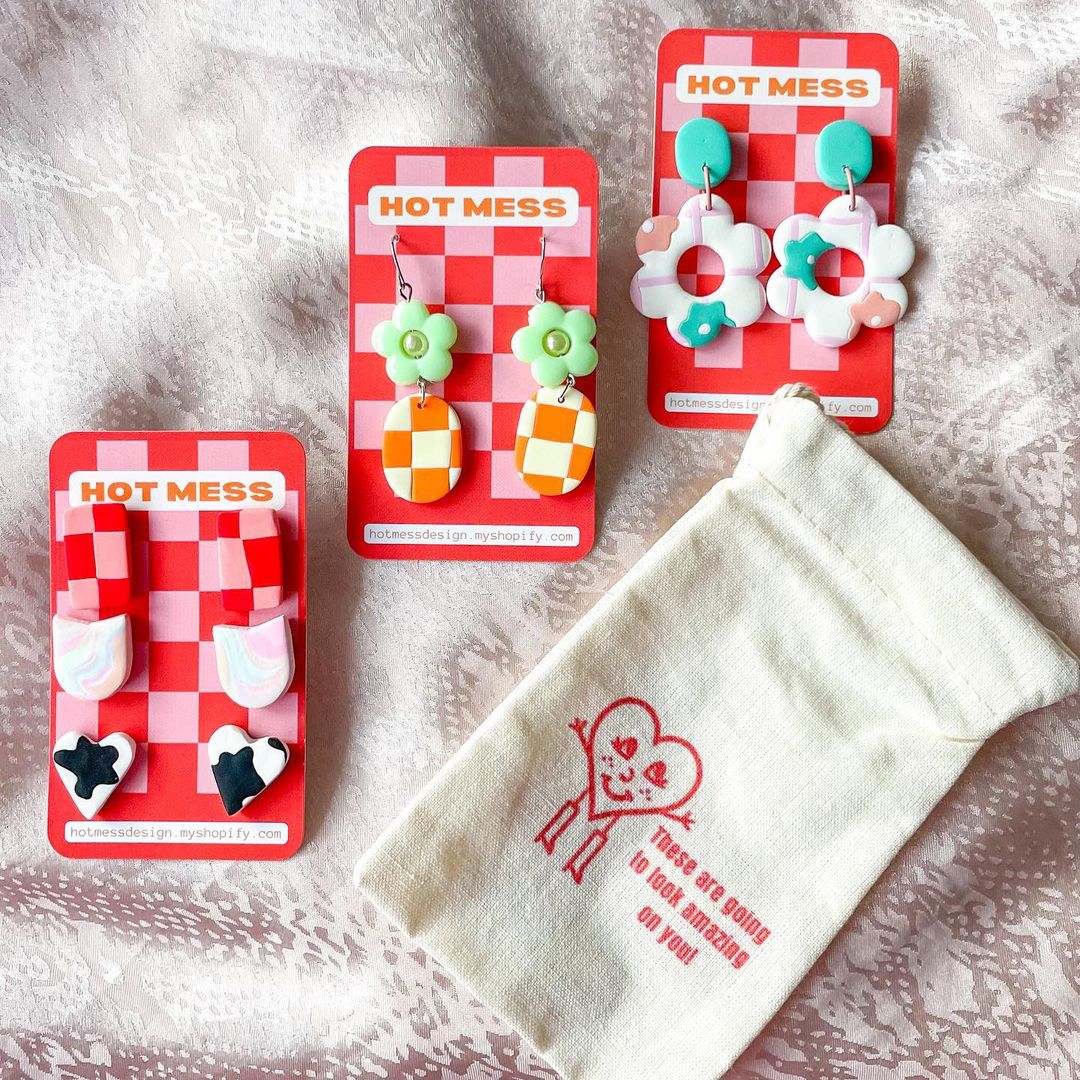 The key considerations to designing a drawstring bag

Once you've decided that a drawstring bag is suitable for your product, it's time to start designing. Here are a few key considerations:
Bag size

One of the major decisions you'll need to make is what size bag you want. Oue noissue drawstring bags can range in size from very small (think coin purse) to large enough to fit a laptop. The right size will depend on the items you plan to put in the bag. For example, if you're selling clothes, you'll need a larger bag than if you're selling jewelry.
The custom gift bags we carry are sized as such:
8.3cm x 12.7cm
12.7cm x 27.8cm
20.3cm x 25.4cm
33cm x 40.6cm.
Bag material

There are a few different materials that drawstring bags can be made from. The most popular is cotton. At noissue, we use 100% organic cotton, which is eco-friendly and sustainable. Our tote bags are Global Organic Textile Standard (GOTS) certified, ensuring that the materials used are produced using natural resources, materials and methods that have a low environmental impact. Compared to traditional cotton, organic cotton is chemical-free, uses less water in its production, releases fewer greenhouse gases, and is more durable for reuse, making it a better alternative for brands and customers.
Color choices

If you want to spice up your design, you can choose from various colors and patterns. Keeping with the sustainability theme, our ink is water-based to reduce our environmental impact.
End-of-life

When your customer is done with the unboxing experience, what do you want them to do with it? At noissue, we strongly believe in our reusable framework. Our goal is to make products that can be reused, recycled, or composted.
For example, our drawstring bags and totes are made from 100% organic cotton. And, since they're sturdy and durable, they can be reused as shopping bags.
What designs can be featured on a drawstring bag

There are a few different things that you can feature on your bag. The most popular is a company logo or artwork. This is a great way to showcase your brand and make your bag unique. Try to keep the design simple so that it's easy to read and understand.
You can also include product information, such as your company's name or your website. It is a great way to promote your brand and get people interested in your product. You can also add extra information like this to stickers or labels.
If you want to be really creative, you can even include an illustration. It will add a fun and personal touch to your bag.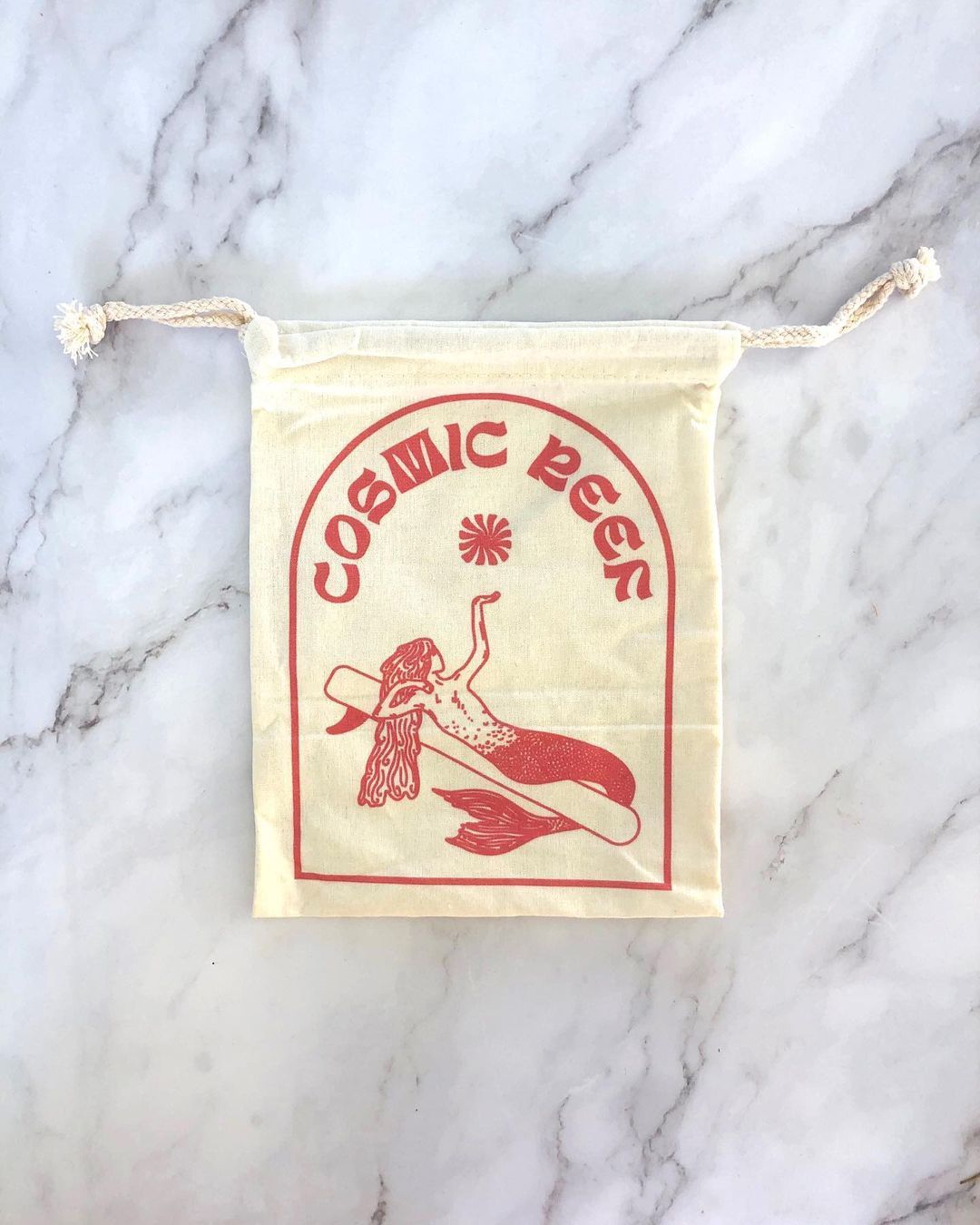 How to make a drawstring bag

We've made it easy for you to design and order your own custom drawstring bags. As a matter of fact, it can be done in three simple steps.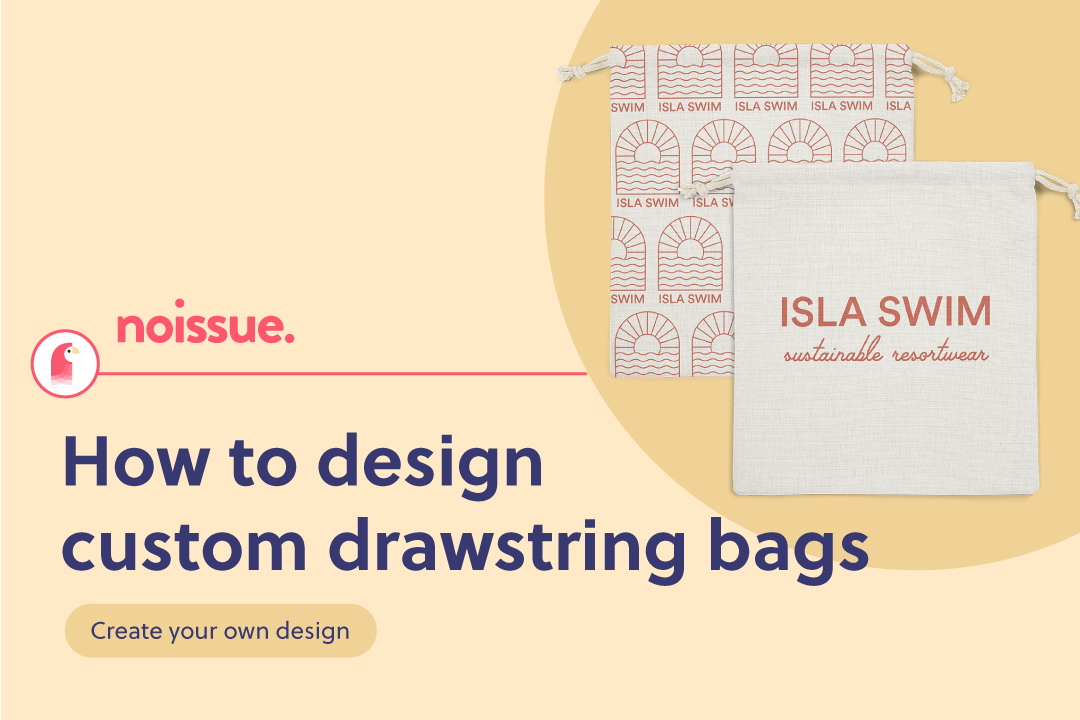 1. Select "Design Now" to start the customization process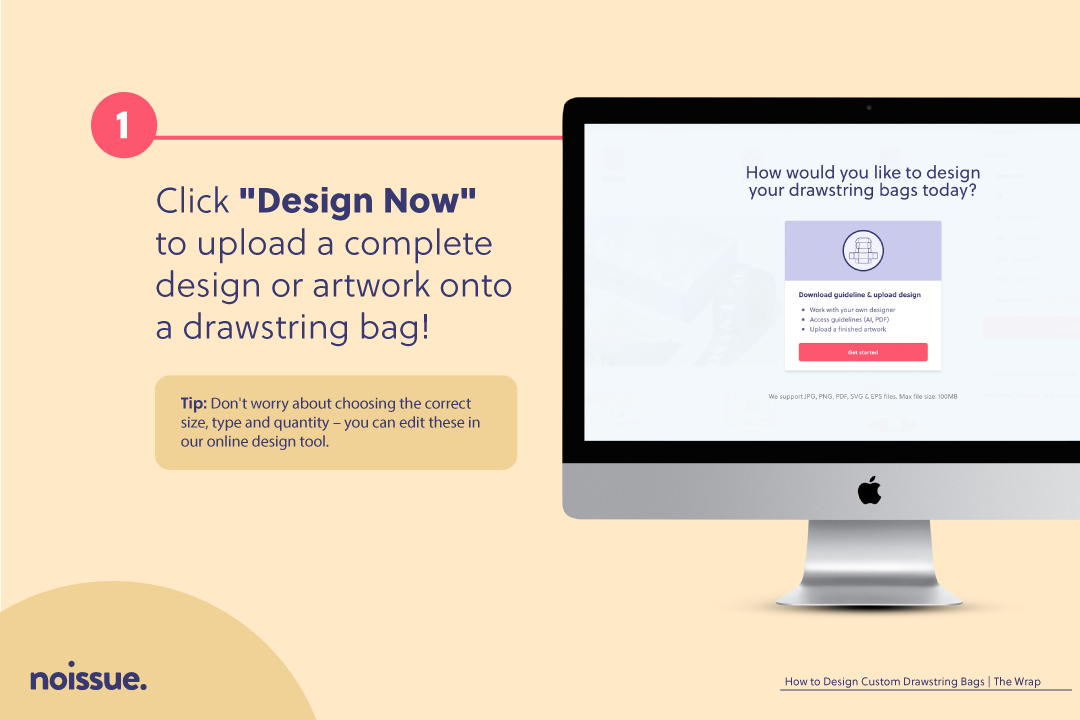 The first step is to select "Design Now" to identify the size and quantity that best fits your needs. As mentioned before, cotton drawstring bags come in a variety of sizes. We have a minimum order quantity of 25 bags, perfect for small business use.
2. Personalize your custom drawstring bags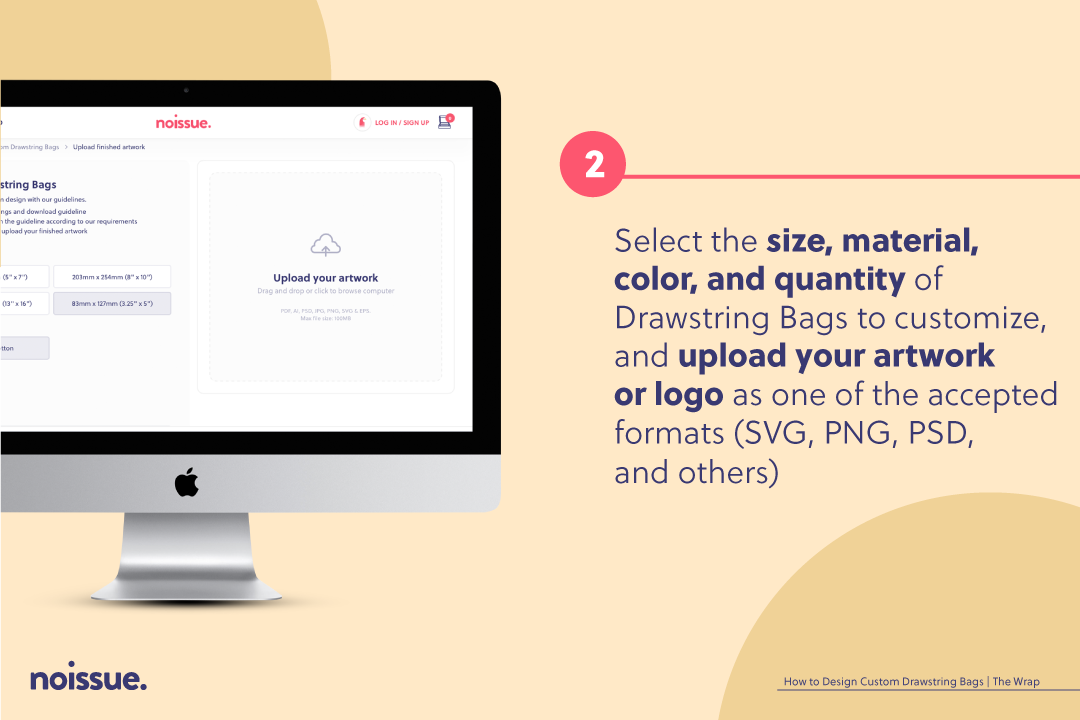 Confirm the size, material, color, and quantity of drawstring bags you'd like, and upload your logo or design as one of the accepted file formats. Whether you decide to use our built-in design tool or upload your own design, our platform makes it easy to get your custom drawstring bag made. If you use our design tool, you can select from a variety of colors and fonts to complement your bag.
We also have templates available that you can use as a guide.
3. Submit your finished design on noissue's online design platform and wait for confirmation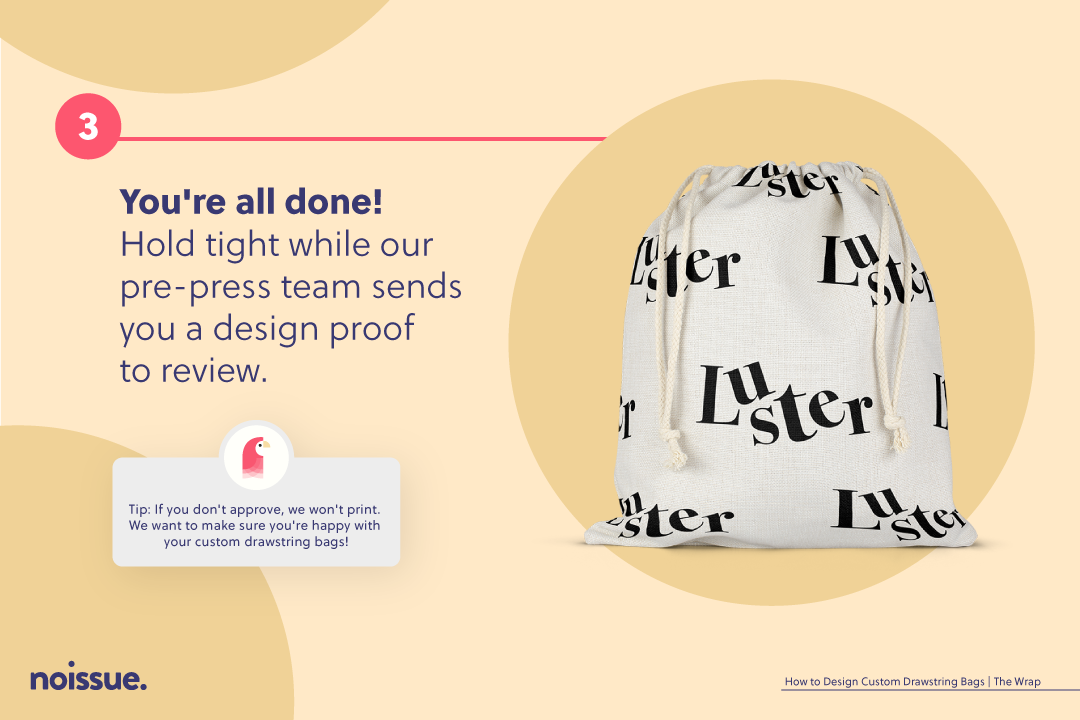 After submitting your custom design, our pre-press design team will be in touch to confirm the final design before it goes to print. They'll make sure that everything looks good and is print-ready. If you're not happy, we don't print – we'll make sure your cotton drawstring bag is perfect first!
Once the design is approved, your bags will go into production and be shipped out promptly. That was easy as 1, 2, 3!
🎁 Wrapping it up

The world of commerce is moving away from single-use plastic and paper bags. Custom drawstring bags are a great option if you're looking for a more sustainable solution. At noissue, we make it easy for you to design and order your custom drawstring bags. So, what are you waiting for?
Get started with customizing your brand's drawstring bag packaging today!