Are you looking for a way to add some extra personality to your business? If so, consider using eco-friendly custom stickers! Stickers are a fun and affordable way to add color and interest to your branding. Plus, they can be used in a variety of ways.
Today, we're sharing three creative sticker design ideas for your business.
Considerations for Branded Stickers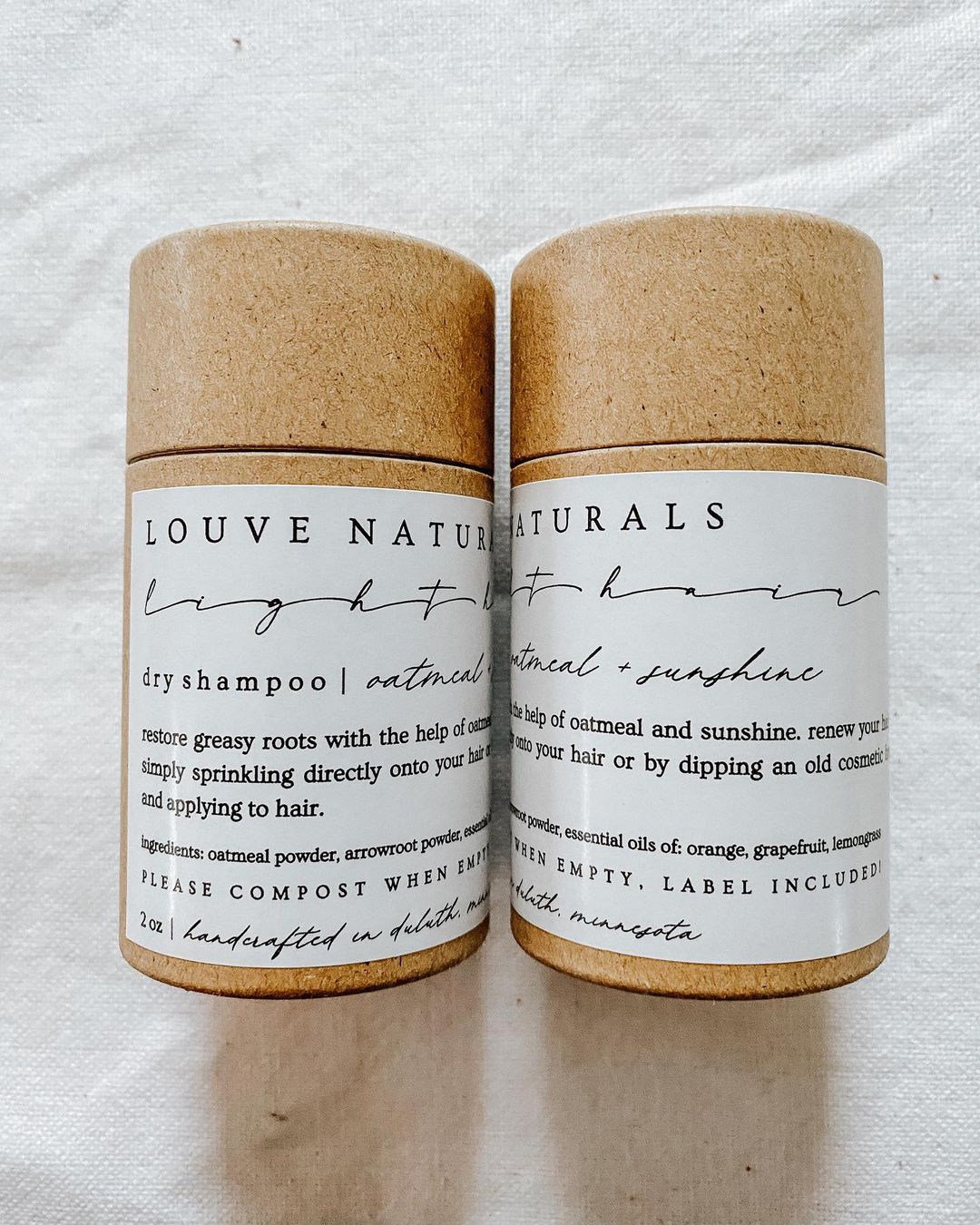 Stickers may be small, but they can make a big impact! Before you start designing, it helps to have a strategy in place for what you want your sticker to look like and achieve. To create a sticker that best represents your brand, consider the points below.
Colors: What colors do you use to represent your brand? Incorporate these into your sticker design for consistency across your online and offline channels. When you're designing a custom sticker with noissue, you can use as many colors as you'd like in your design. We print with CMYK colors in digital and offset printing, depending on which sticker type you select.
Typography: Do you have a brand font, a logo that should look a certain way or a message you want to share with customers? Use this in your sticker branding, but remember stickers are a smaller surface area so be sure to choose a font that is easy to read and don't try pack too much text in.
Sticker shape: Where is your sticker being placed, and what shape would best suit the surface it's being applied to? noissue's stickers come in oval, rectangular, circle, square and die-cut shapes. Custom Die-Cut Stickers are a great way to add personality to your brand because their shape is completely customizable, so they can made in the shape of your brand logo or icon.  
Finish: What type of finish do you want on your sticker? A matte finish will give your stickers a more sleek, natural look, while a glossy finish will give your sticker a more premium look. Here at noissue, our stickers are uncoated as it's the more sustainable option. Glossy finishes are often created from a plastic coating, which means the sticker can't be composted – but ours can!
End-of-life care: How will you or your customer dispose of the sticker once you're finished using it? noissue's Custom Sticker range is compostable and recyclable, which means you aren't creating excess waste in the packaging process. Even the liner our stickers come on is curbside recyclable!
What to Include On the Sticker Design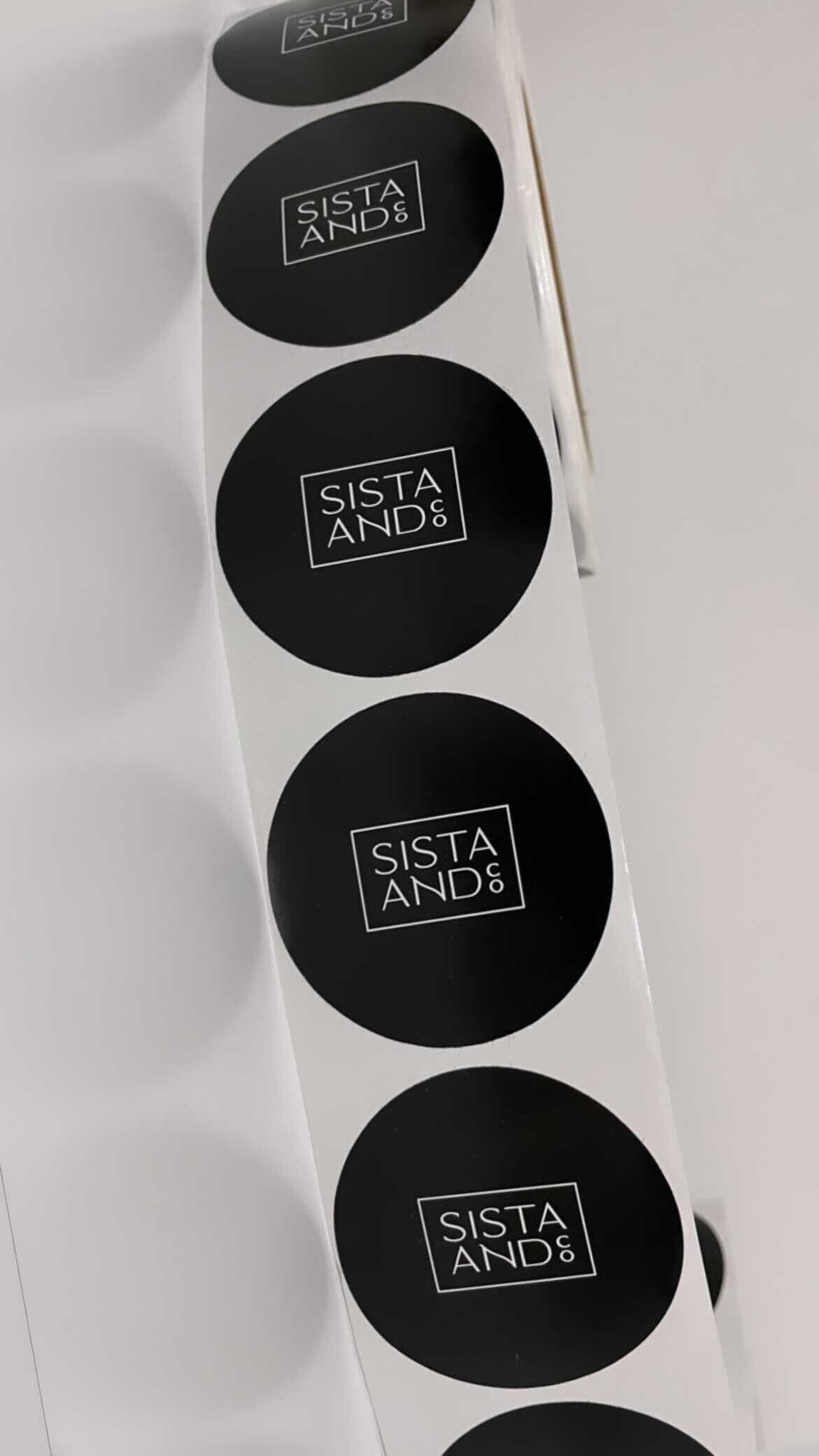 Now onto the fun part: designing a custom creation! There's no need to be a graphic designer to create a great looking sticker. Here are a few things you can include in your custom sticker design.
Logo: A logo is a great way to make your sticker instantly recognizable and associated with your business. If you don't have a logo, consider using your business name or your initials instead.
Business Name: This is a tried and true marketing method that helps with brand recognition and recall. It also means people can easily find you online.
QR code: Add a QR code to your sticker so people can scan it and quickly learn more about your business. The code can lead to a microsite, your latest product collection, a menu, or a customer reviews page.
Contact information: Include your contact information on your sticker so if someone wants to get in touch with you immediately, they can. That could be your email address, website or social media handles.
Your brand tagline: Use a tagline to communicate what your business is all about. Keep it short, sweet, and snappy – you don't have much surface area!
A thank you message: Include a thank you message on your sticker to show your appreciation for your customers. Gratitude goes a long way!
'Fragile' or 'Please don't bend': This is a great practical use of a sticker on the outside of a package if you're shipping fragile goods or something that needs to stay in place, like an art print.
These are just a few of the many ways to get creative with your sticker design. Use these ideas as a starting point, and let your creativity flow.
3 Sticker Ideas For Your Business to Try

1. Custom Die Cut Stickers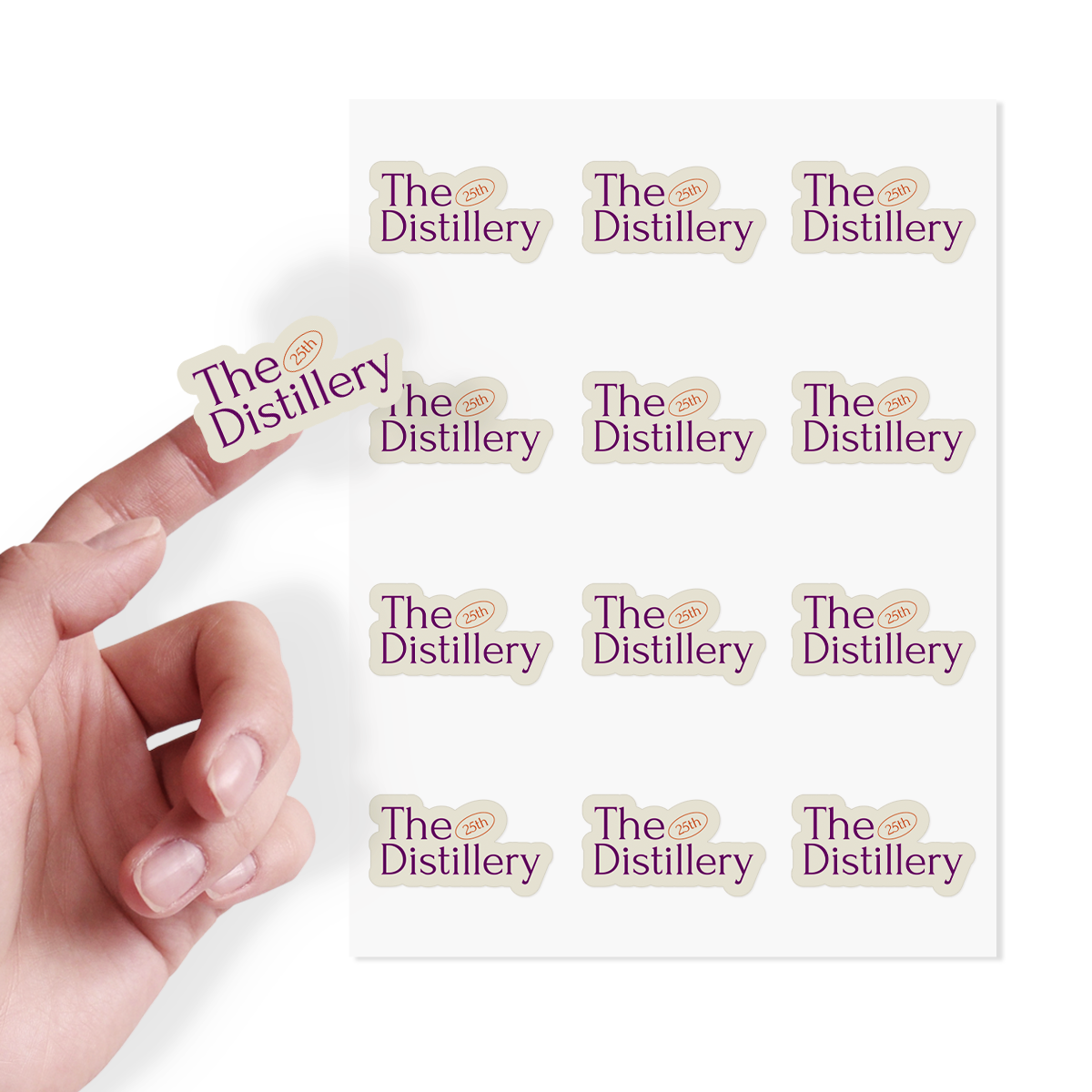 One of noissue's most popular stickers for marketing your business is Custom Die Cut Stickers. A die-cutting machine is used to cut your design into any shape you want, making it a great way to show off the personality to your brand.
The digital-printing means there are no color limitations on your Die Cut Sticker Label, so you can flex your design to change between seasons, special occasions or limited edition runs! Their finish is not too glossy and not too matte – the perfect in between.
Apple has one of the most outstanding examples of custom die-cut stickers. The company's logo in the shape of an apple is a simple shape, but it's highly recognizable. The iconic sticker is seen today on countless laptops, iPads, and bags worldwide.
If you want a variety of shapes and designs for Die Cut Stickers, our multi-design sheets give you multiple options for branded stickers.
2. Regular Paper Stickers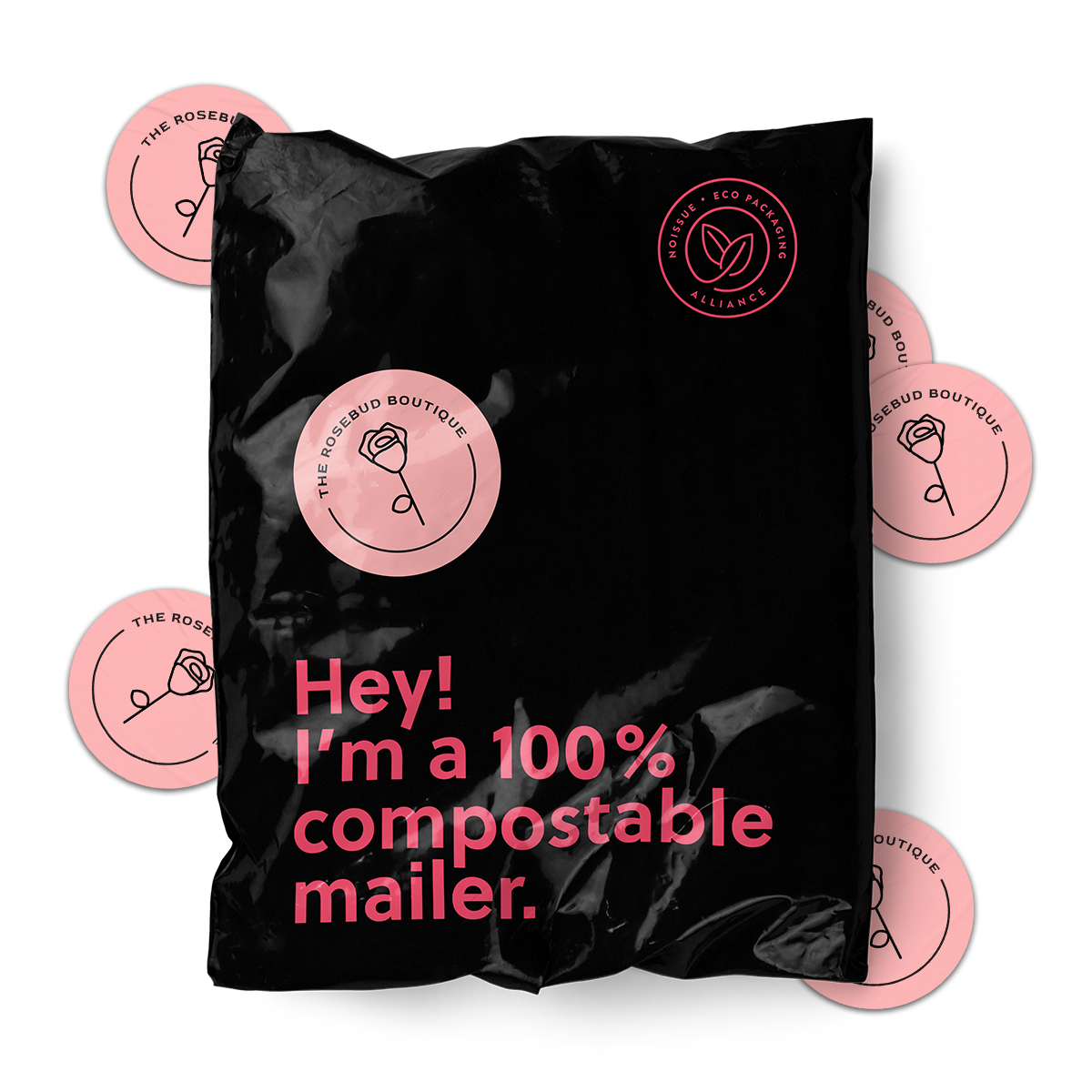 Custom Paper Stickers come on a sheet for application and are eco-friendly and cost-effective, making them a great option for small businesses on a budget. noissue's Custom Paper Stickers are 100% compostable, which means customers can dispose of them in an environmentally responsible way after use. They're also easy to design and print, so you can get your stickers without any hassle.
One downside of paper stickers is that they're not as durable as other materials. However, they're still great for temporary applications, like square QR codes or adding a thank you note. We have six sizes and four shapes of regular paper stickers so that you can find the perfect fit for your needs.
3. Custom Label Roll Stickers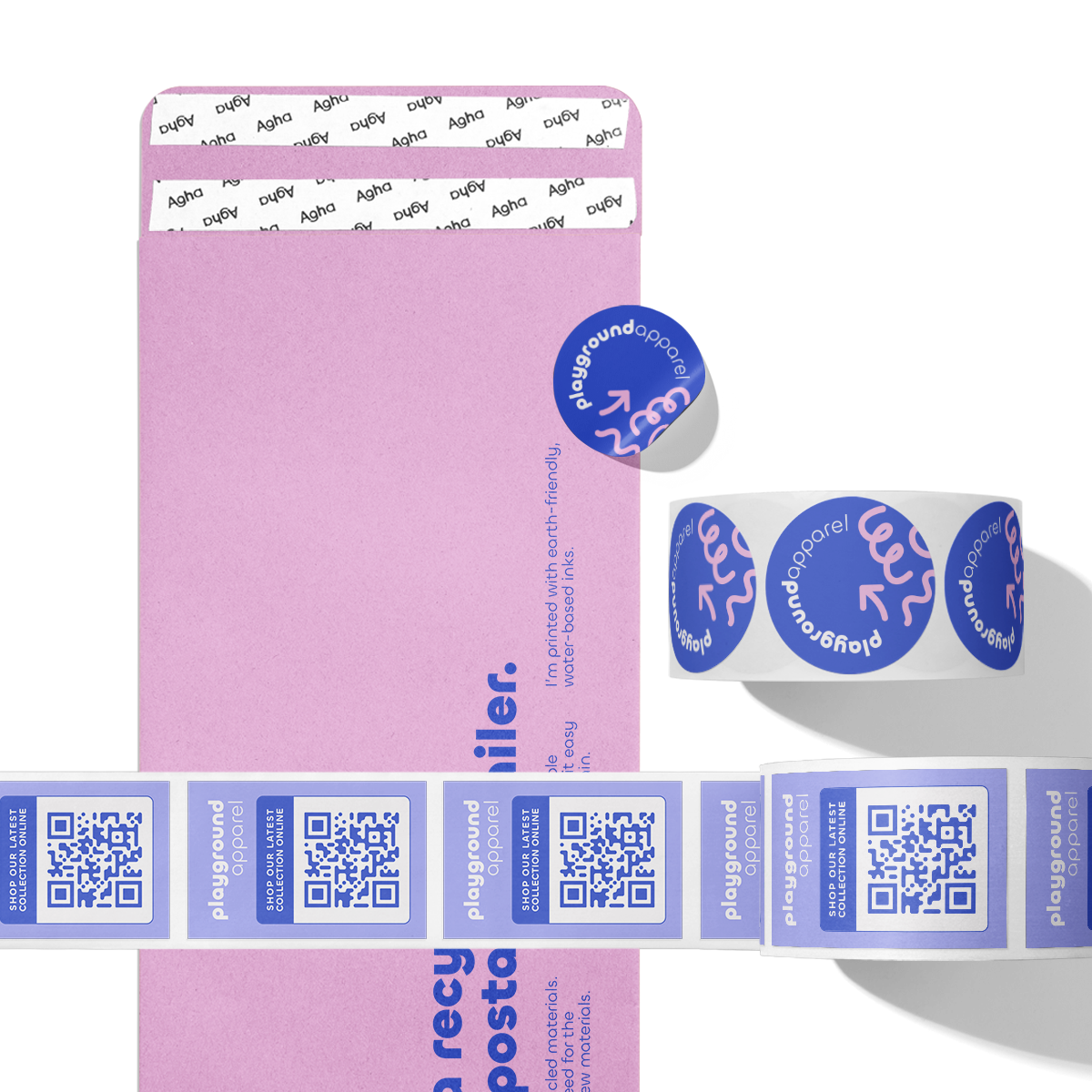 If you're a busy business owner who needs a quick and easy sticker application, Custom Sticker Rolls are a great option. They can sit in a dispenser or dowel and be applied to the outside of products or packages conveniently. You can use labels for various purposes, such as product packaging, address labels or even a QR code. noissue's roll labels are 100% compostable, so they can paired with compostable packaging for the ultimate sustainable packaging experience.
Ready, Set, Design!

No matter what type of sticker you choose, make sure it accurately represents your brand. Your stickers should be high-quality and eye-catching to make a lasting impression on your customer.
By using noissue's online design platform, you can design your stickers in minutes by uploading your logo or text, and choosing from a variety of shapes, sizes, and colors.
Creating custom labels has never been easier, so what are you waiting for? Check out our different styles of stickers, or learn more about Custom Die Cut Stickers vs Regular Stickers and which is best to use for your business.