Candles are a popular product for small businesses due to their wide variety of uses and appealing aesthetic. Customers love them for their invigorating fragrance and comforting ambiance, leading to candles being one of the most popular purchases year-round.
However, with this popularity comes particular challenges – specifically, packaging and shipping. Not to worry, though – there are some great ideas out there for packaging and shipping candles that will help keep them safe, no matter how they're being shipped.
Requirements For Candle Packaging

First of all, let's take a closer look at the product we're packaging – candles. Candles have been around for centuries and have long been a staple in homes and businesses worldwide.
There are many different types of candles, including pillar, tealight, taper, votive, floating, and more. Each class holds unique properties that make it ideal for specific uses – some burn longer than others or emit stronger scents.
Depending on the type of candle, they can be made from various materials, including beeswax, soy wax, paraffin wax, and more. Understandably, these factors can affect how candles should be packaged and shipped.
1. Heat Protection

Heat is one of the most important things to consider when packaging candles. Because of the wicks and wax that make up these products, they are very sensitive to high temperatures and can quickly melt or even ignite in certain conditions.
As such, it's crucial that businesses carefully choose their packaging materials and how they will be shipped. Paper tubes are an excellent option for packaging candles, as they block any direct sunlight from touching the candles.
2. Moisture Protection

Similarly to heat, moisture can also be detrimental to candles. Too much humidity can cause the wax to melt and the wicks to drown, making them ineffective.
That's why candles must be shipped in a way that prevents moisture from coming into contact with them. Paper tubes are once again great for this since the paper itself acts as a barrier to moisture and humidity.
3. Damage Control

If you're shipping candles, it's also essential to have a plan in place for damage control. This can include things like cushioning materials between the candles and their containers, as well as providing added protection for fragile glass candle holders.
The type of container used for your candles will also play a significant role in how they're packaged and shipped – you'll need to make sure that it's sturdy enough to withstand any bumps or bruises.
Some shipping companies are not known for their delicate handling, after all!
How To Choose The Right Packaging For Candles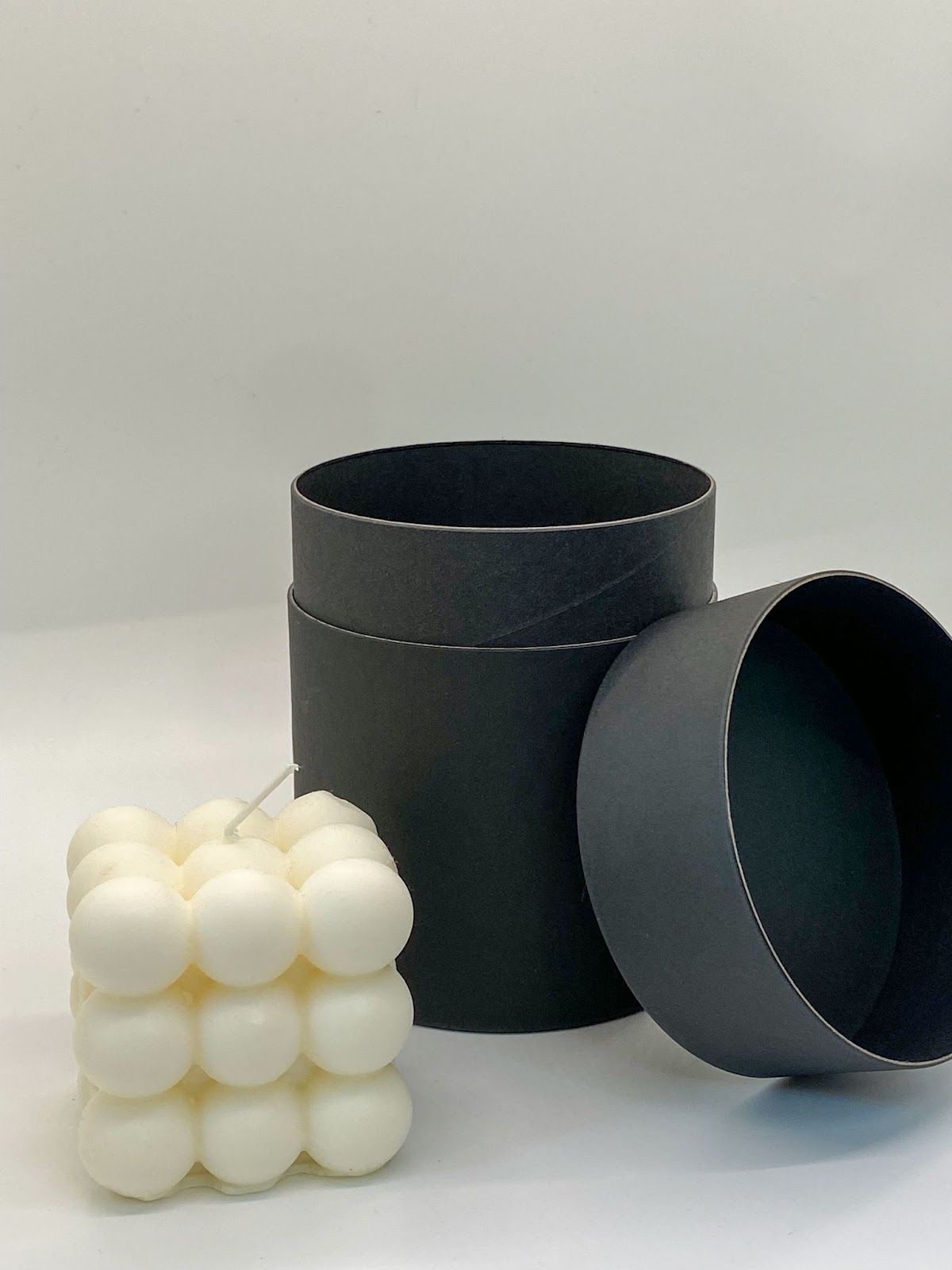 Ultimately, when it comes to packaging and shipping candles, there are a lot of different factors at play.
However, by considering the unique needs and properties of candles as a product – including their fragility, heat sensitivity, and tendency to melt in certain conditions – you can begin to create an effective solution for your business.
One option for packaging candles is to use noissue's stock paper tubes. These tubes are made from recycled paper and are available in four different sizes – perfect for a wide range of products. The walls are 2mm thick, making them sturdy enough to protect your candles from any damage that might occur during transport.
Still, there are a few steps you can take to ensure that we're the right choice for you:
1. Measure Your Candles

First, you'll need to take some measurements of your candles. It will help you determine what size paper tube you need – we offer four different sizes, so it's important to choose the one that's right for your product.
You'll also want to make sure that there's enough room in the tube for other packaging materials, such as bubble wrap or packing peanuts. Note all the dimensions for each type of candle you hold, and you'll have clear guidelines for choosing the right size paper tube.
2. Secure Your Package

Next, it's important to invest in quality packing materials to keep your candles protected throughout transport. This can include things like bubble wrap, packing peanuts, and more.
You'll also want to make sure that you have a sturdy box or container that can hold all of your candles and packaging materials. That will help keep everything in one place and prevent anything from shifting during transit.
Glass candles, in particular, will need extra protection to prevent them from breaking.
3. Decorate Your Packaging

Next, don't forget to decorate your packaging! You can use custom tissue paper, custom die cut stickers, custom roll stickers, or even stamps to add a personal touch to your packages. This is a great opportunity to show off your brand and make a good impression on your customers.
Remember that you want to convey the professionalism and quality of your products, so keep it simple and elegant. A few stickers here and there, clear labels, and your logo can go a long way.
You can also add a Custom Card or Custom Hang Tags, which will help build brand awareness and connect with your customers.
4. Follow Shipping Guidelines

Finally, make sure that you're familiar with the shipping guidelines for candles. Check out our guide on How To Ship a Candle for more information. The United States Postal Service (USPS) has specific regulations for shipping candles, so it's important to check with them before sending your products out.
It will ensure that your candles arrive safely and intact, helping you build a strong reputation for quality and customer service. If you're shipping internationally, be sure to check with the customs regulations for each country to ensure that your candles can be shipped without issue.
5. Choosing Sustainable Packaging

Beyond the heat and moisture protection that paper tubes provide, they are also eco-friendly packaging options. Other materials for packaging candles can be wasteful or harmful to the environment, such as plastic or Styrofoam, but the paper is entirely biodegradable.
When you choose sustainable packaging, you're not only helping to protect the environment - you're also sending a message to your customers that you care about social responsibility and sustainability. In the era of social justice and companies with a cause, this can help to build brand loyalty and trust.
Sustainable packaging extends beyond just the environmental benefits - it can also be cost-effective in the long run. Paper is a renewable resource, so it's more affordable than materials like plastic that will eventually run out. Our tubes are fully recyclable, so you can easily reuse them for your packaging needs or send them to curbside recycling.
4 Candle Packaging Ideas For Your Brand To Use

Now that you know everything you need to consider when packaging your candles, it's time to decide on some innovative ideas.
1. Kraft Paper Tubes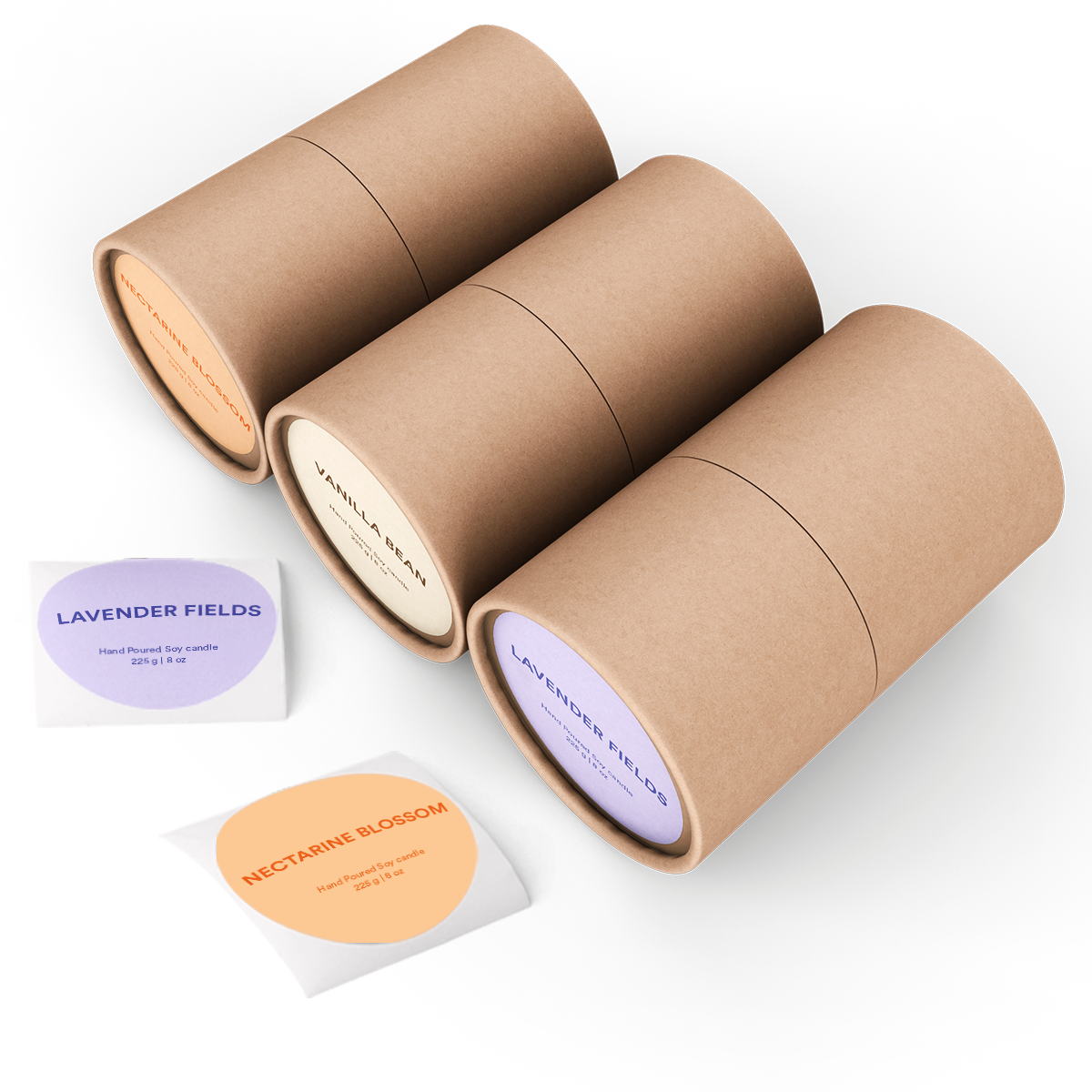 Kraft paper tubes are the perfect packaging solution for candles. Our stock options include four different sizes and a wide range of accessories to help you create the perfect look for your products.
Our paper tubes provide all the protection that you need from heat, moisture, and other potential hazards during shipping. They have a removable lid that allows you to insert your candles easily, and they're stackable so you can save space when storing them.
The cylindrical shape of the tubes also makes for easy shipping, as they can be stacked neatly in a box or other container. And because our tubes are made from sustainable materials and fully recyclable, you can feel good about doing your part to protect the environment.
2.  Custom Product Boxes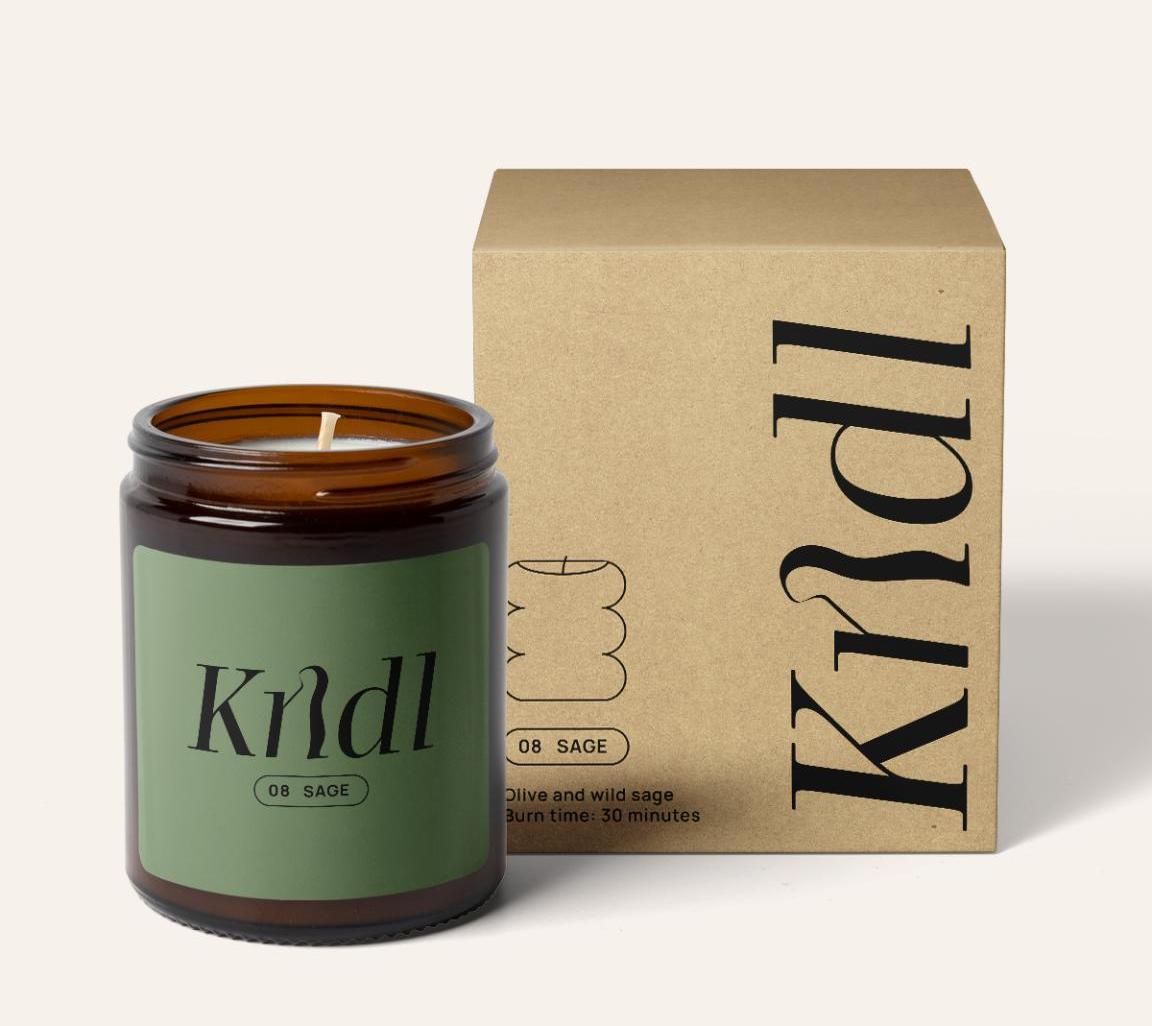 Another great option for packaging candles is a square custom product box (also known as a product folding carton). These boxes are perfect for creating a clean and modern look that matches your brand, offering plenty of space to protect your products and showcase your branding.
Because they're square instead of cylindrical in shape, you will need to ensure there's not too much space inside the box that could cause your candles to move around during shipping and become damaged. You can avoid this by using fillers like crinkled custom tissue paper or packing peanuts to keep your candles in place.
3.  Custom Shipping Boxes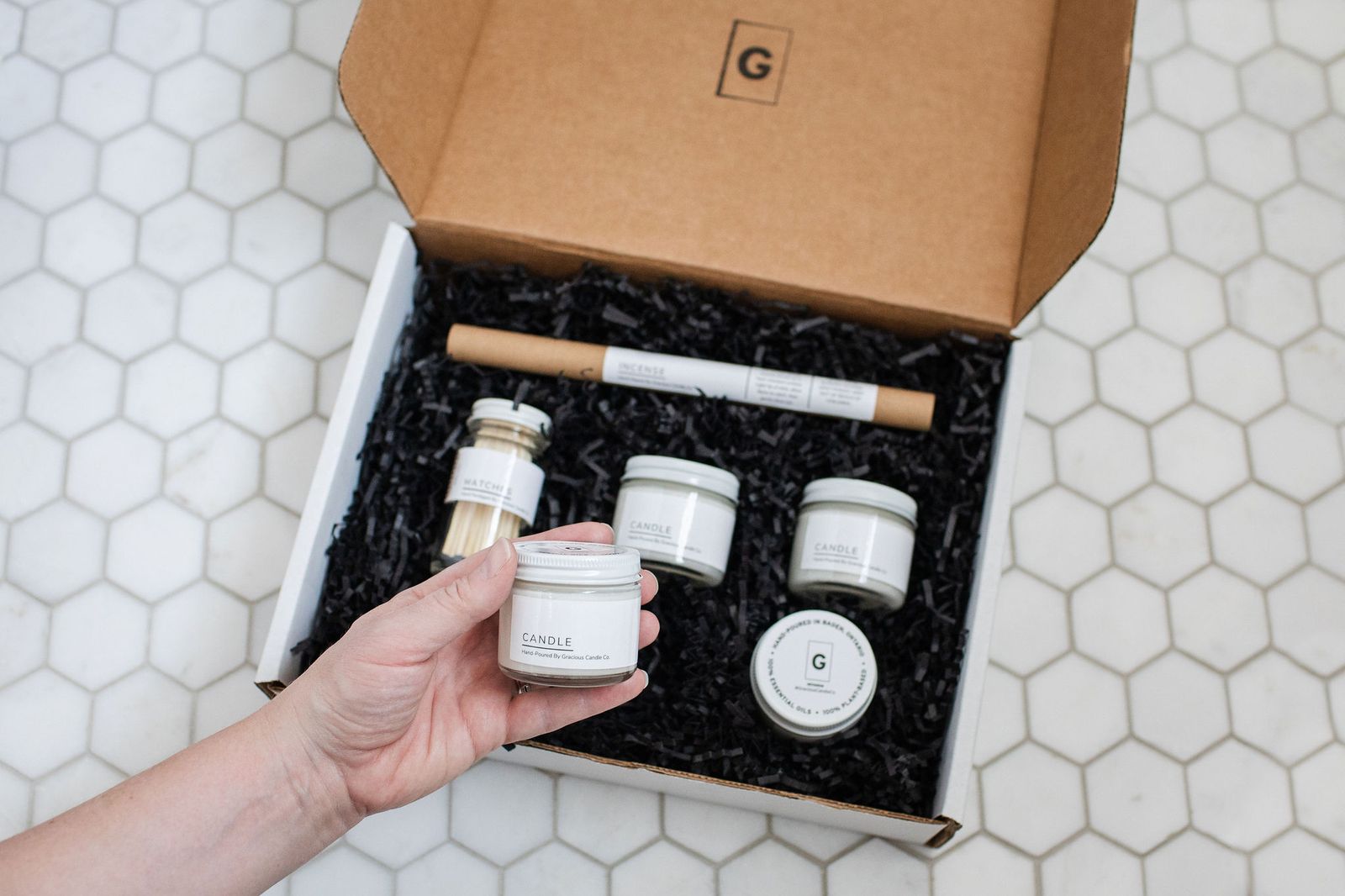 Custom Recycled Shipping Boxes  are another unique option that will make your candle packaging stand out from the rest. These boxes offer plenty of space for your candles, and they can be easily shipped and stored. They also give you the ability to create a custom gift pack that houses many candles or other products.
One consideration is that their larger size means they may be more expensive to produce than other options, so you'll need to weigh the cost against the benefits.
4. Custom Straight or Reverse Tuck End Boxes
If you're looking for a secure way to package and ship your candles, a Straight or Reverse Tuck End Box is a great option. This is because they're made from a corrugated Kraft material that is lightweight, yet will still protect your candles.
Their small size also makes them compatible with candles, seeing as it eliminates void space around the product. You also have the option to add a custom design with a personal message or your logo to both the inside and outside of the box, creating a totally unique unboxing experience.
Wrapping It Up

Overall, there are many different factors to consider when packaging and shipping candles. By carefully planning each stage of the packaging process, you can create a solution that will keep your candles protected while they're on their way to your customers' homes.
Get started with candle packaging today and find out more about Stock Paper Tubes, or take a closer look at noissue's options for product boxes. Happy packing!