Shopify has completely revolutionized how we buy and sell things.
No longer does setting up your own store need to be a long and arduous journey filled with bank loan rejections. Now, you can set up your small business online quickly and easily. With just a few clicks!
But when it's this easy to become a growing entrepreneur, you're not going to be the only one out there, and high competition can make it tricky to attract traffic to your Shopify store.
Luckily, even if your marketing budget is minimal, there are easy, cheap, and even free ways to help boost your Shopify traffic to help you get the customers you deserve!
Just remember, building a loyal client base takes time. According to Smartinsights, the average conversion rate for 100 of the best online retailers is only 2.8%, so don't get disheartened if your stock doesn't seem to be flying off the shelves!
1. Write a Blog
One of the best ways to drive free traffic to Shopify is by cultivating a blog. But not just any blog... Your blog should add value to the customer experience and be packed full of genuinely interesting and helpful content.
Well-written, SEO-friendly, and long-form blog posts are a great way to add substance and value to your customers' lives and build your reputation as an expert. If your customers trust your opinion, they're more likely to trust your products.
But long-form blog posts aren't the only type of content marketing a successful Shopify store can utilize. Mixing up long-form posts with videos, how-to guides, FAQ lists, competitions, or quick updates are all great ways to keep your customers interested and establish your expert status.
When it comes to writing your blog or kick-starting your content marketing, you're going to want to really get into the mind of your target customer. To do that, answer these questions:
What problems are they facing?
Why might they benefit from my product?
How can I add more value?
Figuring out what people are asking the all-mighty Google will give you an excellent chance to get valuable content in front of new readers and allow you to stand out from the crowd.
According to Maretinsidergroup, publishing a post approximately 2-4 times every week offers the best results when looking at both traffic and conversions. Studies show the more often you post, the more traffic your store gets…. And more traffic means more sales!
Clothing store Americanza is a great example of how a blog can add value to customer lives. Rather than just focusing on their own product, they've got into the minds of their clients to create blogs and posts that are relevant and interesting to their target audience.
They also offer a promotion to encourage people to sign up for their mailing this. This is a great way to attract new customers and drive more traffic to their website with every post.
2. Social Media
Next to blog posts, an essential tool for any sized business is to take full advantage of social media. Yes, social media comes with its problems, but with Instagram reporting over a billion active users monthly in 2019, social channels do offer access to a massive market of potential customers.
What's more, Instagram and Shopify have recently partnered… Making it quick and easy to transfer shoppers directly from your Insta to your store! You can even make "shoppable posts" that allow users to tap an image to bring up product details without ever needing to navigate away from the app.
MARYVERY does a great job of taking advantage of this partnership, with links on their Instagram page directing you to the store. You can also contact the sales team directly via Instagram, plus access 'reviews' and browse their products all from within the app.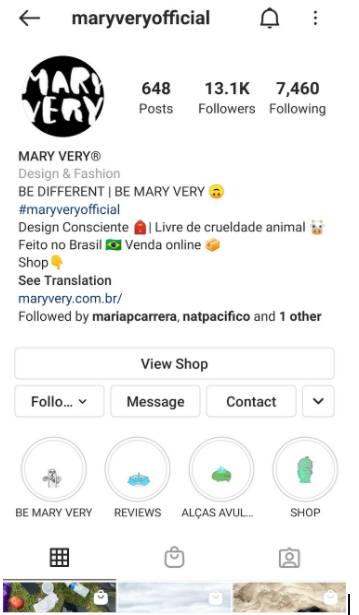 But while Instagram holds the second-highest order value of all social media marketing strategies, Facebook still has its place in marketing and is a vital tool for driving traffic to your Shopify store.
To make the most of this trend, it's a good idea to convert your Facebook business page into a Facebook Store. This makes it incredibly straightforward for shoppers to browse your wares and buy from you without ever needing to change their online habits…
And, let's face it, in today's online society, convenience is king!
3. Guest Posts (Backlinking)
It's common knowledge within the world of content marketing that backlinks are vital to a healthy profile. The simple reason backlinks are so beneficial for a website's search engine profile is that they demonstrate the site or page as a trusted source of information.
These days, Google is as important to impress (if not more so) than your customers. These algorithms dictate where you show up on results pages and how many people will see you.
Look at it this way… When was the last time you used the second page of Google search results? A long time ago, right?!
Well, this is true for the vast majority of shoppers.
When there's so much competition for traffic, if you're not on page 1, chances are nobody is going to find you.
You can gain backlinks to your site by guest posting. This basically involves approaching another business in the same or similar industry to you and asking whether you can create any content for them to use on their site.
This creates a win-win culture, as you provide free content for their store, and they provide you with backlinks that increase your visibility and viability.
An easy way to find guest posting opportunities is with the god-of-all-content, Google. Simply type "intitle: write for us + your niche" into the Google search bar to discover where guest posting opportunities lie.
Ideally, you'll want a few guest posts to be published each month. Not only does this tell Google that you're a valuable resource, but it also tells them that you are consistently referenced. Be sure to include at least one backlink to your Shopify store in every post, and always incorporate a short author bio to let readers know who you are.
4. Paid Ads
White blogging, guest blogging, and optimizing your social media marketing strategy take time; they don't necessarily cost anything. We understand that if you're looking to drive more traffic to your Shopify store, you might not have an enormous budget for extravagant marketing strategies, and keeping things affordable is vital.
The brilliant thing about marketing on a budget is that organic traffic is generally far more valuable than anything money can buy! Even "influencers" who have thousands of followers do better with real users who are actively engaged with their stories and products than those with double the followers but no engagement.
That said, paid ads are a great way to get your content in front of more people. Paying to advertise your small business or store on social media doesn't need to be expensive, and it's easy to target your ads to ensure they show up in front of the exact people who want to see them.
Researching your target audience and existing customer base is vital for ensuring any paid ads are used appropriately. Take some time to learn who your market is. What do they want? What do they need? What sort of problems are they facing? And remember to consider the bigger picture, not just the services you directly offer, to build up a thorough profile. You can then use this research to influence your ads and get your product in front of the people who will most benefit from it.
Remember paid ads are usually only temporary and might not provide long-term engagement. That said, if you're looking to boost traffic fast, then this can be a fantastic way to inject your store with some new eyes.
What Next?
Getting millions of traffic to your Shopify store is something every entrepreneur dreams of, and with the above 4 top tricks, you'll be able to get in front of so many more readers and shoppers than ever before.
Remember, as with anything, Shopify is a numbers game! Not every reader will convert into a sale, and not every click guarantees a returning customer.
Even with the best products in the world, people will always have a reason not to buy from you, and it's important not to get disheartened if growing a loyal customer base takes time.
That said, the more people who look at and learn about you, your store, and your products, the more potential customers you're attracting. Even if you convert just 1%... That's still 1 more customer than before!
---
Kristina Žiaukė is a content manager at sixads. Want to know more ways to increase traffic and attract buyers to your online store? Connect with sixads on Facebook, Twitter, LinkedIn, or YouTube!