Before we dive in, you just need to know – white doesn't count as a color on your noissue Tissue! Create the custom and sustainable packaging of your dreams through our easy-to-use online design platform. For your brand's ultimate unboxing experience, pair your custom Tissue paper with branded extras, like compostable Cards or Hang Tags, for extra personalized packaging!
Custom noissue Tissue by @regina__studio
Unboxing experiences are meant to be memorable moments. So why not make your packaging as awe-inspiring as possible and without any excess material? 🎁
Nothing beats the feeling of receiving a package that looks perfect, inside and out! Providing customers with your products in decorative packaging will positively increase your brand's reputation and encourage repeat business. But, it's important to remember that the packaging industry tends to generate a great deal of waste that ends up in our landfills.
The solution? Choosing custom, recycled tissue paper packaging that's compostable and can be repurposed!
noissue custom tissue is your business's easy and eco-friendly packaging solution. Our Tissue is printed with soy-based inks on FSC-certified paper and is acid, sulfur, and lignin-free. Good for people and the planet, through and through!
There's more good where that came from – because of how you can customize noissue Tissue, you're able to easily transform your tissue paper packaging into beautiful artwork, branded patterns, and more through our beginner-friendly design platform. Noissue's multiple color printing capabilities also means that your custom and branded Tissue will totally stand out from the crowd – there's no place for boring here!  
Create your design or pattern, pick the tissue weight that'll work best for your business's needs, and tap our pre-press design team to help you with any issues or questions while you design. No previous design chops are necessary – let us do all the work to make your custom packaging dreams come true!
From colorful combinations to designs that dazzle, take your noissue Tissue up a notch to really wow! Best of all, your customers can easily compost, recycle, or even repurpose their Tissue well beyond a one-time use.
💡 Inspiration Station

Keen to uplevel your unboxing experience? Aside from using Tissue to fill your packages, we've got some new ideas for you to try with it! If you want to take on your brand's newsletter in print form or are aiming to impress with custom paper transparencies, these five noissue Tissue tricks are just the thing for terrific packaging.
1. Use white as a third bonus color to go bright and bold

Did you know that white doesn't count as a color when printing your design on noissue Tissue? Yep, you're able to create your custom Tissue design using three colors! Print an immersive, duo-tone illustration complemented with white accents that'll make your technicolor tissue stand out even more, like how Kasvei has done on theirs. Or, try placing pops of pure white in between other colors for a pattern that'll catch any customer's attention!
2. Send a branded tissue newsletter out with orders

A branded newsletter is an excellent marketing tool – you can share your business story, interviews with your community, or fun facts about your products. And your newsletter will be extra exciting when it's printed right onto your packaging tissue, simultaneously protecting your products and informing your customers! Here, Maggie Marilyn makes their noissue Tissue do double the work by featuring product care tips, eco-friendly tips, and clever crossword puzzles while filling space in their packages. For Days' Tissue newsletter shares sustainable swaps that'll make your day-to-day way breezier!
If you don't have the design capabilities in-house, don't sweat it. Get your brand's tissue paper newsletter started on the right foot by downloading noissue's Tissue newsletter templates and going from there. We just ask that you tag us in your creation on social so we can read all about it! We can also print in a heavier 28 GSM paper option that's more opaque – just request for this at checkout.
3. Add a touch of metallic for unique impact

All that glitters isn't just gold – did you know that other metallics, like copper, rose gold, and silver, can be printed on noissue Tissue paper? Like this rich gold by Full Moon Market, metallic Tissue creates a layer of texture unlike any other for added dimension and interest. If you want something more subtle, metallic accents spruce things up with a bit of shine. Nothing wrong with capturing your customer's attention with some gleam and glitz!
4. Turn your logo into a full-blown pattern

On noissue, you can use our online design platform to find and customize a repeating logo design for your business's tissue paper packaging.  Rosery Apparel gets their lovely repeating logo all right on a simply stunning, custom Tissue design!
Our logo templates make it incredibly easy to create a design – no design experience required whatsoever! Simply upload your logo as a JPG, PNG, PDF, SVG, or EPS file that's under 100MB. Then, our online template automatically handles the rest.
5. Give a (sheer) surprise using lightweight Tissue

Want to give customers a sneak peek of their order? Create an illusion of depth in a two-color design on lightweight tissue paper! A pop of a white logo or text in another color adds sophistication without looking stiff. Freckl Studio lightens things up with a slightly sheer noissue logo tissue – and tops everything off with a compostable logo Sticker to seal the whole deal! Get your design situated onto lightweight Tissue and go big on bringing out those feelings of serendipity.
🎁 Wrapping it up

So there you have it! Taking your noissue Tissue to the next level can be as simple as switching up your three colors for a statement-making palette, choosing a different weight for a whole new feel, or even pulling off a clean and branded pattern.
Our tissue paper options also comes customizable in Kraft or Multicolor, so you can really let your creativity run wild! noissue Custom Kraft Tissue Paper offers an eco-friendly look while being made from recycled materials certified from the Forest Stewardship Council (FSC).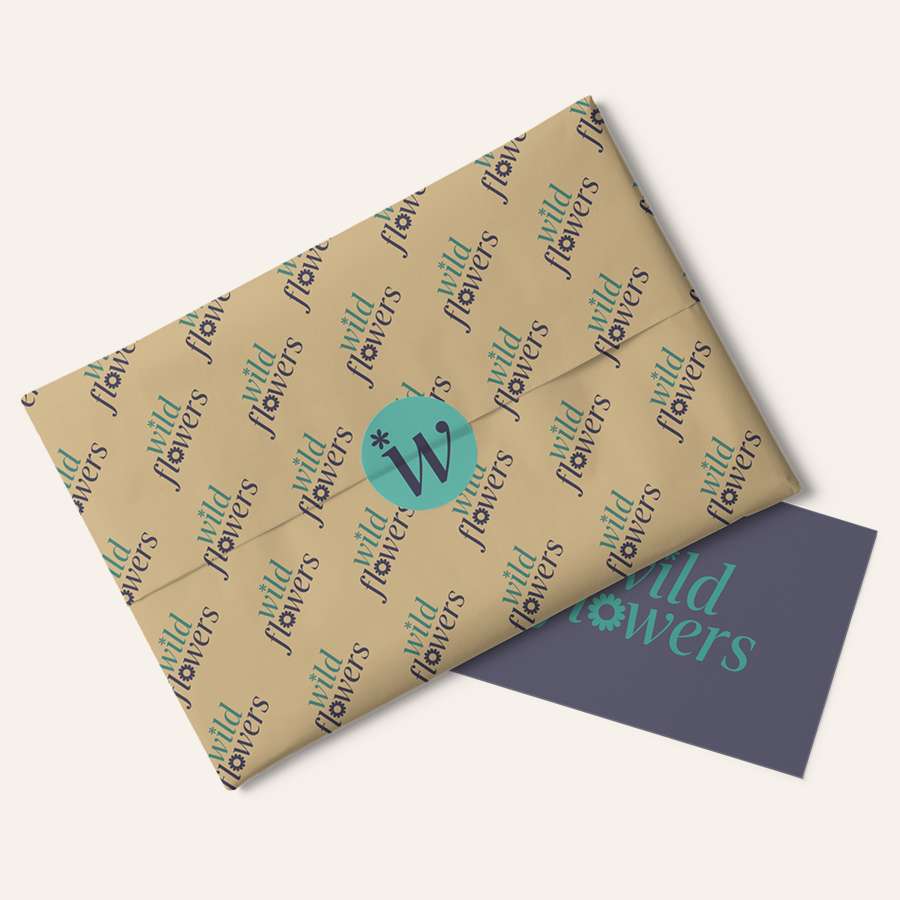 If you're looking to inject even more pops of color into your brand presentation, then our Custom Multicolored Tissue Paper is the perfect solution! Your designs and large artworks are boldly printed in vivid CMYK soy-inks to remain 100% recyclable.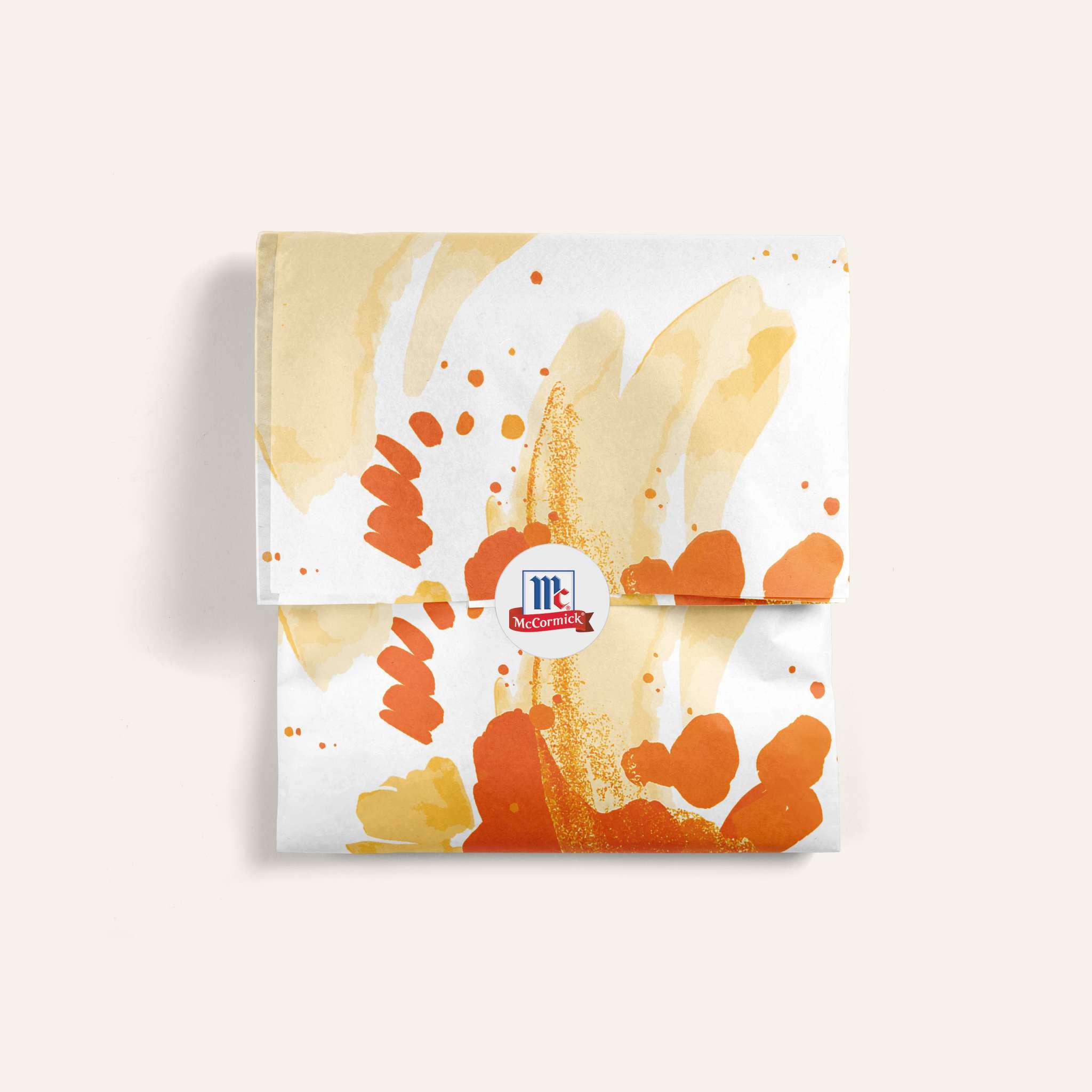 And there are plenty of options on how you create your noissue Tissue, whether you're designing for the first time or already have a completed design to upload! See more Inspiration Station stories to spark your next Tissue design, as well as the Stickers, Tape, Boxes, and more that our community customizes.