@funnyfacebakery
It's all about the location, location, location. Top off a time well spent with good food, and we wouldn't want to be anywhere else. 😌
We love how our Bites community spans the globe and how equally diverse all the treats and eats are! From irresistible icing creations to sandwiches worth drooling over, we're spotlighting some businesses around the world bringing the A-game on their food and presentation.
For hospitality businesses, noissue Greaseproof Food Wrapping Paper is the perfect biodegradable plastic wrap alternative to line your plates and takeout boxes! Make an impression on customers and customize your Foodsafe paper with your logo or a design of your choice that's printed with water-based inks and can be composted after use!
Why not take it a step further and rep your homegrown pride on your eco-friendly food grade tissue paper?
Inspiration Station 🍪

We're shouting out some businesses for the top-tier treats and impeccably designed food wrapping paper packaging representing their home bases, from New York to London, Australia, and Toronto! Check out these five Bites community members for some global inspiration and see their local digs to inspire your next tasting tour.
Funny Face Bakery in New York, USA
Based in the heart of East Village, New York, Funny Face Bakery is boxing up edible portraits of pop culture icons and more. And their sense of humor doesn't stop at cookies depicting your favorite celebrities and figures – you can also place a custom cookie order to feature a friend's face or even your own!
Funny Face Bakery whips up plenty of pretty eats by the single or dozen, and we love how each cookie has a chance to shine in a curated unboxing experience. Pastel Food Wrapping Paper with a cute, custom illustration lines their takeout boxes, making the entire package fabulously extra. Speaking of extra, don't forget about rocking a compostable Card and Sticker to sport your support for New York's finest!
Macaron Moments in England, United Kingdom
We don't make the rules – macarons are perfect for any moment. Macaron Moments in England bakes up these mouthwatering morsels using free-range, fair trade, organic and UK-local ingredients. For Macaron Moments, their location is a major source of inspiration for their macaron masterpieces and packaging designs.
As a testament to their mission of sustainability, Macaron Moments uses ingredients from businesses promoting food-waste reduction and uses compostable packaging to show that confectionery can be luxurious and sustainable. Their packaging takes this philosophy and protects each artisanal macaron in elegantly illustrated Food Wrapping Paper paper to be unwrapped for a truly unforgettable moment!
The Polly Fox in British Columbia, Canada
If you're eager for some gluten-free eats, then say hello to The Polly Fox Bakery & Bistro! Based in British Columbia, The Polly Fox prides itself on providing an entirely gluten-free menu and vegan options for all. And to bring out the hometown pride, The Polly Fox offers custom and wholesale orders so that the whole neighborhood can enjoy their fresh and delightful food.
We're big fans of the foxes on their custom noissue Food Grade Tissue Paper lining their takeout boxes and done up with the eatery's clean-cut logo for a dapper decoration. Next time you're in the BC, be sure to polly-fox (AKA, take a break) at The Polly Fox!
Bear Boy Espresso in Queensland, Australia
With not just one but two locations in Queensland, Australia, Bear Boy Espresso is having a blast mastering and remixing brunch basics. Bear Boy Espresso is the coolest kid on the Queensland block when you're in the mood for creative coffee takes and unique interpretations on healthy and quality eats. Did we mention that they change up their meal and drink menus every season? You won't find your typical breakfast benedict here – Bear Boy Espresso always brings new treats for everyone to taste!
And if you can't get enough of the bear-and-boy logo of theirs, just take a look at the compostable sandwich wrap that protects each order. The terracotta tinge of the illustrative logo is just *chef's kiss* in our books.
Five Boroughs in Auckland, New Zealand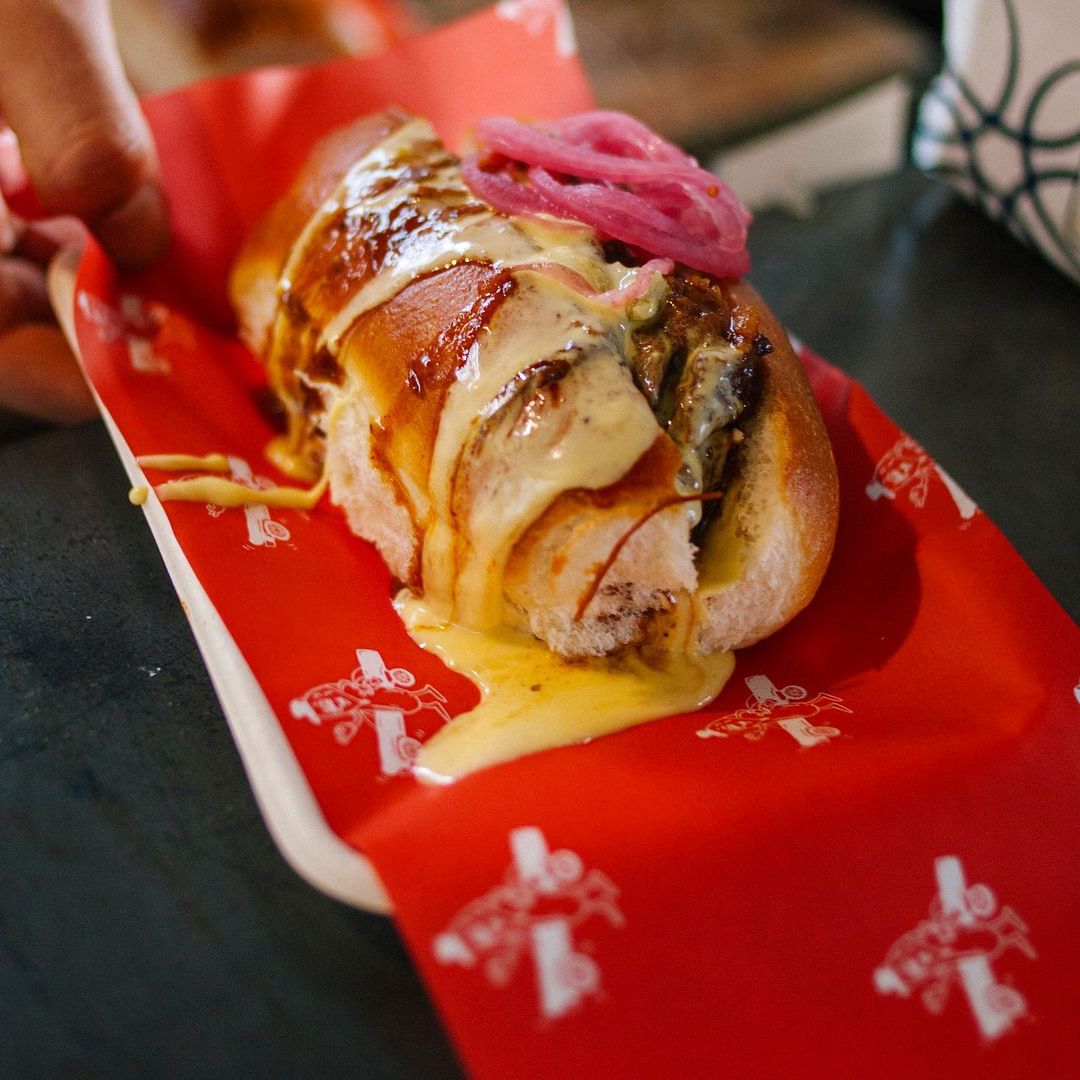 No one does bomb burgers and amazing appetizers like Five Boroughs does in Auckland, New Zealand. Five Boroughs is a spot that you simply can't miss out on – just look for their iconic "pickle boy" logo at their next pop-up! While everything from the patties to the potatoes on their main menu is enticing, they also offer a late-night menu covering all the cravings.
Trusty eco-friendly sandwich wrap paper customized with their pickle boy in a shock of red keeps every morsel together. Go ahead and grab the extra ketchup!
🎁 Wrapping it up

Getting hungry? We thought so! Whether you're in downtown Manhattan or Auckland, be sure to stop by these five Bites community members and enjoy all of their eats. Satisfy your eyes and appetites with these unbeatable eats, prepped and wrapped in packaging perfection.

If you're a hospitality brand wanting to take your location representation and food presentation to the next level, look no further than our eco-friendly and customizable Food Wrap Paper packaging! Get started with your brand's packaging design and send your customer's taste buds on a tasty trip that'll have them coming back to you for more.