Custom noissue Greaseproof Food Wrapping Paper and Compostable Sticker by @sarakuzmaco
Food packaging doesn't sound like the most glamorous part of the small hospitality business process. After all, we're so used to seeing plastic wrap or foil-lined plates litter wastebins and landfills. In recent years, take-out food and drink packaging made from virgin plastic and styrofoam dominated 80% of global ocean litter. That's why restaurants and delivery brands should consider packaging that makes food look irresistible without generating excessive waste! And since consumers are placing sustainability at the top of their priorities when purchasing from brands, hospitality companies must be proactive in choosing more responsible packaging materials for wrapping and packaging food.
Elevating your cafe, bar, or experience brand is as easy as switching to more sustainable foodsafe packaging solutions made from eco-friendly materials. Quality, foodsafe packaging products like compostable food wrapping paper, custom reusable coasters, recycled shipping container boxes, and more are available to show your branding. Make your takeout and delivery packaging stylish and social-media-share worthy to keep customers coming back for more! This article will break down:
What foodsafe packaging is
The differences between packaging methods
The best packaging and shipping products to help build your hospitality brand.
Keep reading if you're keen to give your hospitality business's packaging a fantastic foodsafe facelift!
What is foodsafe packaging?
Foodsafe packaging products are designed to withstand use with food items and baked goods. This type of packaging doesn't affect food's taste or integrity, so it's a standard solution for restaurants and shops serving scrumptious bites in-person or in takeout orders.
Many hospitality businesses typically use Styrofoam to-go boxes and plastic bags, but those generate a significant amount of non-renewable waste. Eco-friendly sandwich wrap and cookie wrapping paper are examples of foodsafe packaging in more sustainable forms and designs for delectable food presentation!
Foodsafe packaging made from responsibly sourced and biodegradable paper can be easily composted at home, so no waste is left behind after a delicious meal. But you might be wondering – what eco-friendly packaging is safe to use on and around your food? The answer lies in greaseproof foodsafe paper.
What is greaseproof paper?

Greaseproof foodsafe paper is a trusty alternative to traditional deli paper, cookie wrapping paper, and other takeout box liners. Greaseproof paper is thick enough to perform and more flexible for wrapping and lining than cling film or plastic wrap. Use greaseproof food-grade paper to wrap sandwiches, baked products, and other hand-held items for easy eating and portability. Lining to-go boxes and wrapping food with greaseproof paper is a solid choice for hospitality and delivery businesses!
Adding a logo to custom food wrapping paper will extend your branding beyond the first bite and transform the typical takeout look into a five-star experience. Greaseproof foodsafe paper will reliably keep slips from happening while customers chow down on outdoor and delivery orders, so they dig in without worry!
What's the difference between parchment paper and greaseproof paper?
You should know that greaseproof paper is not the same as parchment or wax paper, so avoid using greaseproof paper in the oven or during reheating. Parchment paper is more commonly used in baking due to its high heat resistance, thanks to its silicone or wax coating. Greaseproof paper isn't as resistant to high temperatures or large amounts of liquids, so it's ideal for lining takeout boxes or pairing with compostable plates and cutlery.
A patterned and artistic design on greaseproof paper will give customers a memorable first impression of your brand, which will help your food stand out more than plain parchment paper!
Now that you know the difference between parchment and greaseproof paper, let's talk about eco-friendlier alternatives to serving your savory sandwiches, fresh salads, and so much more!
Here are the best foodsafe packaging products for hospitality and delivery brands

From compostable sandwich wrap to eco-friendly packaging for shipping and more, check out these food-grade packaging products to customize with your branding. Turn your takeout and experiences into total knockout with biodegradable plastic wrap alternatives and more conscious packaging solutions that'll have customers drooling over your food for days!
Greaseproof Foodsafe Paper
noissue Greaseproof Food Wrapping Paper
Made from FSC-certified 38gsm paper that's acid-free, lignin-free, and sulphur-free
FDA-approved for use with food products
100% recyclable and compostable
Comes in 7 different sizes
Available for double-sided printing with water-based foodsafe inks
This product is uncoated to keep it compostable and plastic-free
Customize with a logo pattern for a compostable sandwich wrap or to-go box lining that's unique to your branding
Pair with custom reusable paper coasters for an impressive dine-in or takeout experience
Containers and Shipping
New! noissue Custom Wine Carrier (US only)
Made from 32 ECT E-flute FSC certified recycled materials: 30% (coated Premium White carriers) and 60% recycled fibers (Kraft and uncoated White carriers)
100% recyclable
Best suited for light to medium weight products (65lbs maximum)
Available to customize with water-based ink printing and coating
Comes in 2 different sizes
Carry branded wine bottles, oils and liquids, jarred products, and more in a custom wine carrier to extend your branding at events and experiences
noissue Kraft & Custom Recycled Retail Boxes (US and EU only)
Made from FSC-certified recycled materials: 30% (coated Premium White boxes) and 60% recycled materials (Kraft and uncoated White boxes) for the US, or between 99% (uncoated White boxes) and 100% recycled materials (Kraft) for EU
100% recyclable, reusable, and compostable
Printed and coated with water-based ink
E-flute and B-flute materials ensure durability
Available in 8 different sizes to customize or as stock kraft
Pair with custom food wrapping paper or tissue paper inside to display dozens of cookies, donuts, pastries, products, and more
New! noissue Custom Container Shipping Box
Regular slotted container shipping box
Made from FSC-certified recycled cardboard: 30% recycled fibers (White coated) and up to 60% Uncoated (kraft and uncoated white)
100% Recyclable corrugated E-flute
Best suited for light to medium weight products (65lbs maximum)
Available to customize for double-sided printing with water-based inks
Choose between Kraft, Uncoated White, or Coated White base in 4 different sizes
Package and protect retail and subscription boxes inside of a stackable custom container shipping box
Pair with an eco-friendly shipping label and custom packaging tape to seal your custom container shipping box
Experience Extras
noissue Custom Reusable Coasters
Made from FSC-certified paper (30% recycled for our coasters outside of the UK) that's acid-free, lignin-free, and sulphur-free
100% reusable and recyclable
Choose between 2 different shapes
Available for double-sided printing with water-based inks
Save your table surfaces and add branding to event spaces with custom printed coasters for customers and attendees
Include a custom QR code that can direct customers to your website or a microsite containing menu images, sustainability information, item specials, and more
noissue Custom Cotton Tote Bags
Made from GOTS certified organic cotton or 60% recycled organic cotton
100% reusable
Printed with eco-friendly inks that won't fade or crackle
Can feature a double-sided design or logo pattern
Perfect as reusable gift bags or packaging clothing, skincare and beauty products, branded merchandise, and more
Pair with logo-patterned tissue paper to wrap products and custom hang tags to decorate your tote bag handles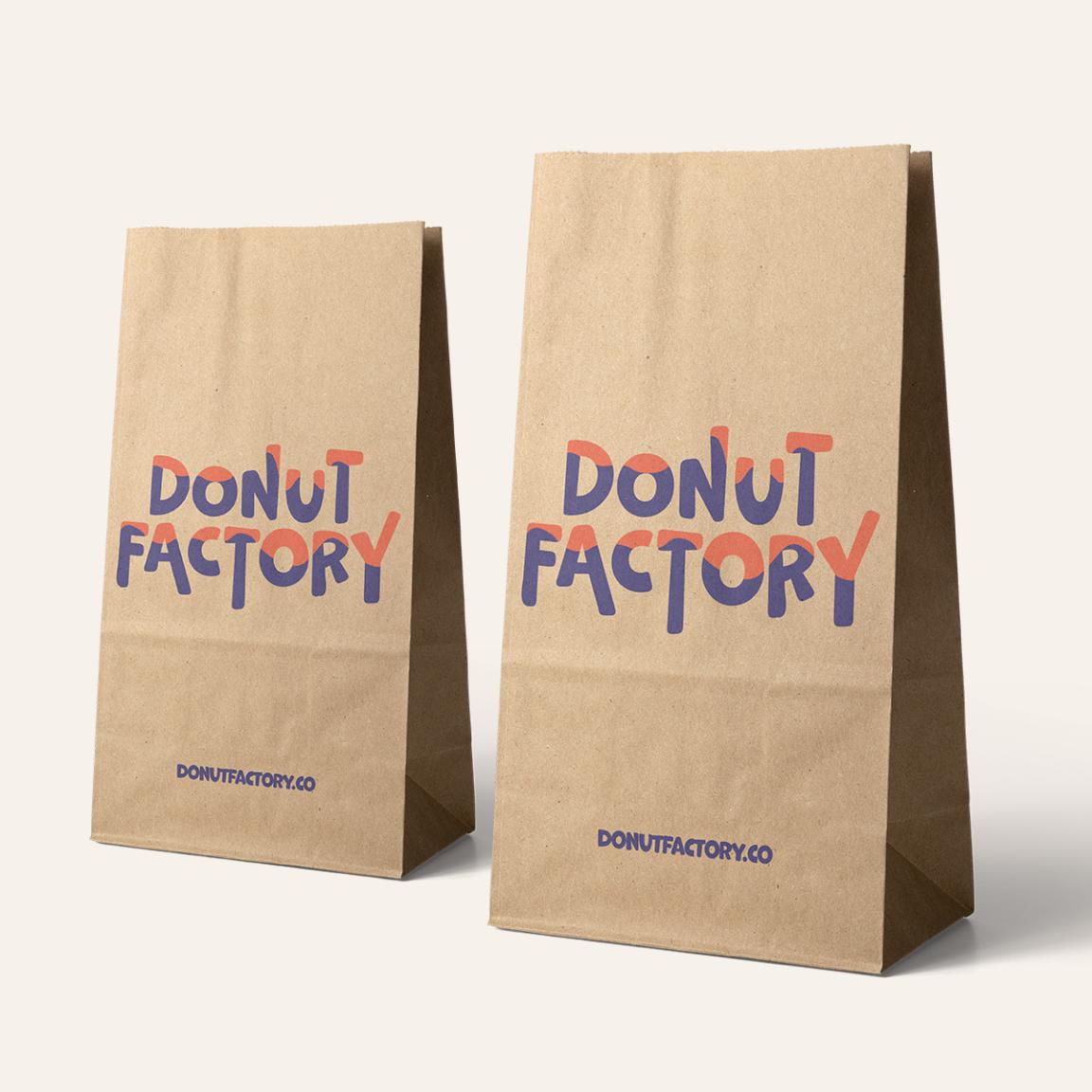 New! noissue Custom Sandwich Bags (US only)
Flat bottom sandwich bags made from 40% FSC-certified recycled Kraft paper
Features side gussets for expandability
100% recyclable
Comes in 5 different sizes
Available for single-sided multicolor printing with non-toxic HP inks
Seal your sandwich bags with custom stickers for easy labeling and sorting inside takeout bags or containers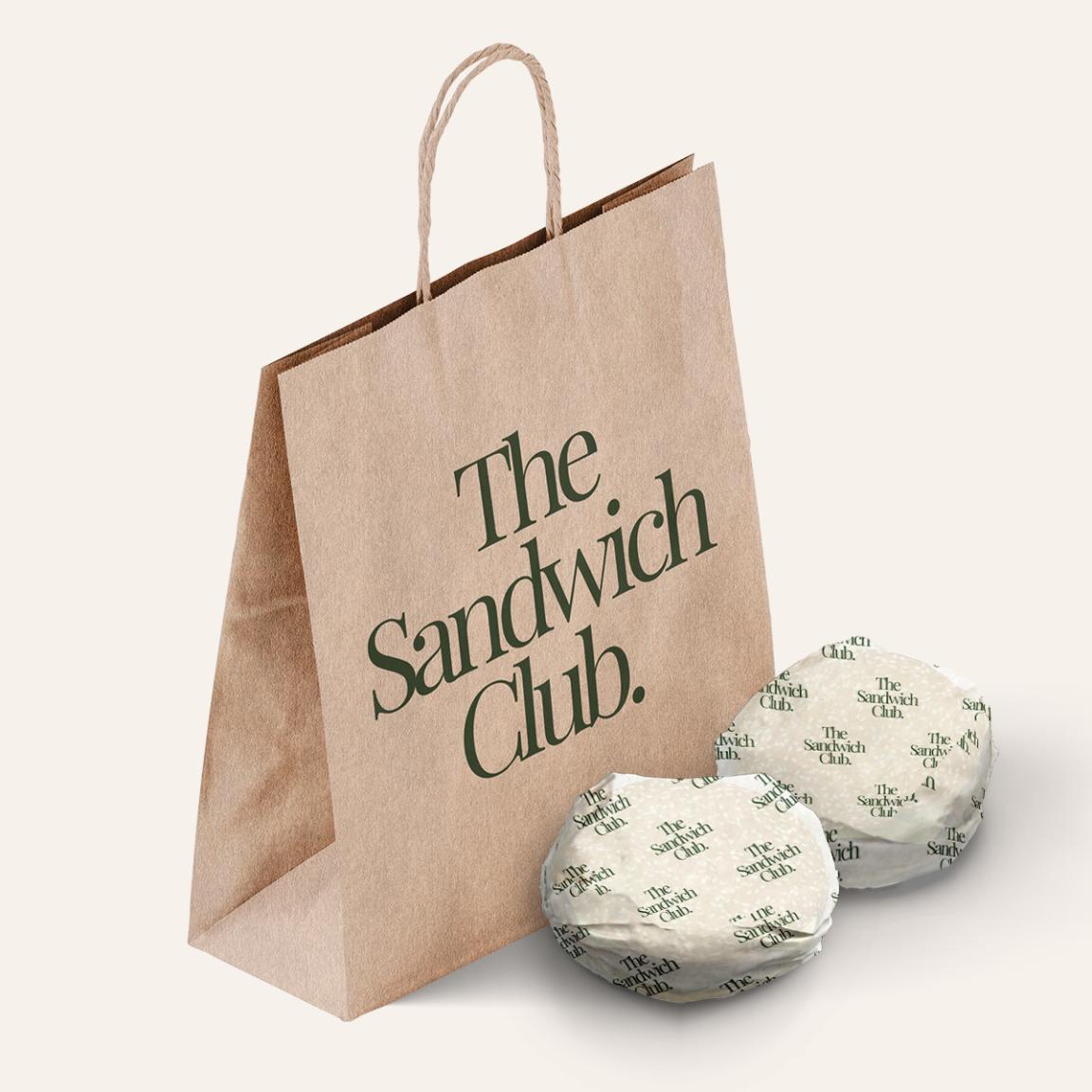 New! noissue Custom Takeout Bags (US only)
Classic takeout bags with twisted paper handles for easy transport
Made from 100% FSC-certified recycled Kraft paper
100% recyclable
Comes in 2 different sizes
Available for single-sided multicolor printing with non-toxic HP inks
Include a custom QR code sticker to direct customers to your brand's website, digital menu, or sustainability information
Wrapping it up

Bring out the best of your hospitality brand's enticing eats with foodsafe packaging that won't let your customers down! Specialty slices, indulgent desserts, and awe-inducing appetizers can look even more appealing on greaseproof foodsafe paper that displays your logo or artwork.
And don't sleep on the significance of the takeout unboxing experience, either. Compostable food wrapping paper levels up confectionery and crumbly creations inside sleek and sophisticated containers or boxes while being the perfect background for capturing on camera.
Since noissue's packaging is made from environmentally responsible materials, let your customers eat cake and dispose of their takeout packaging at the end of the day, completely guilt-free!

Shop our bestselling hospitality packaging products here and transform your takeout unboxings and branded events into unforgettable experiences. Customize your business's coasters, food-grade tissue paper, bottle carriers, tote bags, and more to keep customers impressed and the party going!