Many businesses are making the switch to eco-friendly packaging, be it compostable mailers, Kraft mailers, or recycled mailers. If you're uncertain which option is best for your brand, read our guide here.

For a 100% regenerative packaging solution, you can't go past compostable mailers.

They're a fantastic option as customers remove any stickers or labels from the outside, throw the mailer on top of their compost pile and voilà! They return to earth within 6 months. Magic.
But what if you could provide a sustainable end-to-end solution for your customers and make the whole mailer product, including all those sticky labels on the front, 100% compostable?
Wonder no more. Say hello to noissue's new compostable shipping labels.

Why eco-friendly shipping labels are the way forward

You've decided compostable mailers are best to promote your brand's sustainability ethos – nice one!
However, the simple act of adding on a shipping label can undo all your hard work as regular shipping labels are not typically compostable. This means they don't break down quickly and organically like the mailer does, and they also leave harmful chemicals behind.
Instead, you have to rely on customers remembering (and making the effort) to remove these labels before attempting to sustainably dispose of their mailers. This is a bit of a headache that gets in the way of everyone's good intentions.
That's where the new noissue compostable shipping labels come in. These gentle labels are made from 100% FSC (Forest Stewardship Council) certified recycled thermal paper. The sticky adhesive is heat sensitive, non-toxic and compostable, which means it won't let any nastiness out into the environment.
These shipping labels marvellously align with the materials of your compostable mailers and break down in home composting environments within 180 days.
In short, they can stay put on the mailers and your customers can throw the whole product straight into the compost. Too easy.

Oh, and did we mention the minimum order quantity? It's one roll. In other words, a perfect, low-cost, eco-friendly solution for smaller businesses.
How do I use them?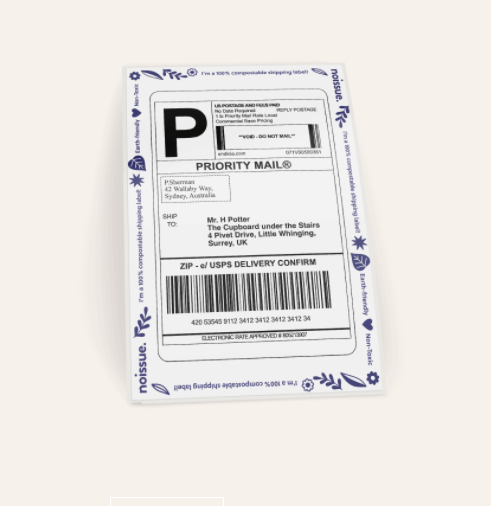 Our shipping labels are compatible with Brother, Dymo, and Zebra printers, as they know how to produce the perfect print.*
Simply print out whatever information you need to include on your labels and use the non-toxic adhesive to stick them straight on your compostable mailers.

There are three size labels to choose from and each roll has 200 to 250 individual labels ready for you to personalize.

*If you don't have one of these types of printers, they can work with other bands, too, but we can't guarantee this. We'd recommend testing one roll out before buying in bulk!
What products do they work with?

Our compostable shipping labels match with any of our mailers: recycled, Kraft, or compostable.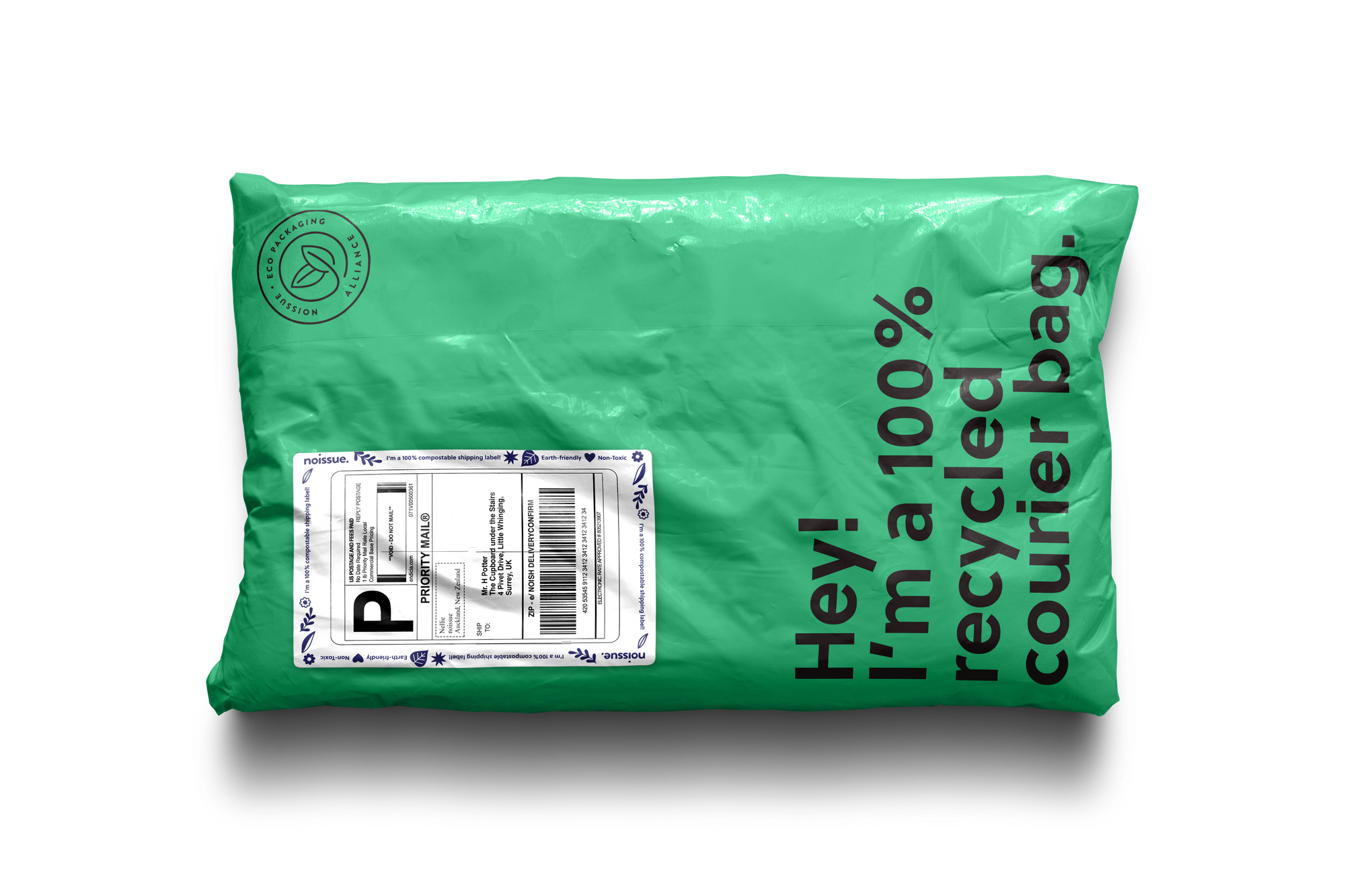 However, their best match is with the packaging products that share the same end-of-life goal, which is heading to the compost.
When these labels are used on a compostable or Kraft mailer, it means the shipping labels are made from the same material and do not need to be separated before being disposed of correctly.

This means clear, simple messaging for your customers: everything here is compostable, so you can put the whole package in the compost.
How about other mailers?

If you're using a mailer that can't be composted, like the Recycled mailer, then compostable shipping labels can complicate things a little bit.
It's your responsibility as a brand to make sure your communication is clear with customers and tell them to separate the shipping label from the mailer bag when disposing of them.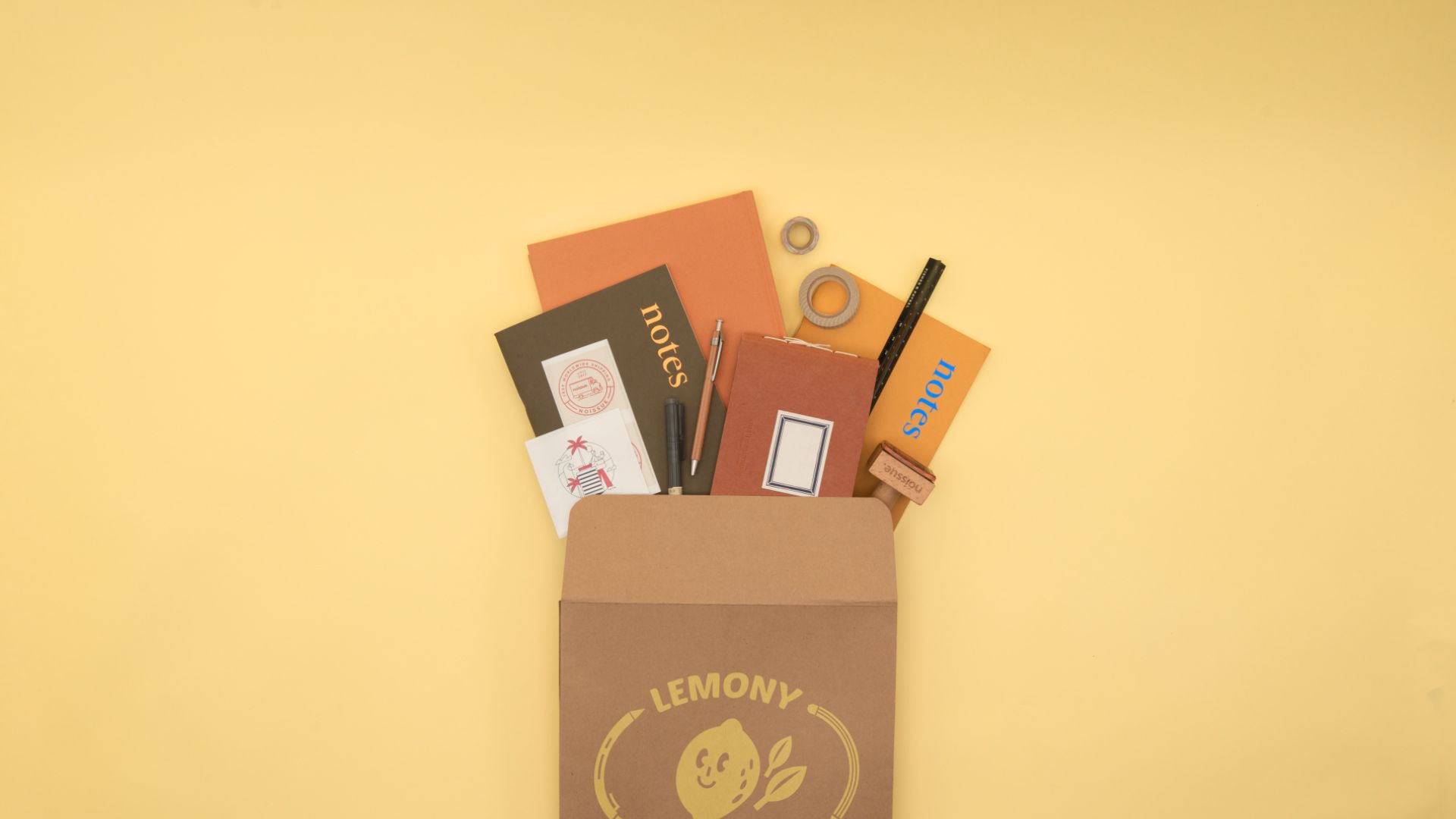 Because of this, we recommend trying to match the material and end-of-life characteristics of your shipping labels as much as possible.
Don't forget that our stickers and tape are a great solution for labelling other types of packaging: fully customizable, fully recyclable, and fully awesome.
How do I dispose of them properly?

We know it can get a little confusing to know how to correctly dispose of packaging. What's the difference between recyclable, reusable and compostable?
There can be a lot of uncertainty if things aren't obvious, which is why it's important to educate your customers.
Just in case the message from your end doesn't get through to the customer, the border design on our compostable shipping labels clearly lets customers know where their packaging should end up – the compost!
If home composting is available, advise customers to stick the mailer (complete with the shipping label still attached) on top of the pile and leave it to break down.
If they don't have a compost in their garden yet, think up some ways to encourage your customers to get one started! You could also encourage them to look for composting services or community composts in their area.
Wrapping it up

When it comes to packaging materials, noissue is continually developing ways to improve our sustainable options for brands through our compostable, recycled, and reusable product range.
We're excited to bring you this packaging product that takes your brand one step closer to an end-to-end sustainable solution.
Shipping mailers are high volume products in ecommerce, so greening the smaller details of this experience helps your brand make a key difference in reducing your environmental footprint. Consider it another tool in your sustainability toolkit that your customers will adore.