Learn all about noissue's Custom Hang Tags for apparel brands and more here!

As a business looking to ship clothes, it's important that the packaging you select protects your products while showcasing your branding. The great news is that you don't have to choose between a stunning design, sustainability or quality: it's possible to choose packaging for your clothes that ticks all of the boxes!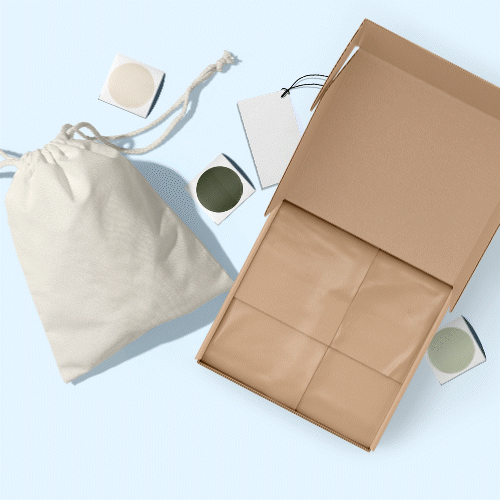 Whether you're shipping women's apparel, outdoor clothing, athletic wear, children's clothing, or another sort of garment, there are many ecommerce packaging options to choose from. In this article, we'll break down the best packaging options for apparel businesses, ranging from protective exterior packaging to interior packaging that will enhance your product presentation.
1. Compostable Garment Bags

To ensure that your clothing pieces arrive without any wrinkles or creases, it's a good idea to use a garment bag. While there are many options for shipping bags for clothes, it's important to consider the sustainability of the garment bag you select. Poly mailers are fading in popularity as they're harmful to the environment due to traditional plastic is made from a non-renewable resource: petroleum. As well as this, poly mailers can take more than 1000 years to break down in landfill, emitting harmful chemicals in the process.
Clear, compostable garment bags are a great eco-friendly alternative and an effective way to pack apparel or accessories. Their translucent material means your customers will see a preview of the product they've ordered, while maximizing the space within your package and protecting your products.
noissue's Compostable Garment Bags are designed to be home and commercially compostable. They're made from a combination of corn starch, a bio-plastic created from plants called PLA, and PBAT. These bags break down in 180 days in a home compost or 90 days in a commercial compost and come in three sizes, depending on the apparel you're shipping.
2. Recycled Hang Tags

It's the small details that count, so why not add a hang tag to your apparel pieces? Hang tags are a great way to share extra information as they can be customized to showcase clothing size details, social media handles, care instructions, a QR code linking to your website and much more!
If your products are a unique one-of-a-kind piece, locally made, or made from sustainable materials, a clothing tag is the perfect place to call this out and signal what's special about your apparel item. You can also switch up the design for limited edition pieces, seasonal collections, or to personalize an order.
noissue's Custom, Recycled Hang Tags can be customized on either one or two sides, which means there's lots of room to get creative with what you're sharing with customers. There's no need to worry about extra waste being created as these tags are also made with recycled materials, which means they're 100% compostable or recyclable after use.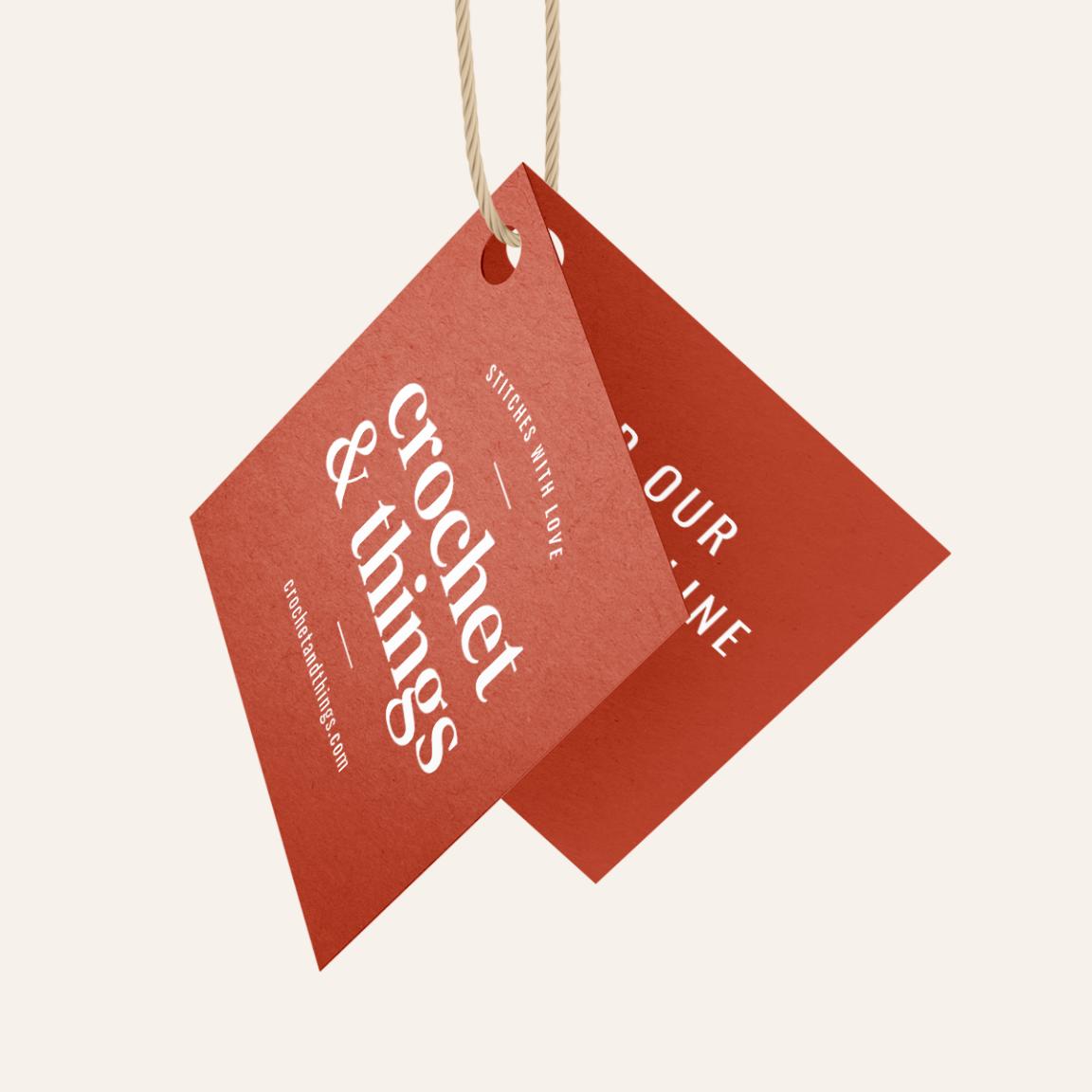 For a sophisticated surprise, Folded Hang Tags will interest customers to closely interact with your product! Display your logo on the front, and a QR code on the inside to direct customers to your brand's website or a sustainability page with recycling information.
3. Custom Tissue Paper

Branded tissue paper is a firm favourite with clothing and accessory brands, and for good reason. This decorative packaging can be customized to feature your branding and enhance clothing presentation by wrapping apparel in it. Though tissue paper is lightweight, it also adds an extra protective layer for shipment.
noissue's Custom Tissue Paper is made from Forest Stewardship Council (FSC) certified paper that's acid, lignin and sulfur-free. This means it breaks down in a compost in a more biodegradable way, and the quality of the tissue paper lasts longer due to the paper not being acidic. It can also be recycled or composted at its end-of-life, creating an all-round sustainable shopping experience.
4. Custom Drawstring Bags

If you have a clothing or accessory item that's delicate and needs to be protected from get lost in a package, drawstring bags are a fantastic option. They will keep products secure inside a mailer bag or shipping box when moving around in transit, and they're also a thoughtful way to present a product to your customer.
noissue's Custom Drawstring Bags are fully customizable, so you can create a beautiful branded design that makes customers want to hold onto the bag long after they receive it. They're also designed to be reused as they're made from 100% Organic Cotton. It's a gift that keeps on giving! Encourage your customers to play a part in reusable packaging by using the bags for travel or storing items.
5. Compostable Mailers

When it comes to choosing a mailer bag to ship your clothes in, it's always best to opt for a sustainable option. Plastic packaging is responsible for more than half of the total waste in our landfills, and plastic poly mailers play a role in creating this waste as they struggle to biodegrade and break down easily.
Shoppers prefer sustainable options and are willing to take the time to correctly dispose of packaging in a responsible way, so it makes sense to opt for options like Compostable or Recycled Mailer bags.
noissue's Compostable Mailers are TUV Austria certified and made from a bioplastic created from plant extracts called PLA and PBAT, a bio-based polymer. This means they've been designed to break down within six months at home and three months in a commercial environment. This material is durable yet flexible, which makes it great for shipping apparel.
6. Custom Tote Bags

If you want your clothing brand to transform from a shopping experience into a status symbol, you can't go past a customized tote bag. Branded tote bags are the ultimate chic form of appreciation for brand advocates who can't get enough of your goods.
Use tote bags as a way to wrap your apparel before being placed into a box or mailer bag and watch your branding and marketing efforts pay off as customers continue to use them and support your brand in day-to-day life.
noissue's Custom Tote Bags are made from either 100% Global Organic Textile Standard certified Organic Cotton or a Recycled, Organic Cotton mix, which means you won't be compromising on sustainability. These tote bags are designed to be used again and again rather than thrown out after a single use, so you can encourage customers to use them for their grocery shopping, beach days or gym sessions.
7. Custom Boxes

If you're after apparel packaging that is more durable than a mailer bag, look no further than a customized box. Shipping boxes are made of a corrugated cardboard material, which means they hold their shape rather than flexing with the product inside. This is useful for accessories or jewelry that need to stay securely in place during shipment, but they also provide a unique unboxing experience for clothing too.
noissue's Custom, Recycled Boxes have a range of customization options (outside only, inside only or inside and outside) which means there is lots of opportunity to be creative in how you communicate with your customers about your brand. They're also made from a flute cardboard material and can be composted or curbside recycled after use.

8. Compostable Shipping Labels

The ecommerce packaging has come a long way in 2022, and it's now possible to use environmentally responsible packaging for every part of a package, including the shipping label. They may seem like a minor detail, but they can create havoc when sustainable mailers or boxes are sent to sorting facilities and the labels left on are made of plastic and therefore aren't recyclable or compostable.

Consider using Compostable Shipping Labels as an eco-friendly alternative so you can advise customers they can stay in place when used in partnership with compostable packaging. noissue's Shipping Labels are made from FSC-certified paper and will break down completely in a home or commercial compost environment.
Wrapping it Up

We hope this article has got your creative juices flowing about clothing packaging ideas! There is a range of packaging options for apparel businesses, so it pays to priotize packaging that will showcase your brand, be of value to your customer beyond their purchase or can be disposed of responsibly after use.
Want to browse more customizable, eco-friendly packaging options for your clothing and accessories products? Check out noissue's full range of packaging options for apparel businesses here! And custom QR code packaging just got a whole lot easier – see 17 creative ways to use QR codes here.
If you're interested apparel packaging in wholesale quantities, get in touch with the noissue Plus team here who will provide you with a dedicated account manager to help you through the ordering process.