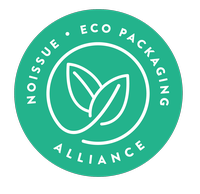 It matters to see yourself or at least a representation of your culture in what you see every day. Luckily, many businesses are fighting for this with BIPOC creators at the driver's seat. San Francisco-based Sāmoan artist Amanda Stowers pays homage to her culture in each handmade piece she makes with her brand Afakasi Prints. Amanda recognizes that Pacific Islanders are known to experience the adverse effects of climate change firsthand and decided to commit her business to sustainability.
"The islands of the South Pacific are on the front lines of climate change, experiencing severe and dangerous flooding more and more frequently as the years pass by. Their islands are literally sinking as ocean levels rise globally. For me, it's important to practice sustainability where I can so that I can make a difference and be an example for other small business owners."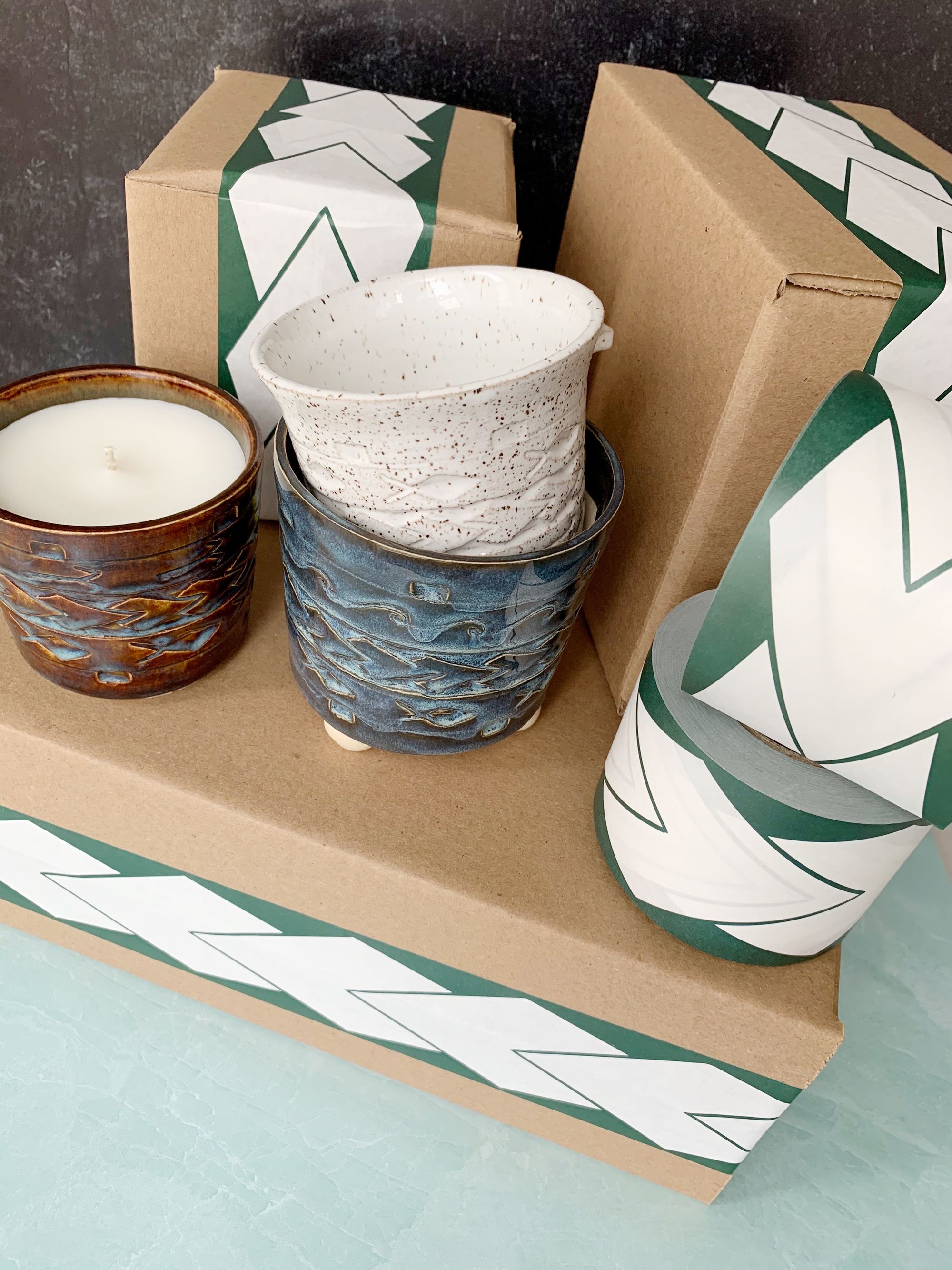 As a small business-owner, Amanda does her part in lowering her environmental footprint by starting with her packaging. Aside from using eco-friendly packaging materials like corrugated bubble wrap that's made from recycled cardboard and post-consumer and post-industrial waste, she also saves and reuses all the packing materials she receives from shipments. And she proudly shares this on her Instagram account to hopefully influence her customers and other small businesses to follow suit.
"All of my shipping envelopes & boxes are recyclable and made from recycled materials. I also now have my customized compostable packing tape from noissue!"
When it comes to branding, Amanda wants to give her customers the full experience. She wants to ride on that joy of receiving a package in the mail by incorporating designs like the ulutao motif on the exterior of the package, introducing  Sāmoan culture the moment you receive an item from Afakasi Prints.
"I chose to use the ulutao (spearhead) motif not only because it's a prominent and recognizable motif in Pacific Islander culture, but also for what it represents. The layered spearheads represent family and their mutual dependency and collective strength—something very important in Sāmoan culture. The ulutao gives strength, which is fitting for the exterior of my packages."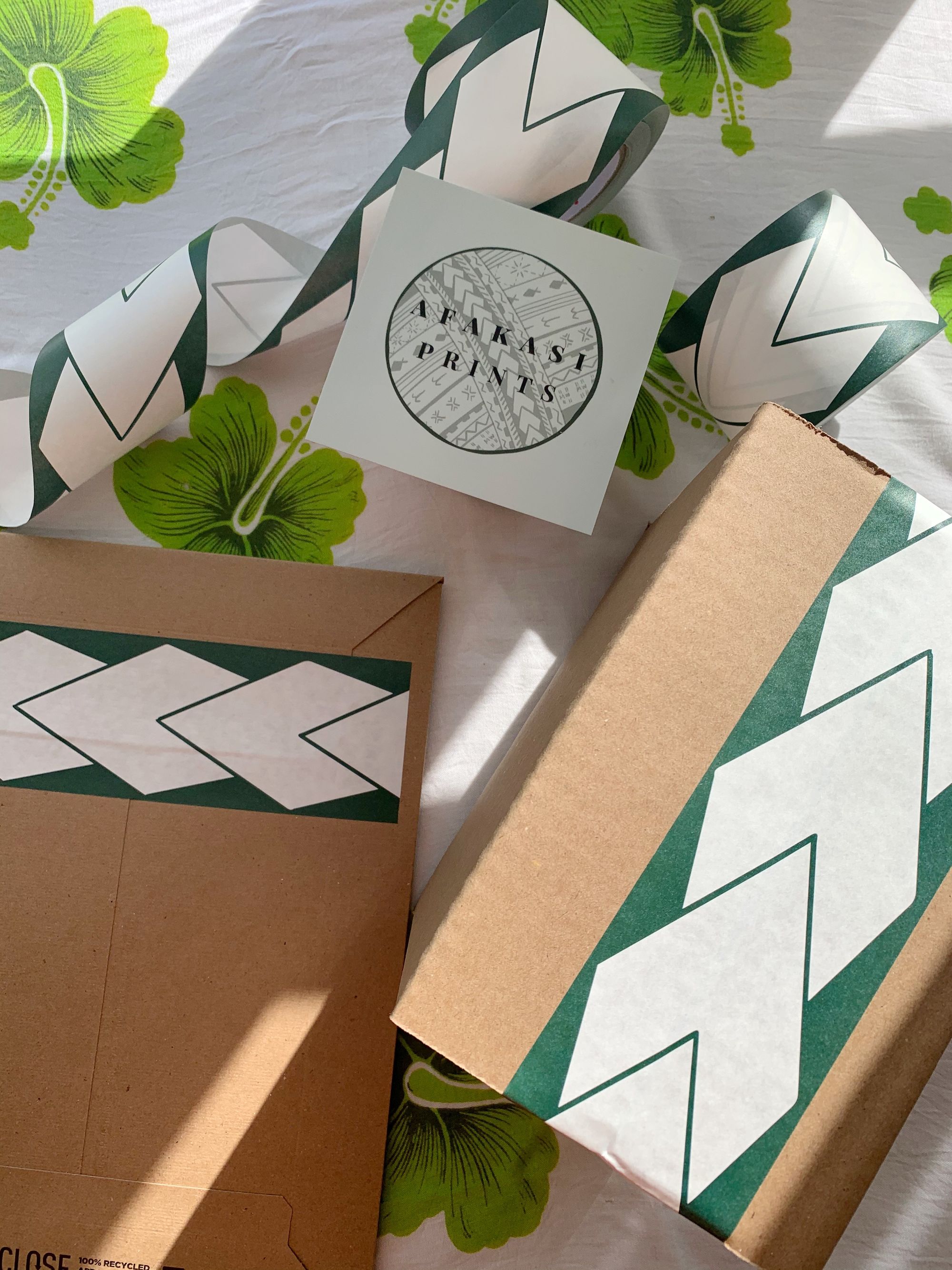 She wanted her packaging to reflect what her brand stands for. Aside from going with a meaningful design, she had to look for materials that aligned with her principles on climate change.
"I chose noissue because of their commitment to sustainability and the environment, their affordable pricing and high quality goods. Their design team was incredibly friendly and easy to work with to ensure my design came out exactly as I had envisioned."
Similar to most small businesses, the pandemic took a toll on Amanda's operations so she began to mainly focus her energy on the online market.
"I had to pivot from multiple revenue streams (workshops, vendor events, etc) to just one: online sales. I took that energy usually set aside for events and channeled it into social media, SEO, and additional products such as my ceramic earrings to help drive online sales."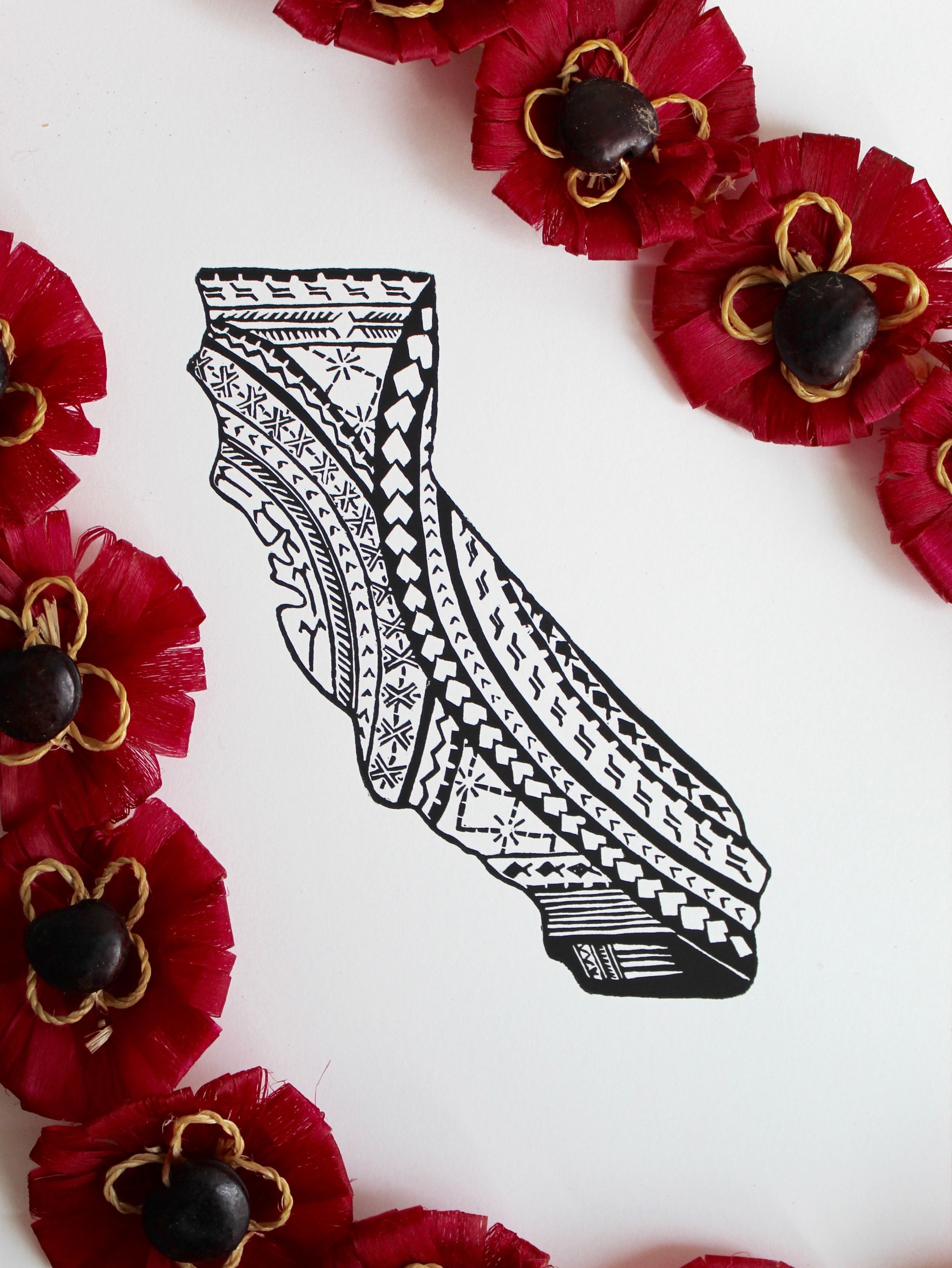 Just as how art reflects the identity of its artist, Afakasi Prints is so much more than handmade goods. The sustainable brand is closely tied to Amanda's identity and it became an outlet for her to express her diaspora of living as a mixed Pacific Islander in the United States.
"So much of my personal journey has been discovering my identity, my culture, and my community and Afakasi Prints is a direct result of that ongoing journey as a mixed race Pacific Islander living in the diaspora."
Amanda said that she's spent her entire life being the only person like her in every room, feeling underrepresentation as a Pacific Islander, and she wanted to change that. Naming her brand from the Sāmoan word "Afakasi" which is typically used to refer to someone who is half Sāmoan, she decided to pursue making Pasifika-inspired art like hand-carved and printed block prints, ceramic jewelry, hand-painted murals, and hand-thrown and hand-carved Tatau (tattoo) Pasifika pottery pieces.
"I started Afakasi Prints in 2017 in part due to the lack of Pasifika representation in the United States. I have always been a creative who is happiest when working with my hands, and creating Pasifika inspired art seemed like a natural step for me."
Amanda doesn't shy away from speaking proudly about her heritage. She draws her inspiration from her Tua'ā or ancestors and credits them for who she has become today.
"I'm inspired by the things that they went through as Indigenous peoples, and the sacrifices that they made, how they persevered to ensure that their culture was preserved and protected, so that I could be here today. I carry my Tua'ā on my shoulders every day as I put my work out into the world."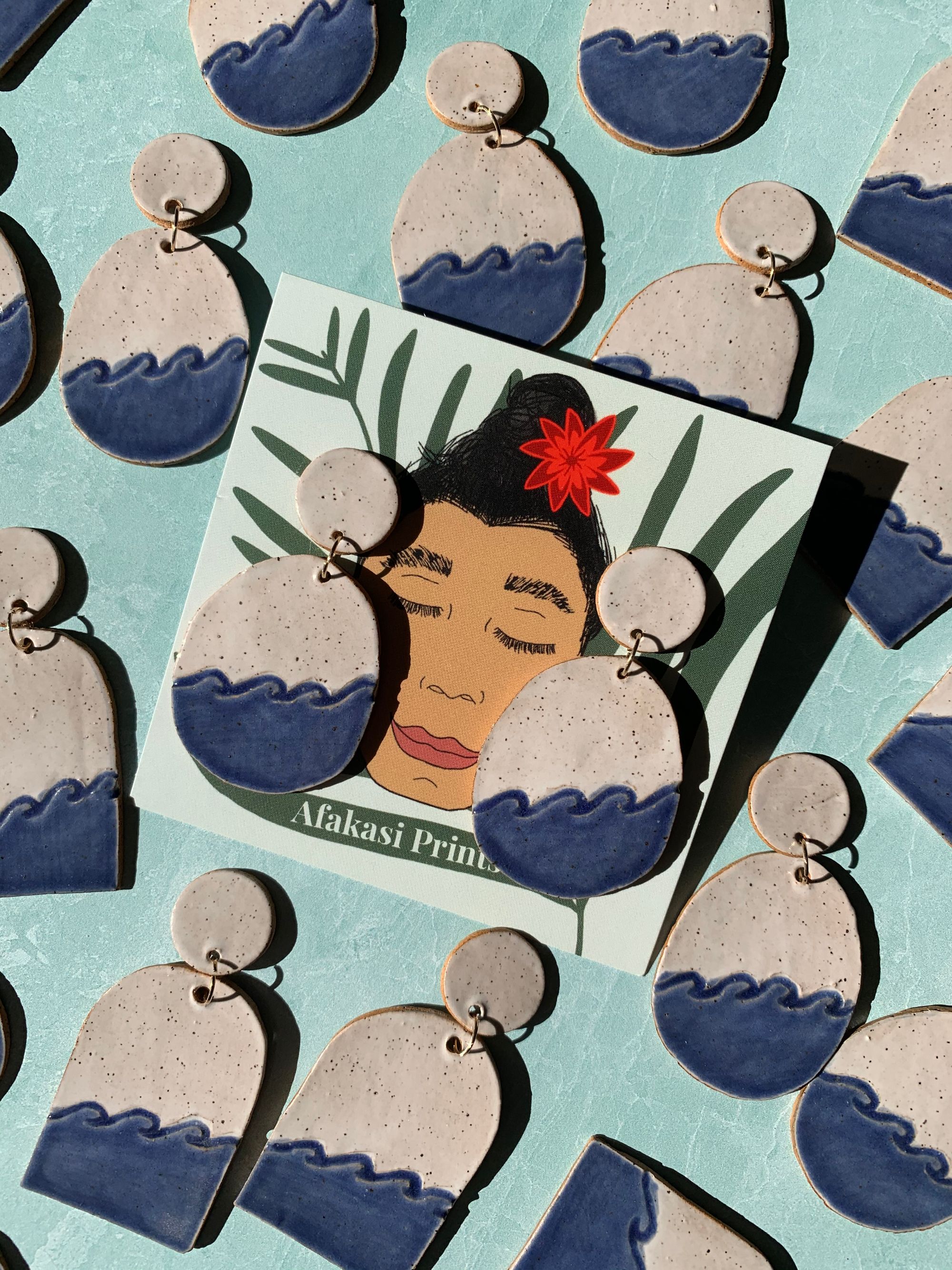 Given the unpredictability of the current times, Amanda believes that no one can ever be "fully prepared" for an opportunity before it arises so you shouldn't be afraid to accept it. Amanda advises other aspiring artists to continue to persevere, be confident, and maximize every opportunity that comes their way.
"Dive in and learn how to stay afloat once you get out there. If you spend all your time prepping your floatation devices in advance, you'll likely never get in the water."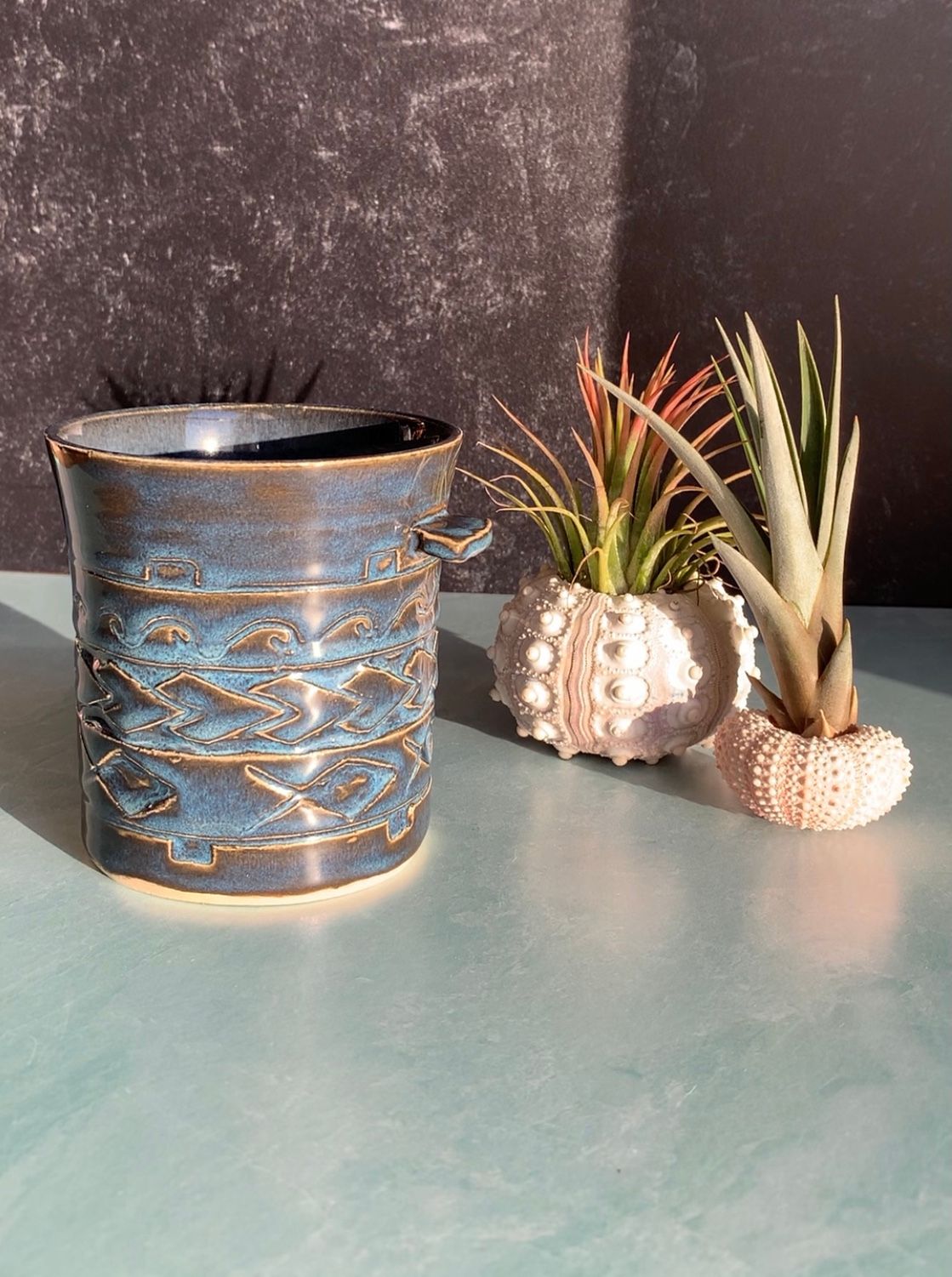 The passionate creator hopes that more Pacific Islanders can relate to her art and that Pasifika art would reach a wider audience.
"My vision is to create Pasifika art so that Pacific Islanders can feel accurately represented. I want to take traditional and authentic Pasifika motifs and designs and use them in a modern way, and to make Pasifika art accessible to all.  As Ayesha Siddiqi once said—'Be the person you needed when you were younger.'"
Afakasi Prints fun fact:
If Akasi Prints were a person, Amanda says that they'd be confident and easy going!
---
Find more of Afakasi Prints here:
Website: www.afakasiprints.com
Instagram: @afakasiprints
Like this story? Tell us yours! Share your brand story and love for your custom packaging and get a chance to be featured on the wrap! If you're a noissue customer and are interested, you can join the Eco-Packaging Alliance by clicking here and answering a few questions here.
Questions? Email us at ecoalliance@noissue.co.