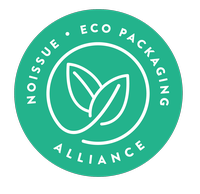 Scented candles give a soothing effect to our bodies. It stimulates the part of our brain that is home to our memories and emotions. When we smell scented candles, our moods are regulated because hormones like serotonin and dopamine come to play.
But as good as it smells, did you know that candles can be toxic? Mass-produced candles often use synthetic fragrances and are made of paraffin, a petroleum waste product that creates highly toxic benzene and toluene when burnt.
When Christie found out about this, it urged her to create Aura Home Scents. She chats with us to talk about how she formed a brand that considers its environmental impact from all angles:
"My name is Christie, I'm 28 and I was born and bred in East London. Alongside my full-time day job I run Aura Home Scents from home, where I individually hand pour each candle and wax melt each order."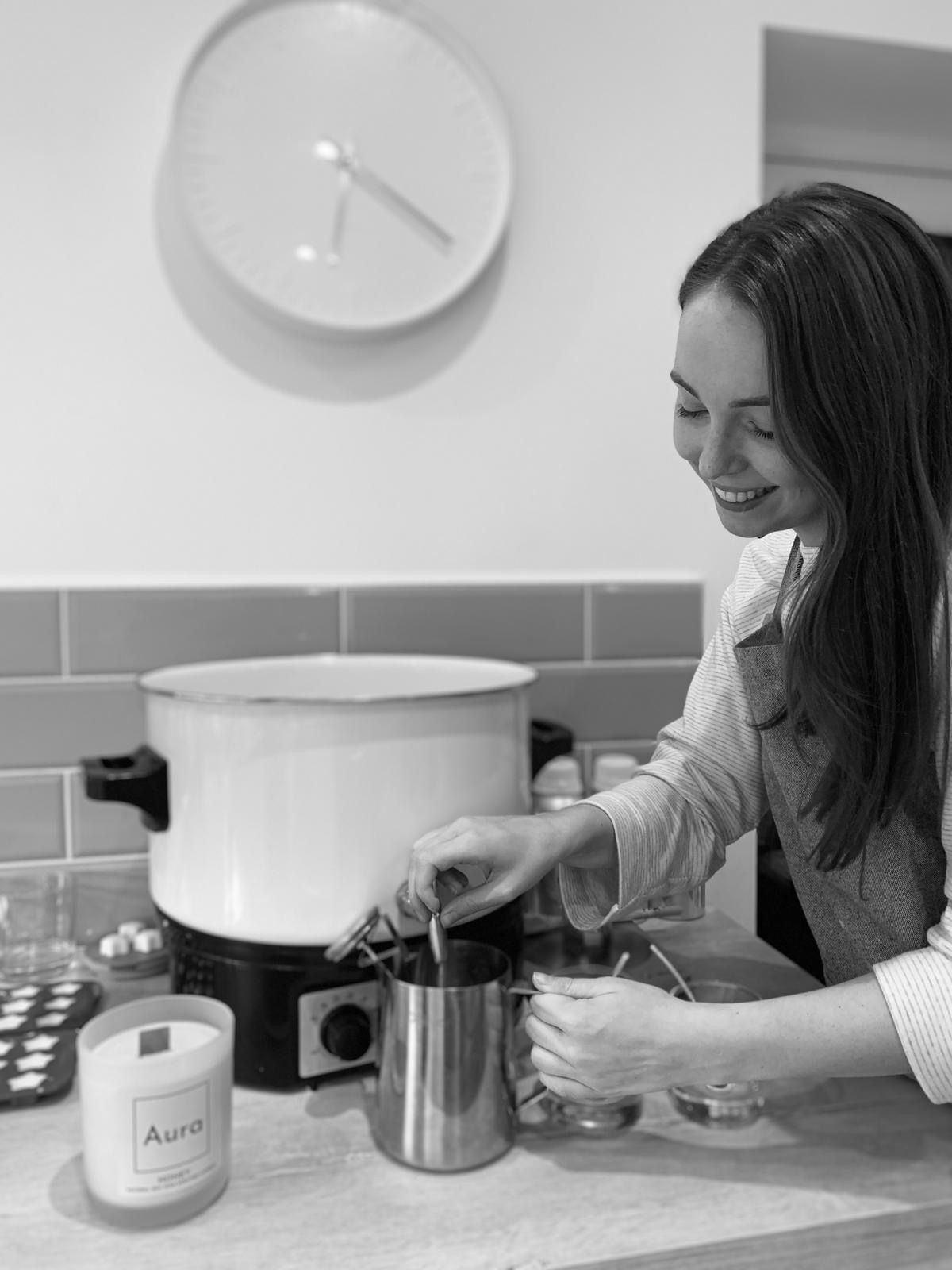 "I had always wanted to do something creative and to launch my own business as I grew up around my parents running their own business from home. A candle obsessive, I attended a candle-making workshop in 2019 and quickly became mesmerised by the making process, which was so calming and addictive at the same time. As I started to do my research, I quickly realised that mass-produced candles can be highly toxic and that most natural, clean candles I had seen on the market were quite expensive and all with a very similar aesthetic, so I started off with some very specific objectives. When 2020 hit and we were all spending increasing amounts of time at home, I realised it was the perfect time to launch Aura.
Aura is a clean, simple, and luxury brand, which reflects the philosophy at the heart of why I started the company. As someone who enjoys yoga and quiet time, I always have a candle on the go at home to help me relax. I wanted to share this with others and produce a candle that not only looked beautiful, but smelled amazing and was free from toxic substances. Re-use and sustainability is a huge focus for me."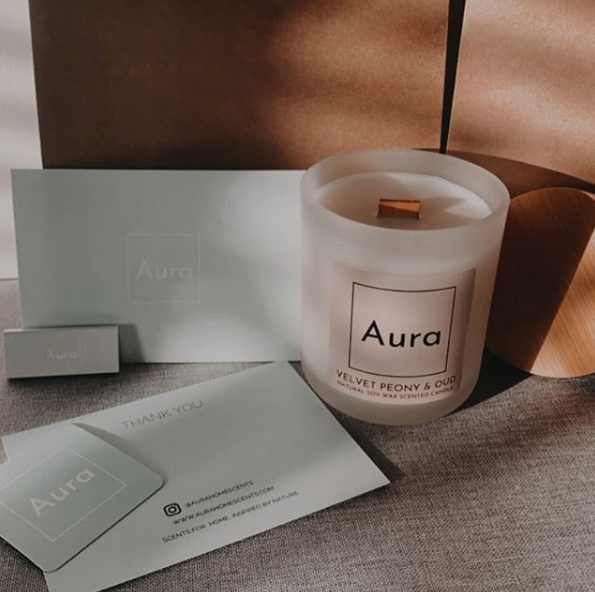 "I run Aura from home alongside a demanding full-time day job, so I can only spend early mornings, evenings, and weekends working on the brand, making, shooting photos, producing content, brainstorming new ideas, replying to customers, and shipping orders. So my main challenge is time, in that I need more of it! I have learned that I need to be productive to get everything done, but also that it is so important to take some time off, getting out for a walk, cooking a meal, or having a nice bubble bath. I have had some label issues recently which has been quite stressful, but I am trying to take each lesson as it comes; things can only get better with practice. It has definitely made me savor my relaxation time a lot more! Space has also been a bit of a challenge at home since candle making requires lots of equipment and stock. I plan to move the Aura operation into an outdoor building in the garden in 2021 when the weather warms up a bit!
I am loving how the brand is evolving and how it feels to see people enjoying what I make. Customer feedback is what keeps me going every day; there is an element of self-doubt that I am sure all business owners experience at the beginning, so every single positive comment really makes a huge difference. One of my favorite orders recently included a personalized note from a customer to their parents as a thank you - the whole thing was so lovely. I love being a part of people sending thoughtful gifts to family and friends, especially at a challenging time like this when they can't be together."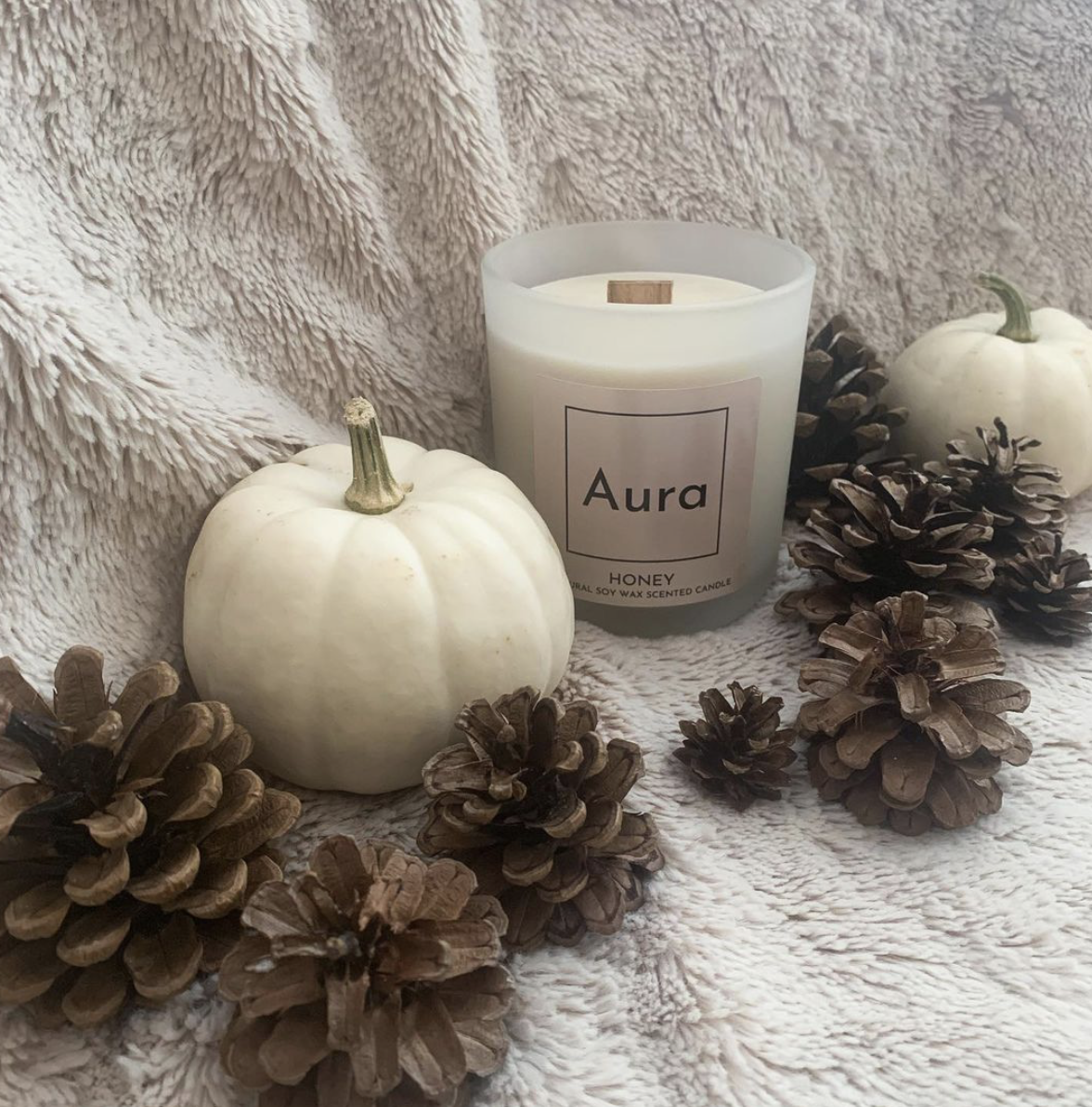 "Sustainability is at the heart of what I do and how I run Aura, which was something I knew I had to focus on as it is so important to me personally and to so many of my target customer base. Just offering a nice smelling, good looking candle in these times is not enough; it needs to be a toxic-free and eco-conscious product to be successful in the market. For Aura and me specifically, it means being very conscious and careful about the materials I use, suppliers I source from, brands I collaborate with, and how I package, produce, and deliver my products. It impacts every single part of what I do, from design and production to shipping. I am so pleased to be a part of the Eco Packaging Alliance as this enables me to actively do something good for our planet through my business."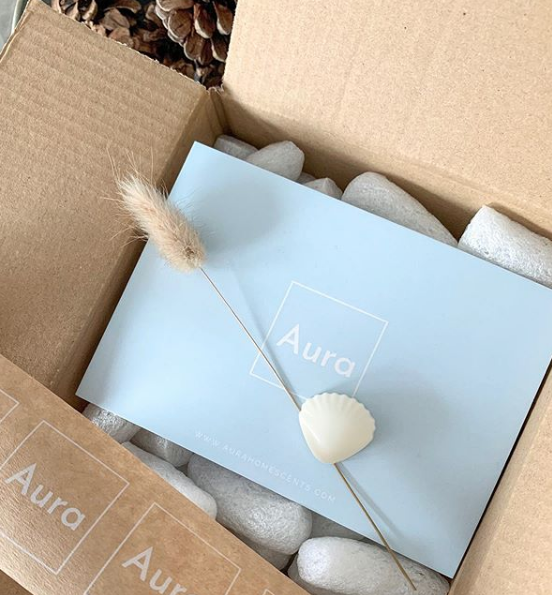 "I use biodegradable/recycled/reused packaging wherever possible, including my beautiful bespoke tissue paper, packing tape, and thank you cards from noissue. My business cards are made from recycled cotton T-shirt offcuts. My Christmas gift boxes are produced by an eco-friendly minimal waste company. 90% of their stock comes from recycled material, and they source from a UK-based factory in Cornwall. My candle labels are made from recycled paper wherever possible, and my wax melts are packaged in biodegradable bags. To protect candles in transit, I use water-soluble, biodegradable packing peanuts. I encourage my customers to reuse our beautiful frosted glass vessels and bamboo lids for other purposes after they have used their candles. I also offer a refill service, to allow my customers to enjoy our candles at a reduced price and to reduce their material use. I recently sourced a beautiful ribbon that is made from 100% post-consumer waste plastic in the form of recycled PET bottles, and I'm so happy about it!"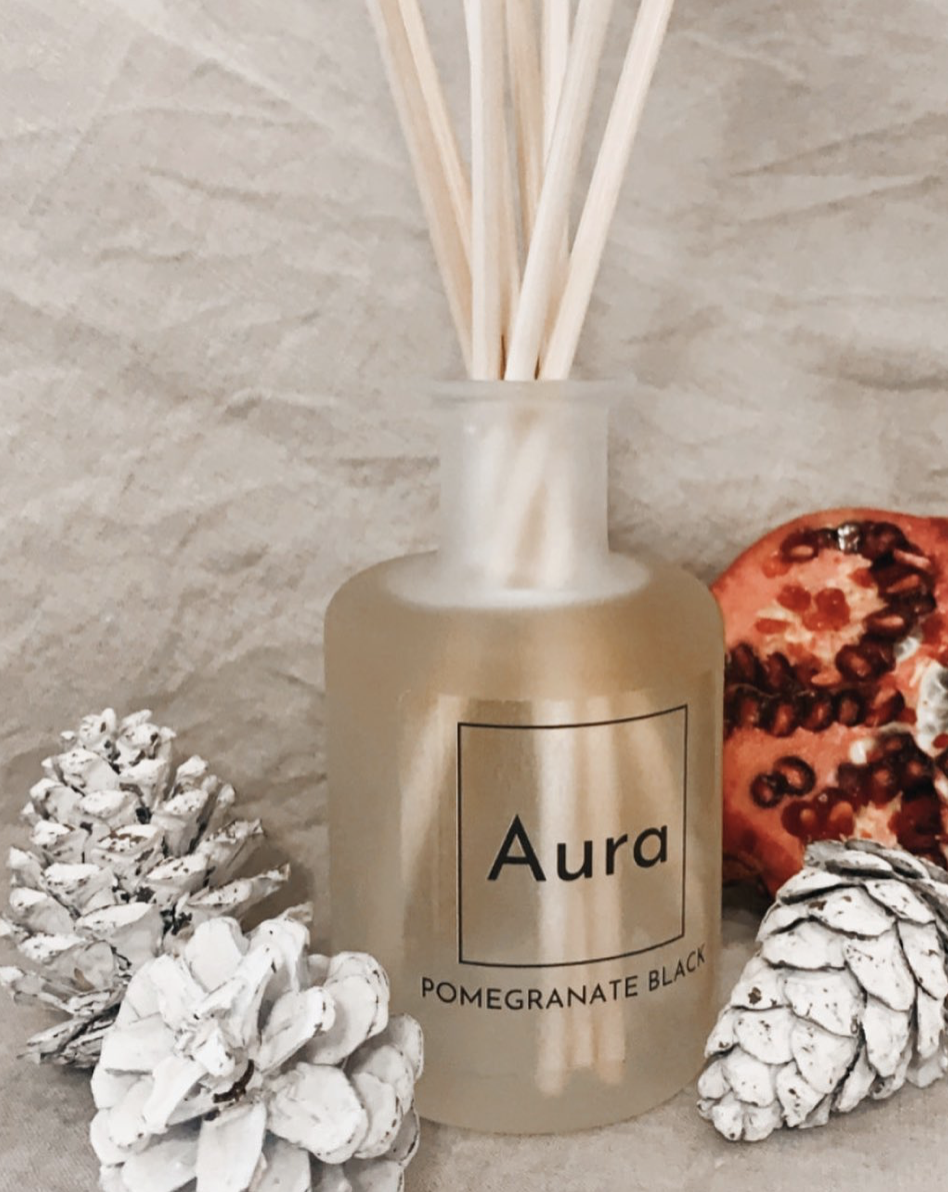 "I wanted everything about the Aura experience to make customers feel special and to add that extra touch of luxury. I felt that having bespoke branded packaging was a great way to showcase our beautiful simple logo and brand colors. I receive lots of compliments on the aesthetic of the Aura brand, and noissue has been instrumental in helping me achieve my desired brand image.

noissue was recommended by a friend who also runs her own business and after visiting the website, I knew I absolutely wanted to be a part of the Eco Packaging Alliance. The design process was super easy and the team was really helpful."
"I'm so excited to keep building the Aura brand and expand our product line! I have so many ideas in store for 2021 and beyond that, I can't wait to share with you all."
Aura Home Scents fun fact:
"If I were given one superpower that can help better the situation of the planet, I want it to be the ability to bottle happiness. So that as a brand, I can use it to spread happiness through my candles."
---
Find more of Aura Home here:
Website: aurahomescents.com
Instagram: @aurahomescents