Based in Ilfracombe, Devon, Koko Tala specializes in making environmentally conscious jewelry for the ones that want to feel good about looking good. Influenced by the surrounding natural beauty, all jewelry is handmade using semi-precious stones, freshwater pearls and shells. Everything is made with either eco silver, gold plated or gold filled components.
From Humble Beginnings, A Jewelry Brand is Born:
Koko Tala was born in 2020 by Georgia Hinkley when she found herself without work when the lockdown began. She began to fill her time by following Bob Ross painting tutorials, gardening and then decided to try her hand at making polymer clay jewelry as gifts for her friends. What turned out as a simple hobby blossomed into a full-on business. With Koko Tala taking flight, Georgia knew she needed to find the ideal creative to help in solidifying their branding. For this project, Georgia collaborated with UK-based Medley Design Studio.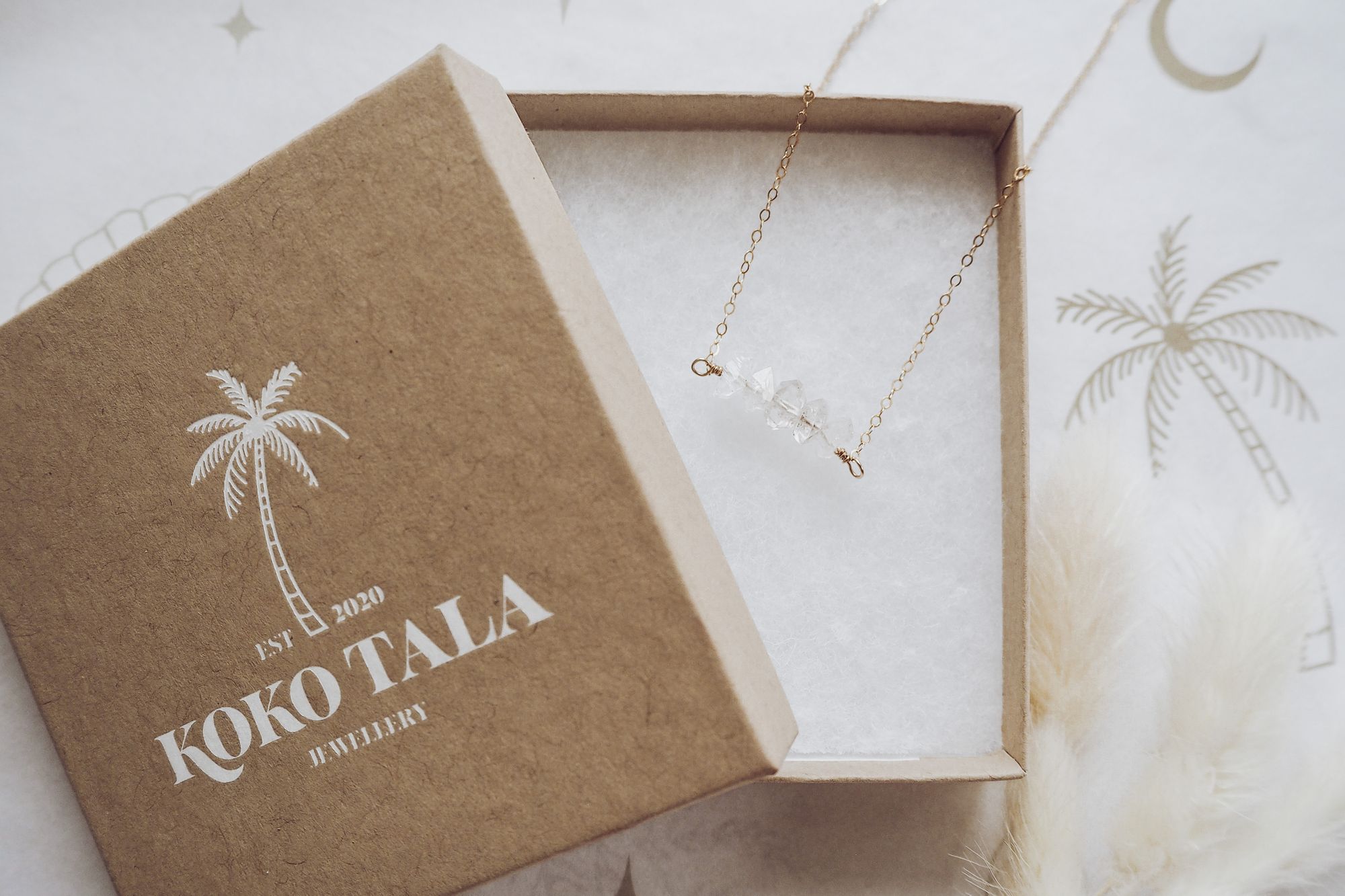 Georgia began the meditative process of making polymer clay jewelry as gifts and got so lost in her enjoyment that she didn't reliaze she'd make too much in the process. She decided to sell some of the surplus on Etsy and caught the jewelry making bug while doing so. She later progressed to teaching herself the basics of silversmithing while also growing her love for making jewelry as time went by.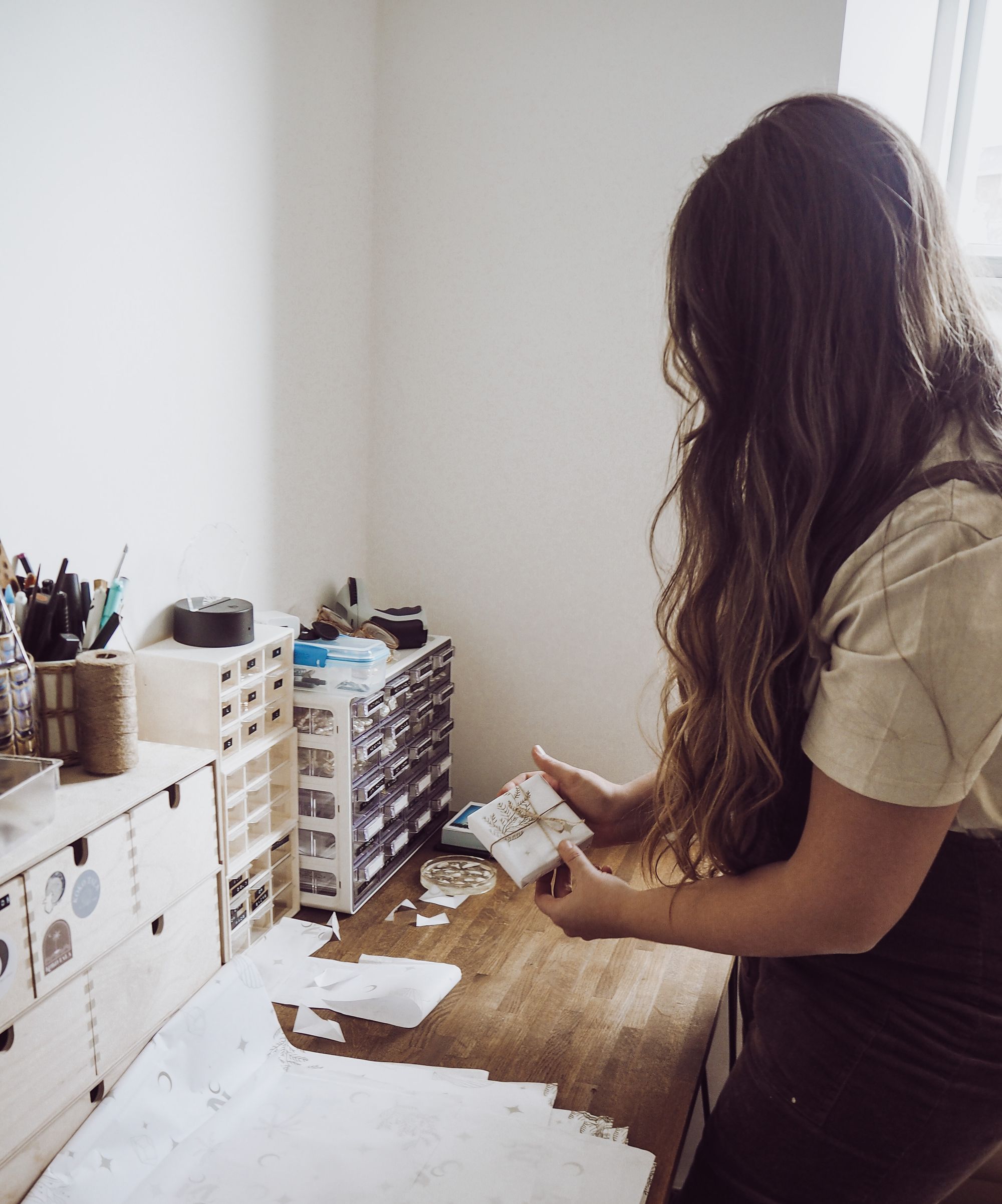 "My main focus has always been to try and keep things neutral and simple so they don't go out of style as well as making things that last. Sustainability has always been something I have focused on so as I have developed my skills, I have also made sure to use recycled and sustainable materials." - Georgia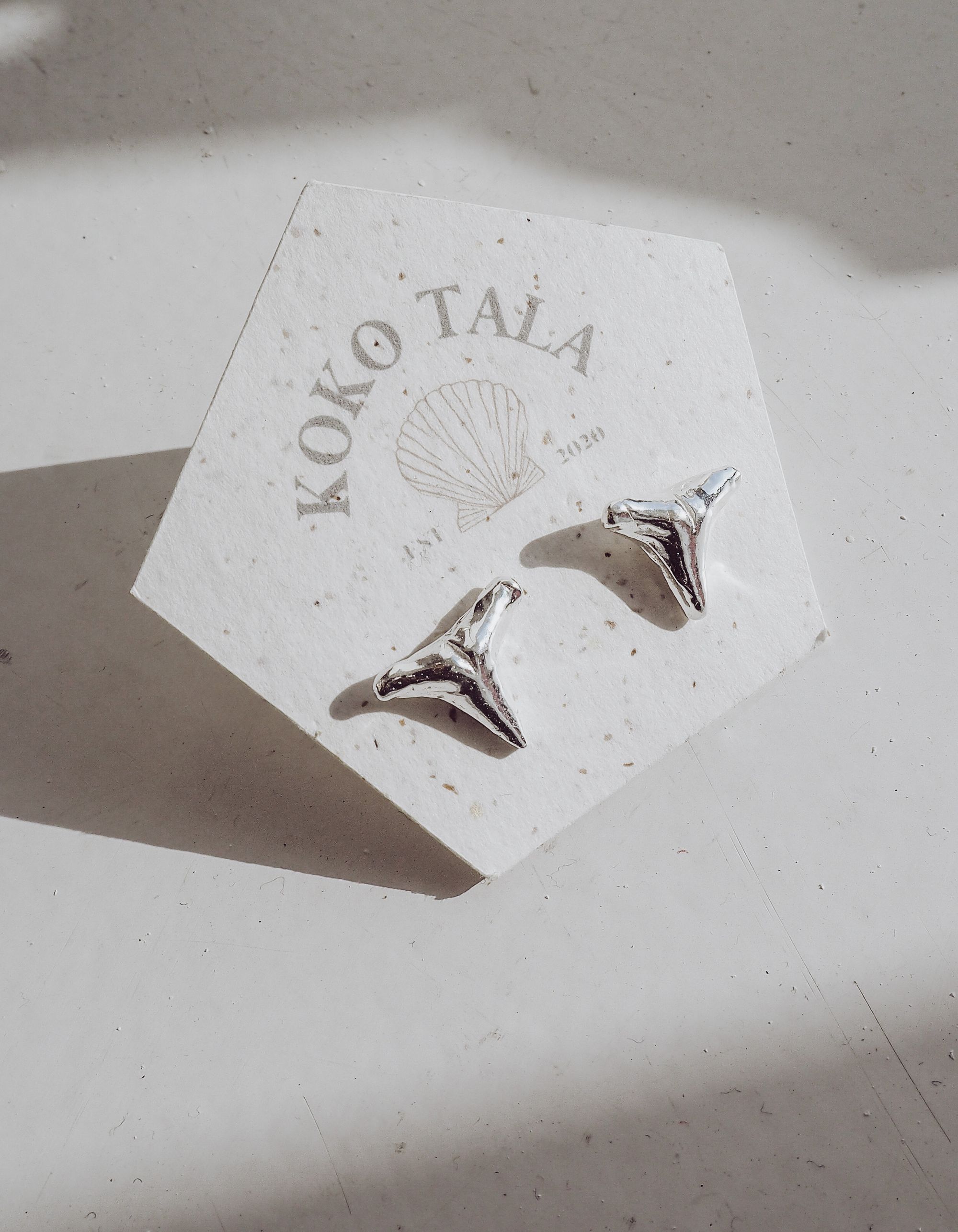 Koko Tala's original logo, a wolf howling at the moon, was designed by Georgia herself. However, as her business began to take shape, she knew she wanted the logo to look more professional as Koko Tala grew. With this in mind, Georgia headed to Instagram to begin her search for the perfect creative.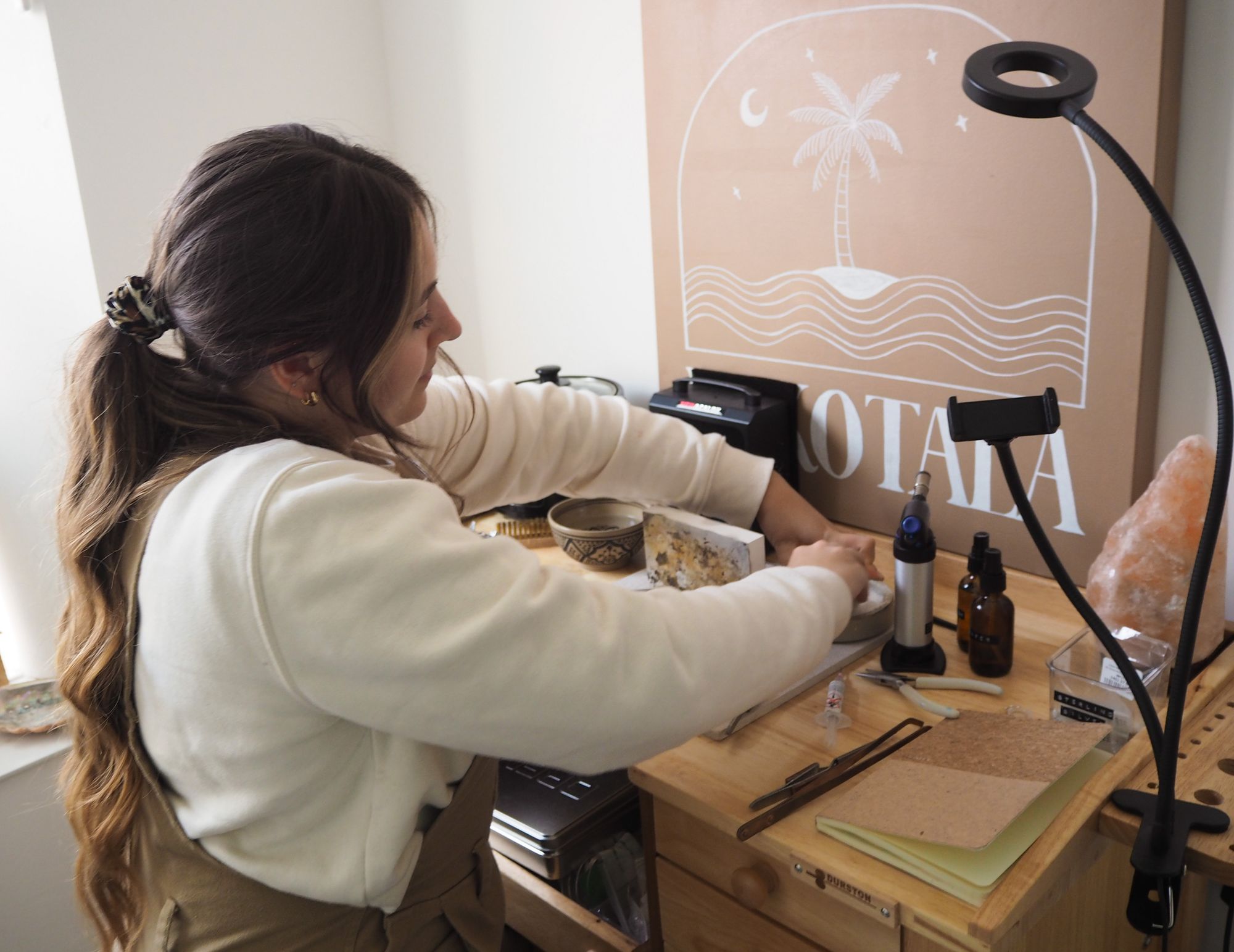 Step Into the Creative Mind of Katie Medley:
Katie Medley is a lifestyle branding specialist and the founder of Medley Design Studio. Based in Margate, UK, she runs the studio with the occasional help of their genius copywriter and social media expert, Megan.
Medley Design Studio is a branding design studio that works with female-owned businesses to improve their online presence with thoughtful brand identity, design and strategic storytelling. They specialize in sustainability, fashion, and wellness brands. Their team has more than twenty years of experience working within the fashion and creative industries, focusing on brand strategy and consumer trends.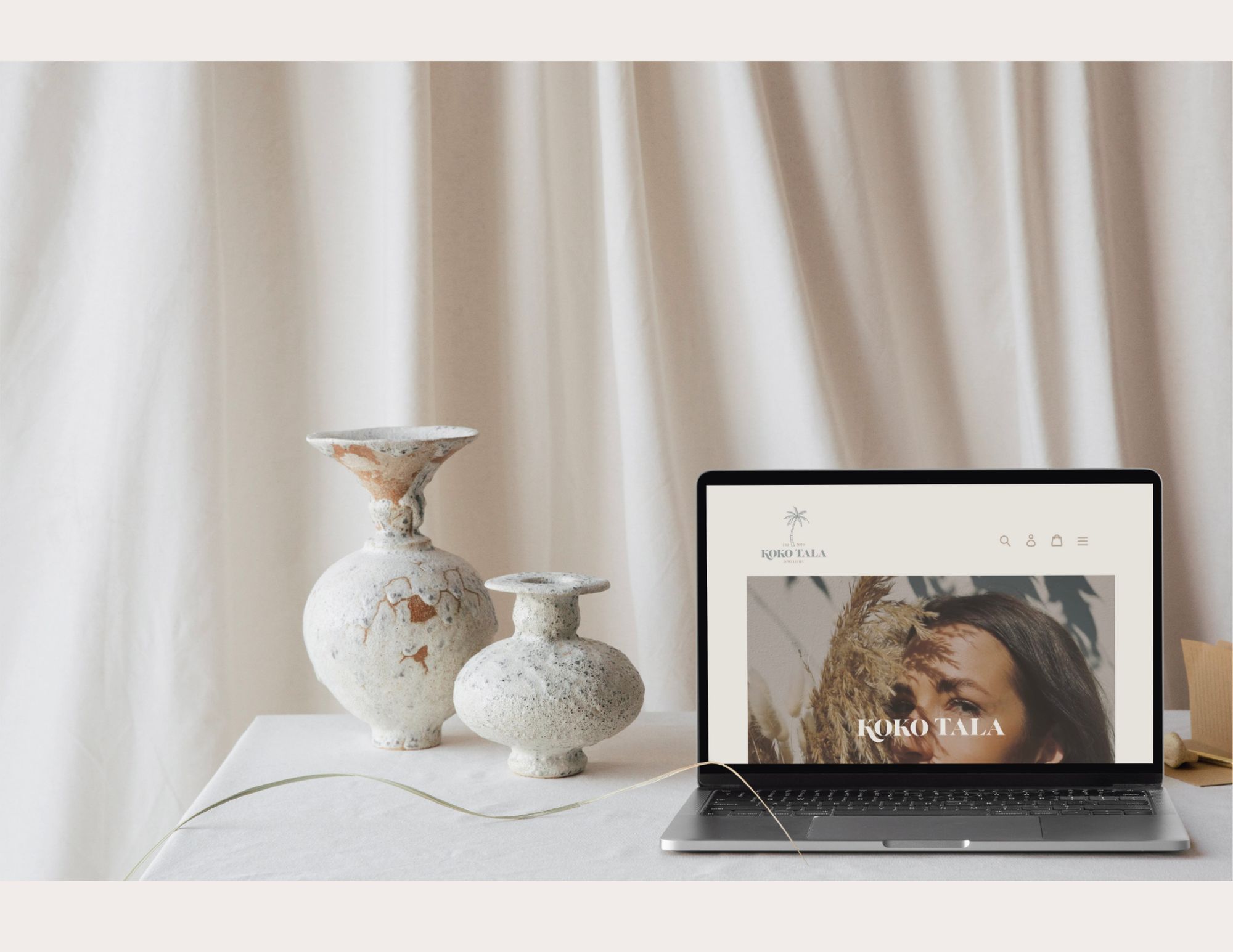 As her search for the perfect creative mind began, Georgia was looking for someone who's style was similar to her own. For Koko Tala's branding, Georgia was leaning more towards the bohemian look, but also wanted it to represent the things she loves.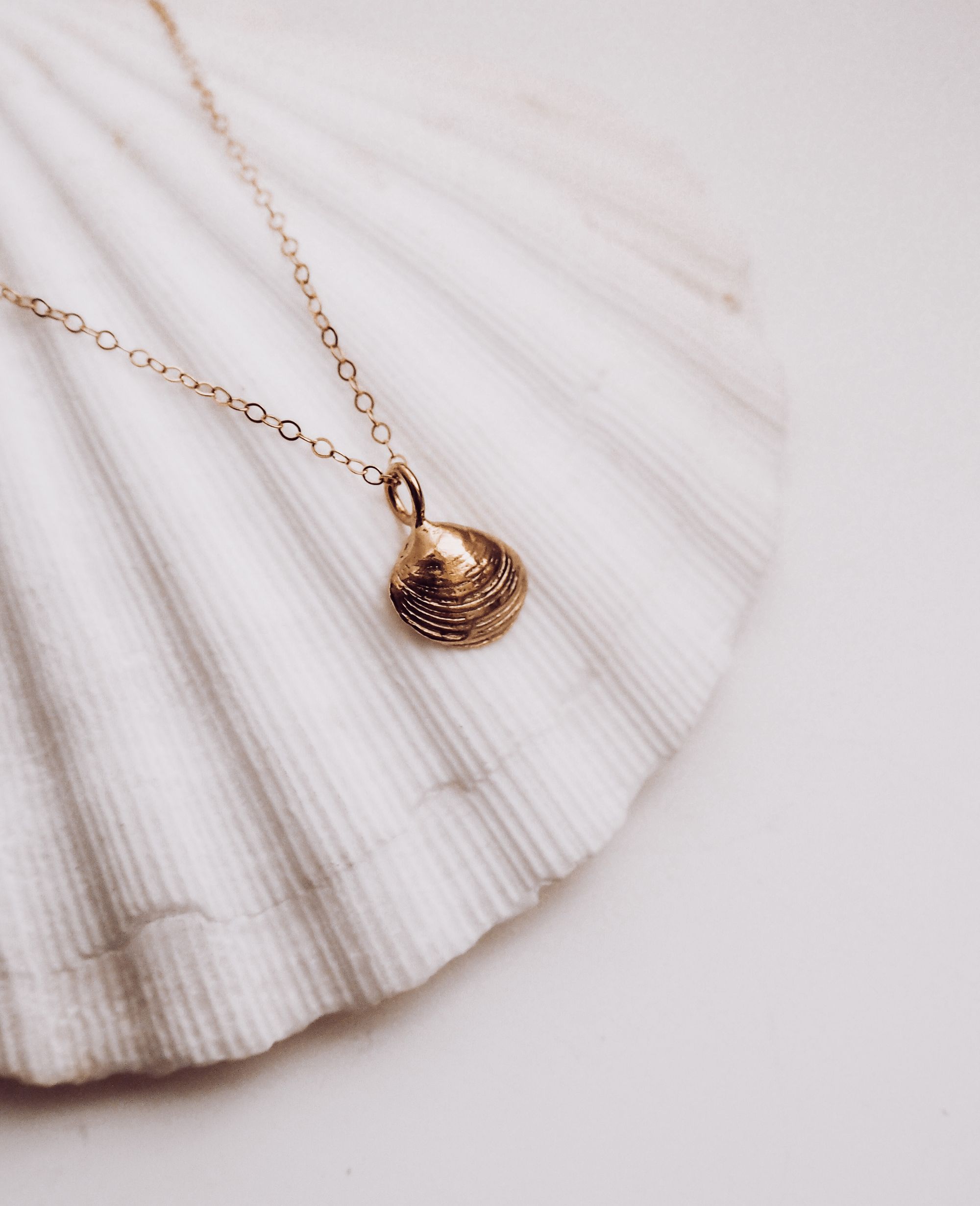 "When I saw the work from Medley Design Studio, they had created some really cool artwork and I knew they had the style I liked. When I saw the work they had done for another jeweller, Coco Grey jewellery, that sealed the deal because her logo was amazing and I knew that they would deliver what I wanted." – Georgia
Once she stumbled upon Medley Design Studio, Georgia just fell in love with their work and reached out via Instagram to enquire about a collaboration for a brand refresh project. As soon as Katie saw Koko Tala's beautiful collection and aesthetic, she was instantly hooked. Georgia is inspired by nature and one of her business aims is to create a low environmental impact with slow fashion—which resonated greatly with Medley Design Studio's values.
A Deep Dive Into the Design Magic: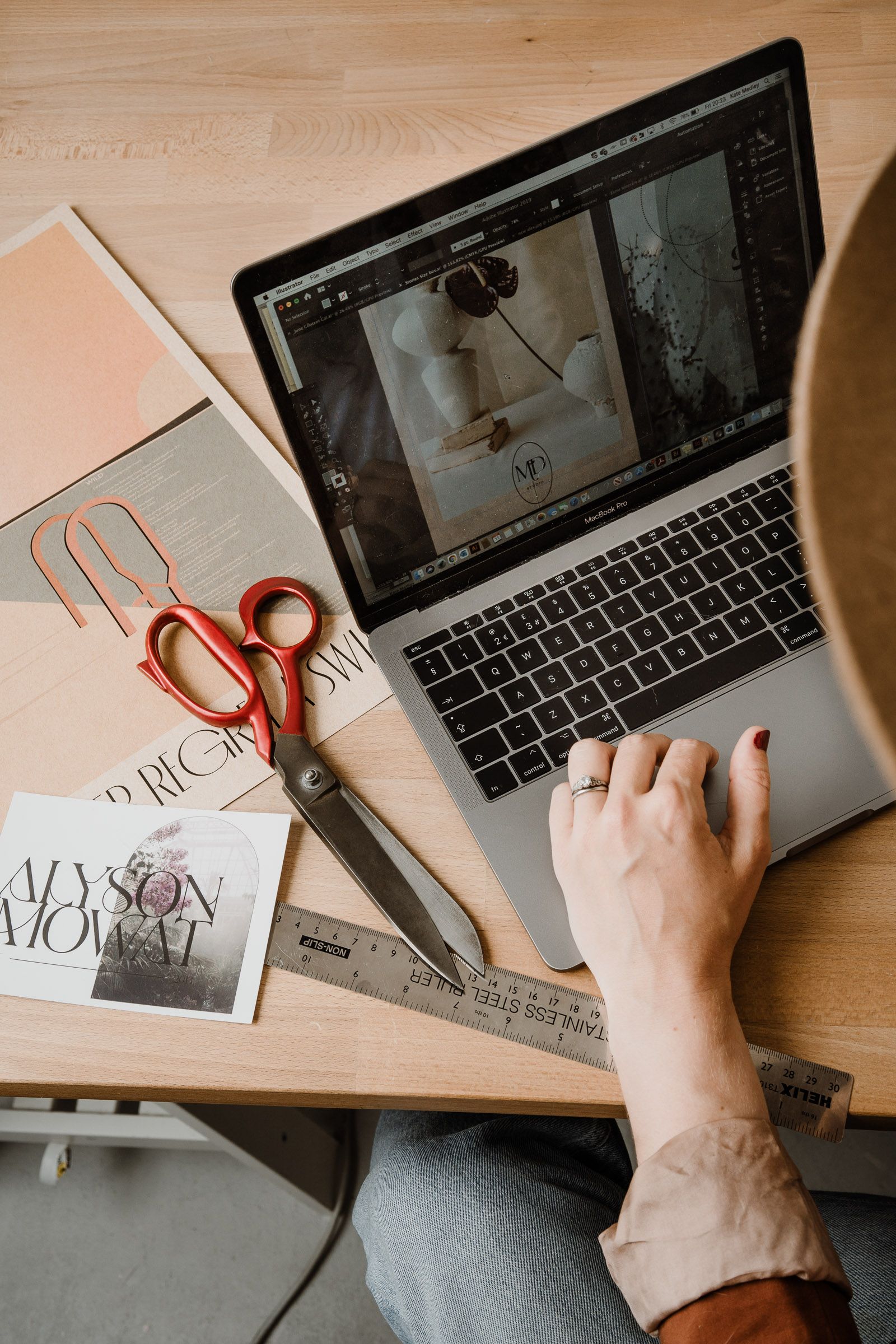 Katie sent their studio's business questionnaire to Georgia where they asked questions regarding the brand values and aesthetics. After filling out the questionnaire and having an in-depth conversation with Georgia about Koko Tala's brand ideals and vision, they went ahead to design some concepts.
After getting to know the bones of Georgia's 'why', Katie went on to produce some brand concepts. She produced about four different options to choose from, including a moodboard that is representative of each one. They then had an initial meeting for Katie to share the designs and to help finalize the project.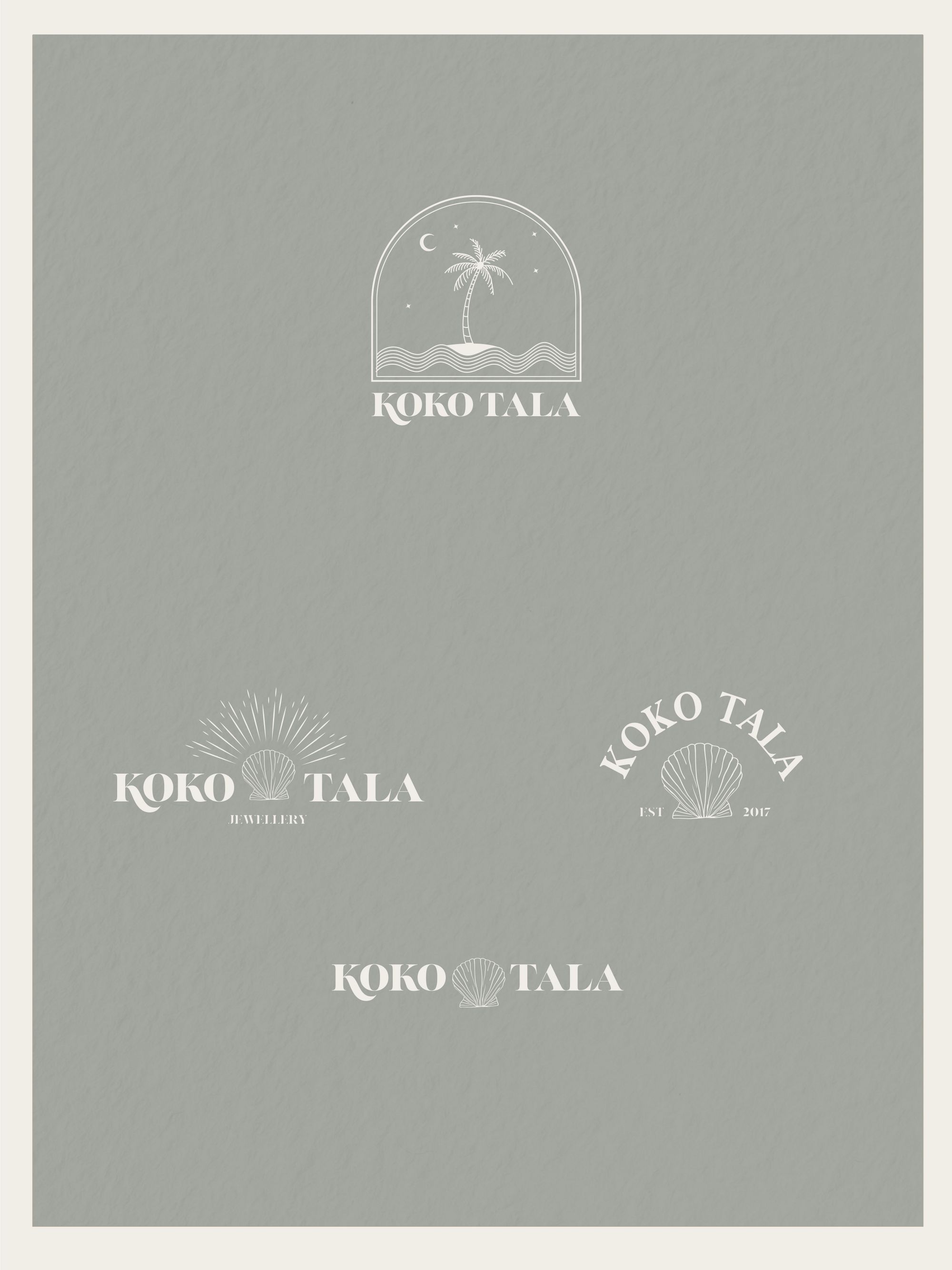 "Initially, I wanted to stick with a wolf in my design. I had that already and I thought that if I could keep that it would keep my brand recognizable, however Katie was sending me artwork back, and I realized it didn't really reflect my brand well, and I had moved on from that visual. I had moved to Devon and was heavily inspired by the beach and the nature around me." - Georgia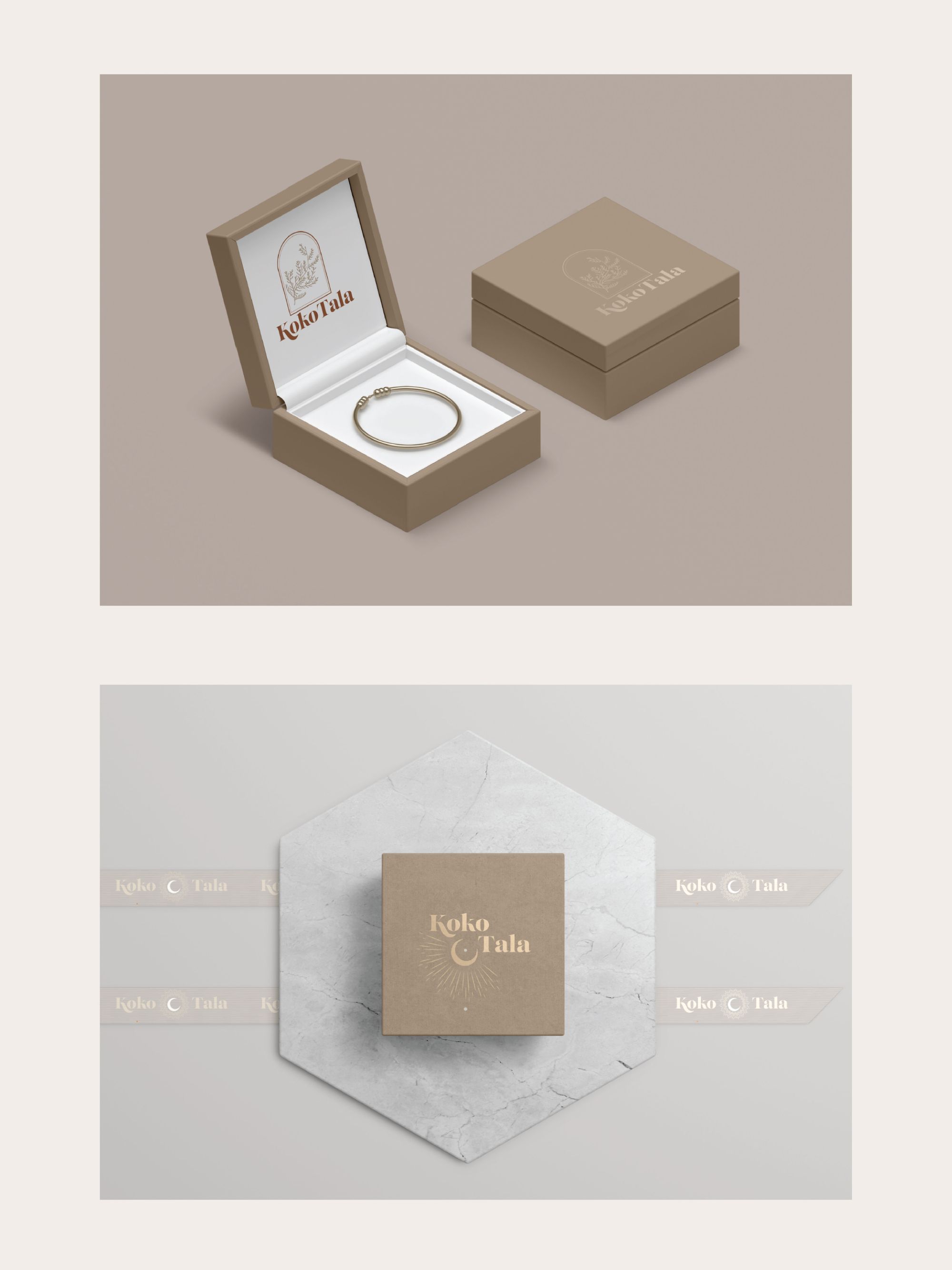 "Along with the concepts we had discussed, we also prepared a wild card concept - we always like to do this for our clients as it can be easy to get attached to one certain thing, but sometimes adding something different gives the client opportunity to explore a new look and feel." – Katie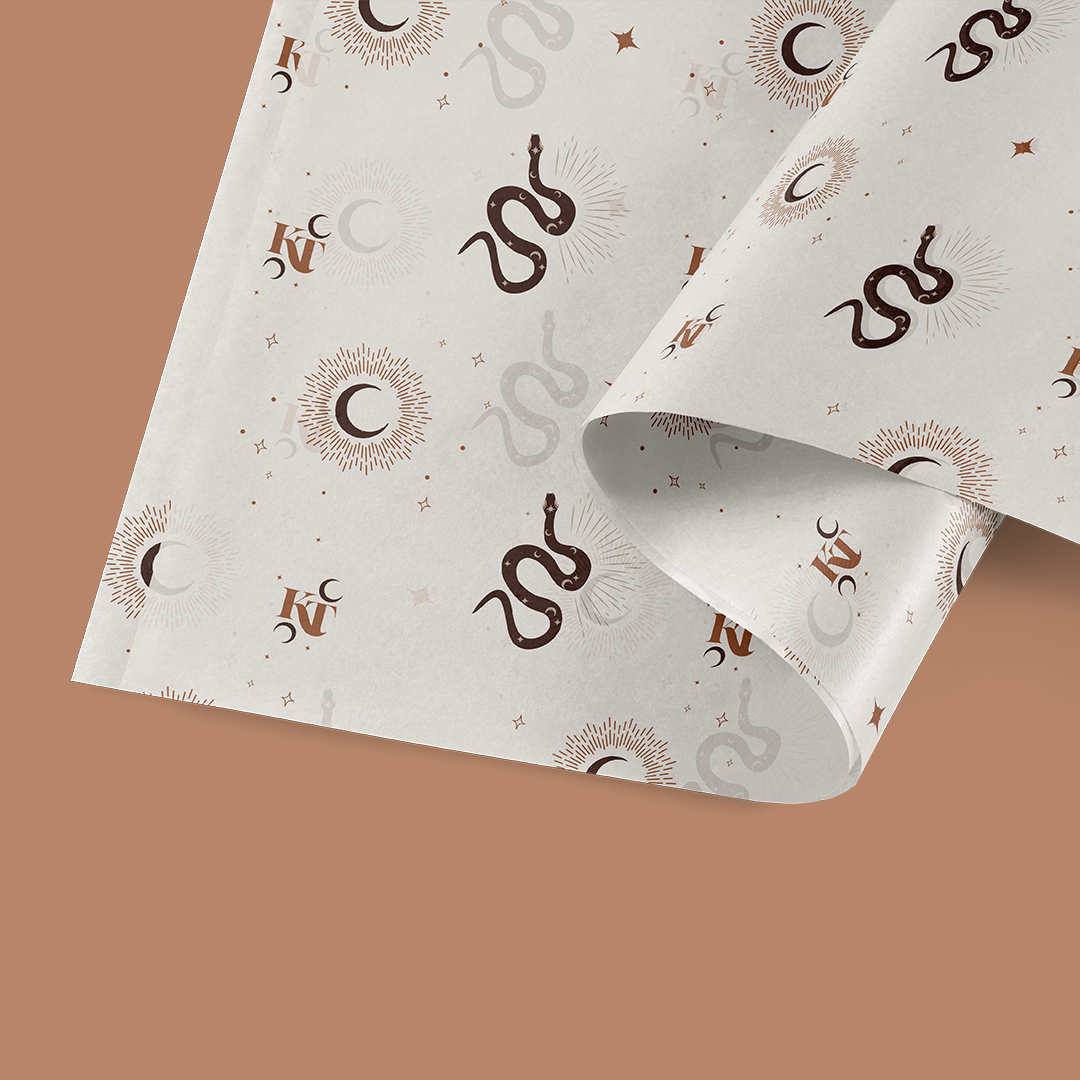 Georgia found all the different concepts amazing which made it very hard for her to come to a decision. She also just absolutely loved the wildcard designs, so they decided to build on these to create Koko Tala's new branding, while still staying close to Georgia's brand aesthetics. Having so many varied options allowed Georgia to have a bundle of concepts to pull for different use cases in her branding.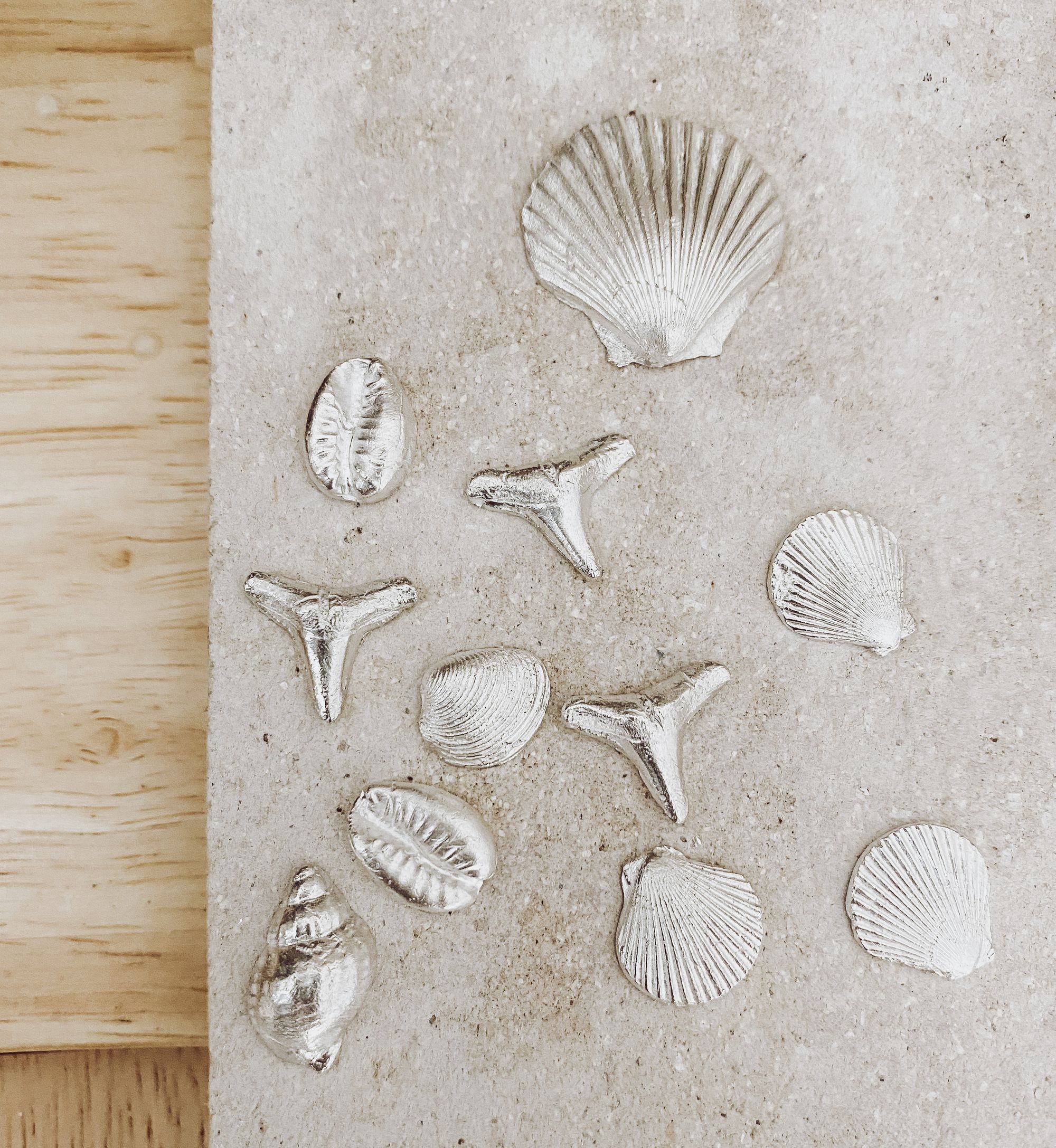 Katie shares: "We bonded with Georgia over our shared love of the sea. She is over in Devon and we are in Margate. Georgia wanted something that shows the personality of herself and her brand. She loves the sea, and all things Mother Nature, so we made sure to include shells, palm trees, moons and stars into her beautiful tissue paper packaging design."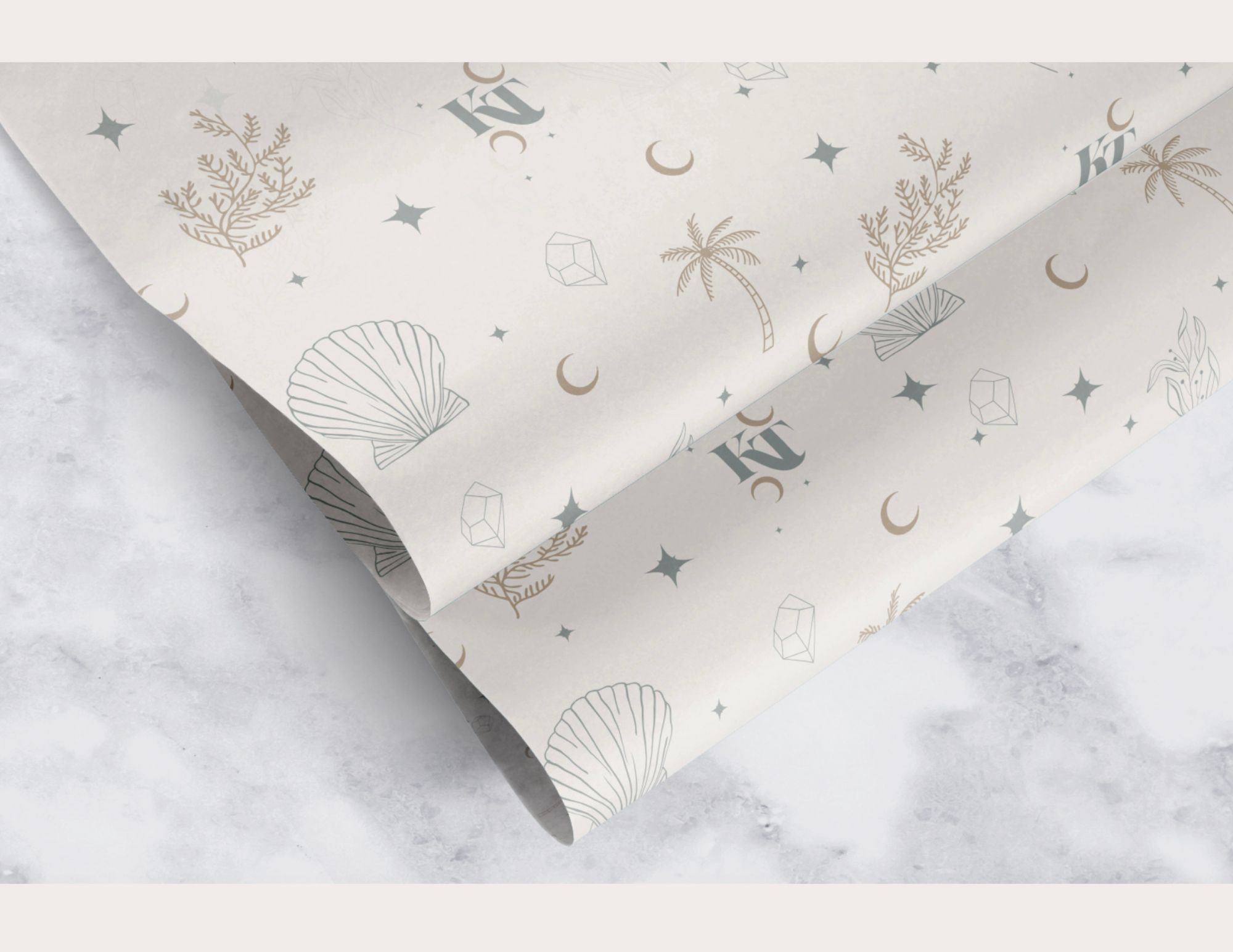 Georgia says: "I definitely realized that when I let Katie design whatever she wanted, that's when the magic happened and it's always best to let the professionals do what they do best without interfering! The biggest thing I remember was that I was such a pain in the bum, I kept changing my mind and asking for small adjustments but Katie was so kind and accommodating and she honestly smashed it and I adore my logo!"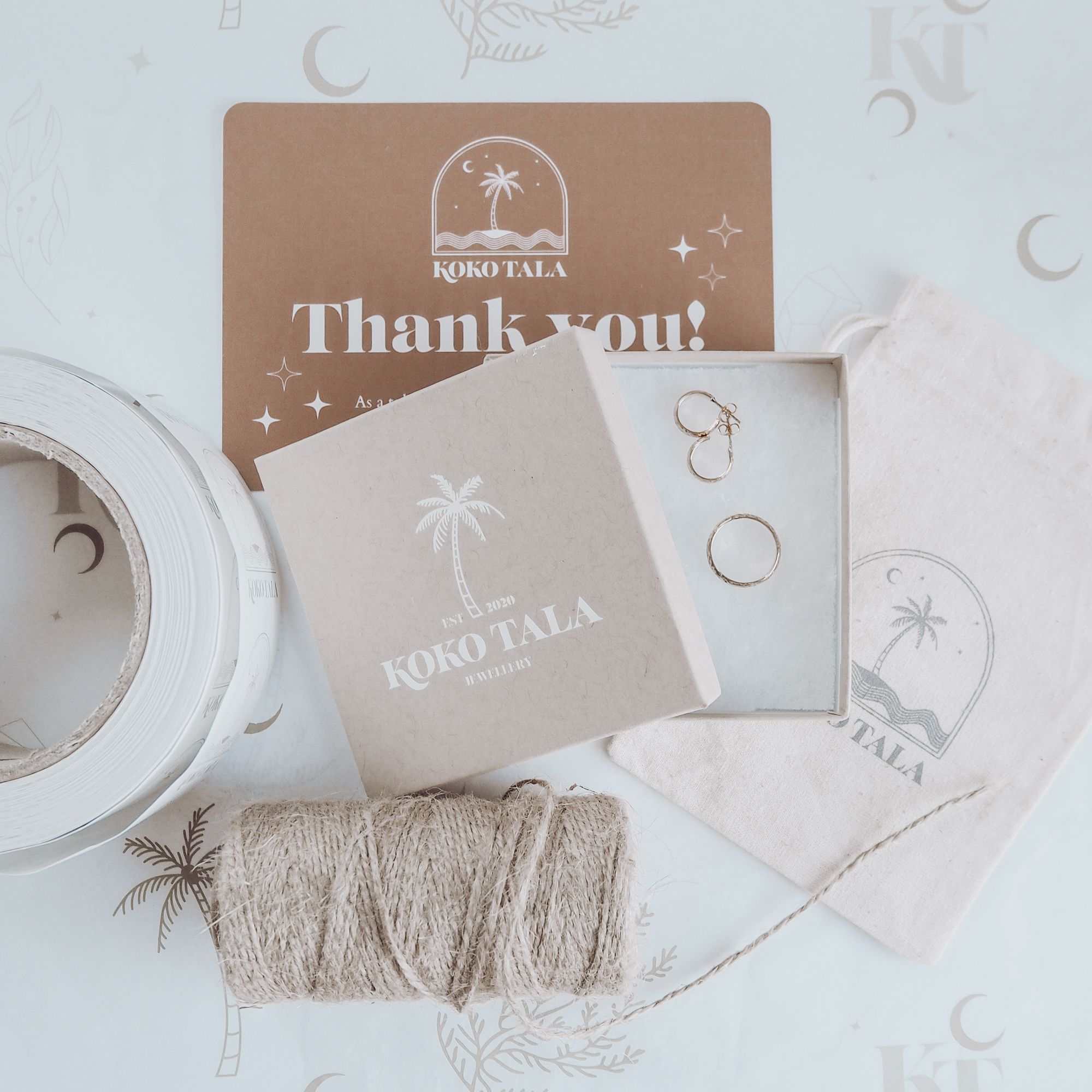 When Georgia was looking for a company to produce her packaging collateral, she stumbled upon noissue. As sustainability is one of Koko Tala's core values, Georgia found noissue to be a perfect fit for the job.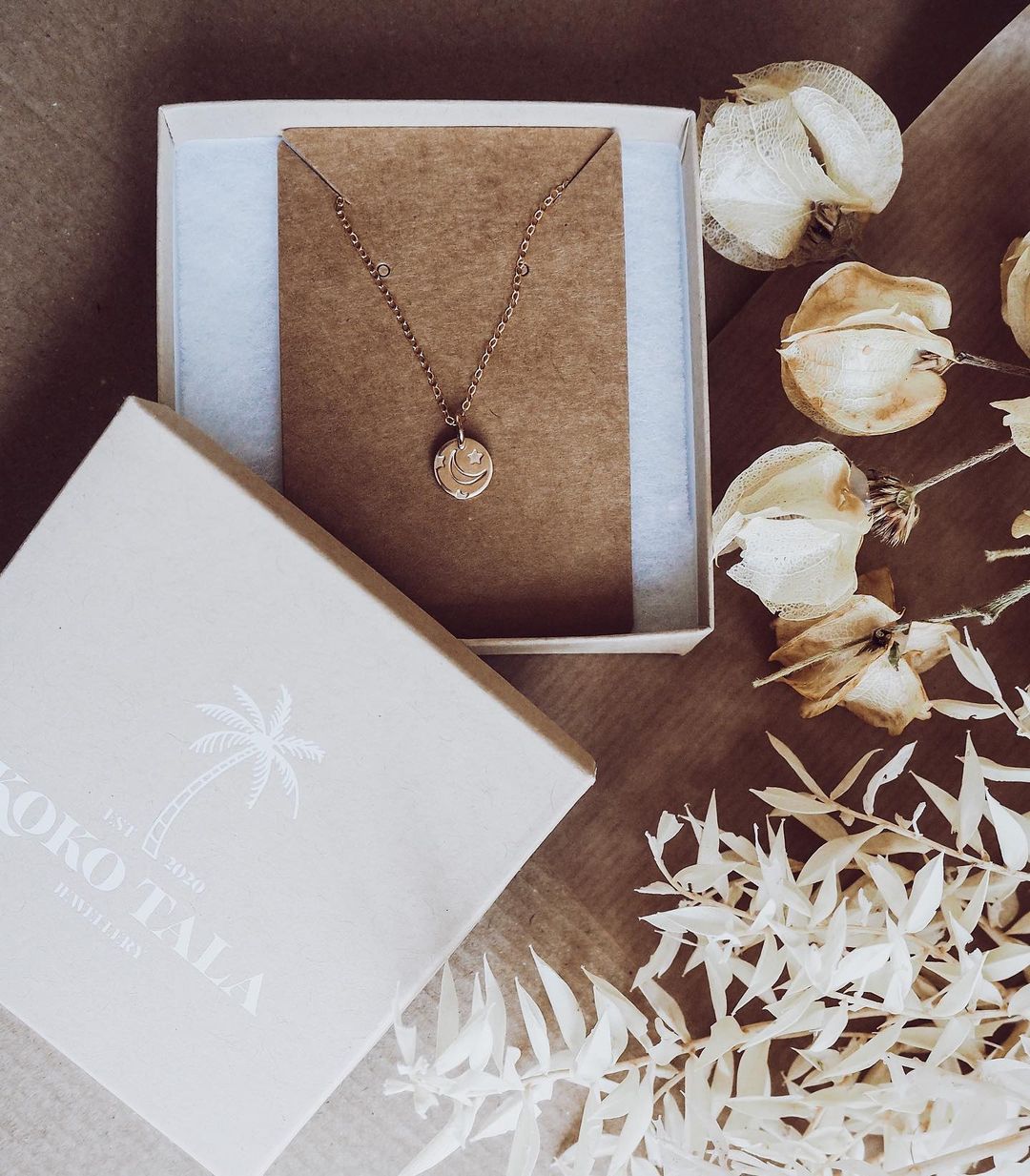 "They were so easy to work with and I love the finished product. I always think it's important to work with brands that have similar values to your own and I liked that I could be confident that they were giving back to the environment." - Georgia
---
Make sure to check out more of Medley Design Studio and Koko Tala here:
Medley Design Studio
Website: https://medleydesignstudio.com/
Instagram: @medleydesignstudio
Koko Tala
Website: https://kokotaladesigns.co.uk/
Instagram: @kokotaladesigns