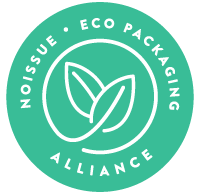 When it comes to 3-Dimensional embroidery, there is one name you should acquaint yourself with: Carrie Goff! Carrie is the creator and maker behind Carrie Goff Designs, a business dedicated to creating precious little 3D embroidered gardens that you can keep forever!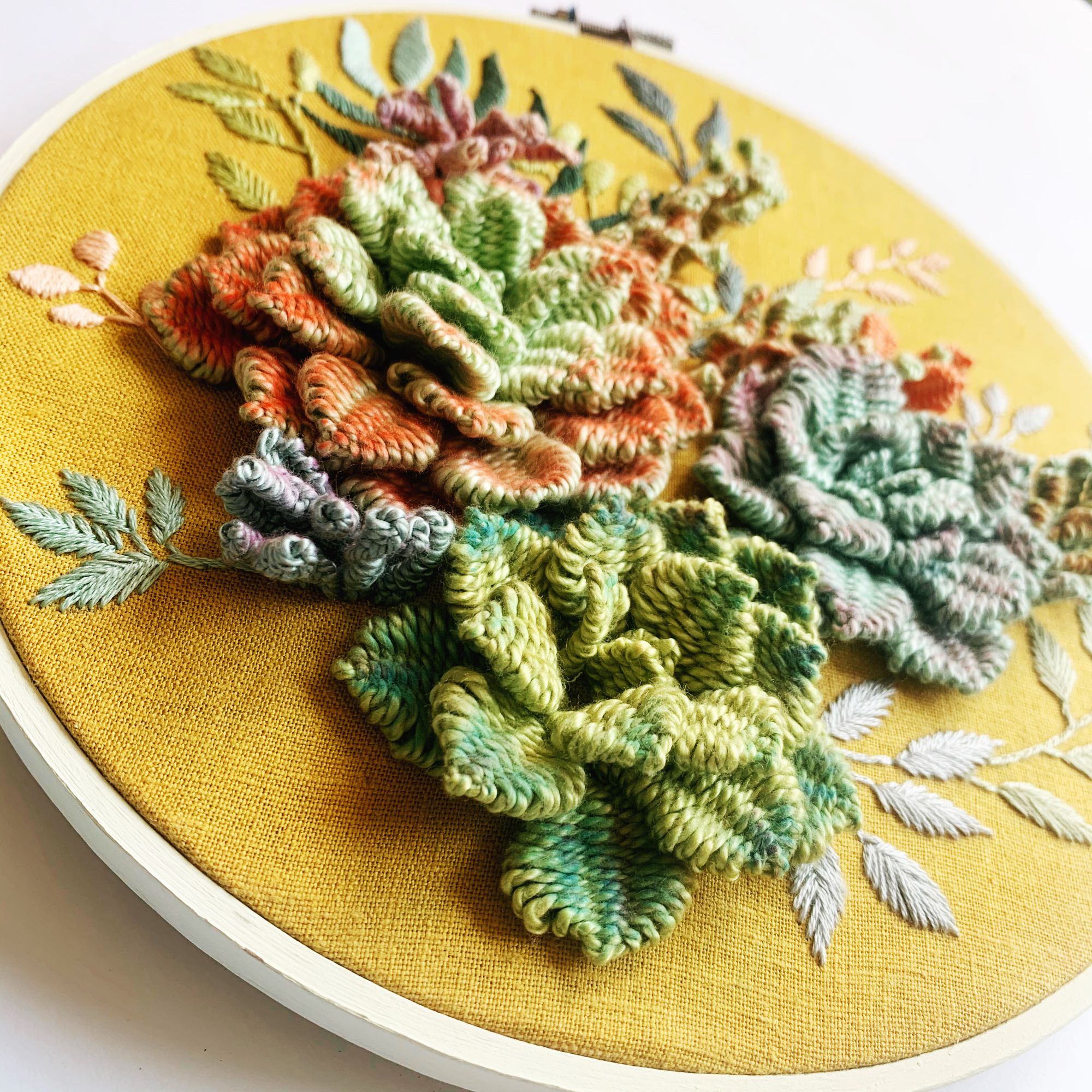 After being a mom to a beautiful baby boy was when Carrie fell in love with creating 3D embroidered gardens as a pastime, which she would often have when her son napped. Carrie has always created art and has formal training as an oil painter, but being a stay-at-home mom prompted the vision for Carrie Goff Designs.
"I liked the challenge of taking an art form that has been most typically known for flat 2D stitching into raised fully 3-Dimensional textured gardens of succulents and flowers."
As she creates, her thoughts constantly revolve around how she can turn what she makes into a kit or pattern that someone else can learn from to take their skills to another level—a level they may not have believed was possible before, because embroidery traditionally doesn't move, bend, or have a squishy texture. The artist hopes that, through her work, she inspires others to try new things, accomplish new goals, and do things that amaze even themselves!
From unique 3-Dimensional embroidery, Carrie's business has expanded to include DIY kits, jewelry, pop-up thread keepers, needle books, totes, and pouches.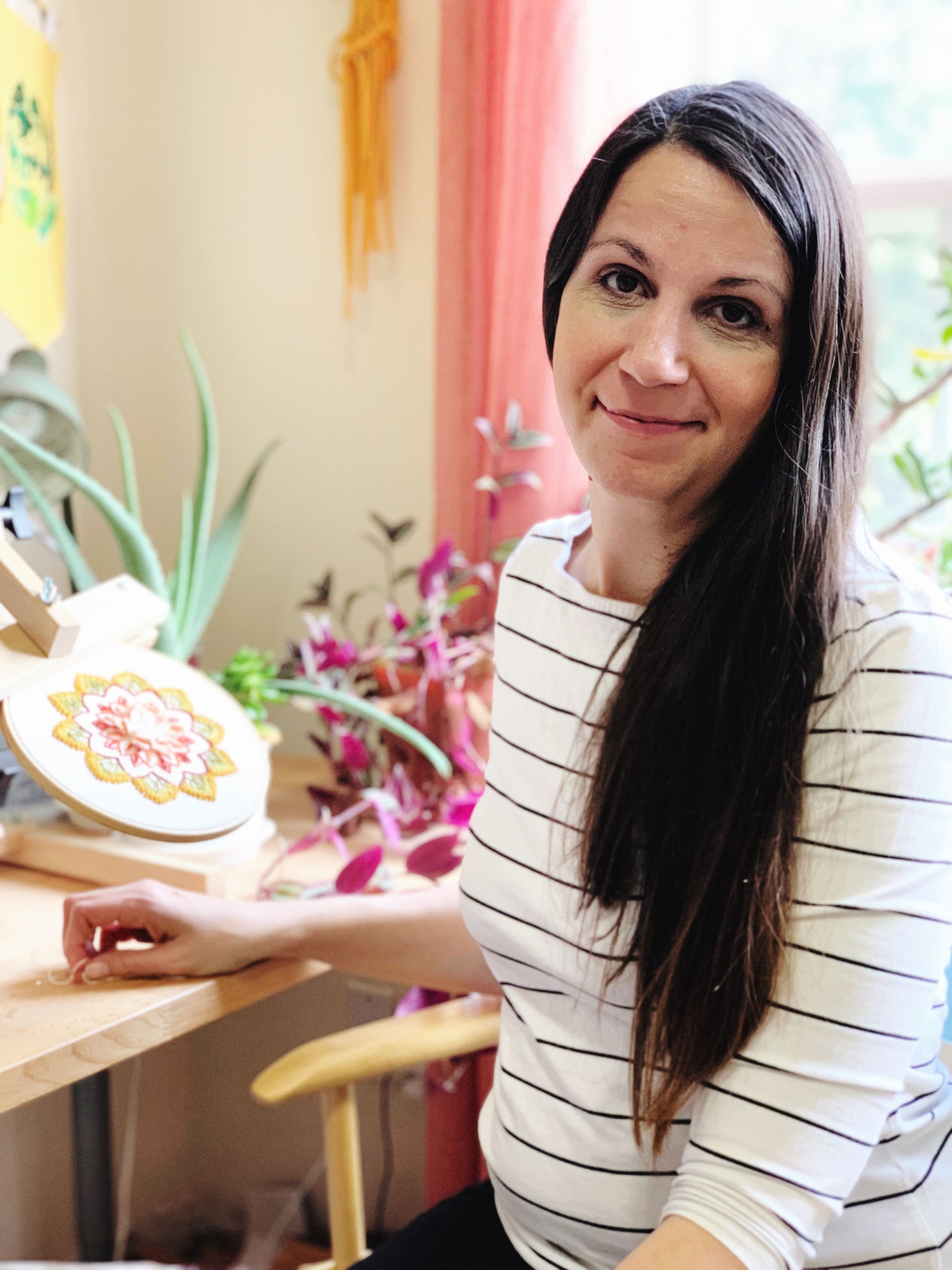 As beautiful as her works of art is Carrie's heart for the environment! She strongly believes in not just making the world a more beautiful place but making the world a healthier place, as well. And with work based entirely on fibers, from the thread she uses to the fabric she stitches on, she is constantly reminded of the resources that have enabled her to create what she makes. Carrie chooses products with low environmental impact, recyclability, and compostabilty intentionally! She also supports companies that make those products a priority. Which is also the reason why, for her circular packaging materials, she trusts only noissue! She uses their Stickers, Water-Activated Tape, and Recycled Padded Mailers.
"noissue has been an icon for packaging that not only looks great, but that you can feel great about using. Trusting that the products I am giving to my customers will not further damage the environment, but will in fact help renew it, was all the incentive that I needed to purchase and promote their products."
The embroidery artist believes that we all have a responsibility to protect our environment and do our best to help improve it too. As a member of noissue's Eco-Alliance, she can do just that! Eco-Alliance is noissue's community of like-minded small businesses contributing to global initiatives. Carrie was so happy to learn about noissue's commitment to planting trees for global reforestation. Through this, her customers can feel confident that all their orders help support and contribute toward that goal.
Carrie has always been interested in products that reduce the amount of plastic in packaging, so aside from using noissue, she's also constantly taking tiny steps of her own towards eliminating plastic from all her orders.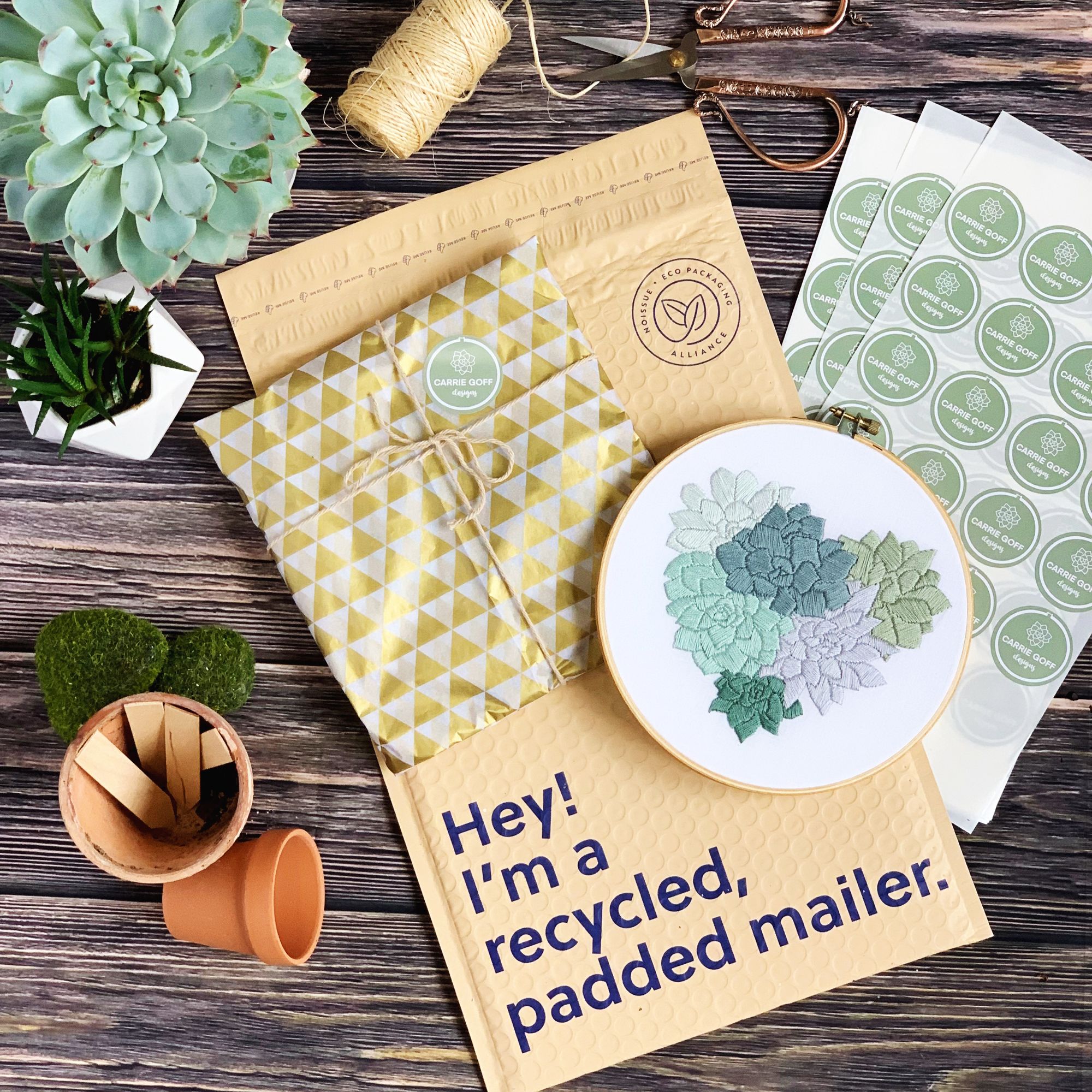 As amazing as that sounds, being sustainable isn't the only reason why Carrie Goff stands out. The embroidery community is extensive! And there are tons of variety in design and designers, kits and workshops. But most embroidery isn't like Carrie's! Much like nature itself, Carrie's tiny gardens have real texture, raised off of the surface of the fabric.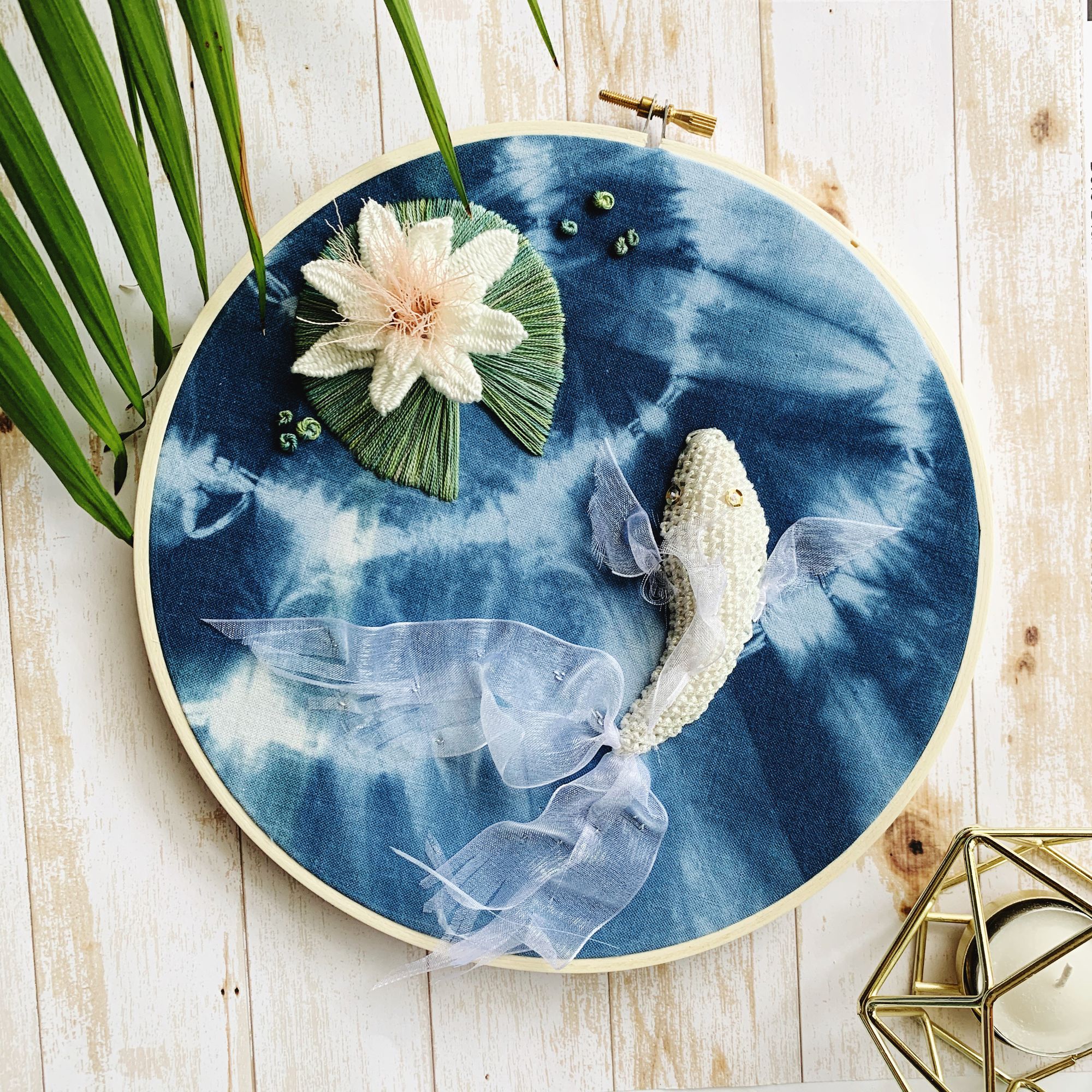 But just like in every business, it wasn't always rainbows and butterflies for the embroidery queen. The biggest challenge she faced was sourcing shipping materials because of inconsistencies in availability and size. Carrie geared most of her shipping toward packaging that is smaller, lighter, and readily available in bulk sizes. This didn't put a halt to pursuing what she loves but one piece of advice she can share with other aspiring business owners is to, "Be brave enough to start." Accept that you will make mistakes, but give yourself the grace to learn as you go, and go at your own pace making things that you love! The artist says that before you can really be great at something, you have to be willing to be bad at it first, as not everyone starts off doing everything perfectly.
And to add to that positive note, Carrie also has her share of memorable customer stories! She has been approached to do a lot of customs for different occasions. She's done some pieces for weddings, in memorial, and even to celebrate the birth of twins! And each of these custom work has been special to her, but she also feels like every order is equally as special. The artist believes that, "when one artist is supported, we all are supported. It's that kind of support that makes it possible for all of us to make unique and special creations, for there to be this online shopping forum. For Carrie, it doesn't have to be a special order to be special. All are incredibly important to her, and she will always be more than thankful for the encouragement that each sale gives her.
---
Find more of Carrie Goff here:‌‌‌‌‌‌
‌‌‌‌‌‌‌‌‌‌
Website: /CarrieGoffDesigns‌
‌Instagram: @carriegoffdesigns
If you enjoyed this read, we bet you'll like this feature too: ‌
TINY: A Small Biz with a Big Appetite for Good Food and Sustainability
‌‌
‌Want to share your story? We'd love to hear it! Join the Eco-Alliance here and share your deets with us here to get a chance to be featured on The Wrap!
Questions? Email us at ecoalliance@noissue.co