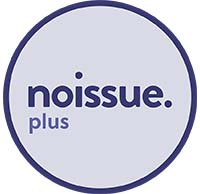 Banish is a natural skincare brand with products focused on reducing the appearance of acne scars. Founded in 2013 in Daisy's own kitchen, Banish believes in healing not just the physical, but also the mental wounds of acne scars. And in 2017, Banish was impressively included in INC500's fastest growing companies. So we caught up with founder, Daisy, to learn about her journey in business and building a brand from the ground up.
Tell us a bit about your journey in business with Banish. Did you face any hurdles while creating an all-natural, organic alternative for people who struggle with skin issues?
One of my biggest struggles is the feeling of isolation. I feel alone with my thoughts and ideas - figuring out how to do everything, considering that I'm an accidental entrepreneur. I talked to people, read books, enrolled in business classes in-between meetings and work, and executed what I learned ALONE. It was really time consuming! I made the products, labeled them, did customer service assistance, packed my products, shipped it, and the list goes on. The process made me confident to know that if I want something, I can do it without other people's permission and acceptance. I'll do it because I want it and I know I can do it.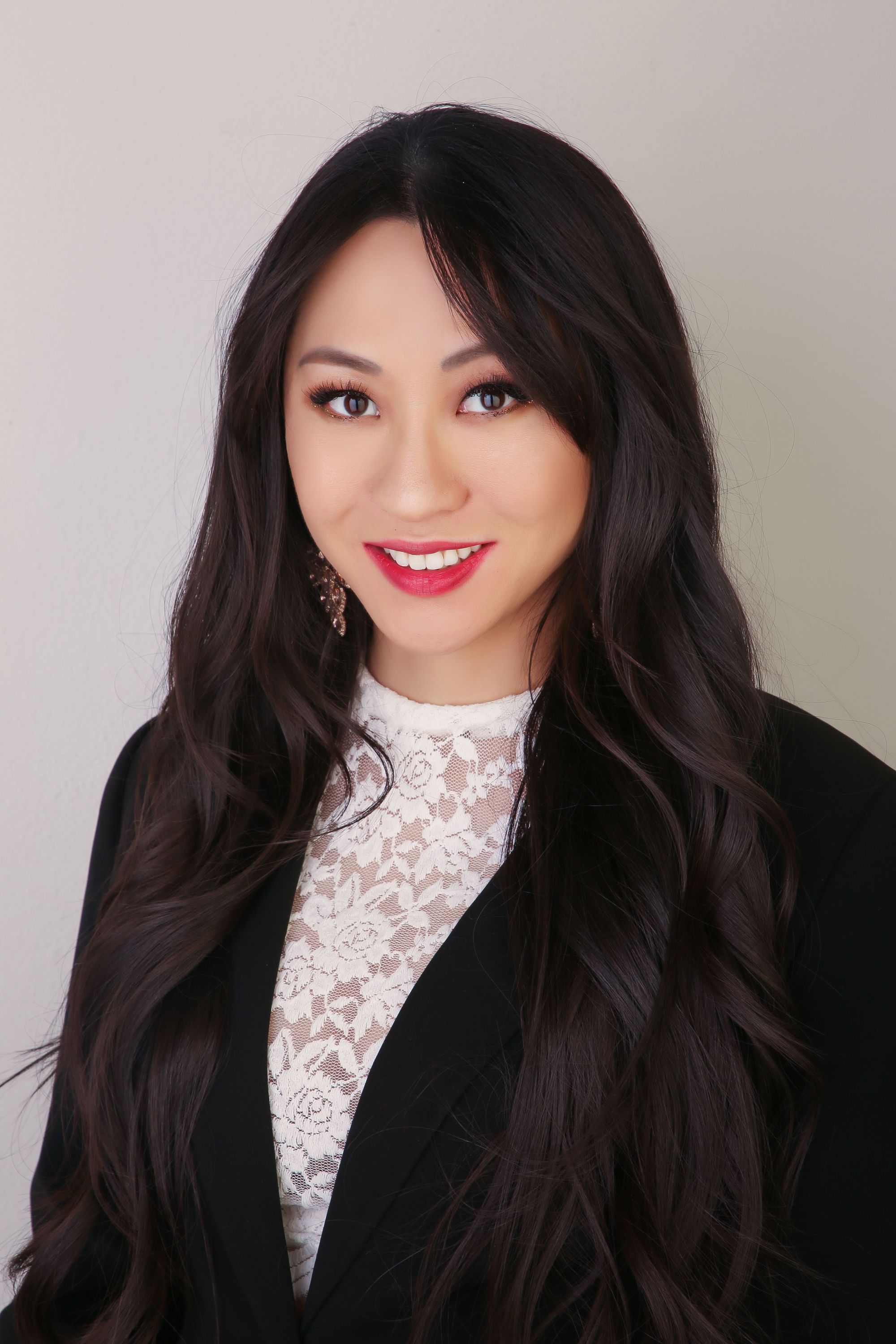 What sets Banish apart from other skincare brands?
Do you happen to know entrepreneurs who don't use their own products? Well I can't relate with them. For one, I created this brand for myself, which means, our brands pass my own high standard. Banish is made fresh every day. Our products don't sit on the shelves waiting for an expiration date. You order, we create. Our products don't have silicones, dyes, fragrance, or parabens since those items would usually cause me acne. Banish doesn't sell a lot of trending stuff that people hype and eventually not like. I carefully choose the products we sell online. If I'm not obsessed with a product anymore, you'll see it gone from our website ASAP. Finally, our brand is unisex. We sell products for everybody. Our products aren't designed obnoxiously in big boxes that will go to waste in time. Banish products are eco and travel friendly, designed for warriors fighting in this acne stigma battle. The products can be reused for it is compact and sturdy. Banish is here to shield you from any negative thoughts you may encourage in your head. We are here to normalize acne and skin texture, constantly reminding everyone that imperfection looks good on us!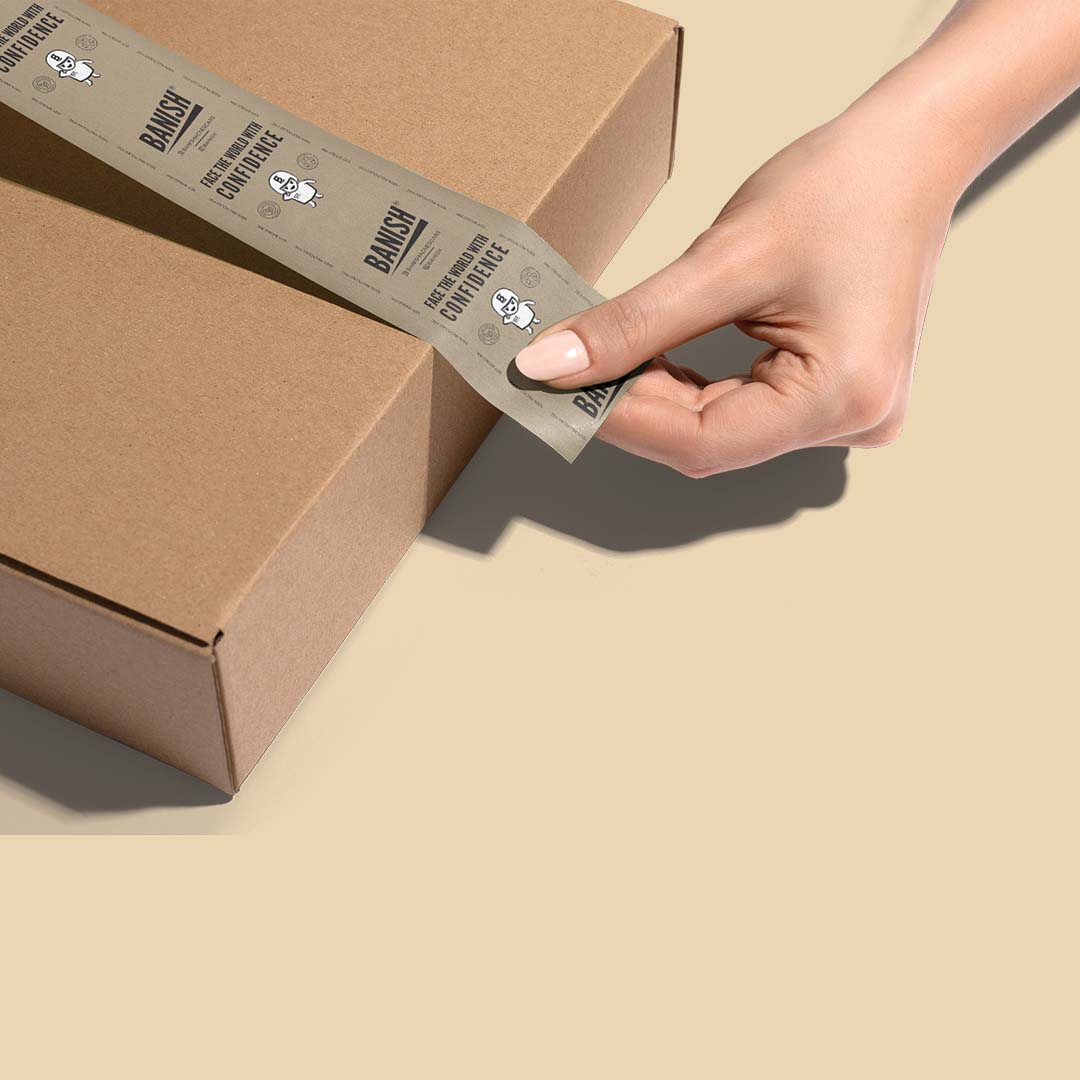 People can learn all about acne scars, skincare, and ingredients through the Acne Battle Book on your website. As a company in the business of skin, there is a lot of information to pick and choose what to share. How did you land on the four topics to showcase and why are they so important to your team?
I grew up with acne since the third grade, and it's my biggest physical insecurity. I was made fun of for my skin, and this in turn, affected my confidence. Because of this personal experience, I'm able to relate to my customers and understand what they are going through. Even though my skin looks a lot better now, whenever we make a content, I always think back to "What would I have wanted to learn back then?" "What would my customer want to know right now?"
We tackle these topics because these are the main questions on the top of my head when I had my worst acne and acne scars before. Now it has become the main agenda of the brand. We want readers and customers to learn about the importance of the products' ingredients and what skincare product is best for their skin concern/status (since a lot of brands are selling a lot of "hyped" unnecessary products lately.) Finally, we want people to be educated and find their best option according to their needs and not according to what trend is in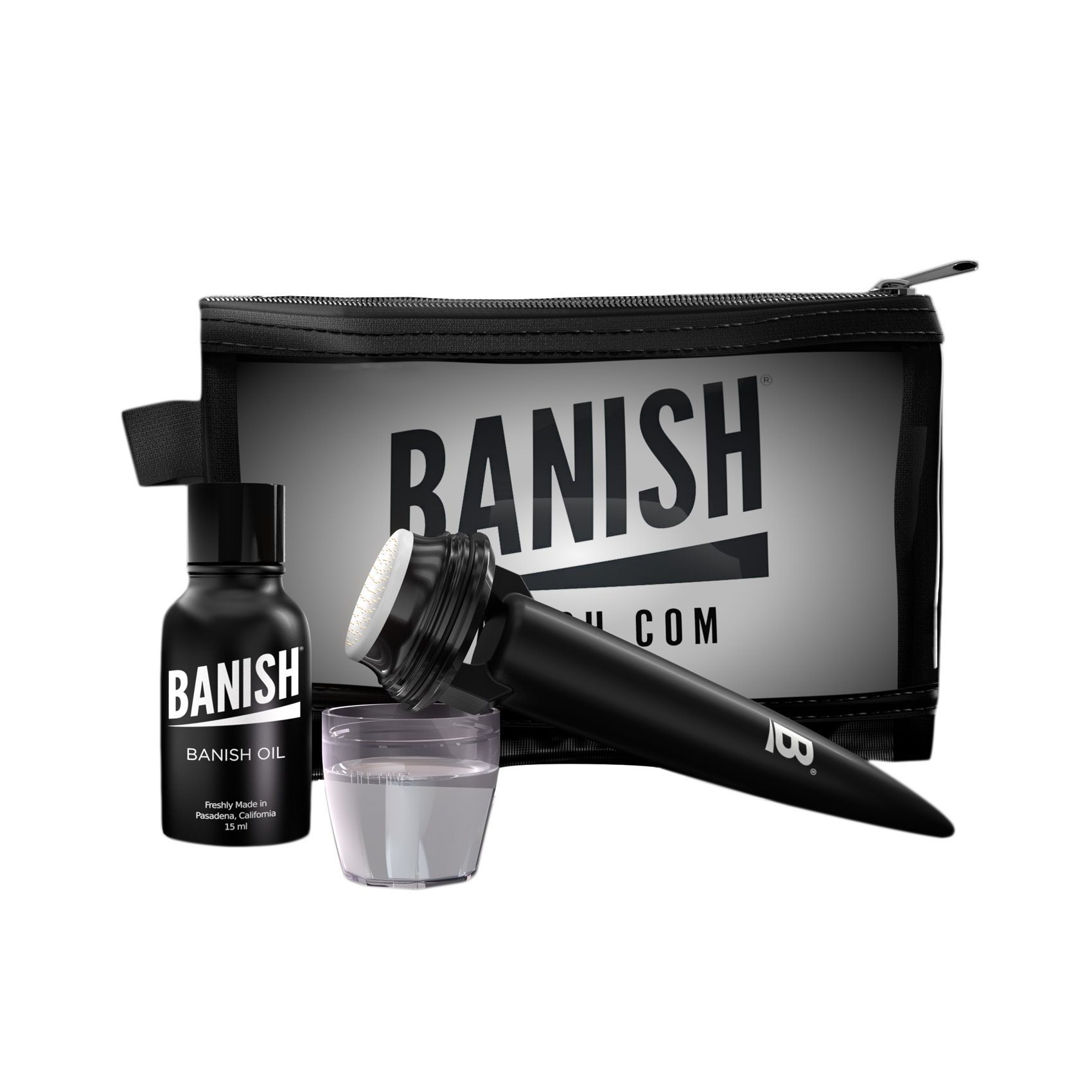 Your Acne Channel on YouTube is an incredible resource for Banish's community, boasting values of Vulnerability, Authenticity, and Trustworthiness. What other tools do you use to stay on top of the ever-changing-world of digital marketing?
Tiktok - We like to connect with everyone, that means engaging in all social media platforms including Tiktok where Gen Y and Z mostly stay. People nowadays have shorter attention spans and so Tiktok is the best place to be for those who want to be entertained and learn in the fastest way possible. Because of that, we also make Tiktok content that is relatable and trending then work with content creators who are good in Tiktok so we can touch their community as well.

Banish sports clean, memorable branding with it's black and white logo and color scheme. What went into the decision process when designing and sourcing packaging for your products?
Banish is all about treating your skin internally without the need to add unnecessary ingredients like scents or dyes. We have the same commitment in our packaging, no more added waste like boxes or designs that aren't nature-friendly. We designed our products to be simple, unisex, compact and eco-friendly. We package all our products in glass jars and bottles instead of plastic. Instead of using plastic bubble wrap, we use corrugated cardboard. Instead of using plastic tape, we use water-activated kraft tape. We also chose noissue for our tape because they use soy-based ink which is more eco-friendly than regular ink. All these for the love of nature and to be extra-responsible in taking care of our earth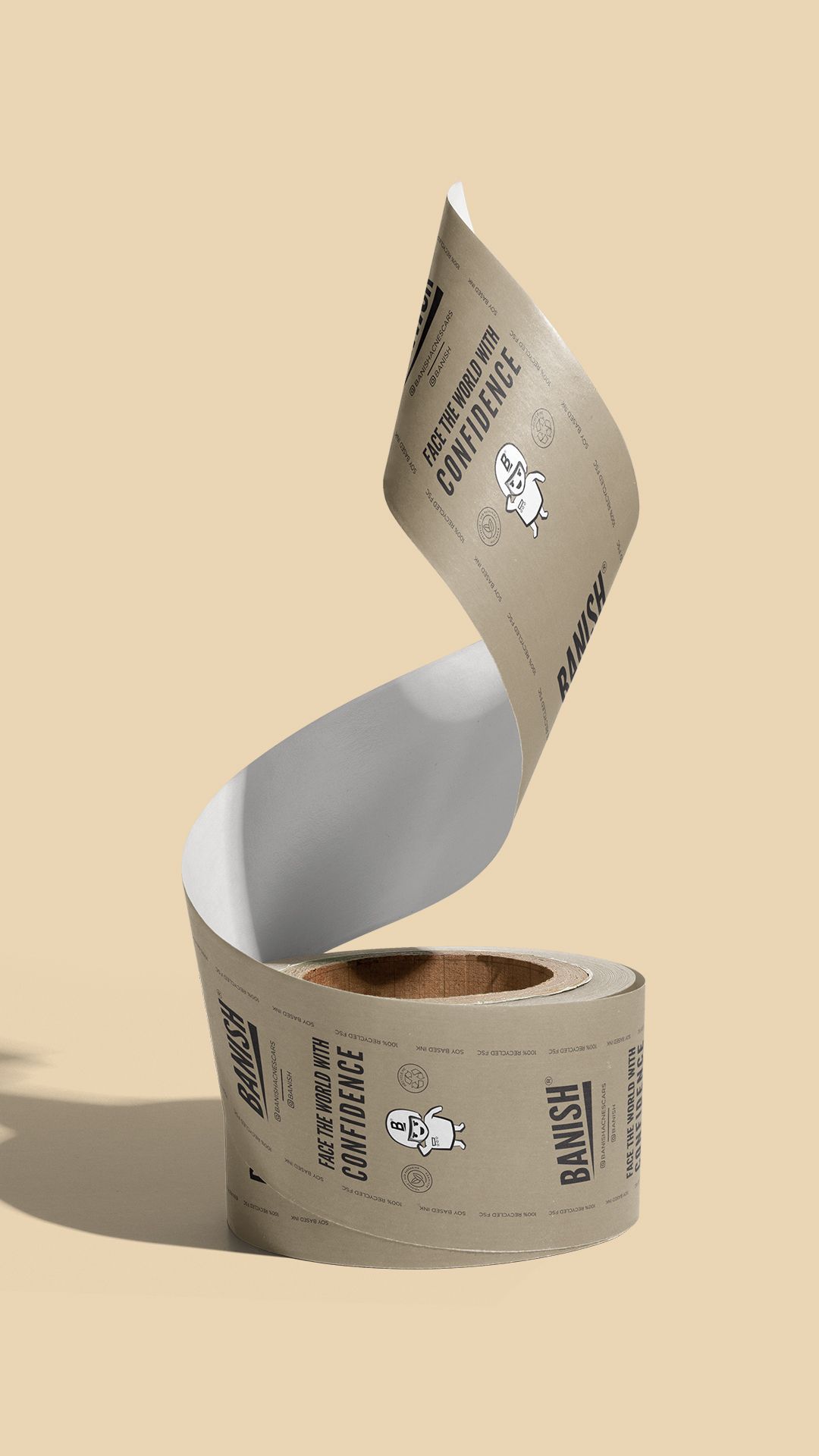 We'd love to hear how you are utilizing your noissue tape. Massive shoutout for the most empowering design, sporting the mantra "Face The World With Confidence!".
We love the simplicity of our tape and how we can easily change the design. Through this tape we are able to send our message to those who are fighting the acne stigma battle - to "face the world with confidence" and "it's not the way you look, but how you feel about yourself that matters."

By joining the noissue Eco-Alliance, Banish is committing to taking steps towards sustainable business practices. Do you have any initiatives in the works outside of noissue packaging or any sustainability goals for your business in the future?
We make small batches of new products every day so that you get them fresh and as little is wasted as possible. We also have a recycling program wherein US customers can return empty Banish jars and bags in exchange for rewards or points, and we gladly provide prepaid shipping labels to encourage our customers to participate in our recycling program. And finally, we have always been a big supporter of One Tree Planted.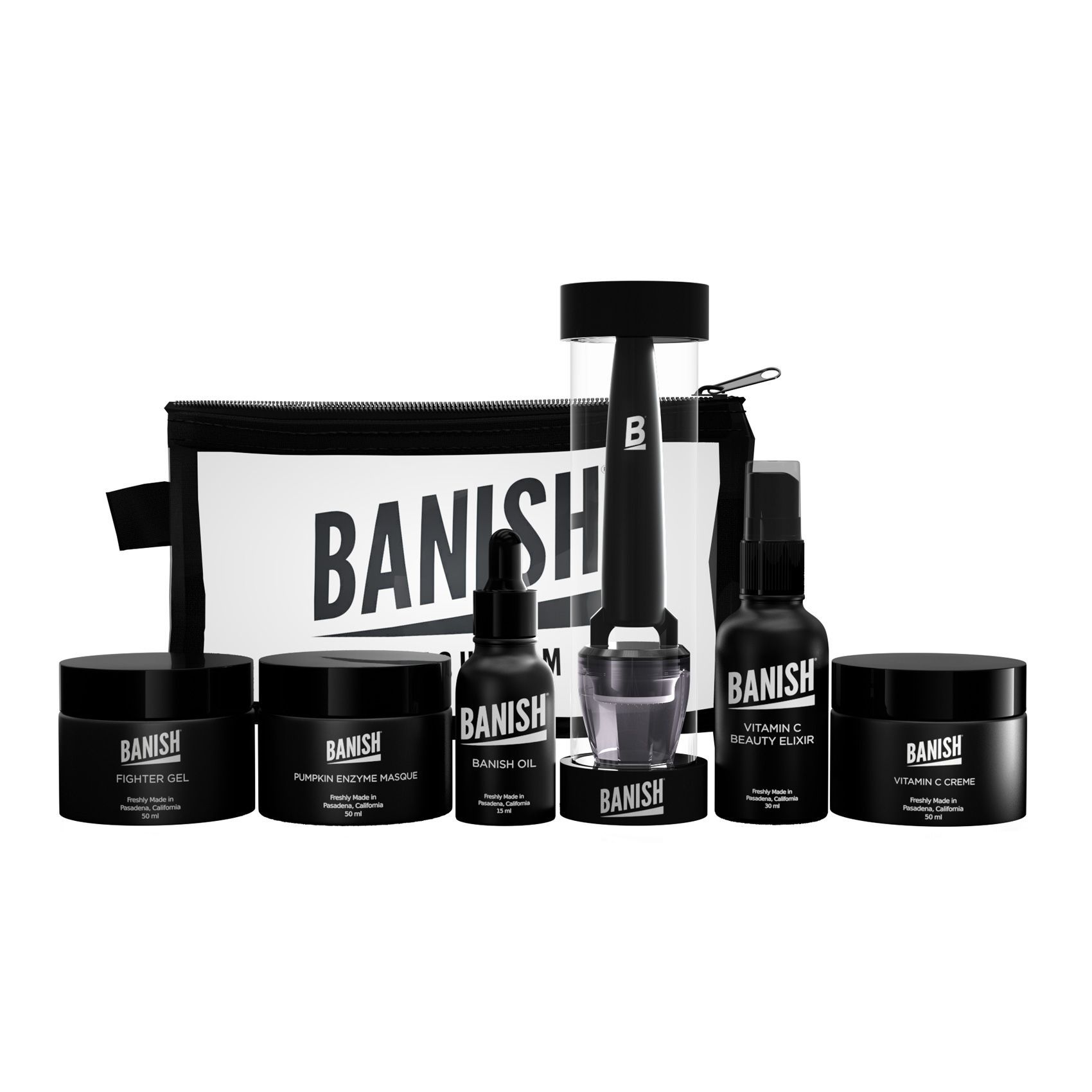 What is one piece of advice you would pass along to entrepreneurs or small business owners who are just getting started, or working on bringing a company to life?
My story is about taking risks and being courageous to launch my business and face the future not knowing what to do back then. I have to take the plunge and trust me and my team that we can do it. I experienced a lot of challenges : from the fear of the unknown and not knowing what to do next to other things that I have to experience to learn and grow.
See it as a journey and learning experience. Running a business is hard. The hardest part is keeping your expectations and reality aligned. The most heartbreaking part is working and sacrificing everything to only realize your business didn't come out the way you expected it to. Perhaps that's why many entrepreneurs have depression or mental illness. Therefore, to keep myself mentally positive and disciplined, I see everything as a learning experience and try my best not to keep my expectations too high. Understand that your business has its own journey; don't compare your journey to someone else's highlight reel. Don't be frustrated when things don't happen in the way you expect it to be. It is not the end, there is still more to learn. Don't be too hard on yourself for making mistakes; you will (by all means) make mistakes but the good news is you'll gain points for experience.
---
We're curious! What is one of your go-to Banish products?
That's a tough one! As a mom of this brand, I would definitely say EVERYTHING but if I have to choose just one, one of my all time favorites is THE BANISH OIL - VITAMIN C SERUM. The signature product I made in my kitchen and started the whole #BanishObsession! Made with the most potent form of Vitamin C, the L-ascorbic acid. This type of Vitamin C is proven to improve radiance and texture. Reduce the look of acne scars and hyperpigmentation faster compared to other forms of Vitamin C! It is safe to use while pregnant and even for breastfeeding moms! You can use it on your face or body, to boost your skin's glow and moisturize naturally. The best product you can use after using the Banisher 2.0 to speed up the scar-fading process. The Banish Oil is made the same day you order so you receive it fresh just like the other products we have
---
Find more Banish here:‌‌
Website: banish.com‌‌
‌‌Instagram: @banishacnescars
Like this story? Tell us yours! Share your brand story and love for your custom packaging and get a chance to be featured on The Wrap! If you're a noissue customer and are interested, you can join the Eco-Alliance by clicking here and answering a few questions here.
Questions? Email us at ecoalliance@noissue.co.